Trenchless Cured in Place Water Main Rehabilitation Meets NSF 61
Although site specific challenges are inherent in rehabilitating water mains using the cured in place pipe methods described in ASTM F 1743, it has become feasible to gain access, bypass and prepare pipe through all stages of installation from design through pit placement to testing for a finished product meeting NSF 61 at a pressure rating of 150 psi.
Nov 1st, 2008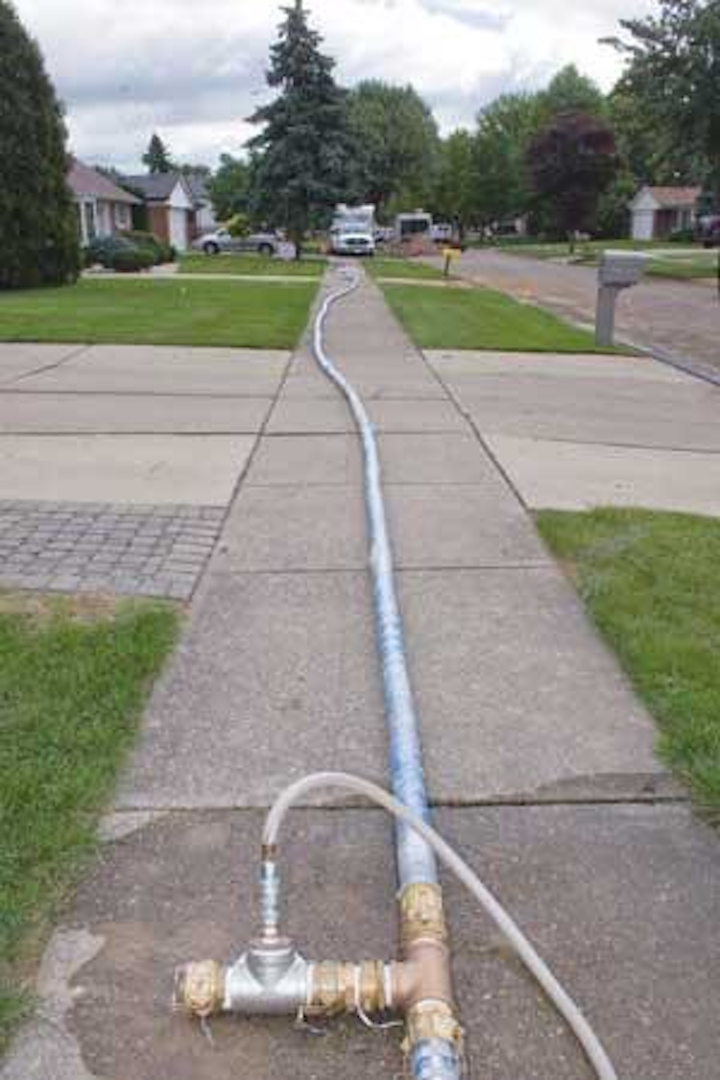 By Fred Tingberg Jr.
Although site specific challenges are inherent in rehabilitating water mains using the cured in place pipe methods described in ASTM F 1743, it has become feasible to gain access, bypass and prepare pipe through all stages of installation from design through pit placement to testing for a finished product meeting NSF 61 at a pressure rating of 150 psi.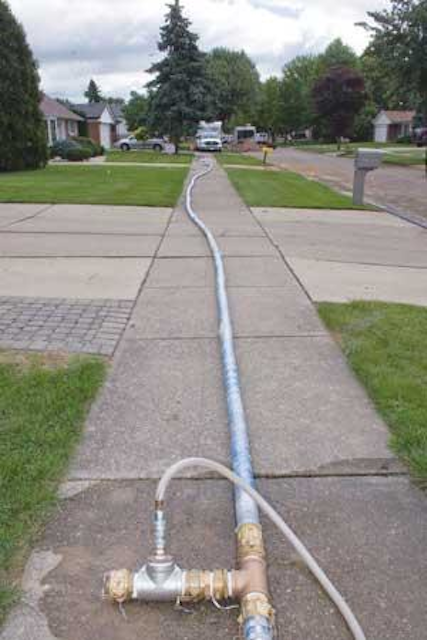 Potable water bypass piping was provided to maintain service to customers.
Click here to enlarge image
In a recent project a subdivision serving 70 residents in the Township of Clinton, MI, was successfully rehabilitated to a new stand alone condition using cured in place techniques. The municipality had experienced multiple random and unpredictable breaks in the distribution system over several years. The 60-year-old cast iron mains were beyond their service life but open-cut replacement was deemed impractical because of the Township's tree lined streets.
The benefits of cured in place pipe have been well proven in pressure pipe applications throughout the United States. Due to recent technical developments in the manner in which residential services are reinstated "post lining", water main rehabilitation has become a viable application. The technology being presented in this article has been installed in over one million feet of water main throughout Canada due to Federal Consent Decrees requiring cities there to rehabilitate their water distribution infrastructure.
The technology used in Clinton Township (Aqua-Pipe®, manufactured by Sanexen Environmental Services, Varennes, Quebec, Canada) is a National Science Foundation (NSF) 61 approved CIPP product. This product had been successfully used for over five years with over 60 miles of public water main rehabilitated in Canada.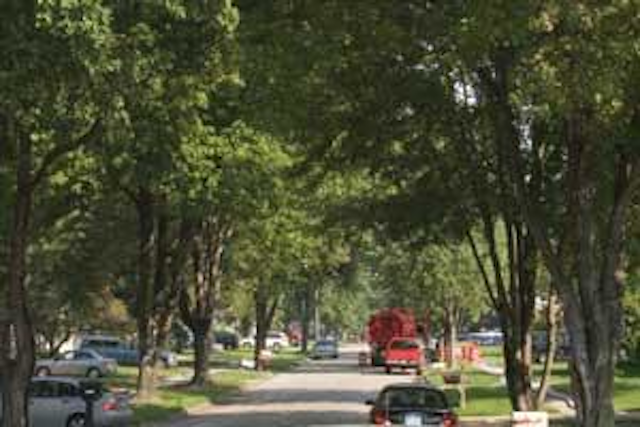 Tree lined streets prohibit use of open cut methods.
Click here to enlarge image
The Aqua-Pipe system provides a watertight seal around the existing service, allowing reinstatement of services with minimal digging. The process uses concentric epoxy impregnated jackets that are pulled in place with a winch. The liner is wet out and cured using either steam or hot water. Installation includes robotically inserting a corporation stop isolation just prior to lining. Once the epoxy impregnated liner tube is installed and cured, the plugs are reamed out allowing the services to be cleared. The main is disinfected, sampled, and returned to service.
The most common range of application is 6" through 12" in diameter with the average inversion length being approximately 500 feet.
Site Specific Challenges
The viability of a project includes many variables including:
Number and location of access pits required at 500-foot intervals
Fire hydrant location and availability to serve in bypass application
In line tees, bends and/or crosses requiring additional access pits
Line pressure desired (100 psi test recommended)
Traffic control issues
Opportunity to swap out/test meter assemblies
Bypass Operation
In the Clinton project, implemented by Lanzo Lining Services, a complete bypass consisting of potable water grade flexible hose was strung on both sides of the streets. The lay-flat material was wrapped around driveways in a fashion as to allow driveway access but requiring the resident to drive over this flexible 2 ½ inch material for garage access. Individual service hoses were strung between the bypass trunks and hose bibs on each home. However, they were not connected prior to the chlorination step.
After staging of the bypass materials, the system was pressurized and chlorinated, with bacteriological testing in accordance with prevailing construction guideline specifications. Prior to bypass activation each meter box was verified for curb stop functionality and part operation. Vacuum breakers were installed at each home. Once bacteriological testing was successfully completed, the system was connected with the curb stops being closed and the hose bibs being opened.
Tube impregnation prior to insertion into the host pipe using the ASTM F 1743 methodology
Click here to enlarge image
null
Pit Construction
Access pits measuring approximately 10 feet long by 5 feet wide were dug to expose the mains with minimal adjacent disruption. The pits extended approximately 6" beneath the main to be lined. The trench bottom was then stoned and dewatered as necessary.
Pipe Preparation
Unlike sanitary sewer where commonly a soft corrosion byproduct or scale is encountered, water mains are notorious for mineral deposit, tenacious tuberculation, and hard scale. A mechanical reaming device was used along with the option of progressive pigging to insure adequate hydraulic radius prior to the lining step. This typically proceeded at a rate of between 50 and 200 feet per day.
Pipe Lining
The stand-alone liner used in the Clinton project is capable of withstanding live loads, dead loads, and internal pressure with a safety factor of two using site specific criteria in accordance with ASTM F 1216 methods for CIPP Design. Felt/resin composite flexural modulus properties in excess of 500,000 psi can be specified and verified using third party testing.
On the jobsite and after CCTV inspection, the wet out tube is winched into place prior to insertion, pressurizing and line proofing. In cases where tube stretch was a concern given dry host pipe conditions, residual water was introduced into the host pipe as a lubricant allowing the tube to more efficiently float into place.
A post video CCTV inspection insured liner quality and residential service line reinstatement.
Conclusion
Once the Michigan Department of Environmental Quality approved Sanexen Aqua-Pipe for potable water rehabilitation in sizes 6"-12", jobs were competitively bid in several Michigan towns, including Clinton Township, Roseville, Waterford, Bloomfield Hills and Monroe. A 24" potable water plant intake line was also rehabilitated in Mount Clemens using a parallel NSF 61 certified technology installed in January 2008 by Lanzo Lining Services.
With continued advance of robotic cleaning and cutting technology, the range of applications for cured in place pipe used in trenchless NSF 61 listed water main rehabilitation will continue to expand. WW
About the Authors:

Fred Tingberg is Lanzo Lining Services' principle spokesperson, technical resource, and business development manager with experience and knowledge of industry products, services and competitive technologies. He holds a Bachelor's Degree in Materials Engineering from Rensselaer Polytechnic Institute, and has over 25 years of pipeline construction product experience with special focus on cured in place and other trench less pipeline rehabilitation methods. Tingberg may be contacted via e-mail at Fredt@lanzo.org.
Circle No. 212 on Reader Service Card