Products & Services: Disinfection
Halogen Valve Systems' Terminator Actuator™ closes 150 lb. toxic gas cylinder valves in three seconds when activated from remote sensors and switches.
Nov 1st, 2008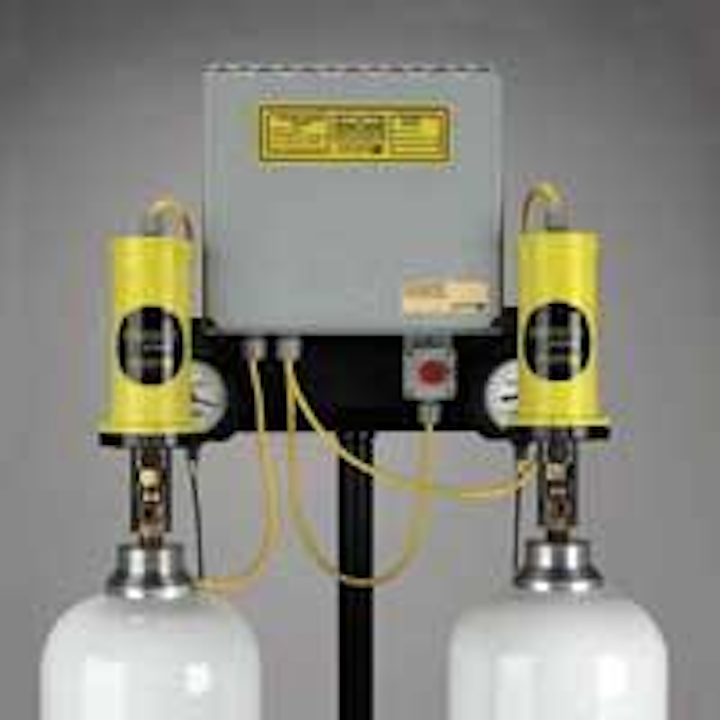 Toxic gas shutoff system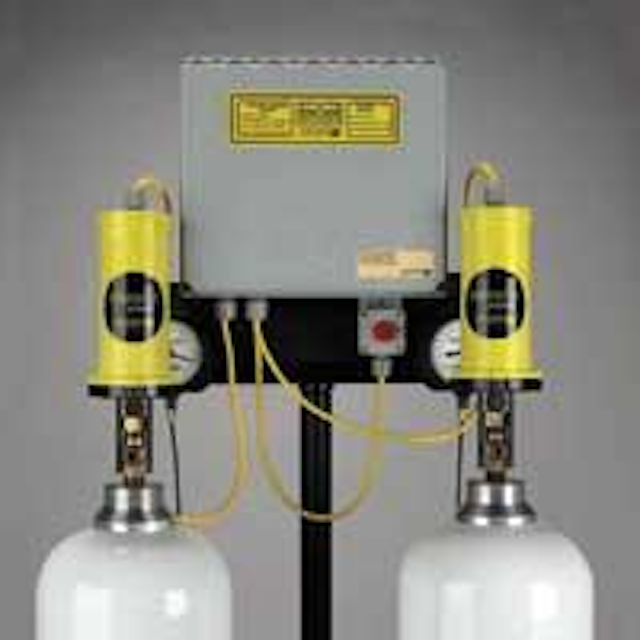 Click here to enlarge image
Halogen Valve Systems' Terminator Actuator™ closes 150 lb. toxic gas cylinder valves in three seconds when activated from remote sensors and switches. This fire code approved, microprocessor-controlled system has a self-contained battery that guarantees operation of the motorized closing mechanism during a power failure. A computer system monitors the battery, regulates the charger and closes the system automatically if a low battery situation occurs. The actuator applies 40 foot-pounds of torque during an emergency activation to insure the gas valve closes.
Halogen Valve Systems
Irvine, CA
Tel: 877-476-4222
Web: www.halogenvalve.com
Circle No. 219 on reader Service Card
Chloramination analyzer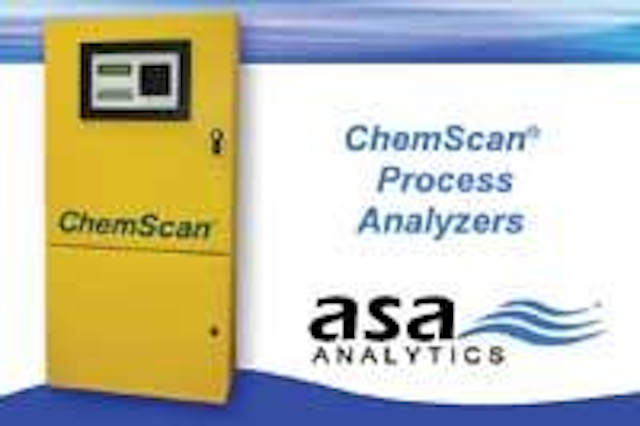 Click here to enlarge image
ASA manufacturers the ChemScan® Process on-line analyzers including the UV-2150/S Chloramination Analyzer which provides all parameters for chloramination process control and monitoring in one analyzer. The instrument is designed to detect free ammonia, total ammonia, monochloramine and total chlorine from one or more points in the treatment process. Total ammonia and total chlorine measurement allows control of ratios and disinfection residuals.
Applied Spectrometry Associates Inc.
Waukesha, WI
Tel: 262-717-9500
Circle No. 223 on Reader Service Card
UV, ozone disinfection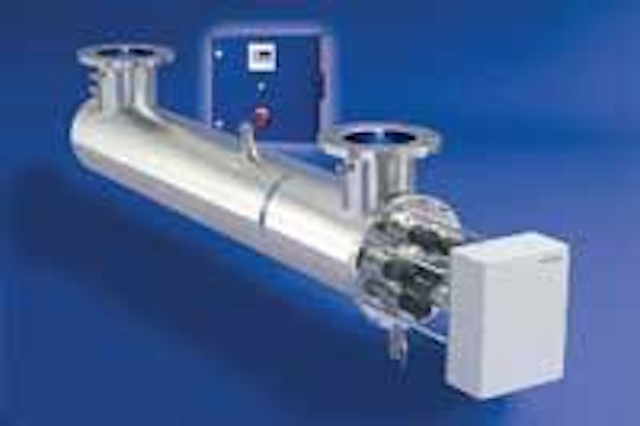 Click here to enlarge image
From its WEDECO product line, ITT Water & Wastewater offers the LBX Series closed vessel UV reactor for wastewater and reuse applications. Designed to provide effective dose delivery at rated flow, the system was designed from the ground up focusing on three critical elements for UV system performance; the UV lamp, the power supply/controls, and the engineered vessel. The company also offers the SMO/SMA series ozone generators in a compact, pre-packaged skid.
ITT Water & Wastewater, USA
Charlotte, NC
Tel: 704-409-9824
Circle No. 227 on Reader Service Card
Cal hypo feeder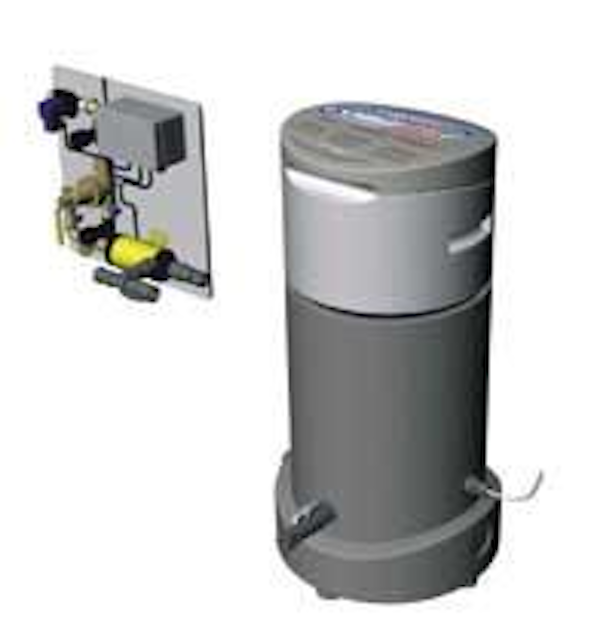 Click here to enlarge image
Arch Chemicals has added the model MM-1S calcium hypochlorite feeder to it line of Constant Chlor® feeding systems for municipal water treatment applications. The feeder is designed to prepare and automatically deliver a consistently accurate dose of liquid available chlorine for disinfection applications. This patented feeding system can supply 0.5 to 3.0 lbs. of available chlorine per hour. The feeder uses NSF Standard 60 listed dry calcium hypochlorite briquettes and patented spray technology to produce fresh liquid chlorine solution as needed.
Arch Chemicals
Tel: 770-803-2524
Web: www.archwaterworks.com/municipal
Circle No. 220 on Reader Service Card
Electronic cylinder scale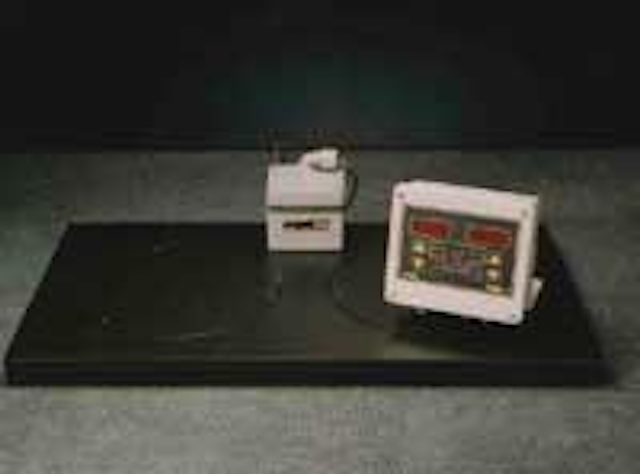 Click here to enlarge image
The DCS302 electronic scale from Eagle Microsystems is a weighing system for two compressed gas cylinders, providing an independent weight indication for each weigh platform. The solid PVC scale base is warranted for five years against chemical corrosion. The readout for the scale is the EI-2000S Dual Channel Digital Indicator/Transmitter providing two dedicated independent weight displays and two isolated 4-20 mA outputs.
Eagle Microsystems Inc.
Pottstown, PA
Tel: 800-780-8636
Web: www.eaglemicrosystems.com
Circle No. 224 on Reader Service Card
Disinfection monitoring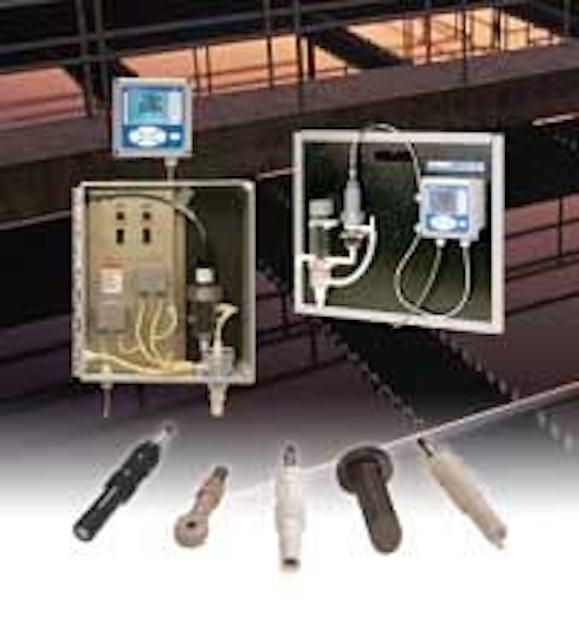 Click here to enlarge image
Continuous monitoring of disinfectant chemicals is an important part of ensuring a safe public drinking water supply. Emerson Process Management offers a variety of products to monitor chlorine and ozone. With more than 60 years experience, the company can provide process analyzers for monochloramine, free chlorine, total chlorine, and ozone.
Emerson Process Management
Rosemount Analytical
Irvine, CA
Tel: 800-854-8257
Web: www.raihome.com/liquid
Circle No. 228 on Reader Service Card
Chlorine analysis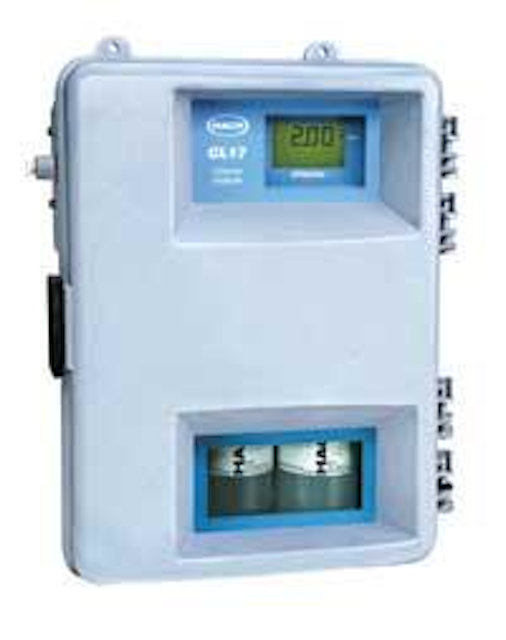 Click here to enlarge image
The Hach CL17 Chlorine Analyzer uses colorimetric DPD chemistry. It provides fast and economical free or total chlorine results independent of pH, temperature, hardness, and sample flow. The analyzer allows for up to 30 days of unattended operation, needs no calibration and requires minimal maintenance. It uses the only EPA–Approved technology for online reporting of chlorine for the new Groundwater Rule.
Hach Co.
Loveland, CO
Tel: 800-227-4224
Web: www.hach.com
Circle No. 221 on Reader Service Card
Chlorine monitoring
Click here to enlarge image
The ChloroSense™ reagent free portable chlorine monitor from Palintest does not depend on the user's technique, allowing untrained personnel to produce accurate chlorine results on the first test. Once the sample is collected and inserted into the instrument, the test becomes automated and provides results in less than one minute. The instrument then records and stores all chlorine analysis plus temperature results in memory, and the data can be reviewed on the display or exported to a PC via a waterproof USB port. The instrument's automated testing ranges, from 0-10 mg/l Cl to 0-100 mg/l Cl, are ideal for both municipal water monitoring and water main rehabilitation.
Palintest USA
Erlanger, KY
Tel: 800-835-9629
Web: www.palintestusa.com.
Circle No. 225 on Reader Service Card
Hypochlorite generator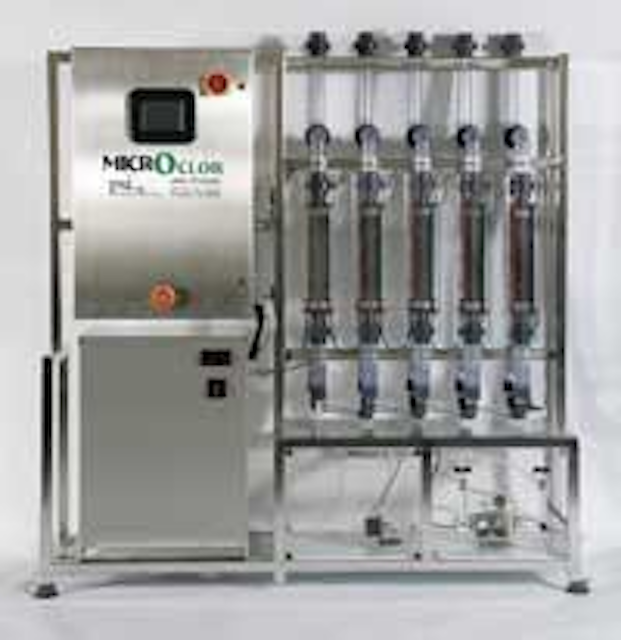 Click here to enlarge image
Process Solutions Inc. (PSI) has introduced the MicrOclor Hypochlorite Generating System. The system's unique V-Ray electrolytic cells are vertically oriented to allow rapid hydrogen release. This prevents hydrogen collection and pressurization which results in a more robust operator-friendly system. It also features a full-wave rectifier which is simpler and more durable than previous designs with phase-angle fired SCR technology. Skid-mounted systems are available in sizes from 20-1850 ppd free available chlorine output. All systems are factory calibrated and shipped preassembled for ease of job-site installation. Their compact footprint allows for simplified conversion of existing facilities using chlorine gas or commercial hypochlorite.
Process Solutions Inc.
Campbell, CA
Tel: 408-370-6540
Circle No. 229 on Reader Service Card
Ozone contacting, degasification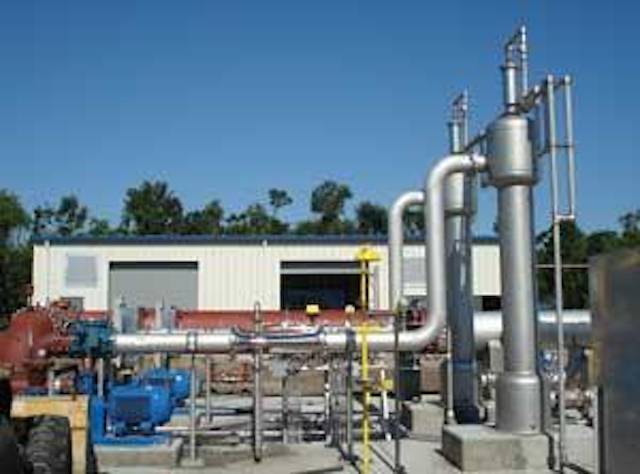 Click here to enlarge image
The Mazzei GDT™ Process operates as a sidestream ozone contacting and degasification system, providing high ozone mass transfer with minimal dissolved oxygen saturation of the main pipeline flow. It is designed to transfer ozone and handle off gas without the use of basins, or the need to re-pump the entire water system. It offers an economical method for keeping municipal water system dissolved oxygen levels low following ozone transfer.
Mazzei Injector Corp.
Tel: 661-363-6500
Web: www.mazzei.net
Circle No. 222 on Reader Service Card
Chlorine dioxide generator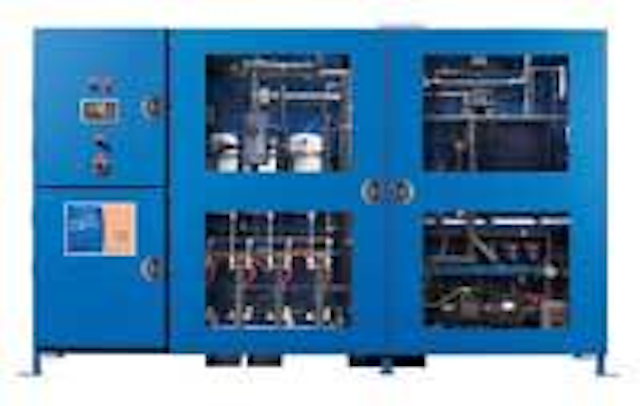 Click here to enlarge image
PureLine Treatment Systems has introduced its model HP-100 PureClO2 Electrochemical chlorine dioxide generator. The HP-100 can produce up to 100 pounds per day of 99.5% pure, chlorine free, ph 7, ClO2 solution from a single packaged system. For enhanced OSHA PSM, EPA/RMP, Homeland Security, and EH&S compliance, the company uses patented electrochemical cell technology to make chlorine dioxide from a single liquid precursor chemical. This non-hazardous salt solution, PureCide® E, eliminates the need for any combination of acid, chlorine gas, or concentrated bleach required by traditional ClO2 generators.
PureLine Treatment systems
Irvine, CA
Tel: 800-383-7873
Web: www.pureline.com
Circle No. 226 on Reader Service Card
Free chlorine monitoring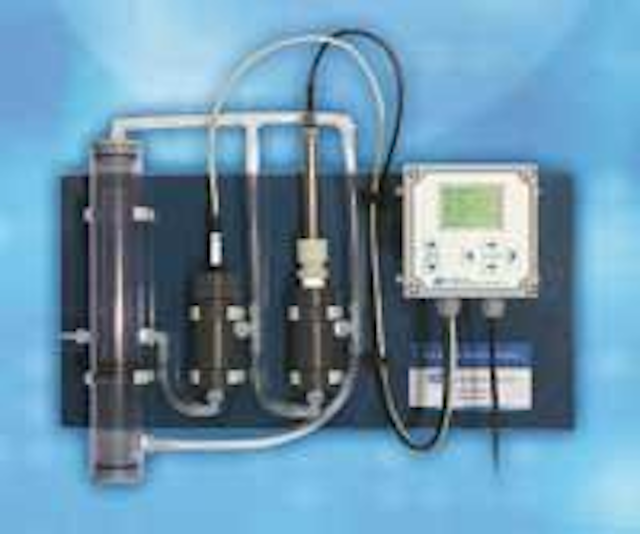 Click here to enlarge image
The new FCA-22 Analyzer System from Electro-Chemical Devices features a virtually plumb-and-play design for the measurement and control of free chlorine. The panel mount design of the analyzer comes factory pre-wired and with assembled flow tubing. ECD's sensor and controller technologies allow installation and commissioning to be completed in just three steps using simple tools. The analyzer provides on-line continuous free chlorine measurement in a complete systems package.
Electro-Chemical Devices Inc.
Yorba Linda, CA Tel: 800-729-1333 Web: www.ecdi.com
Circle No. 230 on Reader Service Card
On-site disinfection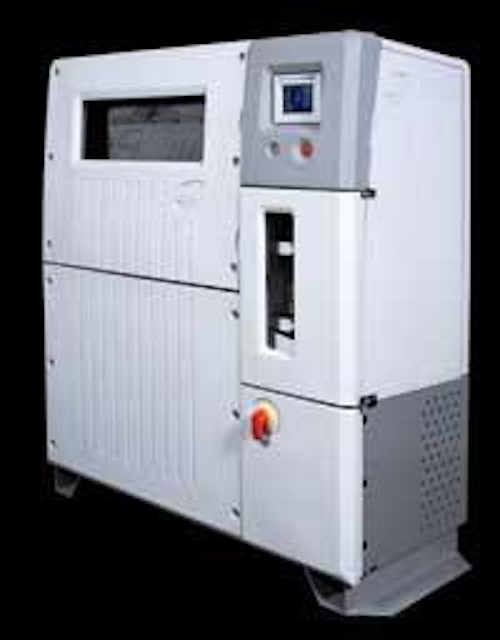 Click here to enlarge image
The modular design of MIOX's Rio™ system allows for easy interchange between on–site sodium hypochlorite and on-site mixed oxidant generation with the added flexibility of up to 5x expanded production capacity without increasing the system footprint. The on-site generators are corrosion-resistant with a high density polyethylene (HDPE) rotomolded enclosure while the aluminum frame provides a solid, modular, industrial design. RIO uses only salt and power to generate a dilute chlorine-based solution for potable and wastewater disinfection, eliminating the storage and handling of hazardous disinfection chemicals while still providing a chlorine residual.
MIOX Corp.
Albuquerque, NM
Tel: 888-646-9426
Web: www.miox.com
Circle No. 232 on Reader Service Card
Gas chlorinator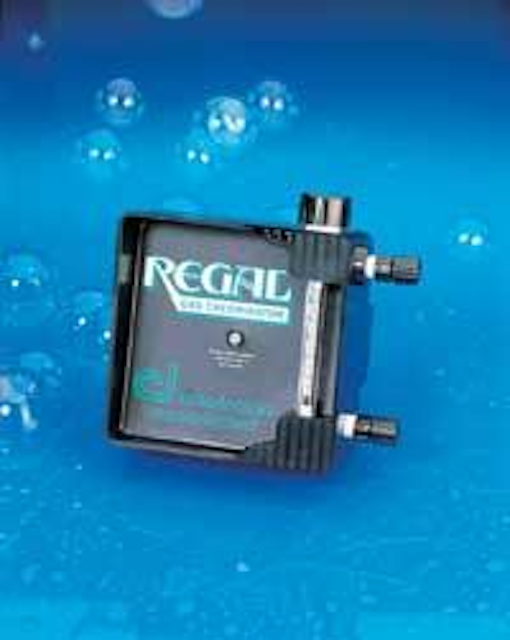 Click here to enlarge image
The Regal gas chlorinator is used all over the world to disinfect and purify municipal drinking water and wastewater, industrial wastewater, and more. The chlorinator provides a consistent chlorine residual, eliminating a lot of guesswork. The all-vacuum system virtually eliminates the possibility of gas leaks and is mounted with the strongest yoke in industry. In addition, it has an extremely tough and resilient diaphragm and is made with corrosion-resistant materials. The chlorinator is carefully assembled by hand and tested by skilled technicians. With only 68 parts, the chlorinator is easy to maintain and clean.
Chlorinators Inc.
Stuart, FL
Tel: 772-288-4854
Web: www.regalchlorinators.com
Circle No. 233 on Reader Service Card
Chlorination, chemical injector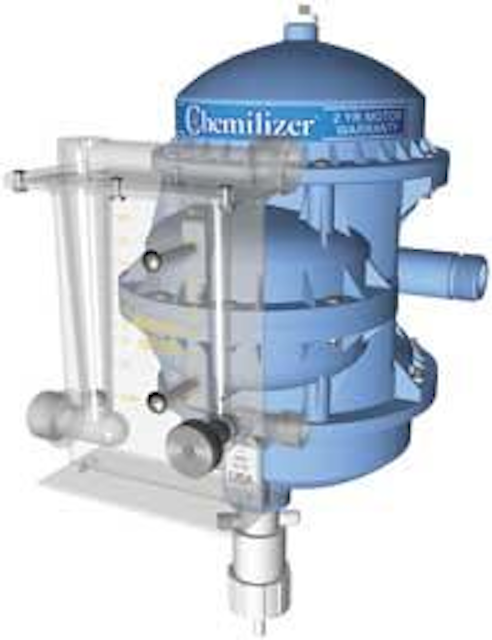 Click here to enlarge image
The CP33 liquid chemical injector is used in small to mid-sized municipal facilities and in booster stations to disinfect drinking water. Accurate and reliable, the injector is powered by the water it treats. It will not over-inject sodium hypochlorite or other chemicals. The system features a Injection Control Panel which provides a visual indication of the volume of injection; it is available with injection ranges from 1 ounce to 6 gallons per hour. The corrosion-resistant system is also used to inject chemicals for coagulation/flocculation, odor control and sludge thickening.
Chemilizer Products Inc.
Largo, FL Tel: 800-234-7211 Web: www.chemilizer.com
Circle No. 231 on Reader Service Card
Reagentless chlorine analyzer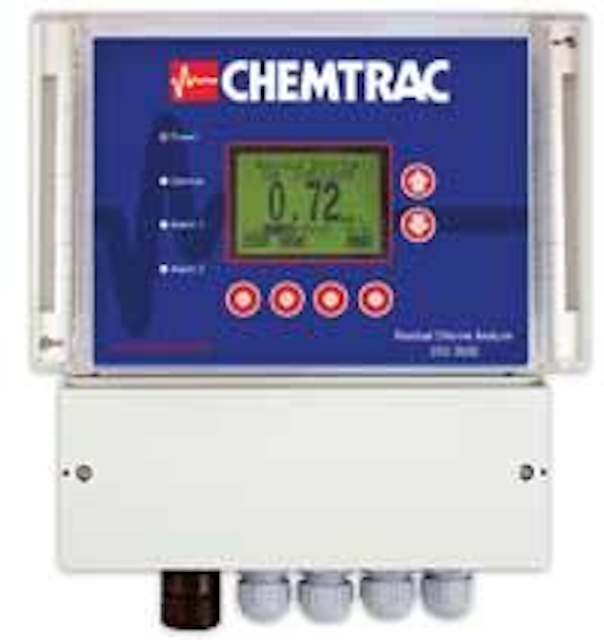 Click here to enlarge image
Chemtrac Systems has introduced the CRA3500 Residual Chlorine Analyzer. Using polarographic measurement technology, pH dependency is significantly reduced and the need for reagents is eliminated. Free chlorine, total chlorine, or chlorine dioxide probes are available in an assortment of ranges. Options include automatic calibration, and the simultaneous use of up to four probes. Multiple communication protocols are available.
Chemtrac Systems Inc.
Norcross, GA
Tel: 800-442-8722 Web: www.chemtrac.com
Circle No. 234 on Reader Service Card
UV disinfection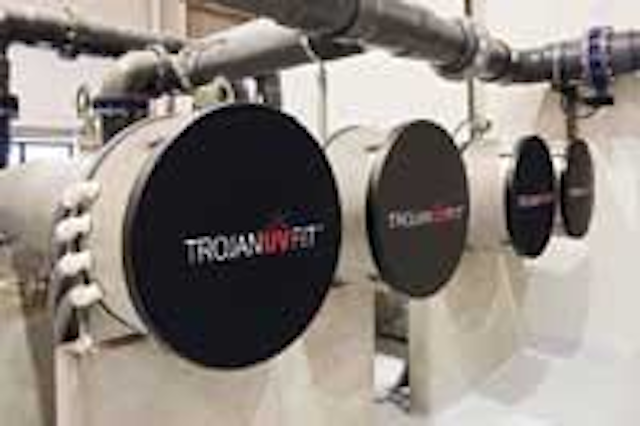 Click here to enlarge image
TrojanUV is introducing the TrojanUVFit™ - an energy-efficient, closed-vessel UV reactor designed to disinfect filtered effluent without breaking head in the treatment process. This compact reactor is available in multiple configurations to treat a wide range of flow rates and provides cost-effective, chemical-free treatment.
TrojanUV
Tel: 888-220-6118 Web: www.trojanuv.com
Circle No. 236 on Reader Service Card
UV disinfection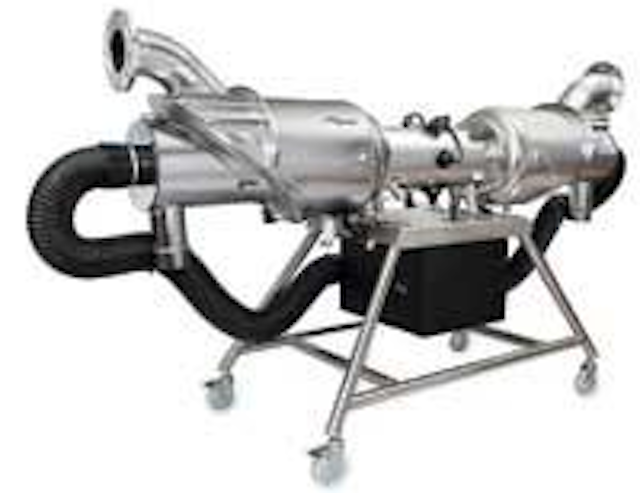 Click here to enlarge image
Eimco Water Technologies is the exclusive distributor of Atlantium products for the North American municipal market. Atlantium Technologies' Hydro-Optic Disinfection™ technology is available in the R200 single and dual lamp models. The R200 models were validated using US Environmental Protection Agency protocols and are the only UV-based systems to reliably demonstrate 4-log inactivation of adenovirus. The system is validated to be used as a single disinfection treatment for Cryptosporidium, Giardia and Adenovirus inactivation.
Eimco Water Technologies
Web: www.glv.com
Circle No. 237 on Reader Service Card
On-site chlorine generators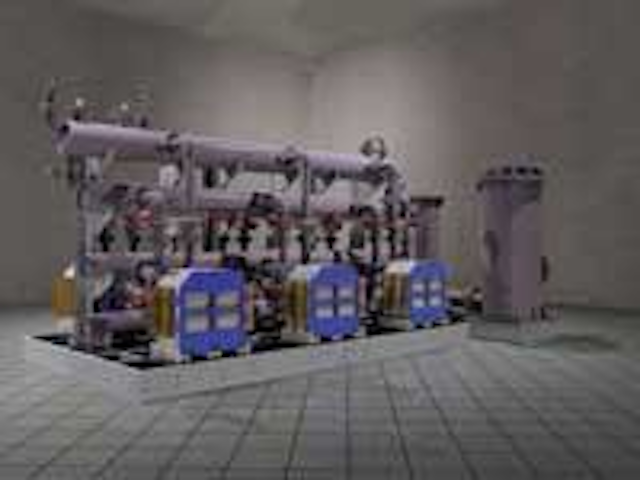 Click here to enlarge image
Electrolytic Technologies specializes in semi-custom designed on-site chlorine gas and 12.5% sodium hypochlorite generators. Its "Inherently Safer Technology" is offered to customers in the form of fully engineered modular systems producing high purity products using water, salt and electricity, which eliminate the costs and risks associated with transporting and storing hazardous chlorine and sodium hypochlorite.
Electrolytic Technologies
Tel: 305-655-2755 Web: www.electrolytictech.com
Circle No. 235 on Reader Service Card
Chlorine, iron testing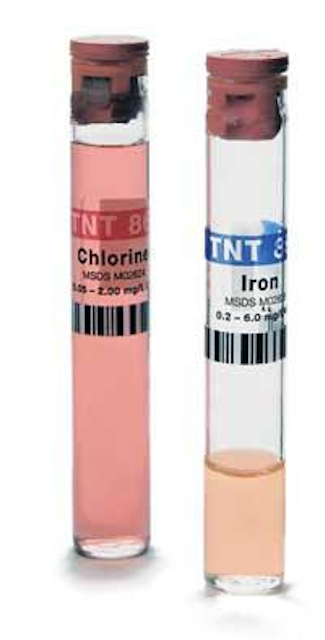 Click here to enlarge image
Hach has introduced chlorine and iron testing parameters for its total laboratory analysis system featuring TNTplus chemistries, methods and DR2800/5000 Series Spectrophotometers. Ideal for drinking water and industrial water facilities, both chlorine and iron parameters are USEPA equivalent and can be used for reporting. Chlorine TNTplus allows users to sequentially determine free and total chlorine in one vial. The products work exclusively with Hach's DR2800/5000 Series Spectrophotometers to increase productivity and minimize analysis errors automatically.
Hach Co.
Loveland, CO
Tel: 800-227-4224
Web: www.hach.com/tntplus
Circle No. 239 on Reader Service Card
Valve actuators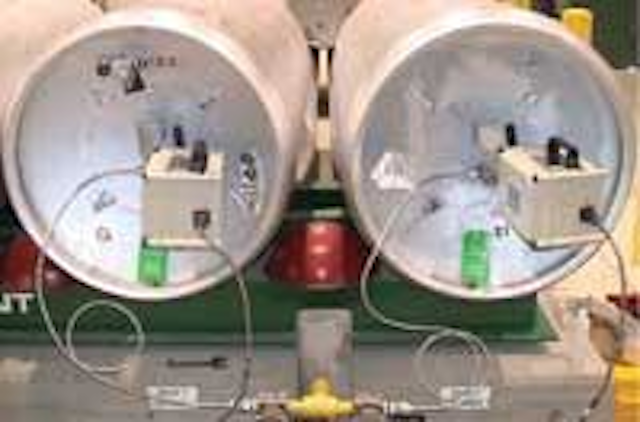 Click here to enlarge image
Robo-Control® provides actuators to open and close chlorine container valves. Digital indication of valve position and outputs for valve position are available. The actuator will communicate with an RTU or PLC for SCADA or in-plant control. Integral leak detectors provide immediate closure when a leak is detected. The actuators are battery operated and mount to the valve without interfering with existing hardware. When a chlorine system has actuators and a scrubber, scrubber size can be limited to one container since all containers will be closed if a leak occurs.
Robo-Control
Bridge City, TX
Tel: 409-697-2666
Web: www.robo-control.com
Circle No. 238 on Reader Service Card