Products & Services — Chemicals & Application Equipment
Walchem offers the EK Series Metering Pumps with IP67construction. The waterproof solenoid-metering pump is designed for use in harsh environments.
Sep 1st, 2008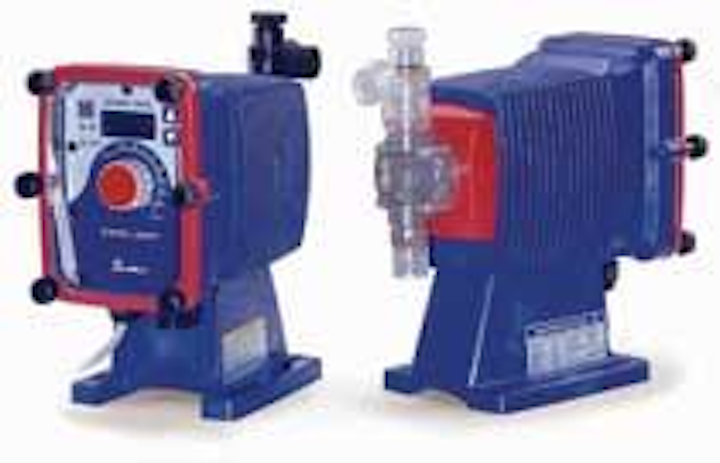 Digital metering pump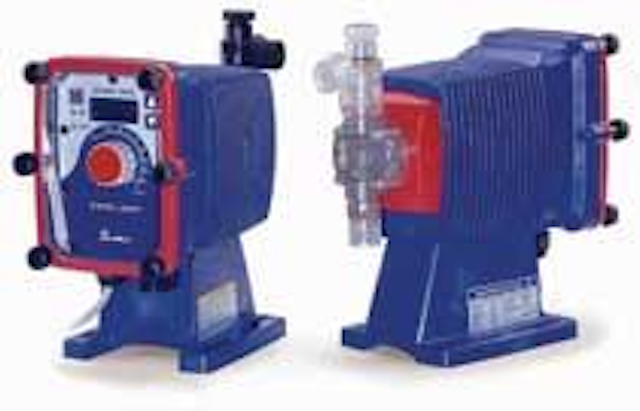 Click here to enlarge image
Walchem offers the EK Series Metering Pumps with IP67construction. The waterproof solenoid-metering pump is designed for use in harsh environments. The pumps offer capacities up to 6.7 gph and a maximum pressure of 150 PSI. At 360 strokes per minute, the pumps provides an 1800:1 turndown ratio and will reduce the slug feeding found in most competitive pumps. They are perfect for indoor and outdoor applications where the pumps are frequently washed down.
Walchem Corp.
Holliston, MA
Tel: 508-429-1110
Web: www.walchem.com
Liquid chemical injectors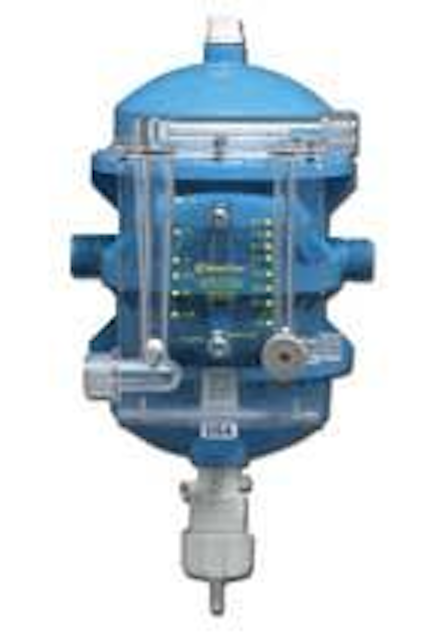 Click here to enlarge image
Chemilizer offers non-electric liquid chemical injectors with a diaphragm design. Its adjustable, high-volume CP33 model is suited for communities from very small to medium in size. The injector automatically follows variable water flows. It is easy to install and operate and is WQA certified against NSF/ANSI 61. The injectors can also be used for a variety of wastewater treatment processes. These include injection of sodium hypochlorite for disinfection during final treatment; injection of coagulants/flocculants for removal of phosphorus; injection of potassium permanganate for control of primary sludges; injection of polymers for thickening of sludges; and the injection of sulfite or biosulfite solutions for chlorine neutralization before discharge.
Chemilizer Inc.
Largo, FL
Tel: 800-234-7211
Web: www.chemilizer.com
Sodium hypochlorite
Severn Trent Services new ClorTec SCT mini electrochlorinator, launched earlier this year, has been assessed as non-hazardous by an independent test body. The on-site sodium hypochlorite generator system operates in batch process and generates up to 4.4 lb/day of sodium hypochlorite at a 0.7 percent chlorine equivalent by combining salt, water and electricity.
Severn Trent Services
Fort Washington, PA
Web: www.severntrentservices.com
Arsenic removal media
EP Minerals provides arsenic removal to less than 10 ppb via adsorption NXT-2 technology, surface water treatment for cryptosporidium removal and pretreatment solutions for desalination.
EP Minerals LLC
Reno, NV
Tel: 775-824-7622
Web: www.epminerals.com
Free chlorine monitoring
Click here to enlarge image
The new FCA-22 Analyzer System from Electro-Chemical Devices features a virtually plumb-and-play design for the measurement and control of free chlorine. The panel mount design of the analyzer comes factory pre-wired and with assembled flow tubing. ECD's sensor and controller technologies allow installation and commissioning to be completed in just three steps using simple tools. The analyzer provides on-line continuous free chlorine measurement in a complete systems package.
Electro-Chemical Devices Inc.
Yorba Linda, CA
Tel: 800-729-1333
Web: www.ecdi.com
Peristaltic pump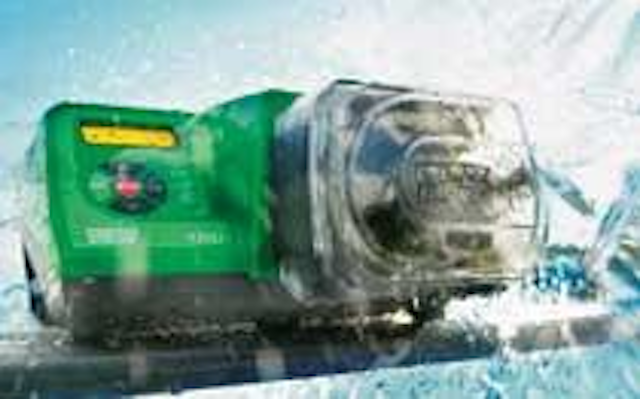 Click here to enlarge image
Watson-Marlow Bredel offers the 520 Series peristaltic pump for sodium hypochlorite handling. The combination of tube elements and pumphead design allows the series to be used in the accurate metering, dosing and transferring of sodium hypochlorite. Entrained gas, often generated by the hypo, is pumped with ease, eliminating the occurrence of vapor locking that prevents conventional pumps from functioning properly. The pumps contain fluids within the tube at all times and never allows the sodium hypochlorite to come into contact with the pump mechanism.
Watson-Marlow Bredel Pumps
Tel: 800-282-8823
Web: www.watson-marlow.com
Chemical feed system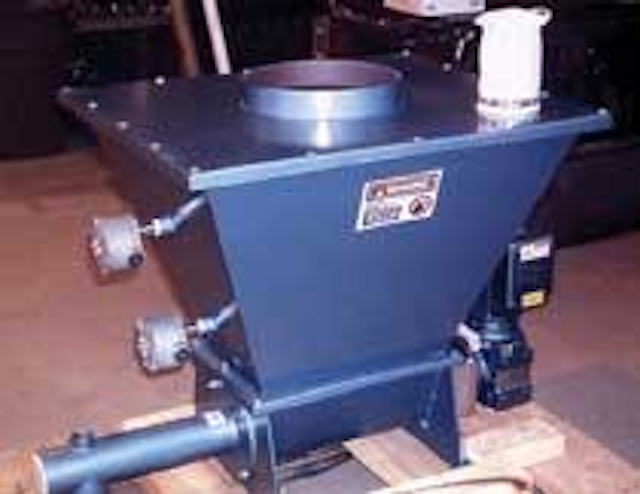 Click here to enlarge image
Metalfab Water and Wastewater Treatment Systems combine a Bin Activator with a secondary baffle that vibrates at a separate amplitude to guarantee continuous flow of product, a MetaTech™ Feeder (with only 2 or 3 moving parts for simple maintenance) and unique agitator/conditioner screw that completely fills the product feed screw for accuracies of +1 to 1½%. Bin Activators are available in 2'–16' dia. and MetaTech™ Feeders are available in 1"–6" screw sizes in a choice of carbon steel, 304 or 316 ss.
Metalfab Inc.
Vernon, NJ
Tel: 800-764-2999
Web: www.metalfabinc.com
Membrane support chemicals
TriSep has developed a proprietary line of high performance membrane support chemicals. TriSep, a manufacturer of spiral wound membranes, has researched, formulated and produced its own chemical support products. This provides customers with a single source for membranes and membrane chemical support products, eliminating compatibility problems and providing a single source for technical support. Products include antiscalants, cleaners and specialty chemicals.
TriSep
Tel: 805-259-6679
Web: www.trisep.com
Auto-refill controller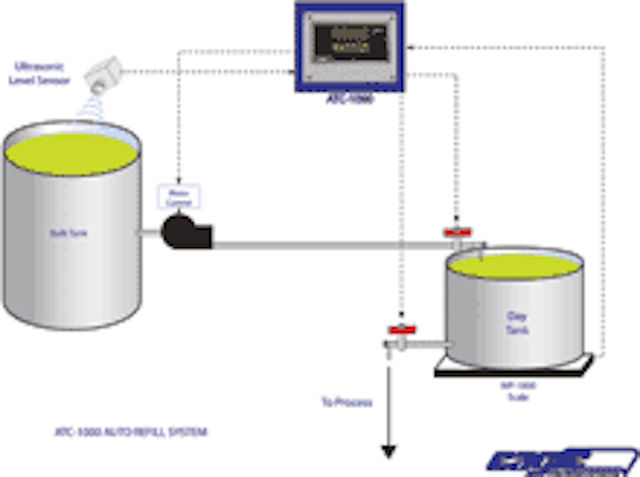 Click here to enlarge image
The new Eagle Microsystems ATC-1000 Auto-Refill Controller provides an automatic method of insuring that chemical feed tanks or feed hoppers never go empty. Used in conjunction with the company's tank scales and ultrasonic level monitors, the system provides control of the refill process as well as the ability to collect operating data on chemical usage.
Eagle Microsystems, Inc.
Pottstown, PA
Tel: 800-780-8636
Web: www.eaglemicrosystems.com
Gas chlorinator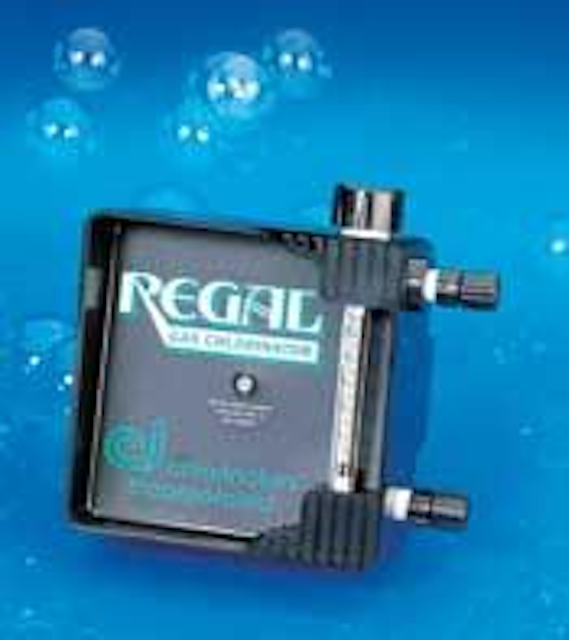 Click here to enlarge image
The Regal gas chlorinator is used all over the world to disinfect and purify municipal drinking water and wastewater. The chlorinator provides a consistent chlorine residual, eliminating a lot of guesswork. The all-vacuum system virtually eliminates the possibility of gas leaks. The chlorinator is directly mounted with the strongest yoke in industry. In addition, it has an extremely tough and resilient diaphragm and is made with corrosion-resistant materials.
Chlorinators Inc.
Stuart, FL
Tel: 772-288-4854
Web: www.regalchlorinators.com
Gas detection system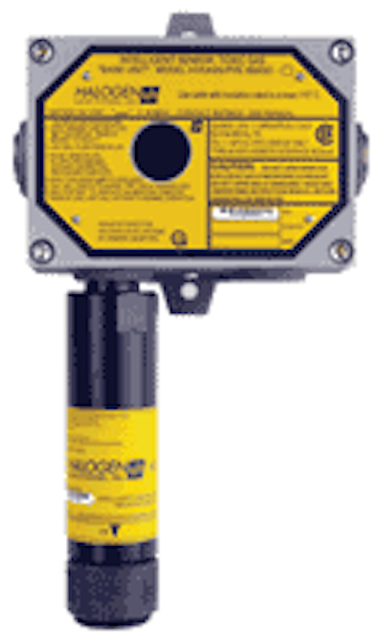 Click here to enlarge image
The Jupiter gas detection system (Model HVS4000) monitors and reports accurate information about hazardous gases to SCADA monitoring systems. Its features include a sensor life indication, two (250 vAC - 8 amp) settable relays, a three-digit bright red display, dual MODBUS and 4-20 mA proportional gas level output. The system can be connected to Emergency Gas Shutoff systems. The microprocessor-based system detects most toxic gases in parts per million, including: NH3, CO, CL2, CO2, O3 and SO2 as well as oxygen deficiency.
Halogen Valve Systems
Irvine, CA
Tel: 949-261-5030
Dosing pump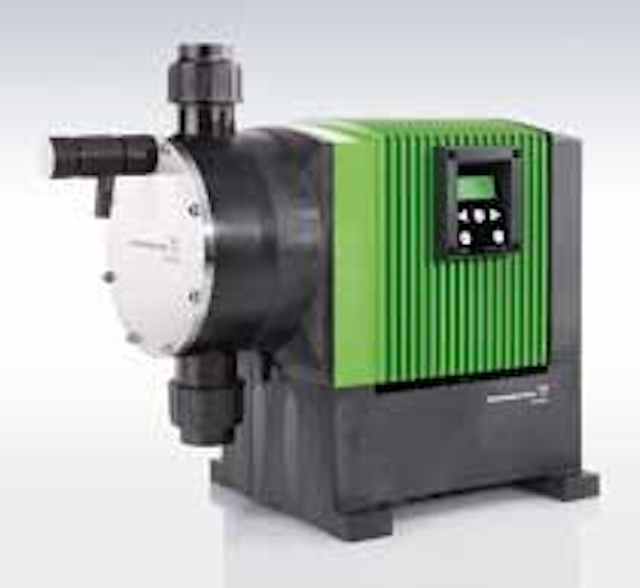 Click here to enlarge image
The Grundfos series of DME metering pumps now extends from 2.5 ml/h to 940 l/h. The new pumps have a variable speed motor offering full control of the dosing process. The design eliminates the need for a servo motor / frequency converter and ensures smooth and gentle dosing. A full stroke length is maintained at all times, and each stroke is precisely timed to provide even concentrations of additive in the system as well as optimal priming.
Grundfos
Marietta, GA
Tel: 770-956-7996
Web: www.grundfos.com/us/dosing
Metering pump
The Moyno® Metering Pump is designed for economical performance when metering low-flow liquids in a wide range of processing applications including dosing, sampling and metering. The progressing cavity design results in a smooth flow free from pulsations and variations in velocity and volume. This prevents material waste or mixture imbalance. The pump offers sealed universal joints for longer life. It can handle pressures to 300 psi and flow rates from 0.1 gph to 190 gph.
Moyno Inc.
Springfield, OH
Tel: 877-486-6966
Web: www.moyno.com
Chemical scales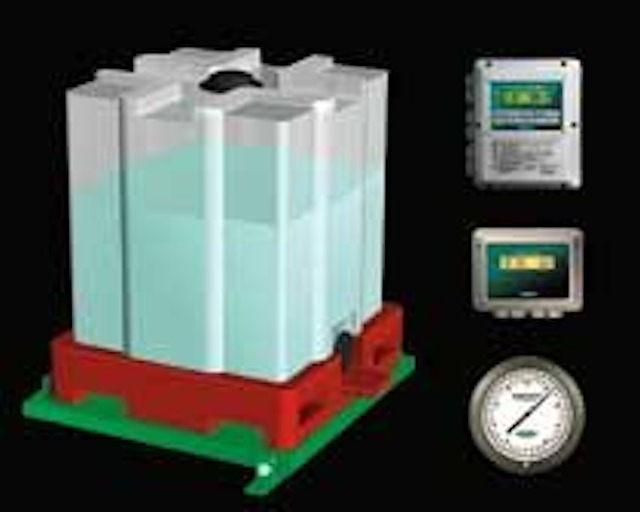 Click here to enlarge image
The Tote Bin Scale™ from Force Flow allows operators to accurately monitor chemicals fed from IBC type totes. Simply place the tote on the platform and monitoring begins. Systems prevent over- and under-feed conditions and also enable the documentation of amount fed. The scales are available with the Wizard 4000® Digital Indicator, the SOLO® 1000 or the Century® Hydraulic Dial.
Force Flow
Tel: 800-893-6723
Web: www.forceflow.com
Dechlorination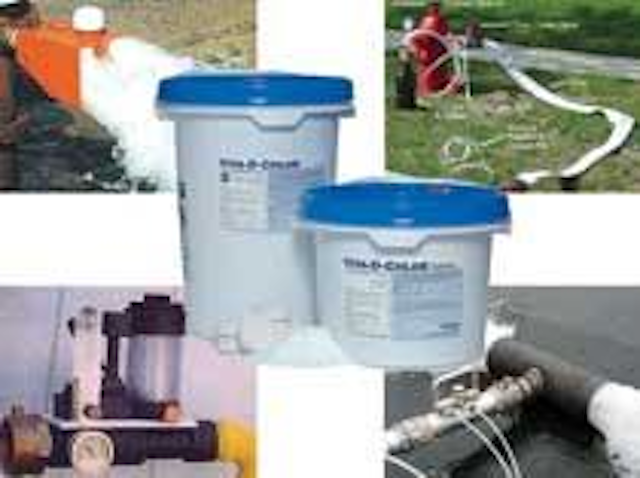 Click here to enlarge image
Integra Chemical's Vita-D-Chlor is an Ascorbic Acid-based product with NSF certification for dechlorinating water. It is 100% organic, completely soluble, and meets EPA regulations for dechlorinating water prior to flushing into streams, rivers and lake. Various dechlorination systems are available to implement the product and instantaneously remove chlorine without causing environmental problems.
Metering pump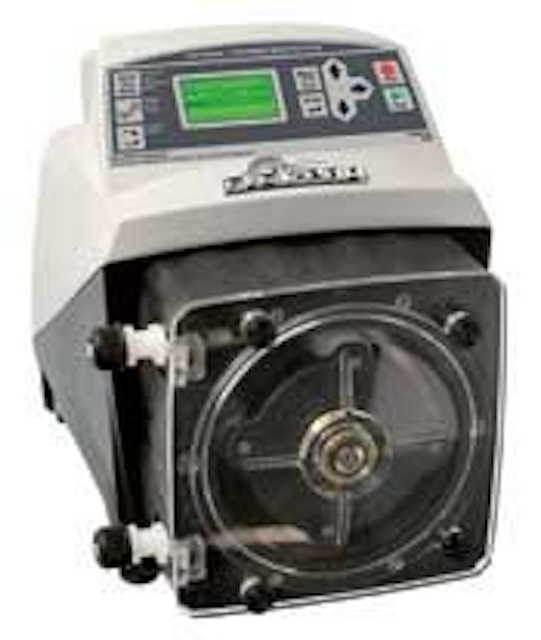 Click here to enlarge image
Blue-White's Flex-Pro™ A3 Peristaltic Metering Pump offers outputs to 33.3 gph, a 100:1 turndown ratio and continuous feed. It is well suited to polymer feed applications. With output pressure ratings to 125 psi and its ability to pump gases, it can be used as a chlorine pump. Pump features include automated PPM dosing and a digital touch pad with menu driven software. The VGA graphic backlit LCD displays motor speed, input signal values, service and alarm status. Inputs include 4-20mA, 0-10 vDC, and pulse signal for external speed control. The pump is equipped with multiple analog and digital I/Os for SCADA system connections; is self priming even against maximum line pressure; and won't vapor lock or lose prime.
Blue-White Industries
Huntington Beach, CA
Tel: 714-893-8529
Web: www.bluwhite.com