Survey Examines Reclaimed Water Rates, Charges
Planning for future potable water supplies has become an increasing concern for utilities nationwide. Water reuse has become an important means of meeting future supply requirements and more stringent wastewater regulations.
Dec 1st, 2008

By Dina M. O'Reilly and Cil Pierce
Planning for future potable water supplies has become an increasing concern for utilities nationwide. Water reuse has become an important means of meeting future supply requirements and more stringent wastewater regulations. However, the pricing and recovery of costs associated with reclaimed water has been an obstacle for many utilities.
In 1999/2000, the American Water Works Association and Water Environment Federation joined forces to survey 500 water reuse utilities throughout the United States. The purpose of the survey was to create a national database on the different approaches the utilities used to finance their water reclamation programs and how rates were being set. In 2007, twenty-three key questions from the original survey were chosen to update the original survey.

Rate Development
Click here to enlarge image
Responses were received from 10 states, with approximately 48% from California and 16% from Florida. Utilities in Arizona, Colorado, Georgia, Hawaii, New Mexico, Nevada, Texas, and Washington also provided responses.
The majority of survey respondents served retail customers for both surveys, as opposed to wholesale or both. This is an important point as historically, reclaimed water has been used for specific purposes (i.e., golf courses, industrial, etc.)
A majority of respondents produce their own reclaimed water (84%), while a small percentage purchase. Of the 109 participating utilities (2000), 71% were public or municipal utilities.
The driving force for the reclaimed water programs appeared evenly split among stringent regulatory concerns, economic factors, conservation, and lack of potable water supplies. Environmental factors play a small part in the decision of some utilities. Creating a sustainable water source and improving water quality were factors in promoting a reclaimed water program.
Funding, Rates and Charges
Improving wastewater treatment facilities to supply reclaimed water is costly and funding options vary.
One possible option is a direct contribution or financing from a major user of the project.
Other funding sources include long-term debt instruments and grants. These may include revenue bonds, low interest loans and grants.
Cost Recovery
Agencies were asked about annual operating costs recovery. In both the 2000 and 2007 survey, the majority of utilities were recovering less than 25% of their annual operating costs. Generally speaking, if reclaimed water rates were set at the cost of service, they might be higher than potable water rates and would discourage reuse consumption. The costs for reclaimed water may be greater than potable water costs due to the increased treatment required along with the cost of a non-potable distribution system.
Reuse rates are typically set at a level less than the potable water rate. Any cost difference between actual cost of service and a set rate will have to be generated from some other source, whether through the potable water rate, wastewater rate, or other subsidy. In the 2007 survey, 24% recovered revenue from the potable water customers, 58% from wastewater and 18% from a municipal or regional subsidy.
Categories of Benefit
Benefiting parties should be responsible for any revenue short-fall. In that respect reclaimed water can:
Benefit a utility's existing water customers by deferring or eliminating the need to develop new sources of supply. Customers pay for the reclaimed water system through water bills.
Benefit existing wastewater customers if no or fewer upgrades are needed for the system to meet regulatory requirements because of reuse standards. This can defer, reduce or eliminate the need to develop additional treatment capacity. Existing customers pay for the reclaimed water system through wastewater bills.
Benefit new water customers only. New customers need new sources of supply. The utility's new potable water customers pay for the reclaimed water system through system development charges.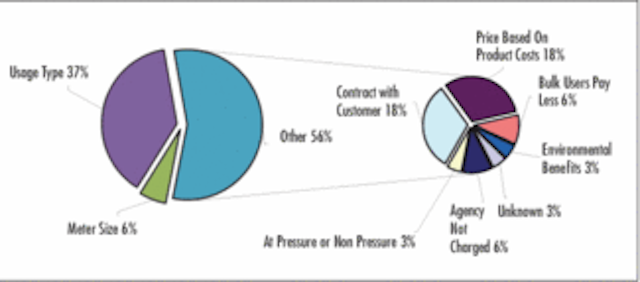 Price Variance Type
Click here to enlarge image
These options are not mutually exclusive, but can be combined based on the proportion of benefits received in each category.
Development of Rates, Charges
As water reuse became more prevalent, many utilities were looking for examples of how other utilities charged for this resource.
A quarter of the utilities in 2000 set rates to promote the use of reclaimed water. For some utilities promoting use is more important than recovering the full cost of reclaimed water. Other utilities determined rates based on market analysis (9%), cost of service estimate (14%), or as a percentage of potable water rates (19%). This last method is more common. Those who answered "to promote use" also have set the rate at some percentage of the potable water rate. Of the 34% of utilities who answered "other" nearly half did not charge for their reclaimed water. By 2007, nearly half of respondents set their reclaimed water rates to promote use.
Most market research indicates the maximum rate at which to set reclaimed water rates is the potable water rate. In both surveys, rates for reclaimed water varied from 20% to 100% with the median rate being 80% of the potable water rate.
Rate Design Considerations
Traditional rate making dictates that different considerations may be taken into account as rates are being set. Establishing a cost-based rate is one of the more important traditional rate setting criteria. As discussed previously, the full cost of reclaimed water may not be collected. Instead, the utility must determine its overall policies, goals and objectives and develop a rate structure that best meets those needs.
When setting reclaimed water rates, the impact to potable water revenue also should be considered. As more reclaimed water is used, less potable water may be consumed and revenues will be impacted.
Uniform Rate Structure
Click here to enlarge image
null
Rate Structures
There are various "generally accepted" rate structures used to develop rates. Generally, a rate is composed of a fixed charge and a volumetric/variable charge. Fixed costs are collected as a fixed charge on a monthly basis (e.g., $5 per month/meter) regardless of the customer's level of consumption. Not all utilities may charge a fixed charge during the non-irrigation season when reclaimed water is not generally used, but may charge during the irrigation season. Utilities may also charge solely on a volumetric rate.
Variable charges are generally based upon metered consumption and charged on a $/unit basis. The two most common rate structures for variable charges for reclaimed water are a uniform charge, and an inverted block charge.
The rate structure concepts noted above may be combined used to form various rate design options that meet the utility's needs. For example, in the Southwest, where even reclaimed water resources are limited, additional consumption is discouraged and an inclining block rate may be used.
The 2007 survey indicated that a uniform rate structure is most commonly used. This was relatively unchanged from the 2000 survey, with a small percentage having inclining rate structures. A growing number of utilities are setting inverted block rates, to recognize the increased costs of reuse, and avoided costs of new potable water resources.
System Development Charges
Reclaimed water system development charges for new customers connecting to the systems are a means of collecting revenue to help offset the capital needs of the system. Care must be taken to develop these fees accurately. In both surveys, more than 70% of the utilities did not include a system development charge for new customers. SDCs for the 26 utilities who did charge them ranged from $225 up to as much as $43,000 depending on the size of the meter and demand from the customer.
Survey Billing Results
When it comes to billing customers, policies varied for the initial survey respondents. Some customers, 37%, were billed on usage, while 6% were billed on meter size. The majority of the respondents answered "Other". Billing information did not change dramatically between surveys.
Conclusion
The uses of reclaimed water, financing, cost recovery policies, and rate design strategies vary greatly throughout the country. Utilities do agree on the benefits and need for reclaimed water. Reclaimed water is a key to successfully planning future water resources, or as one respondent said, "It just makes sense."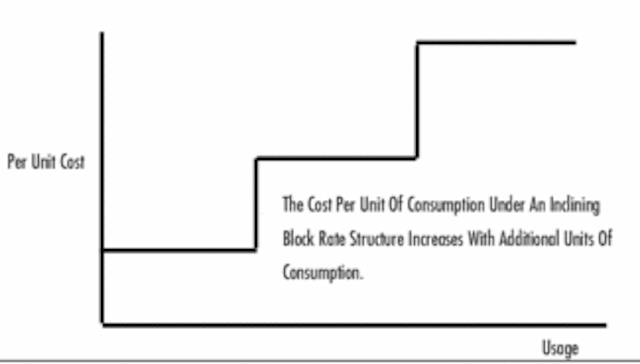 Inclining Block Rate Structure
Click here to enlarge image
Thanks go to Guy Carpenter, Shawn Koorn, Christopher Haney, Gary Jacobi, Gary Grinnell, Craig Riley, Alan Rimer, Kenneth Thompson, and Don Vandertulip for their contributions to this report. For more information, the full report can be found at www.awwa.org/waterwiser. WW
About the Authors:

Dina M. O'Reilly is a management/financial analyst with HDR. Cil Pierce is a senior financial analyst with HDR. Both are based in the firm's Bellevue, WA, office.