New Software Streamlines Cross-Connection Control Programs
Municipalities and smaller agencies are finding that reduced budgets continue to force a "do more with less" approach to services.
Oct 1st, 2008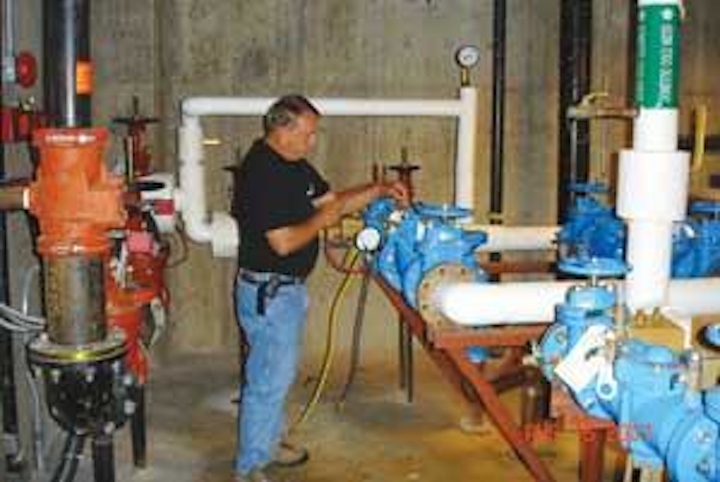 By John A Bocchino, Jr.
Municipalities and smaller agencies are finding that reduced budgets continue to force a "do more with less" approach to services. One area in which utility managers have had great success in implementing computer-driven technology is in water system cross-connection and backflow management.
Cross-connection management can be complicated and labor-intensive because of the variety and number of devices possible in a system, and the inspection regulations mandated by local, state, and federal agencies requiring testing of each device to assure proper operation. By using a computer-based information management program, details can be recorded and retrieved in real-time, providing managers with more complete data, which help improve the management of testing, regulatory, and emergency issues within a system and prevents cross contamination of the potable water system.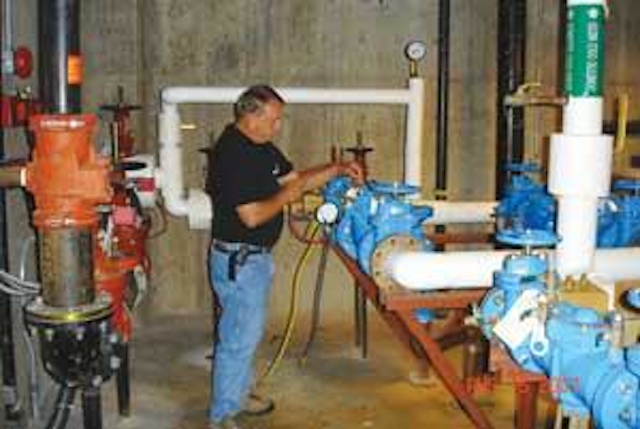 Conducting backflow device testing procedures.
Click here to enlarge image
The software company Ambitec has partnered with Weston & Sampson Services, Inc. (WSS), an operation and maintenance (O&M) and construction contractor, to create a cross-connection program that is customizable, allows for real-time data sharing, and can even provide automated regulatory notification and reporting.
The software, called CheckMate®, is a custom application for the management of cross-connection and backflow systems that can be integrated into an agency's existing computer framework without requiring the installation of an expensive, one-of-a-kind network on which to run.
"We were hearing from clients that they wanted programs that were easy to use and had options for automating a number of redundant tasks," said Randy Nichols, a Utility Manager for WSS. "Manageability was a key concern. We listened to our clients and incorporated their feedback into developing a better system."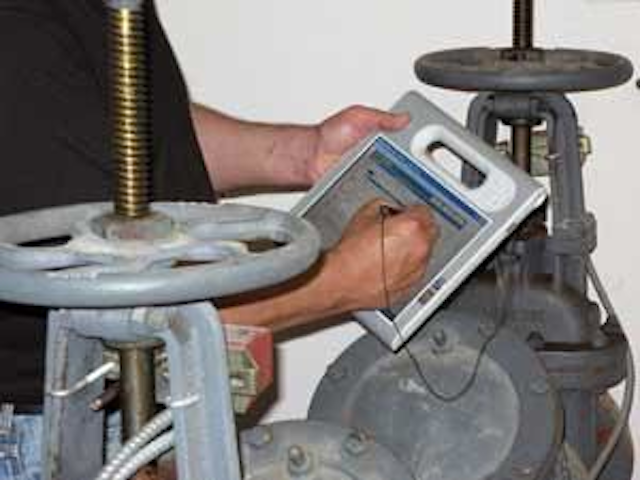 Device tester capturing data with portable tablet PC.
Click here to enlarge image
The customizable, open-architecture system provides an option for municipalities and agencies of all sizes seeking to automate utilities management.
With the new software system, devices are inventoried and labeled with bar-coded tags that, when scanned, automatically transfer recorded information to a database. By using a bar-code scan to collect and record information, the incidence for data collection mistakes is greatly reduced, and inventory tracking becomes more reliable.
Automated data collection by scanning also reduces the need for clerical staff, who would input data manually under an old card-based survey system. Plus, once scanned, the information is immediately available to any number of users granted access to the database. Portable tablet PCs can also be used with the software to further improve the management of testing procedures and notifications, collection and recording of signature approvals, and staff scheduling.

Example of bar code tag used for device tracking.
Click here to enlarge image
Because the system can be customized, managers are able to add individualized, automated features. Geographic Information Systems (GIS) information can be added to provide real-time tracking of work crews by location, allowing managers to actively view completed surveys and sign-offs in a location map format, such as Google Maps®. This type of automated detail provides managers with the ability to more actively and accurately track work crews, resulting in a high level of both accountability and productivity. Also, staff that receive training on automated systems develop new skill sets and build efficiencies into the work force.
From a regulation standpoint, a customizable system such as CheckMate can flag devices that fail a test, automatically prompting the appropriate regulatory paperwork to print and be sent out on the same day. Ambitec programmers are currently building into the system the ability to send notification via e-mail, further increasing automated response time while reducing postage and mailing expenses.
Case Study
The City of Worcester, Mass., was founded more than 200 years ago along the Blackstone River, approximately 45 miles west of Boston. With a current population close to 175,000 and more than one billion dollars in recent major economic development projects, the city's Department of Public Works and Parks (DPWP) faced many challenges managing the city's utilities.
For example, the active development of the city in the past decade led to the installation of many cross-connection devices at a rate quicker than could be managed by the city's existing manual filing system. Regulations mandate testing of every device, and with testing fees in the Northeast averaging $50 - $75 per test, the city was losing revenue for each un-inventoried and untested device. Seeking better ways to track inventory, device testing, and regulatory compliance, the DPWP implemented the CheckMate program in 2007. In less than one year, the city has seen improvements.
"The automated notification feature has really helped us manage our testing," said Michael Daigneault, Assistant Director – Water Operations. "We are getting information out to customers sooner, and will likely double our revenues." WW
About the Author: John A. Bocchino, Jr. is President of Weston & Sampson Services. He has more than 26 years of experience in design, construction administration, and O&M services for water and wastewater systems. Also a lead trainer at Weston & Sampson, Bocchino has over two decades of experience providing Cross-Connection Control instruction for programs such as the New England Water Works Association (NEWWA) back flow tester certification program.
Circle No. 294 on Reader Service Card