Product Showcase
The new FCA-22 Analyzer System from Electro-Chemical Devices features a virtually plumb-and-play design for the measurement and control of free chlorine.
Oct 1st, 2008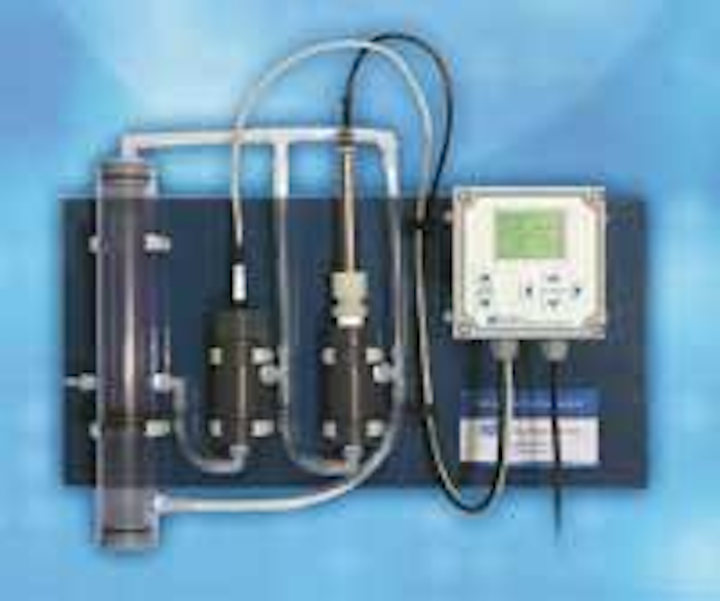 Free chlorine monitoring
The new FCA-22 Analyzer System from Electro-Chemical Devices features a virtually plumb-and-play design for the measurement and control of free chlorine. The panel mount design of the analyzer comes factory pre-wired and with assembled flow tubing. ECD's sensor and controller technologies allow installation and commissioning to be completed in just three steps using simple tools. The analyzer provides on-line continuous free chlorine measurement in a complete systems package. It is designed to monitor free chlorine in samples from 0.05 to 20.0 ppm Cl2, 5 to 9 pH and at temperatures from 32 to 122°F (0 to 50°C).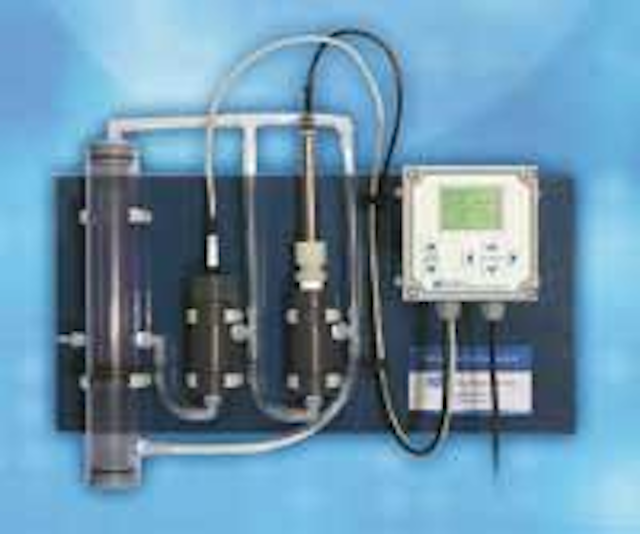 Click here to enlarge image
Electro-Chemical Devices Inc.
Yorba Linda, CA
Tel: 800-729-1333
Web:www.ecdi.com
Circle No. 200 on Reader Service Card
Valve, curb key kit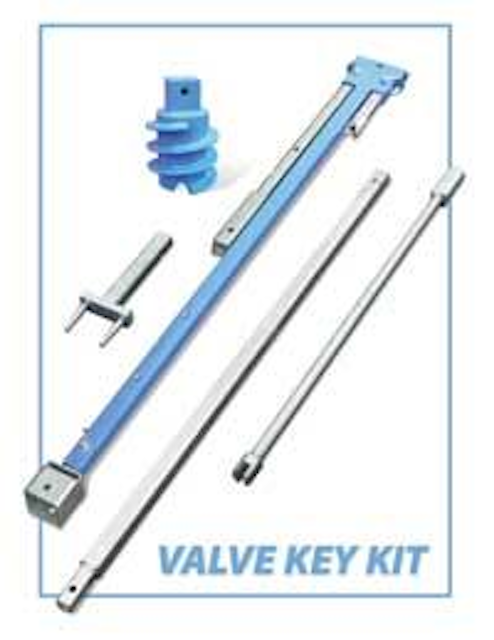 Click here to enlarge image
Trumbull's Valve Key Kit and Adapters operate main valves, curb and meter stops, and a variety of curb box rods and lids. The tool collapses to a compact length for convenient storage in utility vehicles. Carrying case is included. The basic unit includes a Tee Handle that doubles as 20" extension; a main valve key with 2" AWWA nut; and a multi-purpose adapter that fits on ¾"– 2" curb and meter stops, operates standard waterworks pentagon and ½" curb box rods.
Trumbull Industries Inc.
Youngstown, OH
Tel: 800-677-1799
Web: www.trumbull-mfg.com
Circle No. 201 on Reader Service Card
Valve drive systems
Smith Flow Control offers the Flexi-Drive and Easi-Drive valve drive systems. The Flexi-Drive is a cable-driven remote operator for valves in inaccessible or hard to reach locations. It can operate valves as far as 200 feet away, accommodating 540 degrees of bends in the cable run. The Easi-Drive is a fully portable valve operating system for use in applications where valve size, pressure rating or work environmental conditions would normally require a permanent dedicated actuator or work crew.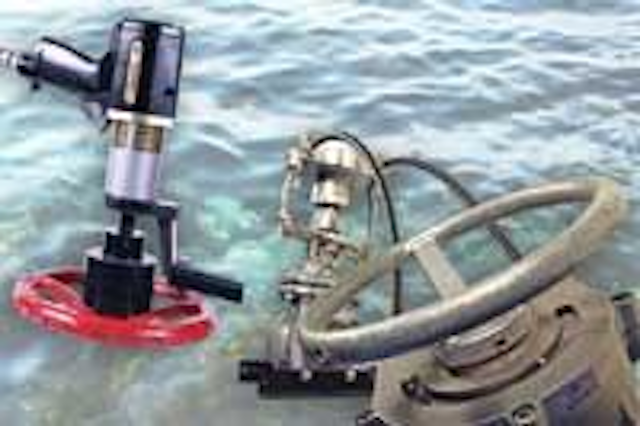 Click here to enlarge image
Smith flow Control
Erlanger, KY
Tel: 859-578-2395
Web: www.smithflowcontrol.com
Circle No. 203 on Reader Service Card
Ladder post
Bilco has changed the standard color of its LadderUP® Safety Post from black to safety yellow. This new color, supplied as a powder-coat finish, gives the safety device more visibility in the dark and confined spaces in which the product is typically used. The safety post is an extension device for fixed ladders, allowing workers safe entrance and egress from roof hatches, manholes or floor, vault and sidewalk doors.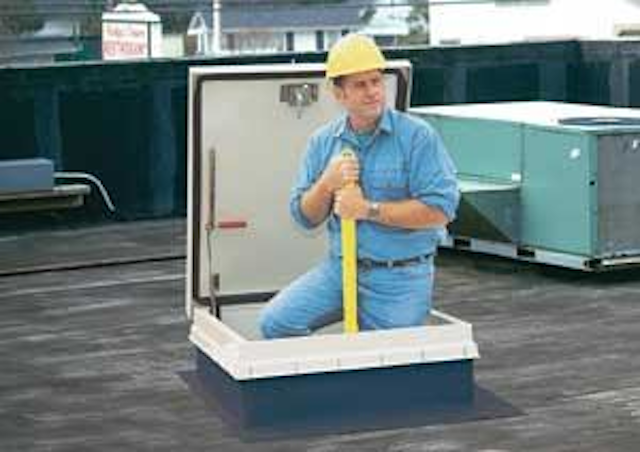 Click here to enlarge image
Bilco Co.
West Haven, CT
Tel: 203-934-6363
Web: www.bilco.com
Circle No. 202 on Reader Service Card
Filtration system
Rain for Rent's 60-4 high flow, high efficiency media filter is designed to excel in all types of general filtration applications for sediment removal. This unit filters to 20 microns up to 1,964 gpm with an operating pressure up to 75 psi. Standard features include: 12 volt or 110 volt operation, manual or fully automated backwash, and a minimal space requirement due to the horizontal space saving design. The diversity of the 60-4 media filter makes it an excellent choice for pre-filtration to extend the life-cycles of bag and cartridge filters, and for use as pretreatment for RO systems. The unit is great as a stand alone filtration system for construction and industrial dewatering applications.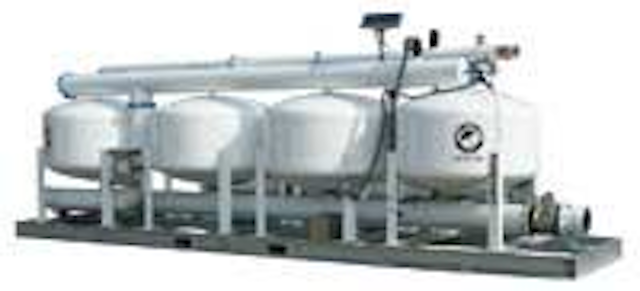 Click here to enlarge image
Rain for Rent
Bakersfield, CA
Tel: 800-742-7246
Web: www.rainforrent.com
Circle No. 206 on Reader Service Card
Sample changer
Radiometer Analytical, a Hach brand, has introduced its new SAC850 and SAC950 Sample Changers capable of handling multiple combinations of titrations, direct pH, ion and conductivity measurements. These changers can be connected to a TitraLab® titration workstation or a direct measurement meter with or without PC software for complete automation. The SAC850 and SAC950 are compatible with a selection of removable sample trays, making them space-efficient. There is no need to program the sample changer each time a new type of sample tray is used as it is instantly identified by a wireless RFID tag. Furthermore, user-defined sample preparation sequences offer all the benefits of full automation.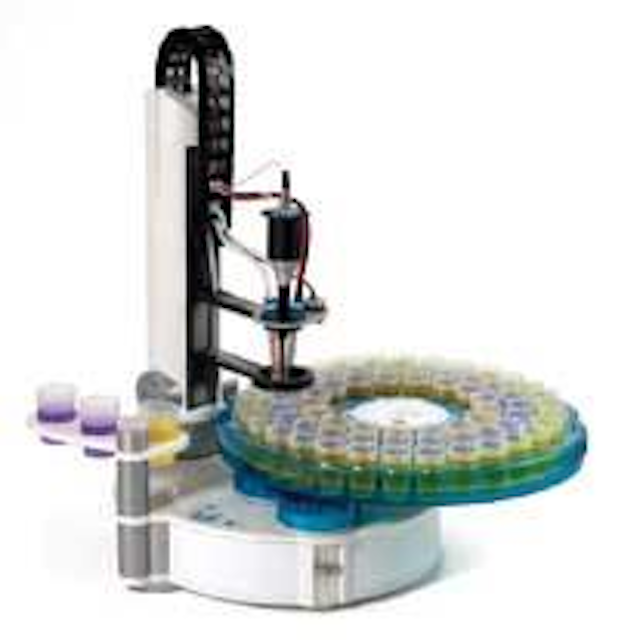 Click here to enlarge image
Radiometer Analytical
Loveland, CO
Tel: 800-227-4224
Web: www.hach.com
Circle No. 205 on Reader Service Card
Ball valve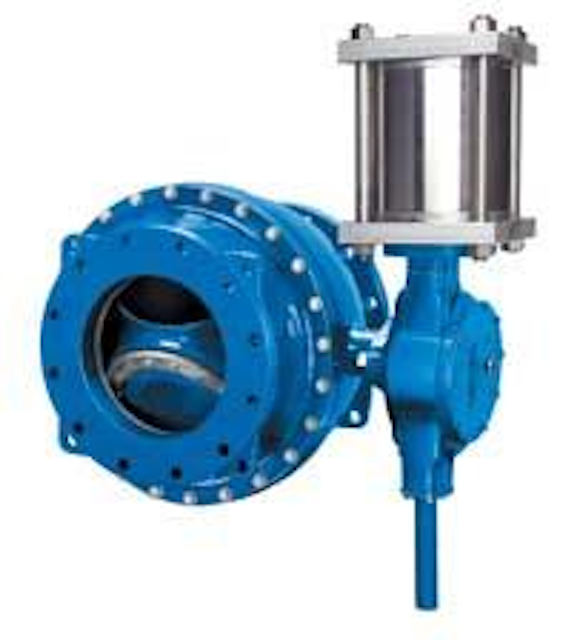 Click here to enlarge image
Val-Matic's Ener•G™ AWWA Resilient Seated Ball Valve is equipped with a traveling nut cylinder actuator that provides reliable characterized closure. Designed and built in accordance with AWWA Standards C507 for Ball Valves and C540 for Power Actuators, they feature externally adjustable closed stops for easy adjustment. The cylinder heads and barrels are constructed of stainless steel or non-metallic materials and include large NPT ports. The stainless steel piston is fitted with a wear strip for extended seal life. The seals are suitable for air, oil or water supply media to 150 psig and are replaceable without removing the cylinder from the actuator unit.
Val-Matic Corp.
Elmhurst, IL
Tel: 630-941-7600
Web: www.valmatic.com
Circle No. 233 on Reader Service Card
Submerged aerated filter
Eimco Water Technologies Copa SAF Submerged Aerated Filter (SAF) is a high performance biological filter for the treatment of both domestic and industrial wastewater. The systems are designed to provide biological treatment for sewage works ranging from 50 to 2000 population equivalents with a 95 percentile, 15mg/l BOD, 25mg/l SS, 5mg/l ammonia effluent quality achievable. Each treatment plant is designed with flexibility of operation in mind and can be installed as a permanent solution or to provide temporary treatment for emergencies or as part of a planned works maintenance program. The units require no specialist operation and the design allows diffuser replacement without the need for draining tanks or removing media, reducing maintenance costs to a minimum.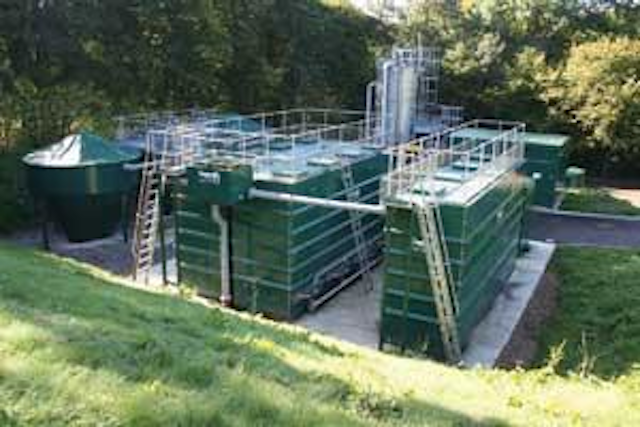 Click here to enlarge image
Eimco Water Technologies
Web: www.glv.com
Circle No. 204 on Reader Service Card