New Solar System to Power High Service Water Pumps
The Valley Center Municipal Water District (VCMWD), which has a service area of over 100 square miles in San Diego County, recently contracted to build the largest solar system of its type for a water district, a unique 1.
Feb 1st, 2008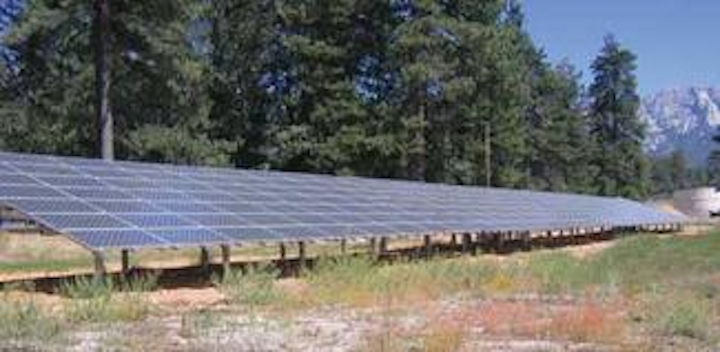 by Mike Breslin
The Valley Center Municipal Water District (VCMWD), which has a service area of over 100 square miles in San Diego County, recently contracted to build the largest solar system of its type for a water district, a unique 1.2 Megawatt configuration capable of running multiple 350 hp electric pumps on solar power alone. The decision was based, in part, on a new financing strategy and new technology that allows high horsepower motors to operate on sunlight and smoothly integrate with the power grid and backup power sources.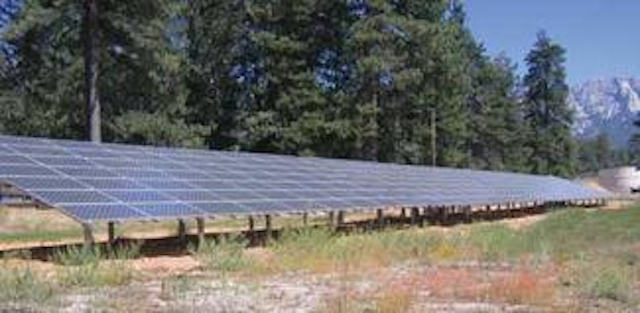 Click here to enlarge image
A similar system with smaller motors became operation in November 2005 when California's Idyllwild Water District (IWD) became the first utility in the country to start using Aquamax, a technology patented by WorldWater & Solar Technologies, that licked the tricky problem of getting electric motors up to 1,000 horsepower to run on solar. (Other technologies are restricted to operating 5 to 7 hp on solar power.)
The system consists of a photovoltaic (PV) solar array, software electronics, a variable-speed motor controller connected to the array, a three-phase AC motor joined to the controller and a pump connected to the motor. The patented drive technology includes a maximum-tracking circuit that controls motor speed in alignment with the maximum power produced by the PV array. The system operates unattended, turning on and off automatically every day.
Aquamax variable frequency drives (VFD) are custom designed to accept 3-phase AC power from grid, diesel or wind and DC solar power, either independently or in combination. Solar operation of drives required special design considerations since solar is not a constant DC voltage and is dependent on varying sun conditions.
The drives can be looked at in two separate sections, the first being the power-conditioning unit and the second being a pulse width modulated frequency control. The power-conditioning unit accepts both 3-phase AC and DC or solar input power. When both sources come into the power-conditioning unit, one source is identified as the primary voltage source and the second voltage as the secondary. If AC grid voltage is the primary source, motor control is from the AC grid voltage. If solar, or other DC sources, are identified as the primary source, then AC grid voltage becomes the secondary voltage source. With both voltage sources present, loss of one voltage will automatically cause switching to the other source, making for seamless operation with no loss in motor operation.
If operating on solar voltage, the system automatically changes motor speed to compensate for power changes.
AquaMax drive systems are available for both 208V and 480V 3-phase AC grid voltages. The horsepower range is from 5 to 600 hp for 480V applications and from 5 to 125 hp for 208V. For 1,000 hp, either 630V AC 3-phase or 850V DC is used.
Unlike other solar systems, Valley Center will use virtually all its solar electricity to run high capacity pumps. From sun up to sun down, 365 days a year, a single-axis tracking array covering five acres adjacent to its Betsworth station will send solar power for pumping during high power consumption hours. Betsworth is VCMWD's main station and runs fifteen, 350 hp motors. It's just one the district's of 25 pump stations, which include more than 100 pumps.
When Idyllwild went solar, the Aquamax system was already in place in other applications. But for a water utility, the technology was considered "experimental" because it had never been done at a water district. Terry Lyons, Idyllwild's General Manager commented on its performance after two-years in service.
"We haven't had any problems with it. I think that says a lot for it. It's doing very well. Now we're looking to WorldWater for another solar system at our wastewater plant," Lyons said
Idyllwild's 44.1 kW solar system supplies electricity to run a total of 57 hp of pumping capacity for 11 different well pumps and booster motors ranging in size from 1.5 to 15 hp. Valley Center's solar system will be over 20 times larger and capable of running two to three 350 hp pumps on solar, independent of the grid.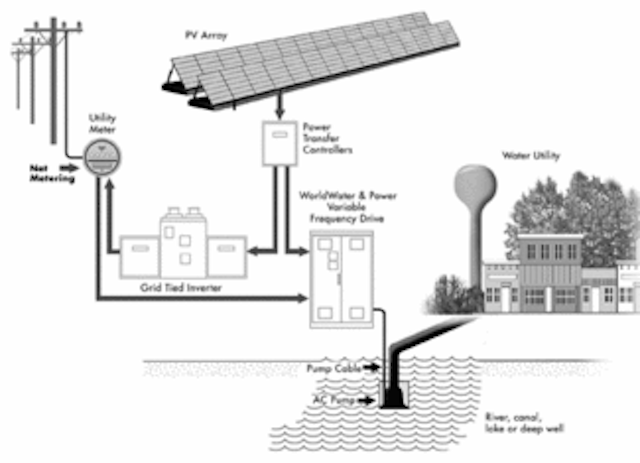 Click here to enlarge image
"Aquamax technology and the fact that WorldWater can run 350 hp motors was the key factor in our decision," said Gary Arant, General Manager of VCMWD. "We liked having a high capacity alternative power supply for reliability, but we were more interested in the cost savings from the project."
Zero Capital Investment
The entire cost of Valley Center's new system is being financed through a 20-year Power Purchase Agreement (PPA) provided by Solar Power Partners, an investment group based in Mill Valley, CA. Under the PPA, Solar Power Partners owns and operates the system, WorldWater maintains it and Valley Center agrees to buy electricity generated by the system at a rate below the local utility's price.
Valley Center's savings on electricity are estimated to be $1 to $2 million over 20 years. VCMWD will also earn Renewable Energy Credits (RECs) for every kilowatt-hour the system generates, approximately 20,000 RECs per year.
"My sense is that we will hold on to the credits because we see RECs becoming very valuable in the coming years as lawmakers tighten the screws on carbon emissions. We can either sell them on the open market or hold on to them to offset against the carbon-based fuels we consume, such as operating a fleet of 50 trucks," Arant said.
Larry Slominski, VP Western Region Sales for WorldWater added, "PPA providers are eligible to obtain rebates and tax benefits to offset the cost of building solar projects such as Valley Center through the California Solar Initiative."
A 30% federal tax credit for such projects is not available to water utilities, but is for investors in a PPA, said Roy Schwartz, Director of Sales for Solar Power Partners and Account Manager on the Valley Center Project.
"We have relationships with investors that want to take advantage of the tax credits and tax benefits. For Valley Center, it's a way to save money on electricity while they incur no costs for system monitoring, maintenance or replacement parts for 20 years. It's an ideal two-way street because our main interest is to keep the system running at optimal performance."
Worldwide, there has been a bullish infusion of cash into solar. The New Energy Group, a British research company, tracked $4.7 billion in global solar-related investments for the first eight months of 2007. That's more than double the $2.2 billion record set in 2006. Investment groups see solar as a hot opportunity and expect a 10 to 15% after-tax return annually.
Self Financing Pays Off at Idyllwild
Even without a PPA, and by financing themselves, Idyllwild's solar system made sound economic sense to their board. Their system cost $309,268 to build, but IWD received a rebate of $154,643 from the California Public Utilities Commission Self-Generation Incentive Program administered though Southern California Edison (SCE). Based upon a projected 3% annual inflation on SCE power rates, the project payback will be 10.8 years. Most solar panels are performance guaranteed for 25 years, and they will likely perform for many years beyond that.
Meanwhile, the solar system is providing 83% of the district's electricity. Idyllwild's system operates with or without the utility and sends some power back to the grid for credits that IWD uses for nighttime pumping. The district also earns RECs that are sold on the open market.
The main value of solar to IWD is reliability. Idyllwild is located near Palm Springs high in the San Jacinto Mountains and the district has a problem with dead trees falling on power lines. Before going solar, and when winds reached 40 mph, Southern California Edison used to give IWD 10 to 15 minutes notice that they would cut electricity so that dead trees falling on power lines would not start fires. Without electricity, of course, IWD could not pump drinking water to its customers or fight fires, unless they went to backup diesel power generation.
Valley Center also gets requests from their utility to shut down electric pumps. The district has a choice to either cease pumping or switch to back-ups powered by natural gas. If they don't shut off from grid electricity they incur penalties that run into thousands of dollars a day. Currently Valley Center pays $62.25 per ac/ft for grid electric pumping, while natural gas pumping costs them $95.42 per ac/ft.
California Green Factors
The State of California is leading the nation with legislation that encourages renewable energy sources while increasing penalties for polluters.
"My board has been very much in favor of solar because they feel it's the responsible thing to do besides helping us financially and operationally," Arant said. "From a public relations standpoint the response we have got back from the community is very positive. We've received calls and letters from people congratulating us on doing something that makes sense for the environment and we have the editorial support of our local newspaper."
VCMWD expects that construction will begin on their solar system by the end of the year and become operational by next summer, pending approval of an environmental impact report.
"Since the solar arrays will be built on a disturbed area that has been used for gravel and pipe storage, we do not anticipate delays," Arant said.
For more information, visit the Valley Center website at www.vcmwd.org, WorldWater at www.worldwater.com, or Solar Power Partners at www.solarpowerpartners.com.
About the Author:
Mike Breslin is a freelance writer specializing in engineering and technology. He is also author of the sea adventure novels Found At Sea, Mystery of the Fjord Tide and Riddle of the Atlantis Moon.