New Literature
Emerson has introduced a new brochure that describes the advantages of using genuine Fisher® replacement parts over replicated parts.
Feb 1st, 2008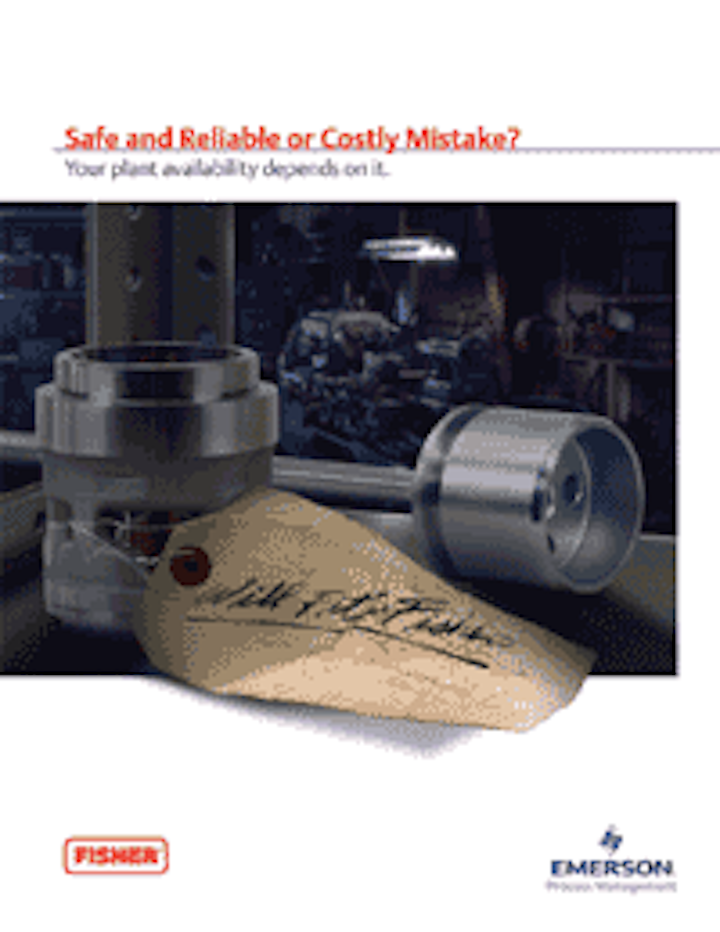 Automation products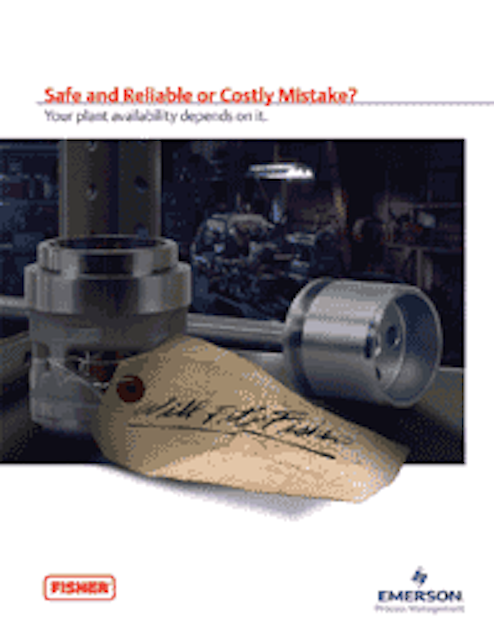 Click here to enlarge image
Emerson has introduced a new brochure that describes the advantages of using genuine Fisher® replacement parts over replicated parts. Brochure topics include issues related to performance and safety, material quality, access to OEM specifications, and local Fisher parts support, warranties, and quick ship availability.
Emerson Process Management
Web: www.emersonprocess.com
Steel pipe manual
The American Iron and Steel Institute (AISI) and the Steel Tank Institute/Steel Plate Fabricators Association (STI/SPFA) have jointly published a steel pipe design manual titled Welded Steel Pipe Revised Edition 2007. The manual focuses on the design of steel pipe up to 240" in diameter under either internal or external pressure. It is available for downloading free of charge from the organizations' websites. The manual offers a broad range of analysis on issues such as handling, installation, ring deflection, performance limits, soil mechanics, external loads, and coatings and couplings, among other topics.
American Iron and Steel Institute
Web: www.steel.org
Steel Tank Institute/
Steel Plate Fabricators Association
Web: www.steeltank.com
Vibration analyzer
Datastick Systems has introduced the VSA-1225 Vibration Spectrum Analyzer, its first product on the Windows Mobile/Pocket PC platform. A PDF datasheet is available for download on the company's website. The analyzer is used for vibration analysis in machine condition monitoring, predictive maintenance, and routine troubleshooting. The VSA-1225 consists of Datastick hardware and software, plus the Hewlett-Packard iPAQ handheld computer, and one or more sensors. The hardware module attaches to a HP iPAQ hx2400-series or hx2700-series handheld.
Datastick Systems Inc.
Santa Clara, CA
Tel: 408-987-3400
Web: www.datastick.com
Gas detection, monitoring
Industrial Scientific, a provider of gas detection and monitoring instruments, systems and related services, has announced the launch of its new corporate web site. With its intuitive navigation and dynamic design, www.indsci.com guides users through a complete gas detection online resource center. The site provides information on monitoring, maintaining and managing gas detection equipment for small or large customers. It includes information about the company's products and services, online training, and detailed technical information. Content is presented so that users can easily skim for basic product features, before accessing more detailed information. Each product page includes a comprehensive summary about the instrument's capabilities, and tabs for access to product literature, specifications, features and benefits, and ordering information.
Industrial Scientific Corp.
Oakdale, PA
Tel: 800-338-3287
Water analysis products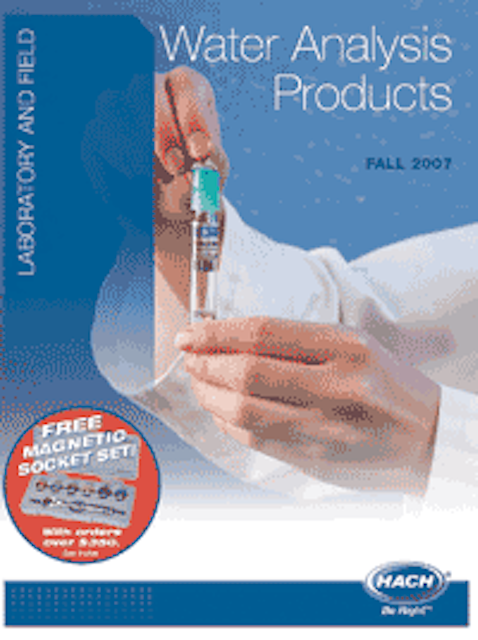 Click here to enlarge image
Designed specifically for laboratory and field water analysis professionals, the Hach Fall/Winter 2007 Water Analysis Products catalog is now available. Complete descriptions, color photography, specifications and pricing are included for chemistries and reagents, instruments, meters and probes, test kits, microbiological products, sample cells, samplers and laboratory supplies. The 208-page catalog also includes new products, such as the HQd Plug-and-Play Meters and IntelliCAL™ probes, the LBOD IntelliCAL™ probe for BOD measurement, Hach DR Spectrophotometers and application-specific Reagent Kits. The catalog also features a detachable card listing EPA-compliant methods for laboratory and field specialists. Request literature number 2595.
Hach Co.
Loveland, CO
Tel: 800-227-4224
Web: www.hach.com/catreq
Membrane modules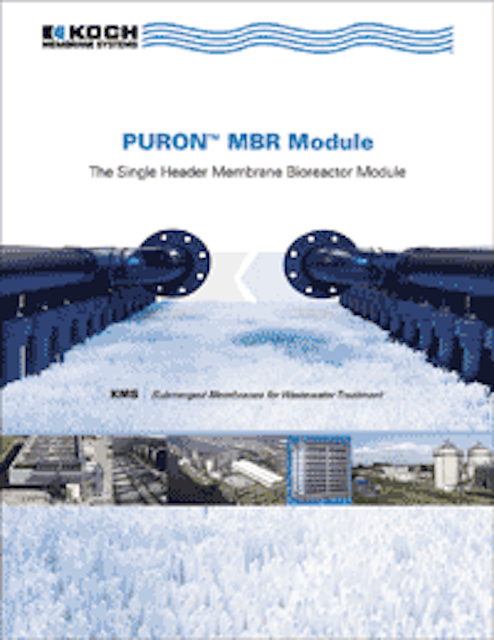 Click here to enlarge image
Koch Membrane Systems has released a new brochure detailing the company's submerged membrane product and service offerings for municipal and industrial wastewater treatment. The colorful brochure features new Puron™ modules used in membrane bioreactor (MBR) applications. Through an easy to follow graphic format, the brochure outlines the components of the Puron single header module design. The new brochure also lists the benefits of MBR wastewater treatment over conventional wastewater treatment technology, including acting as a barrier to bacteria and suspended solids. In addition, MBR technology eliminates the need for a secondary clarifier and thus occupies a smaller footprint than traditional wastewater treatment technology. The brochure may be downloaded from the company website.
Koch Membrane Systems
Wilmington, MA
Tel: 978-694-7309
Web: www.kochmembrane.com
Chromatography consumables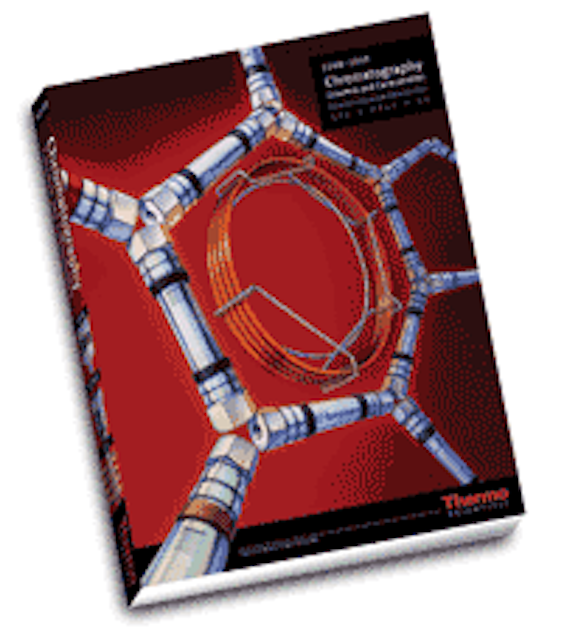 Click here to enlarge image
Thermo Fisher Scientific has released its new 2008-2009 Chromatography Columns and Consumables catalog. The catalog is a complete product and technical reference guide that consolidates the extensive collection of Thermo Scientific chromatography columns and consumables into one comprehensive resource. New this year, the catalog includes a section containing user-replaceable parts for chromatography and mass spectrometry systems. The catalog offers application and column selection sections, providing chromatographers with the tools they need to select the appropriate product to meet their requirements.
Thermo Fisher Scientific Inc.
Tel: 800-532-4752
Web: www.thermo.com/columns
Level measurement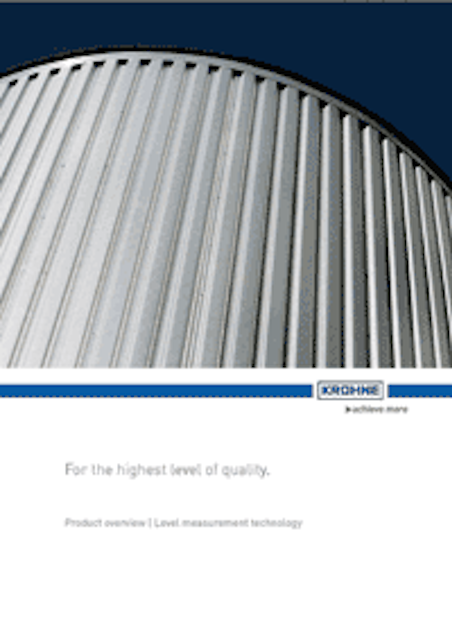 Click here to enlarge image
Krohne has published a new brochure' "For the Highest Quality," which provides an overview of the company's complete range of level measurement products and technologies. Beginning with the history of level measurement technology and citing important examples of its evolution, this new brochure provides examples of continuous level measurement, level switch and calibration products. The comprehensive 42-page brochure features an application-oriented selection table, allowing users to quickly pinpoint the right level-measurement principle to best fit their intended purpose. Each section features a product-group overview, listing respective measurement principles, along with a schematic presentation of technology highlights and a table that displays important technical data.
Krohne
Tel: 800-356-9464
Web: www.krohne.com/northamerica
Duplex basket strainer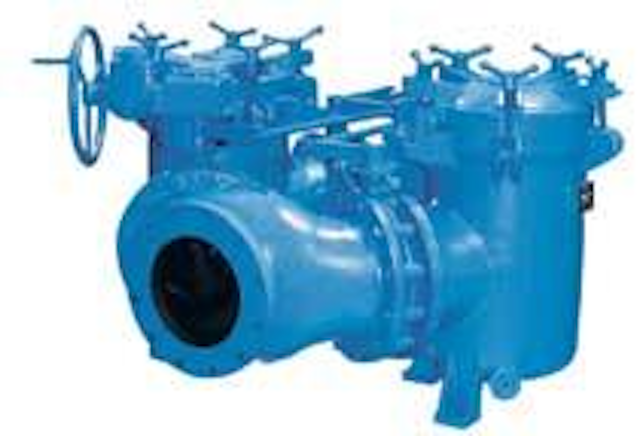 Click here to enlarge image
By removing particulate matter from the pipeline system flow, the Eaton Model 50 Duplex Basket Strainer protects expensive equipment including valves, instrumentation and meters in large size, high flow rate piping systems. Detailed information on the system is available on the company's website. Due to its duplex design, the basket strainer operates continuously, and system flow never has to be shut down to clean the basket. The strainer has been designed with two strainer basket chambers linked by a pair of synchronized butterfly valves. This allows system flow to be diverted from one chamber to the other for strainer basket cleaning without shutting the flow off. The resulting straight through flow path helps keep start-up pressure drops low, even in very high flow rate applications.
Eaton Filtration LLC
Elizabeth, NJ
Tel: 732-767-4200
Web: www.filtration.eaton.com