New Products
The patented QuickView pipeline zoom camera, available from Envirosight, can now transmit real-time inspection footage wirelessly ...
Feb 1st, 2008
Pipeline zoom camera
Click here to enlarge image
The patented QuickView pipeline zoom camera, available from Envirosight, can now transmit real-time inspection footage wirelessly to any truck-mounted video monitor or recorder. A new wireless option allows remote viewing during inspection, multiple viewers, and the collection of easement inspection video directly into data collection software.
Envirosight, LLC
Randolph, NJ Tel: 732-541-8471 Web: www.envirosight.com
Plastic enclosures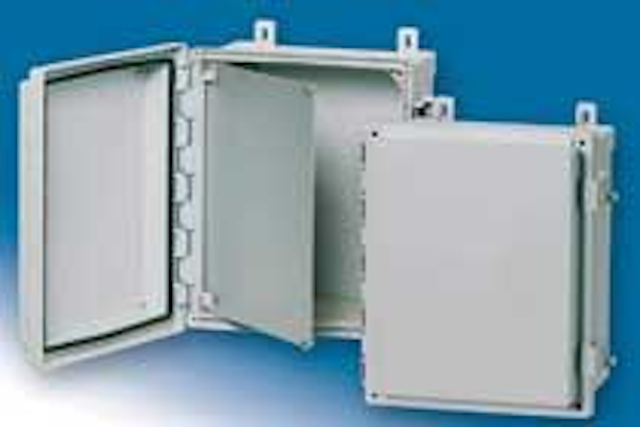 Click here to enlarge image
Fibox Enclosures has expanded UL and cUL environmental ratings for its ARCA Series enclosures. In addition to the Type 4 and 4X hose-down rating, Type 6, 6P, 12, and 13 ratings have been added for enclosures 12 x 10 inch and smaller. These ratings apply to a screw cover enclosure, a hinged screw cover enclosure, and a hinged enclosure with several latch configurations.
Fibox USA
Glen Burnie, MD Tel: 888-342-6987 Web: www.fiboxusa.com
Disinfection controller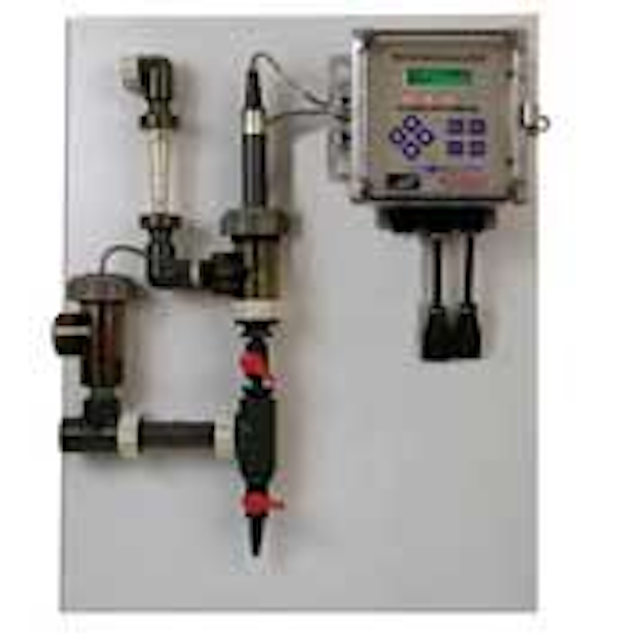 Click here to enlarge image
The WDIS310 is the newest addition to the Walchem W300 family of controllers. The new unit is designed to control water treatment disinfection processes to increase process safety and efficiency, and reduce chemical cost. There are no reagents, and the user may select from four sensor inputs: free chlorine, chlorine dioxide, peracetic acid and ozone.
Walchem Corp.
Holliston, MA
Tel: 508-429-1110
Web: www.walchem.com
Bag filters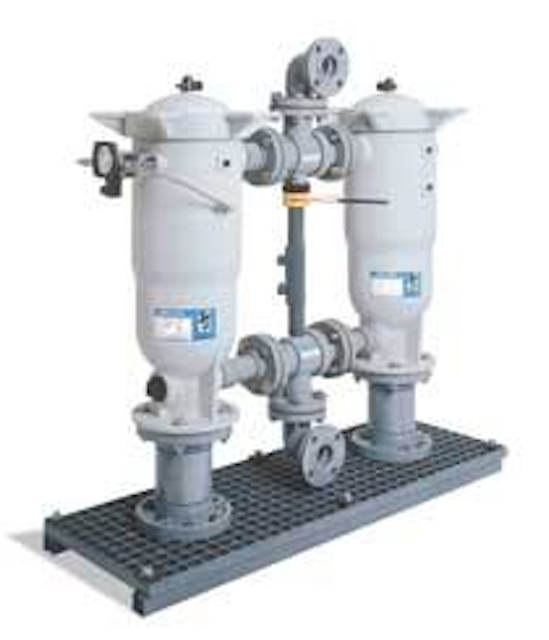 Click here to enlarge image
Eaton's Duplex Polyline™ Bag Filters have no metal components to rust or corrode and their one-piece polypropylene molded filter housing bodies have no seams, welds or crevices to trap particles. The filters never need to have the flow shut down for filter bag change outs.
Eaton Filtration
Iselin, NJ
Tel: 732-767-4200
Web: www.filtration.eaton.com
Organics monitoring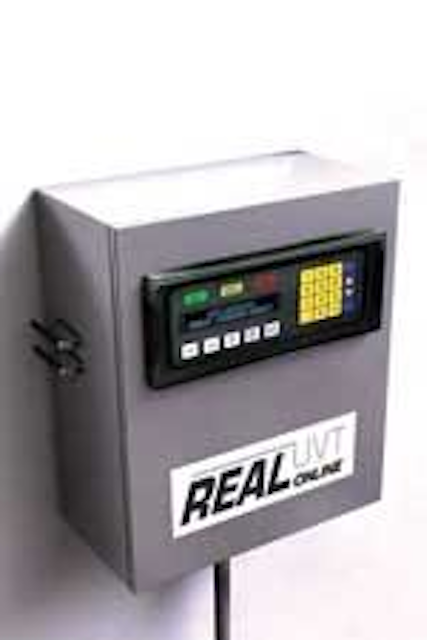 Click here to enlarge image
Real time organics monitoring with the new Real UVT Online monitor provides instantaneous water quality data that is vital for several of the most common water and wastewater treatment applications. The monitor uses patent pending Ortho-Beam technology to overcome the inherent problems associated with conventional online UV 254nm instrumentation. The Ortho-Beam technology, with its multiple path length technique, is able to provide continuous calibration, allowing for detection and compensation of lamp drift and fluctuations as well as quartz fouling, greatly improving accuracy.
Real Tech Inc.
Whitby, Ontario
Tel: 877-779-2888
Web: www.realtech.ca
Water samplers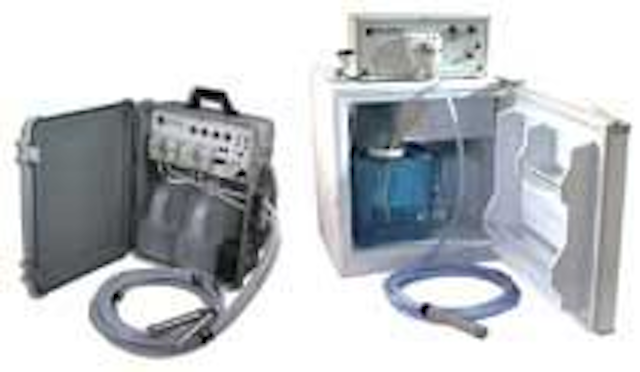 Click here to enlarge image
Pollardwater.com presents its new WS700 single-bottle water samplers, which combine features needed to meet a wide variety of water sampling requirements. They are available as either a portable sampler or a refrigerated sampler. The system's controller gives users complete control over the water sampling process, allowing individual time-weighted composite samples or full-bottle discrete grab samples in a 2-gallon sample bottle.
Pollardwater.com
Tel: 800-437-1146 Web: www.pollardwater.com
Metering pump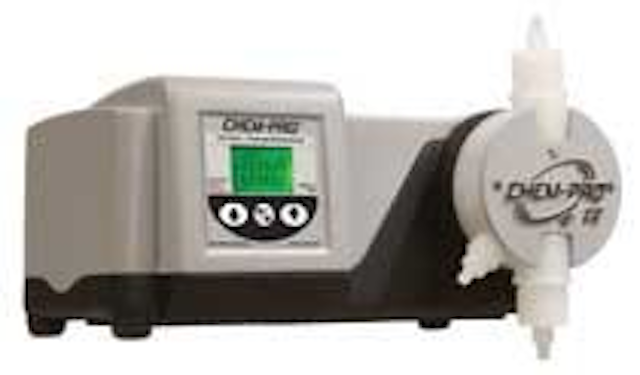 Click here to enlarge image
Blue-White Industries has introduced the all new Chem-Pro™ C2 Series Metering Pump. The C2 may be ordered with a low flow diaphragm for feed/output up to 25.6 gph. The high flow diaphragm unit has a maximum output of 37.7 gph, both have a maximum working pressure of 150 psi. Pump features include: PVDF Pump Head, PVDF Pump Head Adapters and PVDF ball valves; digital touch pad control with back-lit LCD display; variable speed motor that can be adjusted from 1 – 100% in 1% increments, brush life to 3,400 hours; pump housing of durable powder coated aluminum, NEMA 4X and lp66 rated enclosure; Full stroke every time to avoid vapor lock; and Blue-White's DFD built-in Leak Detection System that senses a chemical leak in the pump head and shuts off the pump.
Blue-White Industries
Huntington Beach, CA
Tel: 714-893-8529
Web: www.bluwhite.com
Video pipeline inspection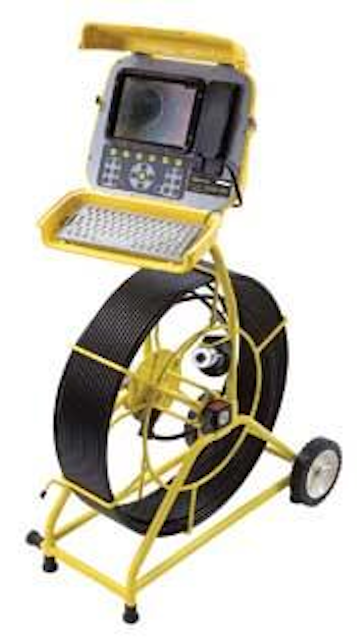 Click here to enlarge image
The Pearpoint flexiprobe push rod video inspection systems, available from Radiodetection, are now available with the new P330+ flexiprobe control module, featuring advanced digital video functionality. Included with each system is a new universal easy-fit brush skid set that allows customers to customize their system for use in a range of pipe diameters. The flexiprobe control module has an 8" ultra-bright industrial TFT screen and records in full VGA digital video onto Compact Flash cards of up to 8 GB capacity, allowing up to seven hours of video to be recorded on each card.
Radiodetection, A unit of SPX Corp.
Bridgton, ME
Tel: 877-247-3797
Web: www.radiodetection.com
Universal drum lock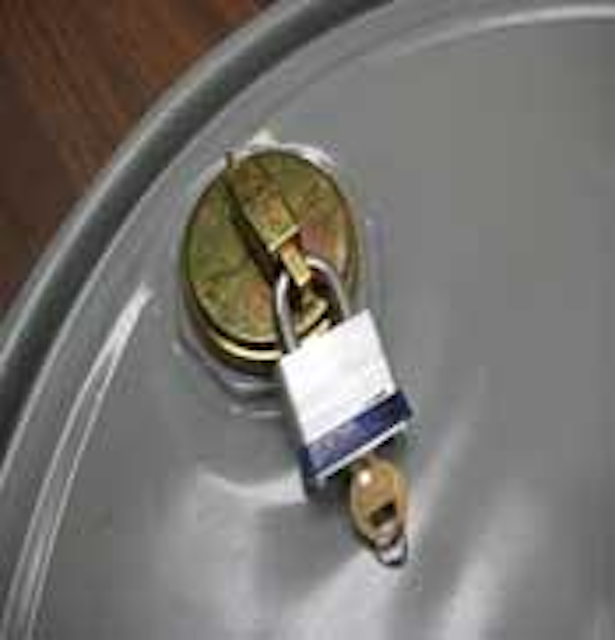 Click here to enlarge image
Carlton Industries offers a universal drum lock that works on both metal and plastic drums. The lock secures around the lip - no contact with chemicals. It installs in seconds, is reusable, and tags and locks can be placed through the locking pen for safety and security. The locks feature metal construction, but they are non-sparking and the melting temperature is lower than steel allowing the drum lock to melt in case of fire, creating a venting effect.
Carlton Industries, L.P.
La Grange, TX Tel: 979-242-5055 Web: www.carltonusa.com
Injection quills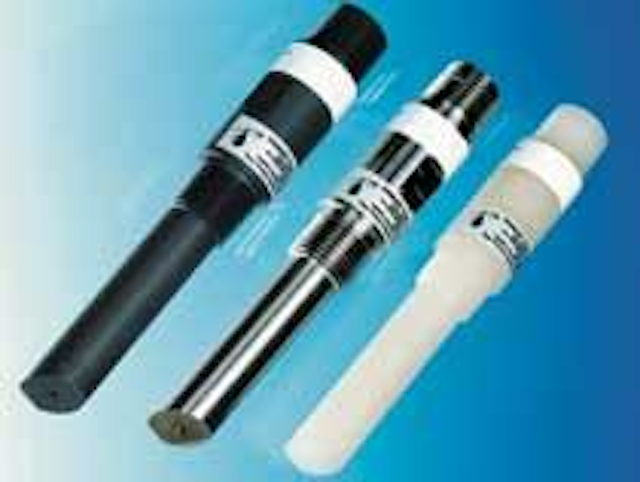 Click here to enlarge image
PFS Injection Quills, available from Primary Fluid Systems, have been developed to allow chemical injection into the center stream of the process flow. This ensures the dispersion of chemical in a more uniform manner, providing for a more homogenous mix in the pipeline. Standard features include: six materials of construction; pressure range to 3000 PSIG; temperature to 500 degrees F; two standard sizes (6" or 8"); threaded or socket connections; and built in spring loaded check valve.
Primary Fluid Systems Inc.
Burlington, Ontario
Tel: 800-776-6580
Web: www.primaryfluid.com
Agitators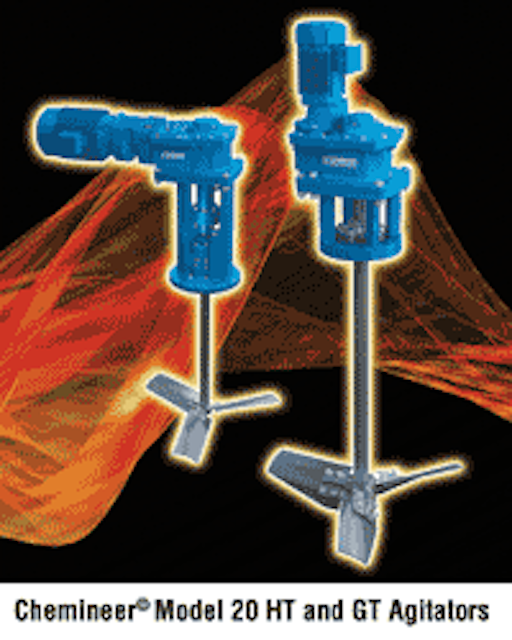 Click here to enlarge image
The Chemineer® Model 20 HT/GT top-entering agitators feature a swing out seal change design. There is no need to lift or remove the gearbox, saving labor and downtime. For replacement of the mechanical seal, simply rotate the gearbox 90° around the pivot pin. The top of the seal pedestal opens for a clear, line-of-site view and ample room for removal of the coupling half and seal assembly.
Chemineer Inc.
Dayton, OH
Tel: 937-454-3200
Web: www.chemineer.com
Radio system diagnostics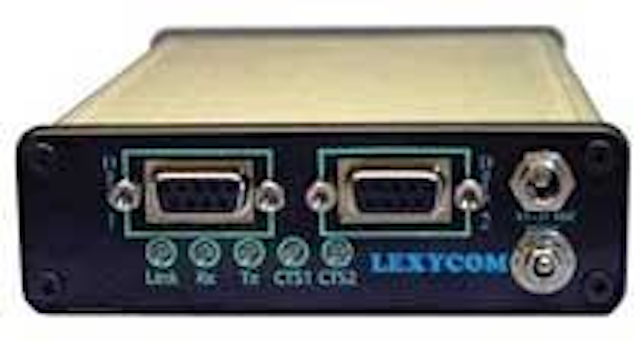 Click here to enlarge image
Lexycom Technologies, a manufacturer of spread spectrum, frequency hopping, 902-928 MHz, software defined radios, has released a Diagnostics package for its line of data transceivers. The Windows-based software allows users to remotely access, maintain, and monitor key elements for all radios in a given network.
Lexycom Technologies Inc.
Longmont, CO
Web: www.lexycominc.com
Tank level sensors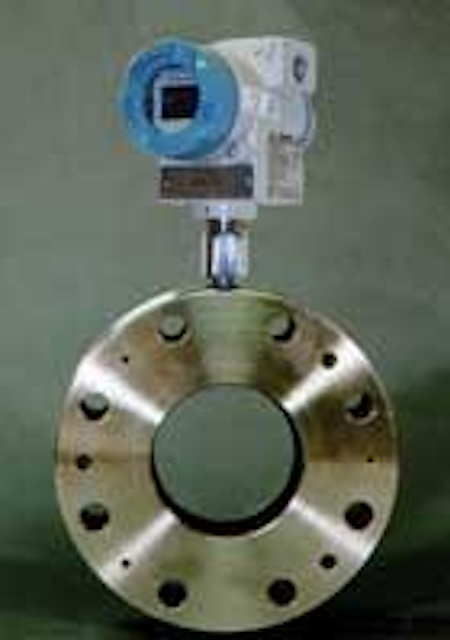 Click here to enlarge image
Red Valve's Series 40TL Tank Level Sensors are specifically designed for sensing level in storage tanks. Suitable for sewage, clean water, fuels, and oils, the sensor is not affected by foaming, ice and other conditions that can cause errors in ultrasonic and capacitance level sensors. The system uses a high-sensitivity, solid-state pressure transmitter that is completely isolated from the process fluid by an elastomer sleeve that transmits pressure through a fluid bill.
Red Valve Co.
Carnegie, PA
Tel: 412-279-0044
Web: www.redvalve.com
Progressing cavity pumps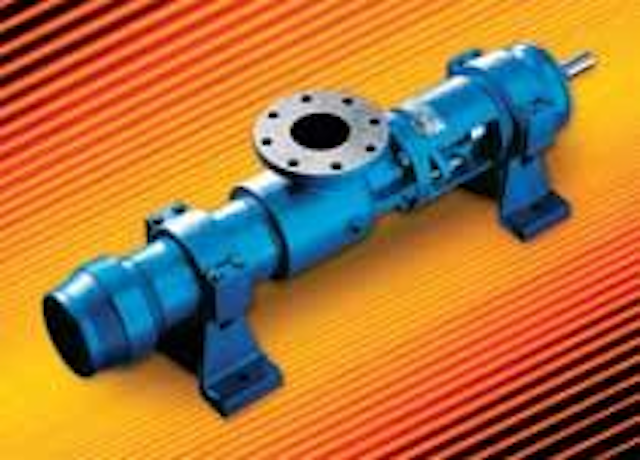 Click here to enlarge image
The Moyno® L-Frame Progressing Cavity Pump are ideal for handling clean, clear liquids as well as viscous, abrasive, solids-laden slurries and sludges. Standard flange models feature a modular design with a simple pin-type universal joint for easy maintenance. Open throat models are also available. All Moyno L-Frame Pumps are available with a wide variety of drive options, sealing configurations, motors and controls to address critical application requirements.
Moyno Inc.
Springfield, OH
Tel: 877-486-6966
Web: www.moyno.com
RTO packing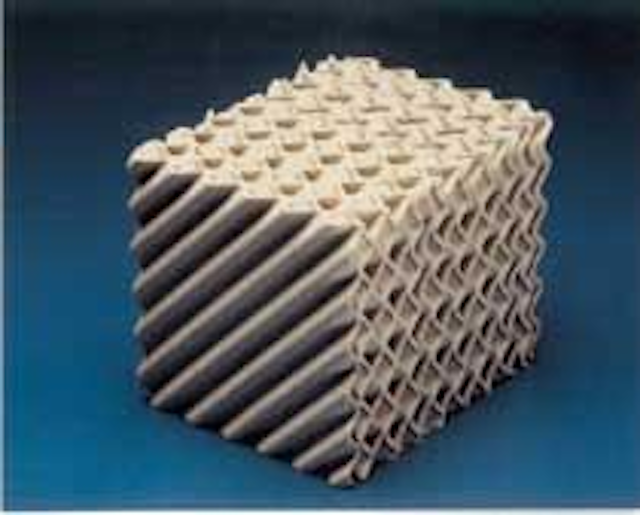 Click here to enlarge image
Koch Knight offers a range of solutions for regenerative thermal oxidizers (RTOs) in municipal wastewater treatment. Coupled with biosolids driers, RTOs are increasingly used in wastewater facilities to abate volatile organic compounds (VOCs) and odor. Koch Knight's patented Flexeramic® ceramic structured packing is engineered to resist siloxane clogging and maximize RTO uptime.
Koch Knight LLC
Canton, OH
Tel: 330-488-1651
Web: www.kochknight.com
Fire hydrant markers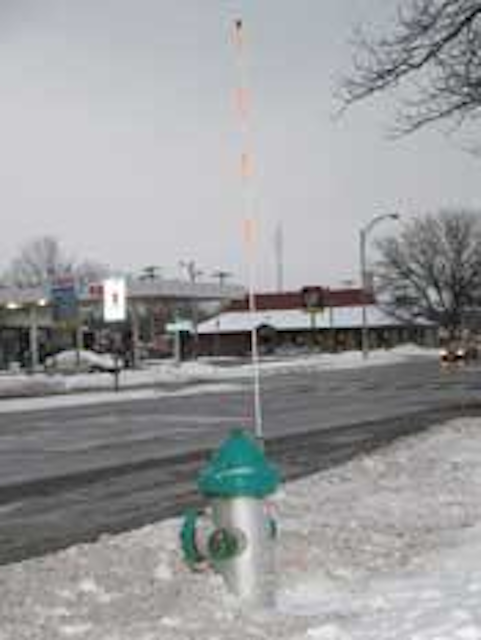 Click here to enlarge image
CY Plastics' Hydrant Markers feature five foot fiberglass rods with reflective bands that help fire fighters locate hydrants in the dark or when they have been buried in snow. Constructed of corrosion resistant polymers and stainless steel, the markers were designed to be highly visible and to withstand the elements. Traditional hydrant markers have been wooden, with no reflective qualities, their only purpose being to help locate hydrants during heavy snowfalls. Each year they must be removed, stored and re-installed the following year.
CY Plastics Works Inc.
Honeoye, NY
Tel: 800-388-9292
Web: www.cyplas.com
Air compressors
As a member of the Compressed Air and Gas Institute (CAGI), Kaeser Compressors will participate in a new Performance Verification Program. The company's rotary screw compressors with the Sigma Profile airend will now be tested and their published performance confirmed by an independent, third party laboratory. While uniform reporting criteria and CAGI datasheets have provided customers with an "apples to apples" comparison in the past, this new independent verification program offers an additional level of comfort for end-users.
Kaeser Compressors Inc.
Tel: 800-777-7873
Web: www.kaeser.com/cagi
Engineering software
Eagle Point has released Task Navigator for Civil 3D, part of the Pinnacle Series™ software and services. The add-on technology directly integrates into AutoCAD Civil 3D, providing end users with on-screen instructions and shortcuts to commands needed to complete their daily tasks. It includes defined workflows for common, every day surveying, engineering and design tasks, which helps improve an organization's ability to implement the 3D modeling capabilities of AutoCAD.
Eagle Point Corp.
Dubuque, IA
Tel: 563-556-8392
Web: www.eaglepoint.com
Residual chlorine reagent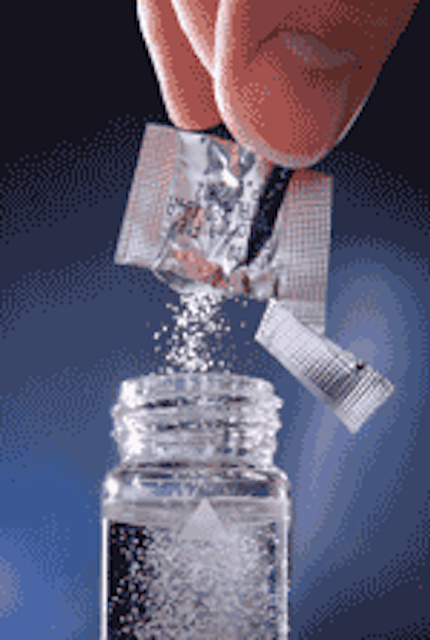 Click here to enlarge image
Orbeco-Hellige DPD Powder Pack Reagents are pre-measured, unit dose, DPD reagents for measuring residual chlorine. They are low-cost, EPA approved and have been specially formulated for use in many manufacturers test kits, colorimeters and spectrophotometers. The reagents are available for free and total chlorine and come in 5 mL, 10 mL and 25 mL sample sizes.
Orbeco-Hellige Inc.
Farmingdale, NY
Tel: 800-922-5242
Web: www.orbeco.com
Alarm annunciators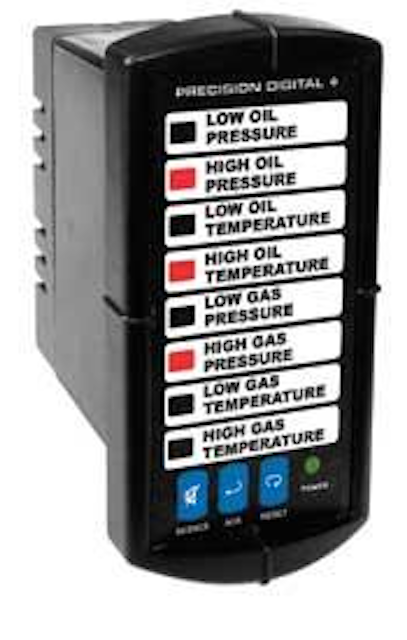 Click here to enlarge image
Precision Digital Corp. has introduced a new line of four- and eight-point alarm annunciators that are compact, panel-space saving and loaded with features previously found in annunciators three or four times their size. The Vigilantes are housed in shallow depth, 1/8 DIN enclosures for convenient mounting. They can be programmed for all the common ISA alarm sequences; accept switch, transistor, and logic level inputs, and can be supplied with free custom printed message labels.
Precision Digital Corp.
Natick, MA
Tel: 800-343-1001
Web: www.predig.com
Sodium hypochlorite
Severn Trent Services has introduced a standardized ClorTec® Series MCT on-site sodium hypochlorite generating system to meet disinfection requirements for 12 to 36 lb/day of chlorine equivalent. The systems are supplied in a factory-tested, skid-mounted configuration and come with standard features including a high-efficiency electrolytic cell or cells, on-board water softener, integrated control panel/power supply and brine proportioning pump.
Severn Trent Services
Fort Washington, PA
Web: www.severntrentservices.com
Pump control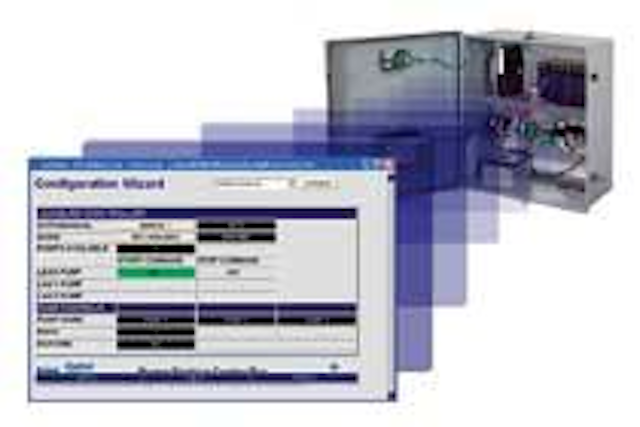 Click here to enlarge image
The Bristol® ControlWave® Integrated Pump Control Solution is designed and built by Emerson Process Management for out-of-the-box installation and start-up. A single program offers performance and simplicity for monitoring and control of remote water and wastewater applications, including well stations, remote tank level control, plus lift and booster stations. The standard, pre-programmed system can be used with the appropriate Bristol ControlWave PLC/RTU to meet I/O requirements.
Emerson Process Management
Watertown, CT
Tel: 860-945-2295
Web: www.emersonprocess.com/remote
Nitrate removal resins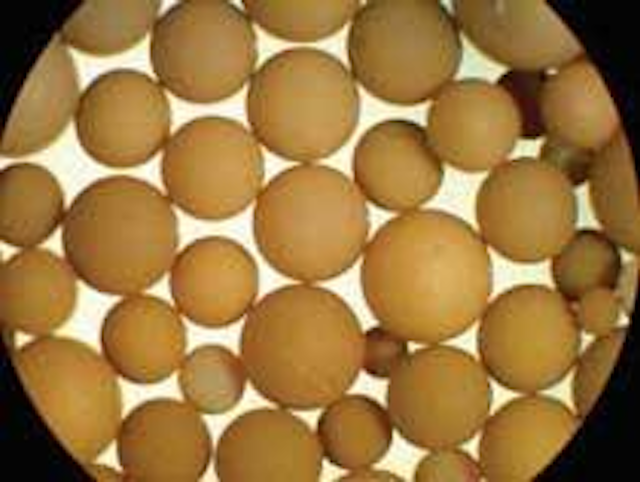 Click here to enlarge image
Nitrate removal by Purolite® ion exchange is accomplished with Purolite SBA resins, which are brine regenerated. The resins exchange the nitrate ion for the chloride ion. The resins can be used in separate vessels, or they may be top dressed on the cation resin bed within a mixed resin bed system, where it is recommended that a minimum 15 cm or 6" Purolite Nitrate removal resin bed be top dressed.
Purolite Co.
Tel: 610-668-9090
Web: www.purolite.com
Data management
Telog Instruments has announced the latest upgrade of Telog Enterprise, a data collection and information management system. The new release data collected by the company's new HPR-31i hydrant pressure recorder and LPR-31i line pressure recorder, units that capture the waveform of a water hammer event even as they perform standard pressure recording functions. The company has added Wallingford's InfoWorks CS and Vieux Inc.'s radar rainfall data service to the list of third party software with which Enterprise is compatible.
Telog Instruments
Victor, NY
Tel: 585-742-3000
Web: www.telog.com