Products & Services — Valves
GF Piping Systems has introduced the Type 369 Wafer Check Valve, the company's first check valve to be offered in sizes as large as 12".
Feb 1st, 2008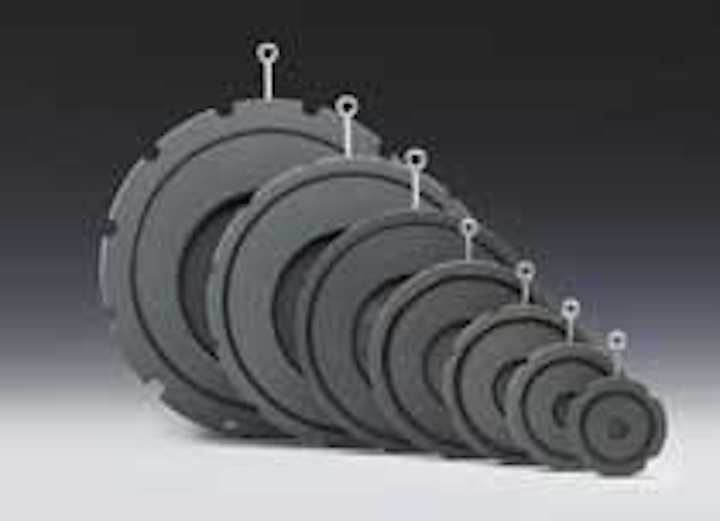 Wafer check valve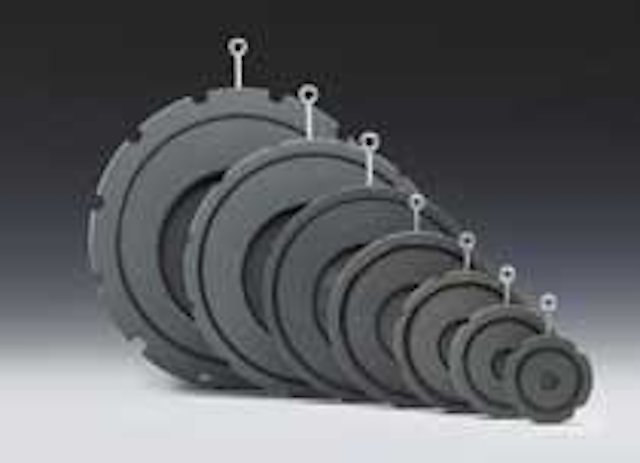 Click here to enlarge image
GF Piping Systems has introduced the Type 369 Wafer Check Valve, the company's first check valve to be offered in sizes as large as 12". The valves offer a unique spring option for horizontal mounting, and excellent flow characteristics. During installation, the valve is simply inserted between two standard ANSI or ISO/DIN flanges. Centering eyelets provide easy fitting, adding to installation simplicity.
GF Piping Systems
Tustin, CA
Tel: 800-854-4090
Web: www.gfpiping.com
NAMUR valves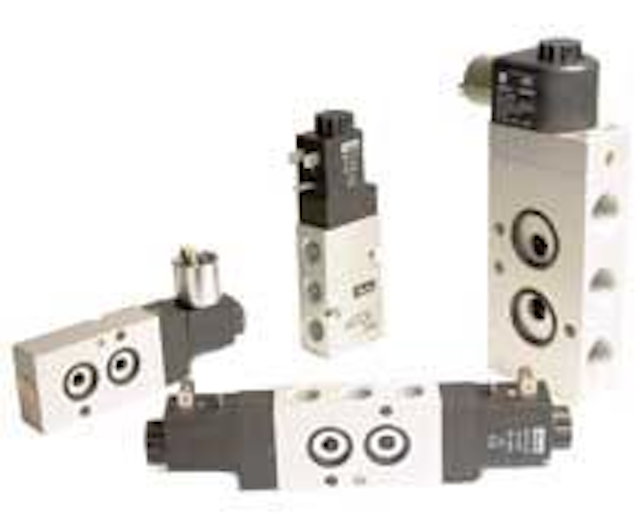 Click here to enlarge image
Parker Fluid Control Division, manufacturers of the Skinner and Gold Ring lines of solenoid valves and the Sinclair Collins line of process control valves, now offers a line of High-Flow Namur Valves for direct mounting to pneumatic actuators. They can be used to control larger process control valves commonly used in the water and wastewater industry. The company's High-Flow series – capable of a greater flow than most NAMUR valves in the marketplace – introduces a compact and modern design ideally suited for controlling actuators of all sizes.
Parker Fluid Control Div.
New Britain, CT
Tel: 860-827-2300
Web: www.parker.com/fcd
Valve exerciser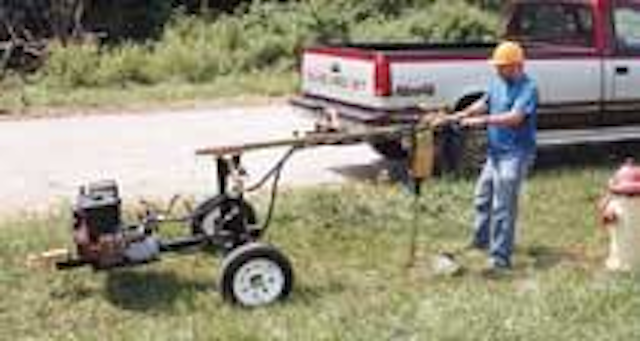 Click here to enlarge image
Wheeler-Rex's Valvemaster™, a trailer-mounted valve exerciser, is designed specifically for municipal users. The system mounts on any standard 2" ball hitch which eliminates the need for dedicating a vehicle exclusively to valve exercising duty. A unique frame design and telescoping control arm effectively absorbs all torque to permit safe, stable operation, even when unhitched.
Wheeler Mfg., a Div of Rex Intl USA Inc.
Ashtabula, OH
Tel: 800-321-7950
Web: www.wheelerrex.com
Vortex valve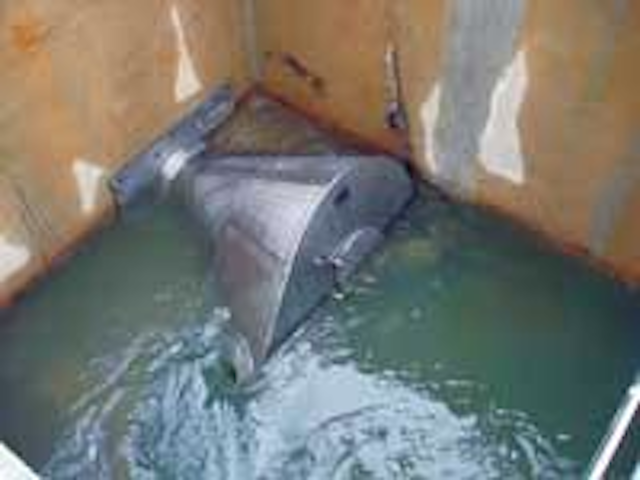 Click here to enlarge image
The Reg-U-Flo Vortex Valve from Hydro International is a passive flow control device that consultants have used at over 17,000 installations worldwide. The valve is well suited for many stormwater applications. It can be used to control the discharge rate from stormwater detention systems, control the rate of flow into a stormwater or combined sewer system and dissipate the energy of stormwater flows for erosion control. The self-activating valve provides superior hydraulic performance compared to a conventional orifice, resulting in up to 40% reduction in stormwater storage volumes and saving site owners up to 50% on overall project costs.
Hydro International
Portland, ME Tel: 207-756-6200 Web: www.hydro-international.biz
Pinch valve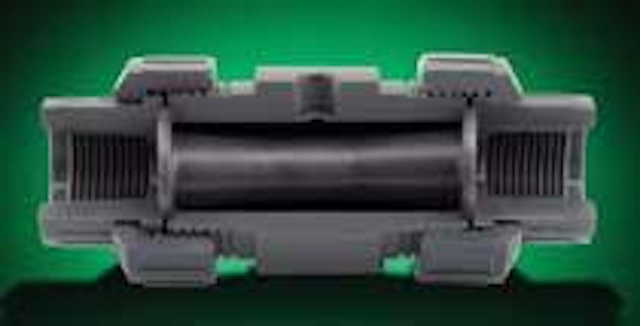 Click here to enlarge image
Plast-O-Matic Valves has developed an all-thermoplastic, air operated pinch valve with a newly designed sleeve element that lasts up to five times longer than traditional designs. The sleeve element in Series HSA is a patent-pending design featuring variable thicknesses and a tapered shape. It is molded from EPDMh2, a new formulation of Ethelyne-Propylene-Diene-Monomer using a proprietary curing process for greater elasticity, durability, and longevity.
Plast-O-Matic Valves Inc.
Cedar Grove, NJ
Tel: 973-256-3000
Web: www.plastomatic.com
Multi-function valve
The new Grundfos Alldos multi-function valve with two diaphragms for dosing pumps up to 60 l/h combines four functions – pressure loading, pressure relief, deaeration and drain. Directly mounted on the dosing valve, the multi-function valve simplifies the handling of the pump and ensures process reliability. If the system has not enough backpressure, the new multi-function valve maintains the backpressure at the level which is necessary for the pump. In addition, it protects the pressure-side dosing line system from an excessive pressure build-up.
Grundfos Dosing, USA
Marietta, GA
Tel: 770-956-7996
Web: www.grundfosalldos.com
Valve, hydrant tags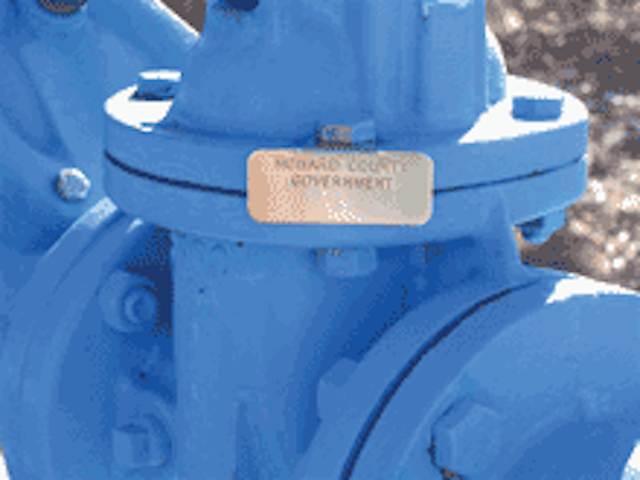 Click here to enlarge image
Assured Flow's Hydra-Tag is a custom tagging system for valves and hydrants. The durable identification system is made from corrosion resistant brass. Custom numbering or lettering is available. The tags attach securely to the bolts on valves for a virtually tamper proof installation. They can be used on all types of valves, fire hydrants, backflow preventers, pumps and other equipment. Identification systems are important for emergency locations, maintenance and repairs, security, mapping and performance evaluations.
Assured Flow Sales Inc.
Sarasota, FL
Tel: 800-388-0678
Web: www.gradelok.com
Rubber check valves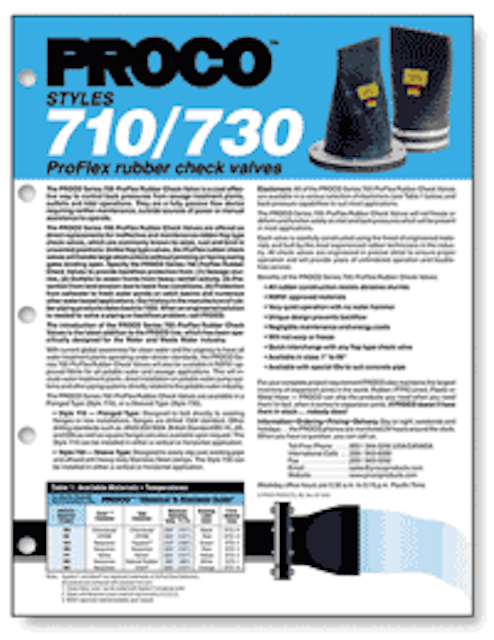 Click here to enlarge image
Proco Products has introduced the ProFlex series 700 Rubber Check Valve. The valve is manufactured completely from rubber with top quality fungicide and barnacle resistant rubber being selected for use. It is impervious to the daily operational vulnerability affiliated with the water and sewage industry such as rust, freezing, corrosion and seizing.
Proco Products
Stockton, CA
Tel: 800-344-3246
Web: www.procoproducts.com
Valve actuator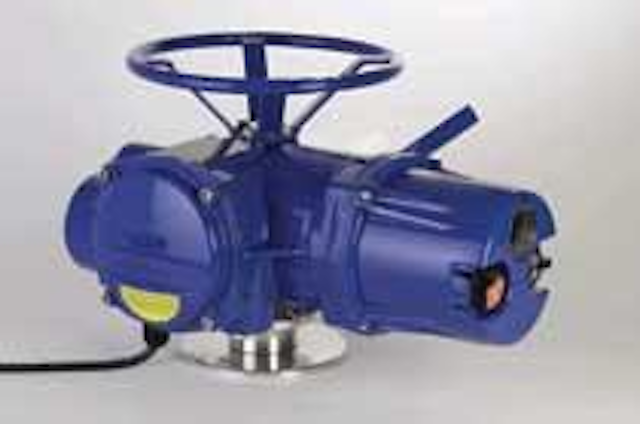 Click here to enlarge image
Flowserve has designed enhancements to the Limitorque MX valve actuator. The redesigned actuator provides user with a longer operational life in even the most rigorous and extreme applications. Available for use on a wider variety and size of 360-degree, multi-turn valves than ever before, the globally certified device meets most world utilization standards. Key improvements to the MX include a patented absolute encoder with increased span, improved diagnostics capability, and built-in self-test (BIST).
Flowserve Corp.
Lynchburg, VA
Tel: 434-522-4107
Web: www.flowserve.com
Gas shutoff system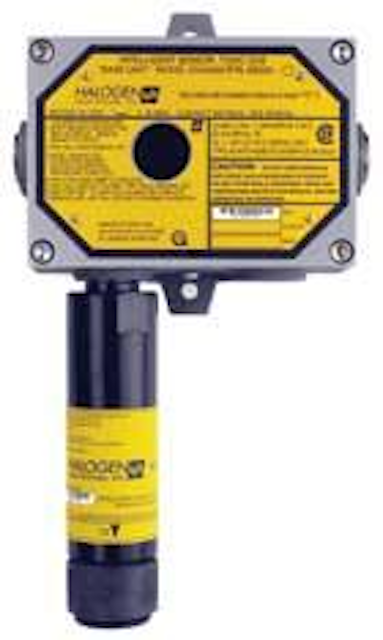 Click here to enlarge image
Halogen Valve's Jupiter gas detection system (Model HVS4000) monitors and reports accurate information about hazardous gases to SCADA monitoring systems. Its features include a sensor life indication, two (250 vAC - 8 amp) settable relays, a three-digit bright red display, dual MODBUS and 4-20 mA proportional gas level output. The system can be connected to the company's Emergency Gas Shutoff systems to immediately remedy a gas leak situation.
Halogen Valve Systems
Irvine, CA
Tel: 877-476-4222
Web: www.halogenvalve.com
Knife gate valve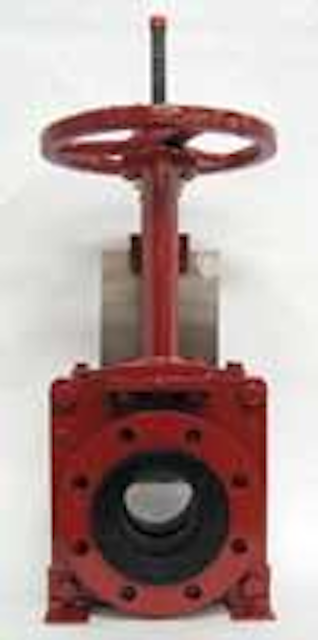 Click here to enlarge image
Red Valve has introduced its newest product, the Series DX Slurry Knife Gate Valve, designed especially for heavy slurry applications. When the Series DX valve opens, the reinforced elastomer sleeves seal against each other and provide a 100% full port opening, minimizing turbulence which in turn minimizes wear. The seats isolate and protect all metal parts of the valve from coming in contact with the process.
Red Valve Co.
Carnegie, PA Tel: 412-279-0044 Web: www.redvalve.com
Valve vaults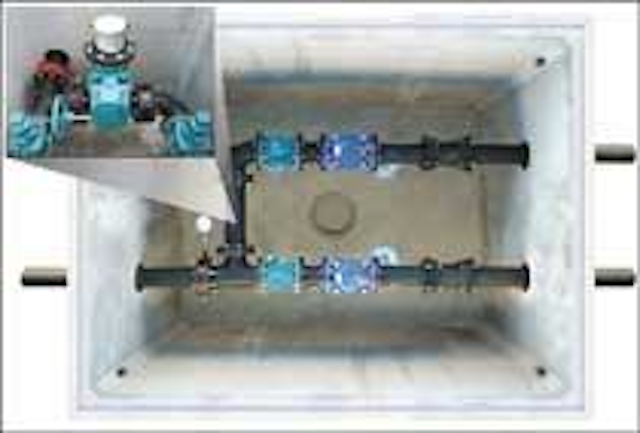 Click here to enlarge image
Romtec Utilities' wastewater and stormwater lift stations are equipped with pre-assembled underground valve vaults. The pre-cast concrete vault includes all ductile piping with check and plug valves and a non-contact pressure sensor. Duplex and triplex configurations are available with 2", 4", 6", 8" and 10" diameter discharge. Available options include a bypass pumping port and flow metering.
Romtec Utilities
Roseburg, OR
Tel: 541-496-9678
Web: www.romtecutilities.com
Valve operator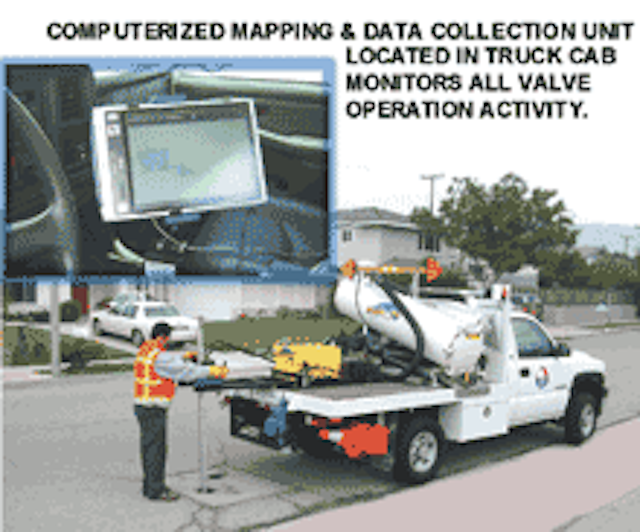 Click here to enlarge image
The Pacific Tek PT-25 Truck Mounted Valve Operator can now keep track of its own valve operational activities with the help of the company's new "Enterprise" data collection system. It is part of an overall computerized map system which can contain a utility's entire infrastructure. In addition, the system has a GPS, line break isolation calculator, and can generate reports such as a list of valves or hydrants needing repair or valve exercise activity history and more.
Pacific Tek
Santa Ana, CA Tel: 800-884-5551 Web: www.pacific-tek.com
Irrigation valves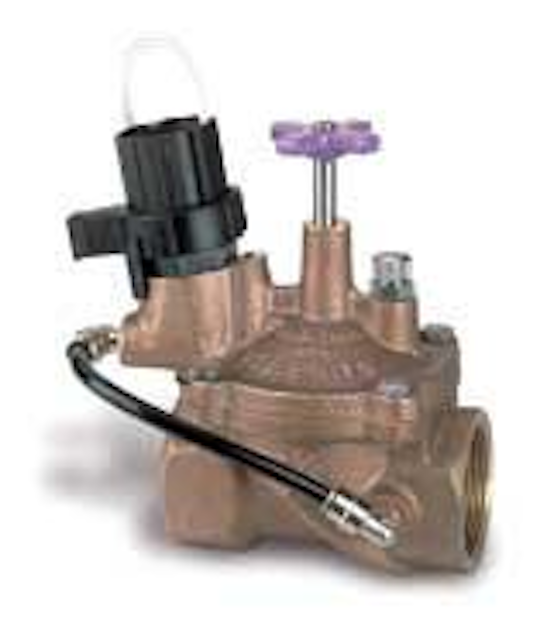 Click here to enlarge image
Rain Bird offers the PESB-R commercial plastic and EFB-CP-R brass valves for use in reclaimed water irrigation systems. Reuse irrigation systems require superior valve construction that can tolerate the harsh environment of reclaimed water. Rain Bird's valves feature a stainless steel screen for clog prevention and nylon-reinforced diaphragms made from a high-performance, synthetic rubber compound that can withstand both chlorine and high water pressure.
Rain Bird
Tucson, AZ
Tel: 800-724-6247
Web: www.rainbird.com
Valves, actuators
A-T Controls offers "painless stainless" valve/actuator packages as economical, no-wait solutions to chemical, corrosive and caustic environments. Available for next-day delivery, the all-stainless packages combine 316 SS ball valves with 316 SS rack-and-pinion actuators. Shipped pre-assembled, ready for installation, the packages are available with TRIAC series 2 and 3 full-port stainless valves with investment cast bodies, blowout proof stems, and threaded, sanitary or flanged ends.
A-T Controls
Cincinnati, OH
Tel: 513-530-5175
Web: www.a-tcontrols.com
Valve actuators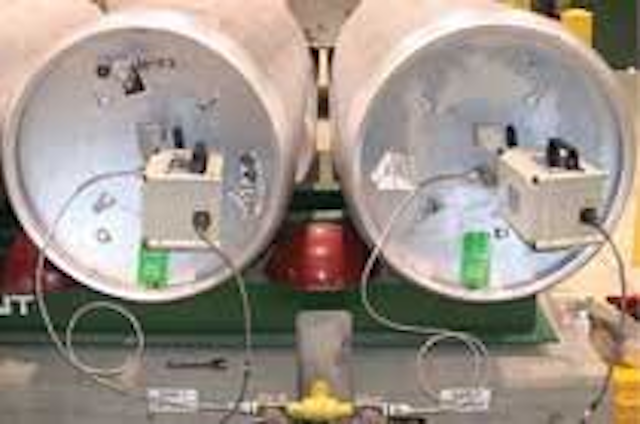 Click here to enlarge image
When higher chlorine feed rates require liquid withdrawal from containers for use with evaporators, it becomes extremely important to monitor and control the status of each valve on the container. Robo-Control® provides actuators to open and close the container valve. Digital indication of valve position and outputs for valve position are available. The actuator will communicate with an RTU or PLC for SCADA or in-plant control. Integral leak detectors provide immediate closure when a leak is detected. The actuators are battery operated and mount to the valve without interfering with existing hardware.
Robo-Control
Bridge City, TX
Tel: 409-697-2666
Web: www.robo-control.com
Thermoplastic valves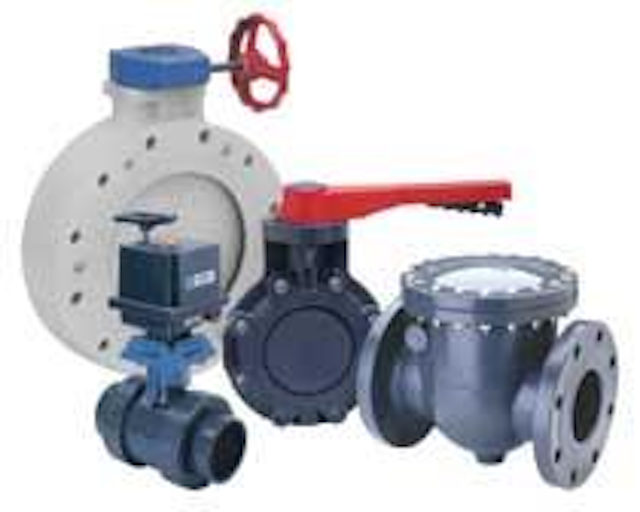 Click here to enlarge image
Spears® PVC, CPVC, and PP thermoplastic valves are engineered for water and wastewater treatment applications. The company's line of ball, ball check, swing check, gate, butterfly and diaphragm valves includes specialty products for use in sodium hypochlorite water and wastewater treatment applications. For high volume, the company produces butterfly valves through 60". Complete factory installed valve actuation packages are available. In addition, the company offers a broad line of molded fittings, unions and flanges plus fabricated fittings through 36". Other system accessories include custom fabricated manifolds, expansion joints, and strainers.
Spears Manufacturing Co.
Sylmar, CA
Tel: 818-364-1611
Web: www.spearsmfg.net
Pump control valves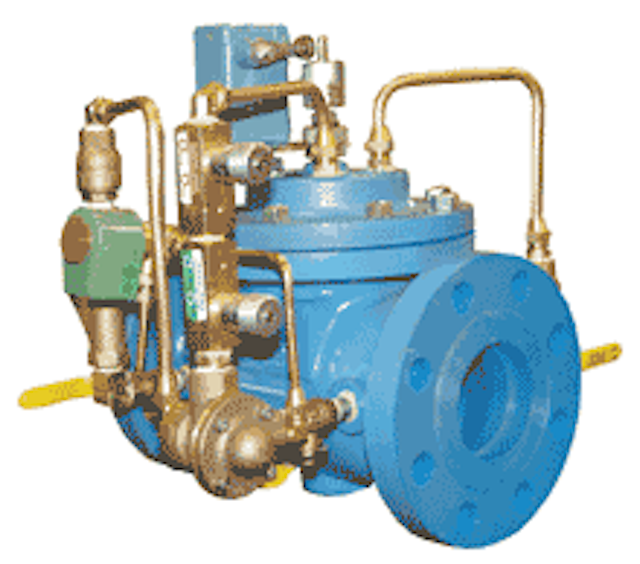 Click here to enlarge image
OCV Control Valves manufactures a variety of control valves for use in water systems. All of the models in the OCV 125 Pump Control Series are designed to effectively eliminate the surges associated with the starting and stopping of booster-type pumps. The Model 125 is primarily designed for use with centrifugal booster pumps and may also be used on well pumps with relatively shallow lifts where the pump design permits starting against a closed valve.
OCV Control Valves
Tulsa, OK
Tel: 888-628-8258
Web: www.controlvalves.com
Slide gate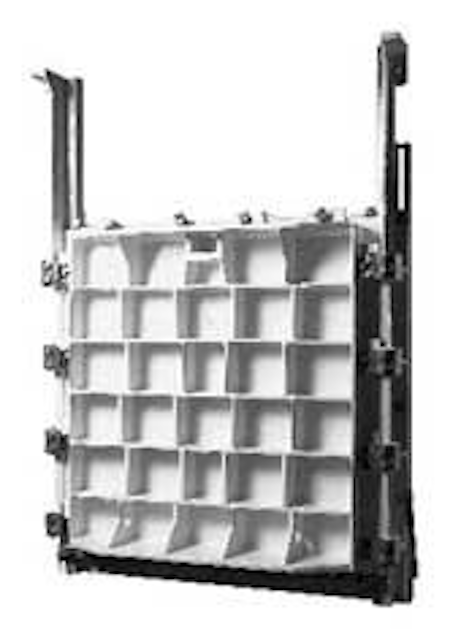 Click here to enlarge image
Cast iron slide gates are commonly used in sewage treatment, flood control and municipal applications. They are designed to control the flow of fluid through openings under a face or seating head as well as under a back or unseating head. Offered in square, rectangular or round flanges, cast iron slide gates from Hydro Gate utilize vertical and horizontal ribs to provide sufficient strength to meet the required design heads.
Hydro Gate
Denver, CO
Tel: 800-678-8228
Web: www.hydrogate.com