New Clarifier Offers Enhanced Performance
Veolia Water Solutions & Technologies (VWS) has developed a new generation of clarifiers ...
Feb 1st, 2008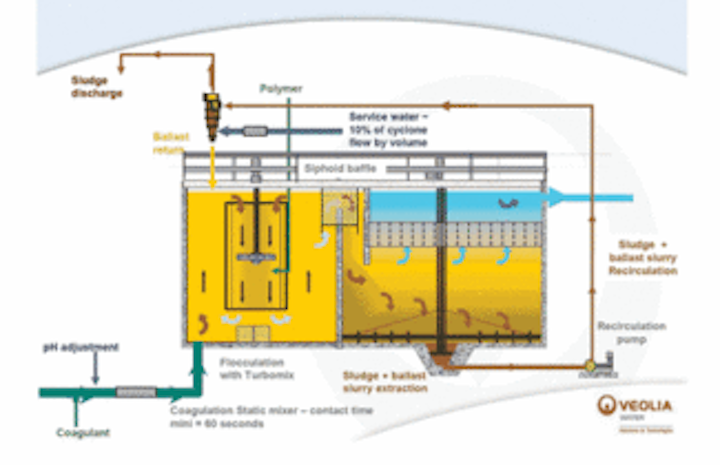 Veolia Water Solutions & Technologies (VWS) has developed a new generation of clarifiers that expands on the functionality offered by its Actiflo® system, which was introduced in 1989.
The new Actiflo® Turbo clarifier offers a higher flow rate in a smaller package, covering a surface area of 40% less on average than the previous generation. The system is designed to be flexible and can be used in both potable and process water applications. A key feature of the system is the new Turbomix™ process, which is designed to enhance flocculation. It features a draft tube around the mixer impeller. This enables optimization of agitation and thus the flocculation process.
Treatment Process
Before entering the clarifier, the water is strained to remove large-size debris. In the first tank a coagulant such as an iron or aluminum salt is injected to the raw water to destabilize the particles in suspension and form microflocs. The coagulated water is then channeled to the flocculation tank where microsand and polymer are added. The microflocs formed during the coagulation stage are ballasted by the agglomeration of microsand. In the flocculation tank the water is vigorously mixed by the Turbomix™ which causes the microflocs to swell and mature. The microsand has a large contact surface and thus improves flocculation.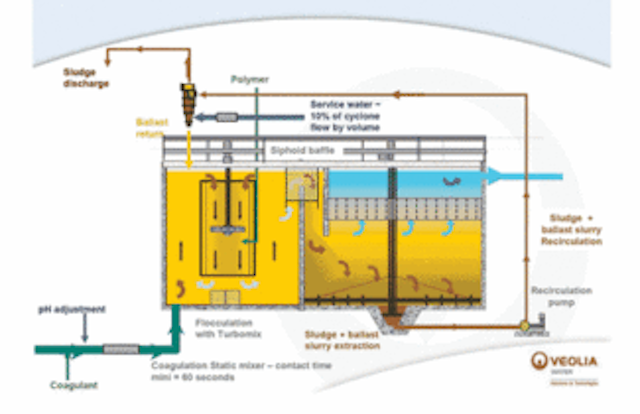 Click here to enlarge image
Finally, the water reaches the settling tank. While the flocs slide down into the settling tank, the clarified water rises up along the lamellas and is collected by overflow into launders. The mixture of sludge and microsand are collected by a scraper before being pumped to hydrocyclones for separation. The hydrocyclone separates the sludge from the microsand by centrifugal effect. The recycling microsand is re-injected back to the flocculation tank and the sludge is discharged by gravity for further treatment.
Thanks to improvements of the flocculation process by use of the Turbomix system, the Actiflo Turbo provides the same treatment performance of earlier systems, but with reduced energy consumption and lower construction costs.
The contact time in the maturation tank has been reduced from six minutes to three minutes, the injection tank has been eliminated (previous time required by the tank was two minutes), the rise rate in the settling tank has risen from 40-60 m/hr to 80 m/hr thus resulting in a smaller footprint of the clarifier, and water loss has been reduced by 10-20 times to less than 0.5% of the influent flow, thereby increasing the thickness of the sludge and allowing it to be fed directly to a centrifuge or press.