Preventing Pipe Breaks through Pressure Management
Pressure Management has been used for years in many parts of the world as a water saving technique.
May 1st, 2008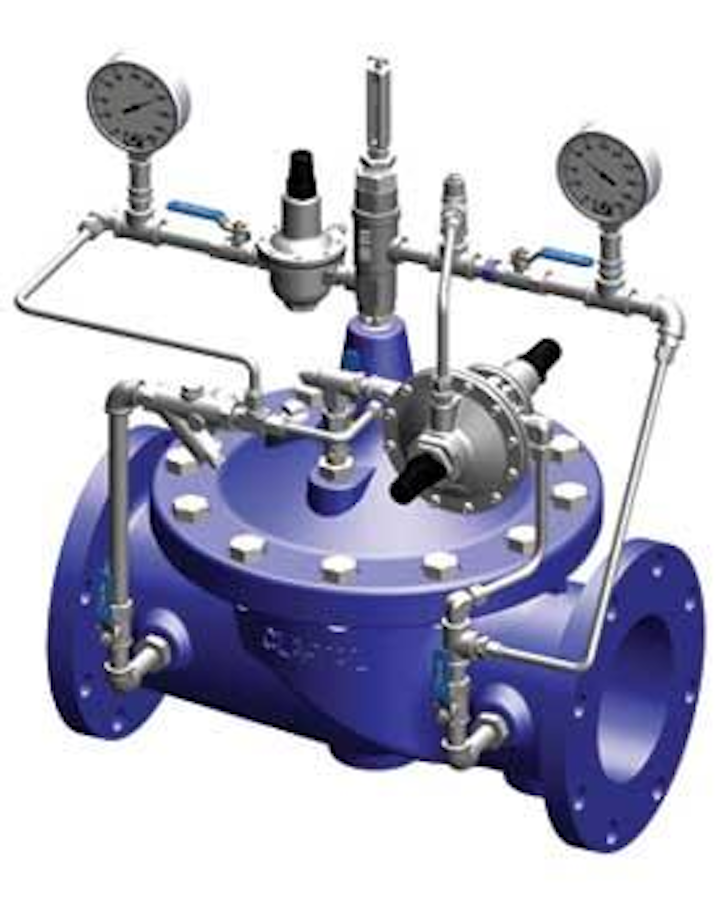 by Roger Lah
Pressure Management has been used for years in many parts of the world as a water saving technique. The premise behind this approach to pipeline management is that lowering system pressure during periods of low demand will prevent breaks, minimize background leakage and even reduce excessive usage.
Significant research into the nature and extent of leakage in piping systems has exposed surprisingly high losses in most systems and supports the concept of pressure management as a way to prolong pipeline life. Researchers have only recently uncovered new information on the reduction in pipe break frequency as a result of using pressure management.
In fact, recent studies have proven that simply reducing pressures during low demand conditions, especially at night, can make a significant difference. In some cases, pipe break frequency has been reduced by over 50% and leakage was reduced by as much or more than the percentage of pressure reduction.
In a recent paper, two authorities on pressure, Julian Thornton and Alan Lambert, found that "reductions in new break frequency were shown to be significant, typically ranging from around 25% to 90%, and averaging around 50%."
A copy of the paper can be found here: http://www.leakssuite.com/Documents/Papers/010_JulianThorntonandAllanLambert.pdf
Predicting the reduction in pipe break frequency was not as simple as what they found in their research on water loss reduction. It did, however, become apparent as they assembled results from around the world that most breaks occurred at night when system pressures were the highest. It led them to conclude that excessive pressures are often "the straw that breaks the camel's back".
Pressure Reducing Valves
The waterworks industry's ubiquitous Pressure Reducing Valve (PRV) is designed to maintain a constant outlet pressure. Such valves are normally used to feed certain zones and are set high enough to supply adequate pressures to all areas of the zone, even at peak flows. This means the pressures must be set high enough to overcome the pipe friction losses at peak flows. Using these valves may be sufficient to reduce unnecessary excess pressures in some areas where friction losses are not particularly high.
These same valves are also at the heart of pressure management systems. PRV valves can be used to automatically lower pressure when flow demand is low and raise pressure as demand increases in order to overcome the piping friction losses. The most common embodiment uses a flow meter signal and programmable logic to adjust setpoint pressures, either mechanically with a pilot control actuator or with a diaphragm bias chamber. In some cases, a battery-operated timer is used to switch between low and high setpoint pilot controls. All of these methods require some form of electrical power, either from a local power source or batteries.
Newly developed all hydraulic Pressure Management PRV valves are able to detect flow demand changes internally (without introducing differential producing devices) and automatically adjust the setpoint pressures accordingly without electrical power. This becomes particularly attractive when no power is available or replacing batteries in electronic devices is not practical. Adjustments to tailor the valve response to system friction losses allows for this valve to be installed in a variety of conditions.
Ultimately, many water districts may decide to choose both electric and hydraulic alternatives to affect pressure management in their systems. In some cases, the district may prefer to be able to change pressure setpoints remotely through SCADA. On the other hand, sensing flow through the valve itself can provide an economic alternative at remote sites where power and SCADA are not available or practical.
Conclusion
Pressure Management is a viable option in the mix of strategies to prolong the life of water infrastructure. Its relative low cost compared to other alternatives makes it particularly attractive since replacing aging underground water piping is extremely costly and represents many obstacles, including the ever-unpopular water rate hikes.
About the Author:
Roger Lah is the Pressure Management Product Manager for Cla-Val. He is involved in product development and training; testing of products; and creation of solutions for customers seeking more effective means to manage pressure and flow in their water distribution piping systems. During the AWWA's Annual Conference and Expo (ACE08) in Atlanta, at the Product Information Forum, Lah will present a 30-minute overview of Pressure Management for Water Distribution Systems. He may be contacted via email at rlah@cla-val.com.