Product & Technologies
Mar 1st, 2008

Membrane treatment systems

Click here to enlarge image
Doosan Hydro Technology provides custom engineered water and wastewater treatment systems with its primary area of expertise in reverse osmosis and membrane treatment. The company has successfully completed countless municipal RO & NF projects in addition to its backlog of water reclamation, wastewater and industrial treatment systems. The company can provide turnkey or EPC services for seawater and brackish RO plants ranging in size from 1 to 50 mgd. It has also established a technology & development division to explore the areas of pilot studies, biofouling reduction, membrane performance testing and other system evaluations.
Doosan Hydro Technology
Tampa, FL
Tel: 813-549-0182
Web: www.doosanhydro.com
MBR system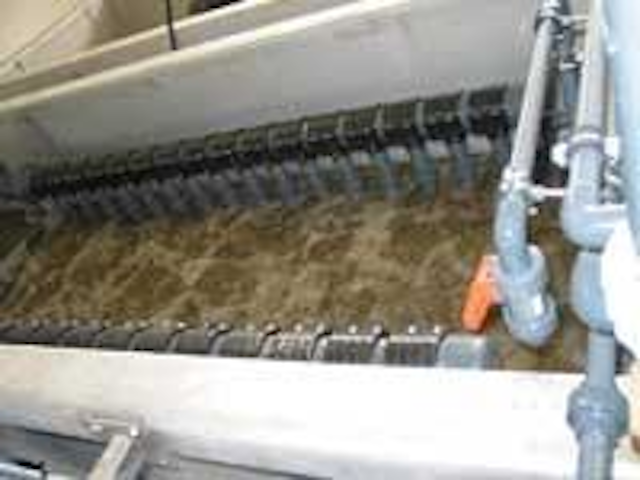 Click here to enlarge image
The Aqua-Aerobic® MBR process specifically uses a unique time-managed, sequential aeration process to promote biological nutrient removal within a simplified unit process. The integration of Puron® submerged membranes, manufactured by Koch Membrane Systems, provides direct filtration of high-level MLSS. In comparison to conventional membrane bioreactor (MBR) technologies, the MBR process offers advantages by addressing equalization, nitrification and denitrification within a single reactor while minimizing power costs through reduced energy needed for mixing, pumping and aeration. The process is ideal for end users who require high quality treated water for water reuse.
Aqua-Aerobic Systems Inc.
Rockford, IL
Tel: 815-654-2501
Web: www.aqua-aerobic.com
Self-cleaning filters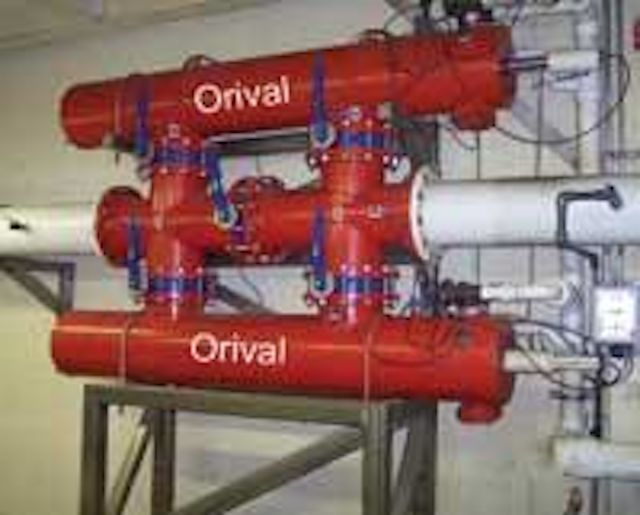 Click here to enlarge image
Orival offers the ORG series of automatic self-cleaning filters. The filters use as little as two gallons of water per cleaning cycle with models available from 10 gpm to 1,320 gpm per filter body. Filtration degrees are available from 3,000 microns down to 10 microns, making the filters perfect for pretreatment to all types of membrane systems.
Orival Inc.
Englewood, NJ
Tel: 800-567-9767
Web: www.orival.com
Screening systems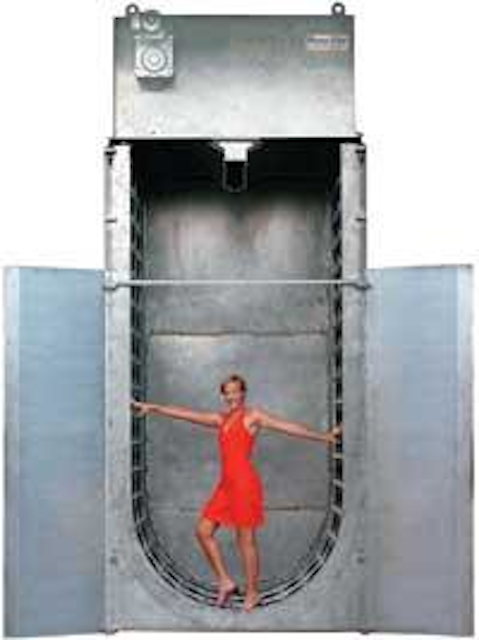 Click here to enlarge image
Hydro-Dyne Engineering offers a line of screening equipment ranging from 1 mm to 3" openings and 100 gpm to 100 mgd flows. New products include the Hydro-Flo (pictured) and Triden Screens. The Hydro-Flo Screen is specifically designed to protect sensitive equipment such as membranes, while the Triden Screens are installed in a number of municipal and industrial processes. The company also offers the Filter Stepper Screen, Washing Compactor, and Screw Conveyors.
Hydro-Dyne Engineering
Oldsmar, FL
Tel: 813-818-0777
Web: www.hydro-dyne.com
UF filtration system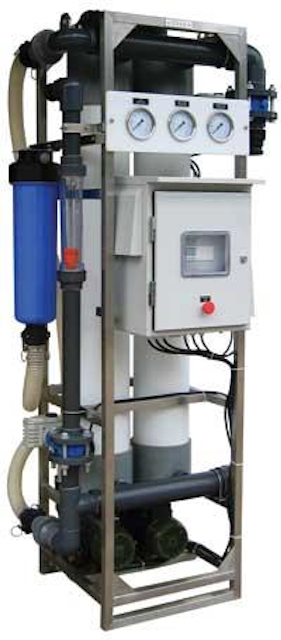 Click here to enlarge image
The UF Membrane System from Miller-Leaman is designed to remove suspended particulate, bacteria, colloidal, and high molecular-weight contaminants from source water. Target industries/applications include wastewater, reuse water, municipal, textiles, pulp & paper, pharmaceutical, plastics, and electronics. The system is ideal for pre-filtration of RO membranes. Filtering between 0.1 and 0.01 microns, the system provides high quality effluent water, removing all total suspended solids with more than a 95% recovery ratio and producing output water turbidity of less than 0.4 NTU. The system operates at less than 22 PSI, reducing energy costs compared to other systems. It has an integrated Maxim controller for backwashing. Triggered by the trans-membrane pressure, the air-pulse-actuated backwash cycle will remove suspended solids from the outside membrane surface, therefore extending the time between chemical cleaning cycles. Systems can be manifolded to meet any flow rate and come complete on a stainless steel skid with variable frequency drive pumps.
Miller-Leaman Inc.
Daytona Beach, FL
Tel: 800-881-0320
Web: www.millerleaman.com
MBR system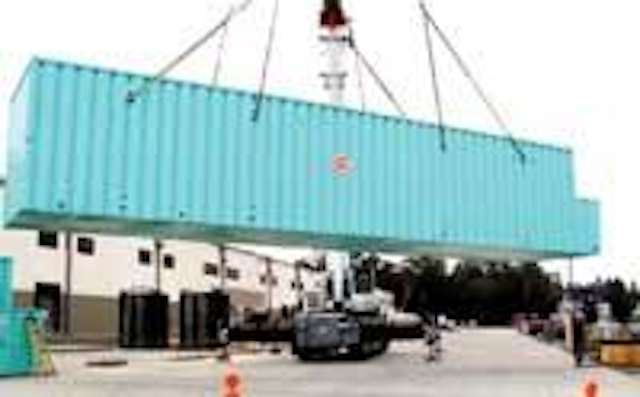 Click here to enlarge image
The Titan MBR™ marries the wastewater treatment engineering expertise of Smith & Loveless with Flat-Plate Membranes. Submerged in the aeration section of the Titan tank, the Flat-Plate Membrane maintains high permeability and flux rates even at peak-day rates. Because the system employs air scouring to prevent fouling, it does not require back-pulsing or the associated equipment and chemical costs typical of other systems. Because of its robust support, flat-plate units also experience less wear and tear than hollow-fiber types and can easily be cleaned in place. The MBR systems come in standard and custom designs, and result in smaller footprints than conventional systems. The submerged membrane eliminates clarifiers and sand filters while still producing significantly better effluent quality. Flow capacities range from 5,000 gpd to 3 mgd. The system will meet effluent requirements of less than 3 mg/L BOD, 1 mg/L TSS, 2 mg/L TKN, and 1 mg/L NH3. Cleaning is in-place and is typically accomplished on a semi-annual basis in about four hours.
Smith & Loveless
Lenexa, KS
Tel: 913-888-5201
Web: www.smithandloveless.com
Membrane treatment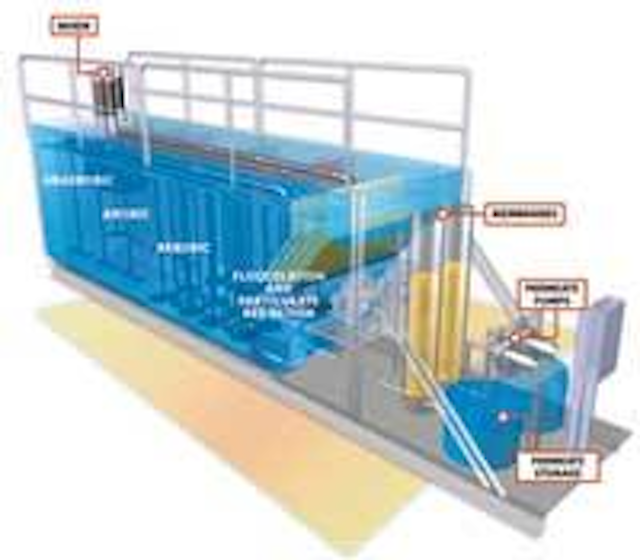 Click here to enlarge image
IMAS™ (Integrated Membrane Activated Sludge), available from Ashbrook Simon-Hartley, provides membrane quality effluent, while minimizing capital and operating costs by individually optimizing the performance of the biological and membrane filtration unit processes. BOD and TSS reduction, nitrification, denitrification and phosphorous removal are all easily achieved to meet current and anticipated future discharge limits. The ultra-low membrane fouling environment inherent in the process allows high membrane flux, low energy and chemical consumption and a compact footprint. The system uses SpiraSep spiral wound membranes.
Ashbrook Simon-Hartley
Houston, TX
Tel: 800-362-9041
Web: www.as-h.com
RO membranes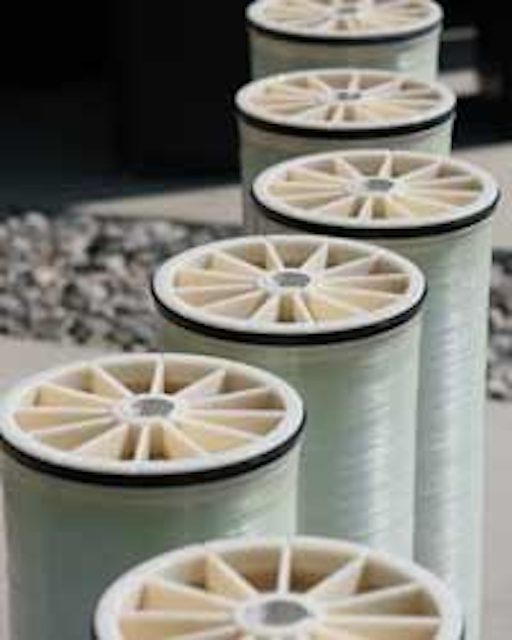 Click here to enlarge image
Toray's TML line of reverse osmosis membrane elements are designed specifically for the wastewater treatment market. Created to meet the stringent demands of high-fouling environments, the TML20-400 provides excellent salt rejection (99.7%) at a flow of 10,200 gpd. These performance numbers have led some of the world's largest wastewater treatment plants to choose the line for their applications, including the 350,000 m3/day Sulaibiya treatment plant in Kuwait.
Toray Membrane USA Inc.
Poway, CA
Tel: 858-679-0770
Water treatment system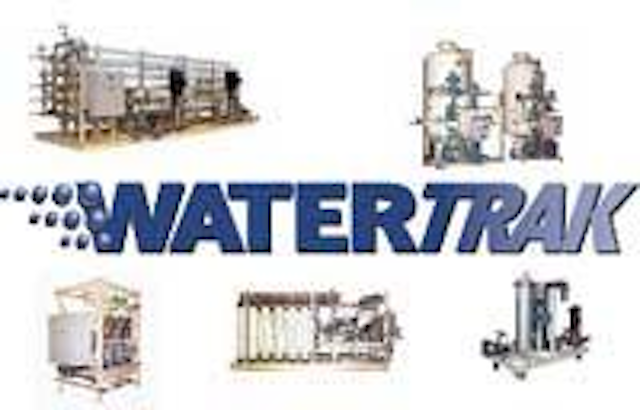 Click here to enlarge image
Aquatech International offers WaterTrak™, a collection of pre-engineered products derived from over 25 years experience in the water treatment industry. Based upon all of the necessary components such as filtration, demineralization, reverse osmosis, and electrodeionization systems, the system delivers a cost-effective and timely solution for most water treatment needs today. The system can be offered with pressure filters, ultrafiltration, reverse osmosis, ion exchangers, mixed bed filters and EDI.
Aquatech International
Canonsburg, PA
Tel: 724-746-5300
Web: www.aquatech.com
TDS monitor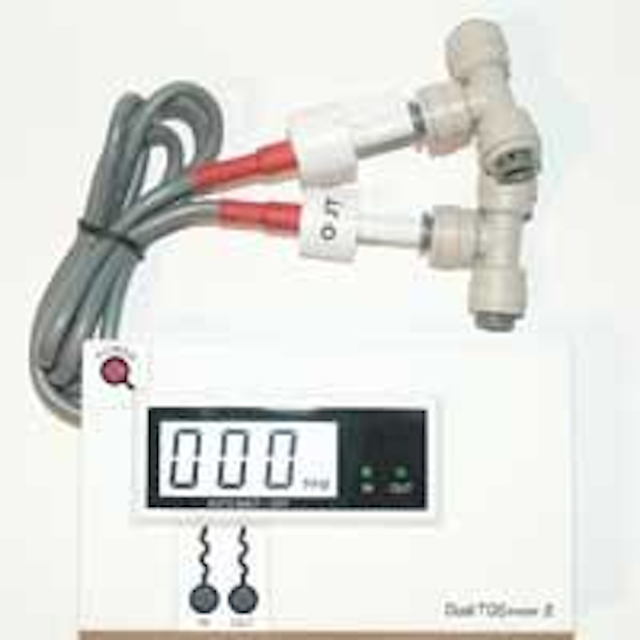 Click here to enlarge image
HM Digital's DM-2 Inline Dual TDS Monitor is designed for anytime monitoring of an RO membrane or filtration system. The unit measures the TDS levels of two separate water lines. It has a range of 0-9990 ppm and an accuracy of +/- 2%. It features a large, easy-to-read LCD display, a splashproof housing and shielded cables. It comes standard with 1/4" John Guest fittings, but larger fittings are also available.
HM Digital Inc.
Culver City, CA
Tel: 800-383-2777
Web: www.hmdigital.com
Packaged water treatment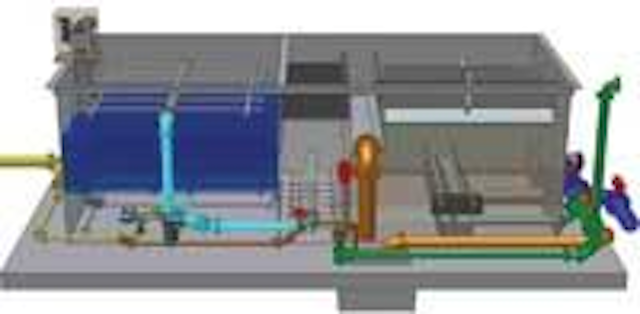 Click here to enlarge image
The Trident® HS system is a multi-barrier packaged membrane treatment unit that addresses the Long Term Enhanced Surface Water Treatment Rule and other regulations. A high-rate, two-stage clarification system removes both settling and non-settling solids while providing built-in redundancy. After clarification, treatment is completed with an integral media filter and UV disinfection unit. Since its introduction in 2005, the system has proven its effectiveness at reducing turbidity, color and TOC in surface water supplies. The unit also can provide pretreatment for NF/RO high pressure membrane systems. The two-stage clarifier may be used to provide micro- or ultra-filtration membrane pretreatment. In addition to drinking water treatment, the Trident HS design is ideal for ultra-low-level phosphorus reduction and water re-use for wastewater applications.
Siemens Water Technologies
Waukesha, WI
Tel: 262-547-0141
Web: www.siemens.com/water
MBR system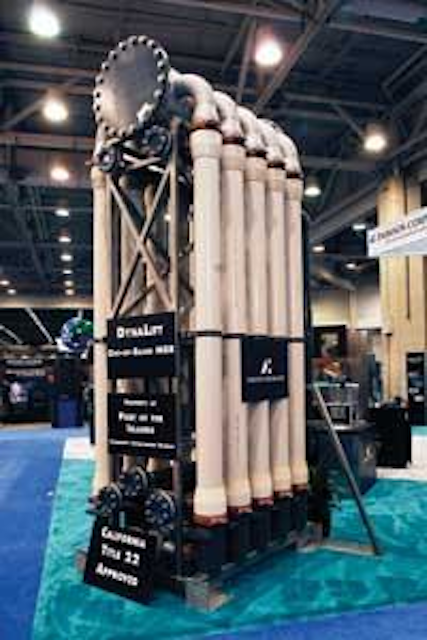 Click here to enlarge image
The Title 22-approved DynaLift™ MBR system from Parkson combines out-of-basin ultrafiltration tubular membranes with a simple biological wastewater treatment plant to produce high-quality effluent. The biological process is a long-sludge-age design that provides excellent BOD removal and nitrification. Anoxic and anaerobic zones are added as needed for nutrient removal. Increased mixed liquor concentrations mean more biological treatment capacity within the same footprint. Long sludge age treatment results in less waste sludge production, excellent process stability, low membrane fouling and lower overall operating costs.
Parkson Corp.
Fort Lauderdale, FL
Tel: 800-553-5419
Web: www.parkson.com
Filtration systems
MWH has formed a national water practice, comprised of the company's water industry experts, to assist its clients as they face water issues. These experts develop innovative solutions focused on sustainability principles that meet their clients' needs. MWH is currently conducting an international review of desalination research and development with the goal of improving the energy efficiency, reliability and cost of the desalination facilities. For more information on the research, visit www.desalinationresearch.net.
MWH
Saddle Brook, NJ
Tel: 201-291-44428
Web: www.mwhglobal.com
Cloth media filter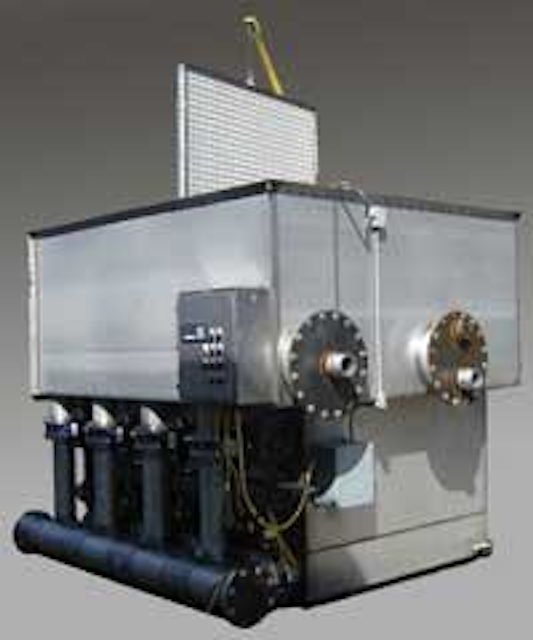 Click here to enlarge image
The Muni-Disk® cloth media wastewater filter manufactured by Municipal Filtration Co. combines patented gravity flow hydraulics and unique cloth media technology to eliminate pumps, drive motors, chain gears, backwash/sludge manifolds, and other complicated mechanical wear items, resulting in a simple yet effective tertiary treatment system. The system uses a combination of differential head and a series of open-close pneumatic valves to provide wastewater filtration and backwash flow control in a compact package. Cloth panels are locked in place during normal operation – which reduces mechanical complexity and maintenance issues – but can be removed from the flow stream for media replacement while influent flow continues to other online elements. Vertically placed cloth media panels reduce equipment footprint and the modular design simplifies expansion for future flow increases. Standard stainless steel packages range in capacity from 400,000 gpd to 2.5 mgd.
Municipal Filtration Co.
Madison, WI
Tel: 608-240-8987
Web: www.municipalfilter.com