Pressure Management
Cla–Val has released a new product specifically designed to meet the needs of utilities struggling to deal with water shortages.
Mar 1st, 2008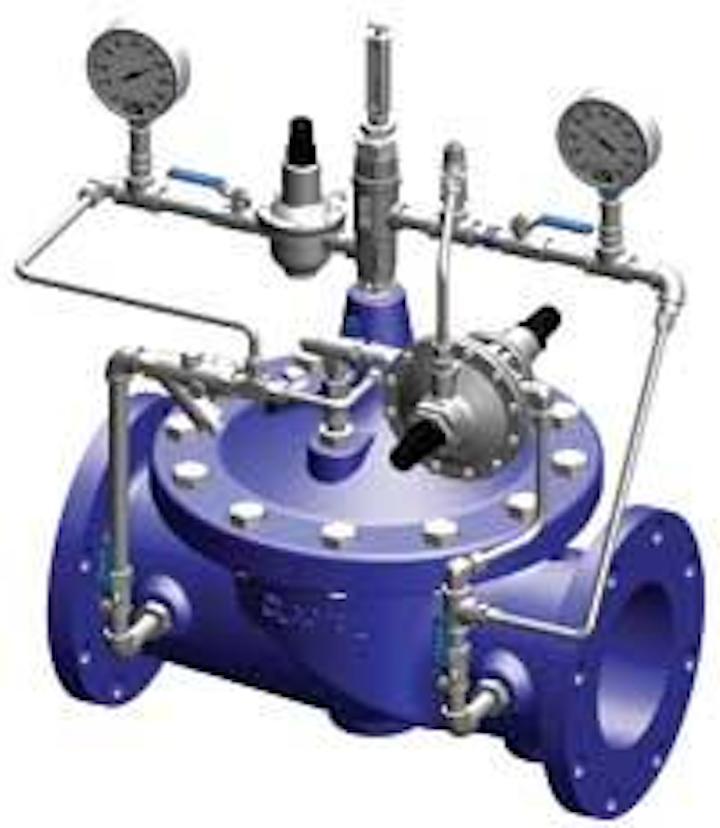 Pressure management
Click here to enlarge image
Cla–Val has released a new product specifically designed to meet the needs of utilities struggling to deal with water shortages. The 98 Series Advanced Pressure Management Valve (PMV) automatically adjusts pipeline pressure based on system demand to conserve water, reduce the incidence of pipe breaks and minimize background leakage, without any external devices such as orifice plates, meters or SCADA communication. The valve does this by lowering normal operating pressure during off–peak periods rather than maintaining the maximum constant downstream pressure which can leave the system pipeline over–pressurized and vulnerable to pipe breaks and higher background leakage. In the event there is a sudden increase in demand, such as for fire flow, the valve automatically adjusts pressure to the system's maximum set point and then lowers it when demand decreases.
Cla–Val
Newport Beach, CA
Tel: 800–942–6326 Web: www.cla–val.com
Circle No. 200 on Reader Service Card
Hydrant flusher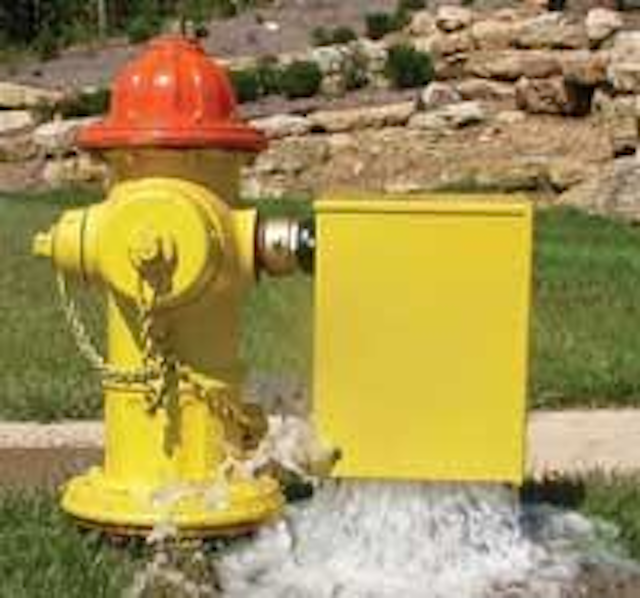 Click here to enlarge image
To keep residuals high at dead–ends automatically, Kupferle Foundry announces it's new #9700 Automatic Hydrant Flusher. The #9700 attaches to any 2½" NST nozzle, and then the flushing cycle can be selected, usually at night. Man–hour savings can be realized by flushing troublesome dead–ends without sending personnel. Powder–coated, lockable, and patented, this compact unit can be used instantly with limited installation expense. Great for under–utilized mains.
Kupferle Foundry Co.
St. Louis, MO
Tel: 800–231–3990
Web: www.blow–offs.com
Circle No. 201 on Reader Service Card
Polyurethane coating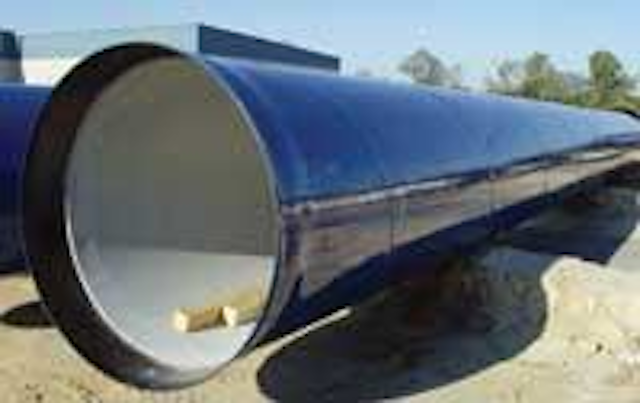 Click here to enlarge image
Chemthane 4200PW is a fast set, 100% solids (zero VOC), two–component polyurethane spray coating for direct–to–metal (primerless) applications. The product is approved in accordance with ANSI/NSF 61 for potable water applications and can be applied directly to grit–blasted steel. Its extremely fast gel time makes it suitable for applications from 35°F up to 120°F without special conditioning of the component resins and isocyanates. The coating produces an extremely tough film at all thicknesses. Single coat, multiple pass applications produce films from 10 mils to 500 mils without appreciable sag or runs.
Chemline
St. Louis, MO
Tel: 314–664–2230
Web: www.chemline.net
Circle No. 203 on Reader Service Card
Marker posts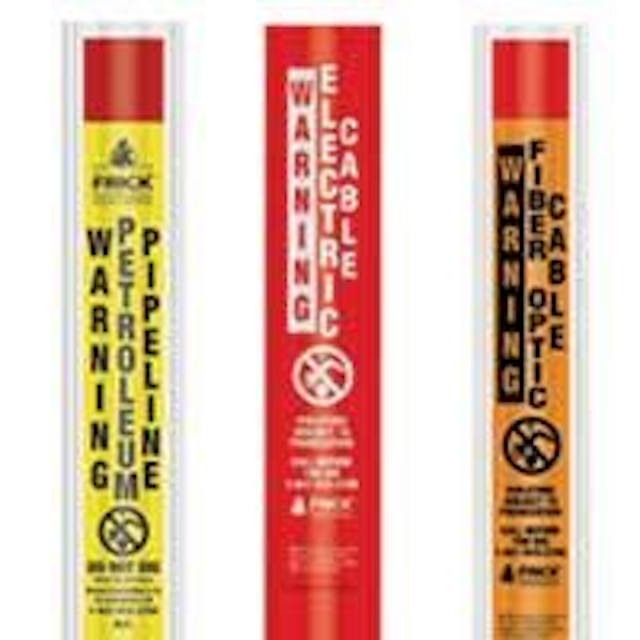 Click here to enlarge image
William Frick and Co. has expanded its line of marker posts for buried cable and pipeline assets to include the new FlexPosts™, constructed of lightweight fiberglass reinforced composite for extended service lives, even in extreme environments. Each post ships with either one or two outdoor–durable warning labels with your custom messages. Labels can selected from reflective or standard vinyl materials and UV–resistant laminations to prevent fading and extend their service lives. Barcoding and serialization are also available. The posts are designed to spring back into position after impact with vehicles, tractors, or livestock. The new generation of markers can even incorporate SmartMark™ RFID technology, allowing users to make inspections electronically, while verifying locations with handheld readers.
William Frick & Co.
Libertyville, IL
Tel: 847–918–3700
Web: www.fricknet.com
Circle No. 202 on Reader Service Card
Stormwater metering valve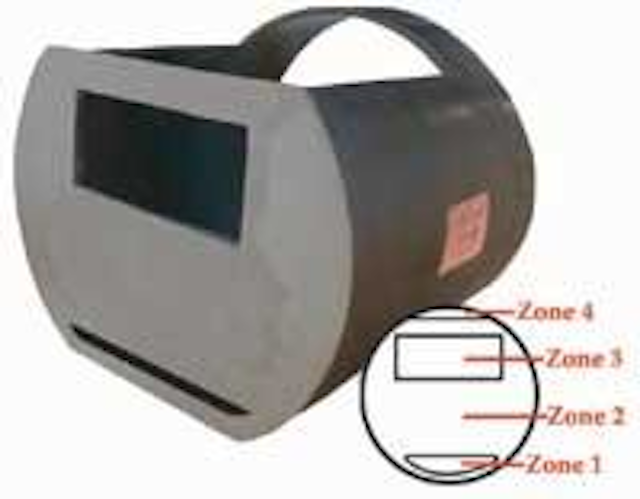 Click here to enlarge image
Red Valve's First Flush Valve for stormwater metering is a simple rubber thimble installed at the end of stormwater lines or in CSO diversion chambers to prevent street and sewage plants from flooding. The valve is designed to control the "first flush" of a rainstorm by enabling an operator to store 30–80% of the stormwater in its system. The valve is a passive device requiring no external control, power source or actuation. An opening at the bottom of Zone 1 allows small size debris (stones, silt etc.) to pass through continuously. Zone 2 is the holding area which retains the heavy "first flush" downpour. As flow rates increase, Zone 3's rectangular opening (size is calculated to regulate required flow) permits discharge at a controlled rate. At the top, Zone 4 allows for full flow to discharge when the system is surcharged and also permits escape of floatables. The First Flush Valve is available in sizes 6"–72".
Red Valve Co.
Carnegie, PA
Tel: 412–279–0044
Web: www.redvalve.com
Circle No. 206 on Reader Service Card
Gas detection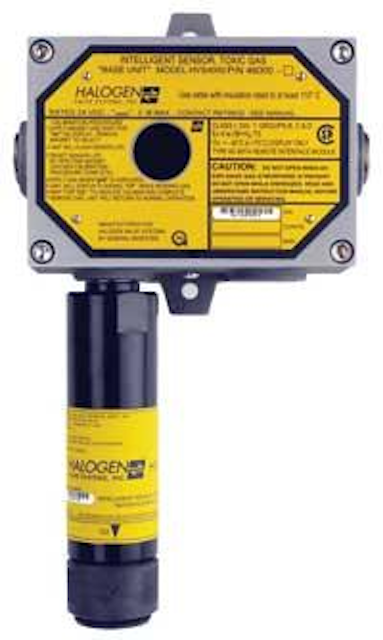 Click here to enlarge image
The Jupiter gas detection system (Model HVS4000) monitors and reports information about hazardous gases to a SCADA monitoring system. Its features include a sensor life indication, two (250 vAC – 8 amp) settable relays, a three–digit bright red display, dual MODBUS and 4–20mA proportional gas level output. The system can be connected to the company's Emergency Gas Shutoff systems to immediately remedy a gas leak situation. This microprocessor–based system detects most toxic gases in parts per million (ppm), including: NH3, CO, CL2, CO2, O3 and SO2 as well as oxygen deficiency.
Halogen Valve Systems
Irvine, CA
Tel: 877–476–4222
Circle No. 204 on Reader Service Card
Digester gas control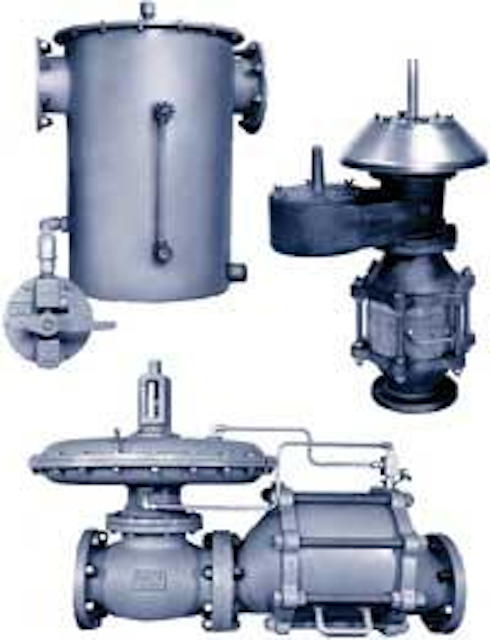 Click here to enlarge image
Groth Corp. is a manufacturer of equipment for the control of wastewater treatment gases. The company offers flame arresters (with Factory Mutual approval and wafer design for easy maintenance and cleaning), waste gas burners, pressure/vacuum relief valves, sediment traps, foam separators, drip traps, back pressure check valves, flame checks, and flame traps.
Groth Corp,
Liberty, MO
Tel: 281–295–6800
Web: www.grothcorp.com
Circle No. 207 on Reader Service Card
Inside drops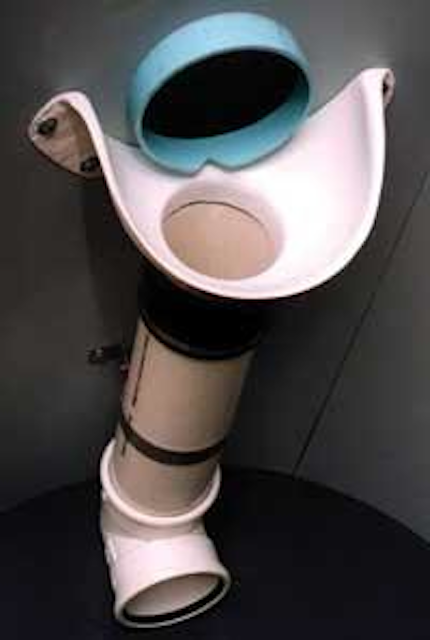 Click here to enlarge image
The Drop Bowl and Pipe Support systems by Reliner®/Duran Inc. eliminate troublesome outside drops in manholes, clean up failed inside drops and are excellent as stormwater drops. When used in wet wells they can help prevent pump cavitation. Compact and low profile, they are simple and cost effective, reduce maintenance and simplify cleaning and inspection while providing full access to areas below. The bowls attach quickly to the manhole wall with stainless expansion bolts. They are available in stock in several sizes and configurations. Force line hoods are also available.
Reliner®/ Duran Inc.
Lyme, CT
Tel: 800–508–6001
Web: www.reliner.com
Circle No. 205 on Reader Service Card