City, Firm Partner on Contaminant Warning System Implementation
Last year the City of Glendale, AZ, partnered with CH2M Hill to create a state-of-the-art Contamination Warning System (CWS) that would detect, assess, and respond to potential water contamination events through the use of strategically placed water quality monitoring stations.
Jan 1st, 2008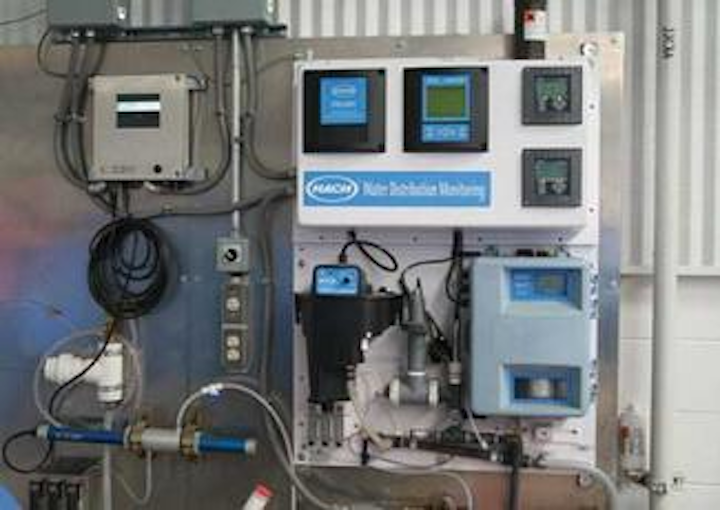 Last year the City of Glendale, AZ, partnered with CH2M Hill to create a state-of-the-art Contamination Warning System (CWS) that would detect, assess, and respond to potential water contamination events through the use of strategically placed water quality monitoring stations. The monitoring stations constantly feed water quality information into a data warehousing application that analyzes the data and other critical data streams (e.g., customer complaint information and field operations activities) that can indicate possible contamination in the system.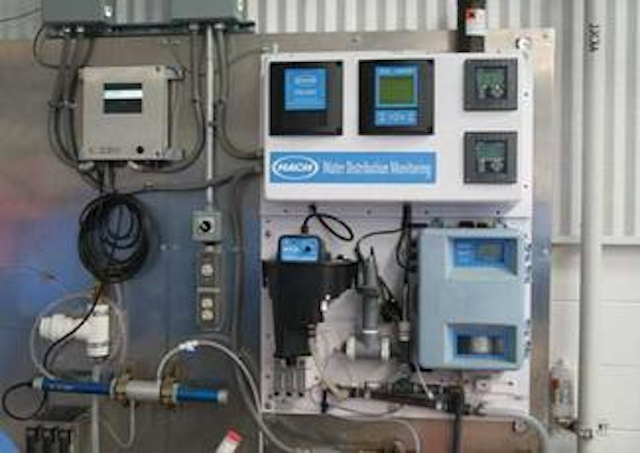 The Water Distribution Monitoring System stations include a Hach panel, the S::CAN Spectro::lyzer, and the S:CAN event detection unit. The instruments provide real-time water quality and operational parameters.
Click here to enlarge image
The Glendale water utility is a municipally owned system that serves over 240,000 people in an area approximately 59 square miles. The city asked CH2M Hill to develop a security system master plan that would consider all aspects of the city's water and wastewater systems. The city is hosting a number of high-profile sporting events, including the upcoming 2008 Super Bowl XLII and the annual Fiesta Bowl at the new University of Phoenix Stadium. The city wanted to add a CWS to its water distribution system to meet its commitment to public safety and to the citizens who rely on the Utilities Department for safe, high-quality drinking water.
The CH2M Hill project team included Tenix, an Australian firm known for its leading-edge technology in the Department of Defense sector. Tenix provided support for the data warehousing, integration, and user interface development effort on this project.
Contamination Warning System
Glendale is one of just two cities in the nation to design, implement, and pilot a holistic Contamination Warning System that can help to safeguard public water systems from terrorist attacks, pollutants, natural impurities, and other threats. The system also is the first fully integrated, multidimensional water quality CWS implemented for a water utility. In addition to increasing the city's ability to detect and respond to contamination events, this system has enhanced the city's operational diagnostics and level of regulatory compliance. The CWS technologies used in Glendale will serve as a model for water distribution system monitoring, operational procedures, and protocols in water systems nationwide, and the results of this work will continue to improve the industry's ability to effectively identify and respond to water quality contamination events.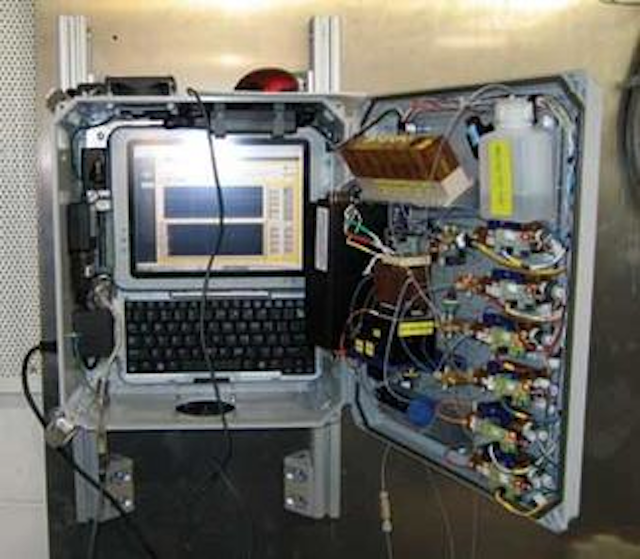 Unattended Water Sensor. This R&D prototype developed by Sandia National Laboratories is used to test for biotoxins and was incorporated into the monitoring program. This technology is new to the North American water industry and is being tested at two public utilities.
Click here to enlarge image
As part of the CWS project, Glendale evaluated a new emerging technology, the Unattended Water Sensor. This technology, developed by Sandia National Laboratories, is about the size of a briefcase (unlike traditional monitoring systems, which are the size of a desk), and can be moved to different locations within the water transmission system. The technology enables the city to provide real-time analysis of biotoxin agents that can currently be identified in only a limited number of national laboratories.
Carol Linden, Deputy Director of the Science-based Threat Analysis and Countermeasures group for the Department of Homeland Security's Office of Research and Development (part of the Department's Science & Technology directorate), notes that the Unattended Water Sensor has strong potential for homeland security applications that can protect critical infrastructure. Implementation of similar water monitoring systems is projected in other major U.S. cities in the next several years.
The CWS application also can help water utilities achieve goals identified in EPA's 2006 2011 Strategic Plan. These goals are directed at enhancing the ability to protect public health associated with drinking water systems. Pilot testing the Unattended Water Sensor will help in the advancement of the technology.
Data Integration
Glendale's system includes a "data fusion" application which automatically pulls event-related data from disparate databases (themselves each containing large amounts of data from disparate sources) to create a comprehensive data set that the Utilities Department's operations staff can use to make rapid decisions about emergency response decisions.
Current real-time, remote water quality monitoring is limited to detection and evaluation of traditional water quality parameters (e.g., chlorine residual and turbidity) on an individual parameter basis. The CWS includes sophisticated event detection capabilities that allow end users to evaluate multiple water quality parameters and other relevant data (e.g., consumer complaints, hospital calls, and field activities) simultaneously and understand the special relationships therein.
The operations staff has the ability to view multiple data streams in real time in a single location that in the past had typically been seen as single points of data by different team members. As a result, the Glendale operations staff can make faster, more accurate decisions related to unusual events in the system.
The system's straightforward graphical user interface offers intuitive search, display, and reporting capabilities that deliver alerts and associated information at the operational level. This new approach to creating an early alert system for water utilities helps the staff recognize and quickly address water distribution system problems and protect the public from negative events (either intentional or accidental).
Chemical Monitoring System (CMS). This graphical user interface shows real-time data from two water quality monitors. The system monitors turbidity, pH, conductivity, C12 residual, temperature, nitrate, total organic carbon (TOC), and dissolved organic carbon (DOC) levels, as well as alarm status and sampling control data.
Click here to enlarge image
Glendale is in the process of designing and implementing the next phase of the project, which will integrate the water quality monitoring stations into a geospatial framework. Development of this neural network will provide the utility with a programmatic approach to managing water quality.
Conclusion
The CWS improves the city's ability to detect and assess water contamination events and detect the location and class of contaminants. It also enhances operational diagnostics and the city's level of regulatory compliance. City of Glendale/CH2M Hill efforts are currently contributing to the EPA's national policy initiatives regarding development of water systems that provide full-scale, real-time monitoring and security. The applications developed as part of the Glendale CWS will serve as a model for water systems worldwide.
"Empowering a local utility with state-of-the-art security and monitoring capabilities has been extremely rewarding," said Rick Scott, Superintendent of Water Treatment Plants for the City of Glendale. "This project will serve as a model for municipalities across the country that are eager to protect their customers and neighbors.
"I'm sincerely impressed, and I believe [this system] will be the wave of the future," he said.