Product Showcase
OdoWatch® provides continuous, real-time results of odor measurements from wastewater treatment or composting operations...
Jan 1st, 2008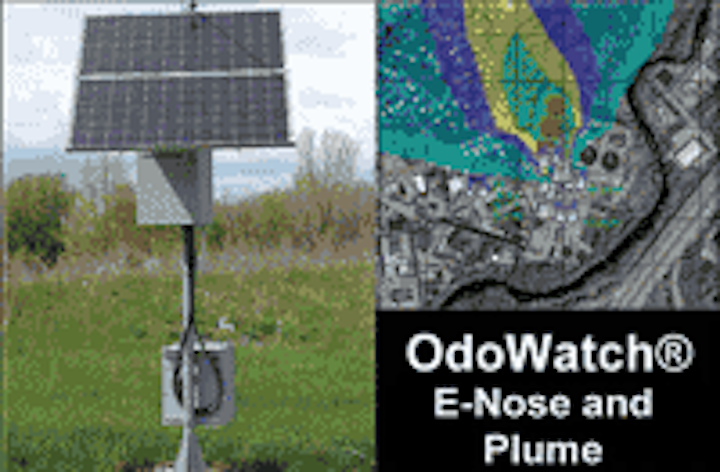 Odor monitoring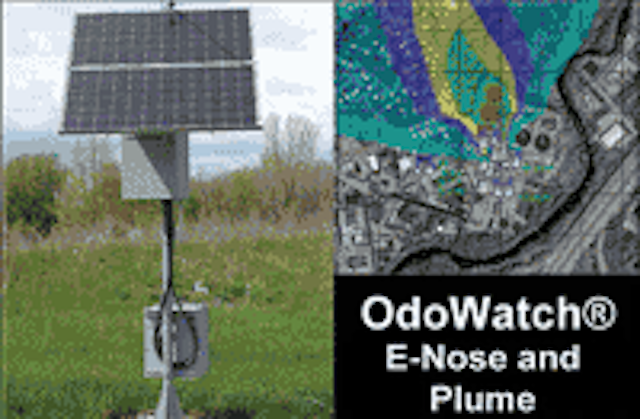 Click here to enlarge image
OdoWatch® provides continuous, real-time results of odor measurements from wastewater treatment or composting operations to indicate the need for operational adjustments to prevent odor complaints. The electronic nose transmits data to a central control unit that uses meteorological data to perform real-time dispersion modeling and display the results as a color-coded plume overlaid on a map of the site. Unlike other instruments that measure hydrogen sulfide as an odor indicator, this system measures odor itself in odor units. Facility operators are thus alerted to potential odor problems before complaints arise and can initiate the process controls necessary to mitigate odor. Used proactively, the system provides cost savings by enabling operators to minimize the overdosing of costly treatment chemicals for odor control by providing immediate feedback to process adjustments.
N.A. Water Systems
Moon Township, PA
Tel: 800-337-0777 Web: www.nawatersystems.com
Transition fittings
Click here to enlarge image
GF Piping Systems' new DoubleSafeTM transition fittings are designed to provide a leak-proof seal and prevent cracking under high torque when transitioning between metal piping systems and the company's Schedule 80 plastic piping systems. The new fittings were developed to address the problem of plastic pipe splitting caused by over-tightening metal threads into plastic fittings. To solve this problem, each DoubleSafe fitting incorporates a female-threaded metal insert molded at high pressure inside a spigot-end plastic body. This allows the installer to connect the metal system to the metal side and the plastic to the plastic side. The fittings feature a double o-ring design that ensures a tight seal for leak-free operation.
GF Piping Systems
Tustin, CA
Tel: 800-854-4090
Web: www.gfpiping.com
Generator sets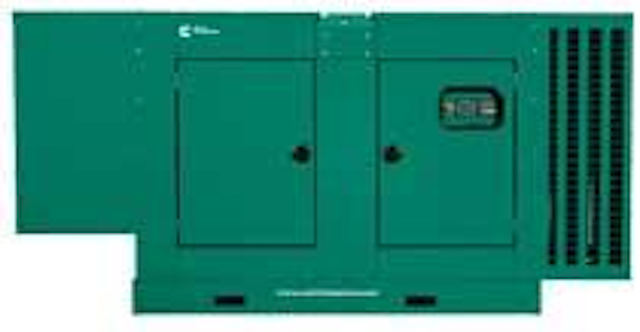 Click here to enlarge image
Cummins Power Generation has introduced a new series of 100, 125 and 150 kW Tier 3 generator sets with advanced sound-attenuated enclosure systems. With a sound level of only 67.5 dB(A), the 100 kW unit is one of the quietest generator sets available at that power node from a generator manufacturer. Available in steel or aluminum with two levels of sound attenuation, the generator set and enclosure packages are intended for all-weather outdoor use wherever local ordinances or circumstances require sound abatement.
Cummins Power Generation
Minneapolis, MN
Tel: 763-574-5942 Web: www.cumminspower.com
Custom pressure vessels
South Gate Engineering has announced its "Design to Delivery" capability to fabricate custom ASME coded Pressure Vessels. The company offers a selection of vessels including air receivers, blowdown/expansion tanks, deaerators, degasifiers, heat exchangers, hot water generators, hot water storage, surge tanks, hydropneumatic tanks, ion exchangers, filters and softeners. The company offers vessels through 40 feet in diameter and up to 70 ton empty weight. Welding procedures for carbon steel, stainless steel and exotic metals using SMAW, SAW, FCAW, GMAW and GTAW welding processes are approved for use on materials through 8" thick.
South Gate Engineering
Chino, CA
Tel: 909-628-2779
Web: www.southgateengineering.com
Controller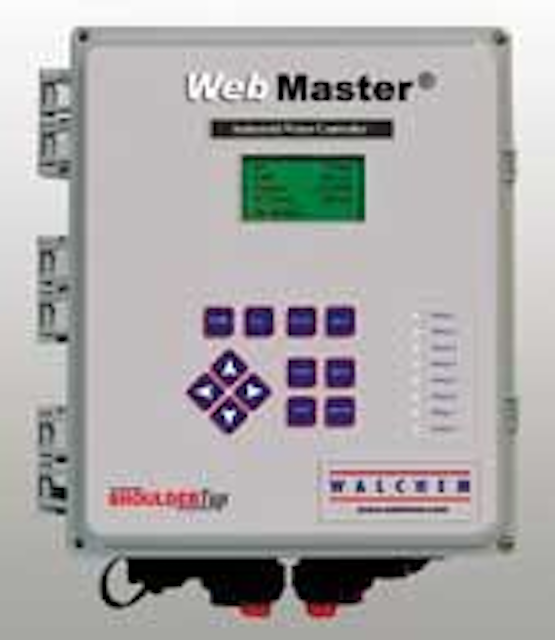 Click here to enlarge image
Walchem has released the WebMaster® WIND Industrial Water Controller. The system has a flexible multi-input/output platform, a wide range of analytical sensor measurement capabilities, and an assortment of integrated communications and data handling features. It fully integrates the functions of a transmitter, PLC, datalogger, and auto-dialer into a NEMA 4X package. With the system, no proprietary software required - just a web browser. Possible sensors to use with the system include pH, ORP, contacting and electrodeless conductivity, free chlorine, chlorine dioxide, ozone, and peracetic acid. Users can access live or stored data remotely within the facility or from anywhere in the world.
Walchem Corp.
Holliston, MA
Tel: 508-429-1110
Web: www.walchem.com
Polymer makedown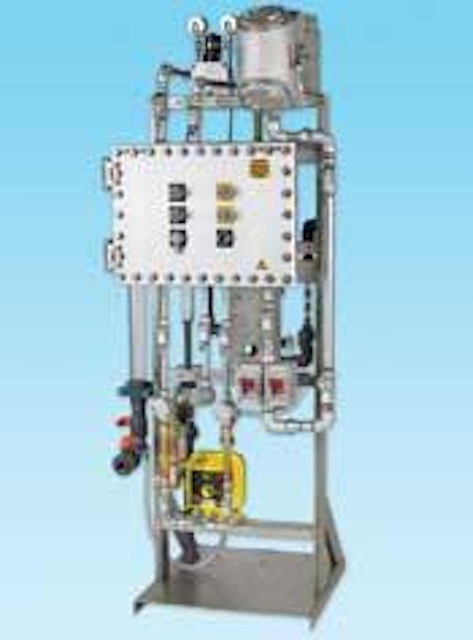 Click here to enlarge image
Fluid Dynamics has introduced a new explosion-proof polymer makedown system for preparation, activation and injection of liquid polymers in water and wastewater treatment applications. The system can produce dilute solution (0.1% - 2.0%) at capacities from 20 gph to 3,000 gph of total makedown solution. The system features all stainless steel construction and uses the patented "Gatlin Mixer" for mechanical mixing and blending of polymer material. The Gatlin is a motorized mixing chamber that segments the polymer into ultra-thin film for maximum activation. There's no need for booster pumps, and materials are mixed and blended without blades to damage fragile polymer chains. The Gatlin system is unique in that it maintains maximum activation regardless of fluctuating flow rate or water pressure. An interlock prevents polymer feed if water flow is insufficient.
Fluid Dynamics Inc.
Boulder, CO
Tel: 888-530-7300
Web: www.dynablend.com
Aluminum enclosures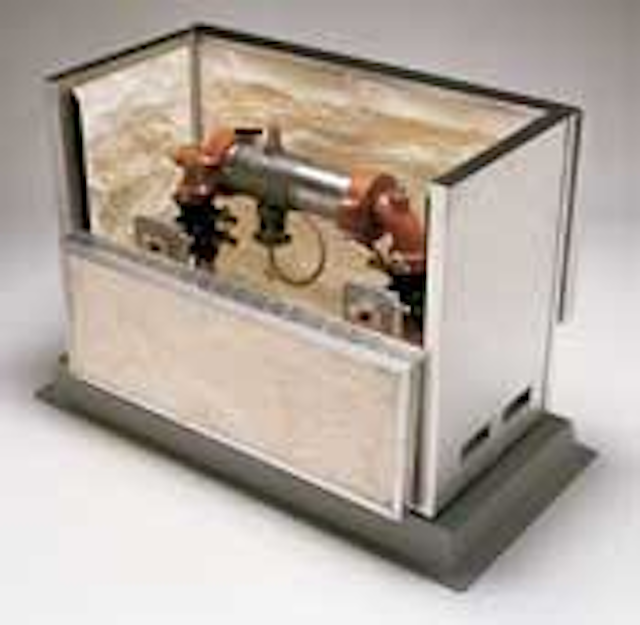 Click here to enlarge image
Hot Box® has introduced its new DurafoldTM line of aluminum enclosures. The product line is an ASSE 1060 certified aluminum enclosure featuring insulation, drains, access and locking capacity. The unique design features a hinged panel assembly. The unit ships and warehouses flat, while being easily assembled into rigid form via hinged panels. Its back, sides and roof comprise one "section", while the front is the other section. Only four machine bolts are required for complete solid assembly of models up to eight feet long and five feet high.
Hot Box
Jacksonville, FL
Tel: 800-736-0238
Web: www.hot-box.com
Tank lights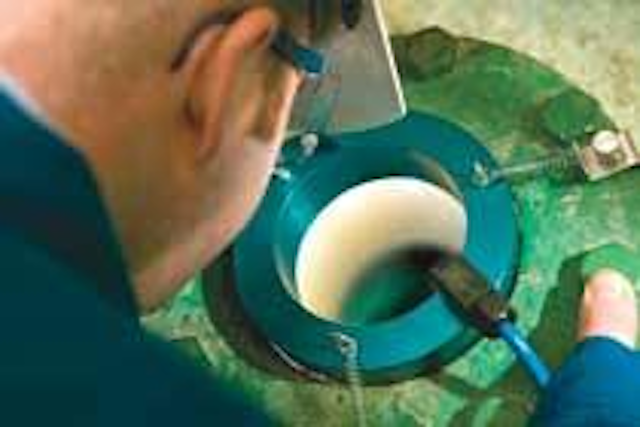 Click here to enlarge image
A new series of tank illuminators is being offered by Clark-Reliance Corp. The new Jacoby-Tarbox® Phaeton XTL tank lights combine simplicity with brilliance to provide bright, clean light for viewing into any process vessel or storage tank. The new LED technology provides 33 times the brilliance of previous generation LED lights, enough light to inspect inside even large tanks. The tank lights' "view through" feature allows same-window viewing, eliminating the need for a second tank window by combining illumination and viewing in one. Because they consume less than one amp, the lights stay cool to the touch, eliminating the potential hand and face burning hazard of old-style halogen inspection lights. They are rated for over 10 years of continuous duty. No maintenance other than cleaning is needed. The lights are available in 240 or 120 vAC and are FM approved for hazardous environments.
Clark-Reliance Corp.
Strongsville, OH
Tel: 440-572-1500
Web: www.clark-reliance.com.