Aclara STAR® Network NCC Software Turns Data into Knowledge
Aclara understands that capturing meter data is only half of a successful AMI system.
Aug 1st, 2008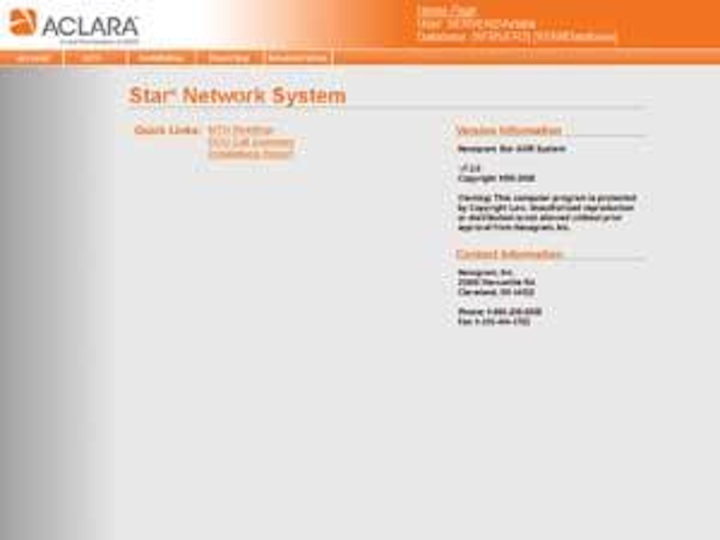 Aclara understands that capturing meter data is only half of a successful AMI system. Like a puzzle, an AMI system must provide the pieces to capture meter data and the pieces that analyze, use, and present the data for utility office applications. When the pieces fit together the puzzle is complete and clear and the data collected adds value to operations.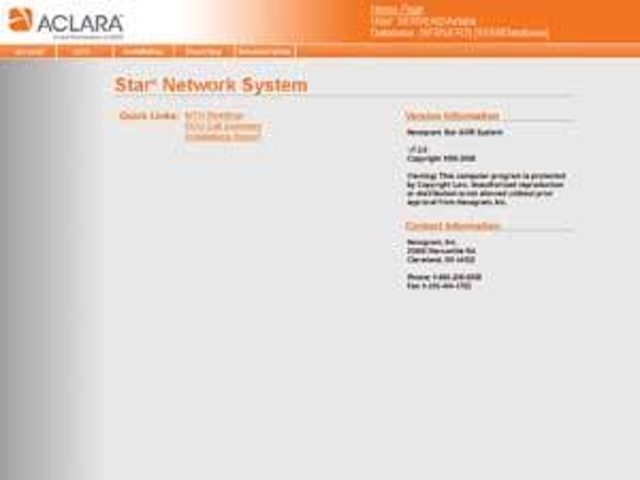 The home page provides version data and contact information, as well as a series of links to MTU, DCU, installation, reporting options, and system data.
Click here to enlarge image
Aclara brings all the pieces together with its proven and reliable STAR® Network solution. Using licensed and secure 450- to 470-MHz radio frequencies, the STAR Network transmits accurate meter readings on utility-defined schedules. The data is collected by the system's Network Control Computer (NCC) software, which uses a web browser-based interface for mission-critical advanced metering infrastructure (AMI) applications such as customer service, billing, accounting, reporting, and maintenance.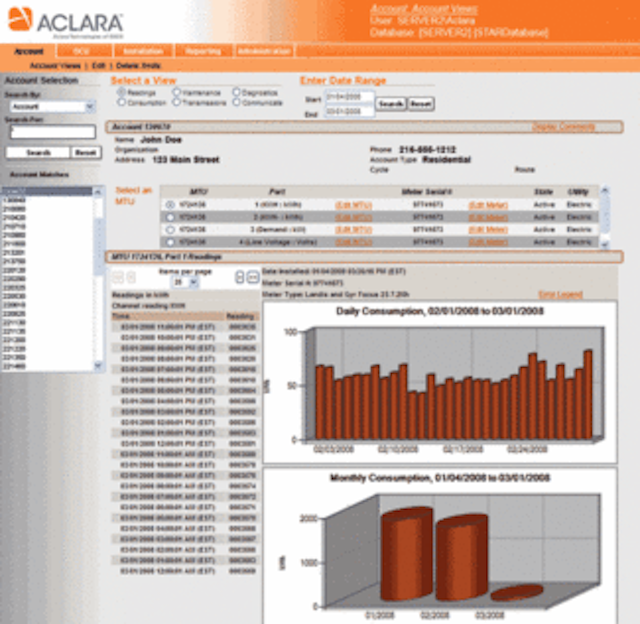 The Account page allows you to search detailed MTU data on an individual unit or account basis.
Click here to enlarge image
With the NCC software, utilities can monitor information on account numbers, meter types, transmission unit IDs, meter serial numbers, and alarm parameters for all utility meters.
The software continues to add value to your operations by:
Offering sophisticated consumption, management, and diagnostic reports to aid in AMI system management;

The hallmarks of the STAR Network NCC software are its simple navigation and user-friendly interface. From the home page to the five subsequent tabs, the software creates a simple roadmap to manage meter transmission (MTU) and data collector units (DCU), track installations, create and view reports, and configure system settings. Users can search for an individual MTU or DCU or search by system and account number to monitor a group of units. With a simple click of the mouse the software quickly lists and graphically represents customer consumption records to facilitate support calls.


The Reporting page allows you to view and create reports to monitor individual or groups of MTUs by a selected date range.

Click here to enlarge image




The interface provides customers easy access to all the information they need to use their AMI systems. Features of the software include the ability to:

Configure account information to match internal utility nomenclature, making it easier for customers to integrate the AMR system with internal accounting systems and procedures.
Generate user-customized graphs for user-selectable data ranges.
Design custom reports and provide reports for specifically identified groups of accounts, such as commercial versus residential accounts or those in specific zip codes.
Manage the installation process at the NCC rather than at the meter.
Set up virtual utilities that are treated as individual entities in the system, allowing management of gas, water, or electric accounts separately on a single network computer.
Easily archive data related to settings, users, roles, virtual utilities, alarms, and meters.

In the end, the key to the Aclara STAR Network and NCC software is its ability to help utilities successfully manage and use AMI data. The system can manage large amounts of data from readings made at intervals as often as 15 minutes. The NCC software allows you to analyze and monitor that data to translate it into knowledge. Knowledge that will put the entire AMI puzzle together to create customer profiles, help with customer support, and assist with billing questions and conservation efforts.

The Aclara STAR Network AMI system is the leading fixed-network solution for water utilities, with approximately two million end points operating throughout North America. With a range of communications options, the Aclara STAR Network delivers expandable designs, flexible MTUs with 20-year batteries, and ability to handle one-way and two-way communications.

Aclara RF Systems Inc. (formerly Hexagram Inc.) is an ESCO Technology company along with Aclara Power-Line Systems Inc. (formerly TWACS® by DCSI), and Aclara Software Inc. (formerly Nexus Energy Software).

For more information on the Aclara STAR Network NCC software and the benefits of powerful AMI solutions, visit our website at www.AclaraTech.com. Contact us at 800.969.1057 or star@AclaraTech.com.