FlexNet Breaks Through the Clutter: Provides Real Solutions to Diverse Customer Base
Not all solutions are created equally, especially in the world of advanced metering infrastructure.
Aug 1st, 2008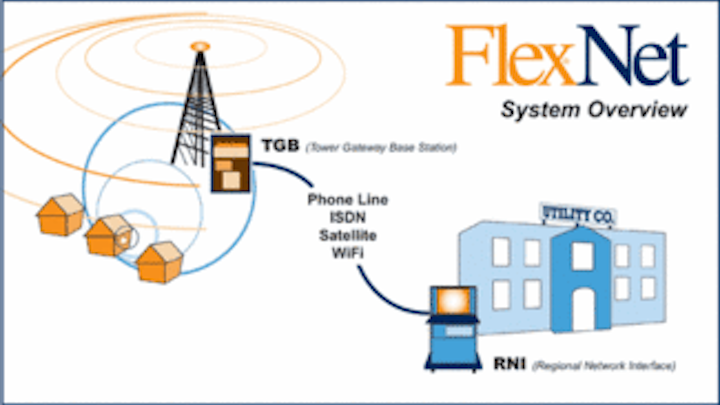 Not all solutions are created equally, especially in the world of advanced metering infrastructure. While some customers can be serviced with textbook answers to their needs, the majority of utilities have unique issues that require flexibility and solid engineering in a simple, straight-forward format that will deliver reliable results.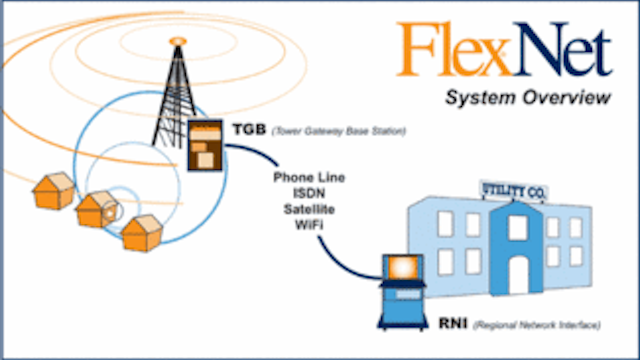 Click here to enlarge image
FlexNet, by Sensus Metering Systems, provides that unique solution. Grounded by an exclusive Primary-Use license frequency that fuels a host of unmatched features, FlexNet delivers solutions to an assortment of utilities: large and small, urban and rural, water dedicated and combination.
FlexNet is a simple, flexible and reliable RF fixed network data collection system, which is designed to increase meter reading efficiency, reduce overhead costs, and enhance customer service. FlexNet offers both two-way and one-way fixed based communication through a wireless, minimal infrastructure. That primary licensed system is the only one in the industry and it gives utilities access to a protected, guaranteed frequency with up to double the power of other systems. And, FlexNet is scalable to accommodate growth as a utility expands its service territory.
2007 was a watershed year for Sensus because of FlexNet, and this premier AMI system continues to deliver solutions to a growing diversity of customers into 2008. This perennial leader in the water utility data collection industry continues to deploy a record number of FlexNet systems and endpoints for utilities across the country. And not one of them has the same set of circumstances, including budget, terrain, staffing or existing infrastructure.
In Los Lunas, New Mexico, utility officials tapped FlexNet to advance its water utility program from a manual read system, and it wanted to leverage its citywide WiFi application and sophisticated infrastructure. Sensus experts co-located FlexNet equipment on the same site as the WiFi system. The single-tiered FlexNet architecture and Primary Use license system provides this city with greater transmitter range using minimal infrastructure, which in turn is lowering operating costs.
Water officials in Cumberland, Maryland, had a mountain of concerns that were solved via FlexNet. Literally. The 40-square-mile service territory is best described as "extremely challenging," ranging from dense urban populations to mountainous terrains to remote rural outposts. FlexNet's ability to deliver far-reaching transmission ranges via the Primary-Use license allowed for cost savings through the need for fewer collectors, while allowing Cumberland to service every customer regardless of location.
Two small Texas towns turned to FlexNet because of the system's ability to help in water conservation via low operating costs and accurate reads. Officials in the town of Post purchase its water, while neighboring Stamford produces its own. In both towns, operational efficiency is paramount, as is billing for every drop of water used by customers in order to remain fiscally responsible. It is just as important to identify leaks quickly. Another attractive feature of FlexNet is its ability to monitor usage at the meter/endpoint level. And finally, in an area dominated by the oil and agricultural industries, manpower is also at a premium, but FlexNet delivered solutions again because it can be implemented and maintained efficiently with minimal staffing levels.
Why FLEXNET Delivers
FlexNet's industry-leading position stems from Sensus' responsiveness to the evolving utility industry. Veteran thought leaders at Sensus believe that gone are the days where a successful provider is simply a metering company. It is imperative to meet customer demands with an AMI program that features emerging technology grounded in proven customer service.
FlexNet eliminates estimated reads, and instead offers hourly or daily reporting options with protected, redundant data messages. Its flexibility allows users to customize the system for a fixed-based data collection program. And, reliability is assured because the system overlaps receiver coverage of endpoints, data/message redundancy, and backup provisions. FlexNet also includes back-end database interfaces and a variety of web-based commands and analysis tools. This diversity makes it the perfect economical solution for small meter deployments as well as partial deployments of hard-to-read meters.
Sensus' thought leadership also has responded to industry demands by restructuring its organization and prioritizing project management, delivery, manufacturing and software development, with the explicit goal of delivering on customer demands.
All of these attributes combined to be a responsive solution for Apopka, Florida, water officials. Apopka found that heightened communications capabilities exist in FlexNet. Key FlexNet features allowed city officials to overcome a host of challenges, including explosive growth. It also gave Apopka the ability to continue in its signature service of superior communications with customers. And, a mutually beneficial relationship between Apopka and Sensus allows for the FlexNet system to be continually examined and refined in order to meet the changing needs of this Orange County city.
Utah officials from several towns are benefitting from FlexNet's ability to cater to combo utility needs. In Spanish Fork, a mass water and electric deployment is underway. The FlexNet system provides Spanish Fork with two-way communications to Sensus iCon electric meters, enabling automated billing, on demand reads and remote connect/disconnect services. The system is also delivering hourly meter readings, leak detection and tamper notification for culinary and pressurized irrigation water meters throughout the city.
Today's customers demand accuracy and accountability from their AMI provider. Tomorrow's customers will be even more discerning. FlexNet stands ready to maintain its position as sole provider of real solutions, now and into the future.