Utility Opts for In-House Verification of Magmeter Accuracy
The City of Mesa's Water Division recently took a major step toward increased metering accuracy and reliability by replacing 12 inch water meters at 36 well sites.
Nov 1st, 2005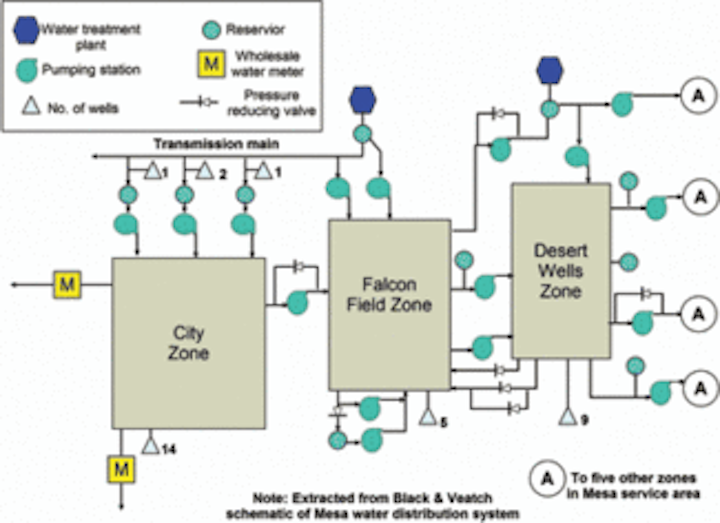 The City of Mesa's Water Division recently took a major step toward increased metering accuracy and reliability by replacing 12 inch water meters at 36 well sites. The division selected magnetic flowmeters (also referred to as magmeters) as they were already widely used in the distribution system.
To help verify the accuracy of the magmeters, the Water Division purchased a calibration verification tool, tradenamed CalMaster by the magmeter supplier, ABB Instrumentation, Warminster, PA. The purchase included factory training of a division staff member on use of the verification tool, which is specifically designed for use with ABB's MagMaster line. The tool will be used to verify and re-certify the original calibrated accuracy of the new well meters and existing MagMasters as well. The factory training also covered how to service older ABB/Fischer & Porter magmeters to assure accuracy.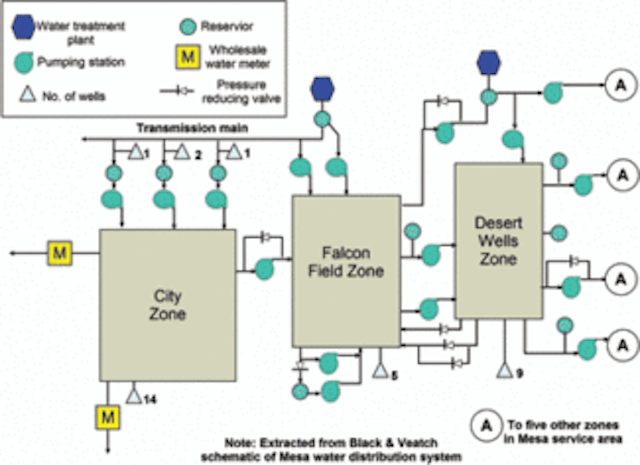 Black diagram showing part of Mesa water distribution system. Based upon Black & Veatch diagram for all eight zones in the system, this shows typical rather complex makeup of major components.
Click here to enlarge image
The CalMaster verification procedure can be set up and completed at the meter site in 10 - 15 minutes. It requires no access to the magmeter primary coil or any interruption of the flow measurement. What's more, it verifies the condition of the total metering system that includes the transmitter and its paired primary coil (which are calibrated at the factory).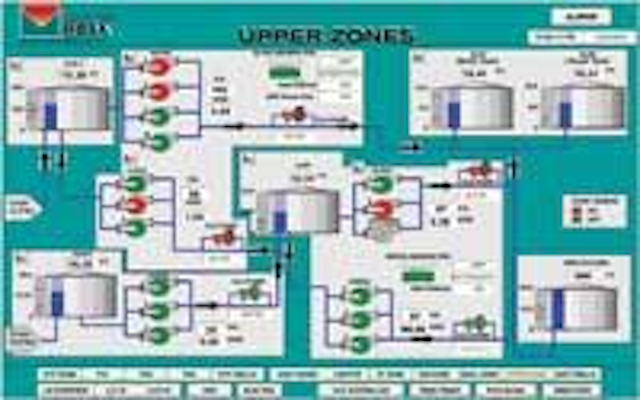 Click here to enlarge image
With increased emphasis on water usage and metering accuracy where millions of dollars are involved in water sales, this new in-house verification capability is expected to provide an excellent return on investment. Further, Mesa can assure wholesale customers of metering accuracy by providing a certificate of verification provided by a factory-trained expert.
Distribution System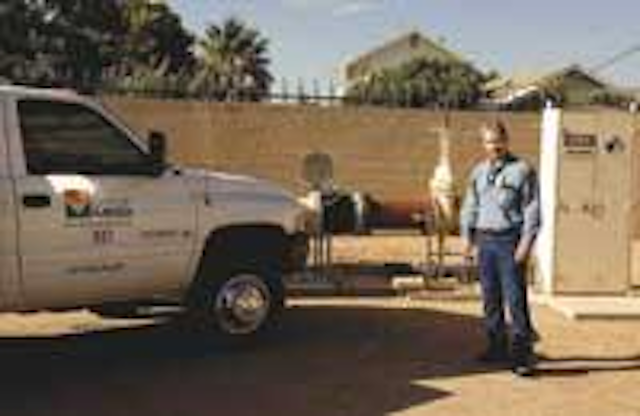 Author prepares to start verification procedure. Magmeter is below in 12-inch main near a city well. CalMaster control box (arrow) connects by calbes to (1) transmitter on stand near meter primary and (2) the P.C. Two vertical conduits below carry power to transmitter and transmitter signlas to SCADA relay station nearby. A sunshade normally cover the transmitter on outdoor installations.
Click here to enlarge image
The City of Mesa's Utilities Department serves nearly half a million people in a 128-square-mile area. An average of 34 billion gallons (104,000 acre-feet) of water annually is distributed through more than 2,000 miles of pipelines. The distribution system also includes 36 wells and 15 reservoirs to supply residential, commercial and industrial customers.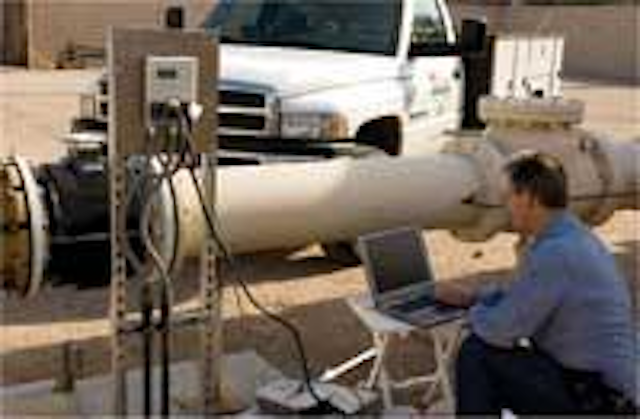 Click here to enlarge image
Surface water from Salt River Project (which includes the Salt and Verde Rivers) and the Central Arizona Project (from the Colorado River) account for nearly 75 percent of Mesa's water supply. This water is treated at two plants with a combined capacity of nearly 270 mgd. The city's 36 wells make up the remaining 25 percent. Well depth is between 800 and 1,000 feet and flows range from 700 to 3,000 gpm. Mesa's water distribution system is divided into eight zones to control water pressure. Pressures within a zone can vary from 40 to 100 psi.
Magmeter Uses
Mesa has used magmeters for more than 20 years, including some Fischer & Porter meters bought before the company became a part of ABB Inc. Later, Mesa switched to the MagMaster line and currently has magmeters that range in size from 4 to 54 inches.
Typical uses include measuring and totalizing water being pumped into distribution mains from wells, influent and effluent flow at water treatment plants, effluent flow from wastewater treatment plants and measuring wholesale transfers and the sale of water.
Mesa had contracted with ABB to provide a specialist to verify and certify nine custodial magmeters every six months. The cost for this service was about $17,000 a year. When Mesa decided to replace the 12 inch meters at its well sites approximately two years ago, an evaluation confirmed that the city could realize substantial savings by purchasing its own calibration equipment and factory training for staff. All verifications are now done in-house.
Verifying Calibration
A MagMaster meter and its transmitter are calibrated as a matched pair at the ABB factory. They are shipped with a floppy disk that contains a "fingerprint" of all pertinent calibration data for this specific measuring system. These data also characterize the important, permanently installed, shielded cable that carries the small millivolt measuring signal from the primary to its transmitter.
To verify and re-certify calibrated accuracy of the installed magmeter, the operator needs only a laptop PC that contains the floppy disk and the CalMaster control box with its two cables to connect the transmitter to the control box and the box in turn to the PC.
The shielded cable connecting the transmitter with its primary is already there as a part of the measuring system. This cable is specially shielded to protect the small millivolt measuring signal coming from the primary. Flow measurement continues during the test.
The PC contains software to carry out a pre-programmed verification procedure. When the test is initiated at the PC it carries out a check of the entire system - the meter, the transmitter, and the connecting cable.
To confirm that the test results are within set standards, they are reviewed on a PC display. If the results are positive, a certificate of validation for the tested metering system can be printed out. Providing the customer with a copy of the certificate authenticates the billing.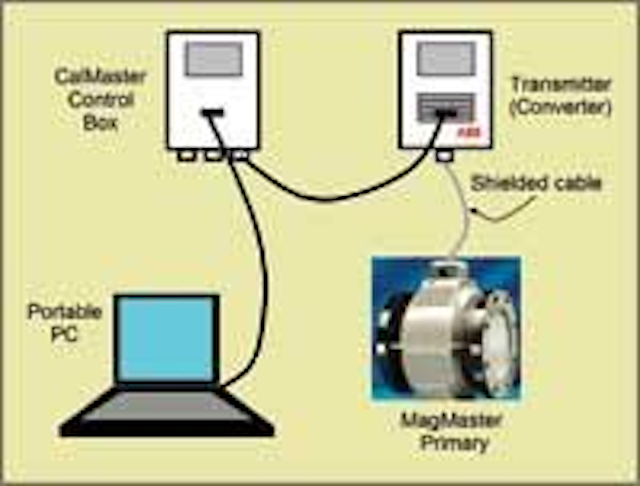 Diagram of CalMaster hookup for verification test. Shielded cable is the permanent link between the meter primary and its transmitter; thus, test does not interrupt flow measurement.
Click here to enlarge image
The CalMaster test can also serve as a diagnostic tool for preventive maintenance. It stores a history of calibration data from successive tests, so that trend curves for selected metering system components can be plotted on the PC screen. Thus, a gradual degradation in a component, such as a magmeter coil, can be scheduled for repair or replacement. WW
About the author:
Jim McCarter is Controls Engineering Specialist in the Process Controls group, Water division, City of Mesa, Arizona
Editor's note: Photos courtesy of Larry Shank, President of Instrumentation & Controls -- ABB Instrumentation's industrial representative in Tempe, AZ.