New Article
In 2004 the U.S. wastewater sludge handling equipment market reached $338.6 million.
Jan 1st, 2019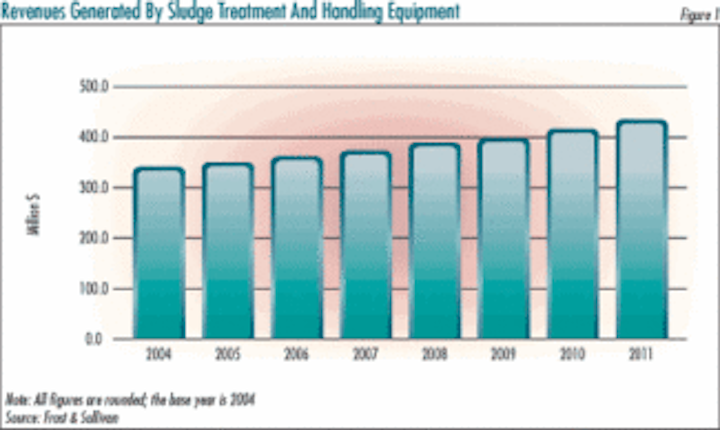 In 2004 the U.S. wastewater sludge handling equipment market reached $338.6 million. With a compound annual growth of 2.3% for the period 2004-2007, the market for sludge treatment equipment is expected to touch $436.8 million in 2011.
The market by and large is categorized into digestion, dewatering, drying and incineration categories. The sludge digestion market is generally considered a mature market since aerobic and anaerobic methods of digestion are several decades old. Technology is surprising the market, however, with newer alternative methods of digestion cropping up. Manufacturers are seeking methods of digestion that will aid in volume reduction but that will also meet the Class "A" requirement promulgated by the EPA through the Part 503 regulations.
Negative public perception and media attention is driving the purchase or need for Class A producing-equipment. There is no federal regulatory backing to urge manufacturers to change. At this time, EPA insists the current policies are adequate and Class B is therefore acceptable as defined in the Part 503 regulations. However, public perception and media attention are driving the move to Class A long before the regulatory changes are in effect.
The biggest challenge for manufacturers during this time is to understand the critical balance that presently exists between the need for Class A and Class B sludge equipment. It is a dilemma particularly for niche market players and mid-level or Tier 2 companies that do not have the capital available to make product line extensions or changes.
Competitive Structure
Manufacturers for sludge treatment equipment are typically competing for the approximate 16,500 municipalities throughout the United States. Industrial applications that are a viable option for most other aspects of wastewater treatment do not necessarily exist when it comes to sludge management. Because the sludge for most industrial applications tends to have a high content of undesirable industrial by-products such as metals, the sludge is typically routed to the municipality for care, rather than disbursing the large quantity of funds and man-power necessitated when operating the sludge treatment portion of a facility.
The total sludge digestion equipment market consists of at least 25 participants. The market is considered saturated for digestion covers and mixers particularly because digester covers have a life span of between 30 and 50 years.
There are more than 40 competitors overall in the dewatering market. A majority of the players in this segment have chosen to concentrate on dewatering technologies. Recently, introduction of air cleaning devices in conjunction with the use of fluid bed incinerators has created a slight alteration in those perceptions, most specifically in large metropolitan areas where sludge disposal options are limited.
Market Trends
Digestion:The trend in the digestion market is leaning toward thermal treatment. Several processes mentioned that are beginning to make headway in the digestion market include thermophilic air-temperature phased anaerobic digestion (TPAD), auto thermal aerobic digestion (ATAD), the VERTAD process, and then add-on processes to the standard mesophilic anaerobic digestion process such as aerobic thermophilic pretreatment (ATP).
Dewatering:The centrifuge segment is anticipated to receive the most attention. Centrifuges are more ideal for larger wastewater treatment facilities because of their continuous operation and quick results. Alternative technologies such as the dewatering box are expected to make a profound difference in small wastewater treatment facilities, but also in industrial sludge applications, particularly animal feed operations where sludge disposal has traditionally been an incredible burden.
Drying: Numerous dryer technologies exist on the market, but the two that are fairly new are the solar sludge drying bed and the indirect rotating chamber dryer. An indirect chamber dryer is not a new concept, however, the feature that adds a different dimension to the Dragon Dryer product by US Filter is the auger rotating inside the dehydration chamber moves in the opposite direction as the chamber itself. This allows the maximum dryness to be achieved without requiring a second pass-through.
Many of the dryer systems already in place require more than one pass to be effective, thus requiring much greater energy consumption and other operating costs. Wear and tear on the auger or paddles depending on the system is much more damaging in the multiple pass-through systems. This system is expected to make a tremendous impact particularly in states where fuel costs are high and landfills are few and far between.
The solar sludge drying bed is targeted at small to medium sized wastewater treatment facilities. The solar sludge drying bed is a very simple design resembling a green house. The design is an enclosed bed, which is covered with translucent walls to capture solar energy and heat. A small robotic microprocessor is used to monitor the dryness of the sludge, tilling and oxygenating the soil as needed. The process is considered a batch process, but can be fully automatic, drying the sludge up to 90 percent solids. This type of drying is anticipated to be more popular in southern regions with greater sun exposure and land space availability.
Incineration: Fluidized bed technology is the most current product on the incinerator market today. This type of combustor is more reliable than previous multiple hearth devices, and is known for uniform combustion of the biosolids passing through the chamber. These incinerator devices have become the most popular form of incineration.
In conclusion, the otherwise sluggish growth in the sludge treatment market is expected to be reversed by some of the novel treatment processes discussed above.
About the Author:
Sunitha Mysore Gopal is a Senior Industry Analyst & Program Leader with environmental technologies division of Frost & Sullivan. With a bachelor's degree in environmental engineering & post graduation in management sciences Ms. Gopal has spent over 10 years working on engagements related to water, wastewater, air and residential water markets on a global scale and has specific expertise in the North American & Asian market. Contact: smysoregopal@frost.com
About the Research Service:
A more detailed coverage is given Sludge & Odor treatment Equipment market an upcoming research service by Frost & Sullivan. This research service covers revenue opportunities for sludge and odor treatment equipment in the United States in greater detail. Research content includes in-depth and comprehensive analysis capturing drivers, restraints, challenges, market & technology trends, pricing analysis, competitive dynamics.