MBR Reduces Potable Water Use, Increases Revenue
"Membrane bioreactor technology is the only way for the City of Redlands to establish an efficient and effective water recycling program that will conserve our potable water supplies," said Douglas Headrick, Chief of Water Resources for the City of Redlands, CA.
Sep 1st, 2005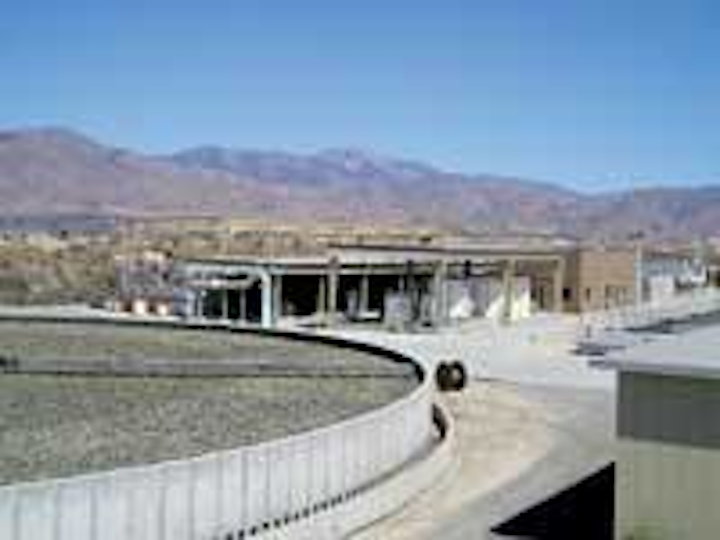 "Membrane bioreactor technology is the only way for the City of Redlands to establish an efficient and effective water recycling program that will conserve our potable water supplies," said Douglas Headrick, Chief of Water Resources for the City of Redlands, CA. "Recycled wastewater produced by our 6.6 mgd MBR facility can supply more than enough water for the cooling towers at a new power station, and irrigation water for some local agricultural and recreational sites."
Semi-arid Redlands, about 50 miles east of Los Angeles, receives only about 15 inches of rainfall annually, and relies partly on wells to supply water to the area's 75,000 residents during peak summer usage. However, ongoing development and anticipated periods of below-average rainfall will continue to put a strain on the area's water supply.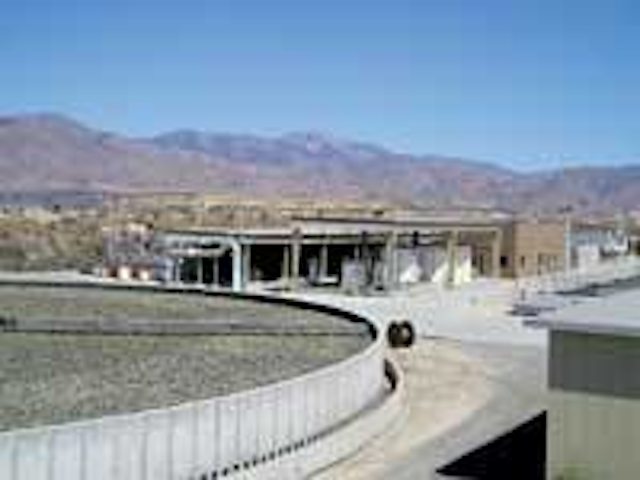 Redlands WWTP retrofitted half of its conventional treatment processes with ZeeWeed

®

MBR to produce recycled water that exceeds California Title 22 requirements.

Click here to enlarge image



Conserving the precious groundwater supplies was the main driver for Headrick to go before the California Energy Commission in 2000 and advocate for recycled water to supply the cooling towers at the 1,056 megawatt Mountainview Power Company (MPC) power plant. Headrick was concerned that MPC's plan to use a series of large wells for cooling water would place a tremendous strain on the region's future groundwater supply. He argued that an advanced wastewater treatment technology, such as a membrane bioreactor (MBR), could provide the necessary high quality cooling water and was an environmentally and economically better way to produce the necessary process water.
Upgrades to the existing conventional wastewater treatment plant (WWTP) were also required to meet new total inorganic nitrogen (TIN) limits set by the State Regional Water Quality Control Board (RWQCB). TIN limits were lowered from an interim requirement of 23 mg/L to a 12-month moving average of 10 mg/L and, according to Headrick, are expected to go even lower.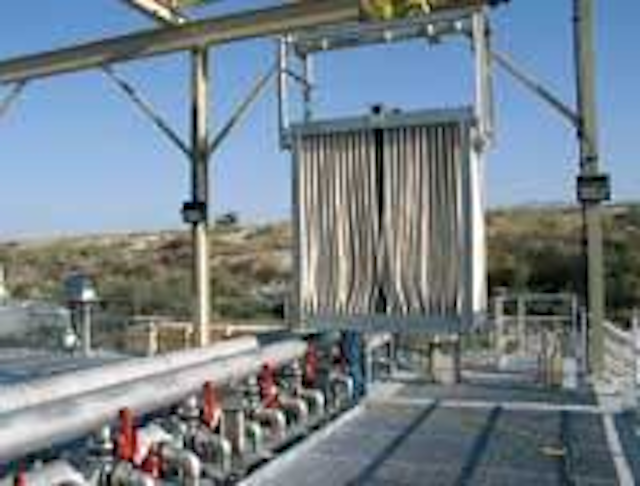 Reinforced hollow fiber ZeeWeed

®

membranes are specifically designed to withstand the harsh wastewater environment and provide a physical barrier against suspended solids and pathogens in the mixed liquor.

Click here to enlarge image



In December 2000, the City of Redlands began searching for the best available technology to upgrade its existing 9.5 mgd secondary wastewater treatment plant with a technology that could produce up to 6 mgd of high quality recycled water that exceeded California's Title 22 requirements. Working with Carollo Engineers San Bernardino office, the city examined three alternatives: 1) conventional activated sludge followed by tertiary filtration and chlorine contact basins; 2) infiltration basins to act as filters for secondary effluent followed by extraction wells that recover groundwater; 3) advanced MBR treatment followed by UV disinfection.
The examination revealed that MBR technology would provide the best alternative to ensure compliance with the project selection criteria. Membrane systems from three manufacturers were evaluated, and at the conclusion, Zenon ZeeWeed® reinforced hollow fiber membranes were selected to provide ultrafiltration for the upgraded plant.
The engineering team of Carollo Engineers and CH2M HILL provided process evaluation, detail design, and construction management for the project. By May 2004, the majority of facilities construction was completed, and the City of Redlands began the commissioning process. The complete Redlands WWTP is capable of treating 9.5 mgd of which 6.0 mgd is treated by the MBR system (6.6 mgd peak flow), and the remainder is treated by the upgraded conventional system.
Treatment Process
The WWTP receives municipal wastewater which is collected in the headworks and passes through a 0.5-inch coarse screen and grit removal system before flowing into the primary clarifier. Effluent from the primary clarifier flows by gravity to equalization ponds, and is pumped to a meter-controlled distribution system that proportionally divides the flow between the MBR and conventional treatment systems.
In the biological reactor, wastewater first enters the anoxic zone for denitrification, followed by an aeration zone for nitrification. Mixed liquor then flows to a separate membrane tank for solids filtration. The membrane tank consists of six process trains each containing 15 cassettes of ZeeWeed® reinforced UF membranes that can filter up to 1 mgd of wastewater.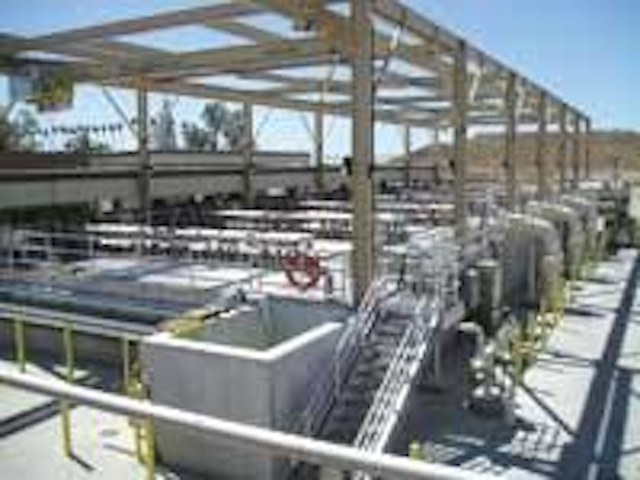 The City of Redlands selected ZeeWeed

®

MBR as the best technology to produce recycled wastewater for the new Mountainview Power Station and other reuse applications.

Click here to enlarge image



The membranes are immersed directly into the mixed liquor and draw treated effluent into the fiber using a gentle suction. A ZeeWeed® membrane fiber acts as a physical barrier, preventing suspended solids and pathogens from entering into the final effluent.
Since sludge settling is not required, MBRs can operate at much higher mixed liquor suspended solids (MLSS) concentrations, typically in the range of 8,000 to 15,000 mg/L, enhancing the system's ability to remove nitrogen and enabling it to operate in a relatively small bioreactor volume.
At Redlands, side screening of mixed liquor, with 0.75 inch internal feed rotary drum screens, protects the membranes from finer materials that passed through the pretreatment system and could cause damage. Treated effluent is collected in a common header pipe and flows to a chlorine contact disinfection system before being pumped to the power plant.
The simple design of an MBR means that complete wastewater treatment can be carried out in one or two steps which significantly reduces the footprint of the plant and the operational equipment. Main equipment for a typical MBR plant includes a fine screen, membrane cassettes, a bioreactor, permeate pumps, blowers for process and membrane scouring, and clean-in-place equipment to handle membrane backpulsing and washing.
The backpulsing process forces permeate water back through the membranes. This dislodges any particles that may adhere to the membranes. Intermittent aeration of the membranes is also used to scour debris from the fibers and provides mixing within the process tank to maintain solids in suspension. When necessary, in-situ chemical cleaning can be automatically performed if membrane fouling reduces permeability below a specified performance level.
Turbidity meters ensure that each train meets turbidity requirements for Title 22 compliance (less than 0.2 NTU 95 percent of the time) and also indirectly verifies the integrity of the membranes. In the unlikely event that turbidity rises, an alarm will notify the operator and the appropriate action can be taken.
Conclusion
The 20-year deal with the power plant will bring in about $500,000 annually for the City of Redlands, and Headrick is always on the lookout for new customers to buy the city's recycled water. The 14,000-foot distribution line that serves the power plant is equipped with many turnouts to serve other potential customers along the way. Currently the surplus reuse water is sent to percolation ponds to slowly trickle back into the water table, but Headrick hopes to eventually sell recycled water for irrigation at orange groves, golf courses, city property and also for dust suppression at the neighboring landfill site.
About the Authors: Contributors to this article included Dave Commons, Water Operations Manager, City of Redlands; George Beliew, PE, Partner, Carollo Engineers; Sava S. Nedic, PE, Principal Project Manager, CH2M HILL; and Jodi Cumin, P.Eng., Regional Manager, Zenon Environmental Inc.