WEFTEC Exhibitor Products
The Pall ARIA™ microfiltration water treatment system uses filtration modules in a hollow fiber configuration.
Sep 1st, 2005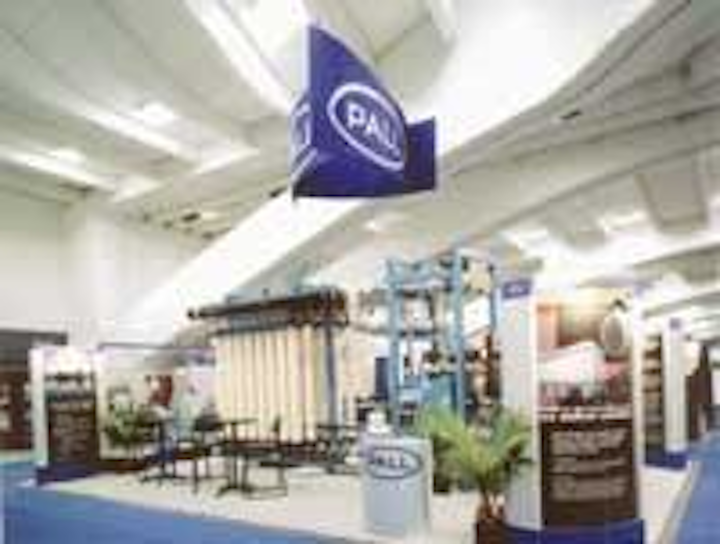 Microfiltration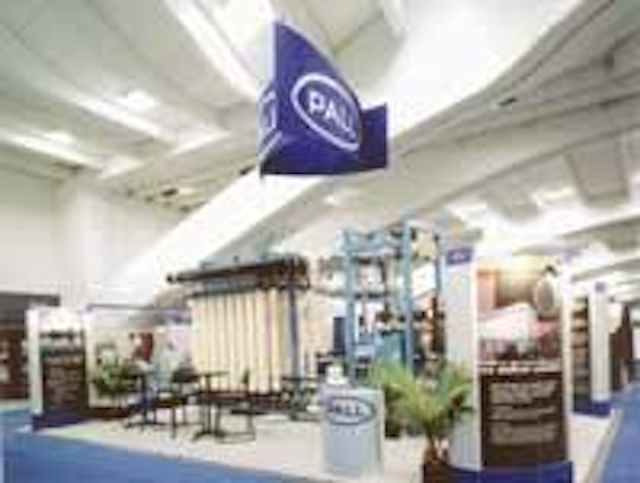 Click here to enlarge image
The Pall ARIA™ microfiltration water treatment system uses filtration modules in a hollow fiber configuration. This fully automated, turnkey solution has been used to meet EPA standards in potable drinking water, wastewater, and water reuse applications. The system has been approved to reduce or remove turbidity, viruses, bacteria, cysts, oocysts, iron, manganese, arsenic and organics from surface and ground waters, secondary effluent and sea and brackish waters.
Pall Corp. - Water Processing
East Hills, NY
Tel: 800-645-6532
Web: www.pall.com
Ultrafiltration membranes
GE Infrastructure Water & Process Technologies (W&PT), a unit of General Electric Co., provides ultrafiltration (UF) systems for a range of municipal applications such as surface water treatment for the production of potable water, pretreatment for seawater reverse osmosis systems and water reuse applications. The company's UF systems use hollow fiber UF membranes.
GE Infrastructure, Water & Proc. Tech.
Trevose, PA
Tel: 215-355-3300
Web: www.gewater.com
Spectrophotometer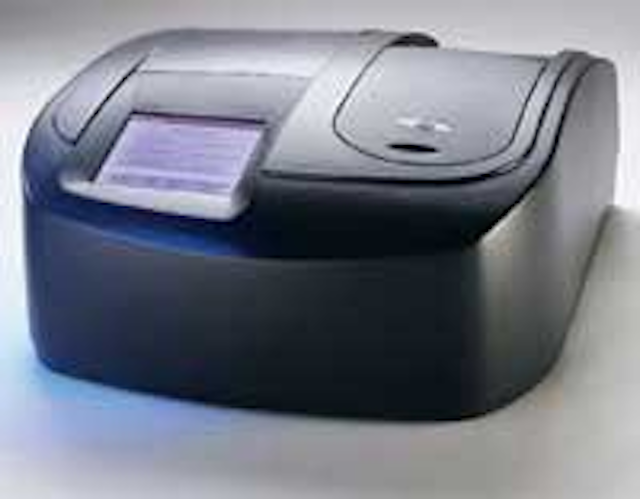 Click here to enlarge image
Hach has introduced the new DR 5000 Spectrophotometer and TNT Plus™ barcoded reagents for streamlined laboratory analysis. This instrument-reagent integration provides automatic method detection and reagent blanking that increase productivity and reduce errors. Coupled with new Hach TNT Plus reagent vials such as Chemical Oxygen Demand (COD) TNT Plus vials, the spectrophotometer automatically recognizes the test method, determines the reagent blank, and yields 10-fold measurement and averaging.
Hach Co.
Loveland, CO
Tel: 800-227-4224
Web: www.hach.com
Blower package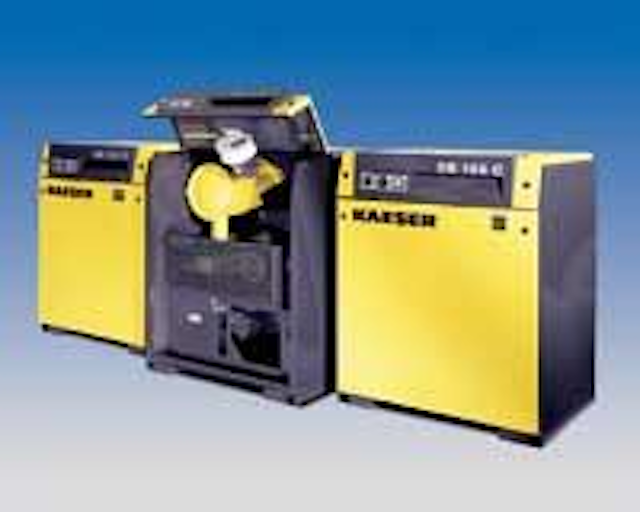 Click here to enlarge image
Kaeser Compressors offers the Com-paK Plus series, a compact blower package that delivers up to 2585 cfm. This package features the company's Omega Plus tri-lobe blower in a sound dampening enclosure that reduces noise levels up to 20 dB(A). Each model in the series comes completely assembled with blower, motor, and silencers in a space saving cabinet to minimize installation costs. All maintenance points, including the automatic belt tensioning device, oil drains and filter elements, are accessible through a canopy on the front.
Kaeser Compressors Inc.
Fredericksburg, VA Tel: 800-777-7873 Web: www.kaesercompressors.com
Metering pumps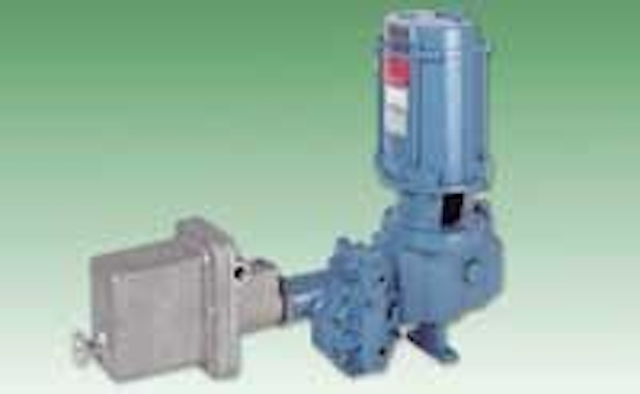 Click here to enlarge image
Neptune Chemical Pump Co. has expanded the range of its Series 500 "dia-PUMPs" with explosion-proof motors and NEMA 7 stroke positioners for use in hazardous environments. The hydraulically actuated diaphragm pumps provide metering of a wide variety of corrosive, flammable or hazardous liquids. The explosion-proof model is ideal for use in a variety of extreme environments. The pumps feature check valves that are removable for inspection or cleaning without disconnecting piping.
Neptune Chemical Pump Co.
Lansdale, PA
Tel: 215-699-8700 Web: www.neptune1.com Booth 9653
High volume pumps
This year, Godwin Dri-Prime® pump newcomers include a generation of pumps that has evolved from Godwin's high volume CD series of Dri-Prime models. Four pumps specifically are offered to provide elevated heads with solids handling capabilities without sacrificing high volume pumping capacity: the 4" CD103M, the 6" CD160M, the 8" CD225M, and the 12" CD300M.
Godwin Pumps
Bridgeport, NJ
Tel: 856-467-3636
Web: www.godwinpumps.com
Launder cover system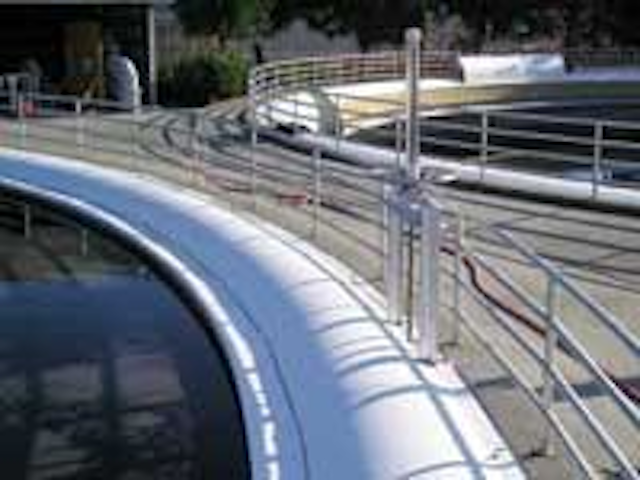 Click here to enlarge image
The NEFCO Launder Cover System inhibits algae growth and keeps snow, ice and debris out of clarifiers. The company's patented hinged-panel design provides easy access as well as safety and security. The cover eliminates the laborious chore of manually scraping or brushing off algae. With the cover installed, plants report that they need only hose off the trough and weirs once or twice a year.
NEFCO Inc.
Palm Beach Gardens, FL
Tel: 561-775-9303
Web: www.nefcoinc.com
Aeration system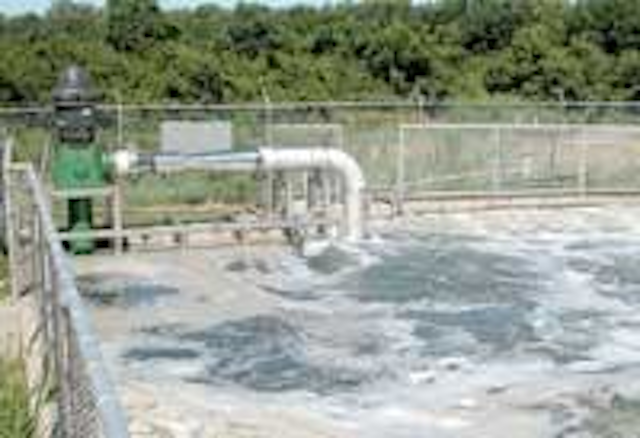 Click here to enlarge image
Mazzei Injector provides the AirJection® process, Venturi aeration systems for water and wastewater treatment aeration and basin mixing. Basin (tank, pond or lagoon) water is pumped at low pressure (10 to 15 psig) through patented "High Efficiency" injectors. The injector aspirates large volumes of ambient air or concentrated oxygen without the use of blowers.
Mazzei Injector Corp.
Bakersfield, CA
Tel: 661-363-6500
Web: www.airjection.net
Check valves
Click here to enlarge image
The Series 37G Tideflex® Check Valve is inserted inside a storm sewer interceptor line to protect manholes from backflow. The valve can be installed where the invert of a pipe is flush with the floor of a manhole. Installation by means of an expanding stainless steel clamp can be done from the manhole with no digging required. The all-rubber construction of the valve eliminates rust, corrosion and freezing.
Tideflex Technologies Inc.
Pittsburgh, PA
Tel: 412-919-0919
Web: www.tideflex.com
Basalt-lined piping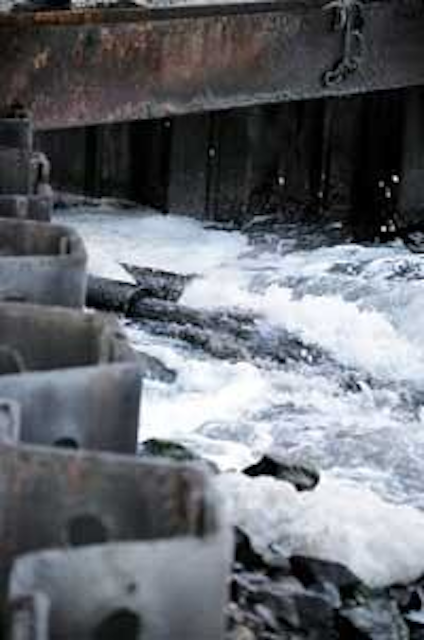 Click here to enlarge image
Abresist piping is designed to handle grit, sludge or biosolids being conveyed in wastewater plants. The basalt-lined piping lasts five times longer than ½" cast iron. Pipes, elbows and fittings are custom engineered for each application and can be provided in a variety of end connection arrangements to retrofit into existing systems or install in new ones using flanges, grooved couplings, compression couplings or welded attachments.
Abresist Corp.
Urbana, IN Tel: 800-348-0717
Cartridge filter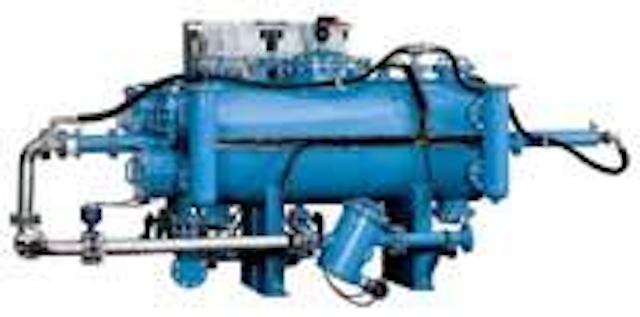 Click here to enlarge image
Amiad Filtration Systems plans to unveil its next generation thread technology at WEFTEC. The new product is the MT-44, a 200 gpm, 3 micron, automatic, self-cleaning, string-wound cartridge filter. It was developed using the same thread, plastic material and overall dimensions of the previous cassette. However, this release is made of a stronger construction and a denser thread stacking, which has reduced the diameter of the pores and improved its filtration capabilities.
Amiad Filtration Systems
Oxnard, CA Tel: 800-969-4055 Web: www.amiadusa.com
PTFE expansion joints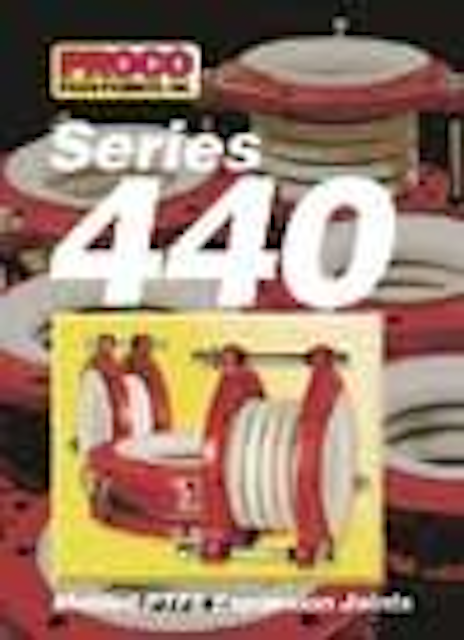 Click here to enlarge image
Proco Products supplies a variety of products to the drinking water and wastewater industry. For highly corrosive chemical lines, the company recommends the Series 440 molded PTFE expansion joints. The joints are available in 2, 3, and 5 convolutions and range in size from 1" ID to 24" ID. These products are in stock and available for immediate shipment.
Proco Products Inc.
Stockton, CA Tel: 800-344-3246 Web: www.procoproducts.com
Tank coating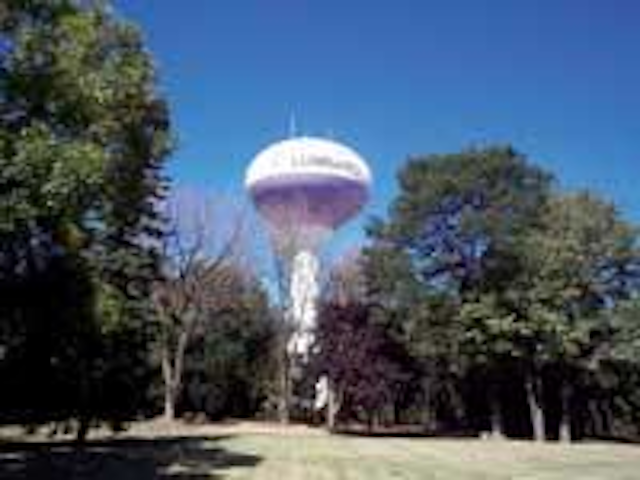 Click here to enlarge image
Tnemec has begun offering a new exterior finish coating for water tanks called Series 700 HydroFlon. The coating has a 20+ year life expectancy and offers superior gloss and color retention. A two-component fluoropolymer, the coating can be brushed, rolled, or sprayed. It features 60 percent volume solids, has excellent coverage rates and provides UV and salt water protection.
Tnemec Co.
Kansas City, MO Tel: 800-863-6321 Web: www.tnemec.com
Odor control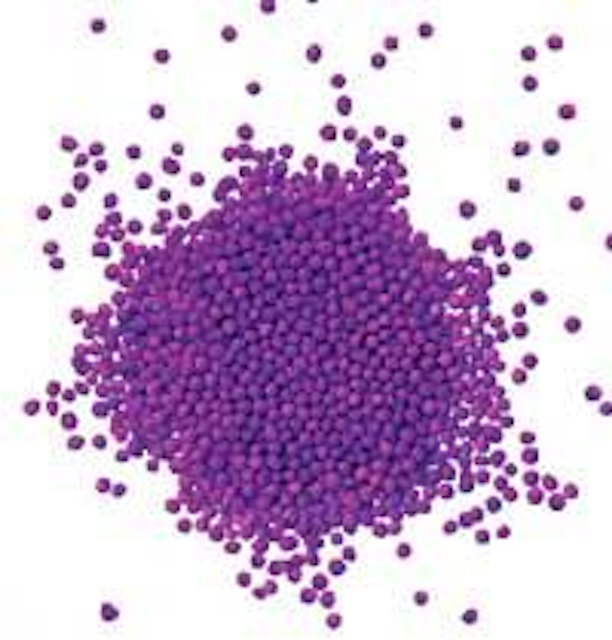 Click here to enlarge image
The new Purafil SP Series sodium permanganate oxidizing media includes Odoroxidant™ SP and Odormix™ SP (a mix of Odoroxidant SP and OdorkolTM activated carbon media). It contains a 12% minimum sodium permanganate content and demonstrates a 50% higher working capacity for gaseous contaminants than Purafil's premium Odoroxidant and Odormix media, respectively.
Purafil Inc.
Doraville, GA
Tel: 770-662-8545
Web: www.purafil.com
Slide gates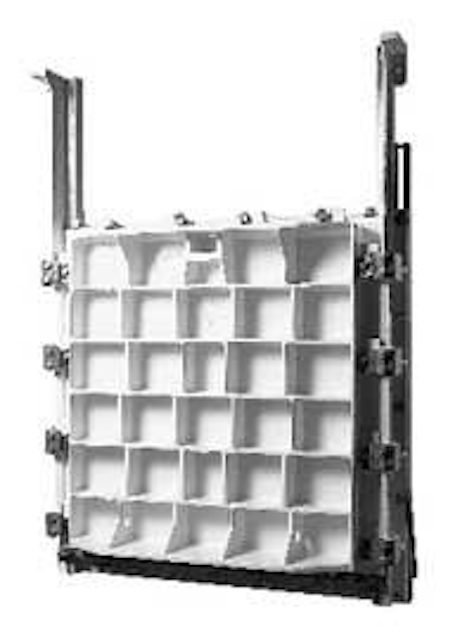 Click here to enlarge image
Hydro Gate cast iron slide gates are commonly used in sewage treatment, flood control and municipal applications. They are designed to control the flow of fluid through openings under a face or seating head as well as under back or unseating head. Offered in square, rectangular or round flanges, cast iron slide gates use vertical and horizontal ribs to provide sufficient strength to meet the required design heads.
Hydro Gate
Denver, CO
Tel: 800-678-8228
Web: www.hydrogate.com
Aeration compressor
The HST Integral™ aeration compressor from ABS Pumps automatically self regulates to operate at the best efficiency. Designed to maintain reliability and efficiency within 1-2% of the best efficiency point, the high speed turbocompressor with frequency converter and magnetic bearings has been engineered to work in demanding and variable wastewater applications.
ABS Pumps Inc.
Meriden, CT
Tel: 203-238-2700
Web: www.absgroup.com
Davit cranes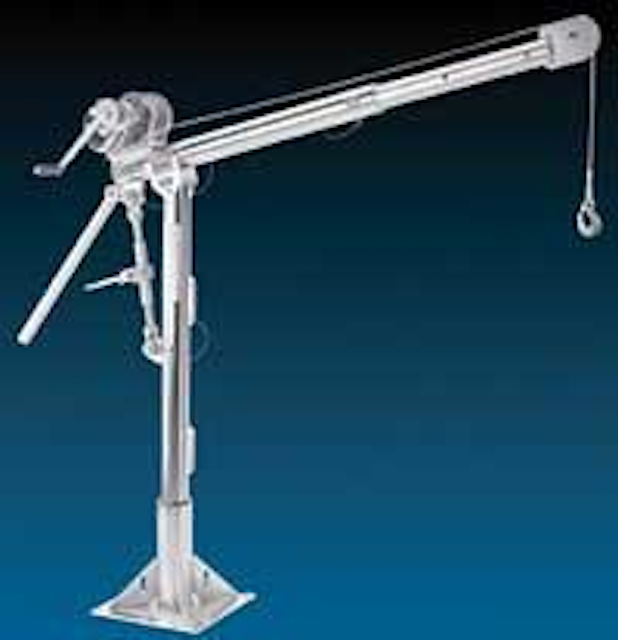 Click here to enlarge image
Thern davit cranes are now available in Grade 316 stainless steel. The cranes have the power and portability of the company's standard davit cranes with increased corrosion resistance. Available in portable or stationary models, the davit cranes come in a wide variety of sizes and capacities. Each crane is fitted with a hand or power winch featuring a quick disconnect anchor, which allows operators to remove the cable from the crane while it is still hooked to the load.
Thern Inc.
Winona, MN Tel: 800-843-7648 Web: www.thern.com
Blower/vacuum pumps
Gardner Denver Blower Division has introduced the new HeliFlow series low pulse, twisted lobe positive displacement blower/vacuum pumps. The pump's twisted lobes provide less pulsation, lower vibration levels and enhanced performance, compared to similar sized units. They can produce airflow to 605 cfm, pressure to 15 psig and vacuum to 16" Hg.
Gardner Denver Blower Division
Peachtree City, GA Tel: 800-543-7736 Web: www.gardnerdenver.com
Clarifier, thickener drive units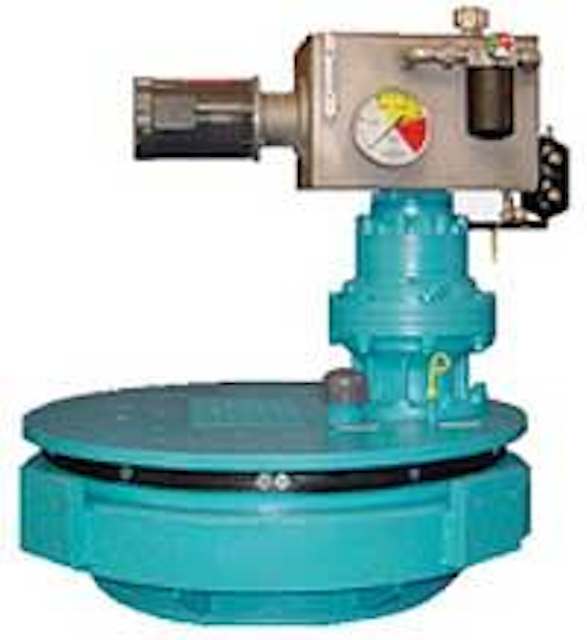 Click here to enlarge image
Type H clarifier and thickener drive units from Hi-Tech offer an advanced drive technology. Hydraulic overloads provide torque monitoring and increased protection for collector mechanisms. Gauge readings are displayed in actual operating torque (ft-lbs).
Hi-Tech Environmental Inc.
Birmingham, AL
Tel: 800-264-7005
Web: www.hi-techenv.com
Water quality meter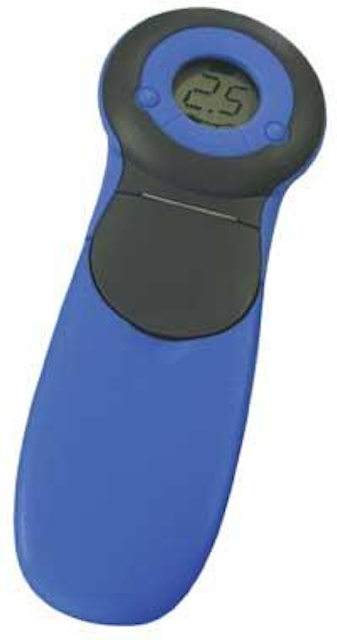 Click here to enlarge image
Industrial Test Systems has announced the release of the new eXact™ 1 water quality meter and eXact™ Strips. The meter is designed to give fast water chemistry results without having to use more sophisticated and time consuming methods. The hand-held unit is ideal for on-site screening and process control evaluation. It can test for free chlorine/total chlorine, pH, total alkalinity, bromine, cyanuric acid, calcium hardness and copper.
Industrial Test Systems Inc.
Rock Hill, SC
Tel: 803-329-9712
Web: www.sensafe.com
Elastomer bellows seal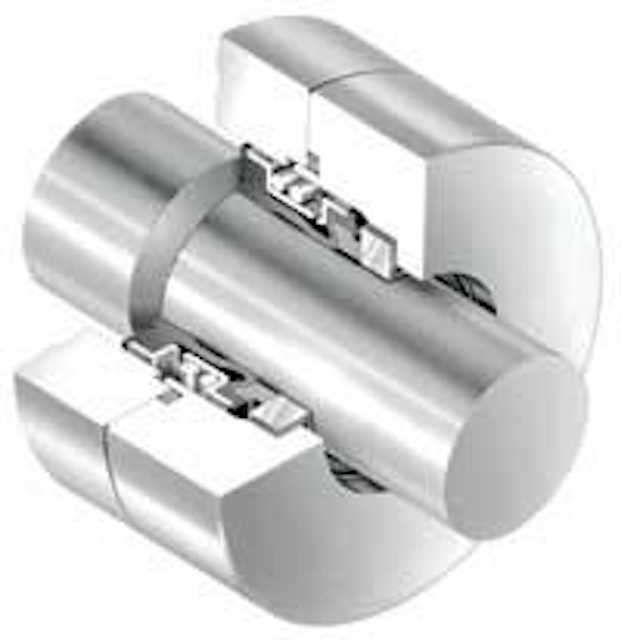 Click here to enlarge image
John Crane has announced the development of the Type 2106 Elastomer Bellows Seal for small centrifugal water pumps, deep and shallow well jet pumps, and wastewater pumps. The unitized design uses a full convolution elastomer bellows and interlocking drive bands to provide positive drive.
John Crane Inc.
Morton Grove, IL
Tel: 847-967-2400
Web: www.johncrane.com
Odor control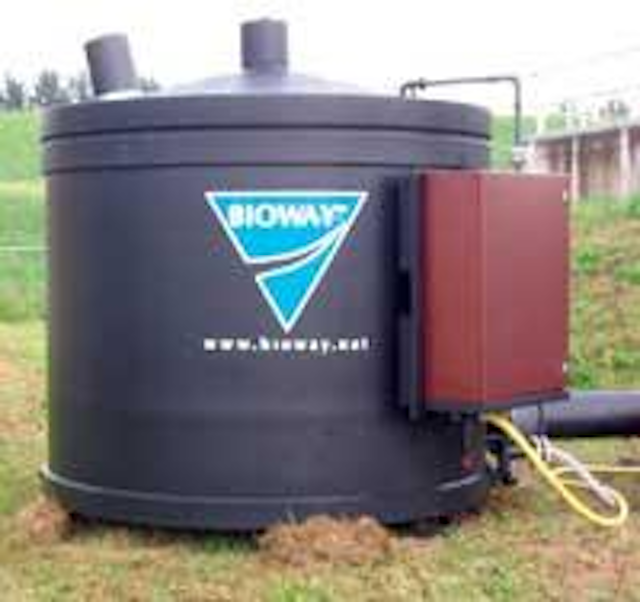 Click here to enlarge image
The Eliminodor 2000™, available from Bioway, can treat up to 2000 cfm in a single, compact unit with no intermediate ductwork. It biologically treats foul air, followed by a final carbon polishing step. The system comes with a 10 year warranty on the biological media and vessel, and a 12 month guarantee on the carbon.
Bioway America Inc.
Marlton, NJ
Tel: 513-607-7304
Web: www.bioway.com
Protective shelters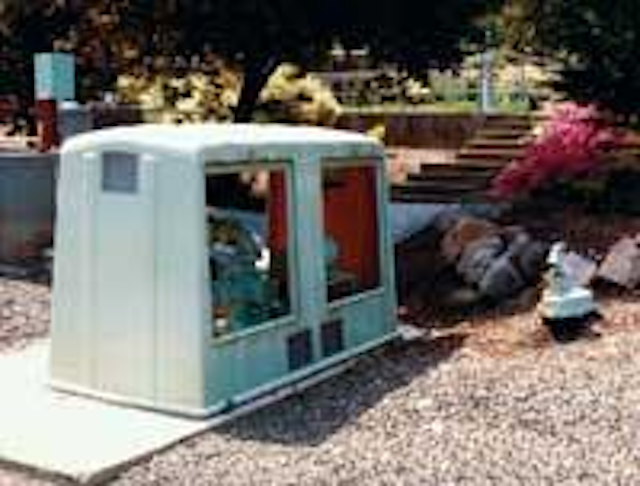 Click here to enlarge image
The Aegis™ weather-tight fiberglass building line, from Aegis Protective Shelters, a division of CDR Systems Corp., is lightweight, yet rugged, strong, maintenance free, and corrosion resistant. This shock-resistant, non-conductive shelter's exterior is finished with a colored UV resistant gel coat.
Aegis Protective Shelters
Jacksonville, FL
Tel: 888-852-3447
Web: www.aegisshelters.com
Residual chlorine monitor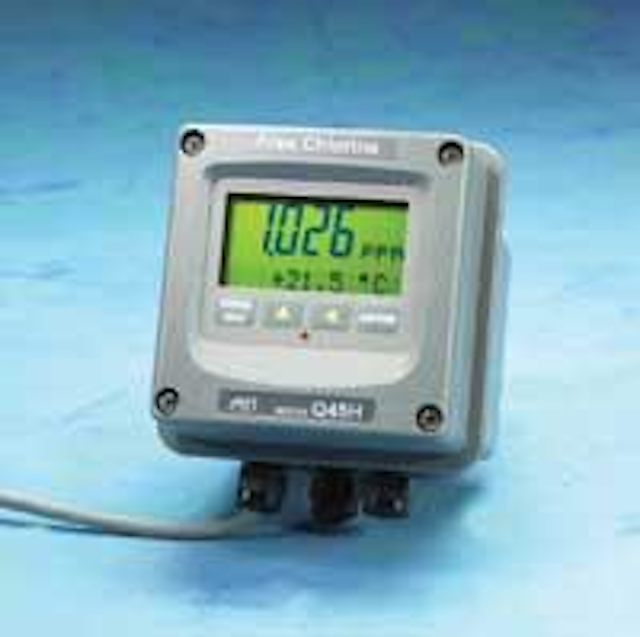 Click here to enlarge image
Analytical Technology has introduced a new monitoring system for residual chlorine in municipal water treatment systems. The basic sensing element used in the Q45H Residual Chlorine Monitor is a polarographic membrane sensor which measures chlorine directly. This type of measurement does not require the addition of chemical reagents.
Analytical Technology Inc.
Collegeville, PA
Tel: 610-917-0991
Web: www.analyticaltechnology.com Booth 959
Vault door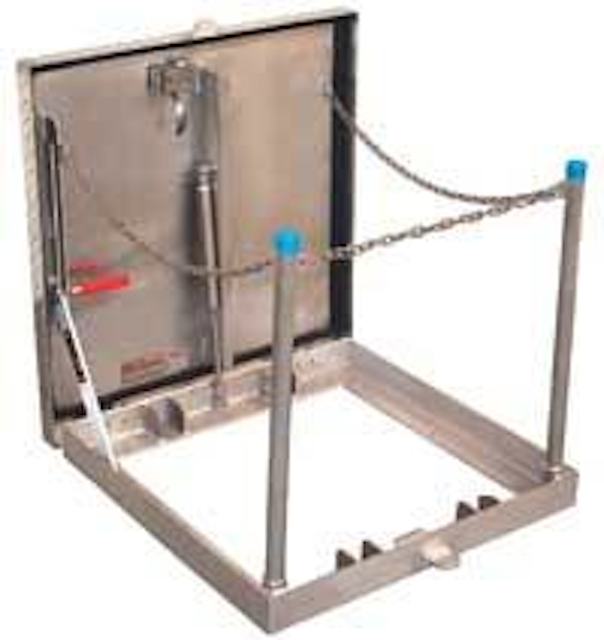 Click here to enlarge image
Bilco's Type SM Surface Mounted door is an access solution for underground vaults that do not require a flush-mounted door. It features a concealed internal mounting flange for secure installation. Simply position the door over the vault opening and bolt it into place. The door is also ideal for replacement applications.
Bilco Co.
New Haven, CT
Tel: 203-934-6363
Web: www.bilco.com
Sludge thickener
The Enviroquip Membrane Thickener is a sludge thickener available for installation at new or existing treatment plants to increase the capacity of aerobic sludge processing and storage tanks. The membrane thickener is available in numerous sizes to meet the needs of both conventional and MBR wastewater treatment plants and is specifically targeted to plants with less than 6.0 mgd influent flow.
Enviroquip Inc.
Austin, Texas Tel: 512-834-6000 Web: www.enviroquip.com
Plastic, aluminum enclosures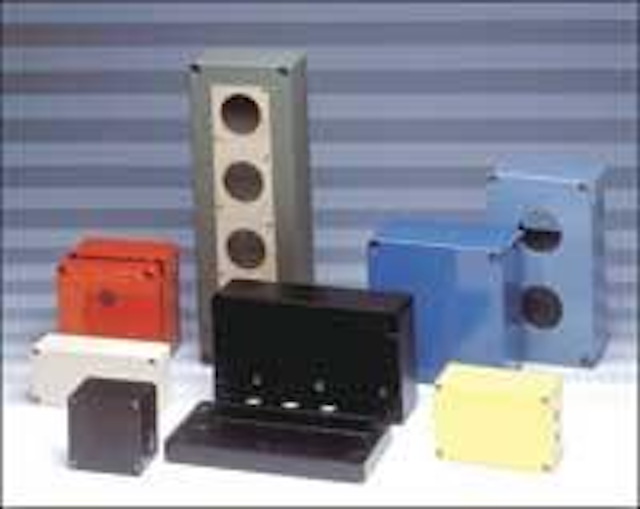 Click here to enlarge image
Fibox Enclosures has expanded its in-house capabilities to supply customized plastic and aluminum enclosures. New assets include a Computer Aided Manufacturing (CAM) machining system for milling, engraving, cutting, and embossing. Customers can receive fast turnaround on popular enclosure modifications including threaded and unthreaded holes, and panel, door, side, and window cutouts.
Fibox Inc.
Glen Burnie, MD Tel: 888-342-6987 Web: www.fiboxusa.com
Grinding, screening
Click here to enlarge image
The design evolution of the latest version of the Channel Monster® grinding and screening system has resulted in a product suited for extreme heavy loading applications such as large wastewater pump stations. JWC offers a large selection of pump station grinders, well suited for the smallest applications, using its Channel Monster® CMD-1205, all the way up to the largest using the new Channel Monsterv Extreme Duty - XD.
JWC Environmental
Costa Mesa, CA
Tel: 800-331-2277
Web: www.jwce.com
Arsenic adsorption media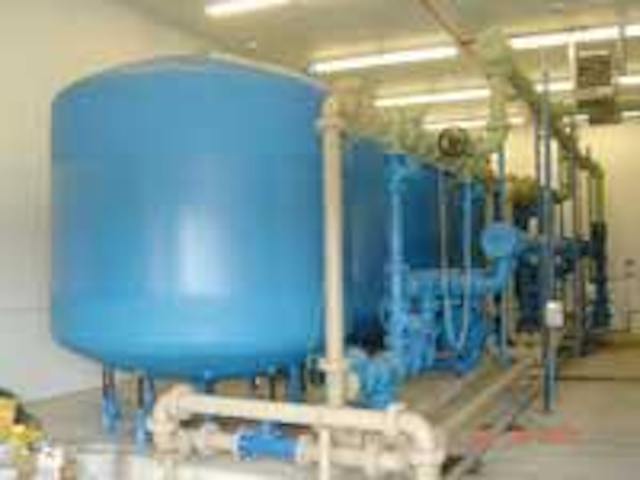 Click here to enlarge image
ADI International's Media G2® adsorption process for removing arsenic from drinking water has received performance verification under the EPA Environmental Technology Verification Program. The Drinking Water Systems Center, operated by NSF International, recently evaluated the process at a site in Pennsylvania. The media is an iron-based adsorption treatment technology for removing arsenic from drinking water supplies.
ADI International Inc.
Fredericton, New Brunswick
Tel: 506-451-7407
Web: www.adi.ca/Water/arsenic.html
Satellite monitoring
American Innovations has announced the release of its Bullhorn ICP Monitor, which uses satellite communications to transmit equipment status from remote locations, offering near 100% world-wide coverage. Two-way communications enables users to obtain readings when desired, and affords the ability to operate control outputs. The system can provide instant notification of alarm events via phone, text page, email and/or fax.
American Innovations
Austin, TX
Tel: 800-229-3400
Web: www.amerinnovations.com
Odor, UV systems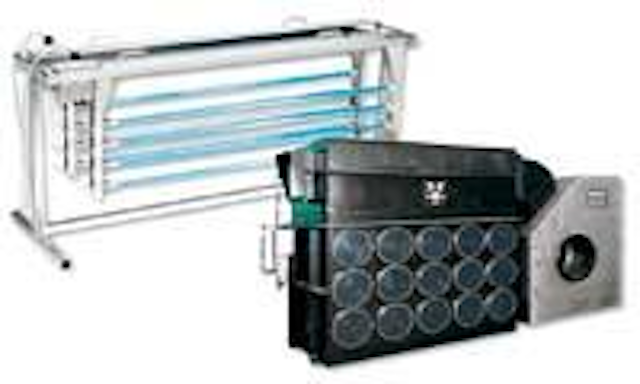 Click here to enlarge image
Calgon Carbon has several technologies for municipal wastewater treatment and odor control. The primary technologies include media and equipment for control of municipal wastewater plant and pump station odors and UV disinfection. The company's portfolio of odor control products spans all three of the major control technologies: activated carbon, biological oxidation, and chemical scrubbing.
Calgon Carbon Corp.
Pittsburgh, PA
Tel: 800-422-7266
Web: www.calgoncarbon.com
Microturbine generators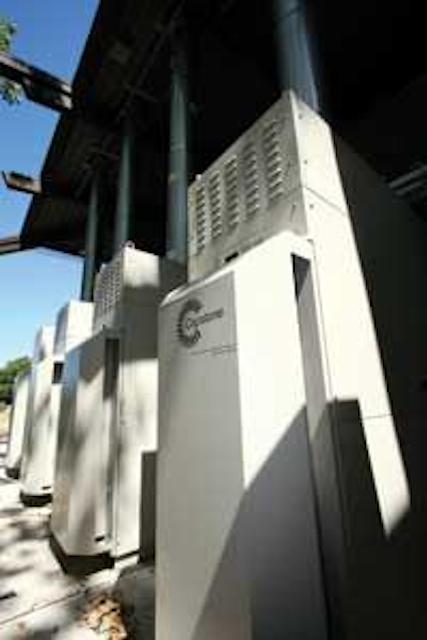 Click here to enlarge image
Capstone Turbine is taking orders for January 2006 shipment of its new digester gas fueled 60-kW microturbine generator system. The new C60-ICHP Biogas model delivers twice the power output, but with a footprint only 26% larger, and it has a factory designed and pre-integrated stainless steel heat exchanger that eliminates exhaust ducting and third-party heat exchanger hassles.
Capstone Turbine Corp.
Chatsworth, CA
Tel: 866-422-7786
Web: www.microturbine.com
SCADA controllers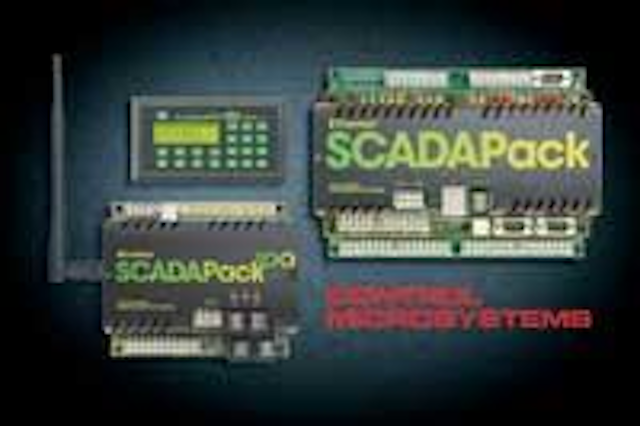 Click here to enlarge image
Control Microsystem's SCADAPackTM family of controllers feature flexible I/O with standard PLC and RTU functions, a data logger, ladder logic and Modbus, DF1 and DNP3 protocols. The controllers use Ethernet, serial, wireless, dial-up or satellite while safely monitoring and controlling water and wastewater infrastructure.
Control Microsystems
Kanata, Ontario

Contractor pumps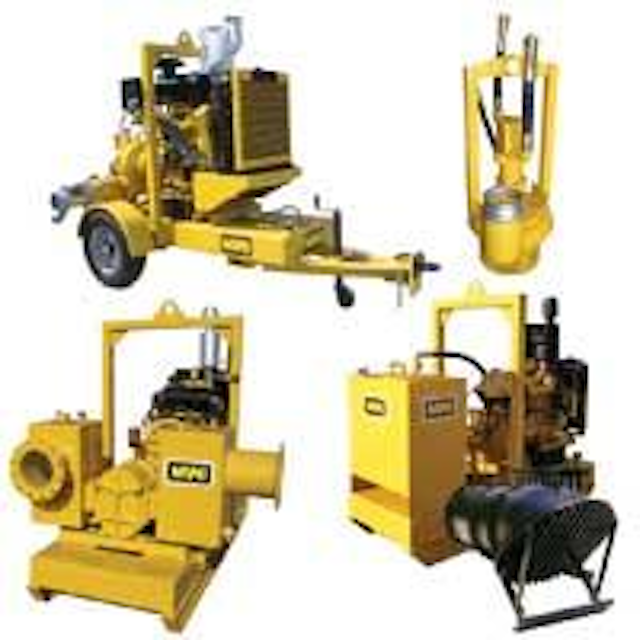 Click here to enlarge image
Moving Water Industries (MWI Corp.), which offers axial and mixed flow pumps driven hydraulically and in submersible electric and lineshaft configurations and rural water supply equipment, is now in the contractors pump market which complements and supports its traditional focus. This line of products is based on pump designs used by the MWI Rental Division and have been tested for years under the toughest environments.
MWI Corp.
Deerfield Beach, FL
Tel: 954-426-1500
Web: www.mwicorp.com
Valves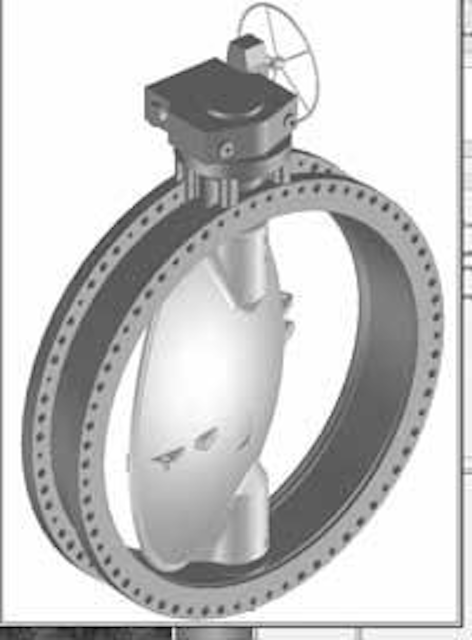 Click here to enlarge image
In its 100th anniversary year, Crispin Valve has announced the acquisition of the K-Flo Butterfly Valve line from Dezurik Water Controls of Sartell, MN. The purchase includes all of K-Flo's associated designs and assets, including the Wolverine configuration. Available in two patterns, with sizes ranging from 3" all the way up to 108", the valves are fully compliant with AWWA C504 standards.
Crispin Valve
Berwick, PA
Tel: 800-247-8258
Web: www.crispinvalve.com
Hazardous gas detector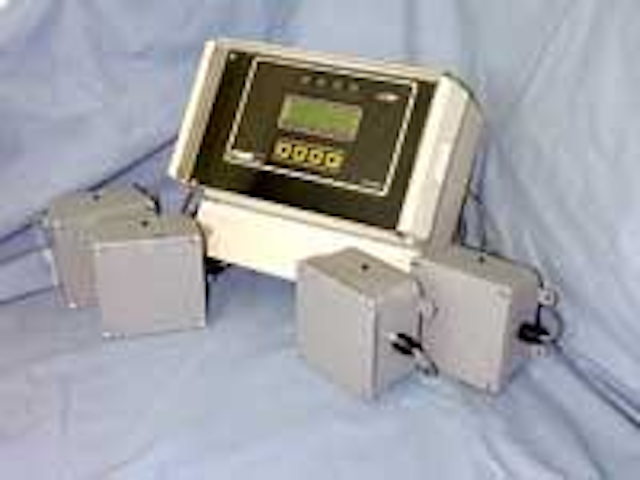 Click here to enlarge image
Eagle Microsystems has introduced its next generation of hazardous gas detectors for chlorine, sulfur dioxide and other toxic gases for use in water and wastewater applications. The monitoring instrument is capable of supporting up to four electrochemical gas sensors for the same or different gases simultaneously. An isolated 4-20 mA output and multiple, programmable alarm contacts are provided for each monitored point. The 4-line by 20-character, backlit LCD displays gas concentration for each monitored point.
Eagle Microsystems Inc.
Pottstown, PA
Tel: 800-780-8636
Web: www.eaglemicrosystems.com
Plastic swing check valves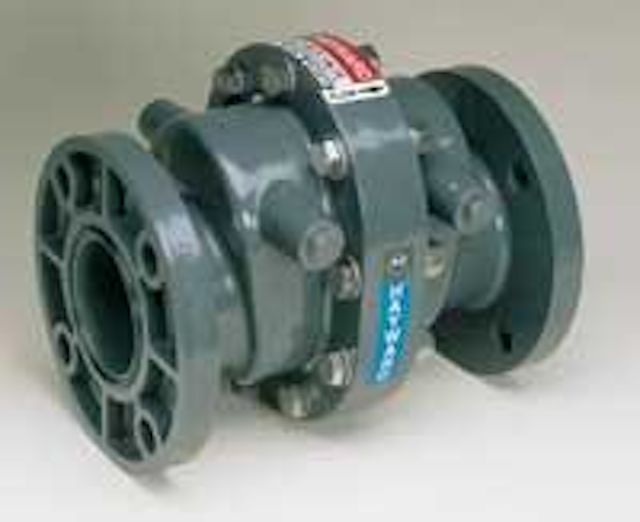 Click here to enlarge image
Hayward's new all plastic swing check valves are rated up to 225 psi and up to 190 F, depending on the application and the valve's material of construction. That's up to twice the rating of ordinary plastic swing check valves and they can often replace metal valves in some water treatment applications. The company's plastic swing check valves come standard with two built in O-ring flange seals. There is no need to purchase additional flange gaskets.
Hayward Flow Control
Clemmons, NC
Tel: 888-429-4635
Web: www.haywardflowcontrol.com
Grit system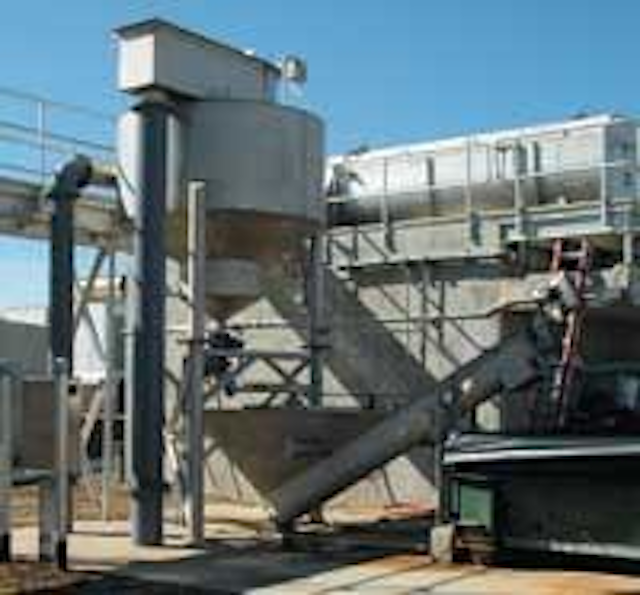 Click here to enlarge image
Using vortex technology pioneered by Hydro International, the Grit King® separates, cleans and dewaters grit and sand from wastewater and protects valuable equipment at the treatment plant. A minimal headloss, normally less than 6", is all that is required to operate the system. Units can be designed to remove a wide range of settleable sediments depending on site-specific conditions.
Hydro International
Portland, ME
Tel: 207-756-6200
Web: www.hydro-international.biz
Polymer mortar pipe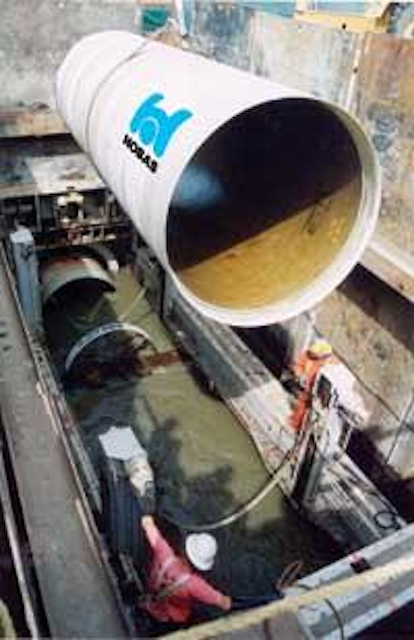 Click here to enlarge image
Hobas pipe is used in new construction and rehab for critical installations. Key applications are sewers, force mains, industrial effluents, most corrosive environments, wastewater and potable water. It is ideal for sliplining, jacking, microtunneling, tunnels, casings, direct bury and above ground. The centrifugally cast, fiberglass-reinforced, polymer mortar pipe is inherently corrosion resistant without add-on linings or coatings and has a life expectancy of 100 years or more.
Hobas Pipe USA
Houston, TX
Tel: 800-856-7473
Web: www.hobaspipe.com
Manhole sealing, protection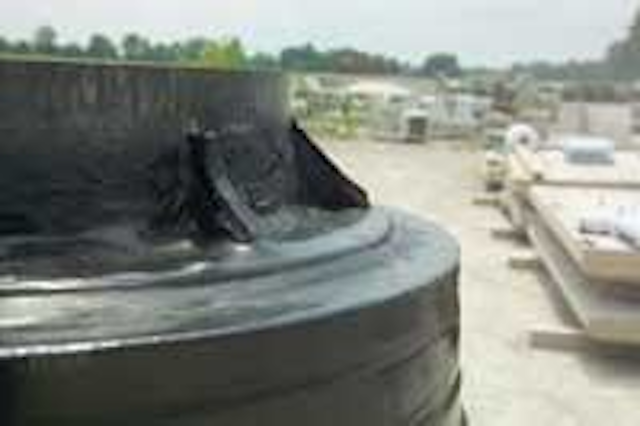 Click here to enlarge image
The Riser-Wrap™ seal, available from Pipeline Seal & Insulator, is a two-layer system designed for corrosion and sealing protection on encapsulating manholes and pipelines. It seals joints against ground water infiltration and is tolerant to soil stress, UV and freeze-thaw conditions. The first layer is a rugged sealant encapsulated by a heat shrink sleeve - a 2.5 mm cross-linked, high density polyethylene membrane.
Pipeline Seal & Insulator Inc.
Houston, TX Tel: 800-423-2410 Web: www.pipelineseal.com
Tablet chlorination system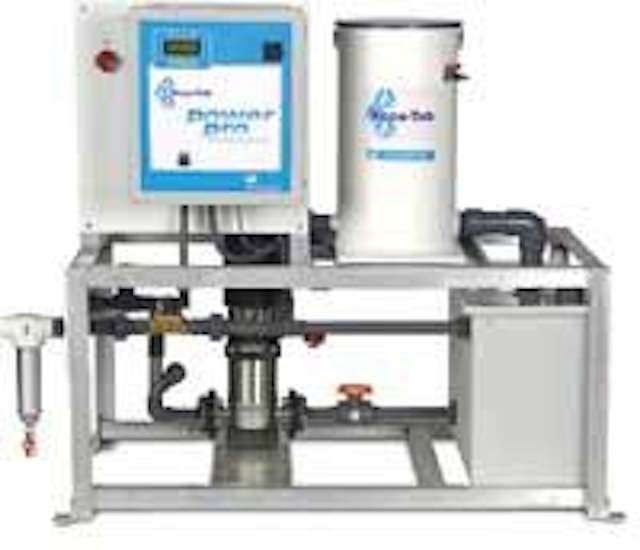 Click here to enlarge image
PowerPro® chlorination units by PPG Industries are designed specifically for use with Accu-Tab® System tablets and chlorinators. The system's patented chlorinators and 3" calcium hypochlorite tablets together allow for consistent and controllable chlorine dosages. Accu-Tab tablets are specifically formulated for controlled erosion. PowerPro units provide a compact, turnkey system based on any of the Accu-Tab chlorinator models.
PPG Industries Inc.
Monroeville, PA Tel: 800-245-2974 Web: www.ppgaccu-tab.com/ind Booth 8354
Portable pipeline inspection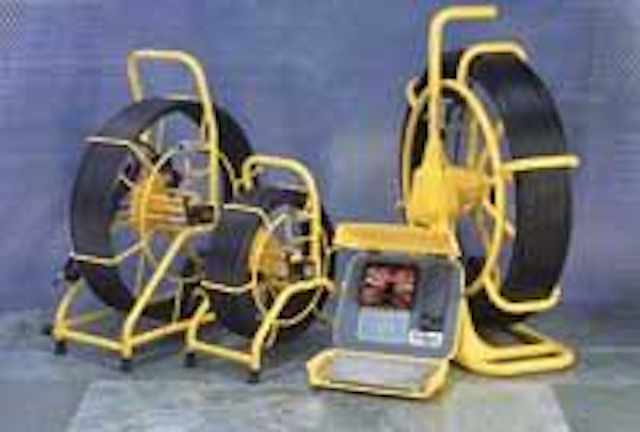 Click here to enlarge image
Pearpoint has developed a new series of portable inspection systems for residential, small commercial and basic municipal applications in pipes ranging from 1¼"-8" in diameter and up to 500' in length. Available in multiple feature-loaded basic configurations with numerous options, the P330 flexiprobe® series provides the freedom to create a system suited to the user's requirements.
Pearpoint Inc.
Thousand Palms, CA
Tel: 800-688-8094
Web: www.pearpoint.com
Biodenitrification system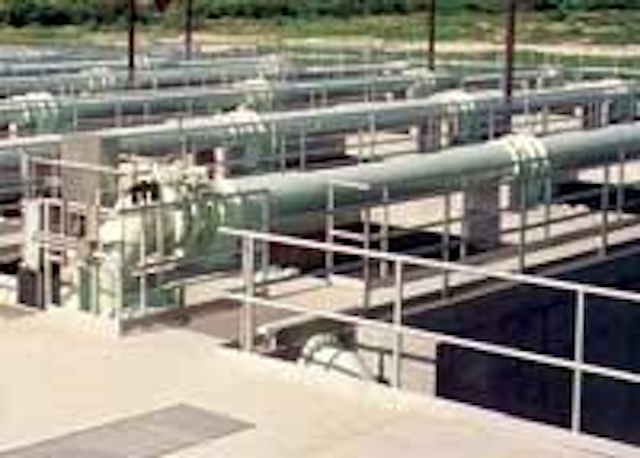 Click here to enlarge image
Severn Trent Services offers the Tetra® Denite® biodenitrification system, a single unit which is a combined bioreactor and effluent filter for use in any tertiary or advanced wastewater treatment plant. The system operates downflow to simultaneously remove Total Suspended Solids (TSS) and nitrate-nitrogen (NO3-N) and avoids the necessity for additional effluent polishing filters.
Severn Trent Services
Pittsburgh, PA
Tel: 800-364-1600
Web: www.severntrentservices.com
Double disc pump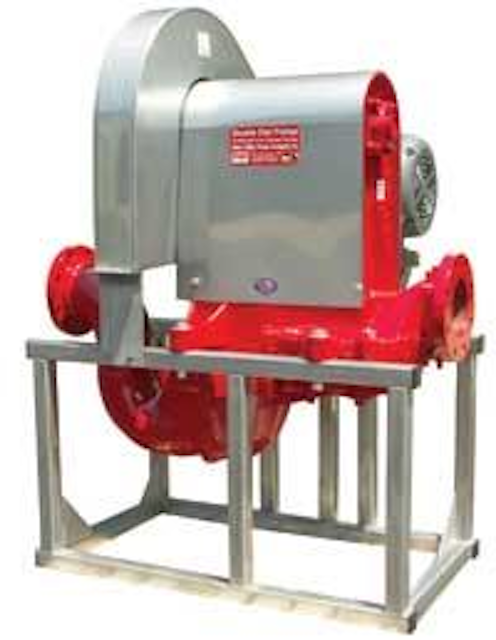 Click here to enlarge image
Penn Valley Pump Co. has completely re-designed the Double Disc™ Pump to incorporate industry leading features. These features include: a patented mounting and integral hinge design that allows the pump to be serviced without disassembling the piping; improved universal disc design that increases flow rate, eliminates confusion and increases commonality among spare parts.
Penn Valley Pump Co.
Warrington, PA
Tel: 215-343-8750
Web: www.pennvalleypump.com
Machine condition analyzer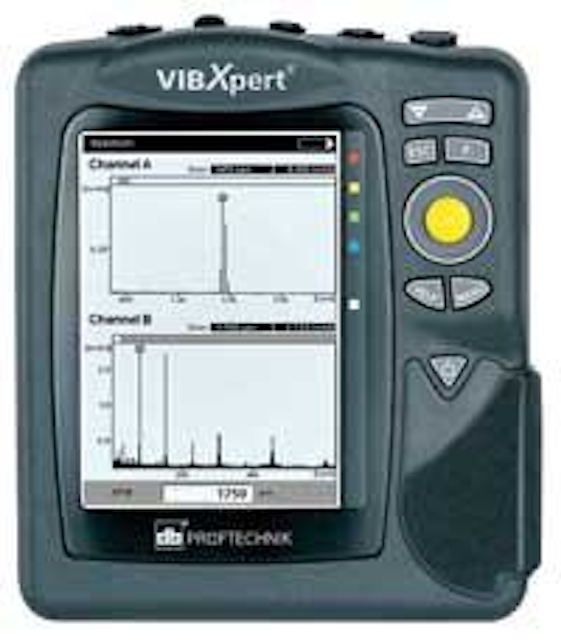 Click here to enlarge image
Ludeca's Vibxpert® is a lightweight, 2-channel, FFT data collector/vibration analyzer for monitoring and diagnosis of machine conditions in the field. As a data collector, the analyzer records all forms of machine vibrations, bearing conditions, process data and visual inspection information. Collected machinery data is stored on an expandable Compact Flash Card and is transferred for further evaluation, report generation and archiving.
Ludeca Inc.
Miami, FL Tel: 305-591-8935 Web: www.ludeca.com
Remote monitoring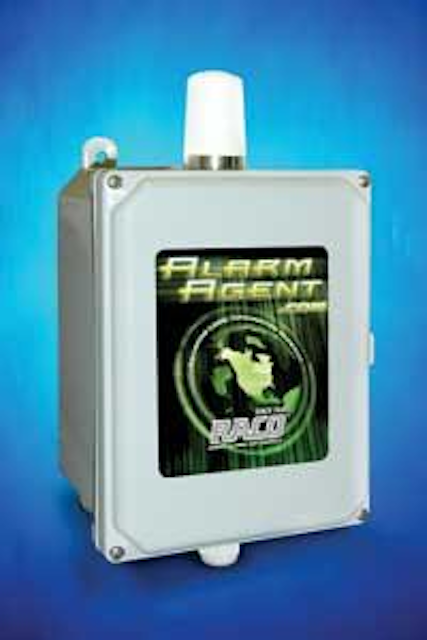 Click here to enlarge image
RACO has developed a new wireless remote monitoring, control and alarm notification system, AlarmAgent.com. This service will allow users to collect, access and view data from their monitored equipment 24-hours a day, from any Internet-connected appliance via a secure central Web site. Additional benefits include timesaving functionality, improved maintenance scheduling, data reporting and security features.
RACO Manufacturing and Engineering Co.

Emeryville, CA Tel: 800-722-6999 Web: www.racoman.com
Membrane bioreactor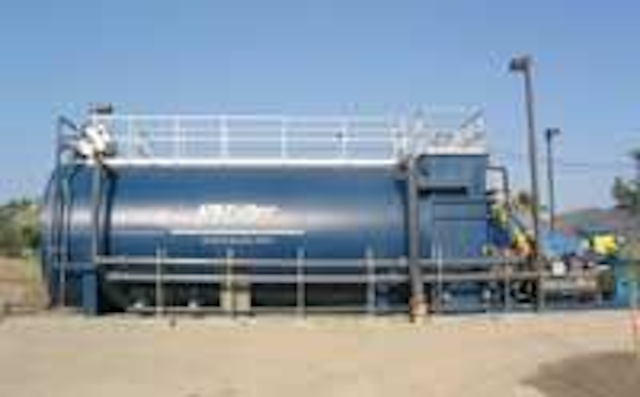 Click here to enlarge image
MemJet® Xpress Membrane Bioreactor (MBR), designed by USFilter Memcor Products, offers wastewater treatment in a small package. This self-contained high-rate biological treatment system is efficient and flexible, offering simple installation and start-up.
USFilter Memcor Products
Tel: 800-636-2674
Web: www.usfilter.com
Biosolids reduction process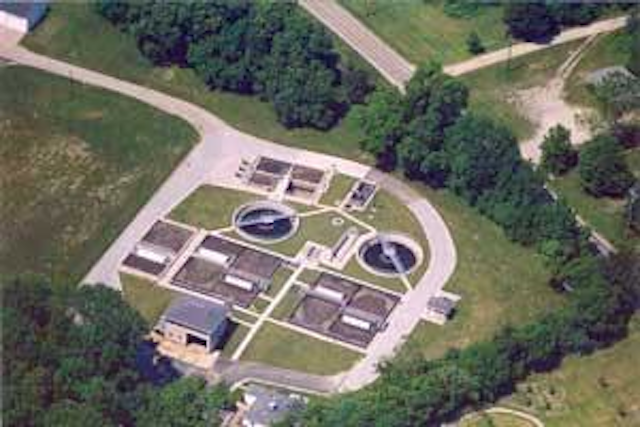 Click here to enlarge image
The new Cannibal™ sludge reduction process, by USFilter's Envirex Products, can virtually eliminate biological solids wasting in municipal and industrial wastewater treatment plants. Using a patent pending solids "interchange" process, the system reduces most of the waste sludge typically hauled or removed from an activated sludge treatment plant.
USFilter Envirex Products
Tel: 262-547-0141
Web: www.usfilter.com
Ultrasonic flowmeters
GE's Panametrics line of ultrasonic liquid flowmeters are a perfect fit for municipal and industrial water and wastewater applications. The AquaTrans™ AT868 and DigitalFlow™ UTX878 provide state-of-the-art flow measurement capability in rugged, cost effective packages. Both can be installed at the process measurement point, cause no pressure drop and don't need calibration.
GE Industrial, Sensing
Billerica, MA
Tel: 800-833-9438
Web: www.gesensing.com
Pipe flanges, joints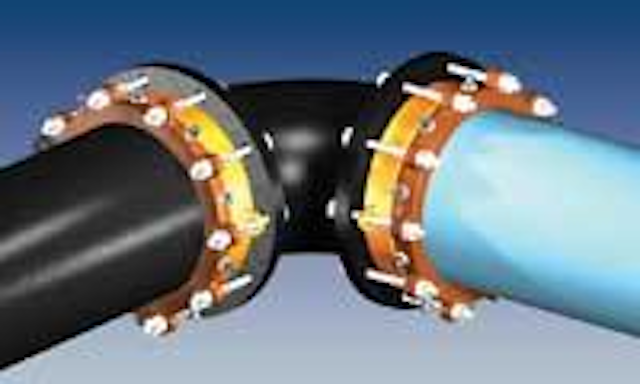 Click here to enlarge image
EBAA will feature several related products at WEFTEC that will be of special interest to those involved in municipal drinking water or wastewater programs. Its Flex-Tend® Flexible Expansion Joints provide pipeline protection from stresses with their ability to deflect up to 20 degrees per ball in any direction while simultaneously expanding or contracting.
EBAA Iron Sales Inc.
Eastland, TX Tel: 800-433-1716 Web: www.ebaa.com Booth 9530
Leak detection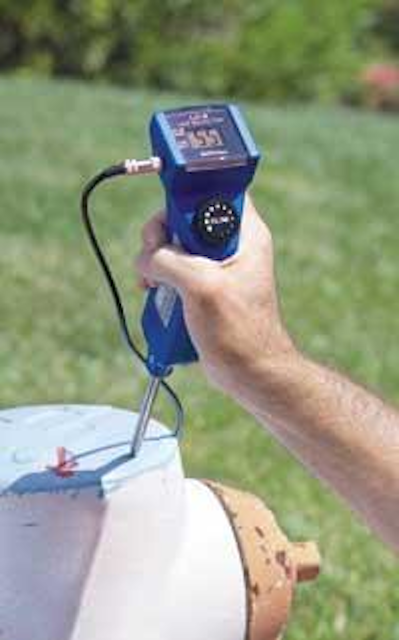 Click here to enlarge image
The new LD-8 Leak Survey tool from SubSurface Leak Detection is designed to listen for water leaks at meters, hydrants and valves. With the short contact rod, do a quick "hydrant survey" by listening for water leaks at hydrants only. With the 40" or the 60" contact rod, do a thorough leak survey by listening at water meters for service line leaks and at valves in the street for leaks on the mains.
SubSurface Leak Detection Inc.
San Jose, CA Tel: 408-249-4673 Web: www.subsurfaceleak.com Booth 5804
Pumping systems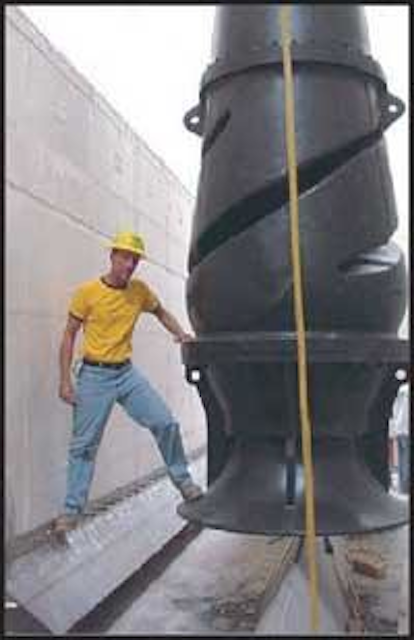 Click here to enlarge image
Fairbanks Morse Pump will be exhibiting a full array of pumps for water and wastewater applications at WEFTEC.05. Some of the pumps included will be examples of the company's D5433MV submersible solids-handling pump, the 2823 horizontal splitcase pump, the 5413 vertical dry pit solids-handling pump, a Model 7000 vertical turbine bowl assembly, a D5432 dry pit submersible pump, the 8312 mixed flow propeller pump, the 4523C vortex pump, and the 16" VTSHq vertical turbine solids-handling pump.
Fairbanks Morse Pump
Kansas City, KS
Tel: 913-371-5000
Web: www.fmpump.com
Relief, backpressure valves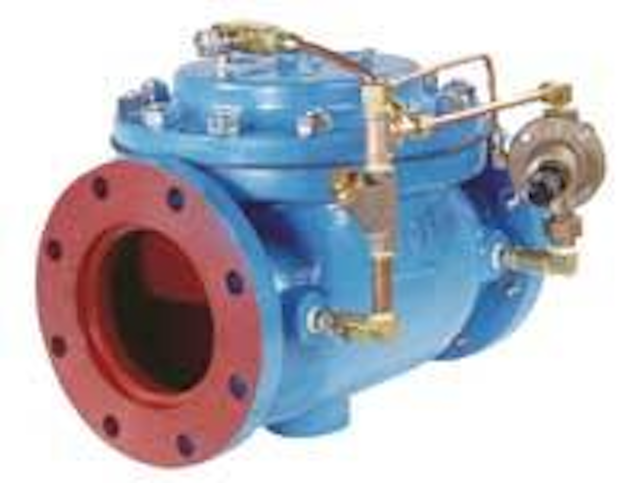 Click here to enlarge image
OCV Control Valves manufactures a variety of control valves for water and waste systems. The OCV Pressure Relief/Backpressure Control Valve Model 108-2 senses pressure at the valve inlet and serves to maintain or limit the mainline pressure. When installed on a bypass line, the 108-2 limits pressure in the main line by relieving excess to storage; while installed on a main line, the valve sustains a minimum line pressure.
OCV Control Valves
Tulsa, OK
Tel: 888-628-8258br>Web: www.controlvalves.com
Grinder pump station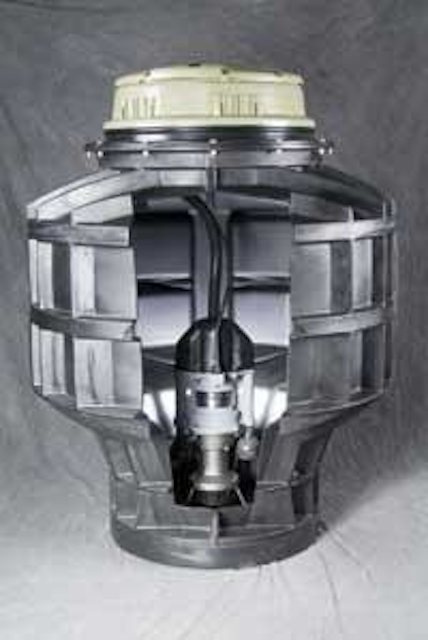 Click here to enlarge image
This new E/One Squat grinder pump stations, designed for residential sewage collection, feature a corrosion resistant low-profile polyethylene tank. Gusseted for maximum strength in a reduced weight design, the tanks even fit inside failing septic tanks, minimizing disruption to homeowners during the transition to pressure sewer from septic.
Environment One Corp.
Niskayuna, NY
Tel: 518-346-6161
Web: www.eone.com
Process monitor, control
Dissolved oxygen and suspended solids are two of the most important controllable parameters in any biological reactor. Stabilizing these two parameters will reduce operation costs and enhance process performance. Insite Instrumentation Group's Model 2000 will make both of these crucial measurements.
Insite IG
Slidell, LA
Tel: 985-639-0006
Web: www.insiteig.com
Datalogger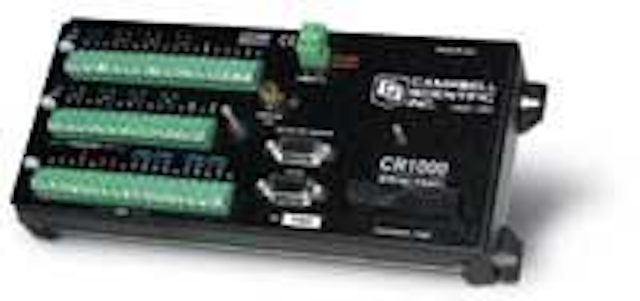 Click here to enlarge image
The CR1000 datalogger from Campbell Scientific builds on the foundation of its CR10 and CR10X dataloggers. The CR1000 retains the versatility of the earlier loggers with a detachable wiring panel, separate power supply, and optional keyboard display. It features increased memory, more measurement channels, and an RS-232 port for communication.
Campbell Scientific Inc.
Logan, UT
Tel: 435-753-2342
Web: www.campbellsci.com
New clarifier design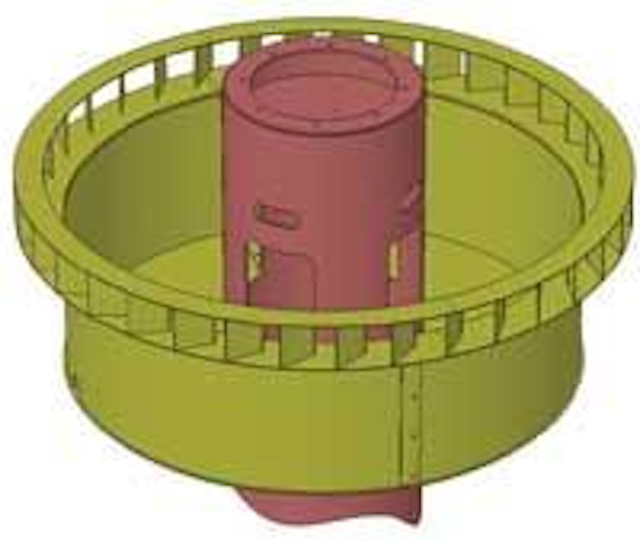 Click here to enlarge image
Eimco Water Technologies has announced a licensing agreement allowing the company to market a patent-pending breakthrough in wastewater clarifier design. The new energy dissipating inlet (EDI) differs substantially from conventional practice by using the entire circumference of the EDI to discharge flow, rather than only a few gates or scoops.
Eimco Water Tech.
Salt Lake City, UT
Tel: 801-526-2105
DO measurement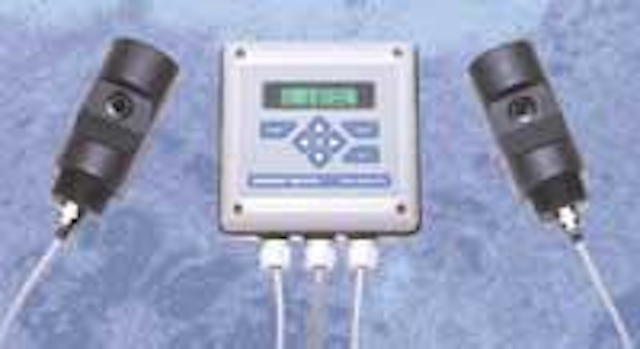 Click here to enlarge image
The Model ODO optical dissolved oxygen measurement system from Emerson Process Management, Rosemount Analytical, Liquid Division, features patent-pending Spectral Selection® technology. The expected sensor life is three to five years, without any required maintenance or component replacement.
Emerson Process Management
Irvine, CA
Tel: 800-854-8257
Web: www.raihome.com
Membrane systems
Hydranautics offers an array of spiral wound RO/NF and capillary UF membrane technologies. The company will be showcasing five new products designed to meet the most demanding needs of the global water customer. The Low Fouling LFC3-LD® (Low Differential pressure) provides a neutral surface charged membrane that reduces fouling in wastewater and surface water.
Hydranautics Inc.
Oceanside, CA Tel: 800-272-7873
Web: www.membranes.com Booth 8419
Data collection system
Telog is demonstrating its new flagship data collection and information management system, Telogers Enterprise. The system provides a common data platform for the collection and management of all remote site information.
Telog Instruments
Victor, NY
Tel: 585-742-3000
Web: www.telog.com
Biosolids odor control
Altivia offers VX-456™, a proprietary liquid mixed-oxidant applied to biosolids to immediately control odor causing sulfides and related malodors as well as prevent the biological generation of sulfides. The mixed-oxidant does not form chlorinated organics, and forms environmentally friendly by-products.
Altivia Corp.
Houston, TX Tel: 866-258-4842
Web: www.altivia.com
Sodium hypochlorite generation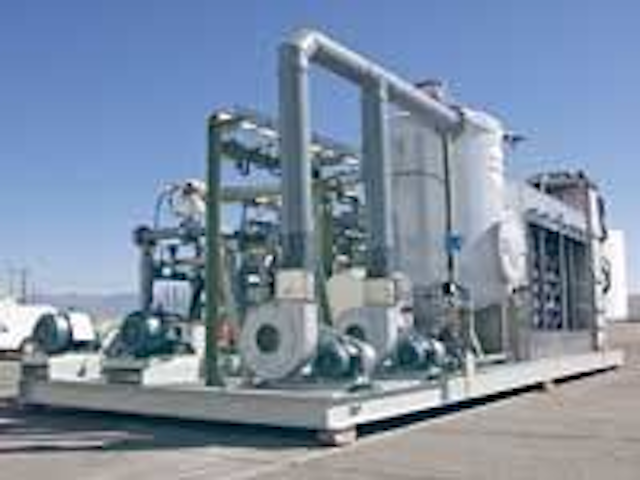 Click here to enlarge image
Pepcon Systems' ChlorMaster® line provides on-site sodium hypochlorite generation for water applications and odor control. Water and wastewater disinfection, potable water chlorination, marine organism control and odor control systems are available.
Pepcon Systems
Cedar City, UT
Tel: 435-865-5045
Web: www.pepconsystems.com
Emergency valve shut-off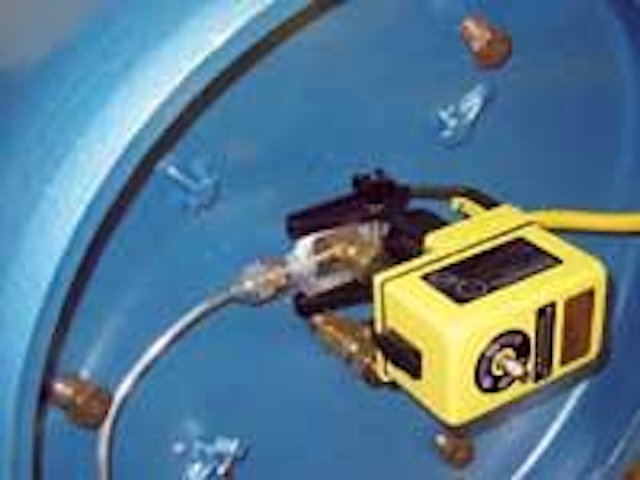 Click here to enlarge image
Eclipse Actuators close toxic gas valves on 150 lb. and ton cylinders in less than one second when activated by remote sensors. These electronic actuators are "close only devices" requiring an operator to visit the site to determine the cause of the problem. The operator can then correct the condition, check the facility, and then manually reset the valve before restarting the gas system.
Halogen Valve Systems
Irvine, CA
Tel: 877-476-4222
Web: www.halogenvalve.com
Water quality monitoring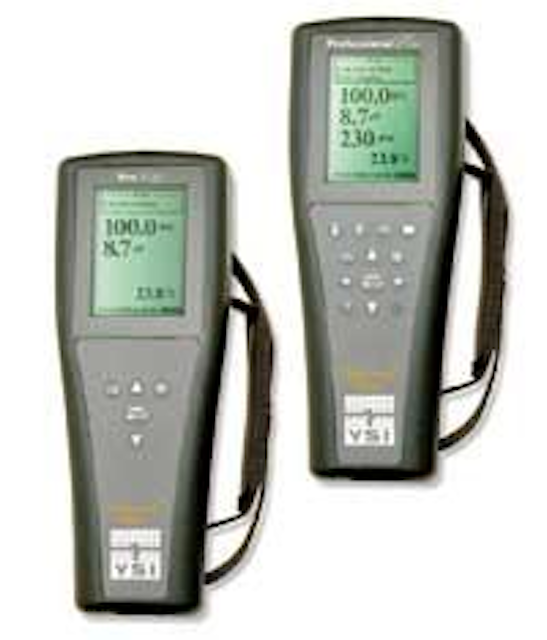 Click here to enlarge image
New products that will be exhibited during WEFTEC 05 include YSI's upgraded line of Professional Series water quality sampling instruments; water profiling systems; portable drinking water probes for monitoring distribution systems; acoustic Doppler flow meters from SonTek/YSI; and EcoNet.
YSI Inc.
Yellow Springs, OH
Tel: 800-897-4151
Web: www.ysi.com
Flow systems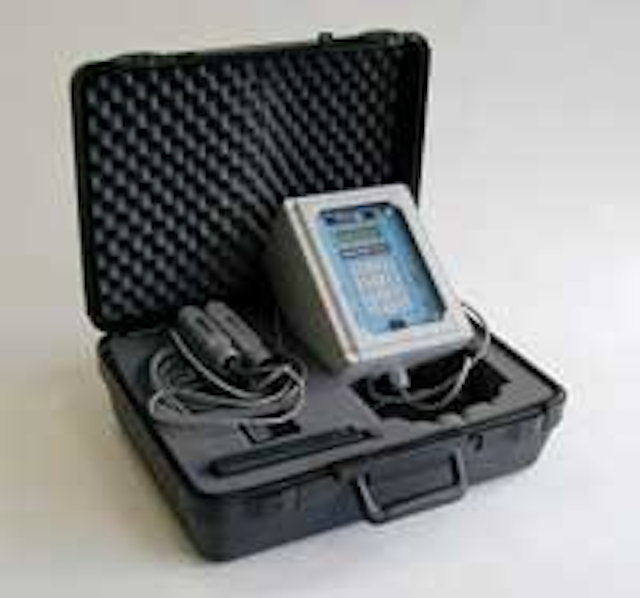 Click here to enlarge image
EMCO Flow Systems includes the Advanced Energy® brand of flow meters and controllers. Field proven for over 35 years, the company's product line offers solutions for liquid, gas, and steam measurement, accommodating pipe sizes from 0.25 to 100".
EMCO Flow Systems
Fort Collins, CO
Tel: 800-446-9167
Web: www.emcoflow.com
Sewer cleaning system
A new sewer-cleaning system, designed to eliminate downtime during grit and sand removal operations, has been introduced by Garner Environmental Services. The patented new Sewer Hog™ is a multi-purpose sewer cleaning truck that is both closed-loop and non-odor emitting. Rather than shutting down to empty water from the debris tank, the system gives continuous cleaning.
Garner Environmental Services
Deer Park, TX
Tel: 281-930-1200
Web: www.garner-es.com
Level transmitters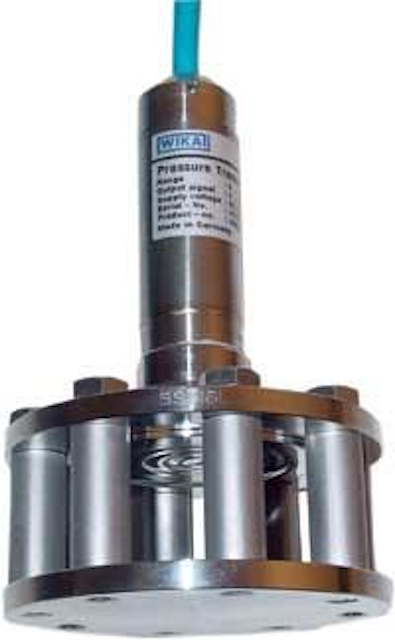 Click here to enlarge image
WIKA presents its new LevelGuard™ anti-clog attachment for Tronic submersible liquid level transmitters. The attachment is ideal for difficult level sensing applications where sludge, slurry, or turbulence may be present.
WIKA Instrument Corp.
Lawrenceville, GA
Tel: 888-945-2872
Web: www.wika.com
Level transducers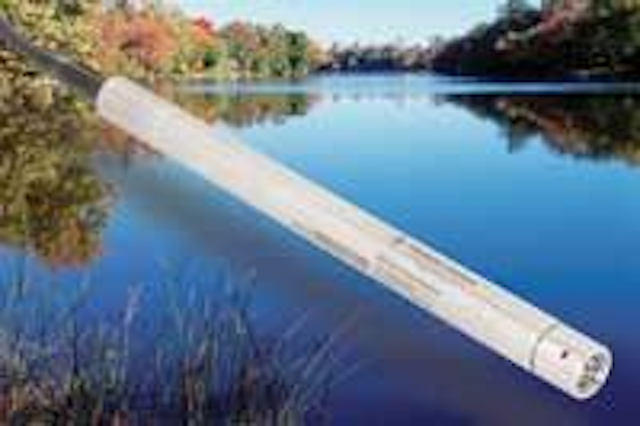 Click here to enlarge image
Pressure Systems now offers an open-face nose cap for its waterMonitor submersible datalogging KPSI™ level transducers. The new nose cap is ideal for wastewater and greasy applications where a sensor may become clogged.
Pressure Systems Inc.
Hampton, VA
Tel: 800-328-3665
Web: www.pressuresystems.com
COD reagent vials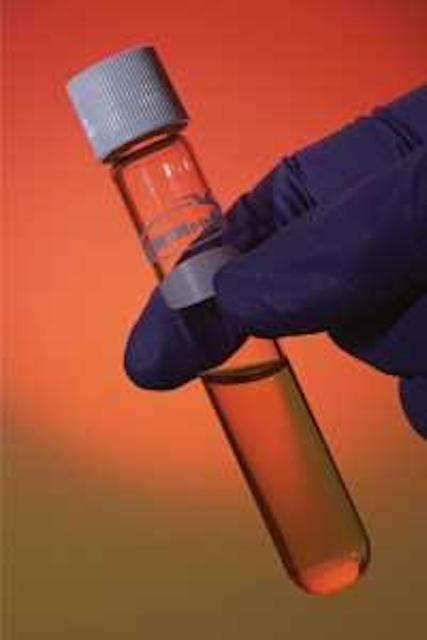 Click here to enlarge image
CHEMetrics has introduced a new line of reagent vials for performing chemical oxygen demand (COD) analysis. In addition to its 30-count packs, the company will offer 150-count packs for both the 0-150 and 0-1500 ppm ranges and 100-count packs for the 0-15,000 range vials (both methods).
CHEMetrics Inc.
Calverton, VA
Tel: 800-356-3072
Web: www.chemetrics.com
Pipe products
American Cast Iron Pipe Company (ACIPCO), celebrating its Centennial this year, will showcase a photograph-based timeline of its first century that presents company milestones and the many water industry innovations in an interesting and informative format.
American Cast Iron Pipe Co.
Birmingham, AL
Tel: 800-326-8051
Web: www.acipco.com
Level logger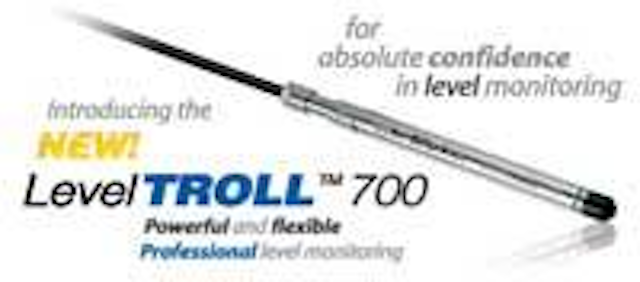 Click here to enlarge image
In-Situ has released the Level Troll 700™, the latest addition to its series of smart level loggers. It is ideally suited for professional water level monitoring applications including single and multi-step aquifer testing, river gauging, tidal influence studies, wave characterization, geothermal research, and storm-event monitoring.
In-Situ Inc.
Fort Collins, CO
Tel: 800-446-7488
Web: www.in-situ.com
Radio telemetry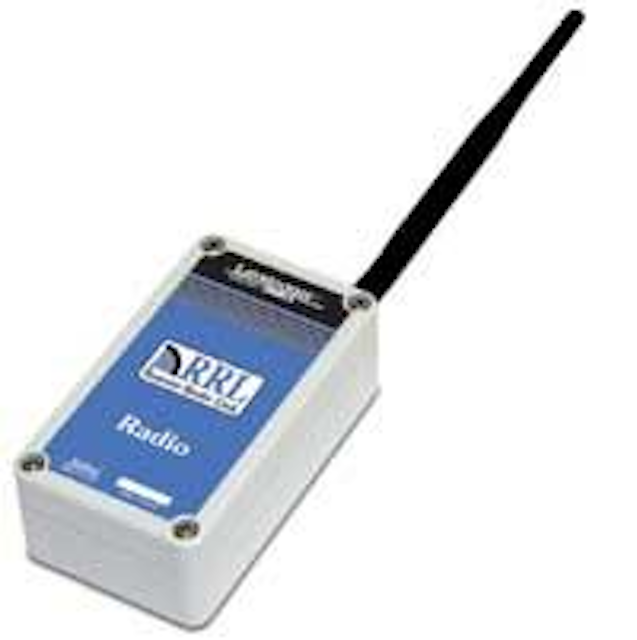 Click here to enlarge image
A new Spread Spectrum Radio Telemetry system from Solinst can accommodate up to 10 of the company's Leveloggers. The loggers can be located almost anywhere within 1000 ft. of the radio receiver, even through woods. Standard setup is a star-type configuration. If necessary, the range can be extended further using powerful antennae or special radios that can cascade the data 1000 ft. at a time from one to another.
Solinst
Georgetown, ON
Tel: 800-661-2023
Web: www.solinst.com
Pump system monitoring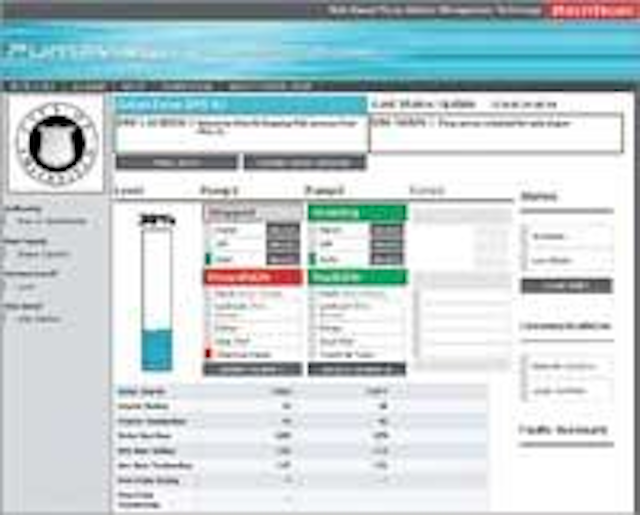 Click here to enlarge image
MultiTrode has launched PumpView, a new secure web-based SCADA system aimed at monitoring municipal water authority pump systems. With the system, there is no software to install, no servers to purchase, no engineers to commission the system and no radio repeaters required.
MultiTrode Inc.
Boca Raton, FL
Tel: 561-994-8090
Web: www.multitrode.com
Submersible pressure transmitter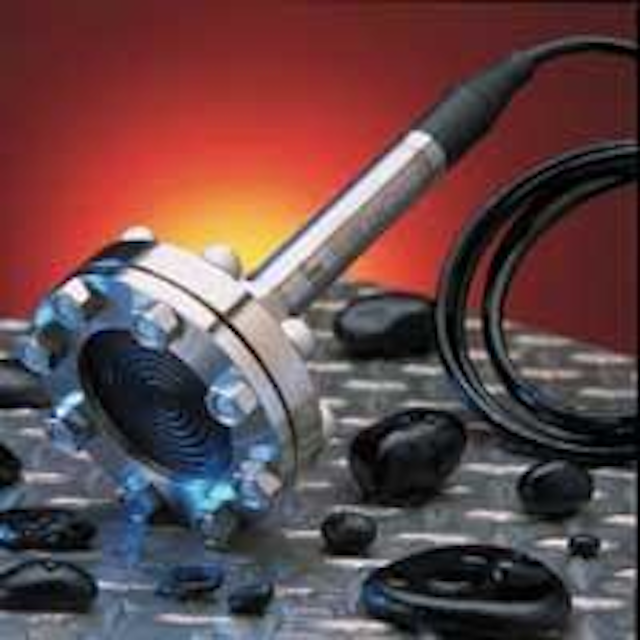 Click here to enlarge image
Viatran will display the WW517 submersible pressure transmitter for wastewater applications at the WEFTEC show. The 316L liquid level transmitter has a 3" diameter opened faced Teflon coated sensor. It is designed for instances when the media is "sludgy". The transmitter offers ranges down to 27" WC.
Viatran Corp.
Grand Island, NY
Tel: 800-688-0030
Web: www.viatran.com
UV chemical analyzer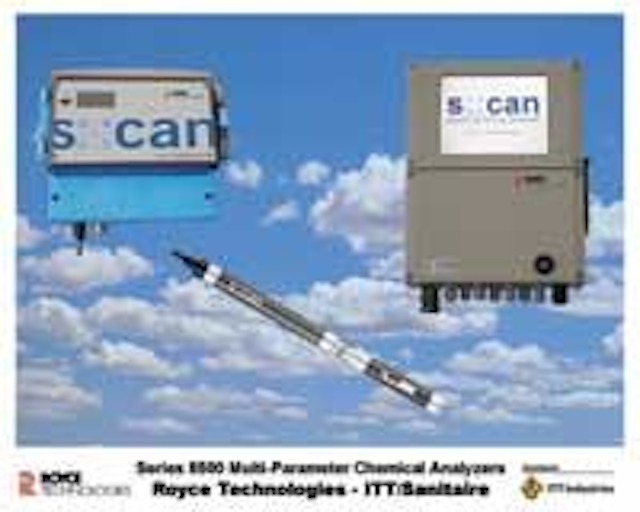 Click here to enlarge image
The Royce 8500 Series Multi-parameter UV chemical analyzers are manufactured and patented by S::CAN of Austria. These systems have a Xenon based optical sensor. The analyzers have been in use for years in Europe in the water and wastewater industries.
Royce Technologies
New Orleans, LA
Tel: 800-347-3505
Wireless flowmeter system
Click here to enlarge image
Marsh-McBirney has announced the release of the new Mobile RF capability for its Flo-Dar Radar Velocity/Area Flowmeter. The Mobile RF wireless communication capability drastically reduces routine data collection costs for labor and confined space entry through the use of the "drive-up" RF option.
Marsh-McBirney Inc.
Frederick, MD
Tel: 800-368-2723
Web: www.marsh-mcbirney.com
Wastewater screening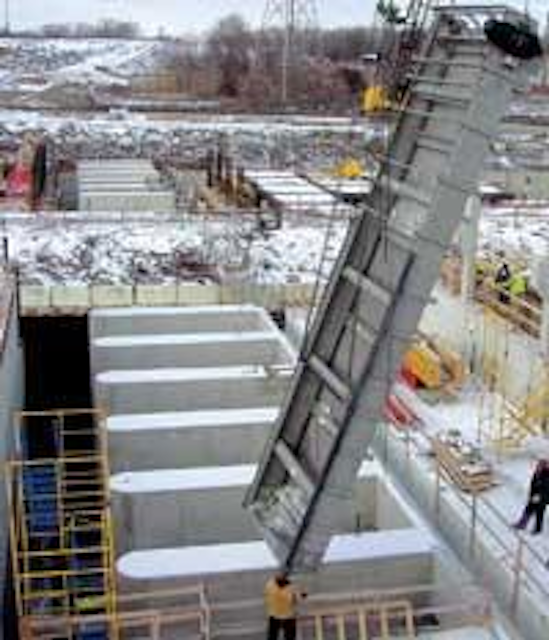 Click here to enlarge image
Headworks® manufactures advanced wastewater screening equipment. The company intends to display its heavy duty Headworks® Bar Screen, Perforator™ Plate Screen, and its new Eliminator™ Dual Flow/Band screen with 2 mm openings designed to protect MBR systems.
Headworks Inc.
Houston, TX
Tel: 713-647-6667
Web: www.headworksusa.com
Battery operated flowmeter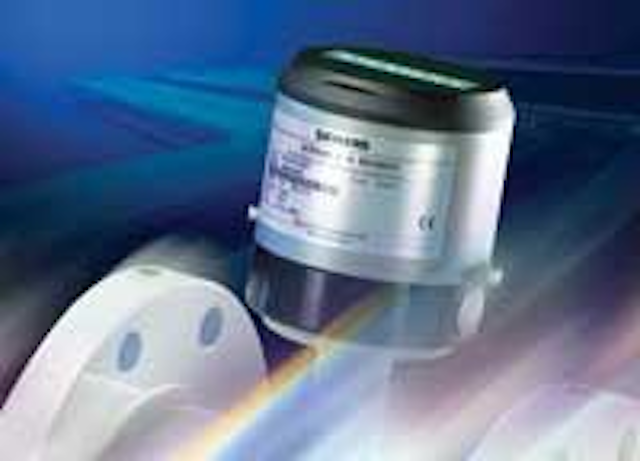 Click here to enlarge image
Siemens Energy & Automation has introduced a new battery-operated flowmeter for a wide variety of water industry applications, including flow measurement for distribution and zone metering, abstraction, revenue metering, and leak detection.
Siemens Energy & Automation Inc.
Spring House, PA
Tel: 215-646-7400
Web: www.sea.siemens.com/ia
Tubing pumps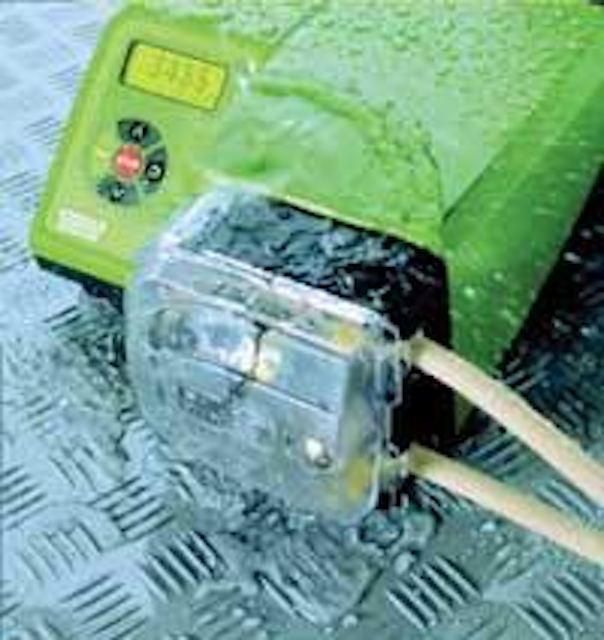 Click here to enlarge image
Watson-Marlow Bredel will introduce its 520 NEMA 4X line of tubing pumps for environmental metering applications at WEFTEC. With a NEMA 4X washdown sealed enclosure, the new pumps offer reliability and performance under harsh metering conditions. Designed for metering, dosing and transferring of corrosive or sensitive fluids, the pumps are ideal for the contamination-free transfer of harsh chemicals and materials such as sludge and abrasive slurries during water and wastewater treatment applications.
Watson-Marlow Bredel Pumps
Wilmington, MA Tel: 800-282-8823 Web: www.watson-marlow.com
Sewer modeling
SewerGEMS is a fully dynamic, multi-platform (stand-alone, AutoCAD, ArcGIS and MicroStation) sanitary and combined sewer modeling solution that gives users the option to run EPA's SWMM solver or SewerGEMS' own implicit solution of the full Saint Venant equations.
Bentley Systems Inc.
Watertown, CT
Tel: 800-236-8539 Web: www.bentley.com/sewergems
Curb markers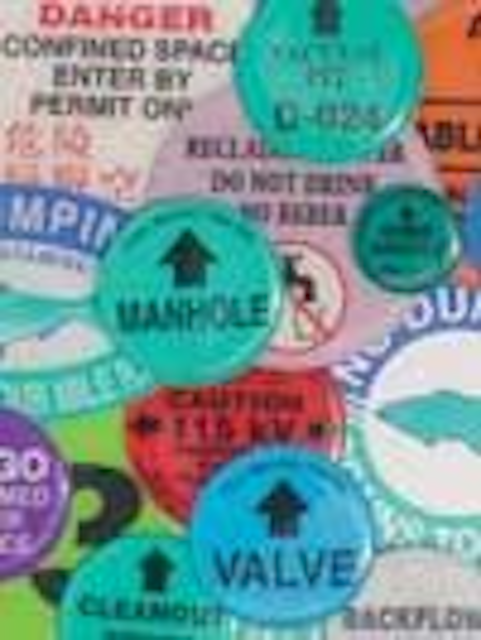 Click here to enlarge image
The das Curb Marker® can be permanently affixed to concrete, asphalt, cast iron or just about any flat surface. The markers can be used to mark underground and flush-mounted utilities as an aid to location and damage prevention.
das Manufacturing Inc.
Valrico FL
Tel: 800-549-6024
Web: www.dasmanufacturing.com
Flow measurement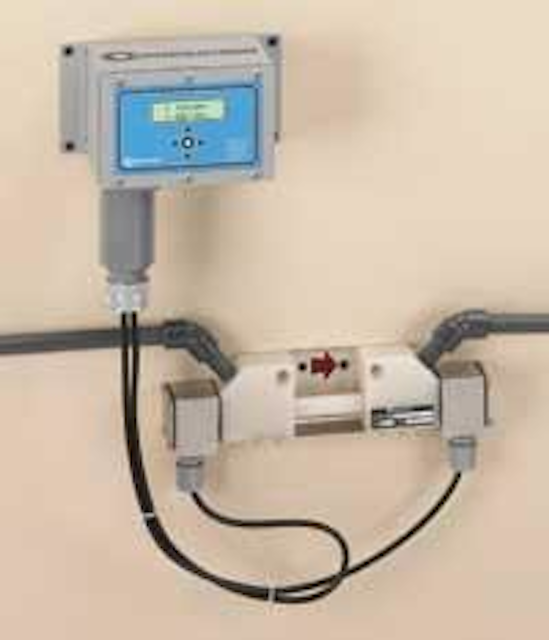 Click here to enlarge image
All Controlotron flow measurement systems are simple to install; no pipes are cut or operations interrupted. They provide accurate full pipe mass and volumetric measurement of raw water, potable water, raw sewage and various sludges and chemicals. The dedicated multifunction hybrid system 1010N is field programmable for Wide-Beam™ Transit-Time or Reflexor (Fast Fourier Transform Doppler) operation for adaptation to changing conditions.
Controlotron Corp.
Hauppauge, NY
Tel: 800-275-8479
Web: www.controlotron.com
Water quality monitoring
The new Event Monitor™ Trigger System from Hach makes sense of reams of remote water quality measurements by "learning" sensor measurement combinations related to network events. Constantly comparing measurements against those in its internal plant event library, the system can immediately alert operators and help system personnel manage normal or unpredicted changes in their water network.
Hach Co.
Loveland, CO
Tel: 970-669-3050
Web: www.hach.com
Solids handling pump
Gorman Rupp's new Ultra V self-priming centrifugal solids handling pump can achieve 60 percent increased pressure and up to 40 percent increased flow over traditional solids handling pumps of similar size. The pump also can be configured with a second stage module that is mounted to the first stage.
Gorman-Rupp Co.
Mansfield, OH
Tel: 419-755-1207
Web: www.gormanrupp.com/getready
Turnkey monitoring system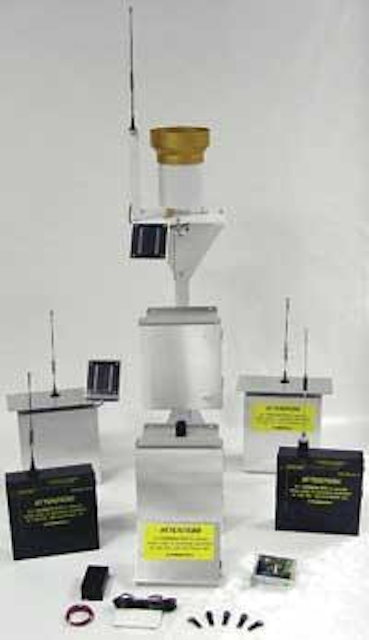 Click here to enlarge image
Mission's new entry level monitoring system includes a field RTU, all wireless links, software, secure websites and full alarming page. Features include hourly runtimes and starts, realtime level monitoring during high or low level alarms, current draw monitoring and alarming, and no programming.
Mission Communications
Atlanta, GA
Tel: 877-993-1911
Web: www.123mc.com
Self-cleaning filters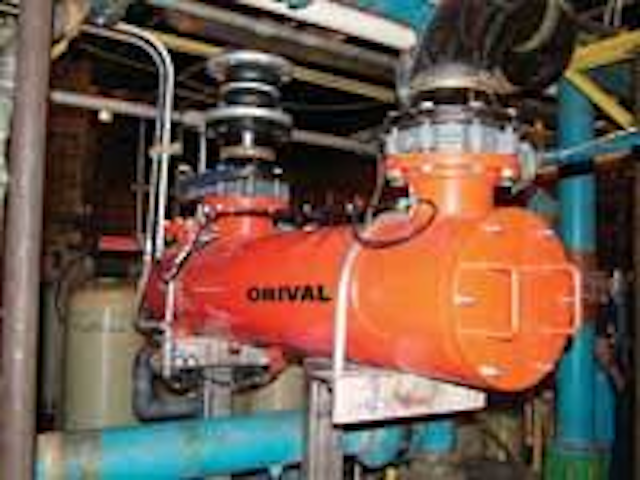 Click here to enlarge image
Orival will display its automatic self-cleaning filtration systems for removal of suspended solids from water. Since its establishment in 1986, the company has supplied thousands of filtration units for a wide variety of customers, including Fortune 500 companies and local and federal government agencies.
Orival Inc.
Englewood, NJ
Tel: 201-568-3311
Web: www.orival.com
Thermoplastic pumps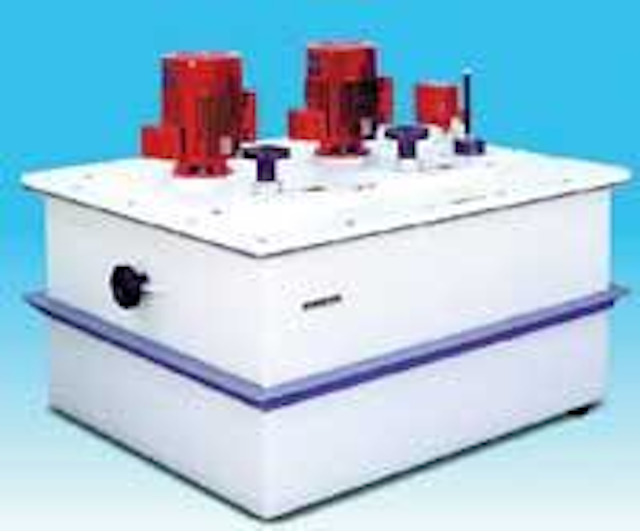 Click here to enlarge image
The Vanton booth will display and provide documented reports on current applications of sealless, horizontal centrifugal magnetic driven designs, vertical configurations including pumps with extended dry run capabilities, and stationary and dolly-mounted self-priming rotary peristaltic units for in-plant and over-the road service.
Vanton Pump & Equip. Corp.
Hillside, NJ
Tel: 908-688-4216
Web: www.vanton.com
FRP products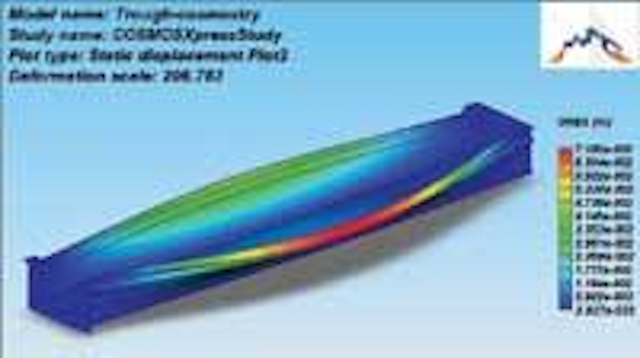 Click here to enlarge image
MFG Water Treatment Products Co. specializes in fiberglass-reinforced plastic (FRP) products, which are strong, light and corrosion-resistant. The company has added significant new engineering capabilities, including SolidWorks 3D modeling and in-house FEA. Its products come in both standard and custom shapes and sizes.
MFG Water Treatment Products
Union City, PA Tel: 877-826-2509 Web: www.mfgwtp.com
Valve actuators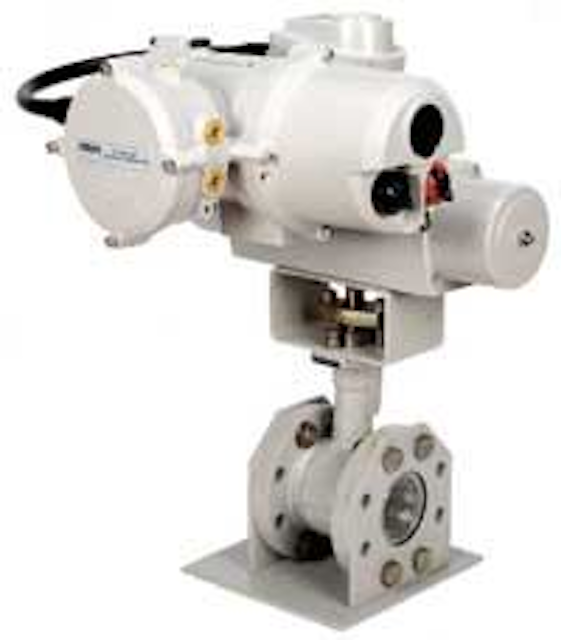 Click here to enlarge image
Rotork's new line of quarter-turn and linear Skilmatic SI electric valve actuators provide both modulating and two-position control for failsafe operation in a wide variety of water and wastewater treatment applications. They are compact, integrated units that are electrically operated and have a hydraulically powered internal spring-return mechanism to provide proper positioning of a valve in a safe condition.
Rotork Controls Inc.
Rochester, NY Tel: 585-328-1550 Web: www. rotork.com
Ultrafiltration membranes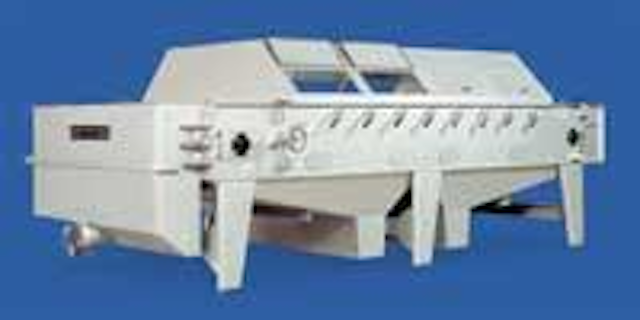 Click here to enlarge image
SpiraSep ultrafiltration technology from Ashbrook Simon-Hartley employs a unique hydrophilic membrane. The sheet membrane is configured in a spiral orientation. The spiral approach creates a structure that is extremely durable, yet provides discrete, open feed channels. These open feed channels virtually eliminate plugging and make the membrane efficiently backflushable, while providing the capability for effective air scour.
Ashbrook Simon-Hartley
Houston, TX Tel: 800-362-9041 Web: www.as-h.com
Electromagnetic flow meter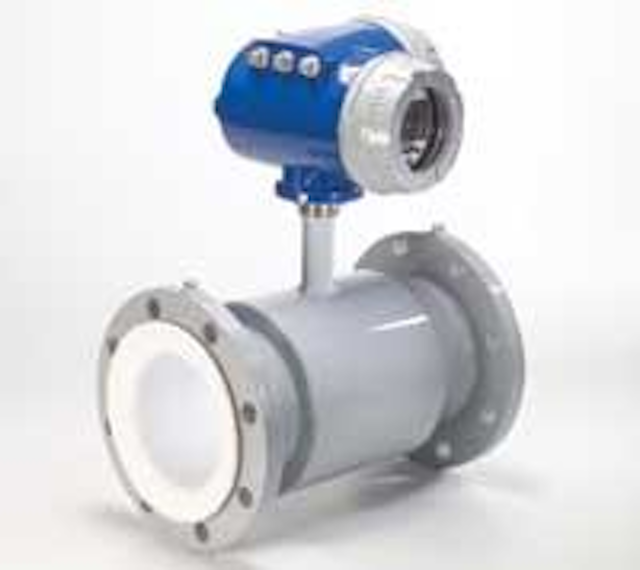 Click here to enlarge image
The Badger Meter M-Series electromagnetic flow meter uses an advanced design which delivers up to 0.25% accuracy. A large variety of pipe size configurations are available from ¼" to 24". The electronics housing is available in meter-mount and remote mount versions incorporating a rotatable display allowing easy viewing regardless of the meter's position.
Badger Meter Inc.
Milwaukee, WI
Tel: 414-371-5769
Web:www.badgermeter.com
Flow monitoring software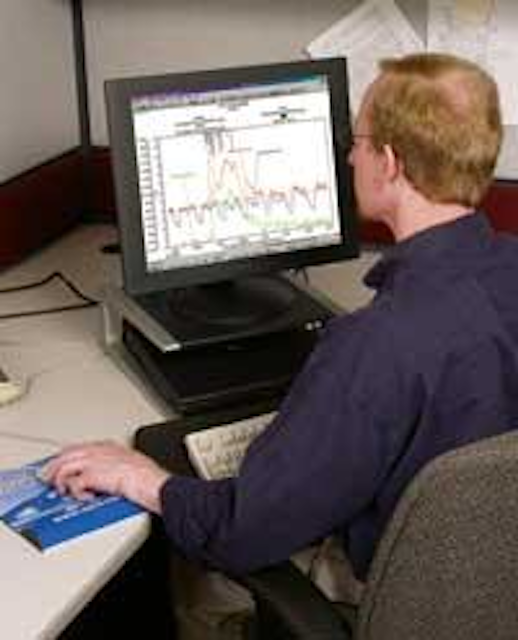 Click here to enlarge image
New Flowlink® 5 Software from Teledyne Isco is designed to serve as the centerpiece of comprehensive flow monitoring programs. In addition to automating many data retrieval and reporting tasks, the software includes advanced analytical functions, new data editing capabilities, and data integration features.
Teledyne Isco
Lincoln, NE
Tel: 800-228-4373
Web: www.isco.com
Composting, drying equipment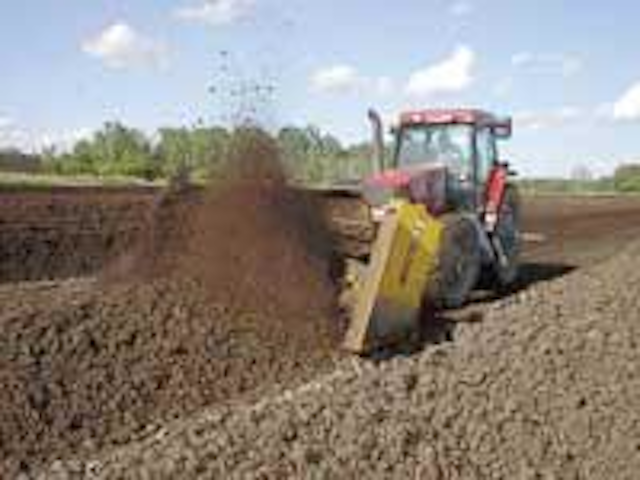 Click here to enlarge image
Brown Bear produces several machine sizes for both composting and accelerated air drying of biosolids, as well as accelerated air drying of alum and lime sludges for potable water plants. In the wastewater industry since 1978 and the potable water industry since the early 1990s, the machines are used through the United States and several foreign countries.
Brown Bear Corp.
Corning, IA
Tel: 641-322-4220
Web: www.brownbearcorp.com
SCADA solutions
Citect is an independent provider of SCADA and MES solutions with an established 20-year upgrade path to protect users' IT investment. The company offers services and scalable SCADA solutions that allow future enhancements without having to modify the existing configuration. Over 100 water/wastewater authorities across the US have standardized on Citect solutions, such as Greater Cincinnati, Omaha MUD, Tempe, Clearwater, Philadelphia and Baltimore among others.
Citect
Alpharetta, GA
Tel: 888-248-3281
Web: www.citect.com
BNR system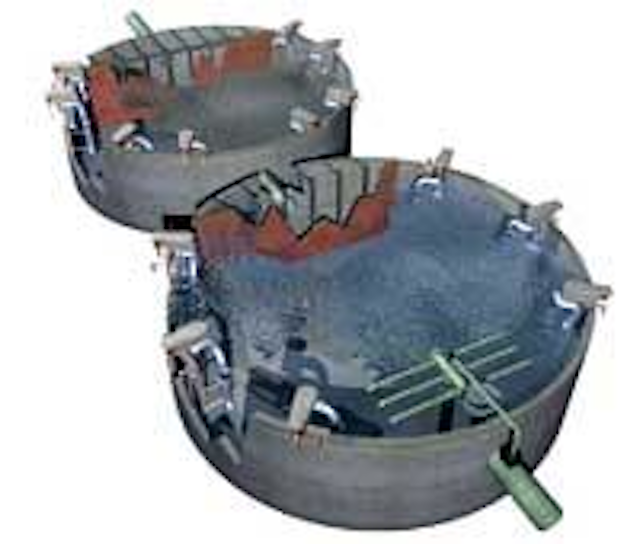 Click here to enlarge image
With some 600 installations worldwide, the CDS Technologies Hybrid Biological Nutrient Removal (HBNR) Process offers economical and reliable treatment of wastewater, particularly where low nitrogen and phosphorous limits are required. The process combines the performance benefits of conventional continuous flow processes incorporating aerobic/anoxic reactors and the simplicity and cost benefits of Sequencing Batch Reactors (SBRs).
CDS Technologies Inc.
Morgan Hill, CA
Tel: 800-848-9955
Web: www.cdstech.com
Filtration media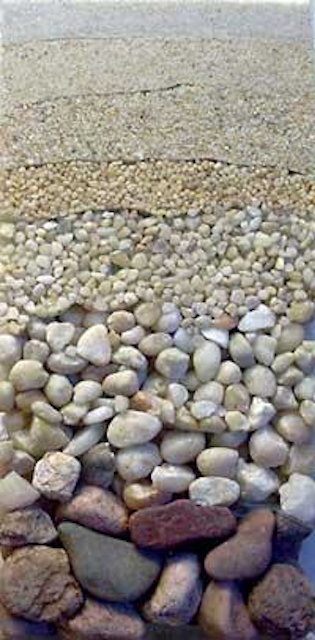 Click here to enlarge image
Fairmount Minerals offers filtration media through its subsidiaries, Best Sand in Chardon, OH, and Wedron Silica in Wedron, IL. All filtration media is washed, dried and screened to meet each customer's requirements. All products meet and/or exceed the AWWA B100-96 specifications and are NSF certified to Standard 61.
Fairmount Minerals
Tel: 800-237-4986
Web: www.fairmountminerals.com
Chlorination, dechlorination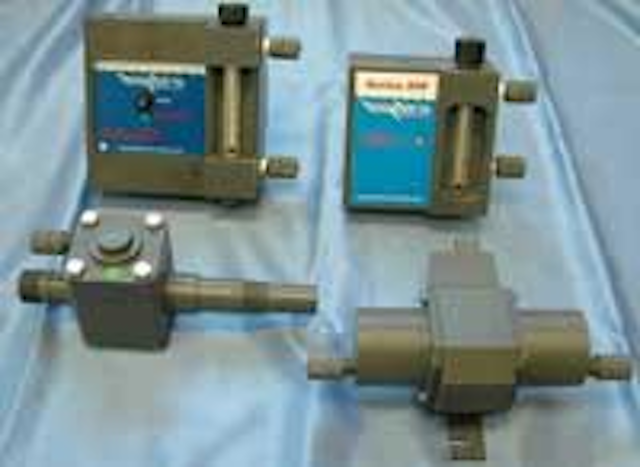 Click here to enlarge image
Hydro Instruments is a manufacturer of multiple lines of vacuum feed chlorination and dechlorination equipment. The company manufactures its parts by machining (rather than molding). Machined PVC bodies do not crack and/or warp. Its inlet capsules are solid Hastelloy C-276 or PVDF. Vacuum regulator diaphragms, inlet capsules, PVC bodies and springs are all guaranteed for life.
Hydro Instruments
Perkasie, PA
Tel: 888-384-9376
Web: www.hydroinstruments.com
On-site disinfection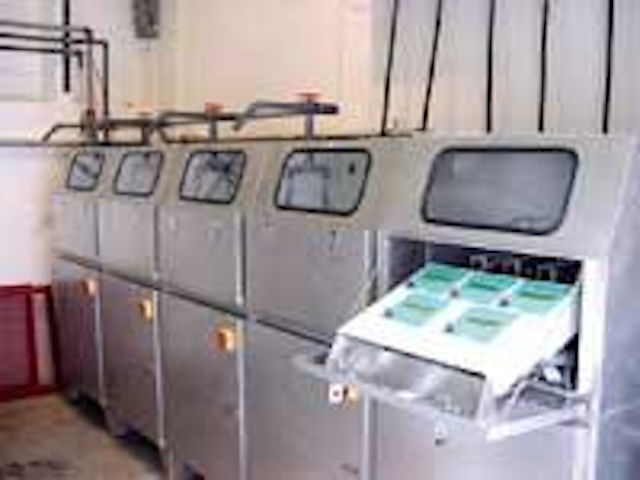 Click here to enlarge image
MIOX on-site generators for water and wastewater disinfection eliminate hazardous chemicals and the need for Risk Management Plans while generating a dilute chlorine solution. The company's technology is based on a proprietary electrolytic cell that uses brine, water and electricity to produce a stream of either hypochlorite or mixed oxidants, depending on the product line. Production capacities range from 2.5 pounds per day of free available chlorine (FAC) to more than 1000 pounds per day per cell.
MIOX Corp.
Albuquerque, NM
Tel: 888-646-9426
Web: www.miox.com
Automatic filters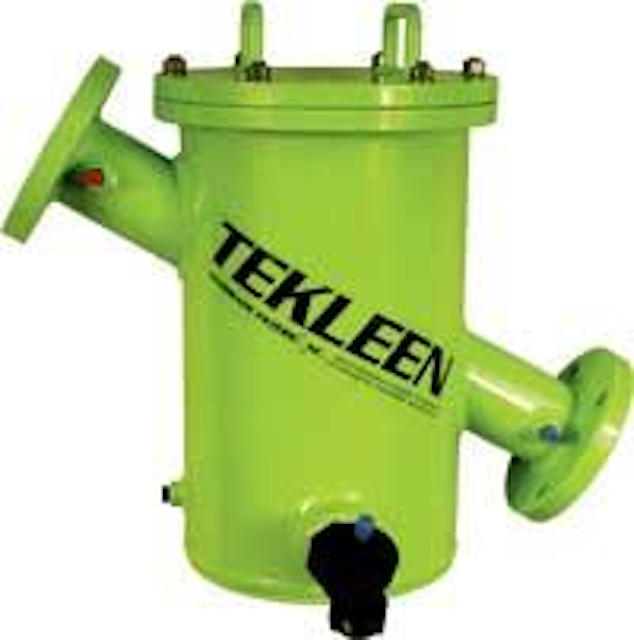 Click here to enlarge image
Tekleen® filters, available from Automatic Filters Inc., range from 1-24" in pipe size and are maintenance free. The filters feature a compact design, are fully automatic and self cleaning, and provide particle removal from 3,000μ to 5μ. Rinsing lasts only five seconds and uses less than two gallons of water without interrupting the main flow.
Automatic Filters Inc.
Los Angeles, CA
Tel: 800-336-1942
Web: www.tekleen.com
Gas flow calibration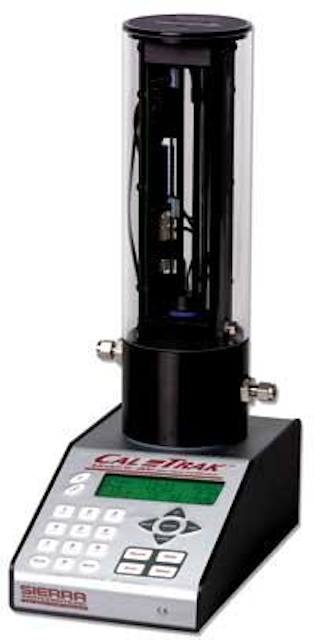 Click here to enlarge image
Sierra Instruments has announced the introduction of the Cal=Trak™ SL-800 primary standard gas flow calibrator, the second in its new line of primary standard gas flow calibrators. Mercury-free, the new calibrator offers a standardized accuracy of ±0.15% of reading. The dimensionally based primary accuracy of the unit surpasses pressure-based secondary methods and is backed by a rigorous uncertainty analysis.
Sierra Instruments Inc.
Monterey, CA
Tel: 800-866-0200
Web: www.sierrainstruments.com
Water quality meters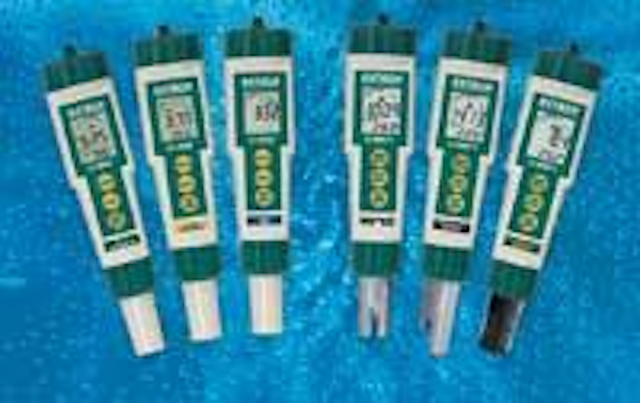 Click here to enlarge image
Extech Instruments will showcase its waterproof ExStik® II Series of "stick style" water quality meters at WEFTEC 2005. The series includes three multi-parameter models, EC400, EC500 and DO600, for testing pH, conductivity, TDS, salinity, temperature and dissolved oxygen. The addition of the multi-parameter meters builds on the company's ExStik I Series.
Extech Instruments
Waltham, MA
Tel: 781-890-7440
Web: www.extech.com
Mobile sludge dewatering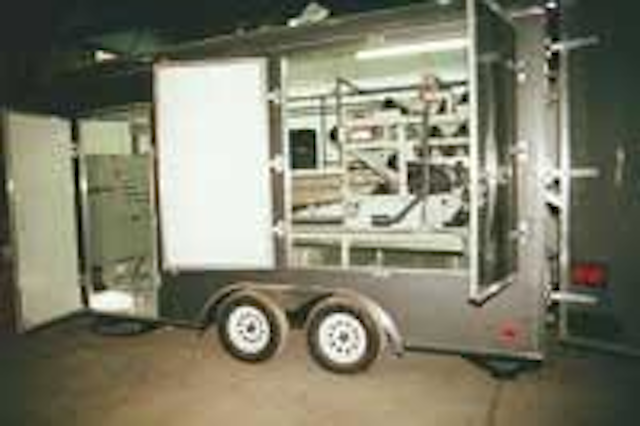 Click here to enlarge image
Phoenix Process Equipment offers a variety of mobile sludge dewatering systems. Components are selected to suit material processing requirements and provide flexibility in a turnkey system, skid or trailer mounted. The company designs and manufacturers a variety of dewatering machines for slurry volume reduction and process dewatering in the industrial wastewater and municipal water and wastewater markets.
Phoenix Process Equip. Co.
Louisville, KY
Tel: 502-499-6198
Web: www.dewater.com
Water, wastewater pumps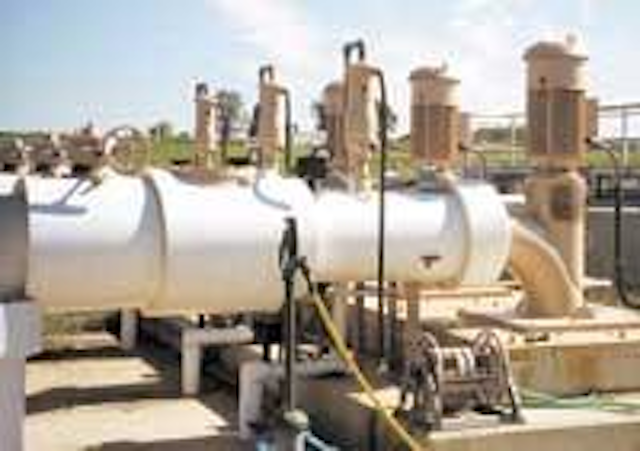 Click here to enlarge image
Patterson Pump will be exhibiting its full line of modern, high-performance pumps for water and wastewater duties. Featured will be the MPVT® Multi-purpose Vertical Turbine Pump, a solids handling pump with the very highest hydraulic performance. It offers efficiency, along with low vibration and noise levels. Its life span is up to four times longer than submersible pumps.
Patterson Pump Co.
Toccoa, GA
Tel: 706-886-2101
Web: www.pattersonpumps.com
Pressure transmitter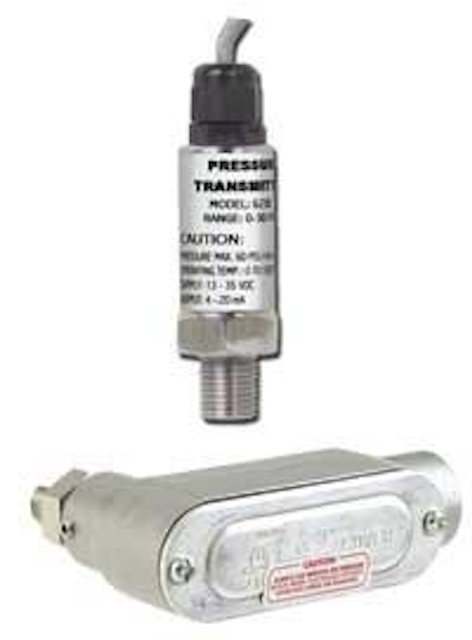 Click here to enlarge image
Dwyer Instruments has announced the release of the new Series 628 - CH & GH Industrial Pressure Transmitters. The transmitters are ideal for OEM's with its piezo-resistive sensor contained in a compact NEMA 4x stainless steel housing. The corrosive resistant 316 L stainless steel wetted parts allow the Series 628 to measure the pressure in a multitude of processes from hydraulic oils to chemicals.
Dwyer Instruments Inc.
Michigan City, IN
Tel: 800-872-9141
Web: www.dwyer-inst.com
Flowmeter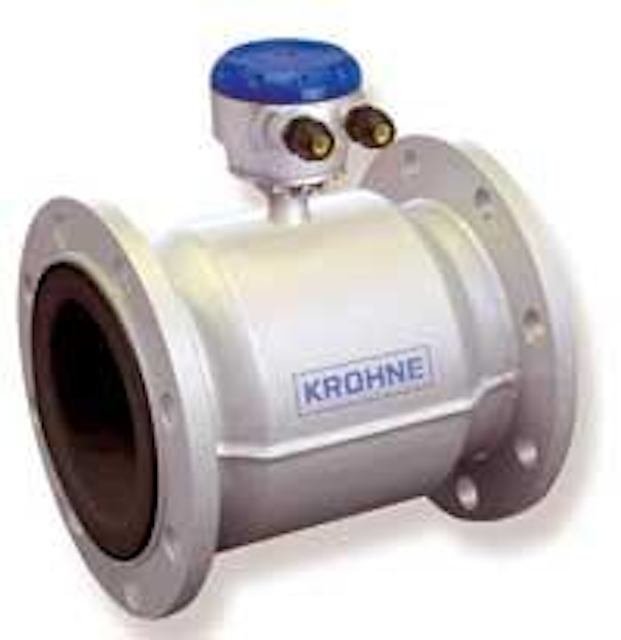 Click here to enlarge image
Krohne will showcase its new Optiflux 2300 flowmeter, consisting of the Optiflux 2000 electromagnetic flow sensor and Optiflux 300 converter. The long term reliability of the flowmeter make it ideal for a variety of applications, including water distribution networks; water purification; environmental engineering; and wastewater treatment. The meter is approved by NSF for use in potable water systems, as well as in compliance with all major international water and wastewater industry standards.
Krohne Inc.
Peabody, MA
Tel: 800-356-9464
Web: www.krohne.com
Submerged membranes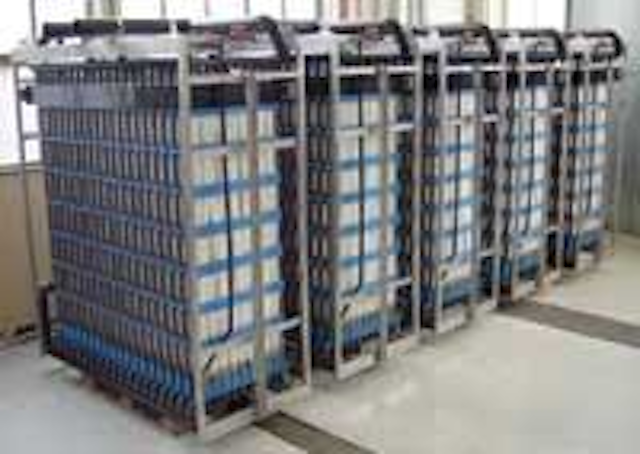 Click here to enlarge image
Koch Membrane Systems offers Puron® submerged membrane modules for membrane bioreactor (MBR) treatment of municipal and industrial wastewater. These advanced membrane modules can improve water quality while using less space than conventional alternatives. A proprietary feature of the membrane module is the air nozzle, which discharges air from the center of each fiber bundle at the base.
Koch Membrane Systems Inc.
Wilmington, MA
Tel: 888-677-5624
Web: www.kochmembrane.com
Electromagnetic flowmeter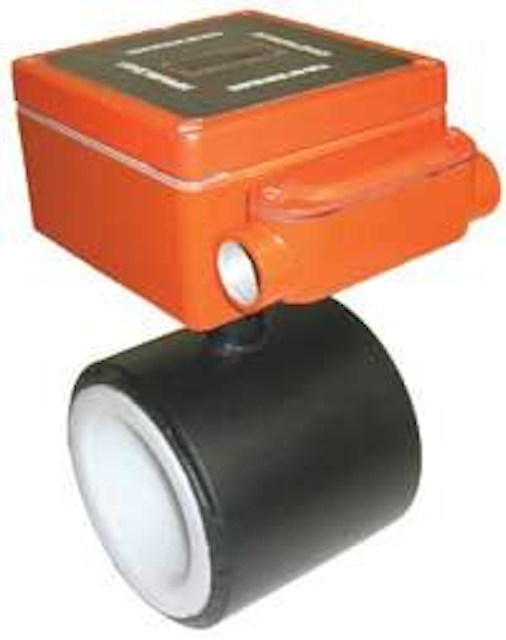 Click here to enlarge image
The new FM618 Economag meter is Sparling's new low cost electromagnetic flowmeter. Standard features include a Tefzel liner, stainless steel electrodes, NEMA-4X transmitter with 4-20 mA output, ±.75% accuracy, low flow cutoff, positive zero return, adjustable damping, no moving parts and two year warranty.
Sparling Instruments Inc.
El Monte, CA
Tel: 800-800-3569
Web: www.sparlinginstruments.com
Pumping systems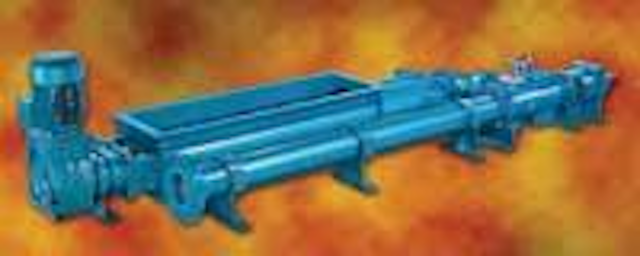 Click here to enlarge image
Moyno will exhibit its newest pump, the Moyno® 2000 CC, as well as its Annihilator™ grinders and 2000 HS System at WEFTEC. The 2000 HS System features an integral hopper with a twin-screw auger feeder and specially designed progressing cavity pump that handles high solids, dewatered municipal sludge to over 50 percent solids. The system can pump filter cake further distances with higher volumetric efficiencies than any other progressing cavity pump.
Moyno Inc.
Springfield, OH
Tel: 877-486-6966
Web: www.moyno.com
Plug valve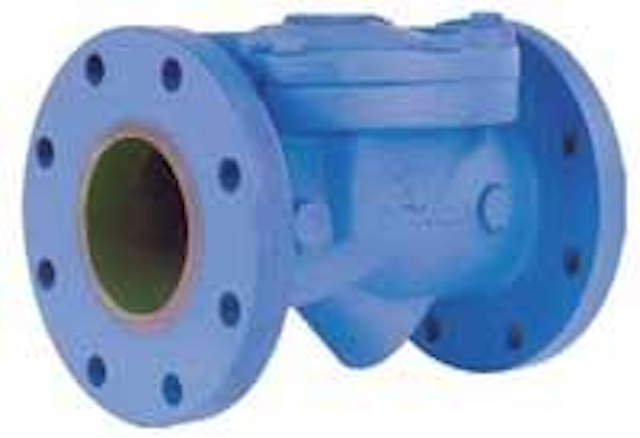 Click here to enlarge image
The Pratt Ballcentric Plug Valve, available in sizes ranging from 3"- 36", is designed specifically for wastewater applications. The round port design available on sizes 3" - 20" offers less resistance to slurry, sludge and fluid flow resulting in better flow characteristics and less pressure drop across the valve than other types of eccentric plug valves.
Henry Pratt Co.
Aurora, IL Tel: 877-436-7977 Web: www.henrypratt.com
Chopper pumps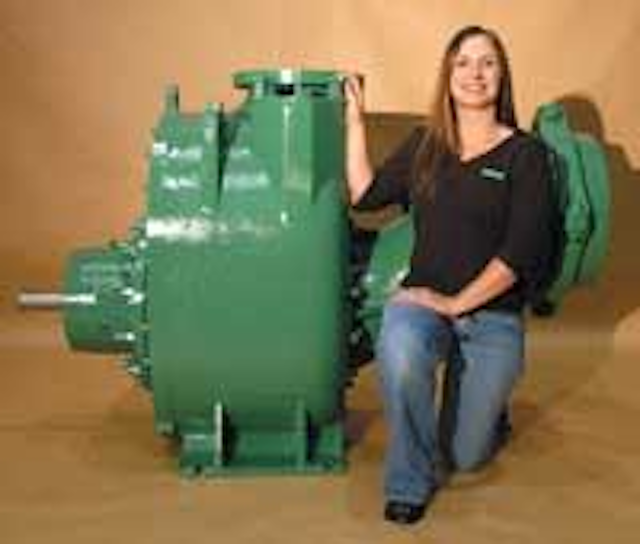 Click here to enlarge image
Vaughan Co. has introduced 8" and 10" self-priming chopper pumps capable of flows up to 6000 gpm, at up to 70% efficiency, and with up to a 22' priming lift. Unique features include a replaceable volute, externally adjustable clearances, oversized inlets and a Tungsten Carbide cartridge mechanical seal.
Vaughan Co.
Montesano, WA
Tel: 888-249-2467 Web: www.chopperpumps.com Booth 4509
Blower packages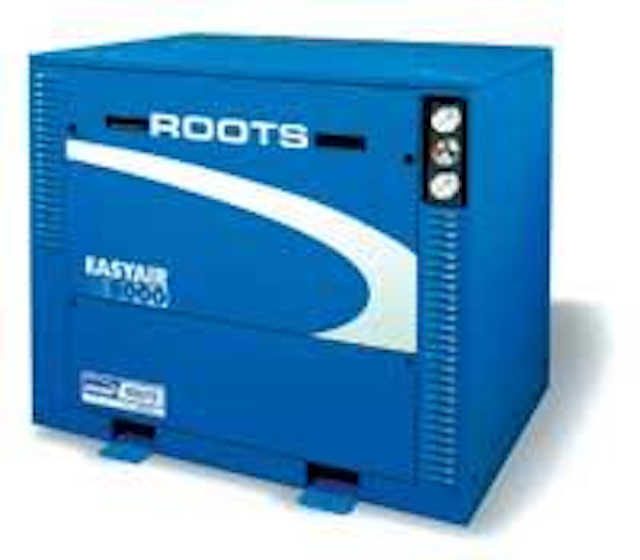 Click here to enlarge image
A new factory-engineered blower package, designed to operate 8,000 hours or more between scheduled maintenance, has been introduced by Dresser Roots. The EasyAir™ 8000 is a compact, pre-assembled, skid-mounted blower unit with all piping, valves, and instrumentation in place. Produced for both vacuum and pressure applications, the new package features a powder-coated noise enclosure for durability and quiet operation, plus easy access for service/maintenance.
Dresser Roots
Houston, TX
Tel: 877-363-7668
Web: www.rootsblower.com
Storage tanks
Columbian TecTank manufactures factory-coated bolted and factory welded stainless steel tanks for use as clarifiers, sludge storage, equalization tanks, trickling filter tanks, anaerobic and aerobic digesters, plus other wastewater treatment applications. The company's Trico-Bond EP™ modified epoxy powder coating resists corrosion and is factory-applied in ISO 9000/2000 Quality System Certified facilities.
Columbian TecTank
Kansas City, KS
Tel: 913-621-3700
Web: www.columbiantectank.com
Root control
Duke's Root Control Service can control sewer line root problems. Over 1,000 municipalities have used the company's services in more than 60 million feet of sewer pipe. The company applies EPA registered products that kill tree roots without harming above ground vegetation.
Duke's Root Control Inc.
Syracuse, NY
Tel: 800-447-6687
Web: www.dukes.com
Pumps, mixers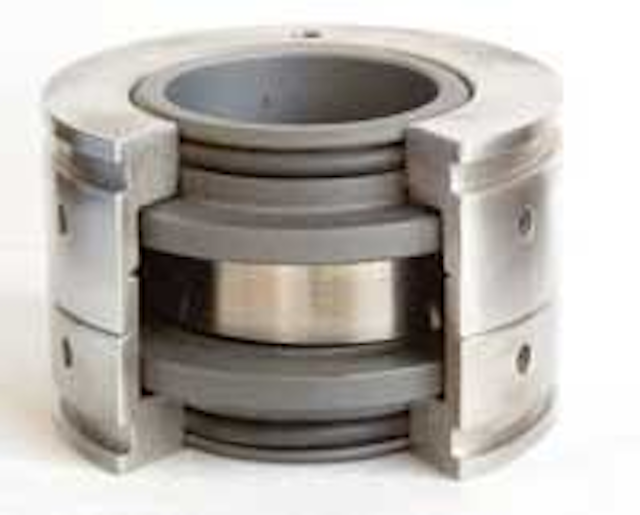 Click here to enlarge image
The long-life silicon carbide seals used in WILO EMU pumps and mixers have repeatedly demonstrated their ability to last 15 to 20 times longer than ordinary carbon-ceramic seals (and 2-½ to 3 times longer than tungsten carbide materials). This is particularly important because seal failure of any kind -- particularly in tough pump and mixer applications -- usually results in extensive damage to motor windings, motor bearings, as well as other internal components.
WILO EMU USA
Thomasville, GA
Tel: 866-476-0323
Web: www.wiloemu.com
Hydrant flushing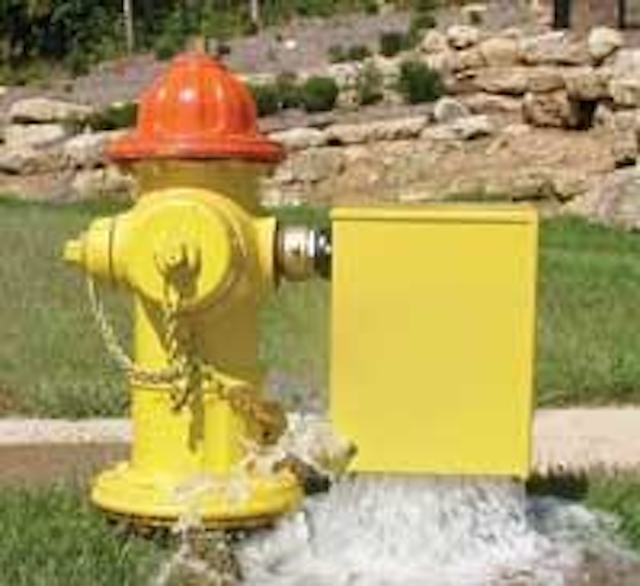 Click here to enlarge image
To flush dead-ends automatically, Kupferle Foundry will be exhibiting it's new #9700 Automatic Hydrant Flusher at WEFTEC. The flusher attaches to any 2-½" NST nozzle, and then the flushing cycle can be selected, usually at night. Man-hour savings can be realized by flushing troublesome dead-ends without sending personnel. Powder-coated, lockable, and patent-pending, this compact unit can be used instantly within a system with virtually no installation expense.
Kupferle Foundry Co.
St. Louis, MO
Tel: 800-231-3990
Web: www.blow-offs.com
Conveyors

Click here to enlarge image
Serpentix Conveyor's new all stainless steel TransPorter conveyors are perfect for hauling sludge, grit, and screened material in small wastewater treatment plants. A ¾ HP drive and a tension station are combined with standard curved track and straight track sections and supports to achieve over 20 utilitarian conveyor layouts up to 50 feet in length. Incline angles of 45 degrees are typical.
Serpentix Conveyor Corp.
Westminster, CO
Tel: 303-430-8427
Web: www.serpentix.com
Vacuum sewer components

Click here to enlarge image
Airvac is a manufacturer of specialty components used in vacuum sewer systems. These components include vacuum valves, valve pits and vacuum station equipment. The company offers complete start-to-finish project services, including preliminary system layout and design, cost estimating, detailed design assistance and construction supervision. It also provides operator training, as well a full range of maintenance services ranging from annual inspection and tune-up to full operation and maintenance of the system.
Airvac
Rochester, IN
Tel: 574-223-3980
Web: www.airvac.com
pH measurement
Eutech® Instruments' new ½-DIN pH 2000D controller, available through Cole-Parmer, takes advantage of differential probe technology to provide added reliability. Differential pH measurement reduces reference junction fouling and virtually eliminates ground loops in the most demanding applications. Three front-panel selectable control modes (limit, proportional, and proportional-integral) with separately adjustable set points, delay, and hysteresis provide precise high- and low-level control.
Cole-Parmer Instrument Co.
Vernon Hills, IL
Tel: 800-323-4340
Web: www.coleparmer.com/835
Clarifier/thickener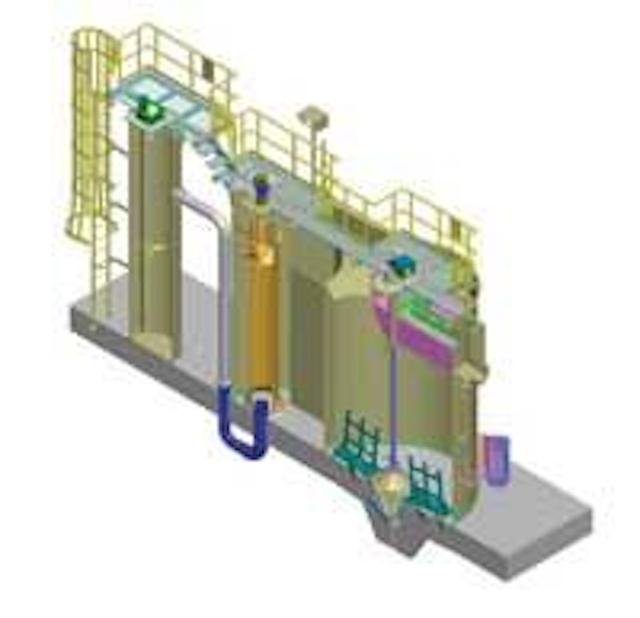 Click here to enlarge image
The DensaDeg Clarifier/Thickener, available from Infilco Degremont, is a high-rate, high-efficiency solids contact clarifier, capable of producing a very dense sludge that is easily dewaterable. It combines mixing, solids recirculation, sludge thickening, and clarification in one compact unit, thereby treating highly turbid CSO wastewater flow in approximately 25% less space than conventional clarifiers.
Infilco Degremont Inc.
Richmond, VA
Tel: 804-756-7600
Web: www.infilcodegremont.com
Valve products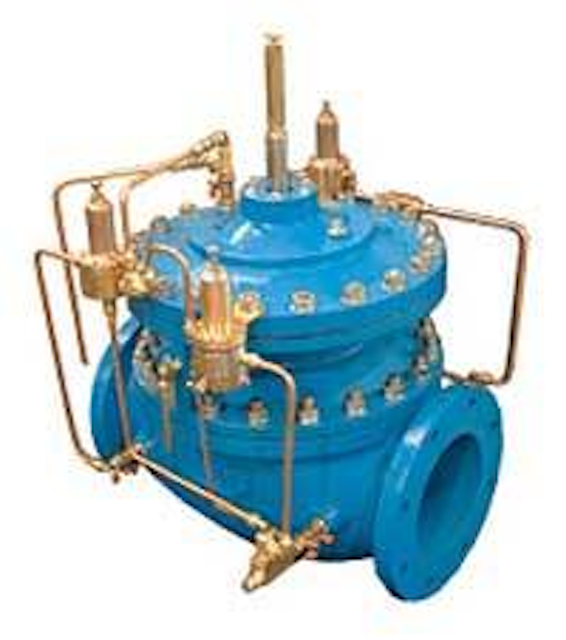 Click here to enlarge image
Singer Valve offers solutions for Water Loss and Non-Revenue Water (N.R.W.) management. It's N.R.W./Water Loss Management Tool Box includes pressure reducing valves to provide precise pressure control and increase stability at low flows. The company Pressure Flow Control systems remotely maintain constant pressure, adjust to pipeline friction to maintain constant pressure at a distant location and are used to automatically lower pressure at night, but restores higher pressure during maximum flow demand.
Singer Valve
Surrey, BC
Tel: 604-594-5404
Web: www. singervalve.com
Glass-fused-to-steel tanks
Aquastore® glass-fused-to-steel bolted tanks are engineered and fabricated in ISO 9000/2000 quality certified facilities. Engineered Storage Products offers a full range of tanks (reservoir, standpipe and composite elevated) that can cost less to own than other tanks. The company also offers a free Life Cycle Cost Estimator Program.
Engineered Storage Products
Dekalb, IL
Tel: 815-756-1551
Web: www.engstorage.com
Submersible pumps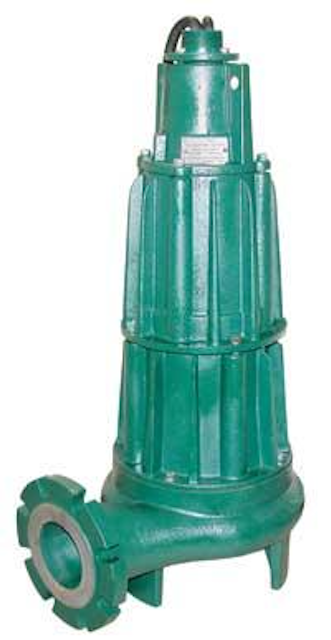 Click here to enlarge image
Zoeller Engineered Products has released a new line of high-head, large submersible pumps, the 69HD series. Capable of continuous run without a water jacket, the pumps can exceed heads of 245' TDH and flows over 2700 gpm. Motors are air-filled with Class H windings. Dual vane enclosed impellers pass 3" solids. Silicon carbide/silicon carbide tandem shaft seals and moisture sensors are standard.
Zoeller Engineered Products
Louisville, KY
Tel: 800-928-7867
Web: www.zoeller.com
Valve operator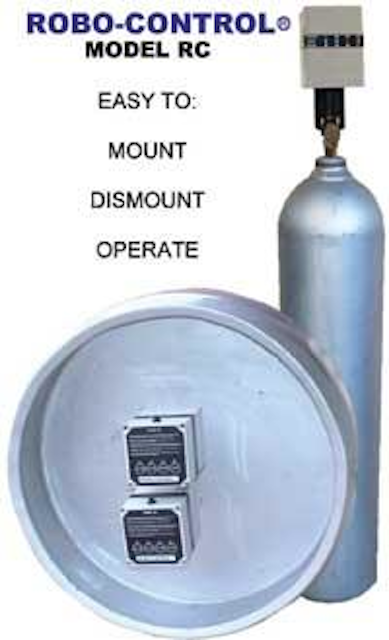 Click here to enlarge image
Robo-Control® will display the Model RC at the WEFTEC show. The remote control valve operator weighs less than 6 pounds, has valve position indication, and mounts to the valve without tools. The company manufactures battery-operated actuators to remotely open and close hazardous gas cylinder and container valves such as chlorine and sulfur dioxide containers.
Robo-Control®
Bridge City, TX
Tel: 409-697-2666
Web: www.robo-control.com
Chlorine, turbidity meter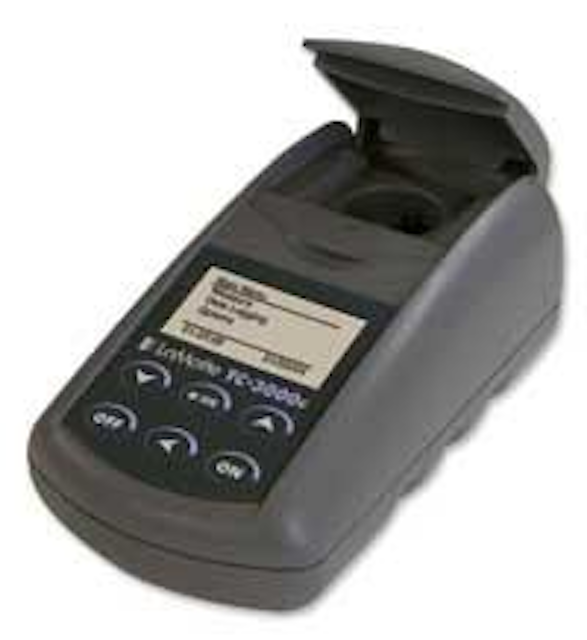 Click here to enlarge image
The TC-3000 meter from LaMotte combines a hi-tech microprocessor with a patent pending optical chamber resulting in higher accuracy for low chlorine and turbidity readings. Detection limit for chlorine is 0.02 ppm (range 0-10 ppm). Detection limit for turbidity is 0.05 NTU (range 0-4,000 NTU). The unit also does color to 0.2 cu. It is available in EPA and ISO 7027 versions. The unit also features 6 languages, datalogging, RS-232, and CE mark approval.
LaMotte Co.
Chestertown, MD
Tel: 800-344-3100
Web: www.lamotte.com
Rotary blower packages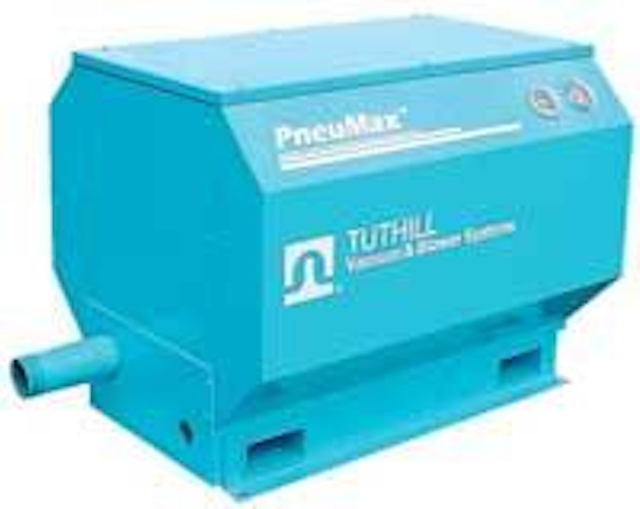 Click here to enlarge image
Tuthill Vacuum & Blower Systems' PneuMax is a compact, low-noise rotary blower package. The packages include an 85 dB(A) integral noise enclosure pre-installed at the factory. Captive, hand-turned fasteners provide access to the enclosures without worrying about lost hardware. They include built-in fork truck pockets for easy transportation at the installation site.
Tuthill Vacuum & Blower Systems
Springfield, MO
Tel: 417-865-8715
Web: www.tuthill.com
Bluetooth serial adapter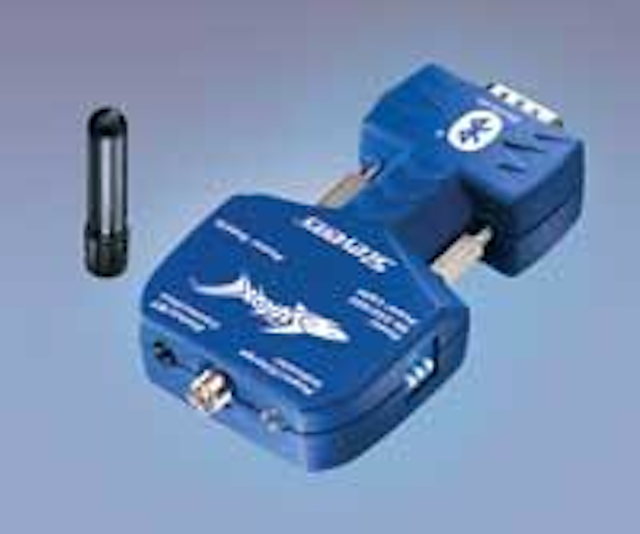 Click here to enlarge image
Stevens Water Monitoring Systems has introduced a serial cable replacement based on Bluetooth® wireless technology. The low-power, secure Shark is designed for collection of environmental, industrial and security-related information at a 100-meter range. The RS232/RS485 Serial Port Adapter converts any instrument with a serial port to a Bluetooth-enabled device that can receive from and transmit data to other instruments, modems, laptops or PDAs.
Stevens Water Monitoring Systems Inc.
Beaverton, OR Tel: 800-452-5272 Web: www.stevenswater.com
Submersible motor cap, cable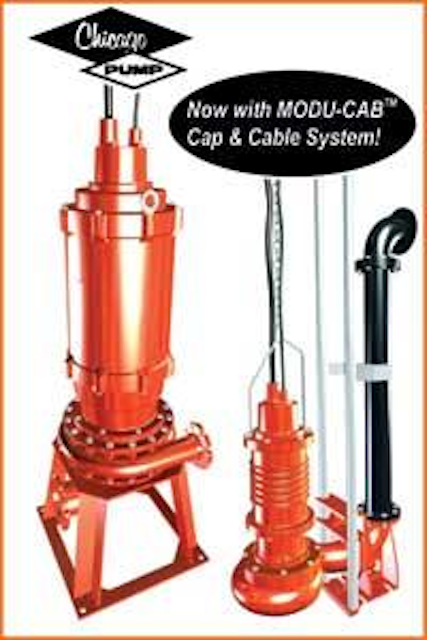 Click here to enlarge image
Yeomans Pump and Chicago Pump offer a new design for their submersible motor cap & cable system. The Modu-Cab™ system uses commercial cable, strain relief, modular terminal block, epoxy seal and grommet. It includes an isolator sleeve for easy removal of old epoxy, and provides simplified field repair with commercial components; non-epoxy sealants can be used.
Yeomans Pump
Aurora, IL
Tel: 630-236-5500
Web: www.yeomanspump.com
Non-metallic enclosures
Vynckier has unveiled a new look, "Platinum Plus," for its line of non-metallic enclosures. The new lighter color style provides a higher degree of UV protection. The VJ & RVJ Series of enclosures will be available in "Platinum Plus" in September in sizes 6" x 6" to 18" x 16". In addition, the company now offers the value added service of installing pem nuts, stud fasteners, and self-clinching cable wraps in varying lengths and finishes on aluminum back panels and front panels.
Vynckier Enclosure Systems Inc.
Houston, TX
Tel: 713-374-7850
Web: www.enclosuresonline.com
Denitrification system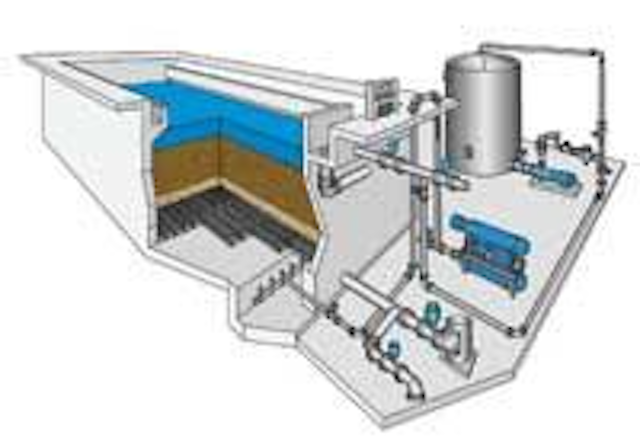 Click here to enlarge image
The Leopold elimi-NITE™ Denitrification System uses the advantages of deep bed, mono-media filters to remove nitrogen in wastewater effluent. In addition to nitrogen, the system can simultaneously remove suspended solids. The gravity, downflow, packed-bed denitrification system is an attached growth, microbiological process which removes nitrate-nitrogen achieving levels below 1 mg/liter.
F. B. Leopold Company Inc
Zelienople, PA
Tel: 724-452-6300
Web: www.fbleopold.com
Water, wastewater services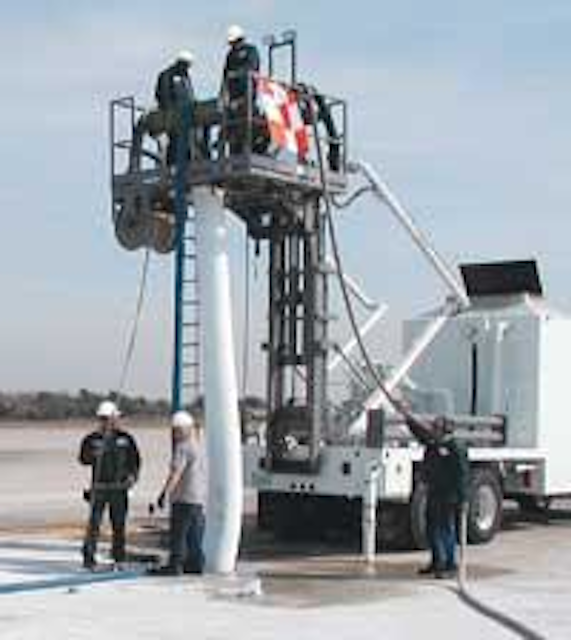 Click here to enlarge image
American Water will be exhibiting at WEFTEC. The largest water & wastewater services provider in North America, the company will feature its Underground Infrastructure Group, Homeowners Services' LineSaver program, Residuals Management Services and Public-Private Partnership Wastewater Operations & Maintenance service. Although the company offers a comprehensive menu of services, the focus of this show will be on the overall health of underground pipes.
American Water Co.
Voorhees, NJ
Tel: 856-346-8200
Web: www.amwater.com
Ultrasonic level transmitter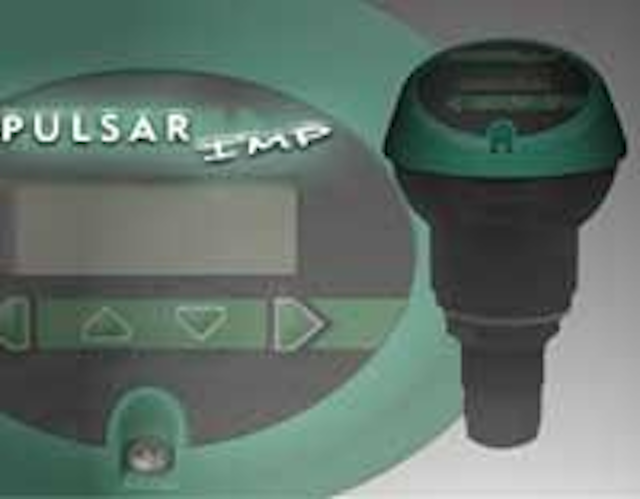 Click here to enlarge image
The Pulsar IMP is an ultrasonic level transmitter with a range of 20 ft, 1.5" NPT thread, 2-wire loop-powered and 3-wire (depending on how you wire it), 4-20mA output, and two relays as standard. Pulsar's "3° Effective Beam Angle" and smart algorithms perform in the toughest applications. This is a simple, noncontact transmitter for measuring many different level applications like filter beds, ponds, pump stations, manholes, chemical tanks, and much more.
Pulsar Inc.
Shalimar, FL
Tel: 850-609-1777
Web: www.pulsar-us.com
Ultrasonic level transmitter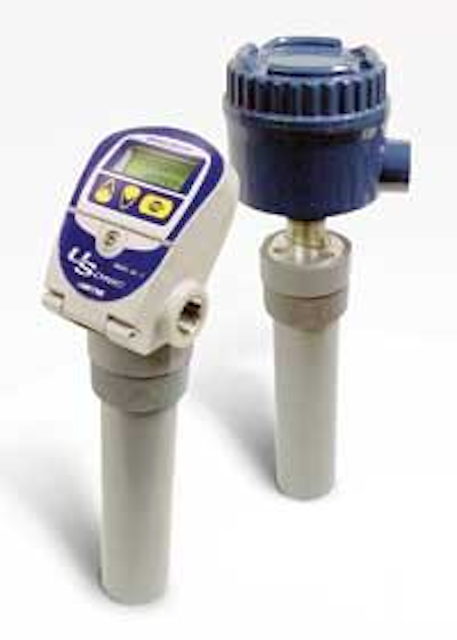 Click here to enlarge image
AMETEK Drexelbrook has added the USonic™ Series Continuous Ultrasonic Level transmitter to its level measurement product line. The series was developed to meet the specific needs of the industrial and municipal markets. The transmitter provides a repeatable and accurate (0.15%) continuous level measurement of liquids. The system is capable of liquid level measurement to ranges up to 30 ft., with a 2-wire, 4-20mA, HART output signal.
AMETEK Drexelbrook
Horsham, PA
Tel: 215-674-1234
Web: www.drexelbrook.com
Polymer control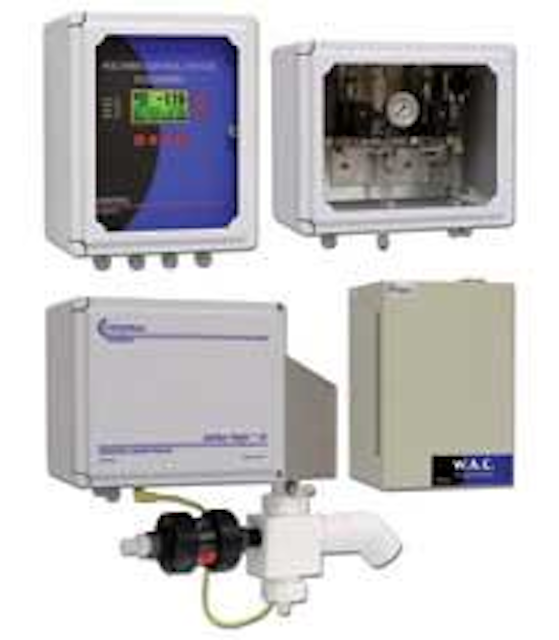 Click here to enlarge image
Chemtrac Systems' Polymer Control System model PCS5500 can help optimize polymer addition for liquid solids separation such as clarifiers, centrifuges, belt filter presses, rotary drum thickeners, dissolved air flotation, and gravity belt thickeners. The on-line instrument measures the net charge after the addition of polymer (i.e. sample stream of centrate/filtrate).
Chemtrac Systems Inc.
Norcross, GA
Tel: 800-442-8722
Web: www.chemtrac.com
Submersible pumps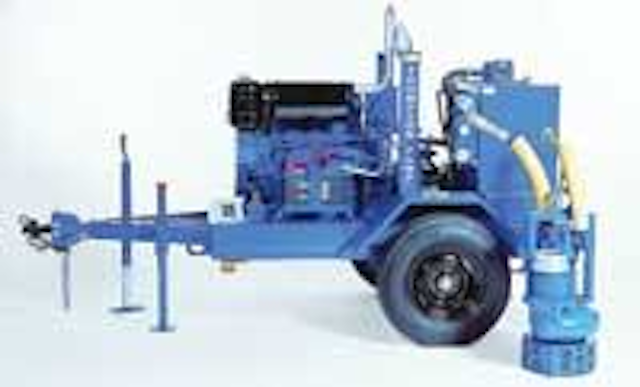 Click here to enlarge image
Thompson Pump will display four pump models and one hydraulic power unit at the 2005 WEFTEC show. The 6TSC, 3STC, and 6V, all dry-prime trash pumps, and the 46HST and 32HPU, a hydraulic submersible trash pump and power unit, will be on display. The 6TSC, a compressor-assisted dry-prime trash pump, can pump liquids with high abrasives or solids as large as 3.35" in diameter and has the ability to operate during 'snore' conditions.
Thompson Pump & Manufacturing
Port Orange, FL
Tel: 800-767-7310
Web: www.thompsonpump.com