PRODUCT SHOWCASE
Pressure Systems Inc. has introduced a new vent filter that provides virtually maintenance-free moisture protection for all vented gauge format submersible KPSI transducers.
Jun 1st, 2005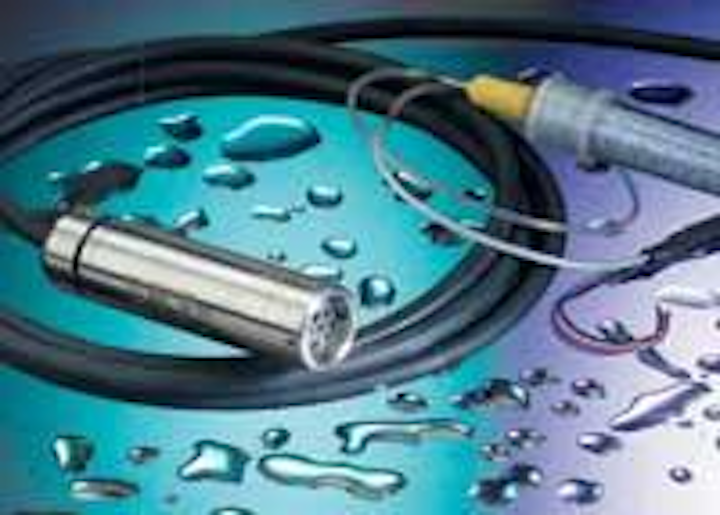 Vent filter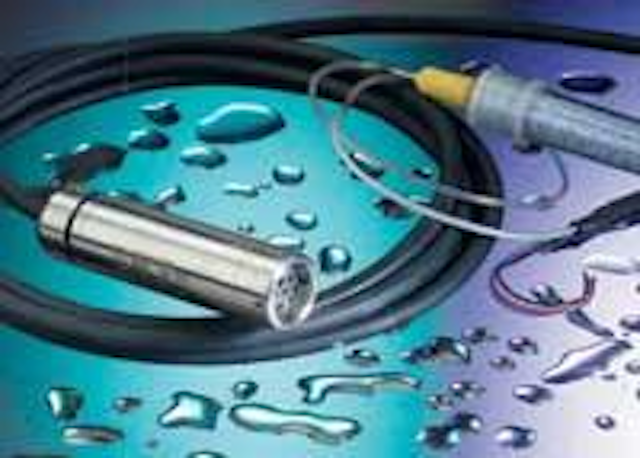 Click here to enlarge image
Pressure Systems Inc. has introduced a new vent filter that provides virtually maintenance-free moisture protection for all vented gauge format submersible KPSI transducers. Designed specifically for high humidity environments where water vapor may condense in the vent tube, the Series 810 SuperDry vent filter protects sensitive transducer electronic components from mildew, corrosion, rust and other forms of deterioration, while at the same time preventing the formation of a liquid column. The vent filter provides 10 times the moisture protection as compared to other barriers. It will be the standard moisture protection accessory shipped from the factory with any vented gauge submersible KPSI transducer.
Pressure Systems Inc.
Hampton, VA Tel: 800-678-7226 Web: www.pressuresystems.com/superdry.html
Fixed-based meter reading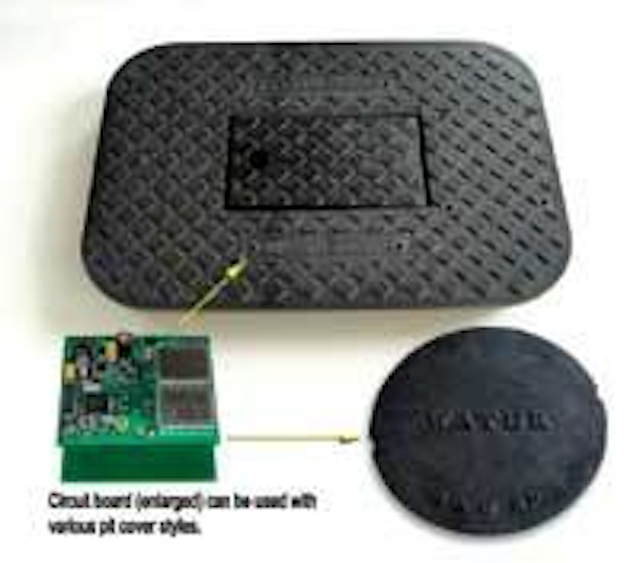 Click here to enlarge image
AMDS provides secure water meter data using a patented, FCC-licensed, long-range fixed based wireless network. Reliability is achieved by overlapping receiver coverage of metering end-points, using data/message redundancy and fail-over backup provisions. Seamless communications with the utility
Advanced Metering Data Systems
New Orleans, LA
Tel: 800-770-7213
Web: www.amdswireless.com
Leak noise correlator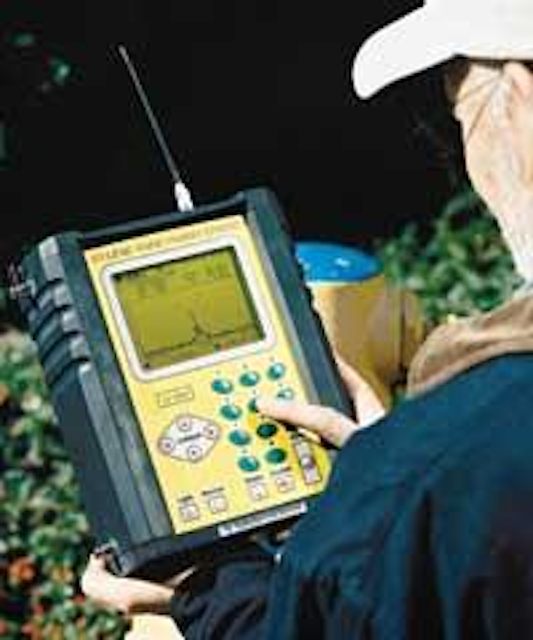 Click here to enlarge image
The new LC-2500 Leak Noise Correlator from SubSurface Leak Detection is an improvement on its predecessor, the LC-2100. The new unit correlates four times faster, and the radio transmitters are four times more powerful, transmitting up to 3500 feet to the main processor unit and traveling over hills and around tall buildings. The main processor unit, which weighs less than 7 lbs., has a temperature-compensated LCD display to improve visibility in very cold and very hot temperatures. The correlator has an aluminum body and is weather-tight, operating in rain, snow, and temperatures from minus 10 C to positive 50 C.
SubSurface Leak Detection Inc. San Jose, CA
Tel: 408-249-4673
Web: www.subsurfaceleak.com
Extended sockets
Click here to enlarge image
For deep well needs, Reed offers 6" long extended sockets that are impact grade. The sockets can be used to tighten hex nuts on repair clamps, mechanical joint fittings, and saddles. Reed offers 1 1/16", 1 1/8" and 1 1/4" sockets. Drive them with a 1/2" square drive impact wrench; hand tightening is also possible.
Reed Manufacturing Co.
Erie, PA
Tel: 800-666-3691
Web: www.reedmfgco.com
Valve controller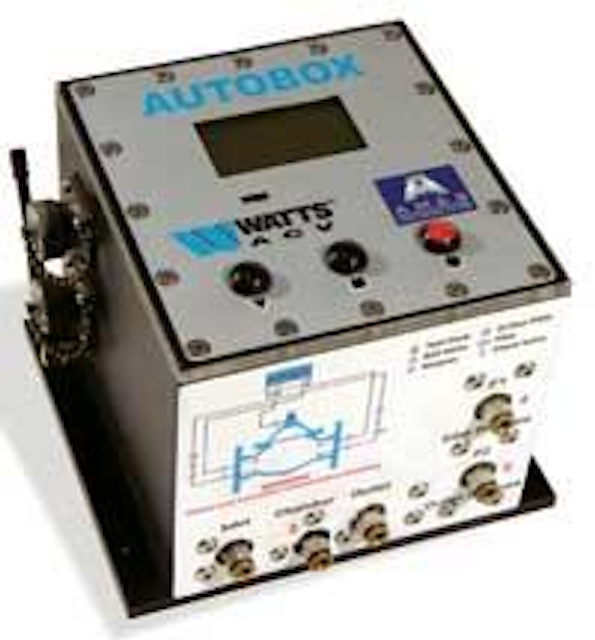 Click here to enlarge image
Watts ACV has introduced the Autobox Electronic Valve Controller for pilot operated control valves. The controller allows for the remote operation, management and monitoring of valves through the Internet and can be programmed to automatically operate a valve based on the specific needs of an application. Ideal for water loss control, water conservation, level control and on/off applications, the controller operates on internal batteries, features low energy consumption and communicates using either the Watts Control Network or several other means of communication via a built-in GPRS modem.
Watts ACV
Houston, TX
Tel: 713-943-0688
Web: www.wattsacv.com
Sludge sampler

Click here to enlarge image
Coretaker™ is the first sludge sampler to float. The soft bright yellow lanyard makes it easy to find if accidentally dropped in the tank. A hard plastic handle makes it easy to grip. The exclusive Slip-Lock coupler has internal O-Rings for quick disconnect/connect functionality. Once connected, the bottom tube fastens to the coupler with a single knurled thumbscrew. There are no leaks, even under extreme stress, and no threaded fittings or glue is required. The Check Valve at the bottom of the unit has the same O-Ring technology and a rugged purge stem.
Raven Environmental Products, Inc.
Saint Louis, MO
Tel: 800-545-6953
Power units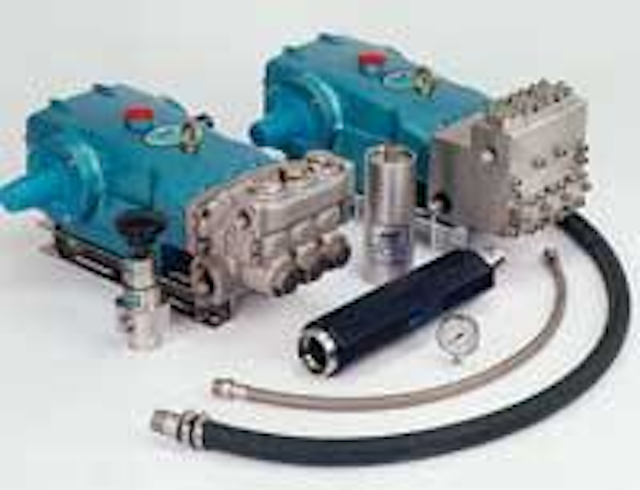 Click here to enlarge image
Cat Pumps is expanding the features of its custom-designed Power Units. The units are constructed of components essential in meeting specific application and duty cycle requirements. Many sizes and configurations are available from portable direct-drive units up to larger 200 horsepower, 320 gpm units or multiple-pump systems with pressure capabilities up to 7000 PSI. Each unit includes base, belt guard, electric motor, pump and system regulation and protection protection accessories individually selected for the specific application. Optional gas, diesel or hydraulic drives, stacked bases or portable units with handle and wheels are also available.
Cat Pumps
Minneapolis, MN
Tel: 763-780-5440
Web: www.catpumps.com