PRODUCTS & SERVICES SLUDGE DEWATERING
Jun 1st, 2005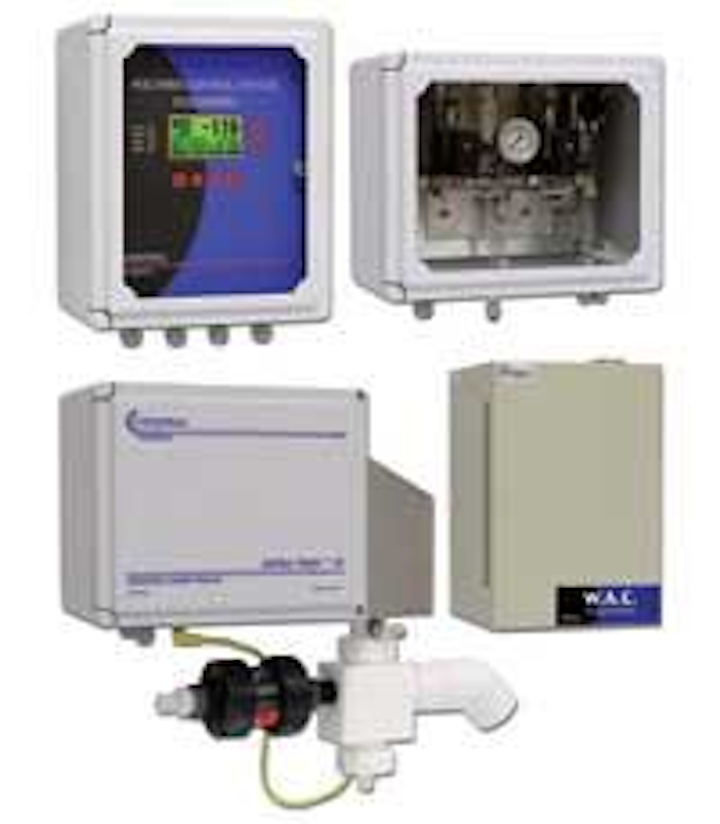 Polymer control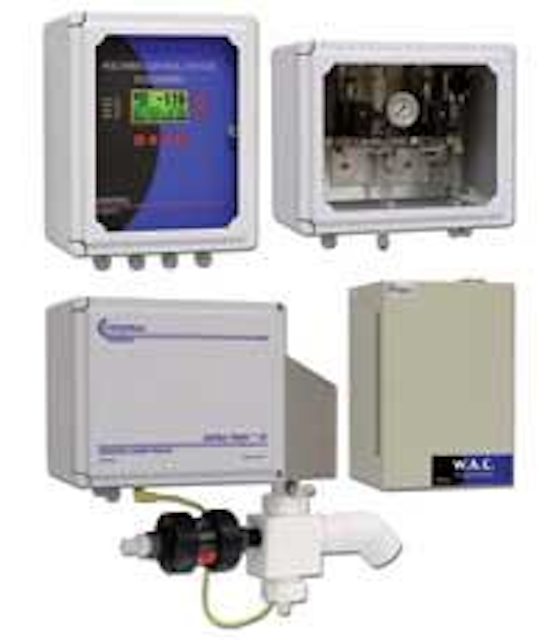 Click here to enlarge image
Chemtrac Systems' Polymer Control System model PCS5500 can help optimize polymer addition for liquid solids separation such as clarifiers, centrifuges, belt filter presses, rotary drum thickeners, dissolved air flotation, and gravity belt thickeners. The on-line instrument measures the net charge after the addition of polymer, i.e. sample stream of centrate/filtrate.
Chemtrac Systems Inc.
Norcross, GA
Tel: 800-442-8722
Web: www.chemtrac.com
Dryer system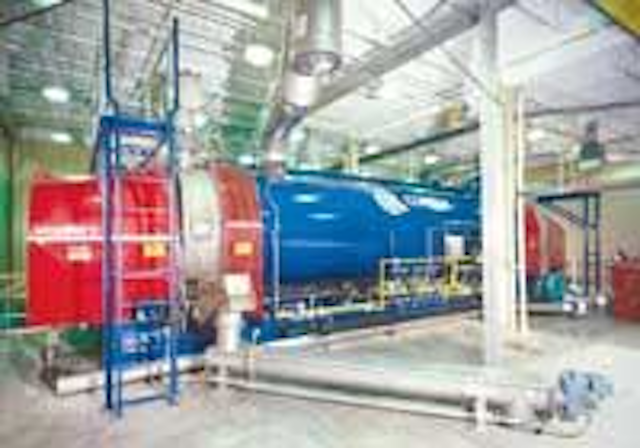 Click here to enlarge image
The Dragon Dryer® system, available from USFilter Davco Products, converts sludge into a Class "A" product that is 75 to 100 percent dry solids. This transformation is accomplished in accordance with Title 40 Code of Federal Regulation (CRF), Part 503 requirements. In addition, this process reduces the volume of the resulting biosolids - through the indirect evaporation of water - by approximately 75 percent.
USFilter DAVCO Products
Tel: 800-841-1550
Web: www.dragondryer.com
Biosolids odor control
Altivia offers VX-456™, a new proprietary liquid mixed-oxidant applied to biosolids to control odor causing sulfides and related malodors as well as prevent the biological generation of sulfides. The product does not form chlorinated organics, and forms environmentally friendly by-products. The company also offers full service programs to the municipal market, including odor assessments, full-service programs, products, equipment, monitoring and reporting.
Altivia Corp.
Houston, TX
Tel: 866-258-4842
Web: www.altivia.com
Sludge dewatering aids
GE's Novus™ shear resistant polymers improve centrifuge efficiency for increased throughput in dewatering industrial sludge. They are especially suited for biological and oily wastewater sludges. Some chemical and industrial sludges with oil, water and solids aren't easily dewatered, and centrifuges are increasingly used to separate these materials.
GE Infrastructure Water & Process Technologies
Trevose, PA
Tel: 215-942-3208
Web: www.gewater.com
Gravity belt thickener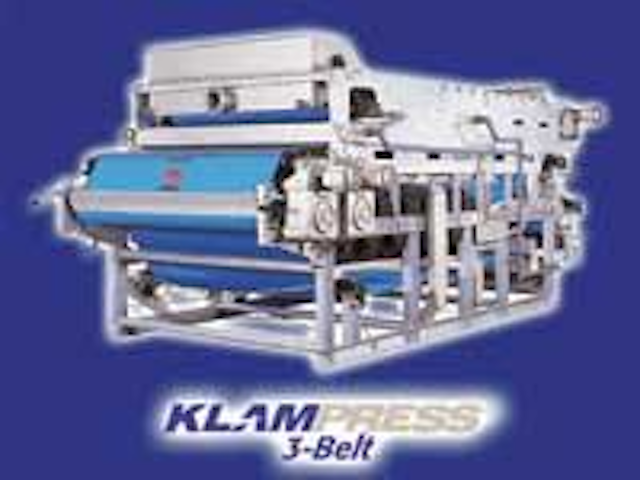 Click here to enlarge image
The Ashbrook Simon-Hartley Klampress®, in its three belt configuration, increases throughput volumes and increases dewatering and thickening capabilities. The 3-Belt provides the addition of an independent gravity deck, and gives operators the option of operation in the gravity belt thickener (GBT) mode or operation in the belt filter press (BFP) mode - independently.
Ashbrook Simon-Hartley
Houston, TX
Tel: 800-362-9041
Web: www.ashbrookcorp.com
Sludge pumps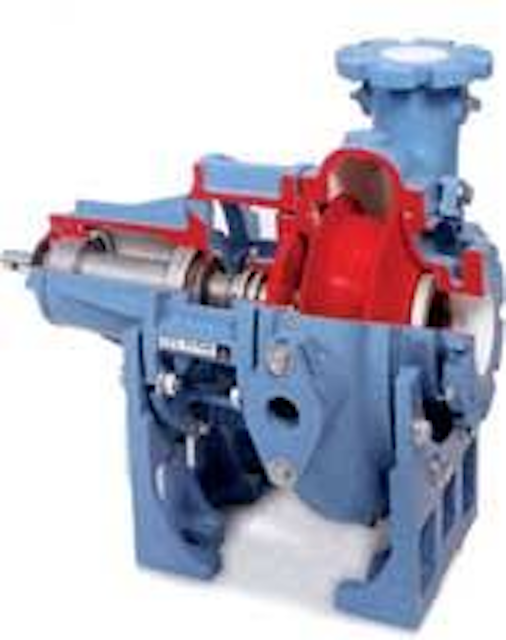 Click here to enlarge image
ITT A-C Pump, an ITT Industries company, is offering the non-clog NS Series pumps for sludge and wastewater service. Horizontal and vertical mounted models are available and are designed to handle municipal sludge and wastewater containing soft solids up to 9" in diameter without clogging.
ITT A-C Pump
Seneca Falls, NY
Tel: 800-734-7867
Web: www.acpump.com
Open hopper pump

Click here to enlarge image
seepex has developed a new type of open hopper pump to transport extremely viscous products and dewatered sludge cake. The BTHE pump can transport materials up to three million cPs and municipal wastewater sludge with over 50% solids. It has been used on mineral slurry cakes from plate-and-frame filter presses with over 80% solids and waste sludge up to 45% consistency. The new design uses a feed auger that operates separately from the pump rotor shaft. This allows the auger to operate concentrically. The design reduces bridging inside the pump because the auger completely cleans the casing walls. It also feeds the pumping elements in a more positive manner than augers that rotate eccentrically. Combined with the feed tube that is standard on most seepex designs, the BTHE operates at higher volumetric efficiencies than other pumps.
seepex, Inc.
Enon, OH
Tel: 937-864-7150
Web: www.seepex.com
Sludge pumps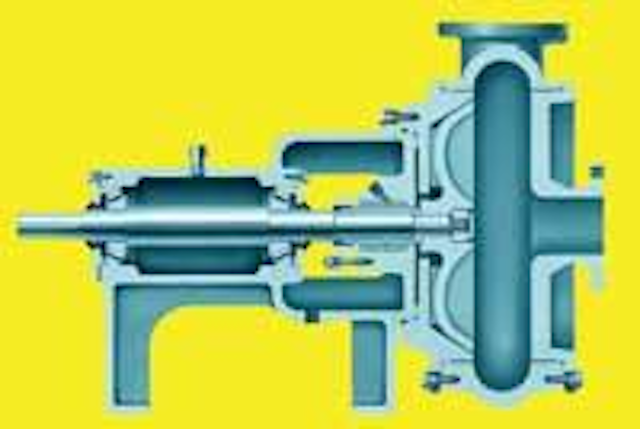 Click here to enlarge image
Morris Series 6100CT cup-type recessed impeller pumps are designed for high-grit sludge handling in a municipal treatment process. Features include high-chrome iron construction, reversible casing, bi-directional impeller, replaceable suction cover and rear liner, machined registered fits with o-ring sealed interfaces, stainless steel shaft with hardened stainless steel sleeve, and universal stuffing box with packing or mechanical seal.
Morris Pumps
Aurora, IL
Tel: 630-236-6900
Web: www.morrispumps.com
Level sensing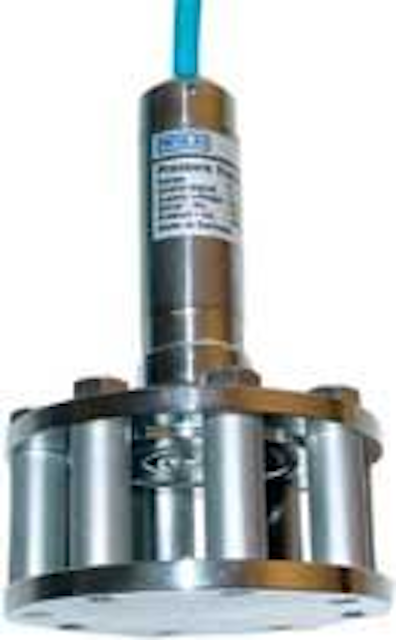 Click here to enlarge image
WIKA offers the new LevelGuard™ anti-clog attachment for Tronic submersible liquid level transmitters. The attachment is suitable for difficult level sensing applications where sludge, slurry, or turbulence may be present. The 2" diaphragm can be used to monitor extremely low liquid levels or when the assembly is buried in a layer of sludge or slurry.
WIKA Instrument Corp.
Lawrenceville, GA
Tel: 888-945-2872
Web: www.wika.com
Grinders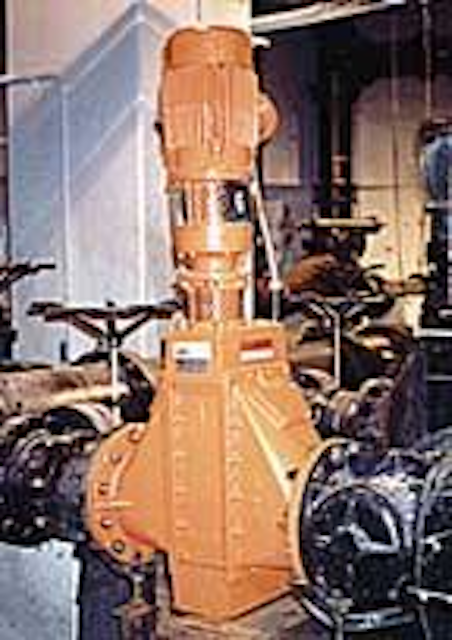 Click here to enlarge image
The Sewer Chewer® Severe-Duty Grinder from Yeomans Chicago Corp. is designed for solids conditioning and size reduction in sludge processing and treatment. The grinder's twin shaft arrangement and patented cutter design have low head-loss characteristics and tungsten carbide "high grit" seals are standard. A variety of motor and mounting options are available to configure to most any installation requirement.
Yeomans Chicago Corp.
Aurora, IL
Tel: 630-236-5500
Web: www.yccpump.com
Sludge interface detector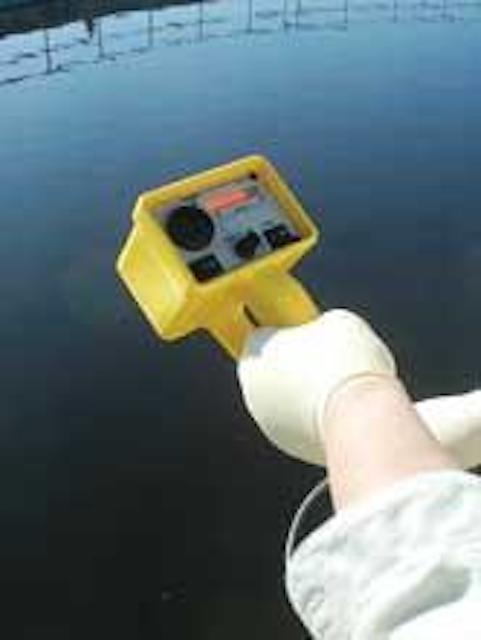 Click here to enlarge image
The new model SID-10200 from Raven Environmental Products is a portable handheld instrument that determines the sludge blanket solid/liquid interface depth in primary tanks, clarifiers, sedimentation basins and a wide variety of sludge settling tanks. The unit is equipped with a standard 20 ft. strain relieved signal cable with 1 ft. incremented depth marks and a sensor probe. As the probe is lowered into the tank and the solid/liquid interface ragged edge is engaged, the meter lightbar LED segments begin to illuminate and the horn tone sounds and changes as the solids density increases. The unit uses the latest IRED light dispersion technology sensor probe and brilliant meter panel LED lightbars for visibility in direct sunlight or complete darkness.
Raven Environmental Products, Inc.
Saint Louis, MO
Tel: 800-545-6953
Biosolids treatment
Kruger has introduced two additional treatment technologies focused on biosolids minimization. The Kruger Athos® process offers wastewater treatment plants a no sludge discharge option. It operates in a closed environment under elevated temperature and pressure yielding an inert end product with a 98% volume reduction while generating no odor. Kruger's Thelys® process is a performance enhancer for anaerobic digestion that results in significantly higher biogas production, increased volatile solids destruction, and improved dewaterability. These two new technologies will augment the company's recently introduced BioCon® biosolids dryer and the established BioPasteur® process.
Kruger Inc.
Cary, NC
Tel: 919-677-8310
Web: www.veoliawatersystems.com
Submersible pumps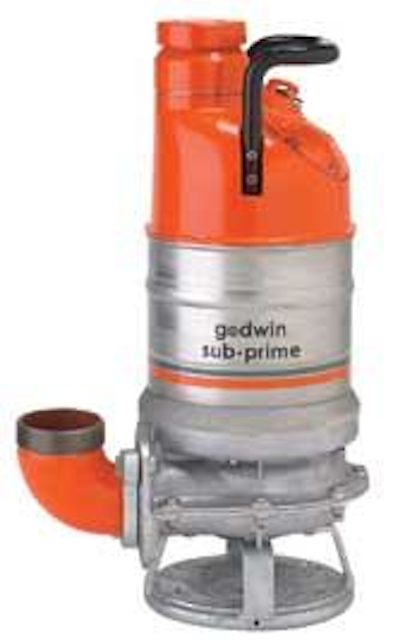 Click here to enlarge image
Godwin has expanded its line of Sub-Prime electric submersible pumps to include sludge models. The new GSL30, GSL35, GSL60, and GSL80 models are designed for sludge removal from process tanks in water and wastewater treatment facilities. The GSL30 3-horsepower and GSL35 3.5 horsepower models respectively are available with single and three phase motors.
Godwin Pumps
Bridgeport, NJ
Tel: 856-467-3636
Web: www.godwinpumps.com
Sludge dewatering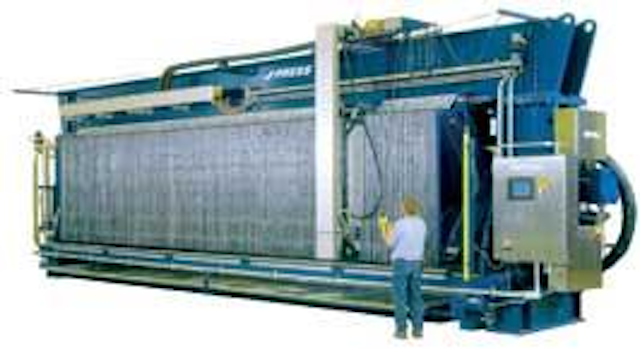 Click here to enlarge image
USFilter Dewatering Systems offers a variety of filter press sizes using both polypropylene or rubber coated reinforced steel plates. Complete laboratory or pilot testing on-site also is available. Recessed chamber filter presses represent one of the best technologies available to obtain maximum dry solids and have been used with success in dewatering both alum and lime sludges.
USFilter Dewatering Systems
Holland, MI
Tel: 800-245-3006
Web: www.usfilterdsg.com
Sludge pump
Click here to enlarge image
The Moyno® 2000 HS System is an alternative to piston pumps and open conveyors for dewatered sludge transfer in municipal wastewater treatment. It features an integral hopper with a twin-screw auger feeder and Moyno G4 progressing cavity pump that handles semi-dry, high solids, dewatered municipal sludge to over 50 percent solids.
Moyno Inc.
Springfield, OH
Tel: 877-486-6966
Web: www.moyno.com
Filter press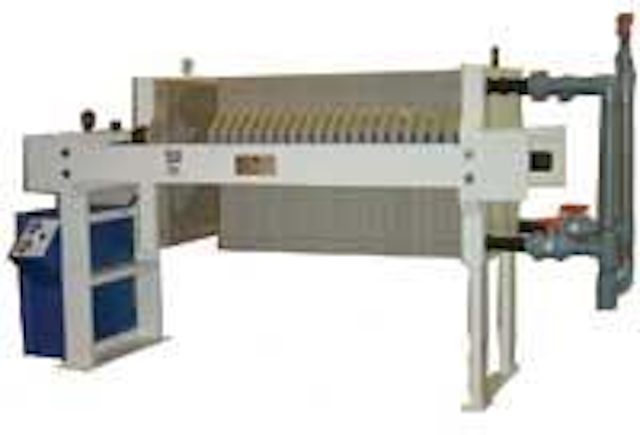 Click here to enlarge image
EA Series Filter Presses, available from ErtelAlsop, provide liquid/solid separation through pressure filtration, either for solution filtration or sludge volume reduction. They provide high compaction pressure to compress and dewater solids into cakes of 25-60% total concentration. This provides clearer filtrate solutions than systems that only remove free water. The presses include full thickness, height and solid tee-slotted steel sidebars with stainless steel wear strips.
ErtelAlsop
Kingston, NY
Tel: 845-331-4552
Web: www.ertelalsop.com
Conveyors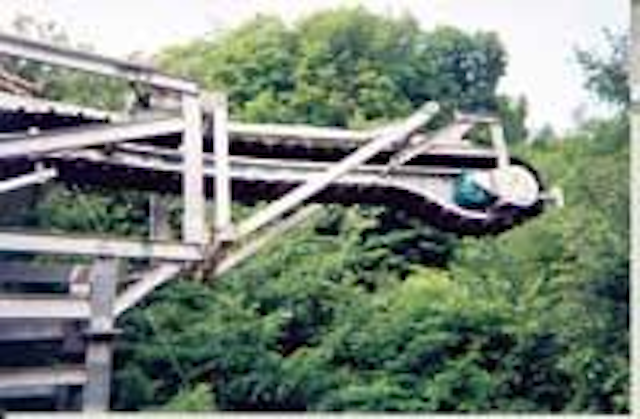 Click here to enlarge image
Conveyors manufactured by Serpentix that turn, twist, climb, flex, and telescope in and out are used by hundreds of wastewater treatment plants to transport sludge, grit, screenings, and biosolids. The company offers shaftless screws, container handling systems, and complete dewatering equipment solutions specifically for smaller municipalities.
Serpentix Conveyor Corp.
Westminster, CO
Tel: 800-466-7979
Web: www.serpentix.com
Grinder

Click here to enlarge image
The JWC Environmental in-line Muffin Monster™ grinder is used in sludge and scum lines to protect digesters, centrifuges, belt presses and more. The patented grinder includes many design improvements, including a uni-body housing, a wide assortment of cutter options, free exchange units and mechanical shaft seals.
JWC Environmental
Costa Mesa, CA
Tel: 800-331-2277
Web: www.jwce.com
Dewatering services
Synagro provides mobile dewatering services. Municipal and industrial generators of biosolids and other liquid organic wastes can use the service for many applications, including managing emergency situations, seasonal demands, and production spikes. Synagro also provides monitoring analysis and operating records necessary to demonstrate regulatory and contractual performance.
Synagro
Houston, TX
Tel: 866-794-7411
Web: www.synagro.com
Tractor composter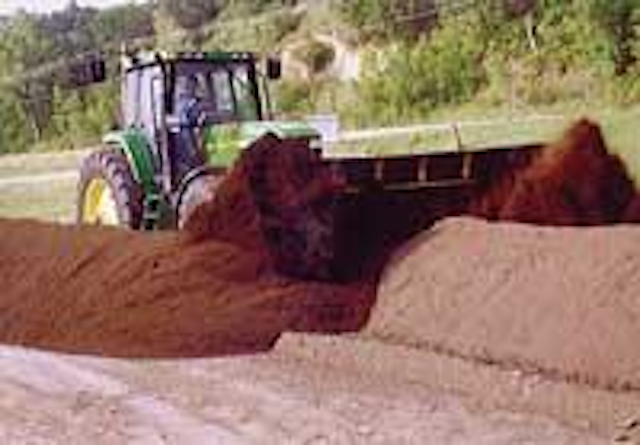 Click here to enlarge image
Brown Bear has introduced a revised model of its farm tractor composter. The PTOPA35C-10.5 unit is designed to be attached to the front of 100-160 hp farm tractors. The composter requires a front 3-point hitch, 1000 RPM PTO, and creeper transmission. It is available for ISO and counter ISO PTO shaft rotation. It is designed to compost biosolids, yard waste, manure and other organics.
Brown Bear Corp.
Corning, IA
Tel: 641-322-4220
Web: www.brownbearcorp.com
Dredges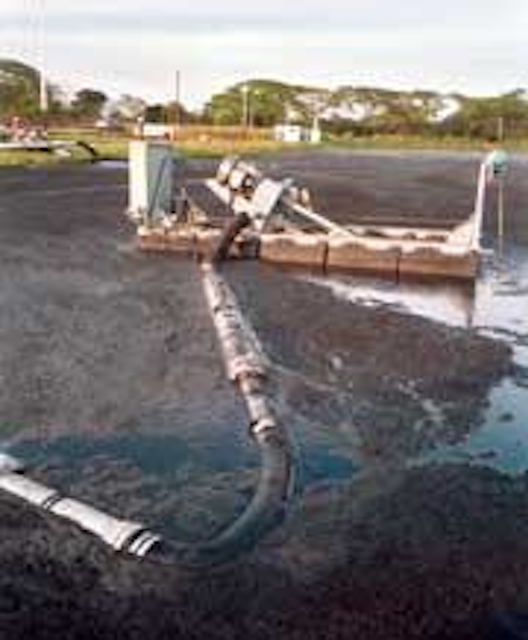 Click here to enlarge image
Crisafulli's Flump dredge is remotely controlled for worker safety, equipped with basic, handheld radio remote, or fully automated controls. Standard, severe and custom designs are available to match specific applications. The company also offers its Rotomite 6000, a "multi-function" dredge that can handle a range of municipal applications once requiring several machines.
SRS Crisafulli Inc.
Glendive, MT
Tel: 800-442-7867
Web: www.dredge.net
Vacuum packages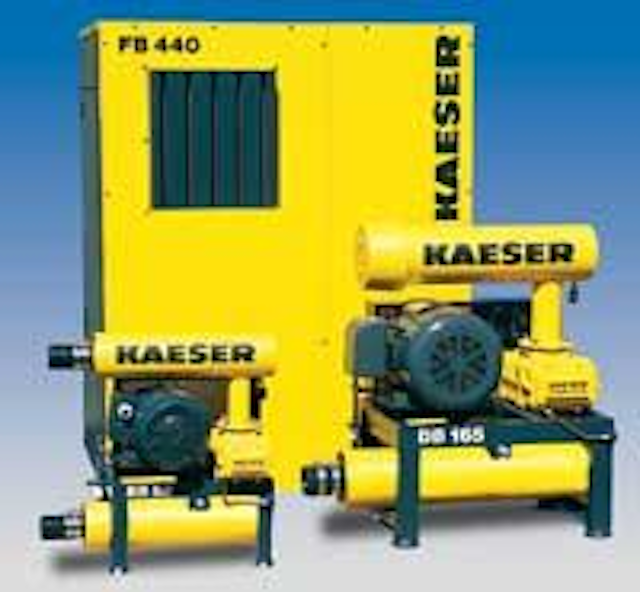 Click here to enlarge image
Kaeser Compressors' proprietary Omega-paK vacuum systems offer high-efficiency, heavy-duty construction and low noise levels at a competitive price. Ideally suited for dewatering applications, these positive displacement, rotary-lobe blowers are set up for vacuum operation with inlet and discharge silencers, an EPAct compliant TEFC motor and an automatic v-belt tensioning device. Vacuum packages are available with full size sound attenuating enclosures or compact clamshell "Vac-paKs" - that are ideally suited for municipalities.
Kaeser Compressors Inc.
Fredericksburg, VA
Tel: 800-777-7873
Web: www.kaeser.com
Blower package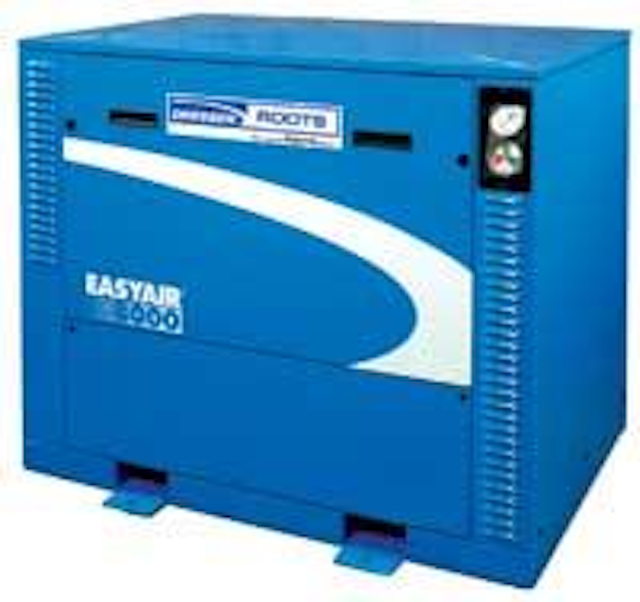 Click here to enlarge image
A new factory-engineered blower package, designed to operate 8,000 hours or more between scheduled maintenance, has been introduced by Dresser Roots. The EasyAir™ 8000 is a compact, pre-assembled, skid-mounted blower unit with all piping, valves, and instrumentation in place. Produced for both vacuum and pressure applications, the new package features a powder-coated noise enclosure for durability and quiet operation plus access for service/maintenance.
Dresser Roots
Houston, TX
Tel: 877-363-7668
Web: www.rootsblower.com
Odor control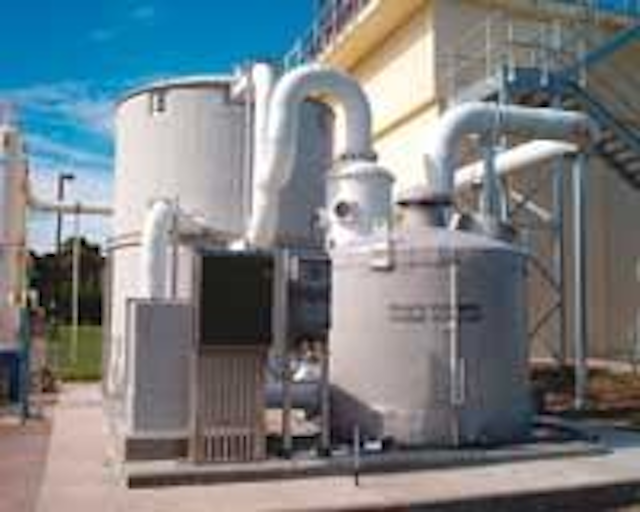 Click here to enlarge image
The newest addition to the Biocube line, the BMF-12 Odor Control System, is specifically designed to address higher-volume emissions associated with WWTP headworks, primary clarifiers, sludge management facilities and large pumping stations. The system's modular expandability and configuration flexibility combine to treat applications ranging from large pumping stations to entire waste treatment plants.
Biocube Inc.
Victor, NY
Tel: 585-924-2220
Web: www.biocube.com
Industrial dewatering
Geotube™ technology from Miratech provides high-volume dewatering or remediation. The high-strength system is first filled with sludge. Fabric confines the solids, and allows water to drain. Decanted water is often of a quality for reuse or release without additional treatment. Volume reduction is as high as 90%. Solids can then be removed for disposal. A single Geotube can handle up to 1,600 cubic yards of material a day. The system has been used with a wide variety of materials. A simple test determines efficiency.
Miratech/Div. of Ten Cate Nicolon
Commerce, GA
Tel: 888-795-0808
Web: www.geotube.com
Gas flow meter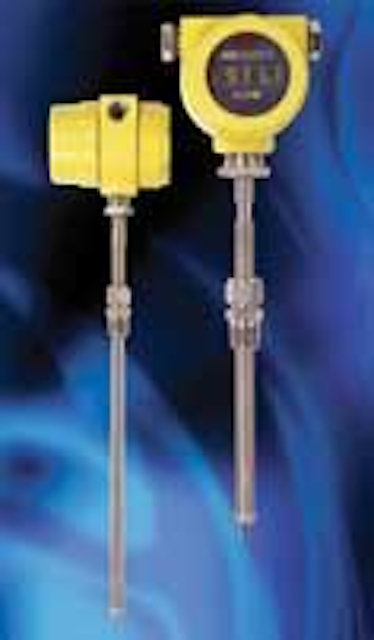 Click here to enlarge image
Designed with a thermal flow sensing element combined with an optimized feature set, the new ST50 Flowmeter from Fluid Components International (FCI) provides flow measurement of air, compressed air and nitrogen gas in line sizes from 2" to 12". The new flowmeter has no moving parts and prices begin at $995. It is ideal for use in municipal and industrial wastewater aeration control systems.
Fluid Components International
San Marcos, CA
Tel: 800-863-8703
Web: www.fluidcomponents.com
Sludge mixing

Click here to enlarge image
Litzler Environmental offers the patented HR-5000 mixing gun. The mixing gun is used in anaerobic digesters for municipal wastewater treatment plants. The guns feature a gas bubble generator mounted to the stackpipe for maximum mixing. A gas supply line is attached to an external compressor that releases gas under pressure into the interior chamber.
Litzler Environmental Inc.
Cleveland, OH
Tel: 216-267-8020
Web: www.litzlerenvironmental.com
Sludge reduction
Click here to enlarge image
The EIMCO® Sonolyzer™ Ultrasound Disintegration Reactor can be installed with existing anaerobic digestion equipment to increase biogas production and minimize sludge production. Applications include the treatment of filamentous or bulking sludge, sludge minimization in aerobic digesters, SVI control in activated sludge systems, and the enhancement of anaerobic digestion.
EIMCO Water Technologies
Salt Lake City, UT
Tel: 801-526-2400
Web: www.eimcowater.com
Polymer blending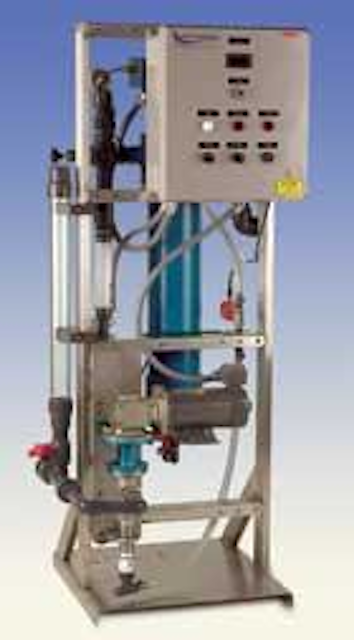 Click here to enlarge image
Fluid Dynamics has introduced the L Series dynaBLEND™ polymer blending and activation system. The series features diaphragm metering or progressing cavity pumps, plus a non-mechanical, high-energy polymer mixing chamber. Control options range from simple manual systems to fully instrumented PLC-based units with an unlimited variety of inputs and outputs. Standard units are available to provide activated polymer solution from 30 gph through 21,000 gph. Custom units are also available.
Fluid Dynamics Inc., a subsidiary of Neptune Chemical Pump Co.
Boulder, CO
Tel: 888-530-7300
Web: www.dynablend.com
Centrifuge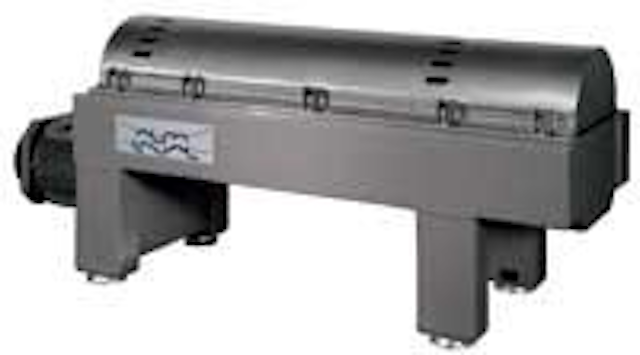 Click here to enlarge image
Alfa Laval offers the ALDEC 10 decanter centrifuge, a new small capacity, high-performance wastewater decanter. The centrifuge is suitable for handling throughputs of all types of sludge including those with very low (<1% DS) and very high solids content. It is a compact decanter designed to provide reduced sludge volume, less polymer consumption, lower life cycle costs, higher cake dryness and clearer effluent.
Alfa Laval Inc.
Richmond, VA
Tel: 804-236-1342
Web: www.alfalaval.us