A "Hybrid" Mobile and Fixed Network RF AMR System Approach
• A system that would provide, at minimum, a daily meter reading from each customer account to satisfy special read requirements - University students and large commercial/industrial users;
Jul 1st, 2005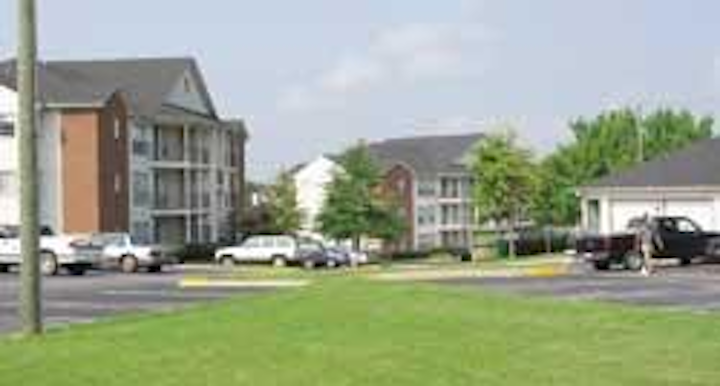 Auburn, AlabamaDesired Functionality:
• A system that would provide, at minimum, a daily meter reading from each customer account to satisfy special read requirements - University students and large commercial/industrial users;
• Technology that would enable AWWB to provide hourly usage data to key industrial customers;
• A cost-effective system that would require minimal resources to install, operate, and maintain;
• A system that would interface seamlessly with AWWB's existing mobile RF meter reading system - both from a hardware and software standpoint.
TimeTable
- Spring, 2001
- Installation of meters and MIU began
- Spring, 2002
- Began reading meters with
mobile data collector
- Spring, 2003
- Installation of EZNet Unit complete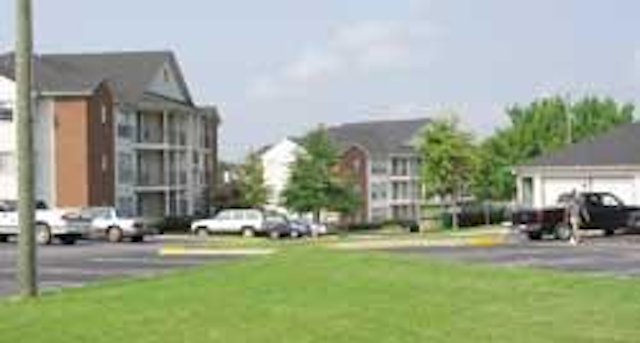 Click here to enlarge image
In the Spring of 2001, the Auburn Water Works Board (AWWB) began the installation of 12,000 Neptune residential water meters equipped with ProRead absolute encoders and R900 RF MIUs. The installation was completed in the spring of 2002 and AWWB began reading its meters with Neptune's EZDrive mobile RF data collection system. The results were better than expected, reducing meter reading collection from 720 man-hours to 64 man-hours (an improvement in efficiency of more than 90%!).
The Challenge
Click here to enlarge image
As Manager of the Water Works Board of the City of Auburn, Tony Segrest was faced with a unique meter reading challenge that is common to college town utilities. For a typical city with an average mix of single- and multi-family residential and commercial customers, mobile RF AMR technology is considered optimal. Auburn, however, is home to Auburn University, which has an annual enrollment of 25,000 students. Twice a year in May/June and again in July/August a large number of students move in and move out of apartments, requiring beginning and final reads. This relates to approximately 8,000 special reads annually and the number is growing as the University population expands. A large majority of AWWB's apartment communities have individually metered units, a plumbing design trend that is on the increase with commercial developers.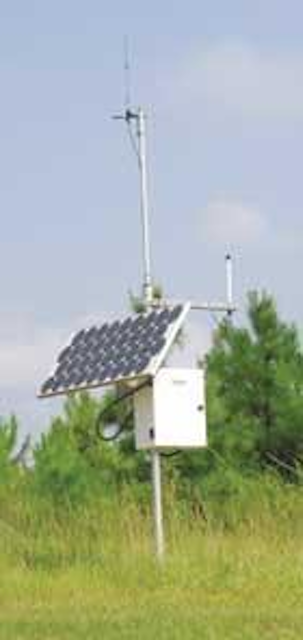 Click here to enlarge image
According to Mr. Segrest, "Mobile RF AMR technology dramatically improves meter reading efficiency; however, the large number of special reads coupled with response time requirements prompted AWWB to evaluate meter reading system options to complement our mobile technology. We needed a meter reading solution for apartment complexes and commercial/industrial customers that would provide a daily meter reading and water usage data when desired."
The Solution
AWWB was intrigued with Neptune's "hybrid" RF AMR system concept and decided to test Neptune's EZNet™ RF Fixed Network Data Collection System for its targeted applications. The EZNet System includes EZGate fixed-network data collection units and EZNet software. The EZNet RF fixed network system addressed all of AWWB's system requirements providing easy deployment and a seamless interface with EZRouteMAPS™ route management software and AWWB's Customer Information System. AWWB currently has EZGate units installed at a local industrial park providing hourly reads for 24 commercial customers and at two apartment complexes providing daily reads for approximately 300 units in total.
The Results

Click here to enlarge image
This new technology enables a hybrid approach to meter reading and has allowed AWWB to operate more efficiently by saving time and resources. AWWB no longer has to issue work orders for special read requirements where they have EZGate data collector units installed. With one touch of a button, customer service representatives can access a database to obtain the most current meter readings and provide on-demand reads upon request. This also improves the level of service AWWB provides to its customer base.
At an average cost of $11.00 per special read, AWWB estimates they can easily justify the deployment of EZGate fixed network data collectors where needed throughout their system and achieve a payback well within two years of deployment. With commercial/ industrial and institutional customers accounting for approximately 60% of its water revenue, AWWB now has a tool to monitor the water usage patterns of these key users and be responsive to their water use requirements. This contributes to improved levels of operational efficiency and customer service.
Conclusion
Mobile or fixed network AMR - which is the best choice for your utility? The answer is - both. AWWB is convinced that a hybrid mobile and fixed network technology is the best choice - mobile RF meter reading technology for single-family residential subdivisions where one monthly read is required for billing purposes, and fixed network RF technology for applications requiring more frequent reads.
Mr. Segrest states, "There is no need to feel pressured to choose between different meter reading technologies. Use a combination of systems that best fits the meter reading application. If you take this "hybrid" approach, you will minimize the overall cost of your RF AMR system infrastructure and maximize operational efficiency. Neptune's "hybrid" RF AMR system technology has exceeded our expectations."