Cellnet-Proving Utilities With The Solution To Turn Data Into Intelligence
Cellnet is the leading provider of wireless fixed networks for AMR in the utility industry.
Jul 1st, 2005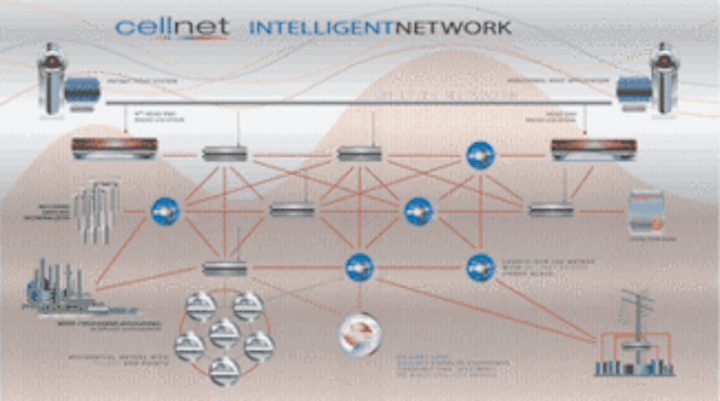 Creating An Intelligent Network
Cellnet is the leading provider of wireless fixed networks for AMR in the utility industry. We know that intelligent businesses require intelligent solutions - solutions that not only address single business issues, such as AMR, but also address multiple issues across the utility, consequently increasing the return on investment or shortening the break-even point for the business case.
Therefore, Cellnet developed the InfiNet® system by leveraging much of its industry proven, highly sophisticated, powerful, and fully developed AMR managed service system, which, with nearly 10 million meters deployed and read daily, is the most successful and widely used fixed network system in the industry today. This system can be broken down, at its most basic level, into four components: an endpoints layer and a concentrator layer (which combined form a local area network [LAN]), a wide-area network (WAN), and a software host layer.
The current market not only demands proven technology, but also flexibility of choice. We provide that by offering a multitude of different endpoints (electric, gas, and water) that are ready to be placed in the network today. We also provide that flexibility at the concentrator level by offering concentrators that function in both one-way and two-way communication environments. We then leveraged our host network operating system that not only delivers on-time data and system operating performance that goes beyond industry expectations, but also provides utilities with information simply not available with other AMR systems such as off-cycle, move-in/move-out reads, verification reads, usage monitoring, dynamic pricing, tamper, outage, and restoration notification.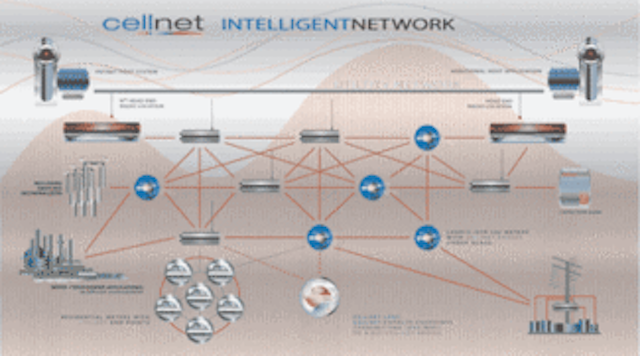 Click here to enlarge image
The heart of the system can be found in our innovative approach to the design of the WAN solution. We believe that a correctly designed WAN should not only provide the reliable and cost effective control, monitoring, and communication of AMR devices, but also should provide these benefits to multiple applications such as distribution automation (DA). Therefore, Cellnet incorporated our wireless two-way frequency hopping mesh network as the WAN backbone of the InfiNet system. This is powered by intelligent radios which form a network that not only brings the required system flexibility and scalability, but also brings a single infrastructure providing connectivity to implement everything from AMR to DA (control and monitoring functions) and outage management.
True Flexibility, Growth, And Migration
Cellnet is further enhancing the WAN by integrating the radios directly into commercial and industrial (C&I) metering devices. This will unlock all the valuable data found in advanced meters, while reducing the infrastructure required to get it in the customer's hands. Therefore the mesh network can be deployed for a targeted application, such as commercial and industrial AMR, while providing the platform for logical expansion into other utility applications. As more radios are deployed, and the network expands geographically, the addition of residential AMR is quickly and easily made.
Once this intelligent plug and play C&I AMR solution is deployed, the network can be used for additional applications such as:
• Outage notification and restoration verification,
• Load control, and
• Distribution automation functions to monitor and control pumps, capacitor banks, switches, distribution assets and load.
The Cellnet Difference
Cellnet truly created this Intelligent Network to provide the industry with the most features and benefits available on the market, and there are a number of features that set Cellnet apart from everyone else:
• We offer a field proven solution. While the combination is new, the technologies have been proven in the field, every hour of every day for over a decade.
• We offer flexible deployment options. Our processes and expertise support deployment no matter how large or small, complex or straight forward. The solution should be last thing to hold back a company.
• We offer a common endpoint technology. Whether the deployment is in an urban, suburban or rural community, a single endpoint technology ensures easy deployment.
• We offer a self-discovery endpoint. Our metering points begin sending metering data upon installation, which not only minimizes lost revenue but also lost meters.
• We offer retrofit flexibility. Our system does not dictate premature retirement of useful assets.
• We offer a robust feature set, ensuring that we meet all needed features and functional data requirements.
• We offer advanced metering capability at every endpoint. Our AMR system has an expected life of 15-20 years, and therefore it permits modifying customer-metering requirements without requiring a field visit.
• We offer unsolicited event reporting. Our solution, whether the system is one-way or two-way, notifies system operators as events occur.
• We offer site diagnostic system events. Our solution alerts the system operator when a customer meter site senses a potential issue. For suspected areas of theft, daily updates provide the support required to rectify the condition sooner.
•· We offer a secure Web-based host system. Our Web-based services allow a utility's employees to securely access the system from anywhere.
• We offer a scalable host. Our single host system supports a range of possibilities, whether the utility wants to install a portion of its territory or the entire area.
• We offer smart network management software. Our solution has established tools to manage the system devices.
• We offer flexible third-party integration. Our interfaces use industry standard file formats and we are committed to partnerships that result in the most reliable, most flexible, and most cost-effective solutions for our customers.
Corporate Summary
Cellnet, based in Atlanta, Georgia, supplies gas, water, and electric utilities with highly reliable, field-proven systems that enable them to communicate with residential and commercial and industrial (C&I) meters using wireless and IP network communications.
Cellnet has two major technologies, a fixed-network automated meter reading (AMR) direct sequencing technology and a wireless, spread spectrum mesh technology. With more than 10 million gas, water, and electric points deployed and working on the network today, Cellnet is the undisputed leading provider of fixed-network AMR to the utility industry. In addition, the Cellnet mesh technology, known to the market as UtiliNet, has been on the market for well over a decade and is currently in place at over 100 utilities throughout the United States, Canada, and Mexico.
The company has a long-standing presence in the industry and a strong reputation for innovative technology. In June 2004, the company entered into its most exciting chapter yet when the Cellnet management team, led by president and CEO Mike Zito, partnered with GTCR Golder Rauner, LLC, one of the nation's leading private equity firms, to acquire Cellnet from Atos Origin, who had acquired the business from Schlumberger Limited. Cellnet now operates independently for the first time in its history.
Cellnet remains focused and committed to providing its customers and the industry with the most reliable, highest quality, and cost-effective solutions available on the market.