Water Infrastructure Earns D- in ASCE Report
Bridges are crumbling. Roadways are gridlocked. Wastewater treatment plants often discharge untreated sewage into the nation's water supply.
Apr 1st, 2005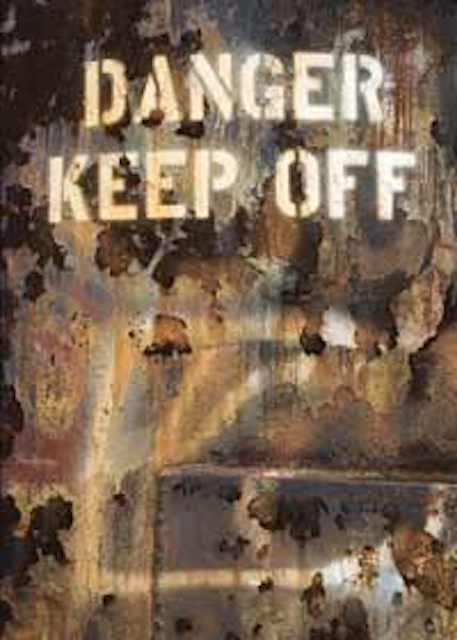 Click here to enlarge image
By Jeanette Brown
Bridges are crumbling. Roadways are gridlocked. Wastewater treatment plants often discharge untreated sewage into the nation's water supply. In short, the country's infrastructure is in serious trouble, according the American Society of Civil Engineers (ASCE) 2005 Report Card for America's Infrastructure, released on March 9, 2005.
The Report Card graded 15 infrastructure categories at a discouraging D overall and estimated the need for a $1.6 trillion investment to bring conditions to good levels. Furthermore, the grades in many areas have slipped since ASCE's last Report Card in 2001. Four years ago, drinking water and wastewater systems both received a D grade. This year, both earned a D-, and a warning: Current levels of federal funding simply will not be sufficient to maintain aging systems.
The past three decades have seen great strides in improved water quality. Since the passage of the Clean Water Act in 1972, the United States government has directly invested more than $72 billion in the construction of publicly owned sewage treatment works (POTWs) and their related facilities. Now, however, many of these facilities have reached the end of their useful lives - with no replacements in sight. The crumbling infrastructure and insufficient funding threaten to roll back much of the progress achieved in wastewater and drinking water systems.
Water systems are particularly troubling, as aging wastewater management systems discharge billions of gallons of untreated sewage into U.S. surface waters each year. Many areas throughout the United States have limited water supply, wastewater treatment and sanitary sewer capacity. Communities are not only faced with the capital costs associated with upgrades to these systems, but the ever increasing cost of operations and maintenance.
Many communities take their water supply from the same rivers and bodies of water that receive wastewater treatment plant effluent. However, as wastewater treatment plants age and effluent quality deteriorates, more is required by the water treatment plants to make the water safe for potable use. But water treatment plants are also aging and may not be able to treat water to a safe level. Aging infrastructure also contributes to a significant increase in sanitary sewer overflows, which lead to increased pollution of rivers and other waterways.
Yet in FY05, Congress cut wastewater funding under the Clean Water Act State Revolving Loan Fund (SRF) for the first time in eight years. The Bush administration has proposed further cuts for FY06. The proposed $730 million, a reduction of 33% from the FY05 enacted level, is woefully inadequate to serve the nation's wastewater needs.
Nor are the nation's 54,000 drinking water systems adequately budgeted. The federal funding level has remained relatively flat since FY97, with between $700 million and $850 million appropriated each year for the SRF. This leaves an annual shortfall of at least $11 billion needed to repair and replace failing systems.
In 2001, the U.S. Environmental Protection Agency (EPA) concluded that approximately $151 billion would be needed over 20 years to repair, replace and upgrade the nation's drinking water systems to protect public health. In 2002, the EPA estimated that over the next two decades, the United States needs to spend nearly $390 billion to replace existing wastewater infrastructure systems and build new ones.
The stakes are high. Water flows across state and local boundaries; problems in one jurisdiction can easily impact neighboring areas. Failure to meet funding needs over the next 20 years risks reversing the public health, environmental and economic gains of the last three decades. A recent report from the staff of the House Transportation and Infrastructure Committee stated bluntly; "Without increased investment in wastewater infrastructure, in less than a generation, the U.S. could lose much of the gains it made thus far in improving water quality, and wind up with dirtier water than existed prior to the enactment of the 1972 Clean Water Act."
Federal investment is critical. Local jurisdictions are ill-prepared to meet the unprecedented level of funding needed. Clean and safe water is no less a national priority than national defense, an adequate system of interstate highways and a safe and efficient aviation system, though those programs enjoy sustainable, long-term sources of federal backing, often through the use of dedicated trust funds. Under current policy, water and wastewater infrastructure do not.
ASCE supports enactment of a federal water infrastructure trust fund act that would provide a reliable source of federal assistance for the construction and repair of POTWs and water treatment plants to reduce the enormous funding gap. In the interim, annual appropriations of $1.5 billion from the federal general fund for the SRF program would help meet the most pressing needs.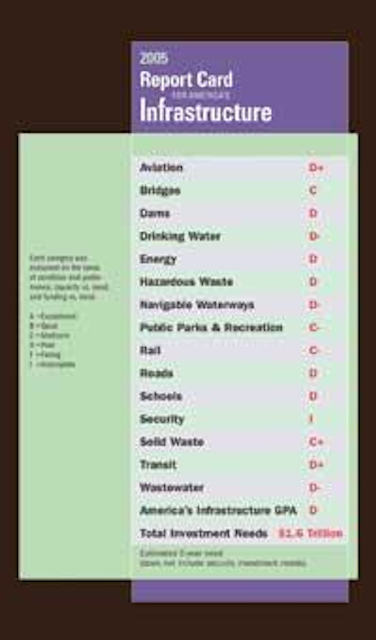 Click here to enlarge image
ASCE also supports the establishment of a federal capital budget to create a mechanism to help reduce the constant conflict between short-term and long-term needs. The current federal budget process does not differentiate between expenditures for current consumption and long-term investment, causing major inefficiencies in the planning, design and construction process for long-term investments. A capital budget system would help increase public awareness of the problems and needs facing this country's physical infrastructure and help Congress focus on programs devoted to long-term growth and productivity.
Finally, research into water reuse and purification technology and wastewater treatment technology is critical to help reduce capital expenditures as well as operation and maintenance costs.
Unfortunately water concerns, while pressing, are only a fraction of the infrastructure problems facing the United States. The ASCE Report Card evaluated 13 other infrastructure categories - aviation, bridges, dams, energy, hazardous waste, navigable waterways, public parks and recreation, rail, roads, schools, security, solid waste and transit - grading none above a C+. In fact, many of the categories have seen a significant decline since the last Report Card was issued in 2001.
In many cases, the same lack of funding that is threatening drinking water and wastewater systems is also wreaking havoc in other areas. Federal funding for "Superfund" cleanup of the nation's worst toxic waste sites reached its lowest level since 1986 in FY05. The National Park Service estimates a maintenance backlog of $6.1 billion for their facilities, leaving many public parks, beaches and recreational harbors in disrepair. And while gridlock and road conditions in many areas are reaching crisis level, long-term Federal transportation programs remain unauthorized since expiring on Sept. 30, 2003.
Federal and state budget crises have combined with population growth, urban sprawl and the redirection of maintenance and growth funding toward security concerns to create a dangerous downward trend. Meanwhile, the situation grows consistently more dire. The nation's infrastructure - which many people take for granted - continues to crumble, and the estimated cost of fixing the problem continues to rise. High-profile infrastructure failures such as the 2003 blackout that left tens of millions without power in the Northeast and Midwest focus attention on the problem for a short time, but public awareness soon fades. To avoid the risk of additional catastrophic failures, infrastructure concerns must take center stage and funding levels must increase.
About the Author:
Jeanette A. Brown, P.E, DEE, F.ASCE, is the executive director of Stamford Water Pollution Control Authority. She is also an adjunct professor of environmental engineering at Manhattan College. Brown has 30 years experience in wastewater treatment. She is considered an authority on operations of biological nitrogen removal processes and sludge management. She is currently vice-president of the ASCE Environmental and Water Resources Institute.