Line Stopping Aids in Valve Install
Residents of Northbrook, IL, a Chicago suburb, woke the morning of Saturday, September 11, 2004, to no water when a water main broke at Dundee and Lee Roads.
Apr 1st, 2005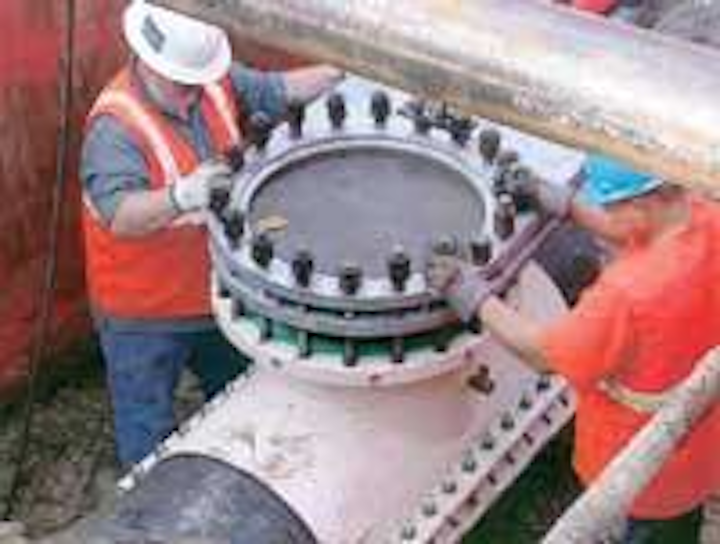 Residents of Northbrook, IL, a Chicago suburb, woke the morning of Saturday, September 11, 2004, to no water when a water main broke at Dundee and Lee Roads. A rare lengthwise crack in the 24" water main - the second largest in Northbrook's 164-mile system - occurred just before midnight on Friday at the lowest elevation point of the entire system.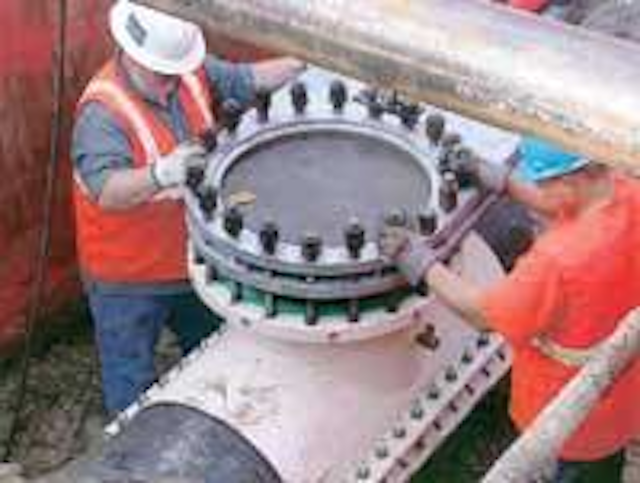 Click here to enlarge image
Because of the break, 1.5 million gallons of water were released, requiring the first system-wide shutdown since 1970. Residents were without water for 15 hours with a legally required boil order issued in response to the drop in water pressure, although chlorine residual testing showed little chance of contamination. The boil order lasted four days.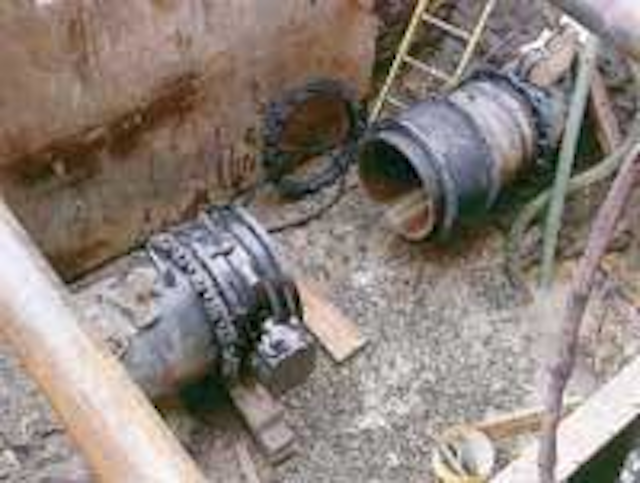 Click here to enlarge image
Aided by various contractors, city crews worked throughout the night to remove the 20' section of cracked pipe. Joseph Ravagni, Northbrook's water distribution supervisor, reported that he had "never experienced such a large diameter water main completely split from one end of the pipe to the other."
Normally, a fracture occurs circumferentially around a pipe, not along a linear path. Without control valves to isolate the problem area, the water plant had little choice but to shut down.
Over the next four days, the necessary repairs were made, restoring water to the citizens of Northbrook. While this was good news for water customers, city personnel were concerned about the possibility of another break in the main. Questions remained in the minds of Ravagni and other local officials as to what they could do to be better prepared for future breaks and what their emergency plan should entail.
Once a water main breaks, system pressure changes during the repair phase. Severe pressure changes inside a pipe are often violent, adding additional stress to aged pipes and causing joints to crack, break or leak. A contributing factor to further pipe damage following a main break is the introduction of air.
The solution was to install strategically place valves to control the flow of water in the event of another break.
City officials contracted Severn Trent Services in nearby Alsip, IL. Using a technique known as line stopping to isolate the flow within the line, Hydra-Stop valves were inserted to allow stopping the flow of water without system disruption. A double line stop was performed on the 24" cast iron pipe along Dundee Street, "the busiest street in Northbrook," according to Brad Tolman, Severn Trent Services supervisor of service.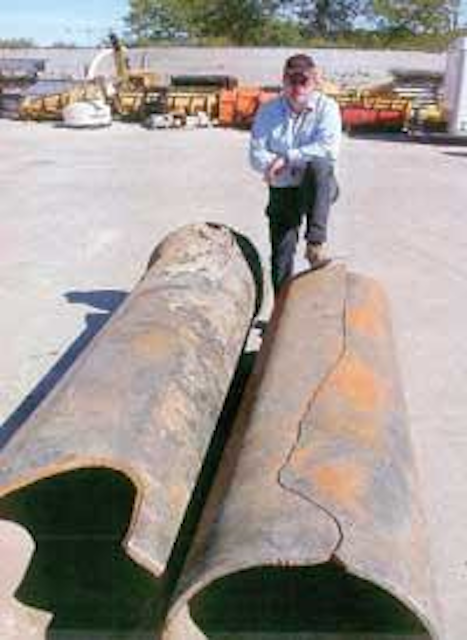 Joseph Ravagni, Northbrook's water distribution supervisor, stands with the damaged pipe section.
Click here to enlarge image
Line stopping is essentially the installation of a temporary valve in a line where one presently does not exist. The existing pipe serves as part of the sealing surface for the temporary valves. There are four general types of line stops or pressure plugs. The most popular is the method used at Northbrook where an elastomer cup seals against the pipe bore. This seal is effected by line pressure and is available in the greatest range of pressures and sizes. The quality of the stop (little to no leakage) was superb.
With little room to work due to the high concentration of traffic, two 24" control valves were installed in the main, eliminating future water plant shut downs and boil orders and ensuring customers of a steady and safe water supply.
Reflecting on the incident, James Reynolds, Northbrook's city manager, stated, "Everything was safe, no one was injured or killed during this emergency and [Severn Trent Services] got the job done."
Brett Hanes, Severn Trent Services Vice President - Hydra-Stop Products, remarked that "under the critical time constraints and quality water issues at stake, Northbrook provided safe working conditions for the contractors and crew. The trench was professionally shored up according to OSHA standards. We were please with the overall safe working conditions provided us by the Village and the opportunity to assist them during this critical period."
Northbrook, IL now rests easy knowing that they have planned ahead and strategically taken control of their water main issue through the installation of adequate valves.