PRODUCTS & SERVICES ODOR CONTROL
Altivia offers Nitrazyme™ Plus, a proprietary nitrate blend designed to control odor causing sulfides and related malodors...
Apr 1st, 2005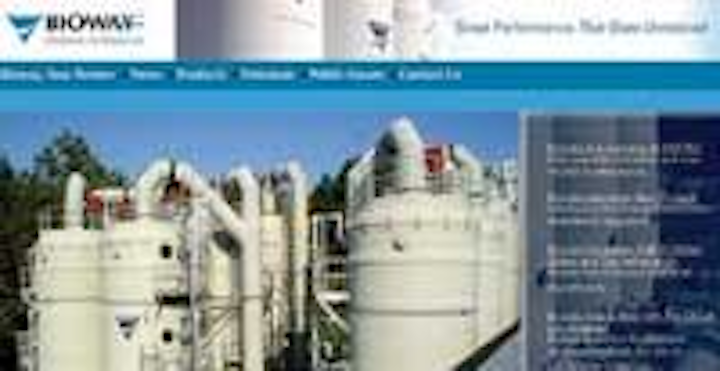 Odor control
Altivia offers Nitrazyme™ Plus, a proprietary nitrate blend designed to control odor causing sulfides and related malodors as well as prevent the biological generation of sulfides. The product provides a source of bound oxygen (nitrate-oxygen) to naturally occurring facultative anaerobic denitrifying bacteria present in wastewater, which these bacteria metabolize preferentially over alternative sources of oxygen such as sulfate.
Altivia Corp.
Houston, TX Tel: 866-258-4842 Web: www.altivia.com
Air scrubber
The Duall AroBIOS™ Bioscrubber System, a biological air pollution control technology, removes odors and gaseous contaminants such as ammonia, hydrogen sulfide and other reduced sulfur compounds without the use of chemicals or costly incineration methods. The system provides low gas retention times; has an easy access, low profile design; uses non-degradeable AroPAC™ biomedia; comes factory pre-assembly with mixed flow exhauster.
Duall Division, MetPro Corp.
Owosso, MI Tel: 989-725-8184 Web: www.dualldiv.com
Odor control
Click here to enlarge image
Bioway America had revised its web site, which provides information on the company's odor control products, installations and much more. Visitors can submit a form so that the company's technical staff can evaluate their air or water situation to develop a customized odor elimination solution. The company's products all use PermaPac™, a structured synthetic media that provides biological removal of odorous compounds.
Bioway America Inc.
Marlton, NJ
Tel: 856-988-9414
Web: www.bioway.com
Odor control sleeve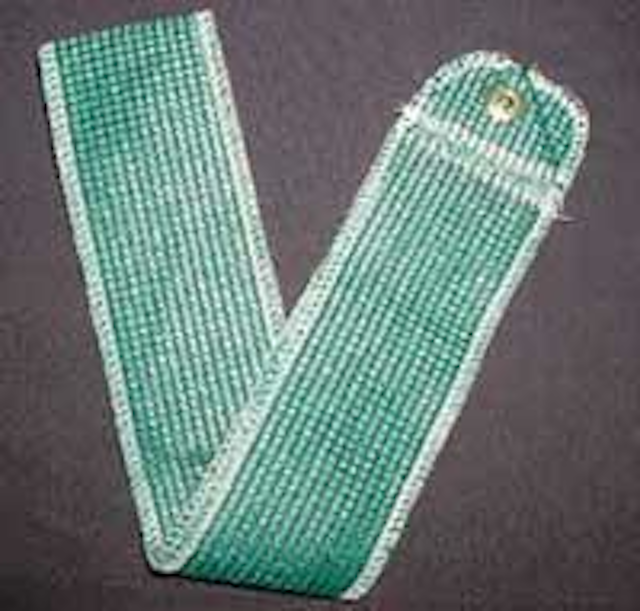 Click here to enlarge image
Odor Control Co. has introduced a new WindScent sleeve made from a more durable and porous material that creates better airflow and improves the effectiveness of odor neutralizing granules. The sleeve lasts longer in all kinds of inclement weather. The sleeves use neutralizing granules to remove odors around water treatment plants. OCC products come from natural essential oils that are non-toxic. Sixteen standard neutralizers combat most odors.
Odor Control Co., Inc.
Tel: 888-948-3956
Web: www.odorcontrolco.com
Roof exhaust systems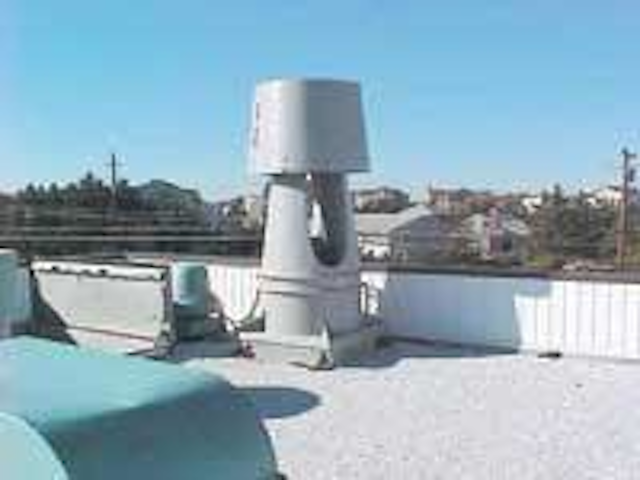 Click here to enlarge image
Tri-Stack™ roof exhaust systems - with their mixed flow technology operation - provide an efficient method of odor control at wastewater treatment facilities. Odor is eliminated by dilution - mixing fresh air with the wastewater process exhaust gases until a suitable concentration is reached and the odor is no longer perceptible or objectionable. Dilution is achieved either through direct dilution - by drawing fresh air into the fan to mix with the exhaust stream before it leaves the fan; or, indirectly - where the exhaust stream from the fan is diluted by the atmosphere.
Strobic Air Corp.
Harleysville, PA
Tel: 215-723-4700
Odor control media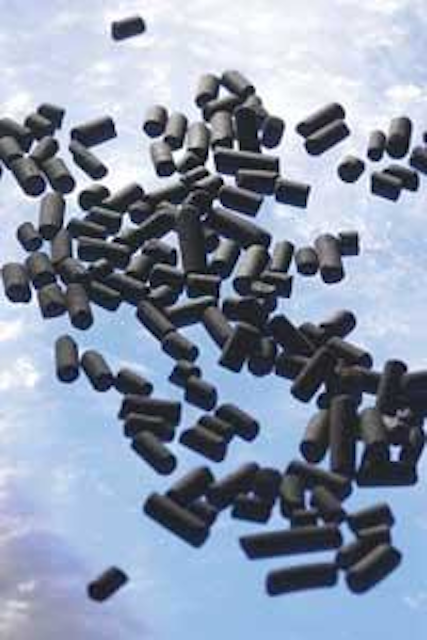 Click here to enlarge image
MidasOCM (Odor Control Media), available from USFilter, is an innovative media used in conventional deep bed carbon adsorber odor abatement systems to eliminate nuisance odors associated with hydrogen sulfide and organics. The OCM adsorbs the odorous compounds as contaminated air passes over the carbon. It can be used in any deep bed adsorber application where virgin, impregnated or water-wash carbons are currently used.
USFilter
Tel: 724-772-1324
Web: www.usfilter.com
Odor scrubber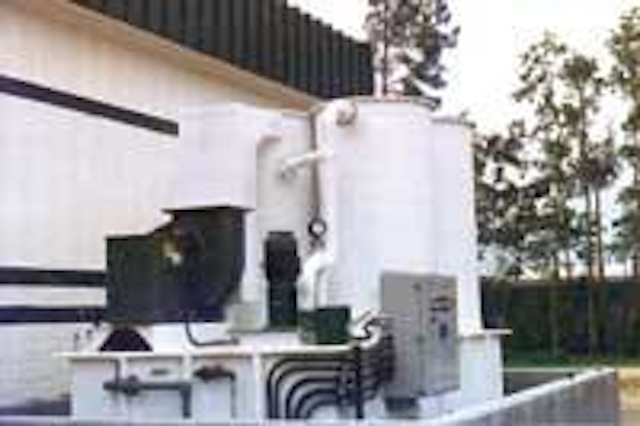 Click here to enlarge image
The Type SOS - SideWinder Odor Scrubber™, available from Severn Trent Services, is a low-profile multistage gas absorption system for capacities to 20,000 cfm. The system contains two or more sumps for use with two or more chemical solutions to treat odors emanating from wastewater treatment plants, composting sites, and other industrial sites that generate odors. Caustic and bleach solutions treat hydrogen sulfide and other sulfur bearing compounds, indoles, skatoles, and other organic compounds. Sulfuric acid solutions treat ammonia, amines, and other basic compounds.
Severn Trent Services
Colmar, PA Tel: 215-997-4000 Web: www.severntrentservices.com
Adsorbent medium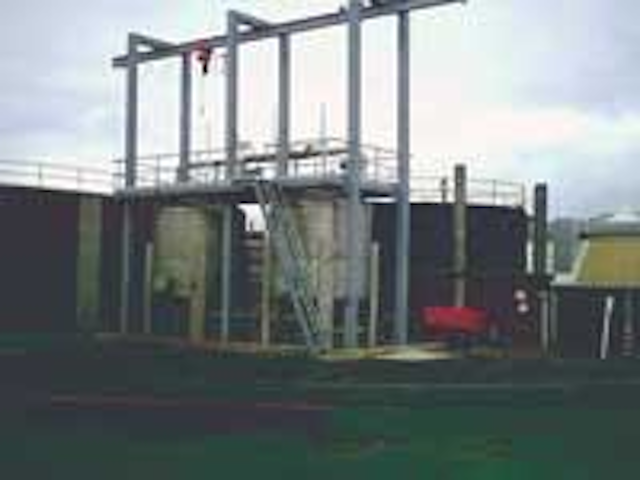 Click here to enlarge image
Sulfa-Bind™, available from ADI International, is a new, granular, adsorbent medium for removing hydrogen sulfide from contaminated air and gas streams at wastewater treatment plants. Used in fixed bed scrubbers, it is ideal for treating high H2S concentrations (100 ppmv to 10,000 ppmv and higher). It can adsorb 40% to 50% of its weight with H2S.
ADI International Inc.
Fredericton, NB Canada Tel: 506-451-7407 Web: www.adi.ca
Odor neutralizer
Click here to enlarge image
EcosorbNatural Organic Odor Neutralizer, available from OMI Industries, removes a wide spectrum of odors from the air without using fragrances or harsh chemicals. Instead, it uses patented technology to eliminate unwanted odors by neutralizing them, rather than simply masking them. The product is typically diluted with water and sprayed into odorous areas in an atomized mist.
OMI Industries
Barrington IL 60010
Tel: 847-304-9111
Web: www.odormanagement.com
Odor control products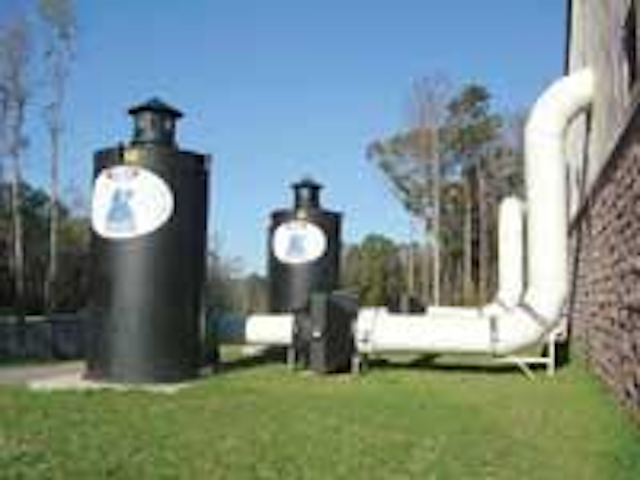 Click here to enlarge image
Calgon Carbon Corporation provides a number of products and technologies to treat odors that emanate from sources such as municipal and industrial wastewater treatment operations, agricultural processes, and industrial processes where odorous compounds are released. It offers products based on activated carbon, biological oxidation and chemical absorption / wet scrubbing.
Calgon Carbon Corp.
Pittsburgh, PA
Tel: 800-422-7266
Web: www.calgoncarbon.com
Tank covers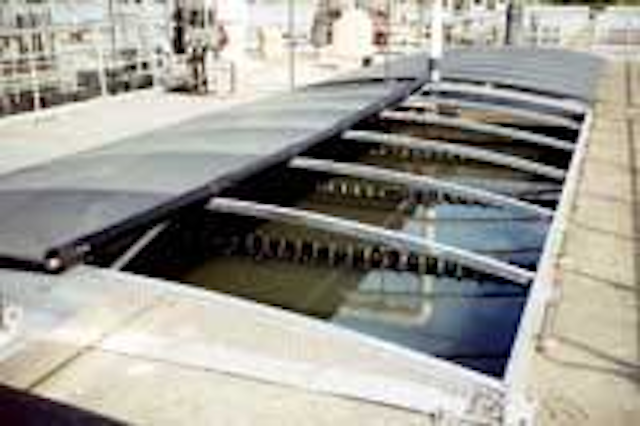 Click here to enlarge image
GTI's retractable, structurally supported cover system consists of a sheet of high strength, UV-protected, coated fabric tensioned across a series of low profile aluminum arches which span a tank opening. Applications include odor control, blocking sunlight, temperature control, or preventing debris from entering the tank. The fabric cover is sufficiently air tight to allow a ventilation system to function, yet it can be detached on three sides and retracted to expose the tank contents for inspection or maintenance.
Geomembrane Technologies Inc.
Fredericton, New Brunswick
Tel: 506-452-7304
Web: www.gti.ca