PRODUCTS & SERVICES — AERATION SYSTEMS
Designed with a thermal flow sensing element combined with an optimized feature set for wastewater treatment aeration applications, the new ST50 Flowmeter...
Feb 1st, 2005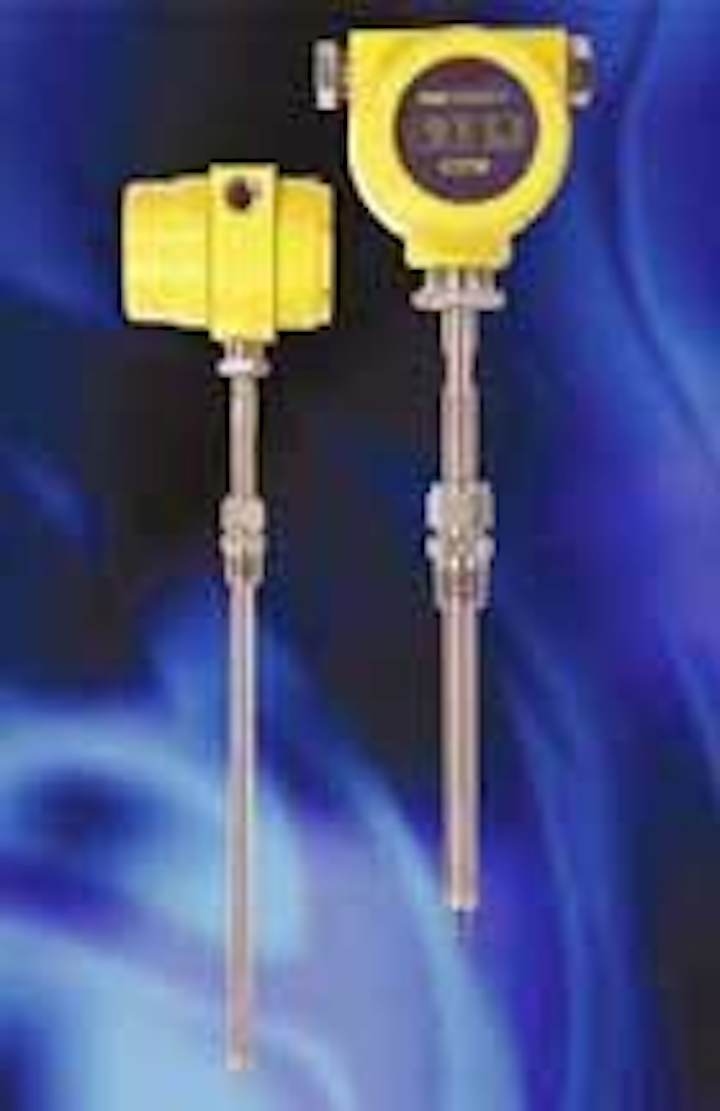 Flowmeter
Click here to enlarge image
Designed with a thermal flow sensing element combined with an optimized feature set for wastewater treatment aeration applications, the new ST50 Flowmeter from Fluid Components International (FCI) measures air in line sizes from 2" to 12". It measures air flow from 1 to 125 SFPS. Accuracy is +2% of reading, +0.5% of full scale, with repeatability of +0.5% of reading.
Fluid Components International
San Marcos, CA
Tel: 800-863-8703
Web: www.fluidcomponents.com
Diffusers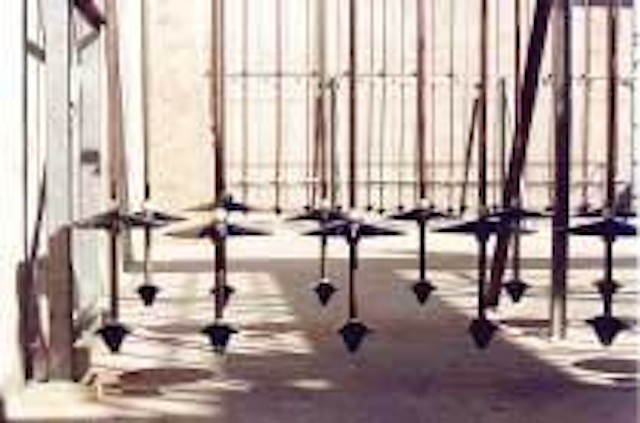 Click here to enlarge image
Enviroquip offers diffusers for use in coarse and medium bubble aeration in water and wastewater treatment applications. Its MS coarse bubble diffuser and TransMAX medium bubble diffusers are drop type diffusers that can be used alone or in conjunction with shear or draft tubes. Separating the air-metering orifice from the diffuser and locating the orifice above the liquid level in the basin eliminates clogging.
Enviroquip Inc.
Austin, TX
Tel: 512-834-6020
Web: www.enviroquip.com
Blower packages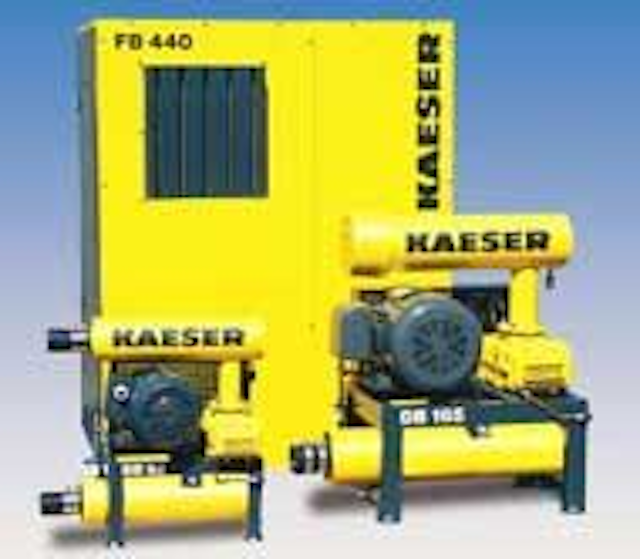 Click here to enlarge image
Kaeser Compressors offers a complete line of Omega-paK blower packages with sound enclosures. These low noise units are ideally suited for aeration processes in municipal wastewater treatment facilities. The packages are available in flows to 5,350 cfm at pressures to 15 psig and vacuums to 15" Hg. Units feature long bearing life, total splash lubrication, heavy duty construction, plus a two year warranty and 24-hour emergency parts replacement guarantee.
Kaeser Compressors Inc.
Fredericksburg, VA
Tel: 800-777-7873
Web: www.kaeser.com
Floating aerator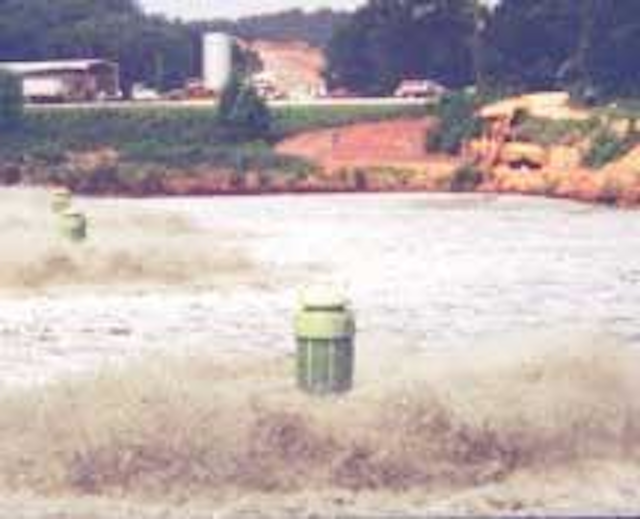 Click here to enlarge image
The Aqua-Lator(r) aerator, available from USFilter, is a high speed floating mechanical aerator for wastewater treatment. The powerful pumping action transfers oxygen by breaking up the wastewater into a spray of particles, creating more surface area for atmospheric pressure to drive oxygen into the wastewater.
USFilter Aerator Products
Roscoe, IL
Tel: 815-623-2111
Web: www.usfilter.com
Aerator/mixer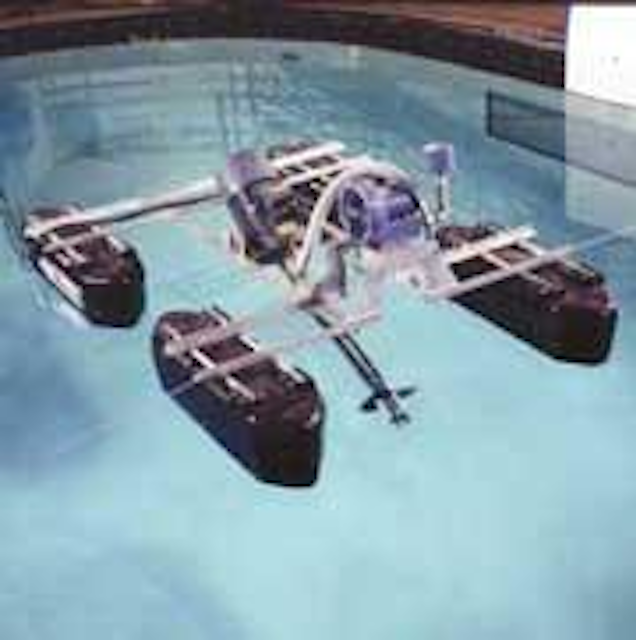 Click here to enlarge image
Aeration Industries' Aire-O2 Triton(r) aerator/mixer provides oxygen transfer and mixes up to 33 feet deep. The system can provide biological nutrient removal by combining mixing, aeration, and BNR in a single compact unit with separate on/off modes. The separate on/off modes allow for complete BNR with the aerator's dual-function control of nitrification and denitrification.
Aeration Industries International, Inc.
Chaska, MN
Tel: 800-328-8287
Web: www.aireo2.com
Fine bubble diffusers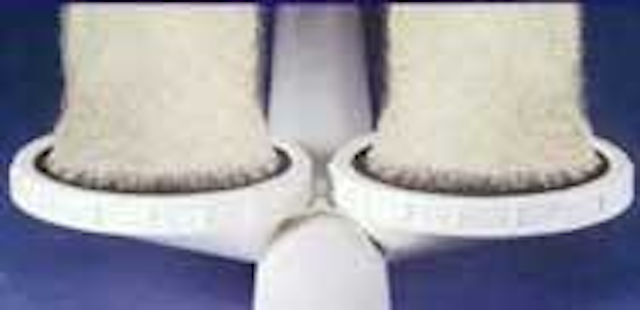 Click here to enlarge image
The DualAir(r) fine bubble diffuser system from USFilter Envirex Products offers increased aeration for each foot of air manifold pipe. The unique dual pod design, available with either membrane or ceramic media, consists of two diffuser bases molded together with a curved saddle formed between them. Advantages include fewer air diffuser headers, support stands, couplings, end caps, and manifold connections.
USFilter Envirex Products
Waukesha, WI
Tel: 800-524-6324
Web: www.usfilter.com
DO sensor, transmitter
The Züllig dissolved oxygen system, available from Emerson, significantly reduces cleaning and calibration frequency in harsh wastewater treatment environments. This non-membrane galvanic sensor has two insulated electrodes continuously polished by a rotating diamond grindstone. The self-cleaning process eliminates the tasks of cleaning and replacing membranes and replenishing the electrolyte solution.
Emerson Process Management
Irvine, CA
Tel: 800-854-8257
Web: www.raihome.com
Aeration systems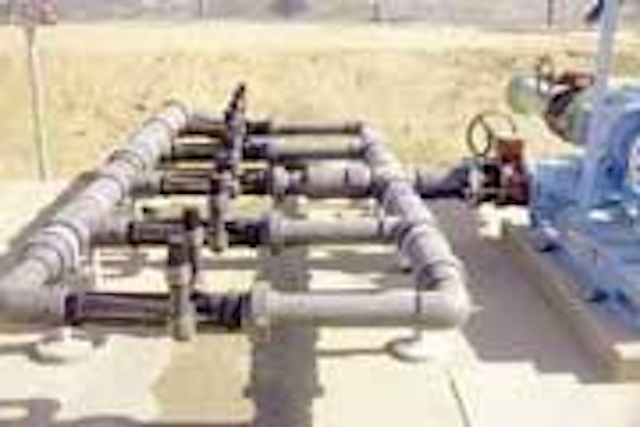 Click here to enlarge image
The patented Mazzei AirJection(r) System delivers dissolved oxygen to any depth in municipal water bodies needing complete aeration. The system is SOTR tested and certified and Alpha values have been independently tested to 1.0. It produces predictable, thorough aeration without the use of blowers and diffusers.
Mazzei Injector Corp.
Bakersfield, CA
Tel: 661-363-6500
Web: www.mazzei.net
Wastewater treatment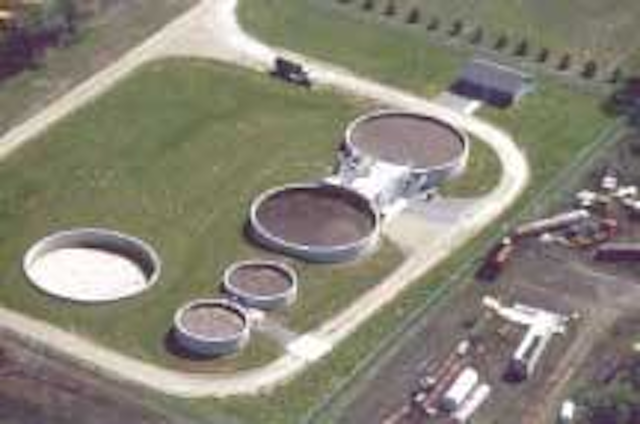 Click here to enlarge image
USFilter Jet Tech Products is a full service specialist in wastewater treatment systems using advanced biological nutrient removal processes. The company offers Sequencing Batch Reactors (SBR), Jet Aeration/Jet Mixing equipment, and process design for industrial and municipal wastewater treatment applications. Its Omniflo(r) SBR system is a fill and draw, non-steady state activated sludge process in which one or more reactor basins are filled with wastewater during a discrete time period, and then operated in a batch mode.
USFilter Jet Tech Products
Edwardsville, KS
Tel: 913-422-7600
Web: www.usfilter.com
Aeration system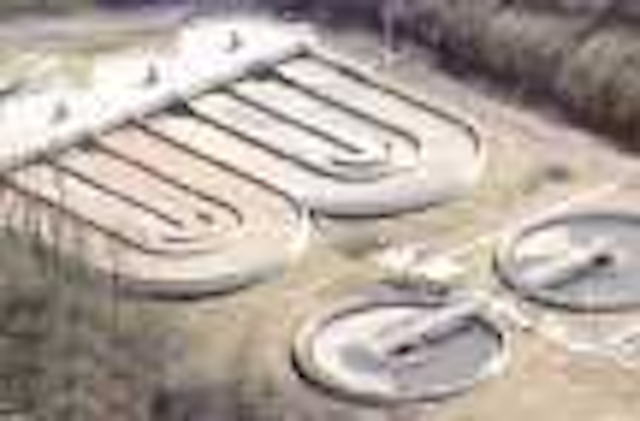 Click here to enlarge image
Philadelphia Mixing Solutions has announced the availability of its new HALO (High Aeration, Long Oxidation) System with the ability to provide extended aeration performance in an economical, low maintenance package. The turn-key system uses the latest advances in low-speed surface aerators and other proven technologies to control BOD removal, nitrification/denitrification, and biological phosphorous removal.
Philadelphia Mixing Solutions
Palmyra, PA
Tel: 800-956-4937
Web: www.philamixers.com
Process monitor, control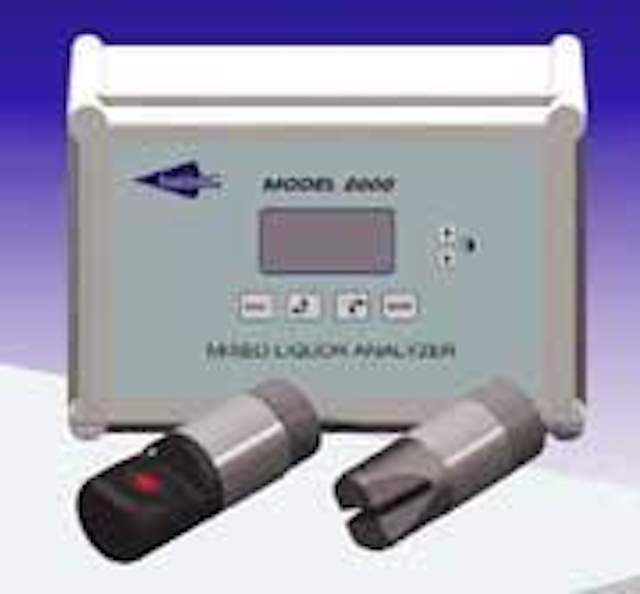 Click here to enlarge image
Dissolved oxygen and suspended solids are two of the most important controllable parameters in any biological reactor. Stabilizing these two parameters will reduce operation costs and enhance process performance. Insite Instrumentation Group's Model 2000 will make both of these crucial measurements. The dissolved oxygen sensor is an optical design that eliminates the need for replaceable membranes, sensor caps, cartridges, and fill solutions.
Insite IG
Slidell, LA
Tel: 985-639-0006
Web: www.insiteig.com
DO measurement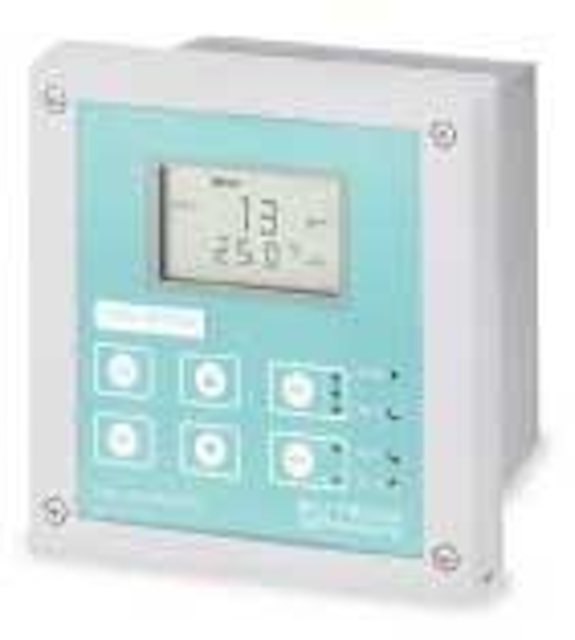 Click here to enlarge image
Eutech Instruments has introduced the new DO 2000, an advanced 1/2-DIN controller for dissolved oxygen measurements. The instrument features a measurement range of 0 to 20 ppm or 0 to 200% saturation, making it ideal for use in a variety of applications including water treatment and monitoring. This CE-approved controller offers on/off, proportional (P), or proportional integral (PI) control modes with pulse length or pulse frequency determinants.
Eutech Instruments America
Vernon Hills, IL
Tel: 888-358-4710
Web: www.eutechinstamerica.com
Jet aeration, mixing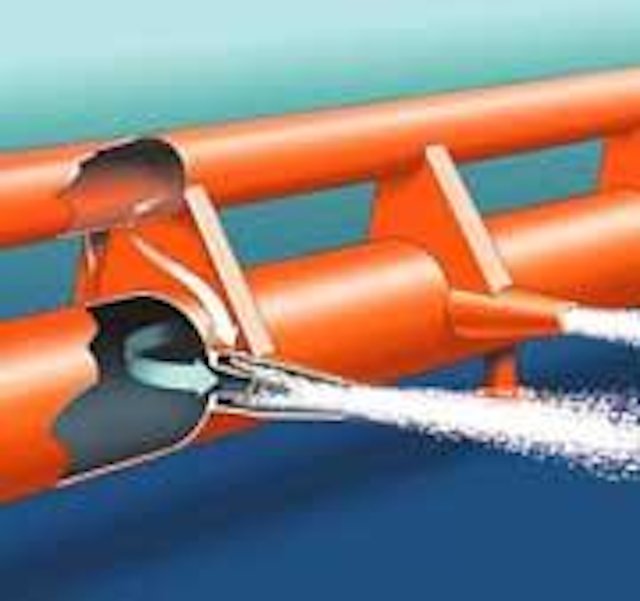 Click here to enlarge image
MTS (Mass Transfer Systems) for more than 20 years has specialized in the supply of jet aeration and jet mixing systems for biological wastewater processes. The majority of its products are engineered systems consisting of MTS jet aerators, in-basin piping, recirculation pumps, blowers, and out-of-basin piping and accessories. The company also offers the Multi-Aspirator submersible aerator, which provides efficient aeration without the need for a blower.
Mass Transfer Systems
Walpole, MA
Tel: 508-660-9150
Web: www.mtsjets.com
Centrifugal compressor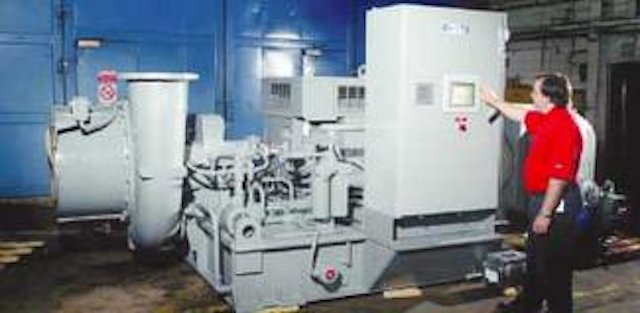 Click here to enlarge image
The Dresser Roots IGCH is a single-stage centrifugal compressor designed to meet air and gas compression needs. The compressor features a horizontally-split gear case with bearing and seals that allow routine maintenance with the blower still in place. Diffuser vanes teamed with inlet guide vanes improve efficiency throughout the operating range.
Dresser RootsHouston, TX
Tel: 877-363-7668
Web: www.rootsblower.com
Aeration system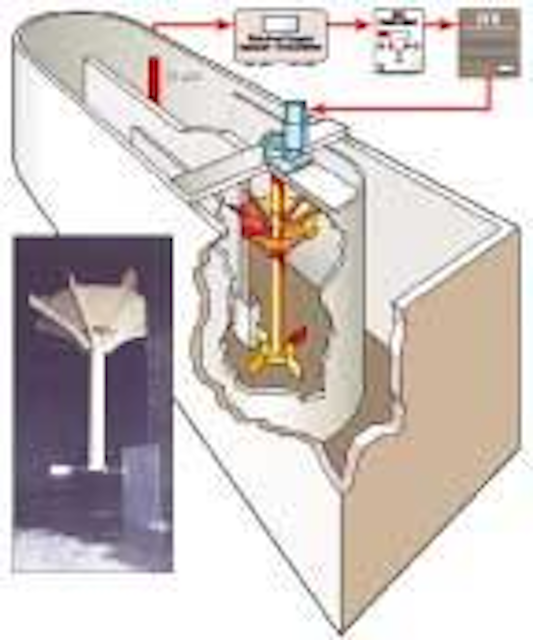 Click here to enlarge image
EIMCO(r) has introduced a patented Dual Impeller Aerator for use with the company's Carrousel(r) oxidation basin system. Combined with the benefits of the Carrousel's surface aerator, the dual impeller aerator incorporates a specialized "lower turbine" which is attached to the same shaft. Locating the lower turbine near the floor of the basin directs mixing energy along the floor, thus augmenting channel velocities provided by the surface impeller.
EIMCO Water Technologies
Salt Lake City, UT
Tel: 801-526-2400
Web: www.eimcowater.com
RBC aeration
The SideCar(tm) RBC Aeration product line of Jones/MacCrea Inc. has been acquired by Mooers Products. The system is a sectionalized method of introducing supplemental aeration into existing RBC tanks with minimal disruption of the process. The system helps control excess biomass and helps provide a higher quality effluent within two weeks. The improved performance can allow overloaded RBC plants to postpone plant expansion.
Mooers Products Inc.
Glendale, WI
Tel: 800-432-4410
Web: www.mooersproductsinc.com
DO monitoring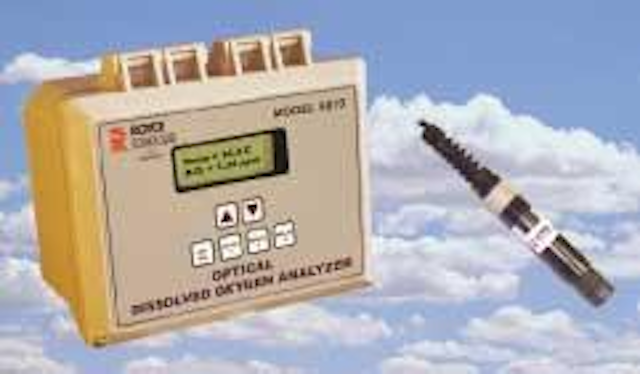 Click here to enlarge image
The Royce Model 9810/98 Optical Dissolved Oxygen (DO) monitoring and control system is designed for use in wastewater treatment, aquaculture, environmental and industrial markets. The key to this new technology is the patented Model 98 DO sensor. It is a fluorescent emitting sensor that monitors the optical phased shift of the luminescent quenching of a fluorophore during its contact with oxygen.
Royce Technologies
New Orleans, LA
Tel: 800-347-3505
Aeration system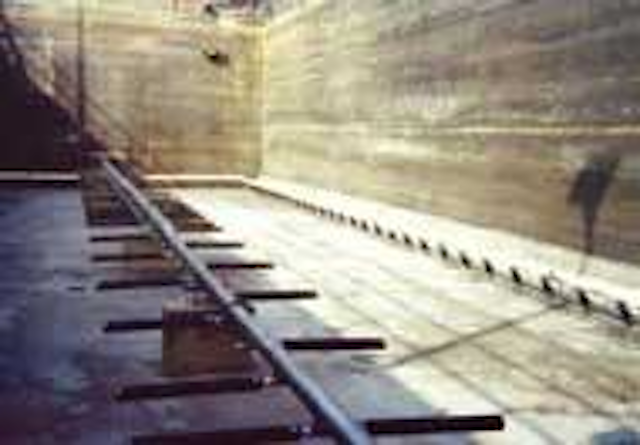 Click here to enlarge image
Tideflex Technologies' aeration system combines coarse and fine bubble aeration components to improve mixing and oxygen transfer while preventing backflow and clogging. The custom-designed system uses the Tideflex(r) TFA coarse bubble diffuser to provide rapid mixing while Tideflex Technologies' Fine Bubble Air Diffuser provides the fine bubble supplement.
Tideflex Technologies Inc.
Pittsburgh, PA
Tel: 412-919-0919
Web: www.tideflex.com
Aeration technologies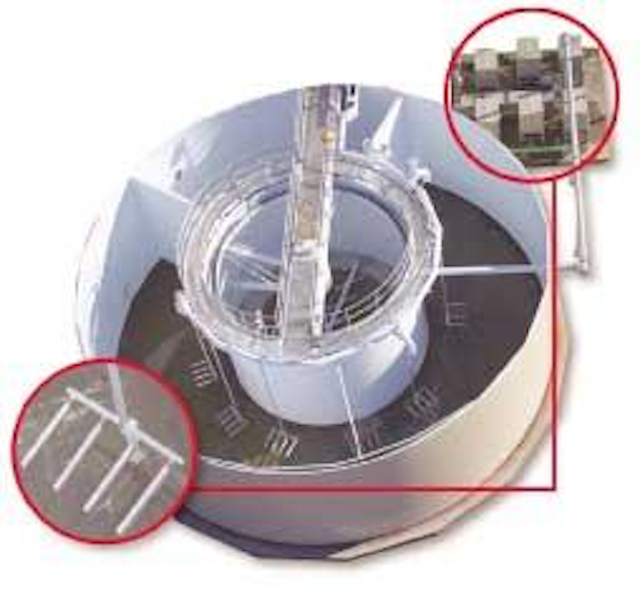 Click here to enlarge image
Ashbrook Simon-Hartley provides a selection of aeration technologies specifically designed for difficult wastewater applications. These include Bio-Plus(tm) Technology aeration systems and Opti-ProSM Blower Packages and aeration-related components (i.e., diffusers, valves, fittings, etc.). The Bio-Plus Systems are fully engineered and are provided complete with drop pipes and diffusers.
Ashbrook Simon-Hartley
Houston, TX
Tel: 800-362-9041
Web: www.ashbrookcorp.com
DO sensor
Click here to enlarge image
In-Situ's integrated RuggedDO (RDO) sensor for the Multi Parameter Troll 9000 water quality probe uses recent advances in lifetime-based optical fluorescence sensor technology to provide a stable, low maintenance dissolved oxygen sensor. The technology eliminates the need for membranes, ending the need for stirring and allowing deployment for many months without need for re-calibration.
In-Situ Inc.
Fort Collins, CO
Tel: 800-446-7488
Web: www.in-situ.com