Study Examines Membrane Filtration Market
Once considered an intricate and futuristic technology, membrane filtration and separation technologies have undergone significant technological advancement in recent decades.
May 1st, 2005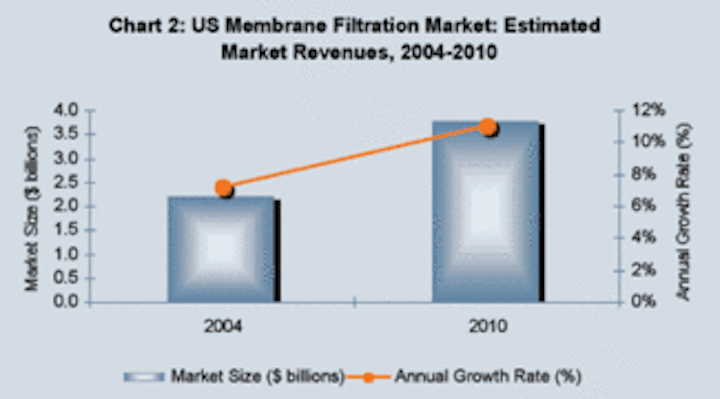 Once considered an intricate and futuristic technology, membrane filtration and separation technologies have undergone significant technological advancement in recent decades. Such progress has revolutionized numerous industrial processes, biotechnology development, as well as purification of municipal water supply.
Thanks to its ability to effectively separate undesirable constituents from any feedstream to produce consistent product quality, membrane technology has evolved into a well-accepted method of filtration in many applications. In highly advanced industries such as biopharmaceutical production and semiconductor manufacturing, membrane filtration often plays an indispensable role, without which these products would not have existed.
Other applications in which membrane filtration serves as a crucial function include food and beverages processing; drinking water and wastewater treatment; seawater desalination; generation of high purity water for cooling tower and boiler feed, as well as separation of oil and chemicals from industrial wastestreams. Most recently, improved economies of scale and technological refinement have also facilitated the introduction of low-pressure ultrafiltration technology into the residential water treatment market.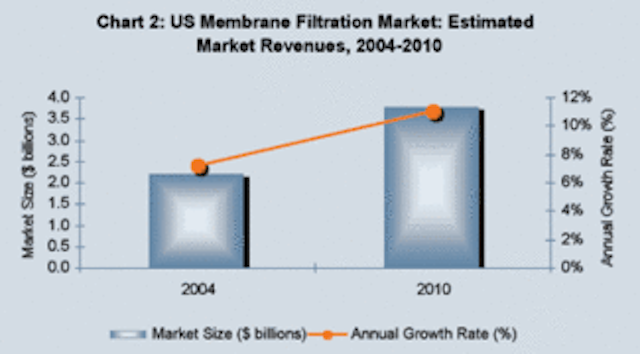 Estimated revenues and revenue growth rates of the U.S. membrane filtration market in 2004 and 2010.
Click here to enlarge image
As can be seen, membrane filtration is applicable to a broad range of highly specialized end user markets. It is therefore imperative to understand the dynamics of each market segment and their respective impact on the growth trends of the membrane industry in the long run.
North American Market
Chart 2 highlights the estimated revenues and revenue growth rates of the U.S. membrane filtration market in 2004 and 2010. For the purpose of this analysis, the membrane market is defined to include membrane system equipment sales for advanced water treatment, desalination systems, membrane bioreactors, membrane treatment for wastewater recycling and reuse, as well as the overall market for membrane elements.
The North American membrane filtration market is characterized by two main groups of suppliers. They include large, multi-segment market participants with technical and product capabilities to service a broad range of end user groups. The other group consists of niche market operators that cater to specialized end user markets.
Intensive competition in this market has provided strong incentive for membrane manufacturers to broaden their product portfolio and provide customers with comprehensive solutions to their filtration needs. This trend is evident across many end user segments that use membrane filters in their processes.
For instance, in the potable water treatment sector, many membrane manufacturers are also integrators of large-scale membrane systems that supply customers with complete water treatment solutions. This one-stop-shop approach appeals to end-users as equipment and ancillary products compatibility is guaranteed. End users also benefit from integrated technical support from a single supplier, thereby avoiding multiple transactions with suppliers at various levels of the value chain.
In other industrial sectors such as biotechnology, pharmaceutical and the semiconductor manufacturing, membrane suppliers are also striving to provide a broad range of purification solutions to end users by including a wide range of processes, media chemistry and products. In addition to providing products in compliance with legislative requirements, suppliers must also meet the increasingly stringent demand of biopharmaceutical and semiconductor end users, where purity standards are key to the manufacturing process. As such, a number of dominant market participants have long been expanding their product portfolio to include chromatography, finer grade ultrafiltration and reverse osmosis filters, as well as deionization technology to meet their client's progressive needs.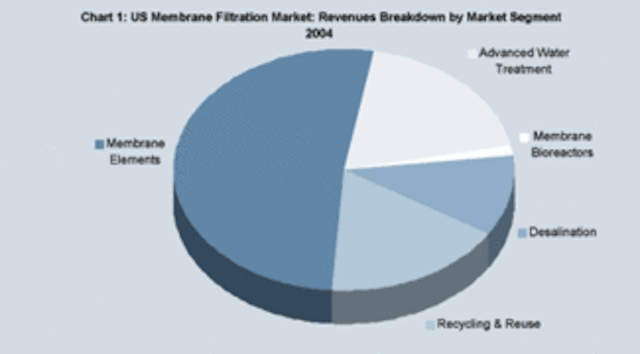 The revenue breakdown of selected market segments of the U.S. membrane filtration market.
Click here to enlarge image
More than ever before, membrane manufacturers are placing strong emphasis on providing complete technical solutions, as opposed to merely a product or an equipment to end users. This trend is expected to prevail to become the new industry standard as market competition intensifies.
Market Domination by Industry Giants
This trend to improve product and service capabilities has been driving industry consolidation in the membrane filtration space. Entrance barrier to the membrane market is extremely high as a result of elevated capital and technical requirements, as well as brand reputation and patent protection already established by existing industry participants.
For new participants to enter this space, or existing participants to expand their product portfolio, the most financially and strategically feasible avenue would be to acquire existing participants in the market. Such strategy will avoid losses that may incur from new product development before economies of scale is reached.
Within the last decade, the microfiltration membrane market has undergone intensive consolidation across the entire end users spectrum, exemplified by merger and acquisition activities involving large, multinational companies with GE and US Filter being the most prominent. With the formation of such conglomerates, entrance to market by smaller competitors has become exceedingly difficult, and in some cases virtually impossible.
End Markets With High Growth Potential
Drinking Water Treatment Market
Since the mid 1990's, the adoption rate of membrane filtration in drinking water treatment has grown at a phenomenal rate. This trend has been driven primarily by legislative amendments to enhance drinking water quality standards, and increasing public sensitivity to pathogen outbreaks. At the end of 2003, global installed capacity of drinking water microfiltration and ultrafiltration systems was estimated to exceed 1.5 billion gallons per day.
While the drinking water treatment market is a substantial driver of the membrane market, ultrafiltration appears to dominate this space. At present, the majority of membrane manufacturers that service water treatment utilities supply membranes in the ultrafiltration grade. This is because the pores of ultrafiltration membrane are small enough to effectively filter viral contaminants as required by tightened regulatory standards.
Wastewater Reuse
The ability of membranes to separate impurities from a liquid stream also makes it an ideal solution for wastewater recycling, which is another rapidly expanding market for membrane filtration. The market for secondary municipal effluent reuse has seen fairly healthy growth in recent years. Similar to seawater and brackish water desalination, membrane treatment transforms water sources previously unfit for human use into clean water suitable for many high-valued applications, such as recharge of drinking water aquifers, irrigation, or as boiler feed water for power generation.
In addition to municipal wastewater recycling, rinse water from various manufacturing industries may also be suitable for reuse and provide significant cost savings.
Biopharmaceutical Industry
Membrane filtration and separation play a very important role in facilitating the discovery and development of safe, effective therapeutics. It is also instrumental in validating the safety and purity of biopharmaceutical products as required by regulatory authorities.
The key to success for membrane suppliers to the biopharmaceutical market is their ability to provide reliable filtration solutions that would allow drug manufacturers to gain immediate market exposure. Moving forward, the entrance barrier is likely to remain high. This is because drug manufacturers are reluctant to switch to alternative filtration technologies to avoid production downtime and additional validation costs.
Despite the high entrance barrier, more new medications are now being developed through biotechnological processes as opposed to chemical processes, therefore the biopharmaceutical segment is likely to continue to be a high growth area.
Industrial Process Water
Other key end user industries that generate significant revenue shares for the membrane filtration market include food and beverages processing and microelectronics manufacturing; high purity water for boiler feed and cooling tower; as well as oil and chemicals separation from industrial waste streams.
The greatest obstacle currently facing the membrane industry is the saturation of these end markets. Specifically, microfiltration has been applied in the food and beverages industry for decade, with a lack of technological breakthrough in the immediate future, replacement sales is the only factor fueling market growth. Similarly, in the semiconductor industry, microfiltration has reached its limit, where submicron filters cannot be constructed any tighter without compromising economical flow rates. Until this technical issue is resolved, the semiconductor industry may remain self-restricting in the short run.
Conclusion
A quick glance at the current activities in the North American membrane filtration market shows that the market structure is highly diverse, and in many ways as complex as the technology itself. By developing an adequate understanding of key market trends as well as the large assortment of membrane applications in different end markets, market participants can stay in tune with the technology of the future today. WW
About the Author:
Renee Chu is an analyst with Frost & Sullivan. She received her BA in Environmental Studies and Geography at McMaster University in Ontario, Canada. This article was based on an analysis of the membrane technology market conducted by Frost & Sullivan. For more information, visit www.frost.com