UF Membrane Retrofit Nearly Doubles Treatment Plant Capacity
Retrofit with advanced treatment technology, rebuild, or expand with current technology? Those are the choices that many growing municipalities face as rising water demands and increasingly stringent water regulations compel water managers to boost capacity and quality at their water treatment plants.
May 1st, 2005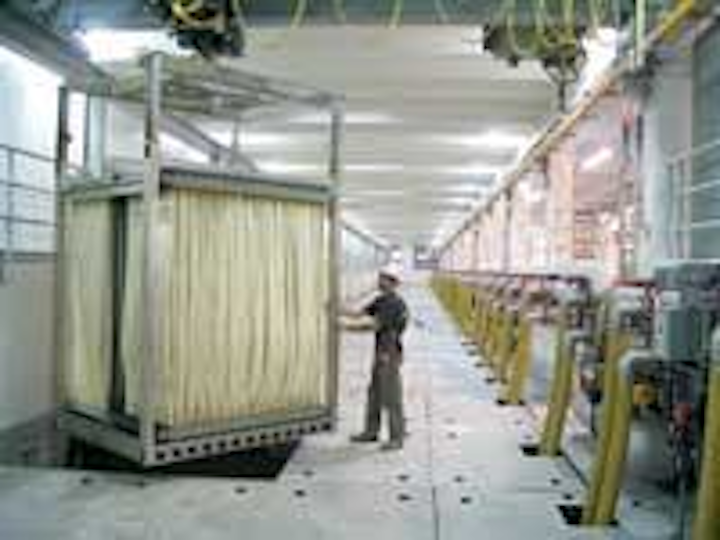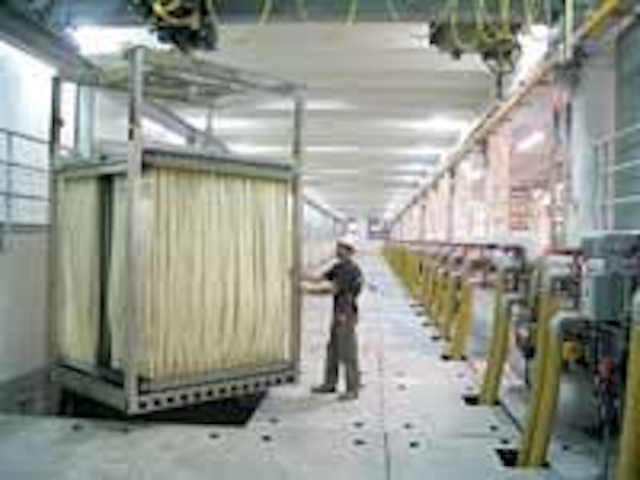 ZeeWeed UF membrane cassettes are immersed directly into the process tanks and can be easily removed for inspection and periodic maintenance.
Click here to enlarge image
Retrofit with advanced treatment technology, rebuild, or expand with current technology? Those are the choices that many growing municipalities face as rising water demands and increasingly stringent water regulations compel water managers to boost capacity and quality at their water treatment plants. Making the right decision involves a careful evaluation based on many factors such as construction costs, current and future regulatory requirements, future demand, and projected operational costs, just to name a few.
For the Columbine Water Treatment Plant (WTP), a large 30 mgd dual-media gravity filtration facility in the City of Thornton, CO, retrofitting the existing filter basins with advanced ultrafiltration (UF) membranes was the best way to meet the fiscal, technical, and performance requirements for the 30-year-old facility.
"Our existing site has a great deal of usable space," said Frank Watt, Water Treatment Plant Supervisor for the City of Thornton. "A retrofit would enable us to quickly and cost-effectively increase both treatment capacity and water quality without building new structures for the process equipment."
Retrofit Benefits
The retrofit strategy is being increasingly evaluated and implemented by municipalities with aging or underperforming conventional treatment plants. Rather than build a new plant or expand with conventional technology, water managers are choosing to retrofit plants with immersed hollow-fiber UF membranes, and are doubling or even tripling plant output while significantly improving treated water quality. This can often be achieved with little or no expansion of the plant footprint.
For many conventional treatment plants, immersed hollow-fiber membrane cassettes can simply replace granular filter media in the existing basins. During the retrofit process, granular filter media are removed, piping is modified to accommodate the membrane system and increased flow parameters, and pumps and blowers are installed for permeate production, backpulse cleaning, and aeration.
For other plants, it may be more appropriate to use existing basins for other required water treatment processes and construct new tanks to accommodate the membrane ultrafiltration equipment. In either case, municipalities benefit by avoiding large capital costs resulting from site acquisition and building construction.
Nitrates, TDS, Hardness
Water quality was a major concern for Thornton, which draws its water from both the South Platte River and Clear Creek. With 10 to 15 wastewater treatment plants upriver, nitrates, total dissolved solids (TDS), and hardness are quite high by the time the water reaches the intake pipes of the Columbine WTP. In fact, at various times throughout the year, treated wastewater effluent can comprise up to 70 percent of the water flowing past Thornton.
"Given the high degree of wastewater effluent in our source water, we knew that we needed an advanced treatment process such as ultrafiltration membranes to ensure that we could provide the best quality water for the city," Watt said.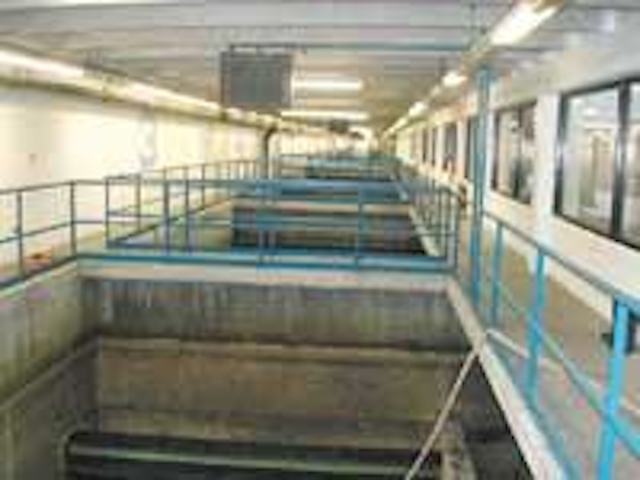 Existing granular media basins at the Columbine WTP were reftrofitted with ZeeWeed® membranes; substantially increasing treated water quality while nearly doubling treatment capacity from 30 to 50 MGD.
Click here to enlarge image
Working with the engineering firm of Burns & McDonnell, the city began a six-month pilot study of treatment options in September 2002. At the conclusion of the study, three membrane companies were invited to submit bids for the retrofit project. An evaluation of the bids considered the capital cost of equipment, projected construction and installation costs, as well as the 20-year operation and maintenance costs of each system.
The extensive operation and maintenance evaluations were based on minimum performance requirements developed from pilot testing, and included chemical and energy costs, residual disposal, and penalties for lower recovery and additional raw water pumping capacity. Following the evaluation, Zenon ZeeWeed® immersed ultrafiltration membranes were selected for the retrofit.
In October 2004 the Columbine WTP was shut down, and Garney Construction began work on retrofitting the filter basins with ZeeWeed® membranes. During the retrofit, the city's second WTP, a 20 mgd facility, would provide enough water to fulfill the 11 to 12 mgd of demand throughout the winter months. The retrofit project was on an extremely tight schedule and work would have to proceed quickly in order for the plant to begin producing water in late March 2005, and be fully prepared to meet peak summer demand.
In addition to the UF membrane retrofit, a new three million gallon clear well, a 60 mgd high service pump station, a chemical building, a maintenance building, and administrative offices were also constructed. The new facilities also include a large conference room that will be used for plant tours and other city training activities.
"In the past we've been very active in conducting school and community group tours, and we will continue doing this with the new plant," Watt said. "We'll also develop a brochure that explains the operation of this advanced water treatment system, as well as extensive visual aids that will describe the treatment process in great detail. It's very important to us that the community has access to the plant and is educated about the benefits that the membrane system offers."
UF Process
Long before water reaches the Columbine WTP, water from the South Platte River and Clear Creek is collected in a series of canals that divert a portion of the flow to a string of gravel lakes. As the water enters the lakes, it is treated with potassium permanganate and ozone. The water typically takes about three months to flow through the lakes, but this may vary slightly depending on the demand from the city. Seasonal algae blooms are treated with powdered activated carbon (PAC) and copper sulfate, and the lakes are stocked with fish to maintain a healthy ecosystem. At each of the pumping stations potassium permanganate is again added; at a bifurcation vault, PAC is added.
Raw water is pumped from the lakes and is pretreated by coagulation, flocculation, and sedimentation through four upflow solids clarifiers. From the clarifiers, the water flows to the ZeeWeed® process tanks. Seven trains of ZeeWeed® membranes, each with ten cassettes, provide treatment for up to 50 mgd of water.
Thousands of membrane fibers hang loosely in each membrane cassette and a slight vacuum is applied to the end of each membrane fiber to draw water through microscopic pores and into the hollow fibers. With a nominal pore size of 0.04 μm, the membranes form a physical barrier to suspended solids and provide greater than 4-log removal of pathogens such as Giardia and Cryptosporidium, and turbidity of less than 0.1 NTU. Rejected particles remain in the process tank and are discharged to reject equalization tanks. From these tanks, reject transfer pumps feed the water to the second stage filtration train.
The second stage, 2.1 mgd train, enhances the recovery of potable water from the river and is made up of five ZeeWeed® cassettes. The configuration enables the plant to recover more than 99 percent of potable water from the river and also substantially reduces the cost of raw water pumping.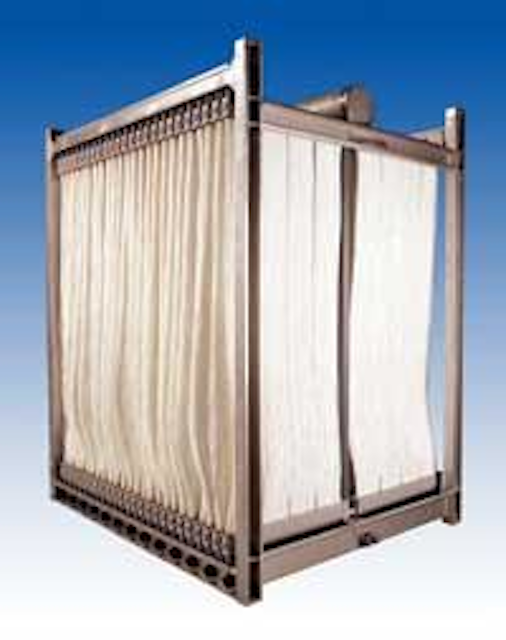 Thousands of ZeeWeed ultrafiltration membrane fibers in each cassette provide a physical barrier against suspended solids and pathogens such as Giardia and Cryptosporidium.
Click here to enlarge image
UV disinfection and chlorination will be the final step of the treatment process before the water is released to the distribution system. Reject water from the second stage flows by gravity to settling ponds where it is held for a short time prior to flowing back to the first lake in the reservoir system.
Operation, Cleaning
The operation of the system is highly automated and fibers can be cleaned with a clean-in-place backpulsing process that forces permeate water back through the membranes. This dislodges any particles that may adhere to the membranes. Intermittent aeration of the membranes is also used to scour debris from the fibers and provides mixing within the process tank to maintain solids in suspension. When necessary, in-situ chemical cleaning can be automatically performed if membrane fouling reduces permeability below a specified performance level.
Monitoring equipment ensures that each train meets turbidity and particle count levels and also indirectly verifies the integrity of the membranes. In the unlikely event that turbidity or particle counts rise, an alarm will notify the operator and the appropriate action can be taken. Membrane integrity is also directly monitored by automatic pressure decay tests. Membrane cassette are tested on a daily basis to ensure that the membranes are achieving the required removal rate of microorganisms such as Giardia and Cryptosporidium.
"Despite nearly doubling our treatment capacity, the highly automated functionality of the ZeeWeed® system means that we have not added any staff," Watt said. "We'll still be running the larger facility with eight operators, one relief operator and one lead operator."
Future upgrades
Provisions have been made at the Columbine WTP to accommodate a Zenon reverse osmosis (RO) system that will treat up to 15 mgd of permeate to further reduce total dissolved solids (TDS) and nitrates. Although the incoming raw water can experience turbidity variations that range from 1.5 to 40 NTU, the ZeeWeed® membranes will consistently provide the RO system with high quality feed water with an SDI of less than one. Seven trains of RO membranes will enable this future system to produce pure water that will be blended with the ZeeWeed® permeate to further enhance the quality of the water that is sent to the city.
"We anticipate that the new Columbine WTP will meet both our water quantity and quality requirements for the next 50 years," Watt said. "As the EPA and the State of Colorado continue to set higher water quality standards, we believe that our ZeeWeed® membrane system will enable us to continue to meet today's standards as well as any future requirements." WW
About the authors:
D.H. (Bud) Hart is Water Supply Treatment and Quality Manager for the City of Thornton. Paul D. Fischer, P.E., is Vice President/Project Manager for Burns & McDonnell. Mark A. Lichtwardt, P.E., is a Project Engineer at Burns & McDonnell.