Webcast Details Distribution System Monitoring Solution
The Internet was the conference room when the water industry logged into a live audio/visual seminar in October 2004.
Jan 1st, 2005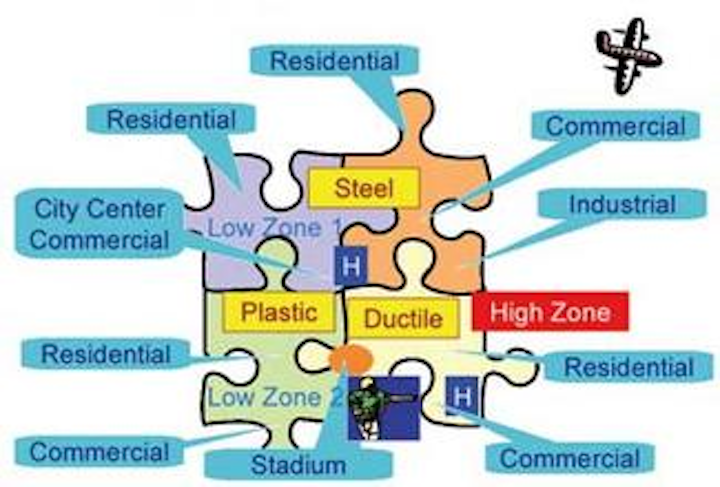 The Internet was the conference room when the water industry logged into a live audio/visual seminar in October 2004. More than 190 Internet users heard the president of Hach Homeland Security Technologies (Hach HST) explain how an appropriate group of online water quality sensors, in aggregate, with interpretive software, can detect and identify deviations from normal in the distribution system. Benefits include improved management of contamination intrusion and optimized water quality delivered to customers. With the water quality monitoring technology he detailed to webcast attendees, utilities might also find distribution system monitoring can serve water system security.
During the one-hour interactive presentation titled "Breakthroughs in Real-time Monitoring of Water Quality in the Distribution System," the webcast audience viewed 36 successive slides accompanied by live explanation by Dr. Jeff Throckmorton, President of Hach HST, a business unit of Hach Company that focuses on the development - including verification testing - of innovative technologies that might be used to detect terrorist and other adverse activities in water and air.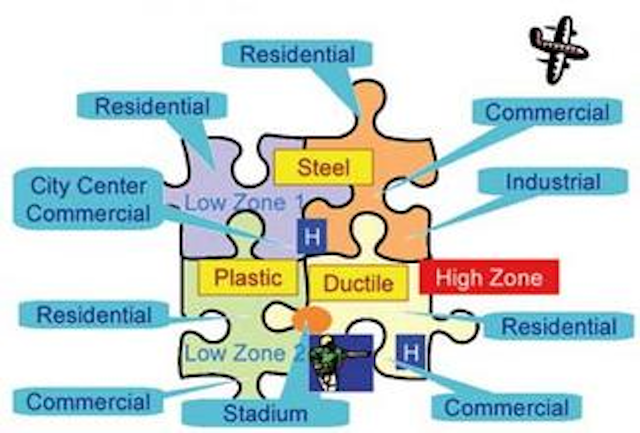 A "network approach" to developing a distribution system monitoring strategy includes identifying sites most important to operations and security.
Click here to enlarge image
Dr. Throckmorton detailed the company's Event Monitor(tm) Trigger System developed to identify water quality deviations from operational baseline, classify recurring events specific to an individual system's operation, and alarm on unknown or abnormal events. He accepted questions from participants in real time and answered several during and after the presentation.
Contamination a PrimaryHealth, Security Risk
Throckmorton underscored the significance of contamination in the distribution system by citing a USEPA-sponsored stakeholders meeting, held in November 2002, where end users named cross connection prevention, repair and replacement of problematic mains, and control of pressure changes - that can, and do, allow contaminant intrusion - as their most important distribution system public health concerns.
He also cited a United States General Accountability Office (GAO) October 2003 report to the U.S. Senate Committee on Environment and Public Works listing the distribution system among the top vulnerabilities of drinking water utilities - if not the top vulnerability - according to 75 percent of drinking water security experts surveyed. More than 90 percent of this expert panel felt development of "near real-time monitoring technologies" - capable of providing near real-time data for a wide array of potentially harmful water constituents - is critical in efforts to quickly detect contamination events, minimize their impact, and restore the water system.
Conventional Sensors, Breakthrough Software
In the October webcast, Throckmorton proposed the use of broad-spectrum water quality sensors - coupled with automated, intelligent evaluation of monitoring data - as a solution that serves the infrastructure concerns expressed by stakeholders and the distribution system security issue addressed in the GAO report.
"Sensors were selected for their ability to monitor traditional water quality parameters and to measure fundamentally different characteristics of agents that could be introduced to the distribution system," he said.
The monitoring solution includes off-the-shelf sensors for pH, conductivity, chlorine, turbidity, and line pressure - all providing operational familiarity and proven reliability. Throckmorton recommended adding a total organic carbon (TOC) analyzer to this suite.
"The real power of the system comes when you add TOC, a very critical parameter in helping us understand deviation in water quality," he said.
Utilities deploy these sensors at multiple distribution system sites to collect data that establish baselines that embrace the normal variability of water quality, as defined by these parameters, at each site.
Throckmorton then described the patent-pending interpretive software of the Event Monitor Trigger System.
"This software is key to the ability to monitor the distribution system," he said.
A trigger algorithm mathematically combines all five parameter measurements made at any one time and at any one site to a single, five-parameter vector or trigger signal. The quantitative value of this vector from origin, and whether it exceeds the user-set trigger threshold defined by normal baseline variation, provides an objective measure of water quality change.
Software, Operator Learn Together
Throckmorton then challenged his Internet audience: "When is water quality deviation normal or predictable, and when is it abnormal?"
He described how the Event Monitor software formulates a classification algorithm that "fingerprints" any threshold deviation and records it in a plant library of events, along with operator-tagged event identification if known. The software will recognize, in real time, any recurrence of the filed fingerprint and alert as a known or recurring event.
"For maximum operational benefit, operators need to participate in the library-building process," Throckmorton said.
Upcoming: Water Network Security
The Hach HST leader was clear in explaining that his business, at this time, promotes application of its Event Monitor System toward detection of events such as intrusions, cross contamination, aging infrastructure and corrosion, nitrification, biofilms, and water quality decay that can compromise the safety and health of water in the distribution system. Benefits include enhanced system health, reduced downtime, simplified data analysis, and real-time alert to undesirable changes in water quality.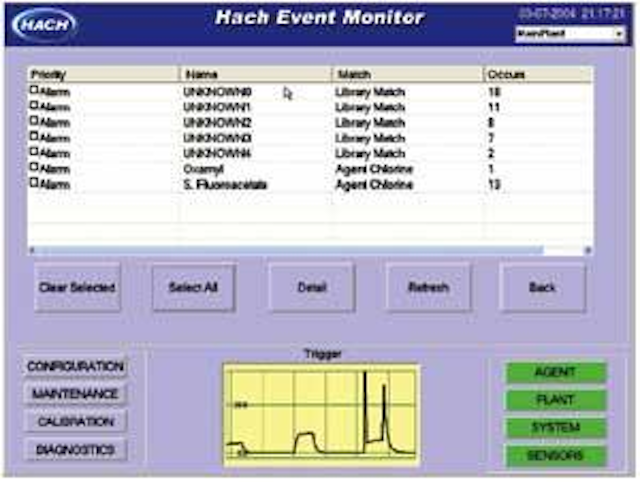 The Event Monitor System notification summary screen shows the priority and number of occurrences of agent or plant library matches. The longer monitoring continues, the larger the library becomes and the fewer number of unknown events are observed.
Click here to enlarge image
Yet, Throckmorton said Hach HST is in the progress of evaluating the Event Monitor system as a security solution with which utilities could detect man-made events. More than 64,000 hours of real-world distribution system monitoring and testing the monitor's response to agents and chemicals have yielded an agent library documenting response to more than 80 chemical agents, including toxins, for future release to Event Monitor System owners.
After completing demonstrated performance of the monitoring system in detecting and classifying warfare agents, Hach HST anticipates obtaining a "listing" from the US Department of Homeland Security that limits the company's and customer's liability risks under the Support Anti-Terrorism by Fostering Effective Technologies Act of 2002 ("SAFETY Act").
Finally, Throckmorton recommended utilities immediately begin formulating a three-to-five year strategic distribution system monitoring plan that identifies where the critical nodes are and what sites promise representative and secure monitoring. He added that standard control and operations strategies include physical inspection and investigation and response tactics.
Webcast Reactions
"I thought [the webcast] was a good way to get information out to the community," said Gerald Julian, Water Treatment Supervisor for the City of Norfolk, VA.
"I'm glad to see that people are looking into [real-time distribution system monitoring]. I do believe there's a need for this capability," said Cori Cameron, Water Plant Superintendent for the City of Salisbury, MD, after she viewed the presentation.
While the Event Monitor System discussed in the webcast was not new information to Michael McLeod, Supervisor of Sewer and Water for the City of Thunder Bay, Ontario, Canada, he found the presentation worthwhile in light of his water system's expansion currently underway. Danny Holliday, Director of Water Resources for the SJWD Water District in Lyman, SC, indicated his district has relied on continuous monitoring in the distribution system for nearly two years.
"However, the presentation introduced us to the software that could help us get more from the monitoring information," he added.
PennWell Corp., a sponsor of the webcast, archived the original presentation within 24 hours of the initial broadcast. It is available on demand for free download at www.waterworld.com. The archived presentation includes pop-up access to the October 2003 GAO report detailing the office's findings regarding funding and implementation of drinking water security practices.
Editor's Note:
For more information about the Event Monitor Trigger System, content of the webcast, and specifics on obtaining funding for water distribution system monitoring, contact Hach Homeland Security Technologies: Dr. Jeff Throckmorton, Email: jthrockmorton@hach.com; or Mark Gibson, Email: mgibson@hach.com. Tel: 800-604-3493.