Study Examines Packaged Wastewater Treatment Market
A recent study conducted by Frost & Sullivan examined the state of the market for packaged wastewater treatment systems.
Jan 1st, 2005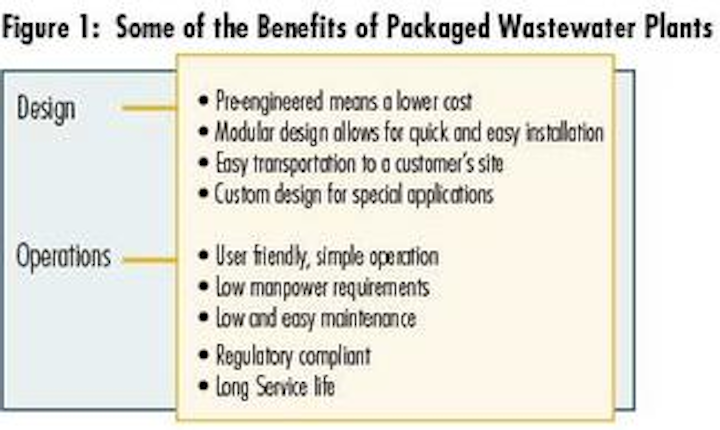 By Matthew Barker and Suchitra Padmanabhan
A recent study conducted by Frost & Sullivan examined the state of the market for packaged wastewater treatment systems. The study found the market is growing, with new applications and technologies becoming increasingly popular.
By definition, a packaged wastewater treatment plant is a sewage treatment module or series of linked modules that are constructed in a factory and subsequently transported to site for connection and installation.
In terms of the size of the plants that are available as packaged plants, they typically range from a four-person population equivalent to larger than a 2,000 population equivalent, although the size can vary according to geographic conditions and customer requirements and the nature of the effluent required to be treated.
The technologies that are most often used in packaged plants typically are biological wastewater treatment methods, which are ideally suitable for small-scale operations. Solutions range from Moving Bed Biological Reactors (an expensive option), activated sludge, Rotating Biological Contractors, the SAF treatment process and sequencing batch reactors. Membrane bioreactors are also becoming increasingly popular.
Typically, these packaged plants are used for treatment of domestic effluents. However, they can also be used for treatment of industrial wastewater in which biodegradable constituents are encountered. In either case, the effluent of this treatment can be safely discharged or further treated in a polishing loop and then recycled or reused in the plant operation. Users may dispose of treated effluent using either subsurface or above-ground discharge, and must have an operating permit approved by the Regional Water Quality Control Boards.
Key competitors in the US market include Enviroquip, WES Inc., Pollution Control Systems Inc., Smith & Loveless, Bonadiman Constructors, Redfox Environmental Services, Bio-Microbics Inc., Beckart Environmental Inc., Hydroxyl Systems, AWS American Wastewater Systems, Norweco, Paques and US Filter.
One of the growing trends within the market is the development of Membrane Bioreactor Systems. Key companies offering this type of packaged solution include Enviroquip, Zenon and US Filter. For example US Filter offers its MemJet MBR (membrane bioreactor technology) system as a complete, pre-engineered, membrane bioreactor system in a compact skid-mounted design. This allows it to be portable and easy to install, and is designed for use in projects with time, space, and budget constraints. Units can be placed strategically to generate reclaimed water at the point of reuse, minimizing distribution networks, and can be installed incrementally to meet growing wastewater demands.
There are a number of other attractive advantages to the MBR process:
• Compact reactor
• High reactor loading
• Low sludge production
• Effluent is free from suspended substances
• Optimum retention of specific microorganisms
It should be noted that most MBRs are used in small flow plants or industrial facilities.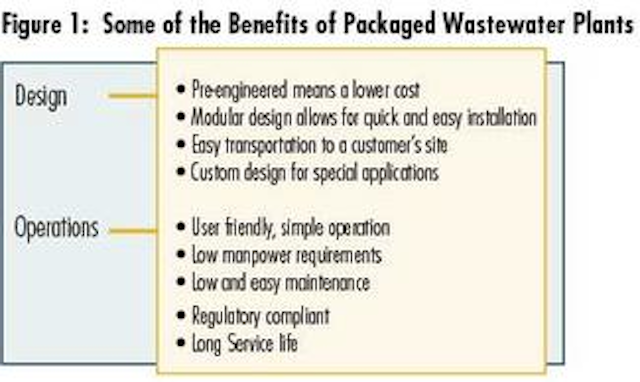 Click here to enlarge image
The Future
Package Wastewater Treatment Plants solve wastewater problems. They make it possible for motels and service stations to be built along interstate highways far from towns, and subdivisions to be planned in scenic areas miles beyond sewer lines. They also allow factories to be located on outlying sites.
Looking at the size of the systems that are in operation in the US, the study found that the great majority of package plants are small scale, i.e. with a population equivalent of 500 people.
However, is the trend toward smaller packaged plants growing across the board? Not necessarily. For example, in Florida since the implementation of Environmental Protection Board (EPB) Rule 3 to phase out less reliable package wastewater treatment plants by connecting to larger regional treatment facilities, 352 wastewater treatment plants have been removed, bringing the total inventory of wastewater treatment plants in Duval County from 393 in 1986 to 41 as of January 2004, including 22 regional facilities. This removal of non-regional wastewater plants was undertaken as a means to reduce plant inventory, and the removal of these discharges represented a reduction in pollutant loading on the receiving basins, lakes, creeks, and groundwater.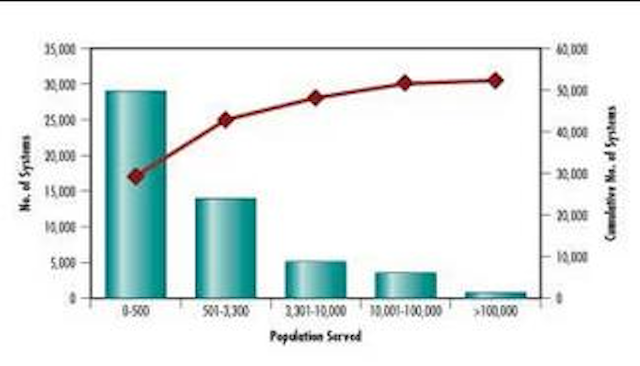 Click here to enlarge image
Outside the US
The markets in Europe, Middle East and Africa are in varying stages of development and maturity and therefore present differing potential for demand for packaged wastewater treatment plants. There is however a clear and growing market for packaged plants in these regions.
European Market
The European market has clear opportunities for packaged wastewater treatment plants owing to the locale-specific conditions including a maturing and technologically advanced market in Western Europe. Applications for packaged plants here can be broadly classified into four categories: municipal, industrial, commercial and residential.
Packaged plants have gained increasing popularity in countries such as Germany where the industrial end-user in particular has responded favorably to this technology. The most widespread version of the packaged plant however has been in the small PE segment where a rapidly expanding installations base has prompted the entry of a large number of small local companies.
The new-accession countries including Hungary and Poland promise good future prospects, as the need to comply with increasingly strict environment legislation remains critical.
The European market is very competitive, and is currently dominated by numerous small local manufacturers. Some of they key players include WPL, Tuke & Bell, EEC, Copa, Kee Process, Conder, Arbiogaz etc.
Larger companies such as Lurgi Bamag in Germany have moved out of this market because they found it increasingly difficult to compete in such a niche market where local competitors are able to be more effective in terms of lower prices and cheaper solutions.
Middle East
Here the market is currently buoyant with high oil prices that promise good revenues and investment potential in the region. The United Arab Emirates (UAE) in particular has demonstrated a strong commitment to environmental issues and there is significant investment currently in this region. Other countries of interest in this market would be in the Gulf region, namely Qatar and Saudi Arabia.
Packaged plants have been particularly attractive in this region because of the reuse potential this technology offers. When combined with a high price of fresh water in these countries, prospects for further expansion and growth are evident.
While the market here also has a high number of local players, dominant companies in the region include international as well as local turnkey plant operators including US Filter, Metito, Hypotech, Berkefield and Veolia Water. Local knowledge and price play an important role in this region.
Africa
The market in Africa is not firmly established or fully developed in terms of demand for wastewater treatment. Nevertheless, demand for packaged plants has already shown a distinctive trend through potential in oilrigs, and army and police camps. Egypt, Tunisia, Nigeria and Algeria in particular have demonstrated significant promise for the future.
Competition in this region presents a mix of international players including Veolia Water as well as Middle Eastern manufacturers including Hydrotech, EBD, Metito and Waan Envirotech.
Conclusion
The packaged plant market is proving interesting, with new applications and technologies becoming increasingly popular. Package plants are also attractive for emergency water and wastewater treatment. They allow companies to provide expanded services for municipal and industrial customers who need immediate assistance in treating their wastewater supply. These pre-engineered, packaged systems provide the end-user with an economical approach to treatment of wastewater, and the modular approach provides customers with an efficient, compact, easy to operate, and cost effective method of wastewater treatment.
About the Author:
Matthew Barker is Program Manager for the Water & Wastewater Group at Frost & Sullivan. Suchitra Padmanabhan is a Research Analyst for the Environment Group at F&S.