Texas Utility Switching to Microfiltration System
The Travis County Water Control and Improvement District No. 17 in Austin, TX, is using leading edge technology to enhance drinking water quality.
Nov 1st, 2003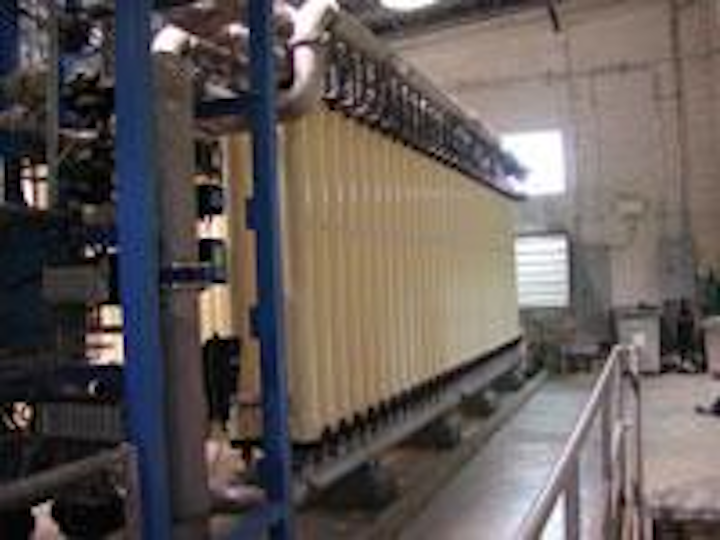 The Travis County Water Control and Improvement District No. 17 in Austin, TX, is using leading edge technology to enhance drinking water quality. It is transitioning from traditional sand and mixed media filtration to a state-of-the-art Pall Ariasm membrane microfiltration system, and in so doing, has become the first municipal system in the area with such a facility.
The new microfiltration system contains three membrane racks with 30 microfiltration modules per rack, which provide 48,420 square feet of filter area.
Click here to enlarge image
The new plant is equipped with a PLC control running Allen-Bradley Control Logix, and a SCADA workstation running Intellution IFIX, giving District 17 precise control over the advanced microfiltration system.
The switch added 2 mgd to Travis County's 4 mgd conventional water treatment plant and reduced the formation of trihalomethanes (THMs) by 30% and haloacetic acids (HAAs) by 40%. The new microfiltration system contains three membrane racks with 30 microfiltration modules per rack, which provide 48,420 square feet of filter area.
The primary consultants for the project, River City Engineering of Austin, designed and engineered the new plant, which has reduced turbidity levels by >90%, increased processing efficiency, minimized backwash output, and decreased downtime.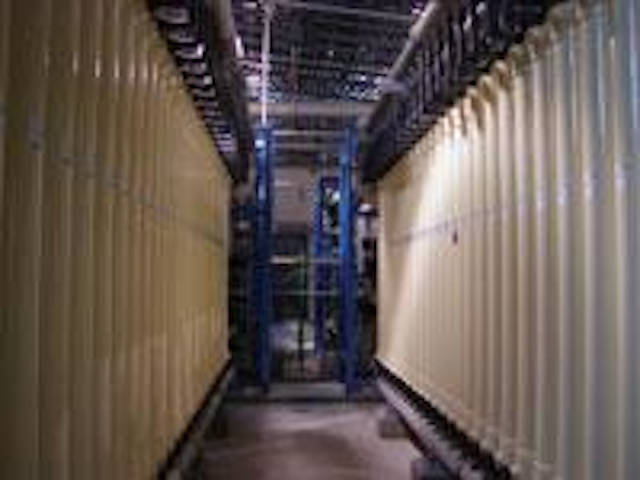 Aria microfiltration modules installed at the Travis County Water Facility
Click here to enlarge image
In fact, the results have been so encouraging that Travis County is preparing for a second expansion, which will add 6 mgd to the system that serves 4,500 connections. This will bring the district's total microfiltration capacity to 8 mgd by November 2003.
Water District 17 was searching for a system that would produce water that met or exceeded current and proposed EPA stage 2 regulatory water standards. Because of the state's strict no discharge policy for the pristine Highland Lakes, reprocessing backwash water is also a challenge. The district's limited space mandated a system with a small footprint. With the area's growing population, Travis County management also recognized the value of a modular system that could be scaled up to meet increasing water demand.
Ease of use and life cycle costs factored into the evaluation of filtration systems from six providers. Pall's Aria microfiltration system was selected because it offered the best mix of filtration quality, processing efficiency, backwash reduction, life cycle cost, and footprint.
"The Pall solution helped us overcome the unique combination of challenges we face in terms of size, location and processing capacity," said Deborah Gernes, District 17's General Manager.
Improved Safety, Purity
Increasing public awareness of water quality, and more stringent regulations from the EPA, have spurred a fundamental shift in the way treatment plants process water. Traditional processing techniques use a combination of chemical assisted settling and mixed media to filter water. To prevent algae from growing on filters, water is pre-treated with chlorine. The reaction between organic materials in the water and disinfectant chlorine may result in the formation of trihalomethanes, which are thought to cause cancer.
Pall's hollow fiber membrane microfiltration technology filters bacteria from the water, providing the highest degree of protection from Cryptosporidium, Giardia Lamblia, or Legionella. The system's self-cleaning filters also eliminate the need for pre-treatment by chlorination, which lessens the potential to form trihalomethanes.
"The Pall system significantly reduces THMs, allowing us to focus our attention on increasing processing efficiency, capacity, and bioterrorism safeguards," said Gernes.
System Design
The effectiveness of a water filtration plant is not merely a function of the filter membranes, but the combined performance of the entire system. The Aria system is supplied with a compressed air system, feed water and backwash pumps, variable frequency drives and a Clean-In-Place (CIP) system. Together, these components deliver improved water processing efficiency from the moment Lake Travis water is pumped into the raw water tank to the time that it is sent to the clearwells.
Raw water is fed to the membrane racks and prefiltered through a 400 micron backwashable strainer. The Pall system's feed flowrate is adjustable up to a maximum of 1,500 gpm, and provides a membrane flux of 44.6 gallons per square foot of membrane fiber area per day. The system's 60-horsepower ANSI feed pumps are sized to provide 1,500 gpm at up to 45 psiG at the feed connections on the module racks. Feed pressure varies between 10 psiG and 45 psiG at the head of the membrane racks so that flowrate setpoints can be maintained as membranes foul.
To verify membrane integrity, District 17 monitors the filtrate of each rack on a continuous basis using a laser turbidimeter and a particle counter. Pressure-hold integrity tests are also performed on a regular basis.
Simplifying Cleaning
Pall self-contained modules perform Reverse Filtration, the backwash process by which filtered water is pumped through the membranes in the reverse direction to wash the membranes clean. The frequency of backwash is based on gallons of feed water filtered. Backwash can occur every 20 minutes and lasts up to one and a half minutes using 30-horsepower ANSI backwash pumps at maximum flowrate. This equates to a backwash volume of approximately 25,000 gallons for every 1 million gallons of filtrate water produced. Once backwash water is settled and filtered, it is returned to the head of the plant.
Pall's system also uses Air Scrub to perform periodic cleanings between chemical cleanings, which introduces compressed air to the outside of the hollow fiber membranes to shake the fiber bundle and remove debris. This agitates the water and improves the efficiency of the backwash cleaning. Because the water treatment process is totally contained within the modules, corrosion is kept to a minimum.
To further enhance efficiency, EFM (Enhanced Flux Maintenance) cleaning is performed once per day. This consists of circulating a chlorine solution through the membranes for 20 minutes to reduce fouling. Performing EFM reduces the frequency of Clean-In-Place (CIP), and consumption of cleaning chemicals.
Reducing Downtime
Conventional systems require periodic chemical cleanings to be performed offline. The modular design of the microfiltration system enables automated, staggered cleaning to reduce downtime.
"Scheduling downtime previously required considerable thought, planning, and concern over the time, duration, and necessary water inventory to ensure that water supplies are not depleted," said Gernes. "The membrane microfiltration system gives us the flexibility to have less capacity down at one time, so that we can avoid many of the traditional scheduling headaches."
District 17 evaluated the Pall system based on installed cost and cost of operation. The District expects to reap significant cost savings over the system's 25-year life cycle.
Conclusion
With increased emphasis on water quality, District 17's decision to completely phase out its conventional plant puts it in a good position to provide sufficient amounts of high quality water and comply with all EPA regulations.
By setting an example of how treatment plants can process highly pure water, cost-effectively and efficiently, District 17 is creating a new paradigm in the way water is purified.
"In addition to exceeding its investment value by increasing efficiency and cost savings, the new microfiltration system significantly enhances water quality for the people of District 17 in Travis County," said Gernes.