Utility Takes Proactive Approach to Water Loss Management
Opelika Utilities manages a community water system of approximately 11,000 services representing a typical mix of residential and commercial/industrial customers.
Nov 1st, 2003
Opelika Utilities manages a community water system of approximately 11,000 services representing a typical mix of residential and commercial/industrial customers. In addition to the Opelika area, the utility provides water to several small communities throughout Lee and Chambers counties in Alabama.
In an effort to improve meter reading efficiency and customer service, Opelika Utilities approved the conversion to Neptune's RF AMR system in 2000 featuring Neptune water meters equipped with ProRead absolute encoder registers, R900 transmitters, DAP PC 9800 handheld data collection devices and route management software.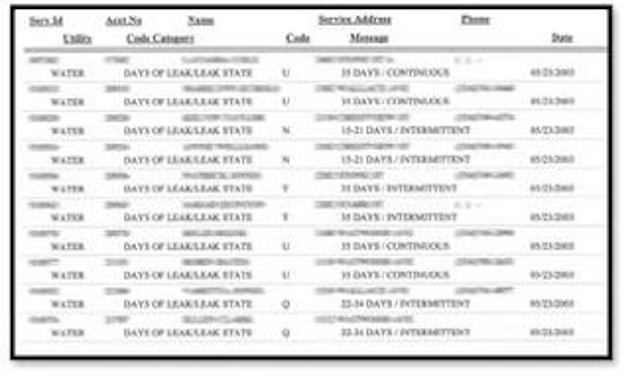 A typical "Reads per Day" chart showing leakage.
Click here to enlarge image
As General Manager of Opelika Utilities, Dan Hilyer was concerned about residential water leaks especially in the older subdivisions where many fixed income families reside. During a board meeting in the summer of 2002 one of Opelika Utilities' customers addressed the board with a high water bill concern. The customer did not deny using the water, but merely wanted to address the board to inquire why they did not have technology in place to identify residential water leaks and provide early leak notification to customers to help them avoid exorbitant water bills.
Opelika Utilities described the high/low audit functionality of their meter reading software and explained the limitations of this technique during summer months when water usage rates can have dramatic swings. Opelika Utilities advised the customer that if a more "proactive" technology were available they would be using it.
Shortly after the board meeting, representatives from Neptune Technology Group met with Opelika Utilities to present Neptune's new E-Coder electronic absolute encoder register technology. One of the features of the E-Coder is an advanced form of leak detection that provides 15-minute interval leak monitoring 24 hours a day, when the E-Coder is connected to Neptune's second generation R900. Because of the recent inquiry at the board meeting, Opelika Utilities agreed to participate in a pilot test and evaluation of this new technology.
Upon the installation of 100 test meters in a typical residential community, Opelika Utilities found that 28% of the residents had some form of water leak. 70% of the test group experienced an intermittent leak and 30% experienced a continuous leak during the first 30 day billing cycle. Initially this leak detection data was captured by Neptune's DAP Handheld PC 9800 and viewed through RouteMAPS route management software. The next step was to transfer this data seamlessly through to Opelika Utilities' CIS software.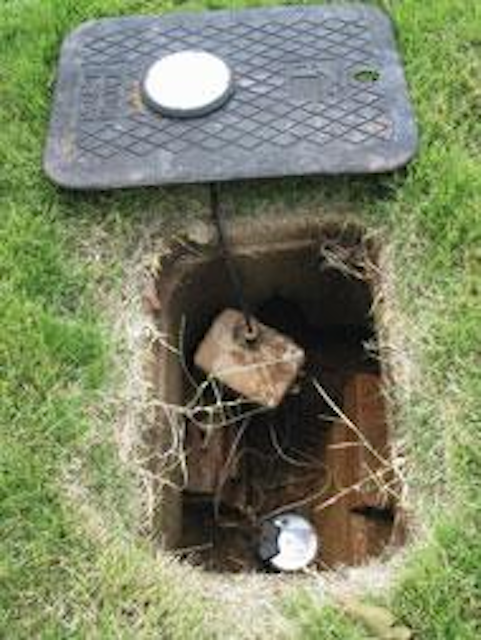 An E-Coder meter and R900 V2 installation in Opelika.
Click here to enlarge image
With assistance from Neptune and Continental Utility Solutions, Inc., the Continental CIS software was modified to interpret and display the value-added data coming in from the E-Coder. Within a few weeks Opelika Utilities began generating customer statements that featured leak notifications displayed on the billing statement prompting customers to locate and repair their water leaks to limit unnecessary water and sewer charges.
Opelika Utilities also began generating reports that classified customers by leak condition (intermittent or continuous), allowing their customer service representatives to prioritize call lists and service calls.
In addition to leak detection data, Neptune's E-Coder also provides backflow and tamper detection information that has allowed Opelika Utilities to proactively address homeland security concerns.
The Results
The results of the E-Coder pilot test were very exciting. The second billing cycle showed a dramatic reduction in leak occurrences from 28% to 18%. The third billing cycle showed a further reduction from 18% to 11%. Opelika Utilities' customers were responding to the leak notification statements on their water bills and were repairing their water leaks. As anticipated this was occurring without further communication from Opelika Utilities' customer support staff.
The leak detection data was transmitted from Neptune's E-Coder, through the Neptune meter reading system, to Continental's CIS software and then to the customer via a billing statement, without any intervention from Opelika Utilities' customer service representatives.
Since the installation of the test meters, Opelika Utilities has received numerous supportive comments from their customer base. Customer's that were not involved in the original test group, but found out about the new metering technology through friends or acquaintances, began requesting the new water meters be installed on their premises.
Customer's that were notified of previously undetected water leaks contacted Opelika Utilities and praised them for early leak detection and their proactive notification. One customer avoided property damage due to Opelika Utilities' proactive approach, once again prompting praise for their actions.
According to Hilyer, "Opelika Utilities does not have a water supply issue. As a matter of fact, after the wet weather we have had this spring and early summer, if anything we may have a water supply overage concern. If, however, we were faced with a drought situation the technology we are installing today would play a critical role in helping us manage water loss and optimize our water supply. We would highly recommend the use of this new technology to water utilities in areas with water source or drought management concerns."
The results of the test and evaluation of Neptune's E-Coder and Continental's CIS software prompted Opelika Utilities to move forward with a complete conversion of the water system to E-Coder technology. Over the next 12 months Opelika Utilities will replace over 8,000 water meters with new meters equipped with E-Coders and R900 RF transmitters.
Conclusion
"The increased functionality provided by Neptune's E-Coder and ARB Water Revenue System, coupled with Continental's CIS package, enhances the value of our AMR system," Hilyer said. "It was Opelika Utilities' goal maximize the value of our AMR system by providing more information than merely a meter reading and with Neptune's new E-Coder and Continental's CIS enhancements we will achieve that goal. 15-minute interval residential leak monitoring plus backflow and tamper detection using walk-by and mobile RF data collection devices provides Opelika Utilities with the tools we need to more efficiently manage our water system and provide superior customer care."