Coating System Helps Restore Deteriorated Headworks
Eight years after Post Falls, ID, had built a brand new 3.4 mgd headworks system for its treatment plant, biogenic corrosion had eaten away nearly 1 1/2 inches of the 8-inch headworks concrete surfaces.
Nov 1st, 2003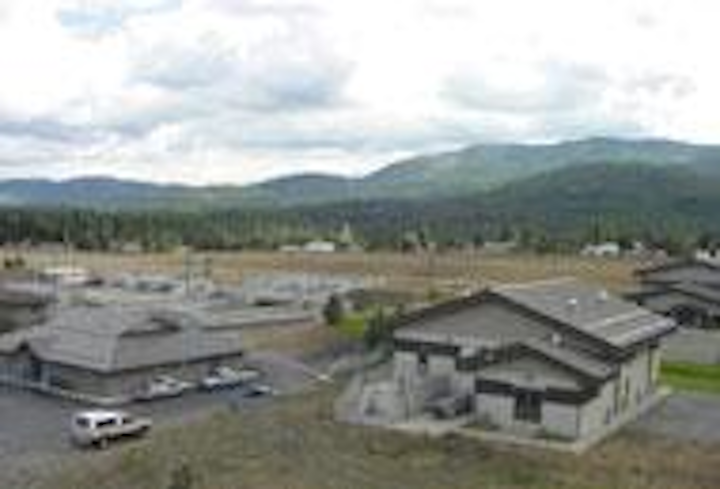 By Lake H. Barrett, Jr.
Eight years after Post Falls, ID, had built a brand new 3.4 mgd headworks system for its treatment plant, biogenic corrosion had eaten away nearly 1 1/2 inches of the 8-inch headworks concrete surfaces. Large chunks of concrete were falling off and the aggregate was starting to show.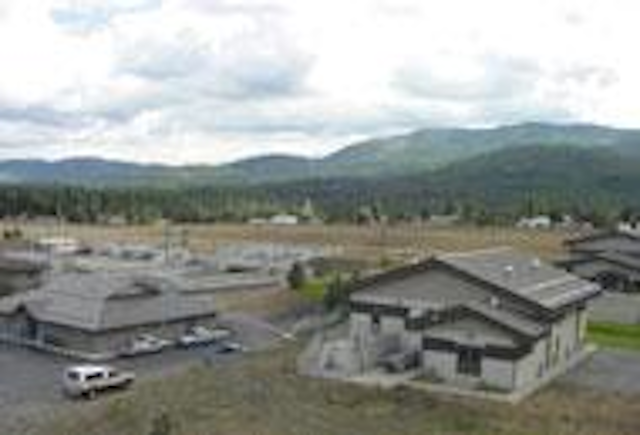 The Post Falls, ID, wastewater treatment facility has a capacity of 3.4 mgd.
Click here to enlarge image
Nicknamed Idaho's River City, Post Falls is 20 miles east of Spokane, WA, and 100 miles south of the Canadian Border. With a current population of more than 18,000, the city has its own Public Works Department, which serves as the water and wastewater utility system for the residents and businesses of Post Falls.
The city owns one wastewater treatment facility and 22 wastewater pumping stations. With current capacity of 3.4 mgd, the city also provides treatment of the wastewater flow from the nearby city of Rathdrum, ID.
MIC Corrosion
In 1993, Post Falls built a new 3.4 mgd headworks system for its treatment plant, including the installation of new channels, splitter box, Lakeside Fine Screen and a Pista® Grit Chamber. Five years later, Post Falls entered into an agreement with Rathdrum to treat the city's wastewater flow. This involved pumping Rathdrum wastewater a distance of 11 miles through an 8-inch, sealed PVC pipe into the Post Falls plant. The growing trend of localizing wastewater and water treatment has increased detention times, thus resulting in increased corrosion rates. In this case, the long transit time between Rathdrum and Post Falls caused the Rathdrum flow to become septic.
The Rathdrum wastewater channel joined the Post Falls channel at the plant and was pumped up into the headworks. At this point, the sealed hydrogen sulfide (H2S) gas from both city channels met and severe agitation occurred. Hydrogen sulfide gas was released and formed sulfuric acid via sulfur oxidizing bacteria. This acid began to rapidly deteriorate the concrete structures.
Biogenic corrosion had eaten away nearly 20 percent of the 8-inch headworks concrete surfaces. Alarmed, Public Works Superintendent Terry Werner decided it was time to act. To avoid costly downtime, he called on Kimball Engineering, Hayden Lake, ID, (consultants to the city for the past 15 years) to design a 75-foot headworks bypass piping system that would carry the flow to one of six BNR (Biological Nutrient Removal) basins. Werner figured it would take 30 days to drain the headworks, sandblast the beleaguered concrete, powerwash, rebuild and coat the new surfaces.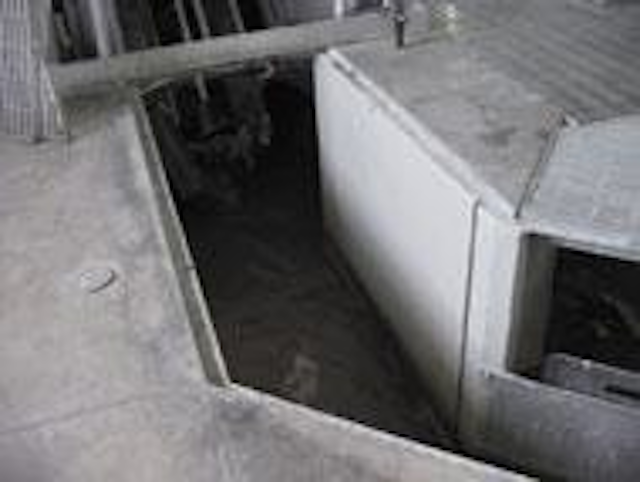 The headworks was repaired using a three-step process from Tnemec Co. of Kansas City, MO.
Click here to enlarge image
About this time, Werner had hired a contractor to build a two million gallon reservoir standpipe to meet the fire flow and peak demands of his growing city. The population of Post Falls has grown from 7,350 residents in 1990 to more than 18,000 today.
Werner's standpipe painting contractor Dan Olson, Extreme Coatings, Inc., (ECI) Pasco, WA, stopped by to ask about the new headworks project. Seeing the severity of the substrate deterioration caused by the hydrogen sulfide gas permeation, Olson had an idea. He recommended that Werner contact local corrosion expert Scott McConnell from TNW, Inc. in Seattle. McConnell introduced Werner to Tnemec, a provider of corrosion control products for the wastewater industry for over 50 years.
Coating System
As a solution for Post Falls' aggressive MIC and H2S headworks environment, McConnell specified a thick film epoxy mortar system that included Series 434 Perma-Shield H2S and Series 435 Perma-Glaze, both from Tnemec. Series 434 is a modified polymer mortar designed especially for wastewater immersion and headspace environments, such as headworks, grit chambers, wet wells, lift stations and clarifiers. What it does best is resist H2S permeation, abrasion and sulfuric acid. With increased film thickness, 100 percent solids and low VOCs, the Perma-Shield H2S system can provide a rapid return to service for municipal wastewater operators.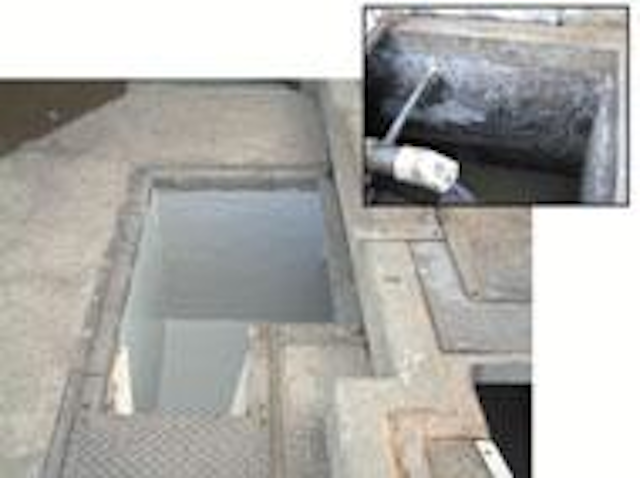 The Post Falls headworks system before and after repair of severe corrosion damage.
Click here to enlarge image
The system's topcoat, Series 435 Perma-Glaze, is a modified polymer hybrid that provides chemical resistance to vapors and solvents found in all municipal wastewater streams. It provides improved aesthetics and additional protection against abrasion and chemical degradation.
After Werner drained the entire headworks structure, Olson then pressure washed the damaged concrete to remove all contaminants such as oil and grease. He then sandblasted the deteriorated substrate surfaces to clean and roughen the surface to accept the new coating materials. The area was pressure washed again to ensure that the surface was thoroughly clean.
Olson then trowel-applied Tnemec's Series 218 MortarClad (an epoxy modified cement) to provide an even surface. Over the newly revitalized surfaces, Olson trowel-applied Perma-Shield H2S up to 125 mils DFT (dry film thickness). A final coat of 10-15 mils of Series 435 Perma-Glaze was then roller-applied to the headworks. The entire operation was completed in just 13 days.
Series 434 and Series 435 are both user-friendly, easy to mix and apply. They are VOC compliant, offer outstanding chemical resistance and low permeation, and have been tested in accordance with the ASTM tests for abrasion, adhesion, flexural strength, chemical and water vapor transmission. These products were specially designed for critical wastewater applications such as grit chambers, wet wells, lift stations, primary clarifiers, concrete pipe and odor control systems.
Werner was impressed with Tnemec's three-step process.
"The headworks area always presents particular challenges in protecting equipment and structural elements from corrosion," Werner said. "I've seen many a coating system fail. But Tnemec's solution seems to be working quite well. We are certainly happy not to have to worry about replacing the headworks concrete any time soon."
About the Author:
Lake H. Barrett, Jr. joined Tnemec in March 2002 as the director of water and wastewater operations. A corrosion and wastewater industry veteran, Barrett holds a bachelor's degree in mechanical engineering from Penn State University, State College, Pa., and is pursuing a master's degree in management. He is an active member of SSPC, NACE, ASME, AWWA and WEF.