PRODUCTS & SERVICES -- FILTRATION
The Leopold Performance Filter is a rapid gravity flow granular bed filter designed to achieve specific performance requirements of individual water treatment plants.
Nov 1st, 2003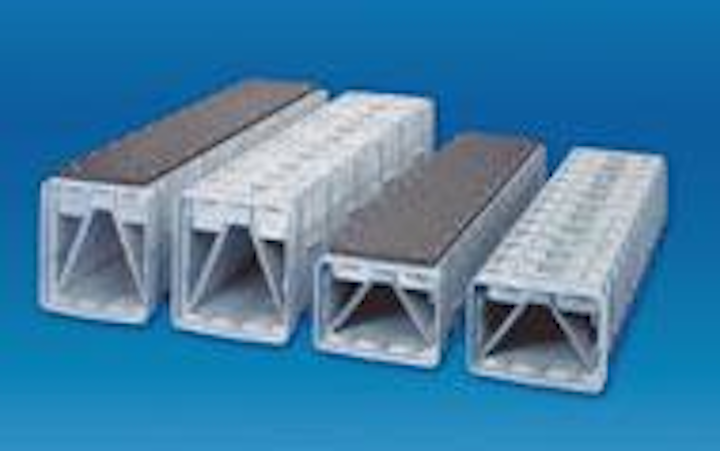 Gravity filter
Click here to enlarge image
The Leopold Performance Filter is a rapid gravity flow granular bed filter designed to achieve specific performance requirements of individual water treatment plants. Each aspect of the filter – filter media, backwash and controls – is tuned to achieve maximum rate of filtration at the longest possible cycles. Also, the filters are engineered to achieve optimum net production per square foot per day at high filtration rates.
F.B. Leopold Co., Inc.
Zelienople, PA
Tel: 724-452-6300
Web: www.fbleopold.com
Drum filters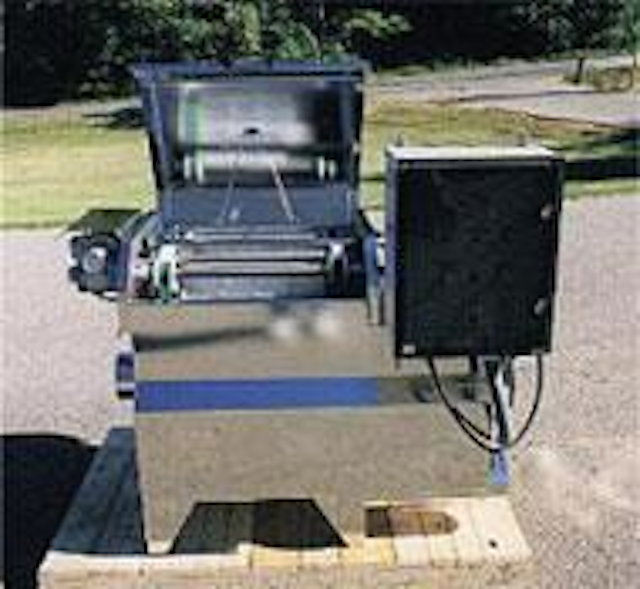 Click here to enlarge image
BMF Microscreen Drum Filters, available from Purestream, are designed for the tertiary stage filtration process and especially for the removal of non-soluble particles in sanitary and industrial wastewater treatment plants. The drum filters are designed to be gravity fed, but can receive pumped effluent. They are designed to be installed above grade as a stand alone filter complete with a stainless steel tank or in a concrete channel for in-ground installation. The filter systems are completely automatic which insures simple operation.
Purestream ES
Walton, KY
Tel: 859-371-9898
Web: www.purestreaminc.com
Stormwater treatment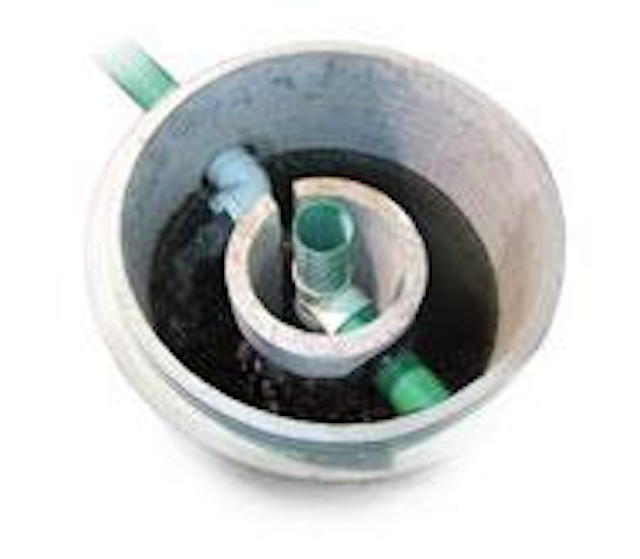 Click here to enlarge image
EcoStorm, available from Royal Environ-mental, is designed to separate floating pollutants, debris and contaminated settling solids from stormwater drainage. Also designed for non-point source pollutant removal upstream of holding ponds, the system reduces pond pollutant levels and frequency of pond maintenance. It is considered a best management practice for meeting pollutant removal regulations in a variety of industrial, commercial and residential applications.
Royal Environmental Systems, Inc.
Stacy, MN
Tel: 800-817-3240
Web: www.royalenterprises.net
Laboratory filter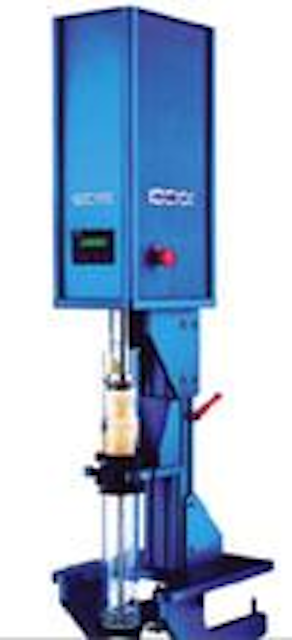 Click here to enlarge image
Approved for use under US EPA method 1623, Filta-Max from Idexx consistently achieves recovery rates higher than 70%. Over 70% of the worlds tests are performed using Filta-Max, which uses a novel filtration and recovery procedure to optimize the collection of various waterborne pathogens. The system uses multiple layers of reticulated open cell foam discs, which are compressed during the first phase of filtration, facilitating the capture of Cryptosporidium oocysts and similar pathogens. The second phase involves placing the decompressed foam discs within an enclosed wash station and washing them using expansion/compression cycles with an elution buffer. The wash is then concentrated rapidly, to approximately 25ml within 10 minutes, without the need for centrifugation and the losses that are associated with this step.
IDEXX Laboratories, Inc.
Tel: 207-856-0496
Website: www.idexx.com/water
Screening systems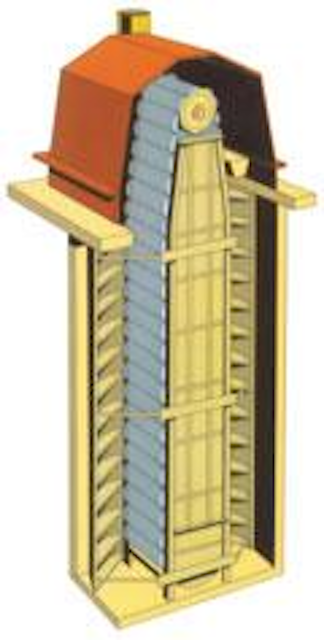 Click here to enlarge image
Brackett Green offers screening technology with apertures of 2.0, 1.0 and 0.5 mm, depending on the final requirements, for use in screening of solids and floating debris in front of membrane technologies. The company's CF100™ & CF200® Central Flow Band Screens, Drum Screens and Dual Flow Screens eliminate bypassing and carry over of solids and floating debris. This screening process reduces or eliminates the downstream fouling of pumps, monitoring equipment, and primary/secondary treatment processes and aids in producing a homogenous sludge.
Brackett Green USA, Inc.
Houston, TX
Tel: 281-480-7955
Web: www.bgusa.com
Arsenic removal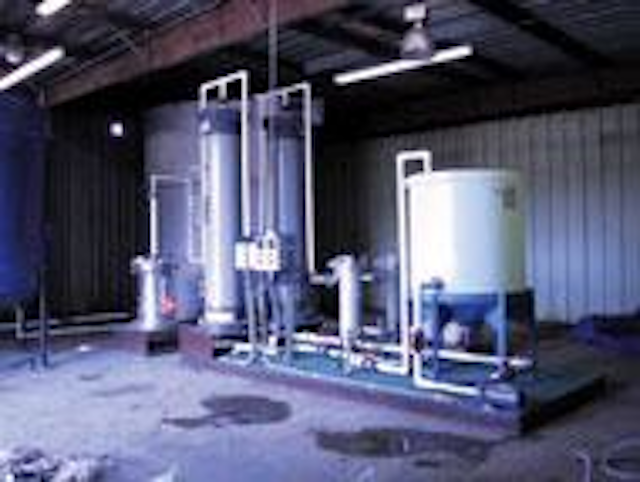 Click here to enlarge image
HydroGlobe offers the ActivMet™ system, a proprietary, mechanically activated filtration system that provides a continuous source of active iron reaction sites for adsorbing and/or reacting with arsenic and other heavy metals including lead, copper, chromium, mercury, depleted uranium, and others. The system was installed in Hopewell, NJ. In tests completed in January, the system, which consists of filtration tanks, pumps and an iron-based chemical added to the water stream, cut arsenic at a local well from more than 40 ppb to fewer than five.
HydroGlobe
Hoboken, NJ
Tel: 201-656-2100
Storm water filtration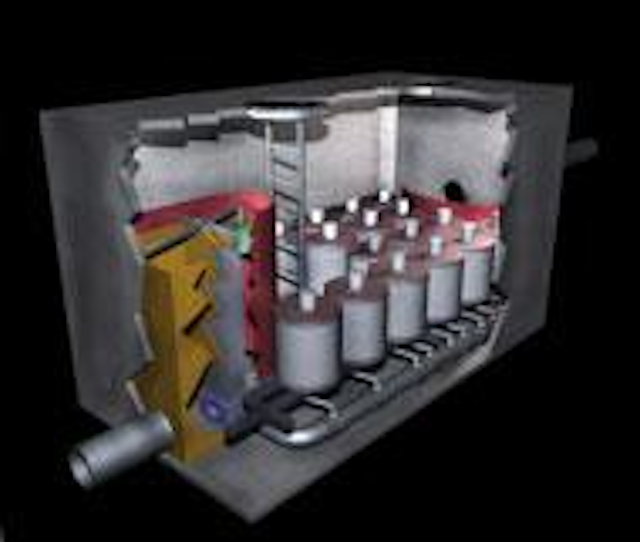 Click here to enlarge image
The CDS Media Filtration System is a best management practice for storm water treatment. It uses media-filled cartridges to target project-specific pollutants such as heavy metals, oils, greases and a finer gradation of suspended solids. The filtration system is composed of rechargeable media-filled cartridges configured inside either precast or cast-in-place concrete vaults.
CDS Technologies Inc.
Morgan Hill, CA
Tel: 888-535-7559
Web: www.cdstech.com
Biofilter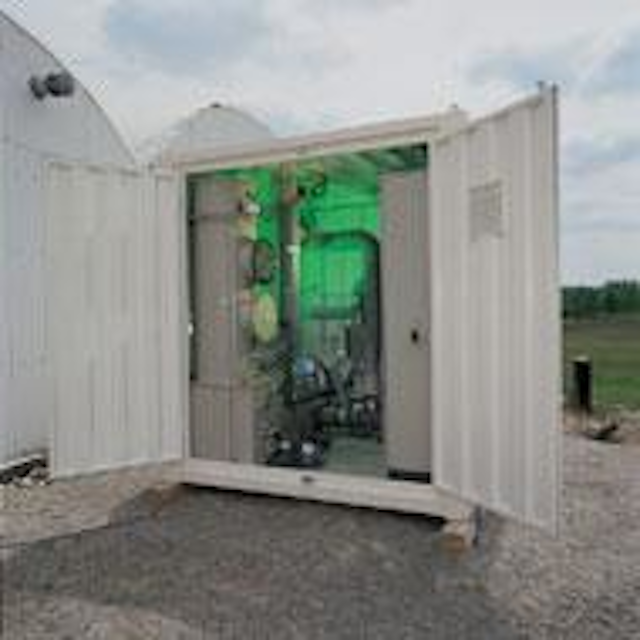 Click here to enlarge image
The modular Synergy™ integrated biofilter from Biorem Technologies is being installed at wastewater treatment plants and pump stations across North America for odor, VOC and H2S control. The biofilter features Kickstart™, a new permanent high-performance media. and an ultra-compact footprint.
Biorem Technologies Inc.
Guelph, ON Canada
Tel: 800-353-2087
Web: www.biorem.biz
Filter backwash valves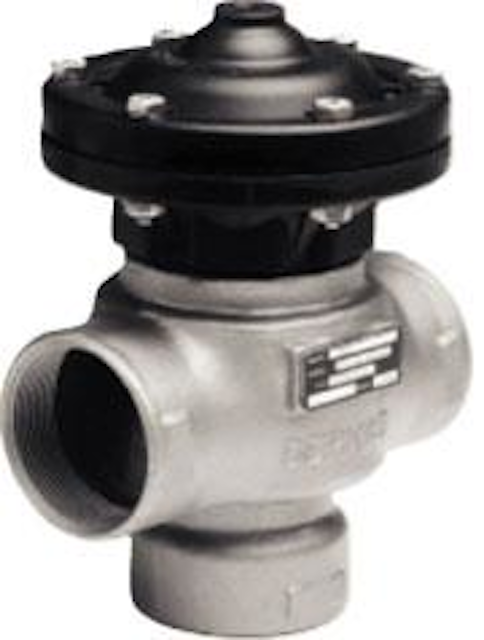 Click here to enlarge image
Bermad manufactures a wide range of control valves that can be readily applied to filter control and backwash operations. Included in this range is the 3-ported 350 Series specifically designed for filter backwash applications. The heart of the series is a diaphragm actuated plug assembly that keeps the supply port closed until the backwash port is opened and vice-versa. This prevents the mixing of supply and wastewater.
Bermad, Inc.
Anaheim, CA
Tel: 800-821-6825
Web: www.bermad.com
Belt filter press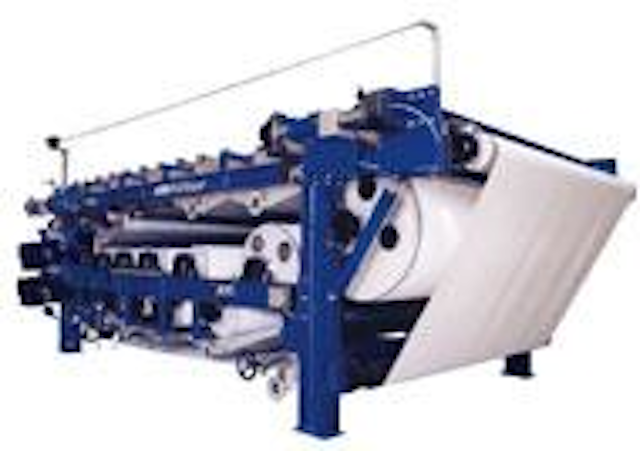 Click here to enlarge image
The USFilter Radial Wedge Belt Press line, manufactured under license from Sernagiotto Technologies S.p.A., adds to the USFilter dewatering product portfolio and complements its high solids centrifuge and recessed plate filter press. The model BPR 3000 boasts a 725 square feet filtration area that, combined with other key engineering innovations, does the work of two conventional 2.0 meter belt presses.
USFilter Dewatering Systems
Holland, MI
Tel: 800-245-3006
Web: www.usfilterdsg.com
Filtration system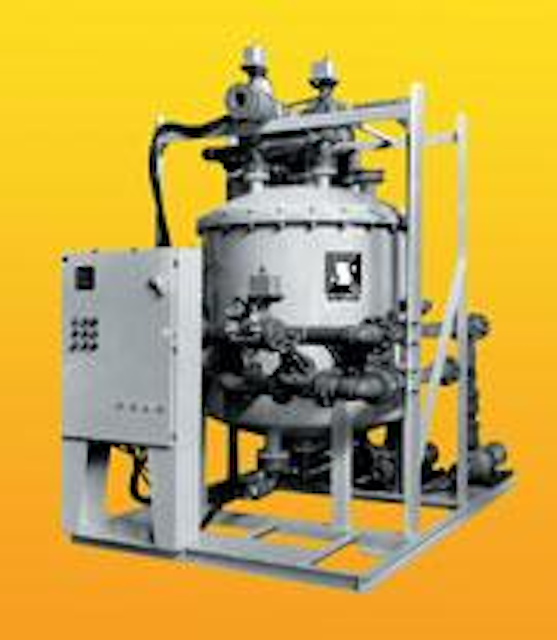 Click here to enlarge image
Serfilco offers the Excel Filtration System, an automatic backwash filter which uses a floating permanent media and unique "up" flow design to achieve sub-micron particle retention with single pass filtration. The system is specifically designed for final particulate entrapment in critical applications that cannot be met with other filtration methods.
Serfilco, Ltd.
Northbrook, IL
Tel: 800-323-5431
Web: www.serfilco.com
Ultrafiltration system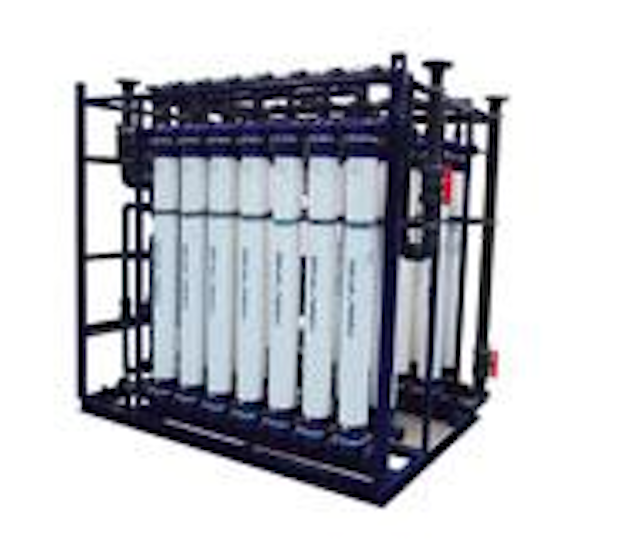 Click here to enlarge image
The new Omexell™ double-walled, PVDF hollow fiber UF membrane has a nominal pore diameter of 0.01µm, allowing for the removal of all particulate matter, bacteria (9-log reduction) and most viruses and colloids and is resistant to strong levels of disinfectants (up to 2000 ppm NaOCl). Despite the small pore diameter, the membrane has a very high porosity resulting in a flux similar to that of microfiltration (MF) and can effectively replace MF in most cases.
Omexell Inc.
Houston, TX
Tel: 713-973-9731
Web: www.omexell.com
Microfiltration systems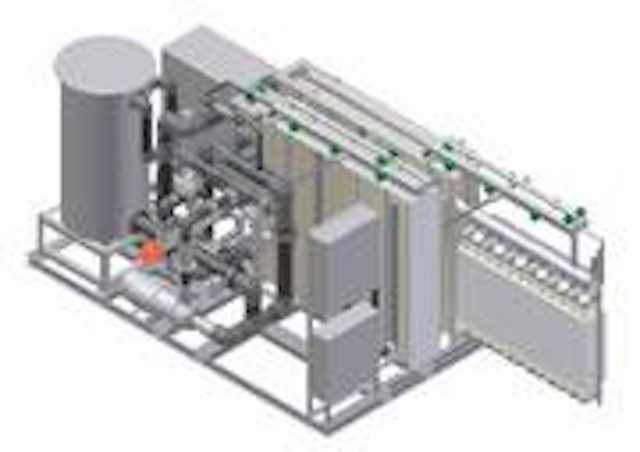 Click here to enlarge image
USFilter Memcor® Products has introduced the new Axia™ CMF-S System, which is a self-contained, membrane treatment plant. The submerged microfiltration system is available in three model configurations. This system is ideal for nominal operating flows between 50-300 gpm. Higher capacities can be achieved with additional units.
USFilter Memcor® Products
Towson, MD
Tel: 410-307-6548
Web: www.usfilter.com
Bag, cartridge filtration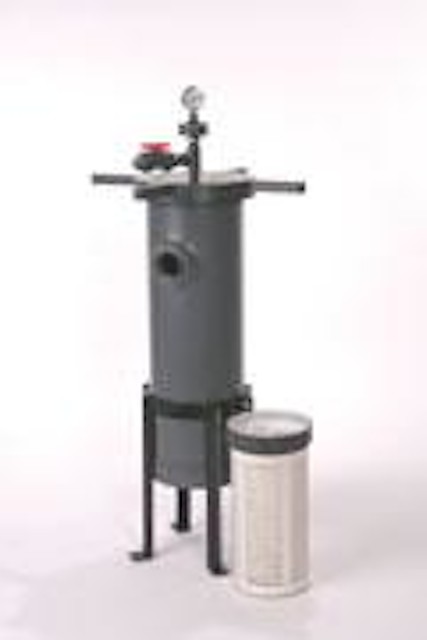 Click here to enlarge image
Freedom Plastics has introduced its Threadlok™ line of filtration housings featuring a thermoplastic threaded lid. The all-thermoplastic construction makes the filter housing perfect for highly corrosive environments. Rated to 150 psi maximum operating pressure in either PVC or CPVC, the systems are available for #01 (16") or #02 (32") filter bags, or 2.5" diameter filter cartridges in 20", 30" or 40" lengths. 2" NPT connections are standard; flanged or larger size (3" or 4") connections are also available.
Freedom Plastics Inc.
Janesville, WI
Tel: 800-356-9432
Web: www.freedomplastics.com
DE filters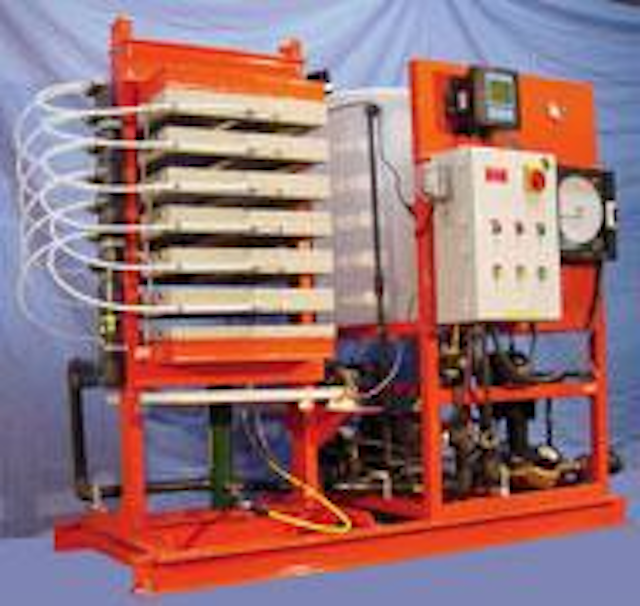 Click here to enlarge image
A low-cost 15 gpm Diatomaceous Earth water filter is available to small water systems. Designed around the EPA approved method using inexpensive DE filter media, the filter meets all the requirements of the Long-Term 1 Enhanced Surface Water Treatment Rule. The skid-mounted filter achieves consistent turbidity removal of less than 0.3 NTU.
GNT Filter Co.
Fairfield, CA
Tel: 707-426-0926
Web: www.gntfilter.com
Stormwater filtration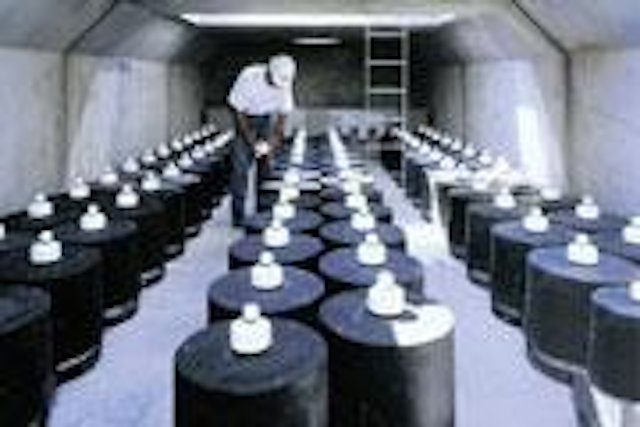 Click here to enlarge image
Stormwater Management Inc. has announced design changes to its StormFilter® underground filtration system. A newly engineered air lock cap allows engineers a solution to manage water quality volumes (WQV), while simultaneously treating stormwater to meet applicable water quality standards. With this new configuration, the system can now store significant WQV in the same vault with Stormfilter cartridges, thus reducing total system costs and providing an ideal solution for urban areas with WQV requirements.
Stormwater Management, Inc.
Portland, OR
Tel: 800-548-4667
Web: www.stormwaterinc.com
Membrane bioreactor
The new FastPac™ Membrane Bioreactor Package Plant offers wastewater treatment in a small package. The skidded plant, a pre-engineered membrane wastewater treatment system, is designed for applications 100,000 gallons per day or less. The packaged plant uses the USFilter MemJet™ membrane bioreactor (MBR) operating system. The factory-assembled treatment plant contains highly automated features to meet the demands of the most stringent environmental requirements, while reducing labor and installation costs.
USFilter Corp.
Edwardsville, KS
Tel: 913-422-7600 Web: www.usfilter.com
Iron, arsenic removal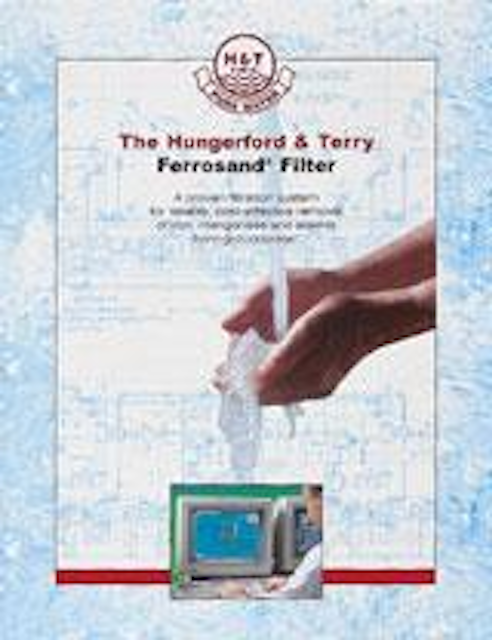 Click here to enlarge image
An updated report is available that describes the Ferrosand® Filter system offered by Hungerford & Terry. The system has been used since the mid-1960s for the removal of iron, manganese and arsenic from water. The manganese greensand product is available in two alternative technologies: the continuous regeneration (CR) and intermittent regeneration (IR) process. The CR process is used when iron removal is the objective.
Hungerford & Terry Inc.
Clayton, NJ
Tel: 856-881-3200
Web: www.hungerfordterry.com
Insertion magmeter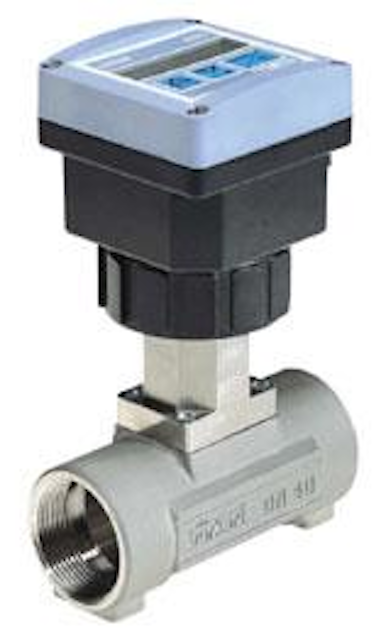 Click here to enlarge image
Designed to handle dirty liquids, slurries, and other liquids with or without suspended solid particles, Burkert's Type 8045 Insertion Magmeter finds significant use in filtration system applications. Designed for pipe sizes of 1/2" to 16", the magmeter accommodates liquids and slurries with a conductivity of >20µS. Measuring range is 0.16 to 33 fps, with linearity ≤ ±(1% o.R. + 0.1% o.F.S.). Repeatability is ±0.25% o.R. Unit end connections are available in various configurations, including NPT, flanged and Tri-Clamp.
Burkert USA
Irvine, CA
Tel: 949-223-3100
Ultrafiltration system
Koch Membrane Systems now offers the compact, HF-4 hollow fiber ultrafiltration (UF) water system. The system is particularly suited to small communities. The system removes pathogens and turbidity from surface water. The ultrafiltration membranes in the HF-4, having a nominal molecular weight cut-off of 100,000, are capable of 4-log removal or better for giardia, cryptosporidium and viruses. With proper pretreatment, the system can remove iron and manganese, improving the color and taste of water. As a stand alone, self-contained, fully automatic unit, the system is ideal for unattended operation.
Koch Membrane Systems Inc.
Wilmington, MA
Tel: 800-343-0499
Web: www.kochmembrane.com
Ion exchange resins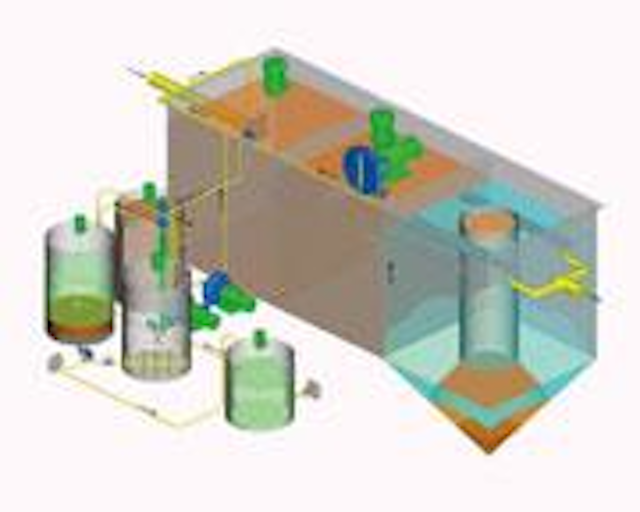 Click here to enlarge image
MIEX® DOC is an ion exchange resin that removes raw water dissolved organic carbon (DOC), a precursor to disinfection by-products (DBPs) from drinking water. The patented high capacity ion exchange resin includes a magnetized component. The combination of this magnetic resin with a unique continuous ion exchange process offers water treatment operators a DOC removal process capable of achieving new standards in water quality. The process is flexible and can adapt to changes in raw water quality to meet more stringent EPA Disinfection By-Product standards.
Orica Watercare, Inc.
Watkins, CO
Tel: 877-414-6439
Web: www.miexresin.com
Filtration system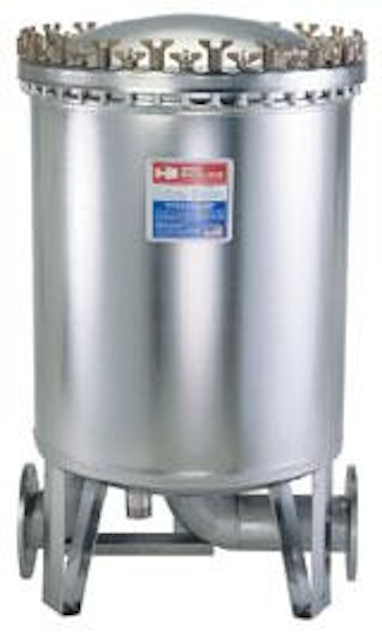 Click here to enlarge image
Harmsco offers its HIF 5x170 patented up-flow filtration system as an economical application for the water industry. The series is manufactured of electro-polished 316 stainless steel and offers high flow, high surface area filtration. Containing 850 square feet of filtration surface area in a single filter housing, the unit is comprised of only five high-capacity cartridges.
Harmsco, Inc.
West Palm Beach, FL
Web: www.Harmsco.com
Membrane screen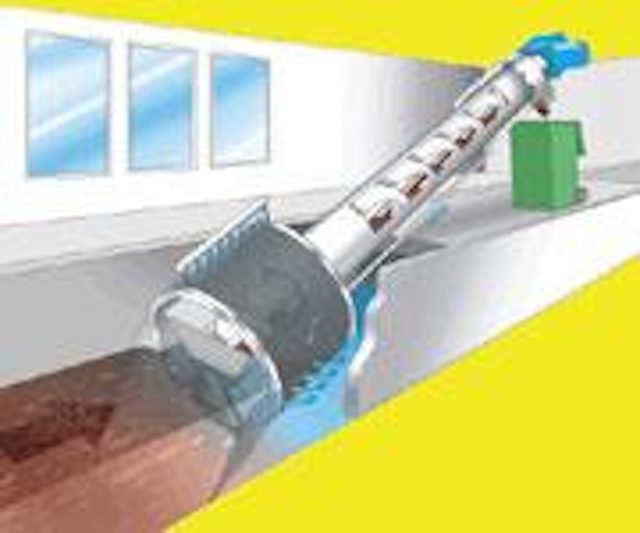 Click here to enlarge image
Huber Technology offers the Rotamat® High Removal Membrane Screen. This machine is based on the Rotamat® principle, i.e. screening, washing, compaction, and bagging in one fully enclosed system. The RoMem offers a cost efficient method for ultra fine screening, the removal of solids and COD.
Huber Technology
Huntersville, SC
Tel: 704-949-1010
Web: www.huber-technology.com
Filter underdrains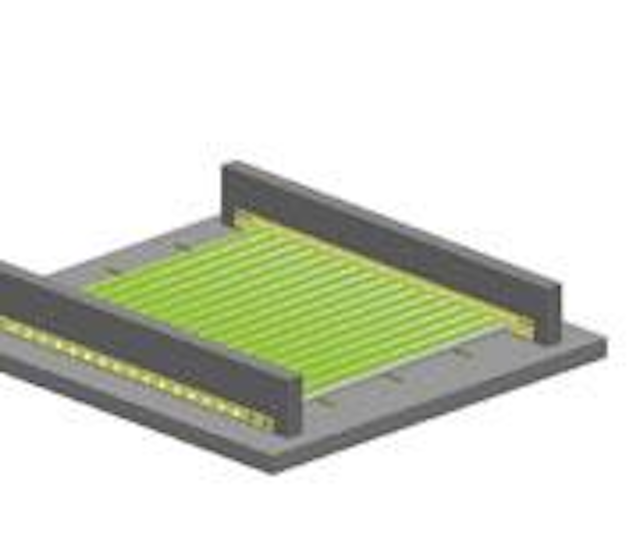 Click here to enlarge image
Ondeo Degremont will be displaying its new QuickPlate™ Underdrain for its ABW (Automatic Backwash) Traveling Bridge Filter. The ABW Filter — a shallow bed, rapid gravity filter — operates under low head and saves backwash consumption with its short duration backwash.
Ondeo Degremont, Inc.
Richmond, VA
Tel: 804-756-7600
Web: www.ondeo-degremont-usa.com
Backwash filter system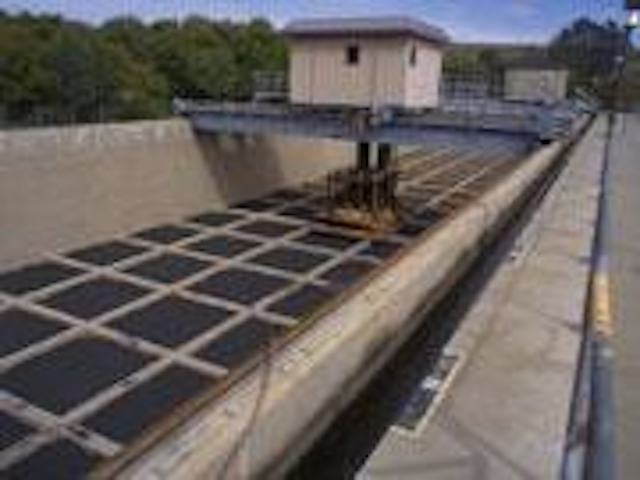 Click here to enlarge image
The Roberts Maximus™ Automatic Backwash Filter System is an alternative for potable and tertiary filtration. The innovative traveling crane system uses a unique backwash hood which mates to square filter cells. The arrangement of the filter cells allows for wide and long filter basins, which are ideal for large plants. Conventional deep filter media beds increase filter bed efficiency and holding capacity compared to shallow bed traveling bridge designs. Subsurface wash injectors improve media cleaning during backwash. The seal between the backwash hood and the filter cells prevent any short-circuiting. The system features smaller backwash pumps and fewer valves than would be found with conventional filter designs.
Roberts Filter Group
Darby, PA
Tel: 610-583-3131
Web: www.robertsfiltergroup.com