PRODUCTS & SERVICES -- DISINFECTION
Pulsafeeder offers the Pulsar® metering pump, which features an exclusive, patent pending vapor handling system that ensures dosing accuracy with a true diaphragm metering pump.
Nov 1st, 2003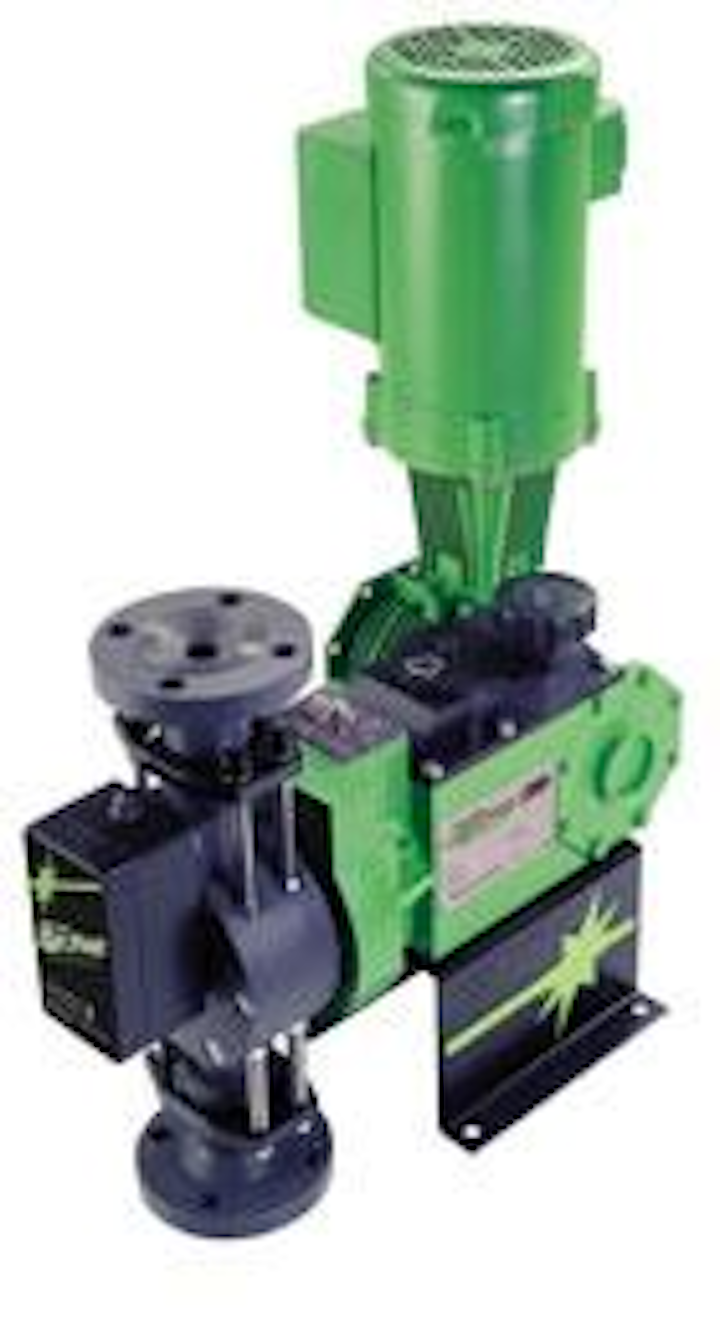 Metering pump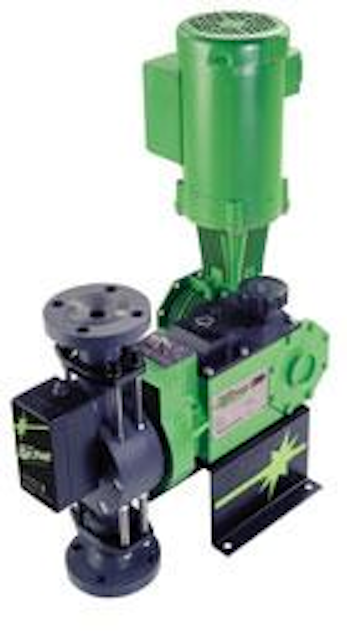 Click here to enlarge image
Pulsafeeder offers the Pulsar® metering pump, which features an exclusive, patent pending vapor handling system that ensures dosing accuracy with a true diaphragm metering pump. The new Pulsar HypoPump® meters sodium hypochlorite and its vapors effectively and efficiently.
Pulsafeeder, A Unit of IDEX Corp.
Rochester, NY
Tel: 585-292-8000
Web: www.pulsa.com
Disinfection system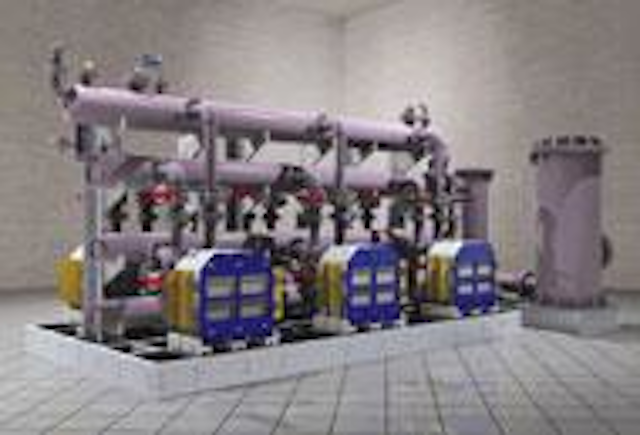 Click here to enlarge image
Electrolytic Technologies manufactures the Klorigen™ on-site generation system, which provides a safe alternative to current liquefied and pressurized chlorine disinfection practices and in most cases, obviates EPA Risk Management Planning and public liability issues. The system generates chlorine gas at an ambient pressure and produces sodium hypochlorite at 12% (trade) concentration that meets NSF/ANSI 60, both on-site and on-demand. Recently, the city of Des Moines, IA, selected the company to supply the Fleur Drive Water Treatment facility with two sodium hypochlorite on-site generation systems to meet current disinfection requirements.
Electrolytic Technologies Corporation
North Miami Beach, FL
Tel: 305-655-2755
Web: www.electrolytictech.com
Chlorine analysis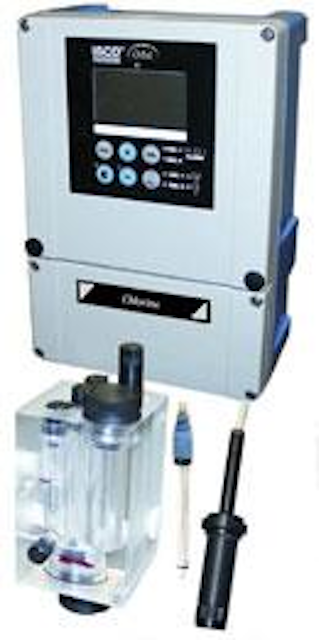 Click here to enlarge image
Isco's new Orbit™ Chlorine analyzer for drinking water is a complete system with all features needed for measurement of both total free chlorine and chlorination process control. It uses a sensor with membrane-covered cell that provides accurate measurement without the strong flow-rate dependence of open cells. Additionally, the sensor requires no zero calibration, and typically requires single-point calibration only every 1 to 4 months. The sensor is mounted in a flow assembly with built-in flow sensor that provides an alarm if the flow rate drops below a minimum value.
Isco, Inc.
Lincoln, NE
Tel: 800-228-4373
Web: www.isco.com
On-site disinfection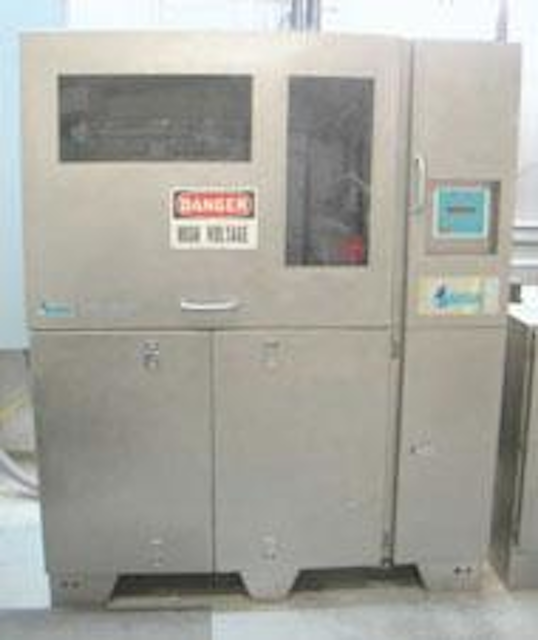 Click here to enlarge image
MIOX on-site hypochlorite and mixed-oxidant generators for water disinfection not only improve plant safety but also offer a number of solutions for other common water treatment goals, including disinfection by-product (DBP) reduction, biofilm removal, and a more durable chlorine residual. Because the on-site generation process uses only salt, water and electricity, facilities can do away with the hazardous chemicals typically associated with water disinfection. Safety improvements mean that they no longer need to maintain a Risk Management Plan (RMP), continue with HAZMAT training, or use SCBA equipment. MIOX equipment offers complete redundancy in a modular design, a self-calibrating brine pump to ensure consistent oxidant production.
MIOX Corp.
Albuquerque, NM
Tel: 888-646-9426
Web: www.miox.com
Calcium hypochlorite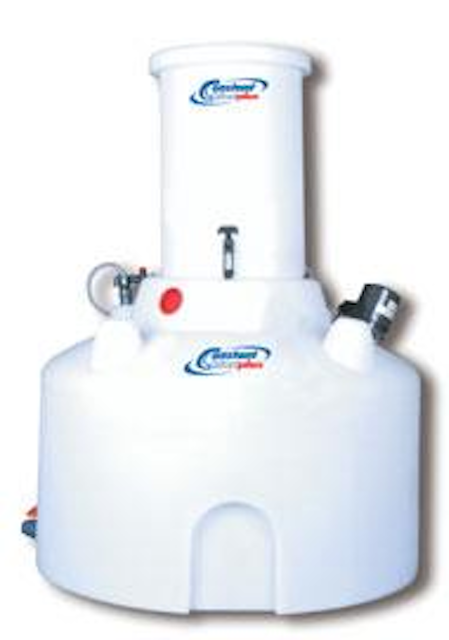 Click here to enlarge image
The Constant Chlor Plus Dry Calcium Hypochlorite Feeding System is designed to prepare and automatically deliver a consistently accurate dose of available chlorine for disinfection applications. Combined with the unique shape of the Constant Chlor Plus Dry Chlorinator Briquettes, the entire process assures a well-packed bed for consistent performance.
Arch Chemicals, Inc.
Smyrna, GA
Tel: 800-432-7223
Web: .www.archwaterworks.com/municipal
Ozone treatment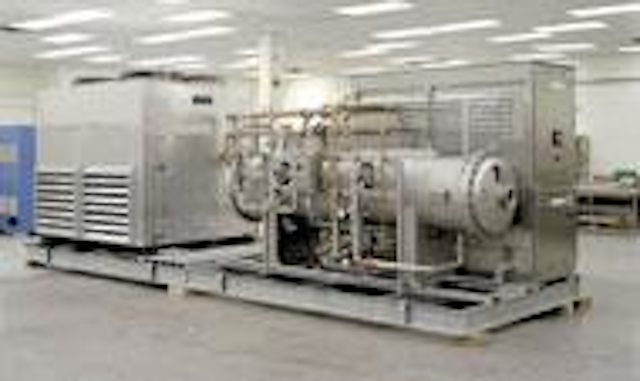 Click here to enlarge image
Ozonia North America supplies large-scale prefabricated, skid-mounted ozone plants suitable for outdoor installation with optional chilled water systems for desert or other hostile climates/locations. All systems incorporate the company's proprietary Advanced Technology "AT" non-glass dielectrics with thermal, electric and shock resistance and its high efficiency Power Supply Units (PSU). The company manufactures ozone generation and UV systems to meet the water and wastewater treatment demands of clients around the world.
Ozonia North America
Elmwood Park, NJ
Tel: 201-794-3100
Web: www.ozonia.com
UV disinfection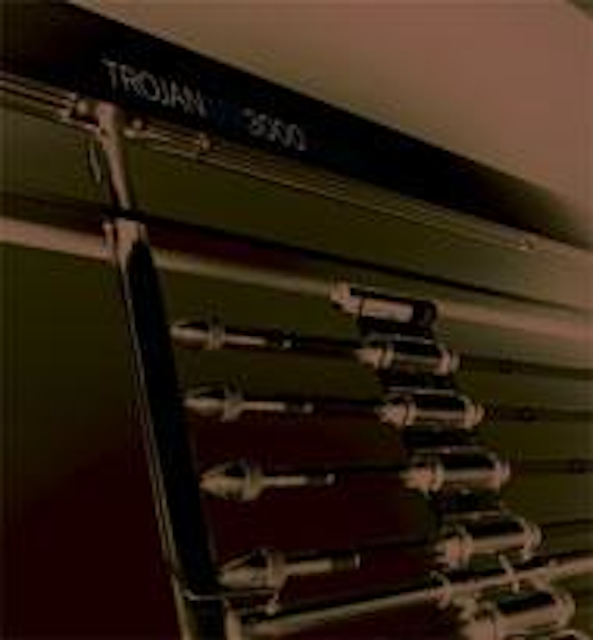 Click here to enlarge image
Lower electrical costs and effective self-cleaning technology makes Trojan's newest ultraviolet (UV) wastewater disinfection system an attractive alternative for many markets around the world. The Trojan UV3000™Plus features amalgam lamps that are capable of treating a wide variety of wastewater effluents. The amalgam lamps have been third-party validated and are recognized by NWRI to have a 0.82 end of lamp life factor, and an 0.95 fouling factor when using ActiClean™ - Chemical/ Mechanical cleaning. These factors allow for a reduction in the number of required lamps for a given disinfection application, thus directly reducing O&M costs.
Trojan Technologies
London, Ontario, Canada
Tel: 519-457-3400
Web: www.trojanuv.com
Dosing pumps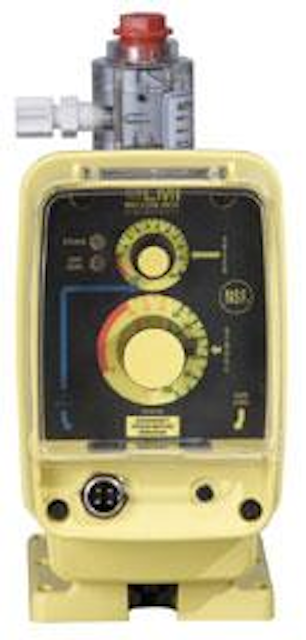 Click here to enlarge image
Dosing with gas-bearing liquids such as sodium hypochlorite and hydrogen peroxide are challenging to all water and wastewater facilities, both central and remote. The MacRoy family of pumps combined with the RoyPak family of pumping systems provides the solution to his requirement. The mechanically-actuated MacRoy G series pump provides a durable and low cost solution for dosing disinfection and odor control chemicals to water and wastewater streams. Optional wetted end materials and accessories allow for degassing the line, releasing the entrained vapors and maintaining the integrity of the pumped material.
Milton Roy
Ivyland, PA
Tel: 800-235-3421
Web: www.miltonroy.com
Free chlorine analyzers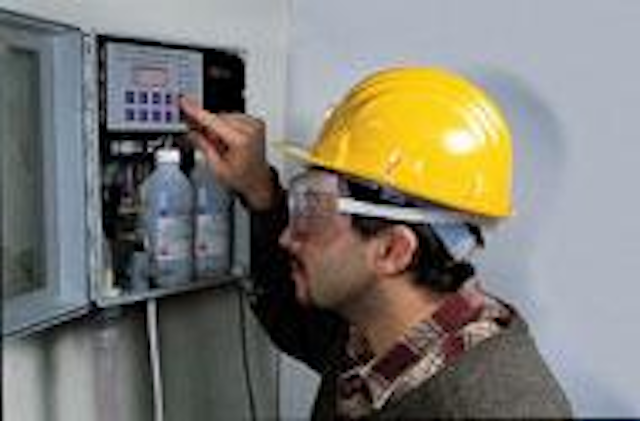 Click here to enlarge image
The PCA 300 Free Chlorine Analyzer from Hanna Instruments offers continuous chlorine monitoring and control in water systems. The instrument features recorder, alarm and RS232 computer signal output, NEMA 4X casing, adjustable sampling rates and is easy to operate and maintain. The principle of operation is based on an adaptation of the EPA recommended DPD 330.5 method which greatly reduces maintenance and calibration procedures. This analyzer/controller has a max and a min set point and each controls an SPDT relay. The analyzer continuously monitors and controls chlorine content in water from 0.00 to 5.00 mg/L with an accuracy ± 5% of reading or ± 0.05 mg/L, whichever is greater.
Hanna Instruments
Temecula, CA
Tel: 888-426-6222
Web: www.hannainst.com
Chemical scale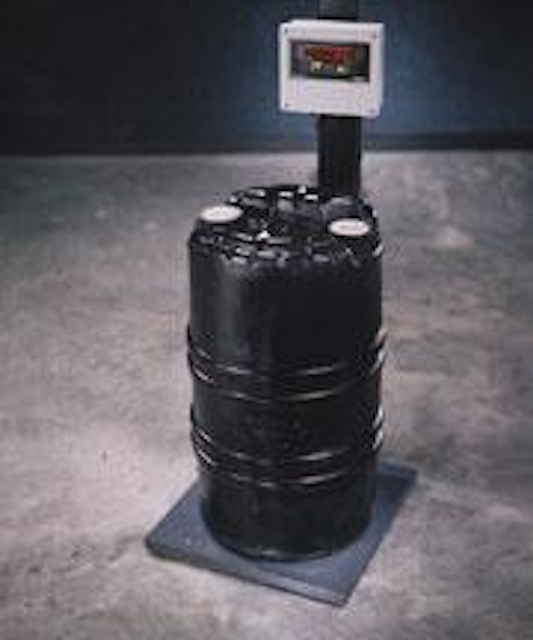 Click here to enlarge image
Eagle Microsystem's new WP1000 electronic ultra-low profile weigh plate provides ± 0.1% full-scale accuracy and readout/transmission versatility. The scale can be used for weighing liquid, dry or liquefied gaseous chemicals packaged in cylinders, drums and carboys and have capacities to 1000 lbs. in three platform sizes. Weighing is accomplished using four environmentally sealed load cells. The weigh plate is constructed entirely of corrosion-resistant PVC, and electronics are packaged in a surface mount, fiberglass NEMA 4X enclosure. The digital indicator provides a 6-digit LED display and pushbutton zero features. Readout unit displays: amount used, remaining, total, gross weight and rate by weight. Standard output is 4-20 mA dc with RS-232 and RS-485 optionally available.
Eagle Microsystems, Inc. Pottstown, PA
Tel: 800-780-8636
Web: www.eaglemicrosystems.com
UV Disinfection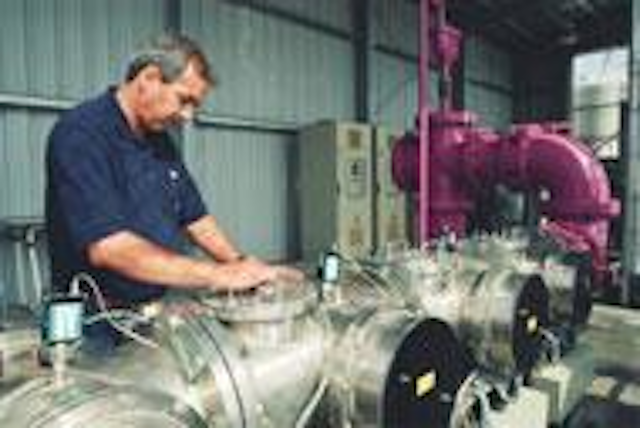 Click here to enlarge image
Aquionics' UV systems offer an efficient, environmentally sound and economical way to disinfect primary, secondary or tertiary treated wastewater or industrial effluent to required discharge limits. UV is simple to operate, requires no chemicals and leaves no disinfection residue in the treated water. With microprocessor controls and superior hydraulics, the disinfection chambers of the company's systems are compact and can be installed directly into existing pipework. Its high-output medium pressure UV technology delivers a high dose of UV disinfection with fewer and smaller lamps than comparable low pressure systems. The closed chambers are compatible with both gravity fed and pumped applications and provide minimal headloss.
Aquionics Inc.
Erlanger, KY
Tel: 800-925-0440
Web: www.aquionics.com
Chlorine dioxide generators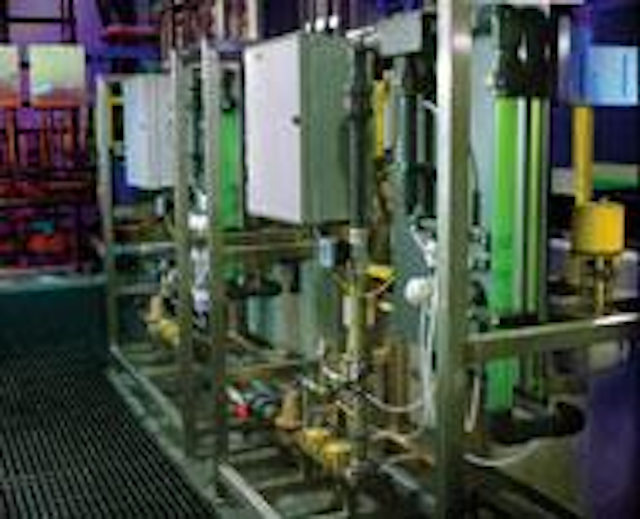 Click here to enlarge image
Altivia offers water treatment systems including a broad range of chlorine dioxide generators and full service programs. Chlorine dioxide is used in water treatment as an oxidant and a disinfectant. Chlorine dioxide is generated on site using a chlorine dioxide generation system. The company offers both chlorite and chlorate based wet chemical generators as well as electrochemical systems all based on patented or patent pending technology. Simple manual, to fully automatic generators such as the new Millennium III™ and Eka Purate™ systems, that may be linked to plant process controls, are available in capacitates from 1-25,000 pounds per day.
Altivia Corp.
Houston, TX
Tel: 866-258-4842
Web: www.altivia.com
Chlorine gas containment
ChlorTainer® - Total Containment System, offered by TGO Technologies, processes a ton or 150 pound cylinder(s) from within a sealed vessel. This 'zero release' technology is an alternative choice for leak prevention. Total containment is the only technology considered passive for RMP considerations, and fully complies with Article 80 of the Uniform Fire Code. It eliminates the need for scrubbers. The units can be installed outdoors or in a ventilated room.
TGO Technologies, Inc.
Santa Rosa, CA
Tel: 800-543-6603
Web: www.tgotech.com
NaOCl pumps

Click here to enlarge image
Progressive cavity pumps in exotic materials, resistant to aggressive chemicals, are now available from seepex. These pumps are designed for metering NaOCl, FeCl3, H2SO4, NaOH, HCl and strong acids and bases. Pump bodies are constructed of HDPE or cast metal with Halar® linings. Wetted rotating parts can be constructed of AISI 316ti, duplex stainless steel, Hastelloy® or titanium. These pumps do not pulsate and can be fitted with a variety of highly accurate variable speed drives.
seepex, Inc.
Enon, OH
Tel: 937-864-7150
Web: www.seepex.com
Packaged ozone system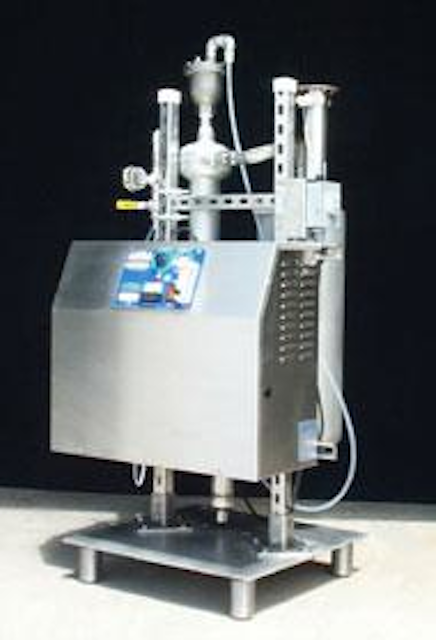 Click here to enlarge image
GDT Corporation has introduced packaged skid mounted ozone and oxygen systems for water and wastewater disinfection. The patented GDT™ process for gas to liquid mass transfer is modular and can support small and large scale treatment applications through innovative pressurized side stream and/or full flow contacting. The compact skid mounted ozone disinfection system includes an oxygen concentrator, ozone generator, boost pump, injector, reaction vessel, and degas separator for small community water treatment.
GDT Corp.
Phoenix, AZ
Tel: 623-587-8858
Web: www.gdt-h2o.com
Chlorine monitoring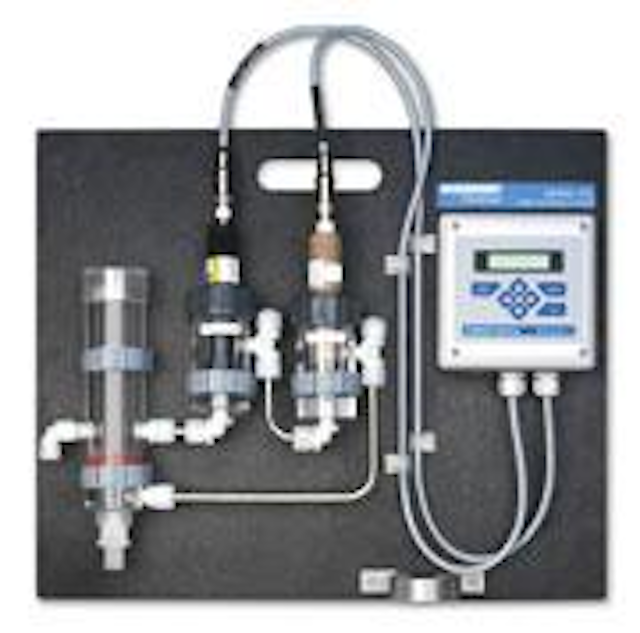 Click here to enlarge image
The Model FCL for the determination of free chlorine and the Model MCL for the measurement of monochloramine are complete pre-packaged and reagent-free measurement systems, available from Rosemount Analytical. The analyzers do not use an expensive sample conditioning system or messy reagents to control pH. Instead, they automatically compensate for changes in the pH of the sample. The FCL and MCL systems combine a free chlorine or monochloramine sensor, respectively; connecting cable; Model 1055 Solu Comp II analyzer; and flow controller in a single packaged system on a back plate for wall mounting. Commissioning is as simple as bolting it to the wall, wiring power, and bringing in the sample.
Emerson Process Management
Rosemount Analytical Inc., Liquid Division
Irvine, CA
Tel: 800-854-8257
Web: www.raihome.com