Backup Pumping Systems Spell End to Spills
At WEFTEC 2003 in Los Angeles, Godwin Pumps will promote an alternative for emergency backup pumping systems at sewage lift stations.
Sep 1st, 2003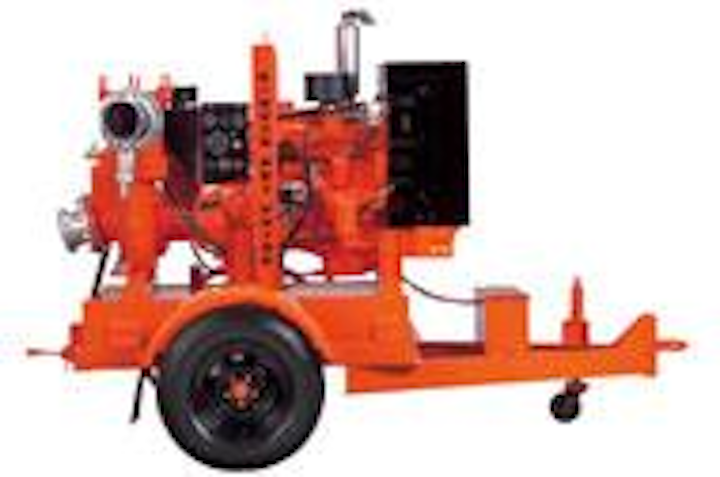 At WEFTEC 2003 in Los Angeles, Godwin Pumps will promote an alternative for emergency backup pumping systems at sewage lift stations. The company's research and development of its standby lift station design was driven by the request of one customer – a city engineer in Hoover, AL, who was experiencing electrical and mechanical failures, causing sewage spills. Hefty fines imposed on the city motivated the engineer to look for a solution.
A study was conducted by the city's engineering department of all of the recorded failures to identify the root cause of its problems. Only 14% of the lift station failures were directly attributed to loss of primary power. The remaining 86% were the result of mechanical failures that were non-electrical in nature.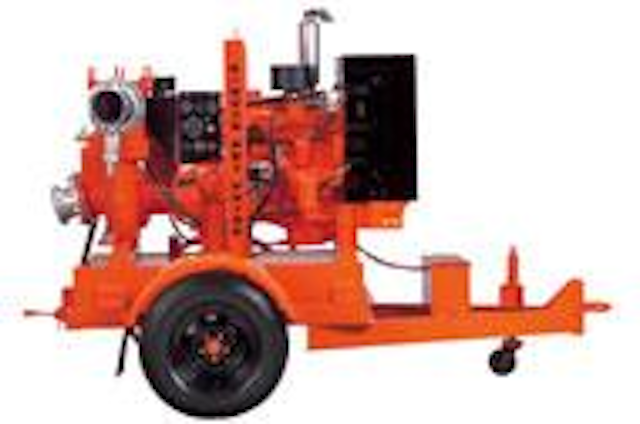 Click here to enlarge image
After using a Godwin Dri-Prime" automatic self-priming pump on a temporary basis as a back-up pumping system, the city engineer investigated the feasibility of using the pump in a permanent installation powered by a diesel engine and controlled by a float operated starter panel.
In the event of lift station pump failure, for whatever reason — electrical or mechanical — the diesel pump would automatically start once a predetermined level had been attained in the wet well.
The critical technological element of the pumping system is the Godwin venturi air evacuation priming system. The venturi priming system is capable of creating vacuum measured up to 25 inches of mercury, or approximately 28 feet of dynamic suction lift. The priming is achieved automatically with no operator assistance. In addition, the pump is capable of running dry without damage. This is possible due to the design of the oil bath mechanical seal. The seal design, housed in a separate oil-filled chamber, keeps the seal cool and lubricated in the absence of product.
The control system for the backup pumping is an electrical control panel activated by two floats, set at low and high levels in the sump. This float-operated system has proven successful in countless sewer bypass applications over the last 15 years.
The success of the first lift station upgrade in Hoover led to its replication at 29 other lift stations in the city to date. An optional sound attenuated enclosure for the diesel pump provides municipalities with a solution to noise abatement in residential areas.
An isolated customer's need has shed new light on standby lift station design and reliability. Today, numerous other lift station conversions have been completed throughout the country. Municipal owners see the advantages: instead of just having power on-site provided by a generator, a Godwin Dri-Prime on site provides the added benefit of pumping capability.
The flexibility this brings to the municipal lift station doesn't end here. With the additional pumping ability, permanently installed pumps can be taken out of service for repair and maintenance with greater confidence. Expensive switchgear that has been plagued with service issues is eliminated and replaced with simple float-operated controls.
Since the upgrade of the 30 lift stations in Hoover, spills and fines are a thing of the past. Public trust and confidence is hard won and easily lost. Shifting the paradigm of thinking from the traditional generator and switchgear system to a backup pumping system has paid big dividends for Hoover and other municipal lift stations across the country.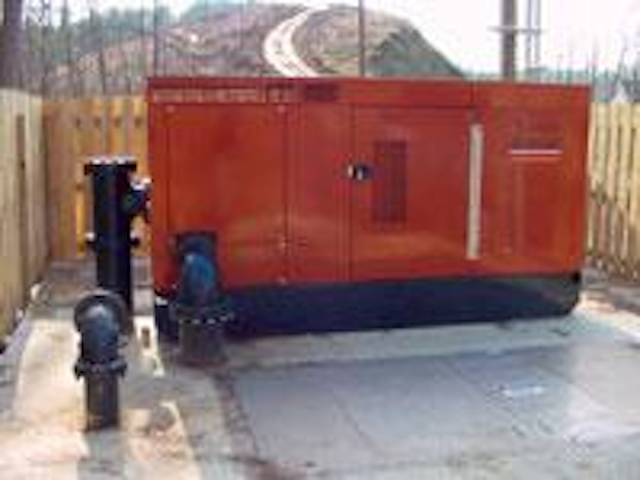 A typical pump installation at Hoover, AL.
Click here to enlarge image
The Godwin Dri-Prime self-priming centrifugal pumpset is available in sizes from 2 inch to 16 inch. With maximum flows to 10,000 gpm, heads to 600 feet and solids handling to 5 inches in diameter, the pump features automatic self-priming to 28 feet of suction lift and dry-running capabilities. High volume, and high head and jetting models are available. The pumps are offered with diesel engines or with electric drive.
Note: Godwin Pumps will present a technical paper entitled, "Lift Station Backup Pumping" at WEFTEC 2003 on Tuesday, October 14, Session 57 at 2 p.m.