PRODUCT SHOWCASE
The TitraLab® 870 is the latest in a line of high-performance workstations from Radiometer Analytical. It combines a conductivity meter, biburette titrator, and pH/ISE meter into a compact system.
Dec 1st, 2003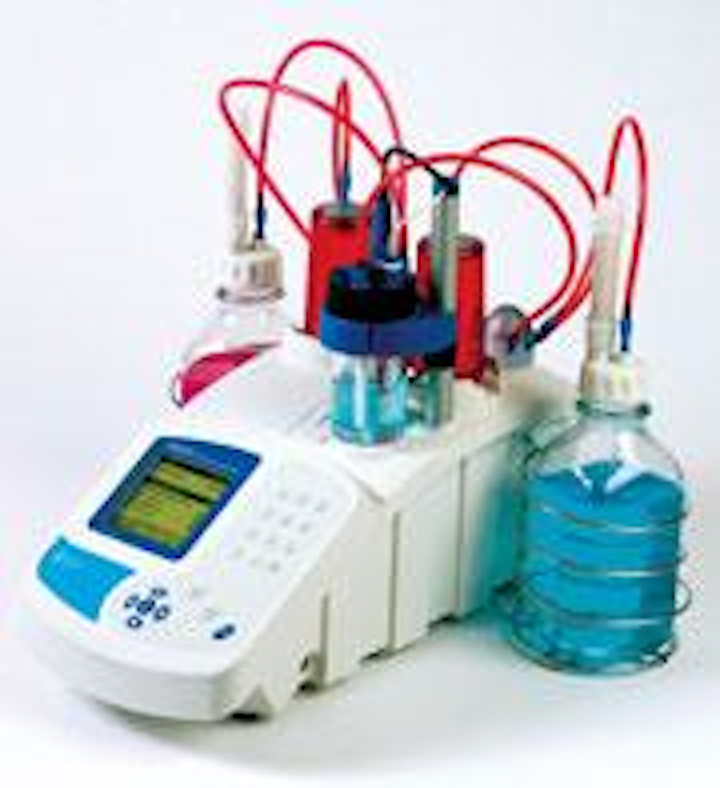 Titration workstation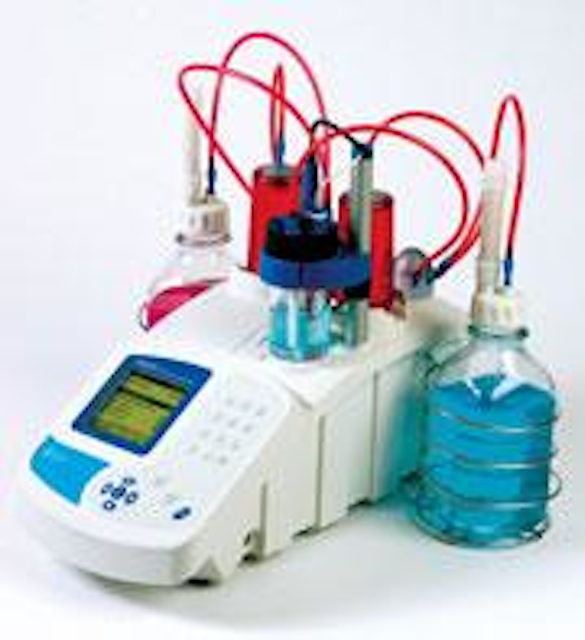 Click here to enlarge image
The TitraLab® 870 is the latest in a line of high-performance workstations from Radiometer Analytical. It combines a conductivity meter, biburette titrator, and pH/ISE meter into a compact system. It comes with everything needed for specific applications, making the lab a versatile solution for water/wastewater analyses and samples that require direct pH and conductivity measurements along with titrations. Features include EPA approved methods, preprogrammed methods, GLP traceability, data storage, and automated analysis. On-screen text prompts guide the user through analysis and maintenance. The instrument is capable of sequential and repeat analyses, ideal for pH and conductivity testing followed by a titration in the same beaker.
Radiometer Analytical
Loveland, CO
Tel: 800-998-8110
Web: www.radiometer-analytical.com
Solids handling pump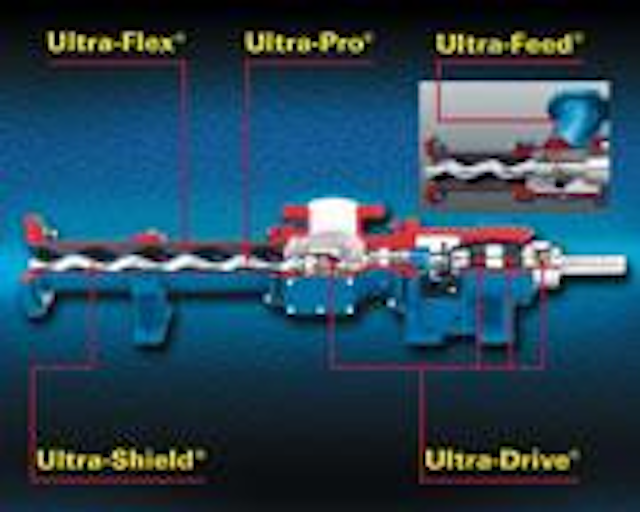 Click here to enlarge image
Moyno has re-launched its viscous and high-solids handling Moyno® 2000 Pump product line. The product line has been enhanced with new, proprietary Moyno Ultra-Technology® advancements. The pumps are able to handle abrasive materials in excess of 80% solids and offer a performance range to 4,500 gpm with pressures to 1,500 psi. The proprietary gear-type universal joint design has been field proven to handle radial and thrust loads.
Moyno, Inc.
Springfield, OH
Tel: 877-486-6966
Web: www.moyno.com
Hydro excavation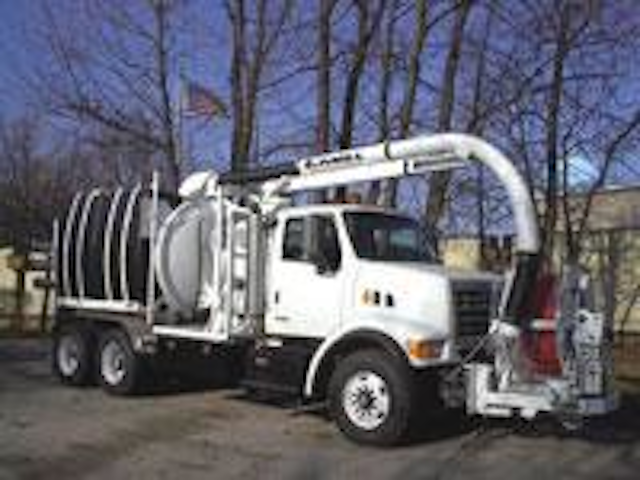 Click here to enlarge image
Super Products has recently added a hydro-excavation option to its line of Camel Sewer and Catch Basin Cleaners. The option adds to the versatility of the unit by allowing the operator to safely uncover buried utilities, potholes, etc., even in frozen soils, while still being capable of cleaning sewers and catch basins.
Super Products Inc.
New Berlin, WI
Tel: 800-837-9711
Web: www.superproductscorp.com
Stormwater detention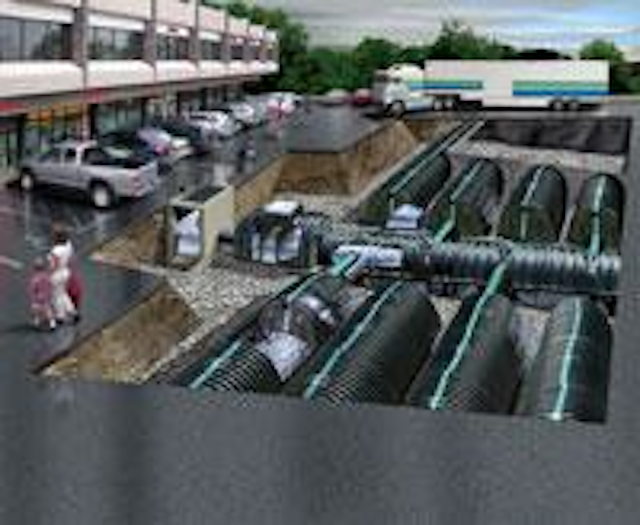 Click here to enlarge image
Cultec chambers are designed for subsurface stormwater detention/retention and wastewater management systems. The plastic chambers have a repeating, fully formed end wall for strength and performance. A unique rib connection makes installation easy; no additional parts are required. Cultec Recharger® and Contactor® units have an open bottom and perforated sidewalls for higher infiltrative capability and groundwater recharge.
Cultec Inc.
Brookfield, CT
Tel: 800-428-5832
Web: www.cultec.com
Metering pump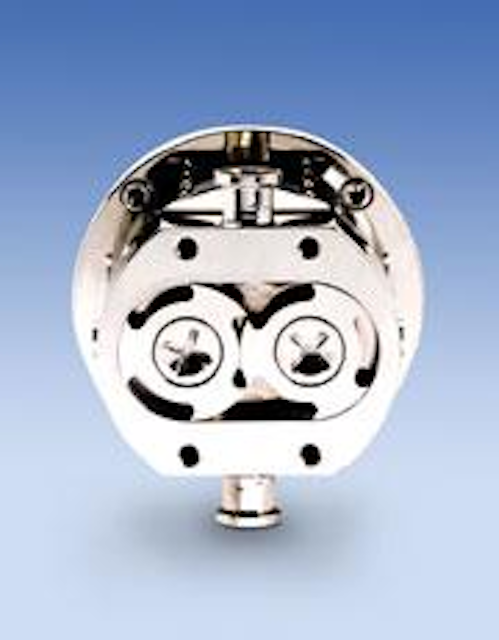 Click here to enlarge image
Viking's Sanitary Products Group has introduced a new tri-wing rotor design for the AccuLobe™ series to provide higher pressure and greater metering accuracy on low viscosity liquids. The tri-wing rotors provide greater sealing surfaces and reduced clearances to minimize slip on waterlike fluids, compared to the pumps' standard multi-lobe rotors. The AccuLobe offers capacities to 9.2 gpm and pressures to 175 psi. The rotors are constructed of a nickel-based non-galling alloy. The new casing design incorporates four beveled cusps, maximizing efficiency while allowing the pump to self-drain, whatever the port orientation. The pumps offer foot or bulkhead mounting, or close coupling to NEMA C-face or IEC flange motors.
Viking Pump Inc.
Cedar Falls, IA
Tel: 319-266-1741
Web: www.vikingpump.com
Pressure transmitter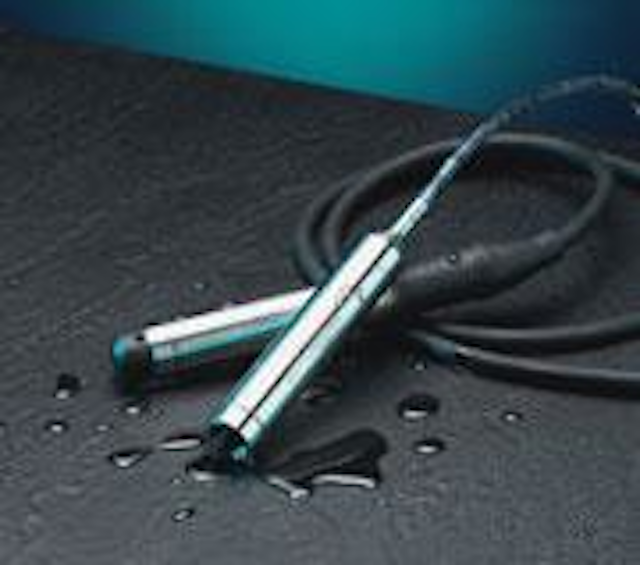 Click here to enlarge image
Viatran's Model 517 is an all media submersible pressure transmitter designed to provide accurate performance and readings from 30'' to 1200'' of liquid. Ideal for tank level applications, the transmitter features an all-welded stainless steel design, coupled with customer specified cable to ensure a media proof seal. The piezoresistive sensor provides accuracy and stability with an improved accuracy version available down to 0.05% FSO Non-Linearity. Internal circuitry provides lightning protection with FM/CSA Intrinsic Safety approvals available.
Viatran Corp.
Grand Island, NY
Tel: 716-773-1700
Web: www.viatran.com
Insertable magmeter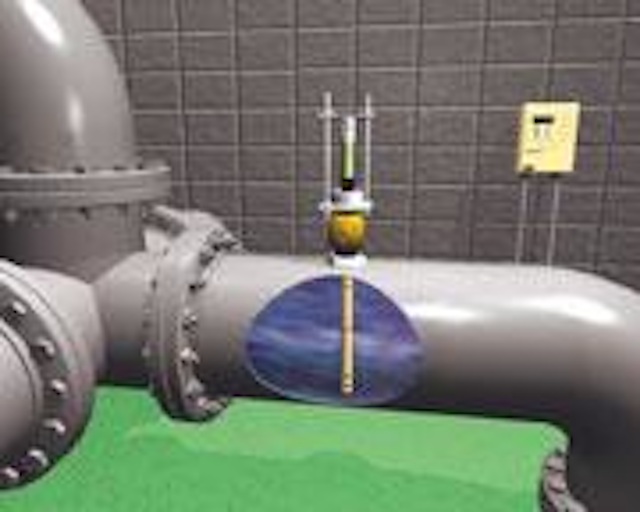 Click here to enlarge image
The Multi-Mag™ Insertable Magmeter was designed to measure debris-free flow in difficult applications including low flows, wide flow ranges, and restrictive piping configurations. An array of electromagnetic sensors are strategically located on the insertable probe that spans the entire pipe diameter. The probe detects and compensates for shifting flow profiles resulting in a better than 1% accuracy specification. The streamlined shape minimizes pressure drop and requires significantly less energy to operate than most flowmeters.
Marsh-McBirney, Inc.
Frederick, MD
Tel: 800-368-2723
Web: www.marsh-mcbirney.com
Ultrasonic transmitter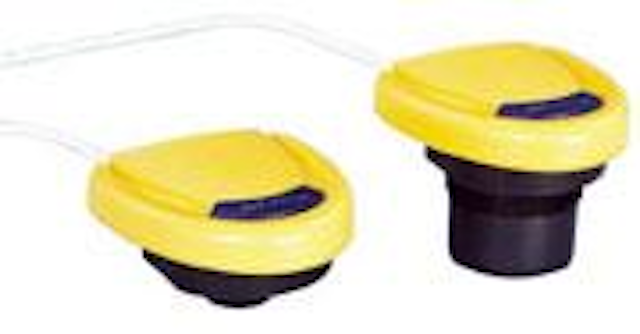 Click here to enlarge image
The new general-purpose two-wire LU12-14 "MiniMe" ultrasonic transmitter from Flowline provides non-contact level measurement up to 10 feet in a standard 1" mount. Optional 2" mount versions are available with a measurement span up to 25 feet or 40 feet. Accuracy is ±0.15% of span while resolution is 0.125". Signal output is 4-20 mA. Combining microprocessor-based electronics with innovative ultrasonic technology, the transmitter is ideally suited for challenging corrosive, coating or waste liquids and is broadly selected for atmospheric bulk storage, day tank, process vessel and waste sump applications.
Flowline Inc.
Los Alamitos, CA
Tel. 562-598-3015
Web: www.flowline.com