NEW PRODUCTS
Assured Flow Sales, Inc. has developed an economical method to identify hydrants not functioning properly.
Dec 1st, 2003
Hydrant covers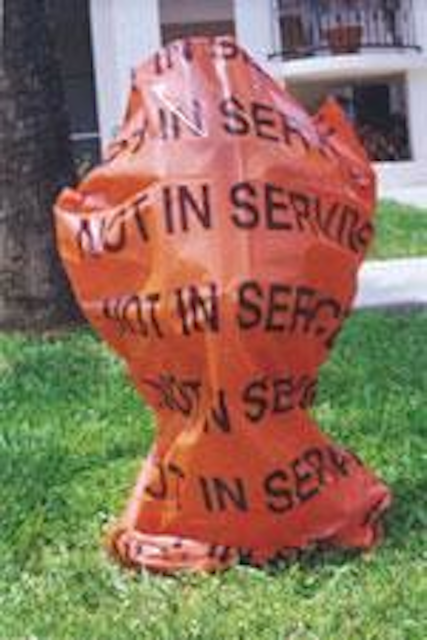 Click here to enlarge image
Assured Flow Sales, Inc. has developed an economical method to identify hydrants not functioning properly. Its N.I.S. (Not in Service) Bags can be installed within a matter of seconds and will stay firmly attached to a hydrant. The safety-orange, 4-mil poly bags give firefighters and maintenance crews a quick, visible reference that a fire hydrant is not in service.
Assured Flow Sales, Inc.
Sarasota, FL
Tel: 800-388-0678
Web: www.gradelok.com
TOC analyzer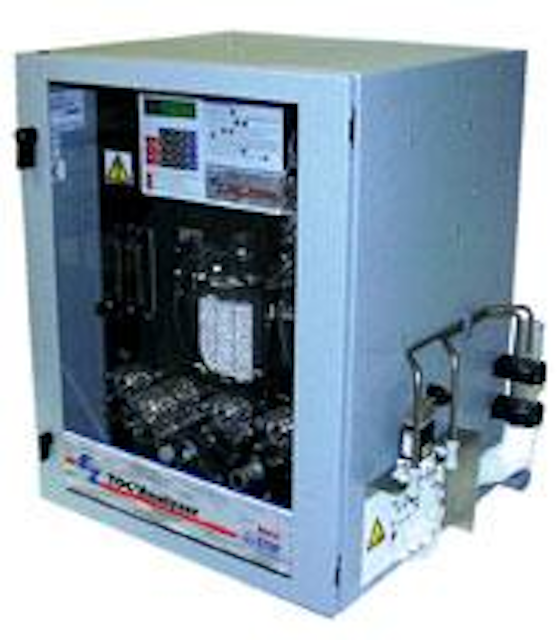 Click here to enlarge image
Isco announces the new EZTOCII Total Organic Carbon analyzer, with dual-stream version specifically for drinking water applications. Based on Isco's proven TOC analyzer technology, the new dual stream system displays continuous TOC values while alternating between two sample streams. The system features a measuring range of 0-10mg/L with a minimum detection level of 0.015mg/L; off line analysis of grab samples.
Isco, Inc.
Lincoln, NE
Tel: 800-228-4373
Web: www.isco.com
Worker safety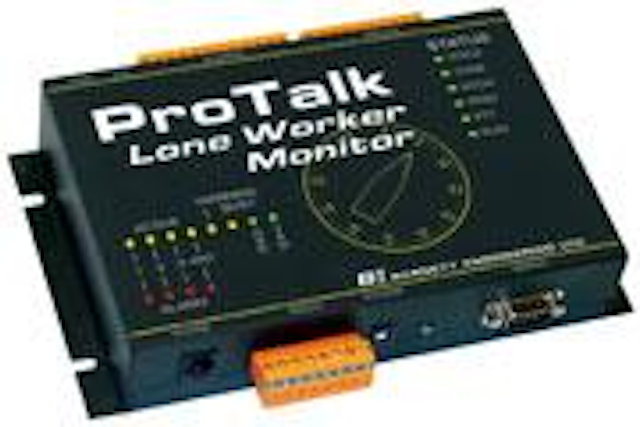 Click here to enlarge image
The ProTalk Lone Worker Monitor provides a reliable, efficient means of monitoring field personnel working at unattended sites. Designed for use in a mobile radio system or over a dial-up phone line, each person registers his or her name, location, emergency code, and timer duration.
Barnett Engineering Ltd.
Calgary, Alberta
Tel: 800-268-2646
Web: www.barnett-engg.com
Positive displacement pump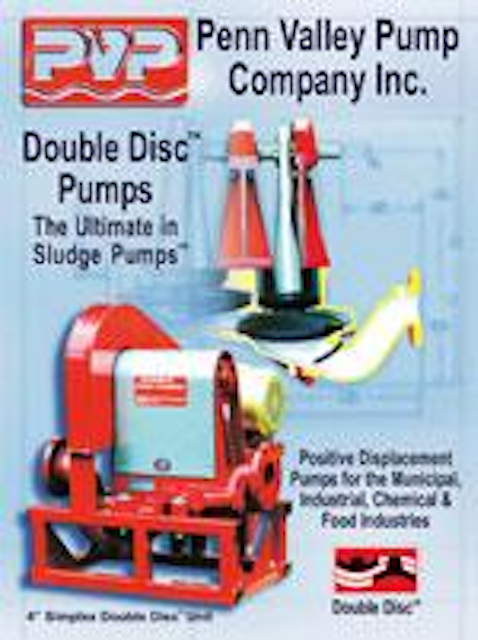 Click here to enlarge image
The Double Disc™ positive displacement pump from Penn Valley can be used for variety of sludge and slurry handling applications including but not limited to belt press feed, centrifuge feed, thickener feed, thickened sludge transfer, primary sludge, scum, septage, lime slurry, etc. Based on a Free Diaphragm™ technology, the pump uses an "induced flow" principle of operation whereby the discs perform the duties of both diaphragm and valve, providing a double acting, non-clogging pumping action.
Penn Valley Pump Co.
Warrington, PA
Tel: 215-343-8750
Web: www.pennvalleypump.com
Leak patching system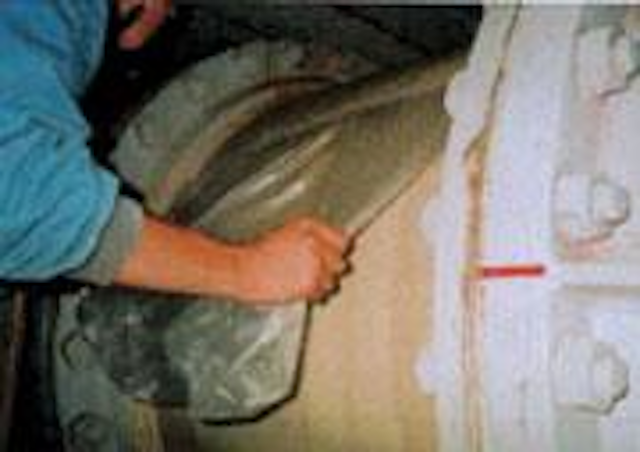 Click here to enlarge image
Specialty Coating Solutions offers a new Fiber Tech Patch (FTP) made of UV-cured fiberglass that adheres to almost any surface and has the strength, durability, and chemical resistance of traditional fiberglass.
Specialty Coating Solutions, LLC
Neehan, WI
Tel: 866-220-6177
Web: www.scs-us.com
Pneumatic actuators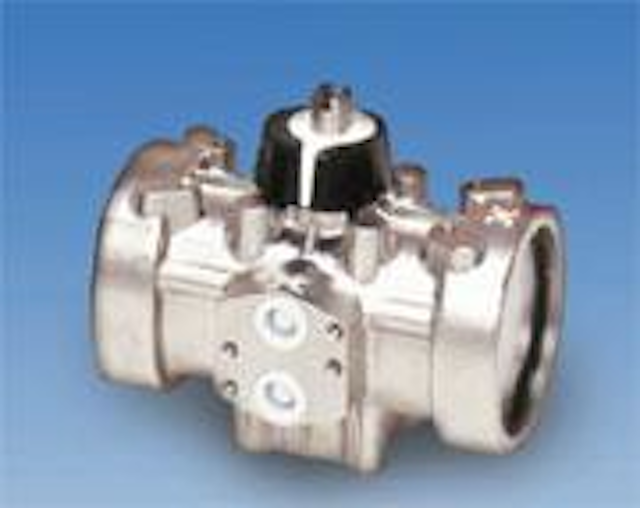 Click here to enlarge image
Asahi/America has introduced the Series 79 Pneumatic Actuators. Offered in stainless steel, aluminum and glass-filled polyamide, the actuators are ideal for a variety of applications, including water and wastewater treatment. The actuators' double piston, double rack and pinion design provides constant torque output, minimal backlash and durability. The actuators feature a visual position indicator and extended shaft, and come in air-to-air (double acting) or air-to-spring (single acting) models. They have a recommended air supply of 80 psi to 120 psi, and can be sized for pressure as low as 40 psi.
Asahi/America, Inc.
Malden, MA
Tel: 781-321-5409
Web: www.asahi-america.com
Coliform testing
BD Diagnostic Systems has announced the release of BD MI Agar, a new chromogenic/fluorogenic medium formulated to simultaneously detect total coliforms and Escherichia coli in drinking water by membrane filtration. The medium conforms to the USEPA 1604 approved procedure for monitoring drinking water under the Total Coliform Rule and source water under the Surface Water Treatment Rule. A significant enhancement to the membrane filtration (MF) test method, it increases the analytical quality, while reducing analysis time when compared to conventional techniques.
BD Diagnostic Systems
Sparks, MD
Tel: 800-638-8663
Packing media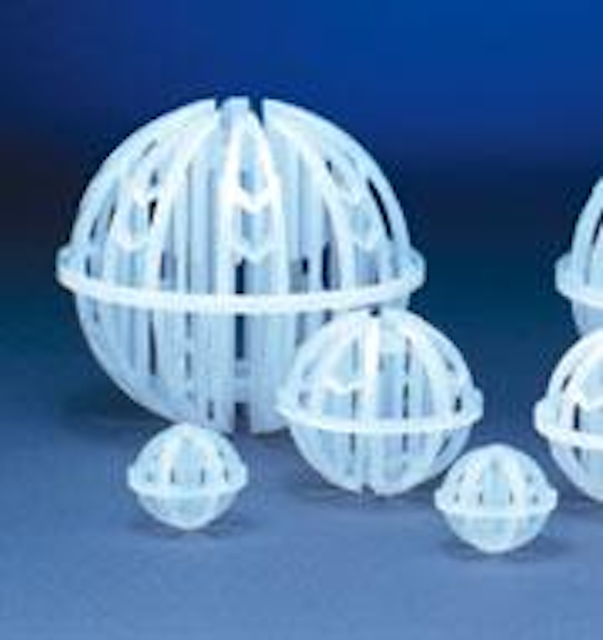 Click here to enlarge image
Jaeger Tri-Packs® are hollow, spherical packings constructed of a unique network of ribs, struts, and drip rods. The superior geometry provides balance between open area and surface area – offering efficiency for all types of scrubbing and stripping applications and achieving high mass transfer rates. The packings are available in four nominal sizes, 1'', 1 1/4'', 2'' and 3 1/2'', and in numerous thermoplastic resin choices. The company offers a ready inventory with same day shipping of most products, and maintains a staff of engineering professionals to provide design and engineering support.
Jaeger Products, Inc.
Houston, TX
Tel: 800-678-0345
Web: www.jaeger.com
Plastic tanks
Belco manufactures fiberglass tanks and vessels to meet the demands of applications where corrosion is a daily threat. The company's plant-manufactured tanks and vessels will not crack, chip, rust, rot or decay. Also, they resist the affects of ultra-violet light, seismic loading and most corrosive chemicals. They are available from one to 20 feet in diameter, in vertical, horizontal, flat-bottom, dish-bottom and cone-bottom designs. In addition to tanks and vessels, the company also produces corrosion-resistant pipes, ducts, scrubbers, towers and manholes.
Belco Manufacturing
Belton, TX
Tel: 254-933-9000
Automation controllers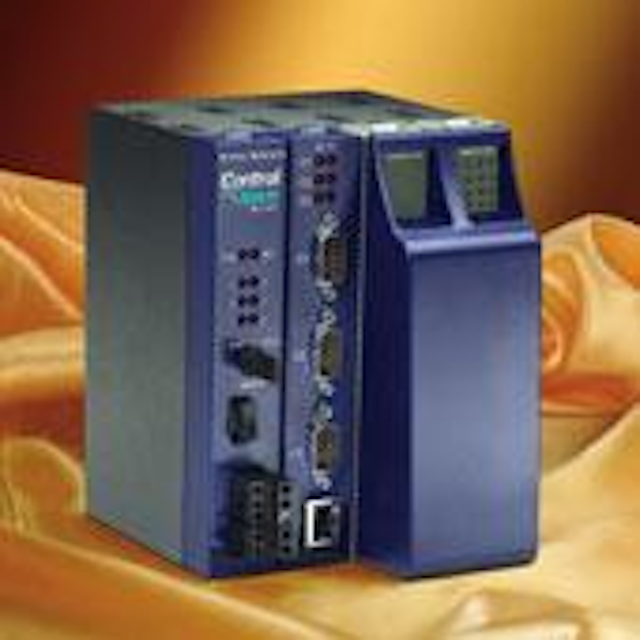 Click here to enlarge image
Bristol Babcock has introduced a new member of its ControlWave family of Process Automation Controllers. The family of products combines the technologies provided by PLC, RTU and DCS architectures into a Hybrid system suited to process control applications. ControlWave Micro evolves the capabilities of the product line into a lower priced, space efficient package required by small to mid- sized applications. It offers wide temperature operation from –40 to +70° C for remote sites and very low power consumption for solar applications.
Bristol Babcock Inc.
Watertown, CT
Tel: 860-945-2200
Web: www.controlwave.com
Flowmeters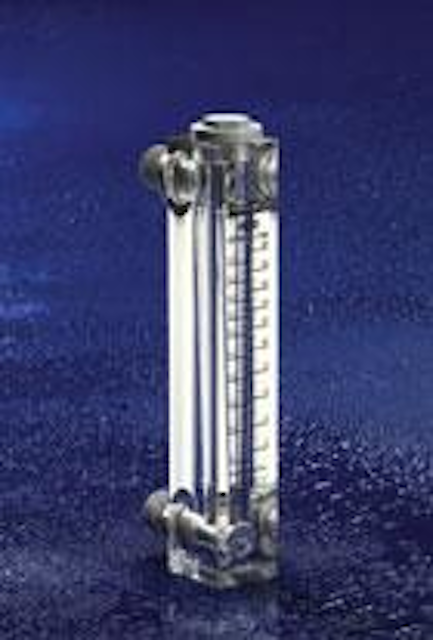 Click here to enlarge image
Blue-White's F-550 and F-550A Series panel mount flowmeters now have a permanently silk screened, white back reflector for enhanced readability. The scale is printed in black ink to provide maximum contrast. The flowmeters feature a one-piece meter body of solid, highly polished, machined acrylic, and flush mount body styling with removable bulkhead nuts. This design element eliminates the need for separate mounting screws.
Blue-White Industries
Huntington Beach, CA
Tel: 714-893-8529
Web: www.bluwhite.com
Check valve body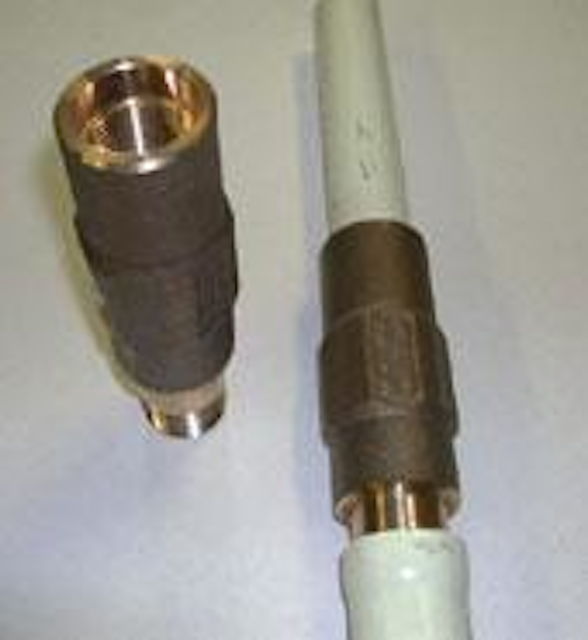 Click here to enlarge image
Danfoss Flomatic has introduced a new submersible pump check valve body Model 100XLE with extra long threaded connections for use with special PVC drop pipe and other applications where extra length is needed. This new product features an unleaded bronze cast body with a patented Flow Fin™ poppet assembly. The new check valve model also has extended threaded lead-in to support PVC drop pipe in addition to longer male and female threads.
Danfoss Flomatic Corp.
Glens Falls, NY
Tel: 800-833-2040
Web: www.flomatic.com
Mixer impellers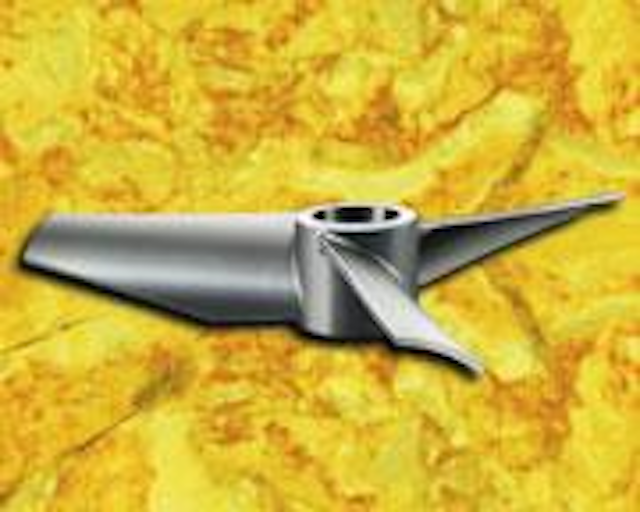 Click here to enlarge image
All the benefits of the Chemineer® SC-3 Impeller are now available in a cast version. The SC-3 Impellers feature an advanced design that produces flow characteristics of much larger impellers, without the added weight, or the resulting loss in pumping efficiency. The new impeller can frequently produce an overall agitator cost savings. This new cast version is ideal for smaller impellers and will be used on Chemineer's DT top-entering mixers.
Chemineer, Inc.
Dayton, OH
Tel: 937-454-3200
Web: www.chemineer.com
Instrument platform
Florite has introduced the 994 Integrated Instrument platform enclosed in the a 3/16 DIN package, panel mount NEMA4/4X, supporting four advanced technology universal I/O ports, three networkable local/remote information communication serial ports, data logging, and multiplexed signal measurement interface.
Florite International, Inc.
Woodland Hills, CA
Tel: 800-438-6222
Instrument controller
In-Situ, Inc. has announced the release of its new Rugged Reader instrument controller. The system is designed for reliability in even the harshest environments and will control all current In-Situ Troll products. The field-portable instrument is similar to a ruggedized personal digital assistant. It fits into the palm of your hand, and is IP-67 rated.
In-Situ, Inc.
Laramie, WY
Tel: 800-446-7488
Web: www.in-situ.com
Odor, corrosion control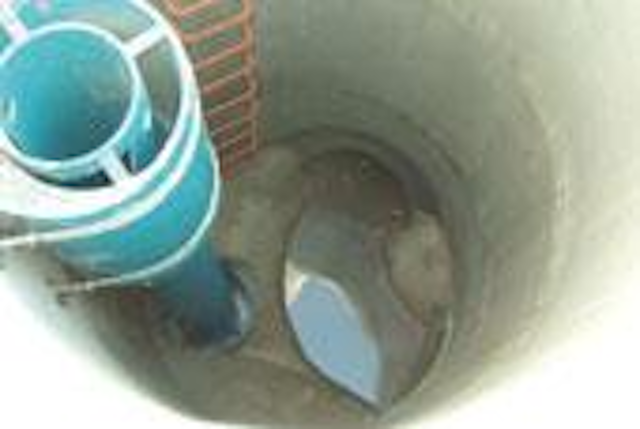 Click here to enlarge image
IPEX has launched the Vortex Flow Insert, a system that will eliminate sewer odor emissions and control corrosion. Its low-maintenance design has no moving parts and offers substantial savings over conventional chemical injection systems. Applications include any sewers that have potential for odorous discharges including manhole drops, pumping station wet wells, and forcemain discharges.
IPEX Inc.
Toronto, Ontario
Tel: 800-463-9572
Web: www.ipexinc.om