New Literature
NEFCO has announced release of its Product Information CD. The CD offers technical presentations, product specifications and drawings for each area.
Jun 1st, 2003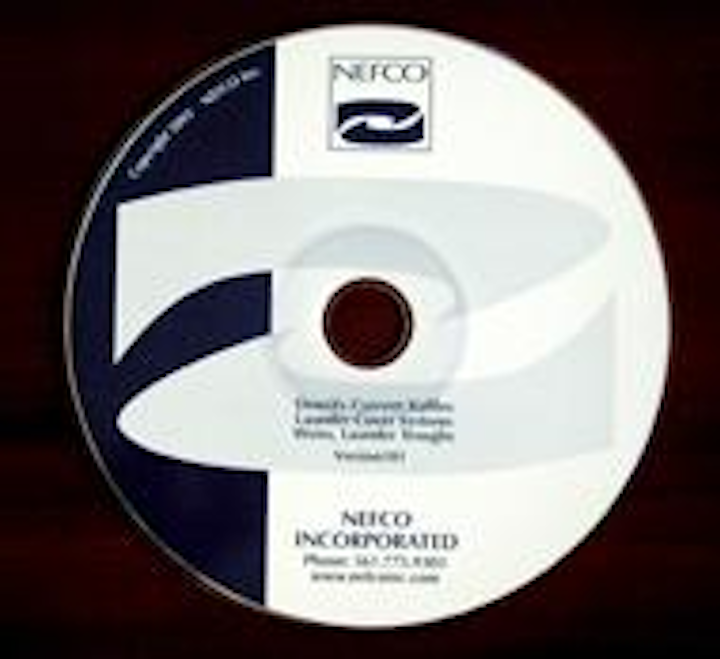 Wastewater treatment equipment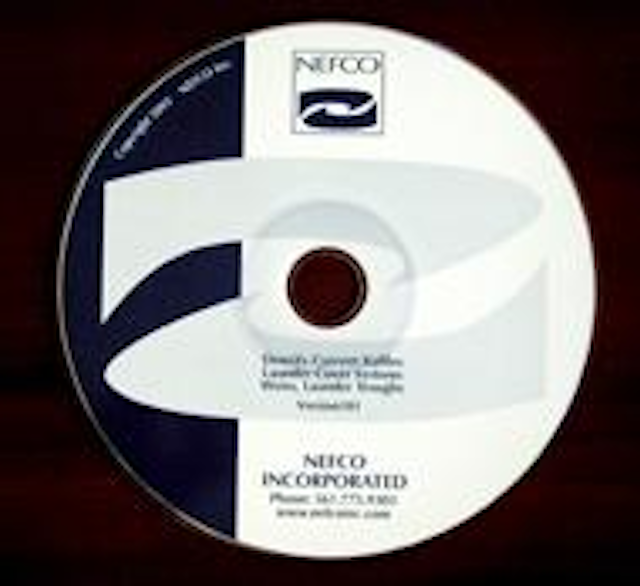 Click here to enlarge image
NEFCO has announced release of its Product Information CD. The CD offers technical presentations, product specifications and drawings for each area. Product areas include density current (Stamford) baffle systems; launder covers for algae and odor control; and troughs, weirs, scum baffles and custom fabrications. The CD is intended for use by consulting engineers and end users.
NEFCO Inc.
Palm Beach Gardens, FL
Tel: 561-775-9303
Web: www.nefcoinc.com
Gas detection system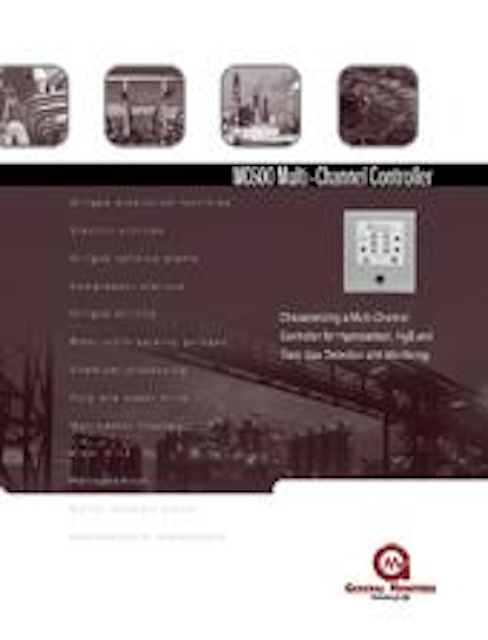 Click here to enlarge image
General Monitors, a manufacturer of combustible gas, toxic gas and flame detection monitoring products, has published a white paper on its new MC600 Multi-Channel Gas Detection System. The fully illustrated six-page white paper, entitled "Characterizing a Multi-Channel Controller for Hydrocarbon, H2S and Toxic Gas Detection and Monitoring," details the features provided by the MC600 System. Offering from one to six channels of continuous gas monitoring, the system is compatible with the company's basic hydrocarbon and H2S sensors, all versions of its combustible and H2S intelligent/smart gas detectors, as well as its Models IR2100, IR7000 infrared detectors and TS-Series toxic gas detectors.
General Monitors
Lake Forest, CA
Tel: 800-446-4872
Vacuum, blower systems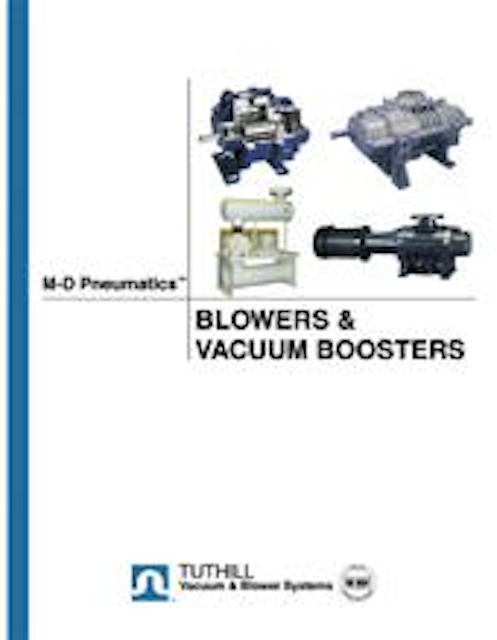 Click here to enlarge image
Tuthill Vacuum & Blower Systems' new catalog contains photos, descriptions and charts for each of its rotary positive displacement blowers. These include four new models in the Dominator™ line, and other standard models, custom blower packages, and vacuum boosters. Blower applications for each line are listed by industry. Information on Tuthill Vacuum & Blower Systems and facilities is also included.
Tuthill Vacuum & Blower Systems
Springfield, MO
Tel: 800-825-6937
Web: http://pneumatics.tuthill.com
Controllers, recorders catalog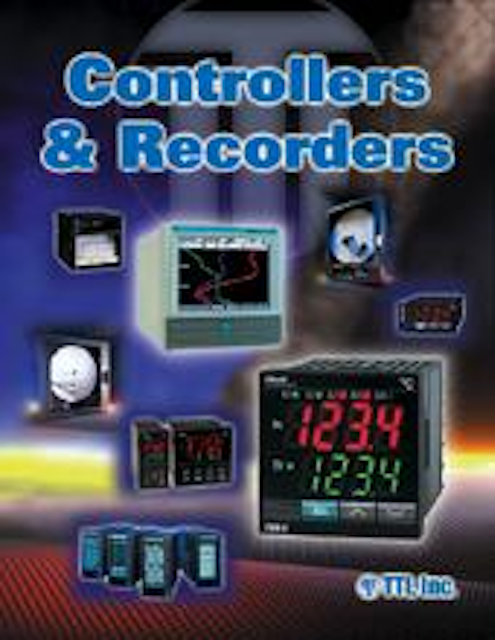 Click here to enlarge image
TTI has just completed a combined Controllers & Recorders catalog, and is making it available free upon request. The new 72-page, 4-color catalog features detailed specifications, accessories and options, full-color illustrations, and complete pricing for each product. TTI is the exclusive North American representative for Fuji Electric – and the new catalog features a variety of Fuji Electric's temperature and process controllers. Limit controllers from Yokogawa, timers from Autonics, and counters from Sixth Sense round out the Controllers product line. The line-up for Recorders is equally diverse and complete, with Strip Chart Recorders from Fuji Electric, a Paperless Recorder from Sixth Sense, and Circular Chart Recorders from Partlow.
TTI, Inc.
Williston, VT
Tel: 800-235-8367
Web: www.ttiglobal.com
Wastewater treatment analysis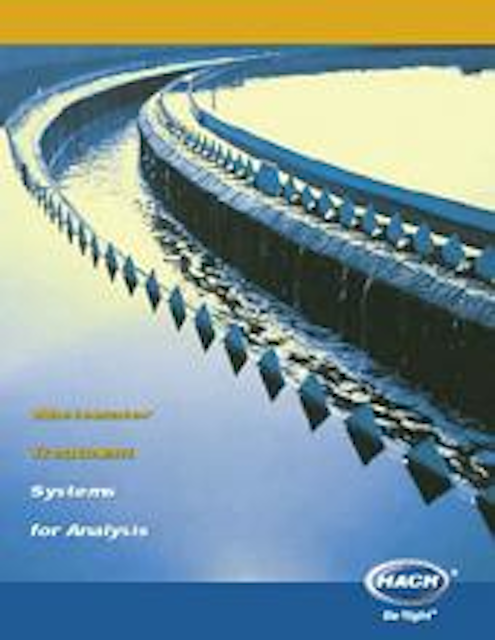 Click here to enlarge image
Hach has published a new brochure that describes the company's total solution for wastewater treatment analysis. The Wastewater Treatment Systems for Analysis brochure describes the entire wastewater process - from storm tanks and sewers to final effluent - and the key parameters that need to be monitored at each stage of the process. Special attention is paid to sampling products as well as sludge measurement in clarifiers, dissolved oxygen in aeration basins, ammonium in nutrient removal tanks, and chlorine in disinfection chambers. Laboratory and field analysis of such parameters as COD, pH, toxicity, heavy metals, nitrate, phosphate, and total organic carbon are also presented. Ask for Lit. number 2443.
Hach Co.
Loveland, CO
Tel: 800-227-4224
Web: www.hach.com
Wastewater treatment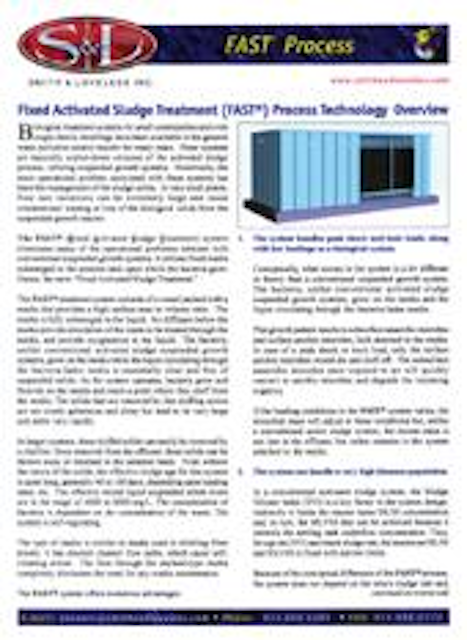 Click here to enlarge image
The Fixed Activated Sludge Treatment (FAST®) Process Technology Overview by Smith & Loveless is a new technical bulletin detailing the advantages of the FAST® system versus conventional suspended growth systems. The FAST® system is an aerobic, fixed film, packed bed reactor with 100% submerged media. The system is available in a number of configurations, including factory-built, field-erected, mobile and modular.
Smith & Loveless Inc.
Lenexa, KS
Tel: 913-888-5201
Web: http://www.smithandloveless.com
Level measurement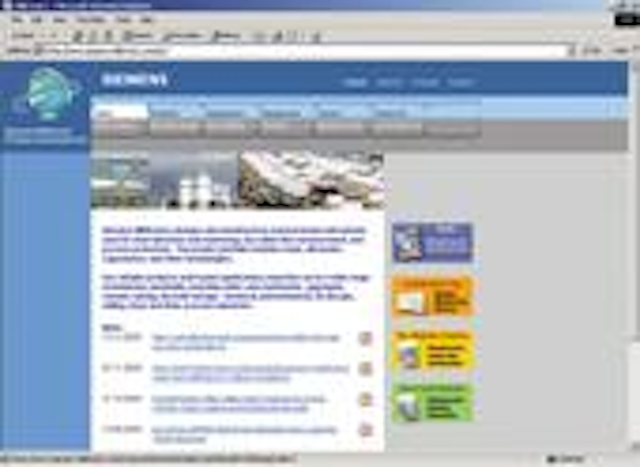 Click here to enlarge image
Siemens Milltronics has developed a new Internet site that provides information on the company's products for level measurement, dry solids flow measurement and process protection. The Home page features the latest product announcements and offers easy access to products, applications, manuals, and case studies. The Products section offers comprehensive information, including photos, technical specifications, and complete instruction manuals.
Siemens Milltronics
Grand Prairie, TX
Tel: 800-365-8766
Web: www.siemens-milltronics.com
Pump rental brochure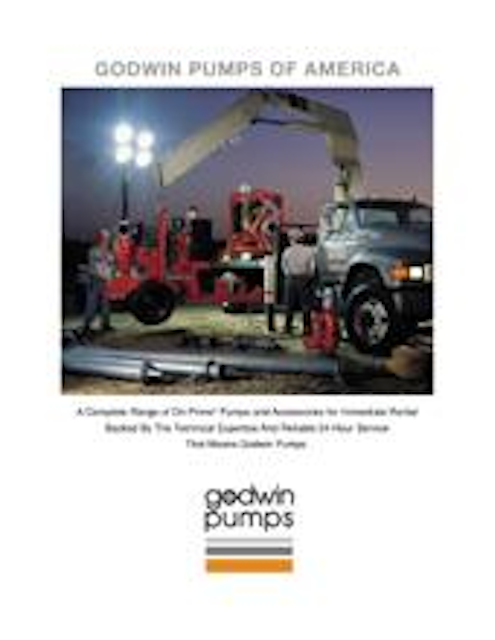 Click here to enlarge image
Godwin Pumps offers a recently updated 22-page color brochure featuring its rental fleet of over 3,000 portable pumps for municipal, industrial and environmental applications. It includes specifications on Godwin automatic self-priming Dri-Prime® pumps, Godwin Sub-Prime® electric and Heidra® hydraulic submersible pumps, wellpoint dewatering systems, and related accessories and equipment.
Godwin Pumps
Bridgeport, NJ
Tel: 856-467-3636
Web: www.godwinpumps.com
Geomembranes
The new Stevens Geomembranes web site has a variety of information on membrane linings and covers, including scrim-reinforced floating reservoir covers to high-performance pond liners. The redesigned site includes detailed information about the company's products, including its Polypropylene Geomembranes and Hypalon® (chlorosulfonated polyethylene) Geomembranes. Other features include a Technical Resource Center, product descriptions and literature, and Material Safety Data Sheets.
Stevens Geomembranes
Holyoke, MA
Tel: 800-621-2281
Web: www.stevensgeomembranes.com
Fluid system components
A new brochure offers provides information on the broad range of fluid system components available from Swagelok, including tube fittings and quick connects; weld, pipe, and sanitary fittings; instrumentation, process, and high-purity valves; and tools and accessories. The brochure folds out into a large illustrated spread listing the company's product offering. It also contains a background overview of the company, its products, and its sales and service network. Copies of A Quick Look at Fluid System Components are available from independent Swagelok sales and service representatives.
Swagelok Co.
Solon, OH
Tel: 440-349-5934
Web: www.swagelok.com