New System Invigorates Water Supply District
Amidst the rolling northern New Jersey hills sits the natural 29 billion gallon Wanaque Reservoir. This huge, picturesque reservoir is the primary raw water source for the North Jersey District Water Supply Commission and the population of 2.5 million that it serves.
Jun 1st, 2003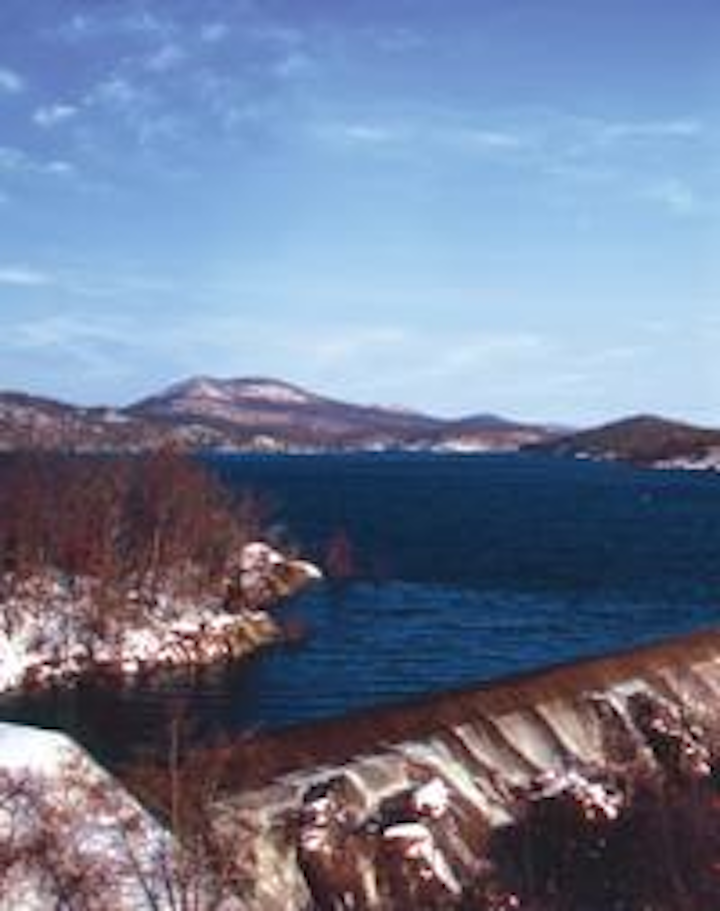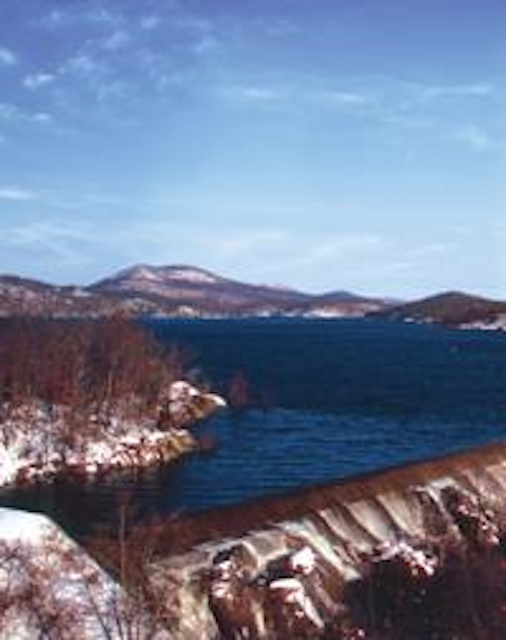 The 29 billion gallon Wanaque Reservoir serves as the primary raw water source for the North Jersey District Water Supply Commission and the population of 2.5 million that it serves.
Click here to enlarge image
Amidst the rolling northern New Jersey hills sits the natural 29 billion gallon Wanaque Reservoir. This huge, picturesque reservoir is the primary raw water source for the North Jersey District Water Supply Commission and the population of 2.5 million that it serves.
Treating up to 240 mgd for the City of Newark and 10 other partner cities, the commission manages a 94-square-mile watershed and operates a 21-mile distribution system. Formed in 1916 as a public commission, its mission is to treat and deliver the purest water at a reasonable cost and to be an industry leader. In fact, Executive Director Mike Restaino is furthering the commission's leadership tradition.
"I believe that the commission is on a journey to tomorrow. We need to be more creative and maximize productivity. By exploiting the latest technology and new utility practices, we're creating an interactive workplace tool that meets the need for rapid and successful responses to a changing utility business culture," Restaino said.
The commission used its first process control system for 20 years. When the treatment plant was built in the early 1980s, the commission ventured into its first use of plant automation with guidance from the consulting firm EMA. The then-best available technology consisted of three mainframes. Operator interface was limited to access from one centralized control room.
By the late 1990s, the mainframe system began experiencing memory and hardware problems. Frequent lightning strikes took down communications between remote terminal units and the control room. Seeking to prepare for the future and regain a technological edge, the commission began planning for a new process control system.
A classic systems approach was used for planning and design of the new system. The first step was to identify user needs and possible improvements. Once requirements were understood, prioritized, and agreed upon, alternatives were examined. After viable alternatives were identified, the most cost-effective option was determined and detailed design began.
Partnership Approach
A team consisting of IT, Operations, Engineering, Instrumentation, and EMA engineers worked together to design and implement the new system. An experienced technology user, the commission took an active role in defining its needs as well as programming the new system. Together, the commission and EMA developed system selection criteria, while EMA provided oversight and detailed system design.
"We took a hands-on role because of commission knowledge, but EMA coordinated the overall project because of their technology expertise," said Engineering Director Mike Barnes.
Director of IT Charles Billings was the commission's Project Manager as well as Programming Team Leader.
"I felt it was important to use design concepts that would make the system reliable and resilient as well as user friendly and intuitive," he said.
The process started with review of how and where process controls could be used. Then the commission looked at several new potential replacements for its system.
The commission and EMA built control strategies based on what they wanted the new system to do. While the commission staff had hands-on experience and knew their specific needs and operation, EMA's forte was this exact kind of client partnering and designing control systems.
"We had our vision, and EMA made it reality," said Superintendent of Facilities Eric Mayer.
GE PLCs and Cimplicity® HMI software were selected to build a redundant, distributed networked system using modern technologies such as fiber optics and open communications protocols. A non-proprietary system, it is also easily upgradeable in the future. With commission employees intimately involved on the team and programming, GE Automation Systems provided system installation. Weekly coordination meetings were held between the commission, EMA, and GE.
"The flexibility and extensibility of the technologies chosen enable us to provide the necessary control and functionality needed now as well as in the future," Billings said.
With a need to accurately monitor not only water quality but also the flow and allocation to its partner cities, the commission is heavily reliant on over 1,000 online instruments. An instrumentation group installs, calibrates, and conducts preventive maintenance on all instruments including turbidity analyzers, streaming current detectors, chemical analyzers, and personal protection monitors.
Acting as the eyes and ears for both operations and laboratory employees, the instruments let them know what is going on in the field while the new control system shows them through easy-to-use screens and intuitive graphics.
"The control system is only as good as the instruments reading the information. The project's detailed drawings are very complete and help us with troubleshooting," said Rocky Matteo, Supervisor of Instrumentation.
Planning, Scheduling
With about 20 minutes of finished water storage, it is imperative that the commission reliably continue to treat water without interruption. This was accomplished by a systematic and phased cutover to the new system. Based on a detailed schedule and plan, the system was tested and debugged, working systematically through one area of the plant at a time.
Assigning responsibility and estimating time were keys to making the cutover go so smoothly. Within eight weeks, the whole plant had been converted without any disruption of operations.
"Through much preliminary testing, preparation, and proper management, the cutover was actually the smoothest part of the project," said Systems Programmer Mike Do.
Since the system came online in August 2002, the commission is enjoying many benefits. Perhaps of overall importance, system reliability and response time have improved. Changes are reflected and impact is seen immediately.
"The faster response time means that operators make changes and then see water quality changes immediately. So, they can optimize operations. The system is a very powerful tool to help meet our mission," said John Perry, Assistant Plant Manager.
Despite having used the same system for two decades, operators and other users were immediately comfortable with the new system because of their team involvement.
With the new system, operators have real-time alerts on water samples nearing defined regulatory limits. Since all data is continually monitored, the commission has immediate detection of any water quality problems. In addition, the infrastructure is now up to date so that security cameras and detection sensors can be added.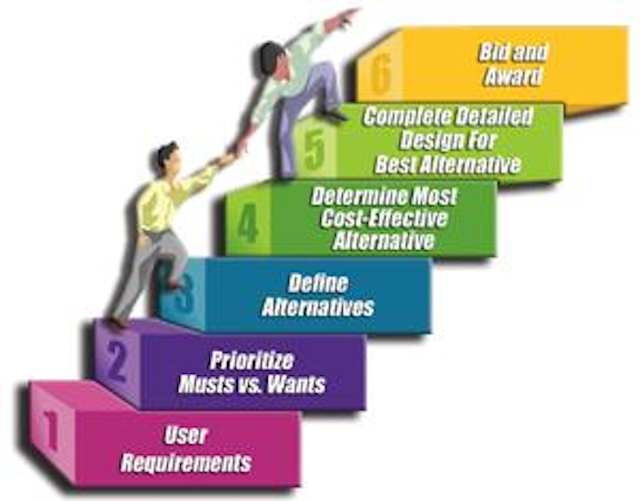 A classic systems approach was used for planning and design of the new system
Click here to enlarge image
The system is easy to use and has reduced manual data entry. For example, Perry indicates that he saves half an hour every day alone due to automatic instrument logs. In addition, filter backwash used to take between 30-40 separate steps and it can now be done with the push of just one system button.
Real-time and historical data is available 24 hours a day using a standard web browser via the commission's Intranet. Web-based reporting is an innovative approach in this industry.
"We are moving all of our reporting and data mining needs to this technology. It's just so user friendly and produces a significant return-on-investment and lowers IT overhead," Billings said.
Watershed Management
Demonstrating its industry leadership in watershed management, the commission is developing and testing an early warning system against contaminants with new online chemical and biological sensors. The sensors will transmit reservoir water quality data directly to the operations center.
The commission will integrate the source water protection sensors with its watershed management program and new control system. The response time for the commission to detect, react, and respond will be nearly immediate.
Operators are piloting a handheld unit so that they can be more mobile and still have their control system eyes and ears.
"This is going to be great because it's the entire computer room in my hands when I'm out in the field," Allegri said.
Transformation Continues
Many other projects and enhancements are already planned. The new control system will soon be completely integrated with the commission's computerized maintenance management system (CMMS). Maintenance staff can already access equipment run-time information from their desks. A project to fully automate and integrate work orders and the CMMS has begun. As more historical data becomes available, trend analysis will be done.
Another future consideration is whether the same number of operators per shift will be needed in that role. The commission is already involving operators in maintenance functions and considering more cross-training.
Evidence that the commission is on a journey to tomorrow includes an innovative project culminating in the operations center that mimics the "Star Trek" bridge and command center.
With 12 projection screens, a central conference table, adjoining offices, and an observation room, the new control room will be both functional and fun. It will help communicate the importance of clean, safe water to school children and other visitors.