Peak Flow No Problem For Gas Generator Sets
Wastewater is a byproduct of everyday life all over the world. Managing and treating wastewater in the Birmingham, AL, area is the mission of the Village Creek Wastewater Treatment Plant, one of nine Jefferson County treatment plants.
Jun 1st, 2003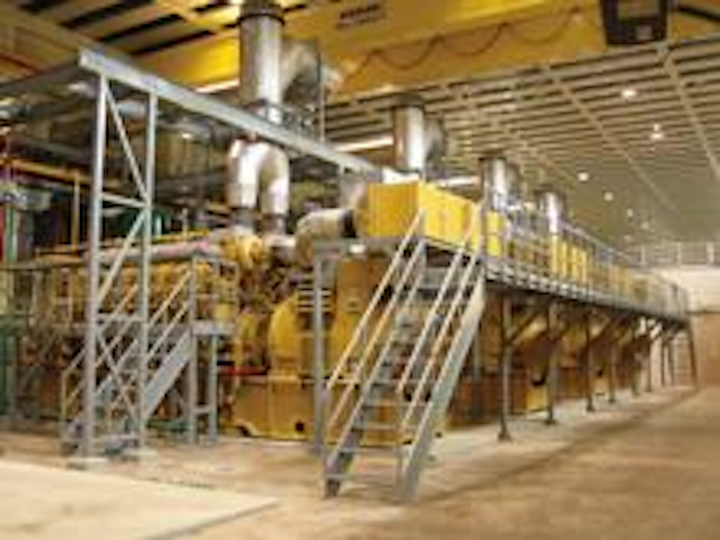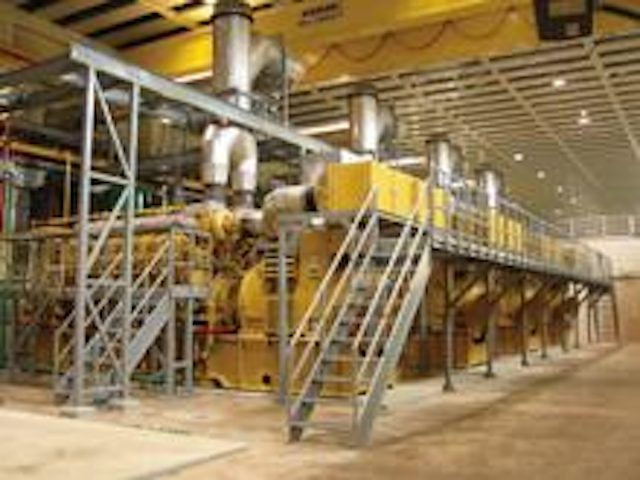 The eight Cat G3516s are housed in two separate sound-attenuated rooms (four generator sets to a room).
Click here to enlarge image
Wastewater is a byproduct of everyday life all over the world. Managing and treating wastewater in the Birmingham, AL, area is the mission of the Village Creek Wastewater Treatment Plant, one of nine Jefferson County treatment plants. The Village Creek plant receives wastewater flow from approximately 250,000 people a day and can currently manage flows up to 60 mgd.
A recent major peak flow expansion to the complex will allow it, when completed, to handle wastewater flows up to 400 mgd. The six-year-long expansion project is a necessity, explains plant manager Rick Allison, because heavy rainfalls can generate flows of 400 mgd.
"Village Creek plant flow can rise from 60 mgd to more than 400 mgd in a matter of a half an hour," Allison said. "Although it's an event that happens only once a year or so, we have to be able to anticipate and manage such drastic increases in water flow."
To be capable of treating peak wastewater flows during future heavy rains and inclement weather, the county constructed a new peak flow wastewater treatment complex that includes a 26-MW power plant, pump house, filtration and disinfection facility and 20 surge basins that can hold 90 million gallons of wastewater.
Power Project
The 26 MW Village Creek power plant contains eight G3616 generator sets, each with a 3.25 MW continuous rating. The 16-cylinder engines each have a displacement of 20,700 cu. in. and weigh in excess of 70 tons. (The plant also houses a 60 kW Cat Olympian G60F1 generator set for generator black-start.)
The 15,000-square-foot power plant was built around the massive natural-gas engines, which were lowered in with cranes and rest on specially designed poured-concrete pads.
Even the cooling and exhaust systems are scaled up from a traditional generator installation. A storage tank, for example, holds 3,000 gallons of lube oil. The eight radiators are 13 feet wide and 44 feet long.
"The sheer size of this project is impressive," Allison said.
The 26 MW power plant is capable of providing all the power necessary to run the peak flow complex under emergency conditions. Under normal conditions, power to the plant is provided by a 15 MW substation from the local utility. Peak flow conditions can raise plant power demand to 40 MW, requiring the combined capacities of the utility service and the power plant.
The peak flow complex is located on one side of the creek; an existing 60 mgd treatment facility is located on the other side of the creek. The existing facility is used under normal operation. The peak flow facility will be used under normal and peak flow conditions.
The new peak flow plant is expected to be up and running later this year. Once fully operational, the G3616 generators will be used to power eight 1,750 hp and four 800 hp pumps (located in the pump house), which pump wastewater to 20 surge basins. From there the wastewater flows through filtration and disinfection.
Load testing and commissioning of the new generator sets and 13.2 kV Enercon Engineering switchgear has been completed. Once the new pump station is online, actual load transfer testing can be performed to verify total system operation.
"We anticipate utilizing the plant in conjunction with our existing facility," Allison said.
During normal operation, after everything is running, a portion of the wastewater flow will run through the existing plant. An equal amount will run through the peak flow plant. For peak flow conditions exceeding 120 mgd, the generators will be brought on line manually one at a time. The peak flow pumps will follow on line as needed.
All operations in the new plant will be monitored through the plant's SCADA system. Remote start-up is planned for the future, but manual start-up will be used in the beginning stages of operation.
"Our existing 15 MW incoming utility power can support our equipment up to 120 mgd flow," Allison said. "Once the flow exceeds 120 mgd, the peak flow generators must be brought online."
During low flow, the peak flow plant will also be able to export up to 15 MW of power to its local utility. Utility paralleling switchgear and the local Cat dealer, Thompson Power Systems, Birmingham, AL, help make it possible.
Cooperative Effort
Wesley Tuggle, Thompson Power Systems project manager, was an integral part of the Village Creek project, Allison said.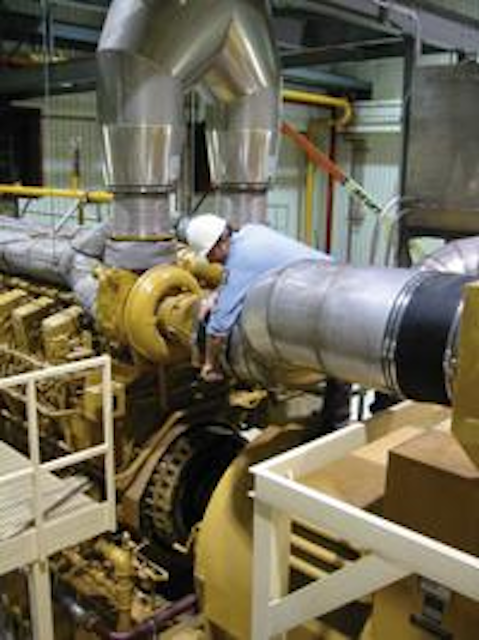 Special emission considerations, including an oxidizing catalyst system, help the new Village Creek plant meet strict ozone restrictions.
Click here to enlarge image
"The Caterpillar equipment is reliable, and I have a comfort level with it because we have many other Cat generator sets (diesel, natural gas and methane-powered) in our complex," he said.
Thompson Power Systems worked closely with several parties during the years of the Village Creek project. One of those parties was the electrical engineer Albert Willard of Ray Engineering Group, Birmingham, AL.
"Al was a key player in the success of this project," Tuggle said. "He provided his expertise throughout the entire process."
"We developed a step-by-step process to match the plant's load requirements to the Cat natural gas engine," Willard said. "We wanted enough units to maintain a high reliability (no more than two units down at one time during peak conditions) without too many units to maintain."
Maintenance will be handled by Thompson Power Systems via an all-inclusive planned maintenance contract. Current maintenance of Village Creek's Caterpillar generator sets is handled by an in-house maintenance staff.
"Village Creek management recognizes the uniqueness of the G3616s," Tuggle said. "They want an expert to handle the maintenance issues on the generator sets."
Installation Issues
Emissions were a concern throughout the project as the Birmingham area is under strict ozone restrictions. The clean burning G3616 natural gas engines, equipped with electronic engine controls, helped meet the necessary low emission levels. An exhaust oxidizing catalyst system further reduces CO emissions.
Noise was also an initial concern. A small residential neighborhood is located about half a mile behind the power plant. Sound attenuation of the power plant to reduce noise emissions includes specialized sound-absorbing panels on the walls and ceiling, and customized sound bays on the front of the building.
"All the sound-attenuating measures allowed us to easily achieve the 75 dBA noise level we were striving for," Allison said.
Natural gas was the fuel of choice mainly because of the concerns Allison and his staff had with diesel fuel.
"The driving force in favor of natural gas was the logistics of diesel storage and delivery," he said. "And the amount of time we plan to utilize the engines (up to 1,000 hours a year) made natural gas the way to go."