New Products
Wago Corp. has released a new series of DIN rail mount DC-DC converters. Designated the 859 Series, these converters offer the industry's smallest package at just 6.2mm wide.
Jun 1st, 2003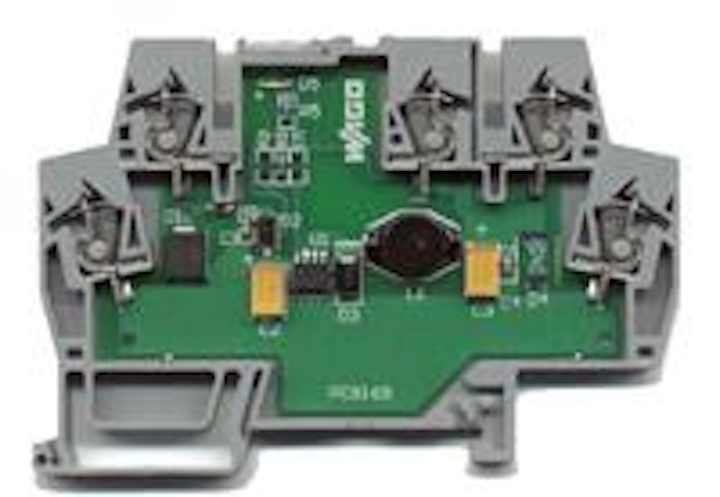 DC-DC converters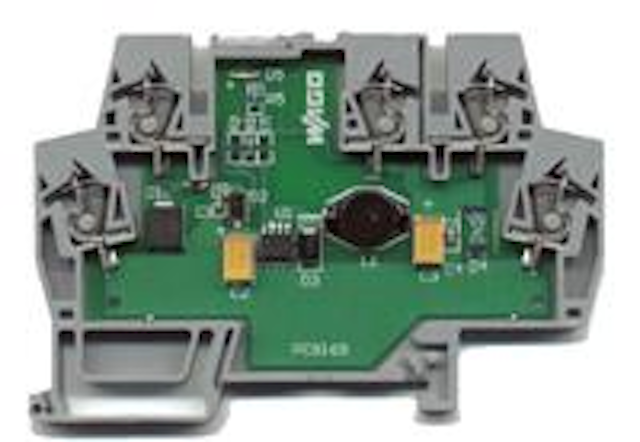 Click here to enlarge image
Wago Corp. has released a new series of DIN rail mount DC-DC converters. Designated the 859 Series, these converters offer the industry's smallest package at just 6.2mm wide. The DC-DC converters are offered in three voltage ranges (custom voltages available on request) and solve many power source issues that engineers deal with on a daily basis.
Wago Corp.
Germantown, WI
Tel: 800-346-7245
Web: www.wago.com
Hydrant sleeve

Click here to enlarge image
Kupferle Foundry has introduced its newest product, the Yard Hydrant Companion. This device is a sleeve, which is placed in the ground first, and then a yard hydrant can be installed within it. The yard hydrant can then be extracted without digging for maintenance or replacement.
Kupferle Foundry Co.
St. Louis, MO
Tel: 800-231-3990
Web: www.hydrants.com
Sewage, wastewater pumps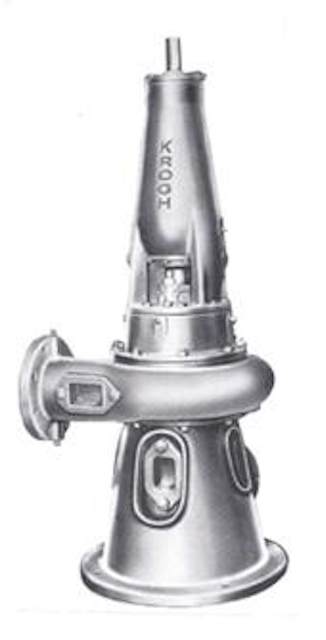 Click here to enlarge image
Krogh Pump offers a new wear-resistant line of sewage pumps. The Series 500-17 pumps are designed for severe duty where considerable amounts of sand, grit and other abrasive solids are pumped. The cast iron pumps feature large diameter impellers and slow speeds for longer wear. Impellers are 17-4 PH stainless steel with a minimum hardness of 400 Brinnel. Wear resistance is over 1 1/2 times that of 316 stainless steel and iron.
Krogh Pump Co.
Benicia, CA
Tel: 800-225-7644
Web: www.kroghpump.com
Floating weir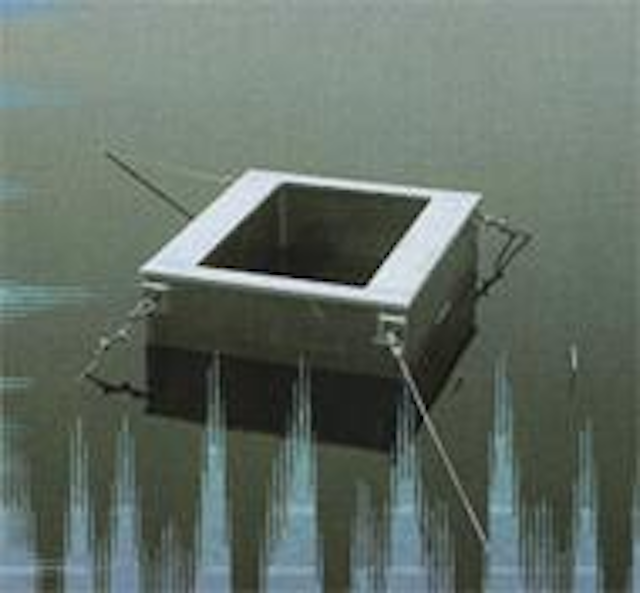 Click here to enlarge image
The Flow Measuring Floating Weir from FMFW is used for wastewater lagoons and allows operators to control discharge precisely, regardless of rainy or dry seasons or fluctuating inflow. Since the discharge is pulled from below the surface, unwanted solids are not taken in, and less of the helpful algae are take out of the lagoon. Discharge can be from one to three feet below the water surface, and flow rates are adjustable. The unit's covered ballast chamber is not affected by rain. The weir discharges to fixed piping through a flexible hose.
FMFW Inc.
Oklahoma City, OK
Tel: 405-818-5417
Chlorine scales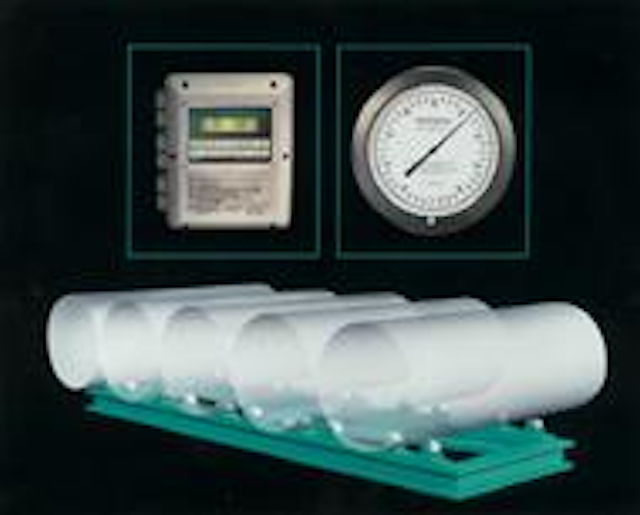 Click here to enlarge image
The Multiple Chlor-Scale® from Force Flow monitors up to six manifolded chlorine or SO2 ton containers from a single scale. The patented lever design allows a single load cell to be used while sill providing accuracy. Heavy-duty roller trunions cradle the containers and allow for easy positioning of valves.
Force Flow
Concord, CA
Tel: 800-893-6723
Web: www.forceflow.com
UV control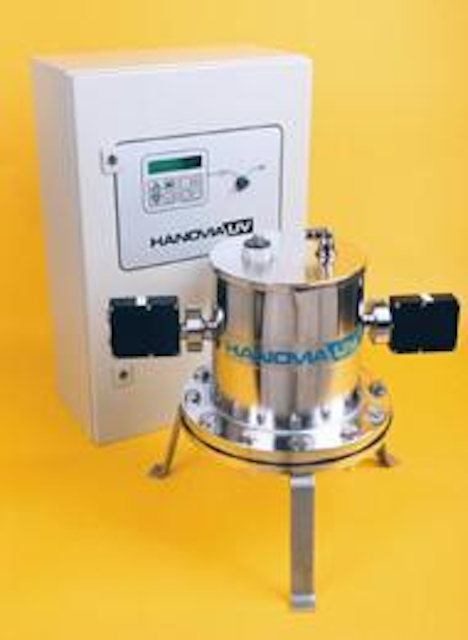 Click here to enlarge image
Aquionics has introduced a new control option that ensures UV water treatment systems deliver an optimum dose of UV light even when feed water quality fluctuates, adding an extra level of process validation in applications such as drinking water and wastewater. The Transmittance Monitor continuously measures water transmittance and feeds data to a control unit which automatically adjusts UV output.
Aquionics Inc.
Erlanger, KY
Tel: 800-925-0440
Web: www.aquionics.com
Remote monitoring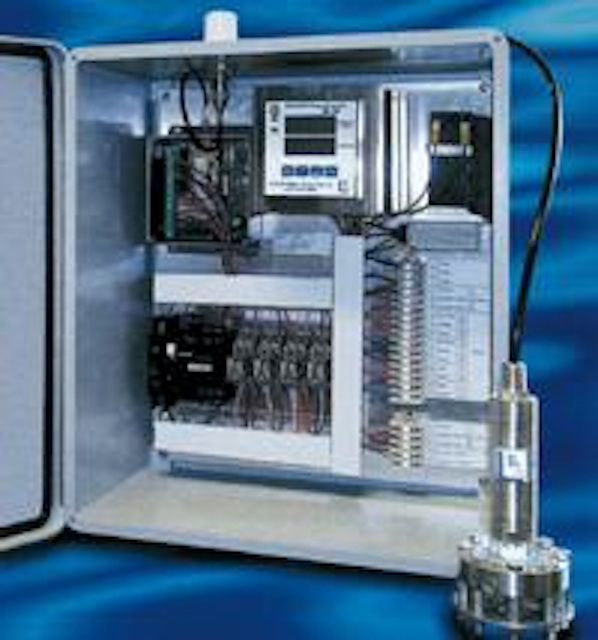 Click here to enlarge image
The new "Internet Messenger" Generation MS2 system from Blue Ribbon is a single, stand-alone instrument which monitors and controls the functions of a single or multiple lift stations to detect faults such as pump failures, level-sensor failures, high or low water emergency alarms, loss of station power and other anomalies as they occur. Application is primarily for monitoring wastewater flow.
Blue Ribbon Corp.
Winter Park, FL
Tel: 877-677-8899
Web: www.blueribboncorp.com
NaOCl Pumps

Click here to enlarge image
Progressive cavity pumps in exotic materials, resistant to aggressive chemicals, are now available from seepex. These pumps are designed for metering NaOCl, FeCl3, H2SO4, NaOH, HCl and strong acids and bases. Pump bodies are constructed of HDPE or cast metal with Halar® linings. Wetted rotating parts can be constructed of AISI 316ti, duplex stainless steel, Hastelloy® or titanium. These pumps do not pulsate and can be fitted with a variety of variable speed drives. They do not need pulsation dampeners or pressure regulators, will not gas or vapor lock and have a low NPSHR. A variety of mechanical seals with either special metal wetted parts or non-metallic wetted parts can be fitted. Pumps and repair parts are stocked.
seepex, Inc.
Enon, OH
Tel: 937-864-7150
Web: www.seepex.com
Rotary positive blowers
Click here to enlarge image
The M-D Pneumatics™ Dominator, offered by Tuthill Vacuum & Blower Systems, is the next generation of rotary positive blowers and now features six models from which to choose. It is ideally suited for wastewater applications such as grit removal and lagoon and tank aeration. The blower is designed with features including oil splash lubrication throughout, tri-lobe rotors, and unprecedented noise reduction in a blower of this type. Dominator blowers are interchangeable, with respect to footprint, shaft height and diameter, with equivalent sizes of competitive blowers, so replacement of existing installations is simplified.
Tuthill Vacuum & Blower Sys.
Springfield, MO
Tel: 800-825-6937
Web: http://pneumatics.tuthill.com
Peristaltic pumps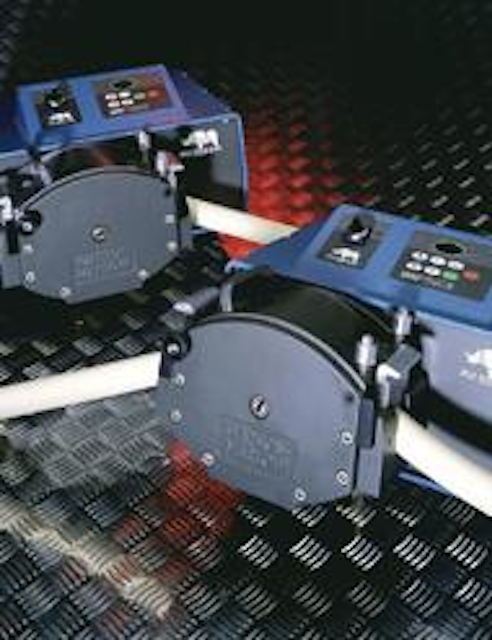 Click here to enlarge image
Watson-Marlow Bredel offers the 700 series peristaltic pump for challenging environmental applications. Thanks to its tube technology, the series can handle a variety of harsh materials, such as corrosive chemicals and abrasive slurries, with relatively no maintenance required. The company's peristaltic pump are inherently metering pumps, with repeatability at 99.5%. Many models include integral digital drives and displays in washdown enclosures. These self-priming pumps accommodate flow rates from 0.1 microliter to 350 gpm, and can withstand pressures to 232 psi.
Watson-Marlow Bredel
Boston, MA
Tel: 800-282-8823
Web: www.wmbpumps.com
Wireless monitoring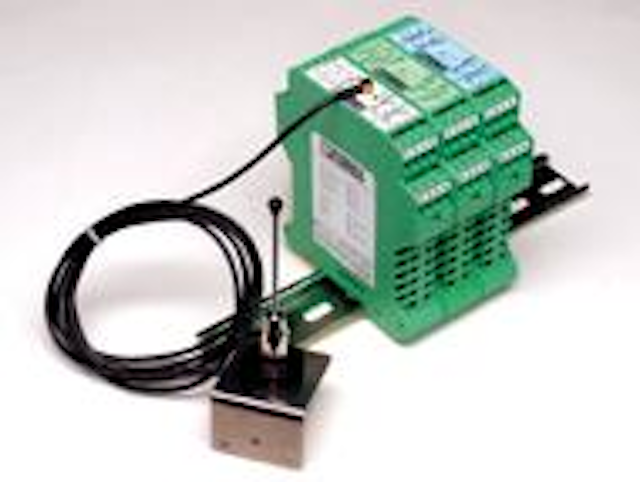 Click here to enlarge image
As an enhancement to its point-to-point one-way wireless device, the MCR-RAD for analog and digital signals, Phoenix Contact has introduced the MCR-RT-I/O-Plus, an integrated radio and I/O module with expandable I/O options. The devices are designed to eliminate cable and conduit for analog and digital signals in harsh industrial environments. The radios use spread spectrum frequency hopping techniques to guarantee a license-free, interference-free link between remote devices and the control room.
Phoenix Contact Inc.
Harrisburg, PA
Tel: 800-322-3225 Web: www.phoenixcon.com
Electronic switch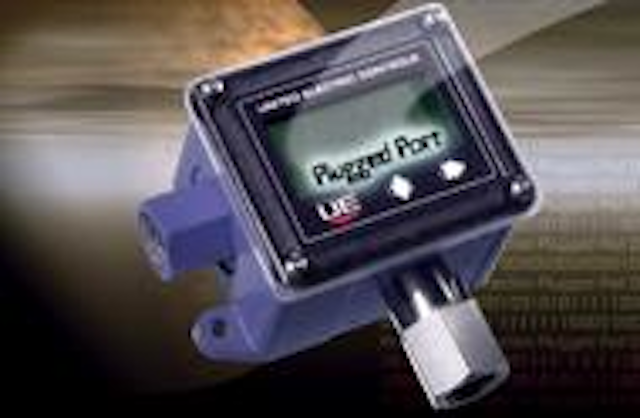 Click here to enlarge image
United Electric offers the One Series electronic switch with self-diagnostics, local display and field programmability. Providing alarming and shutdown for cavitating pumps, this electronic switch can potentially replace a mechanical switch and gauge while reducing potential leak paths. When sensing slurries or biosolids streams, the One Series' microprocessor monitors pressure while reporting its own health and plugged port condition. An optional 4-20 mA output provides trending data for variable speed drives and non-volatile memory captures process extremes. Model options include high-capacity switching, dual set points, differential pressure and temperature sensors and are 24 vDC, 115 vAC or PLC input powered.
United Electric Controls Co.
Watertown, MA
Tel: 617-926-1000
Web: www.ueonline.com
Tanks, vessels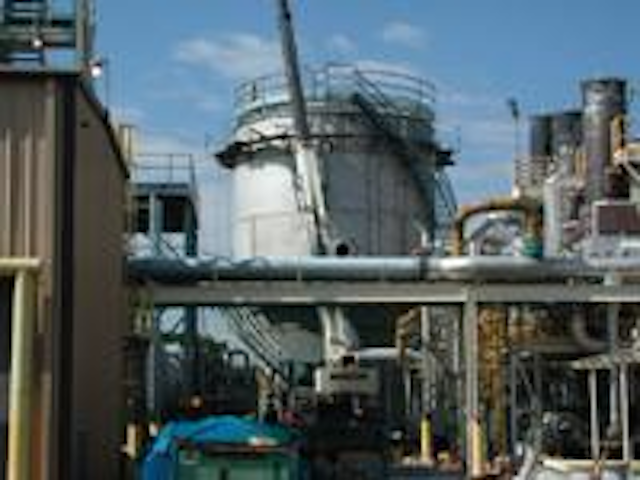 Click here to enlarge image
American Tank & Vessel specializes in the design, engineering, fabrication, installation, repair and reconstruction of tanks, vessels, spheres and other steel plate products. Products include wastewater treatment tanks and clarifiers. The company is currently expanding a waste treatment facility in Florida and providing not only the reactor but the buildings, piping and civil work.
American Tank & Vessel, Inc.
Mobile, AL
Tel: 251-432-8265
Website: www.at-v.com
Quiet pumps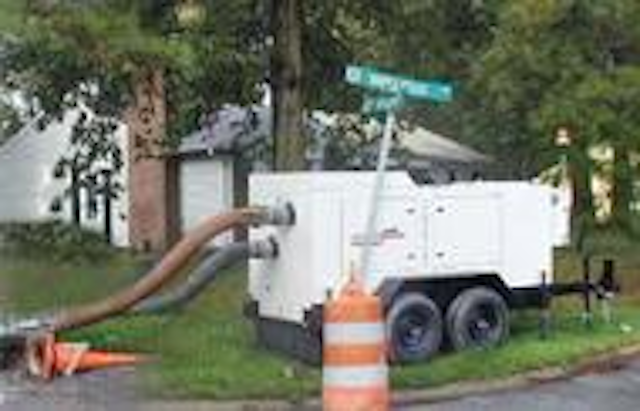 Click here to enlarge image
Thompson Pump has introduced a fully modular, sound-attenuated, drop-on canopy for pumps, called the Silent Knight®. The canopy setup is designed to reduce noise levels to at or below 70 decibels at 7 meters – making it perfect for applications in highly-populated residential areas. The canopy can be installed at the jobsite, if necessary. It is fully weatherproof by design, and vandal proof with its lockable doors.
Thompson Pumps
Port Orange, FL
Tel: 386- 944-4113
Web: www.thompsonpump.com
Positive displacement pump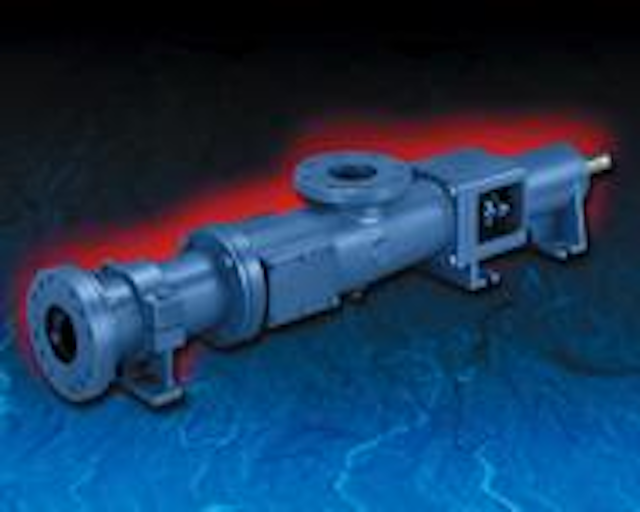 Click here to enlarge image
The Moyno® 1000 positive displacement pump is engineered for operation in a variety of services including shear sensitive chemical feeds. The pin-type universal joint is sealed and lubricated for long life and minimum maintenance. A key feature of the pump is a two-piece drive shaft which allows easy assembly, maintenance, and mechanical seal access. This drive shaft configuration eliminates the need for complete pump disassembly when servicing the mechanical seal. Flow rates range from 0.38 to 320 gpm, with pressure capabilities to 350 psi.
Moyno, Inc.
Springfield, OH
Tel: 877-486-6966
Web: www.moyno.com
Encoder register
Invensys offers its new Intelligent Communications Encoder (ICE) register. The new electronic communications register is a successor to the company's TouchRead™ register. An absolute positional encoder, the register is driven by magnetic resonance technology. This new technology eliminates problematic electrical contact and wipers required in traditional positional encoder registers. The register provides AMR readings taken directly from the position of the register's odometer wheels.
Invensys Metering Systems
Raleigh, NC
Tel: 724-439-7820
Web: www.ims.invensys.com
Spectrophotometer firmware
Thermo Electron has enhanced the capability of its spectrophotometers with new firmware for the Spectronic Biomate 3 and Spectronic Genesys™ 10 Series instruments. The new firmware, installed since June 2002, increases overall instrument capability by improving instrument performance, reliability, and precision, while speeding up analysis time. The latest firmware offers greater precision in less time by providing faster data collection with improved signal-to-noise ratio. The automatic cell correction feature adjusts for differences in absorption between cuvettes, eliminating the need for matched cells, and reducing overall cost.
Thermo Electron Corp.
Madison, WI
Tel: 800-201-8132
Web: www.thermo. com/spectroscopy
One hand wrench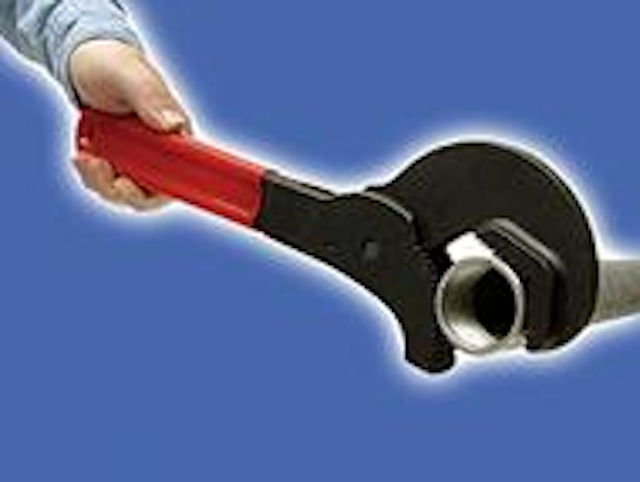 Click here to enlarge image
The original one hand wrench from Reed Manufacturing now sports a "comfort grip" handle for better ergonomics. The wrench features all-forged steel construction and a one-piece handle. The wrenches have fittings capacity up to 1 1/4" and offer a narrow profile for work in tight places, including meter pits. They have a longer handle that provides greater leverage. The wrenches grip any shape: meter nuts, round pipe, or parts of fittings without adjustment. They are ideal for installing 3/4" and 1" water meters.
Reed Manufacturing Company
Erie, PA 16512
Tel: 800-666-3691
Web: www.reedmfgco.com
Data loggers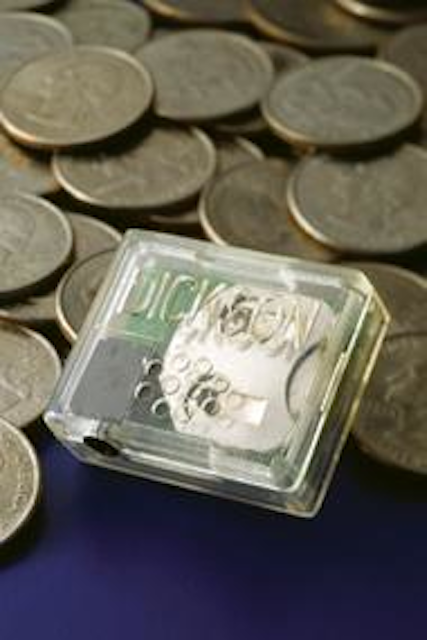 Click here to enlarge image
Dickson has introduced the TK500 and SK500 super compact, economy data loggers to its current line of instrumentation. The loggers are slightly larger than a quarter and can be placed just about anywhere. The loggers are available in two models: model TK500 for temperature and humidity and model SK500 for temperature. Both feature a delayed start capability, data storage of almost 4,000 sample points, and accuracy of ±1.8°F for temperature and ±2% for relative humidity. The TK500 and SK500 are also compatible with Dicksonware™ Secure Software for 21CFR11 compliance.
Dickson Co.
Addison, IL
Tel: 800-323-2448
Web: www.dicksonweb.com
Polymers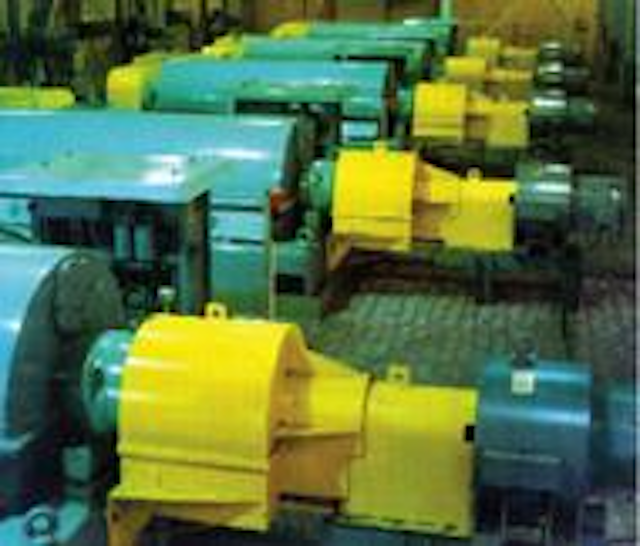 Click here to enlarge image
Ondeo Nalco's High Performance Polymers are proprietary, high molecular weight liquids specifically designed for municipal biosolids thickening and dewatering, and wastewater clarification. The polymers are particularly effective on waste activated, aerobic and anaerobic digested biosolids. Architecturally modified on the molecular level, the polymers offer enhanced flocculation and dewatering performance. The company's polymers offer controlled solution properties, properties matched to application, high levels of usable polymer released in application, and resistance to degradation in high shear applications, such as filter presses and centrifuges.
Ondeo Nalco
Naperville, IL
Tel: 630-305-2478
Telemetry units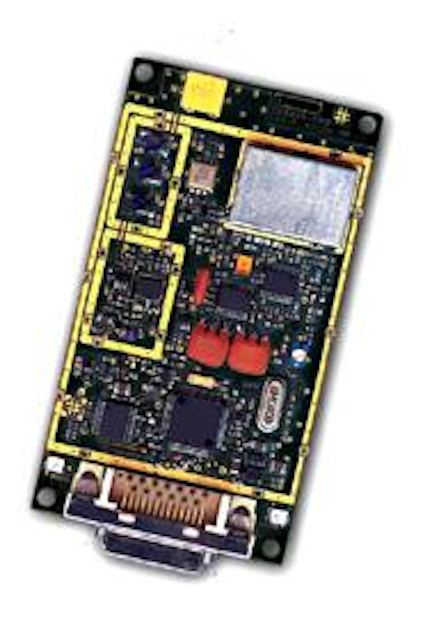 Click here to enlarge image
Adcon Telemetry offers wireless RF solutions including spread spectrum, 900 MHz, 1/2 watt, license free radio modules and radio modems supporting analog/digital I/O, TTL, RS-232 and 4-20 mA protocols. With up to 16 slaves per master, each radio has five channels of data acquisition, including digital I/O, or analog measurement with 12 bit (0.02%) resolution. Standard and custom product designs are available.
Adcon Telemetry
Boca Raton, FL
Tel: 510-573-0912
Web: www.adcon.com
Storm water filters
The newly patented Storm Water Abatement Filter System for storm water runoff management from SWAF, Inc. d/b/a AquaLogic™, is capable of filtering storm water runoff to a 95% TSS effluent removal efficiency. The system targets "first flush" capture and incorporates a sedimentation chamber which after a pre-programmed period allows the effluent to gravity flow into the final filtration chamber. This filtration chamber houses vertically placed filter canisters containing replaceable 10 micron rated, pleated cartridges.
AquaLogic
San Antonio, TX
Tel: 210-402-3434
Web: www.aqualogic-usa.com
Heat exchangers
Click here to enlarge image
Chemineer, a unit of Robbins & Myers, offers Kenics® Heat Exchangers. Equipped with streamlined Kenics Static Mixer elements, these high-performance thermal units offer maximum transfer rates even with highly viscous, difficult-to-process materials. Used in a wide range of process applications, the heat exchangers require less space, less energy, and less time to process than other designs. Product features include design pressures to 10,000 psi; construction from all metals and alloys; special connections and fittings; ASME/TEMA compliance.
Chemineer, Inc.
Dayton, OH
Tel: 937-454-3200
Web: www.chemineer.com
Severe duty motors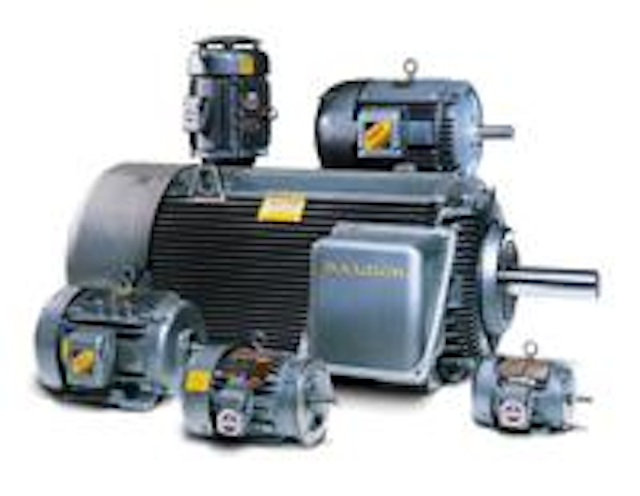 Click here to enlarge image
Baldor offers customers a range of Severe Duty motors directly from stock, including premium or standard efficiencies in ratings from 1/2 to 500 hp. Non-stock (to 2000 hp) motors can be delivered in 10 working days. For most extreme applications where downtime is critical, the company's IEEE-841 motors are ideal. These are NEMA Premium™ efficient motors that exceed IEEE 841-2001 specifications.
Baldor Inc.
Fort Smith, AR
Tel: 800-828-4920
Web: www.baldor.com
Fiberglass grating
IKG CorGrate fiberglass grating is designed for pedestrian and vehicular traffic conditions where conventional metal grating have a short service life due to corrosive operations that involve chemical vapors or high moisture conditions. The fiberglass reinforced polymer (FRP) exhibits long-term retention of structural properties which enhances safety.
IKG Industries
Paramus, NJ
Tel: 201-261-5600
Web: www.ikgindustries.com
Progressive cavity pumps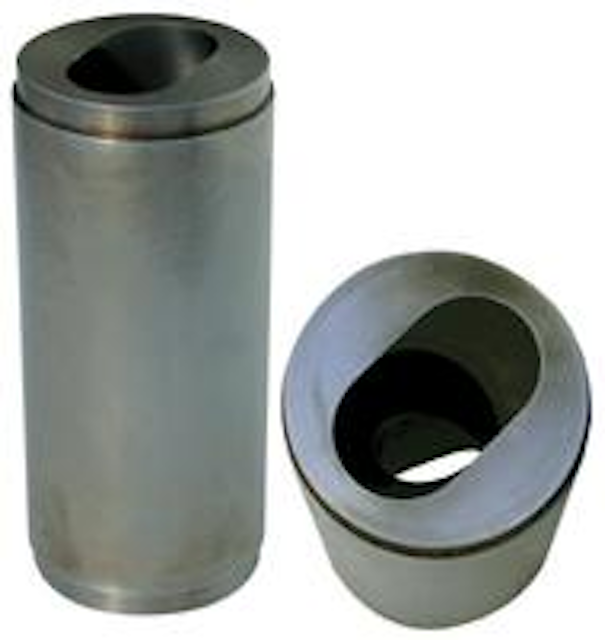 Click here to enlarge image
Metal stators are now available for seepex progressive cavity pumps. The stators are made with a revolutionary procedure that uses "EDM" technology. A double-helix carbon electrode is machined and then passed through a "gun-drilled" section of metal bar stock, while very high electric currents are applied to the electrode. This type of technology has been used by seepex over the last 10 years to manufacture its Tricam® rotors.
seepex, Inc.
Enon, OH
Tel: 800-695-3659
Web: www.seepex.com
Data management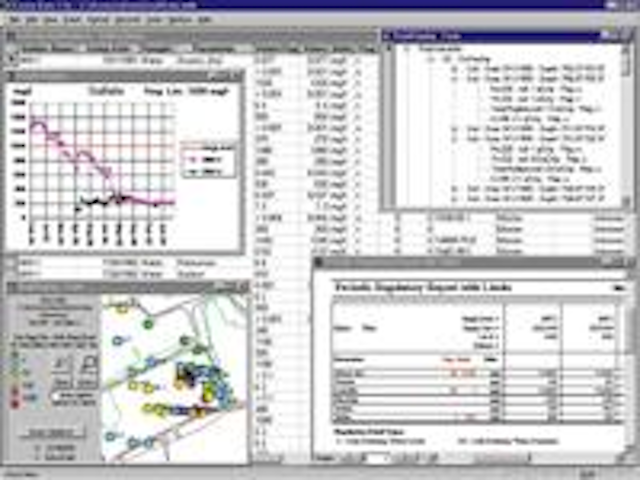 Click here to enlarge image
Enviro Data from Geotech Computer Systems stores and displays water quality and other environmental data using Microsoft Access for the user interface and Access, SQLServer or Oracle to store the data. It works well for wastewater, groundwater, soil, air, and other media. Users can import analytical and other data, review the quality, select data, and generate reports, graphs and maps, or provide data to other programs. Capabilities include a lab and field data interface, data validation (if required), a user-friendly selection screen, and integrated graphing, mapping and reporting.
Geotech Computer Systems, Inc.
Englewood, CO
Tel: 877-740-1999
Web: www.geotech.com
Coating system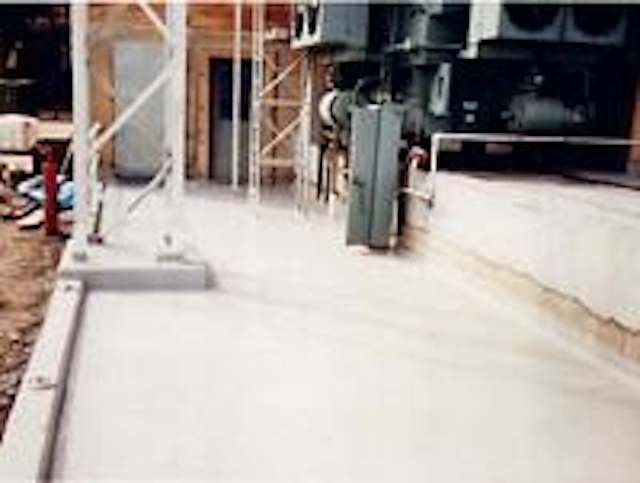 Click here to enlarge image
ITW Devcon offers its AS 2000, a flexible, two-component coating system for protecting plastics, FRP, composites, metal, and other surfaces subject to movement or flexing. It has excellent hydrolytic stability and is extremely resistant to moderate concentrations of acid, alkaline, and other chemical solutions. With superior resistance to abrasion, impact and puncture, UV radiation, and thermal cycling, it is ideal for a wide range of service conditions and applications including secondary containment; antislip flooring; and protection of composite, metal, concrete, and brick structures such as bridges, walkways, platforms, etc.
ITW Devcon Engineered Coatings
Danvers, MA
Tel: 978-777-1100
Web: www.devcon.com
HDPE pipe
Hancor offers its re-engineered EcoFirst® HDPE drainage pipe, manufactured from recycled polyethylene for drainage applications. The pipe meets all AASHTO performance standards as well as higher NCTL standards. The stress crack resistance of the pipe achieves AASHTO M-294 requirements. The pipe features a rolled rim bell and a bell-and-spigot joint assembly.
Hancor, Inc.
Findlay, OH
Tel: 800-537-9520
Web: www.hancor.com
DE filters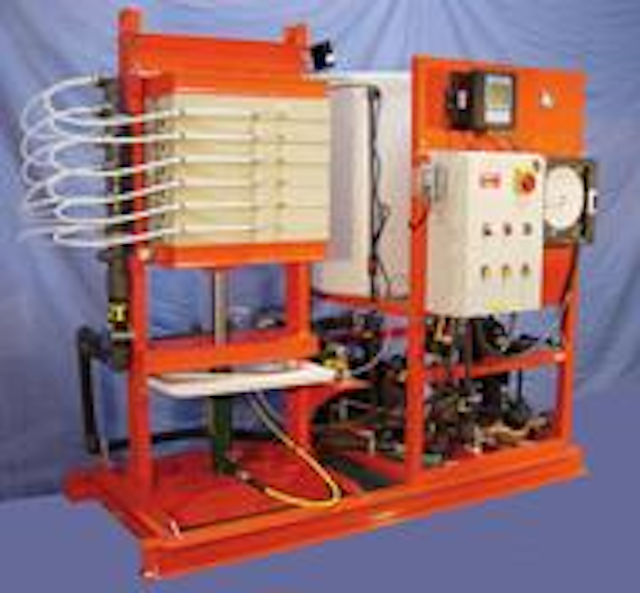 Click here to enlarge image
GNT offers a new 15 gpm diatomaceous earth water filter for small water systems. Designed around the EPA approved method using inexpensive diatomaceous earth filter media, the filter meets all the requirements of the Long-Term 1 Enhanced Surface Water Treatment Rule. The skid-mounted filter achieves consistent turbidity removal of less than 0.3 NTU. Cleaning involves a quick removal of an easily discarded dry filter cake with no liquid backwash discharge. This inexpensive filter is easy to operate and offers reliable, unattended water filtration. Smaller and larger capacity DE filters are also available.
GNT Filter Co.
Fairfield, CA
Tel: 707-426-0926
Web: www.gntfilter.com
Handheld data recorder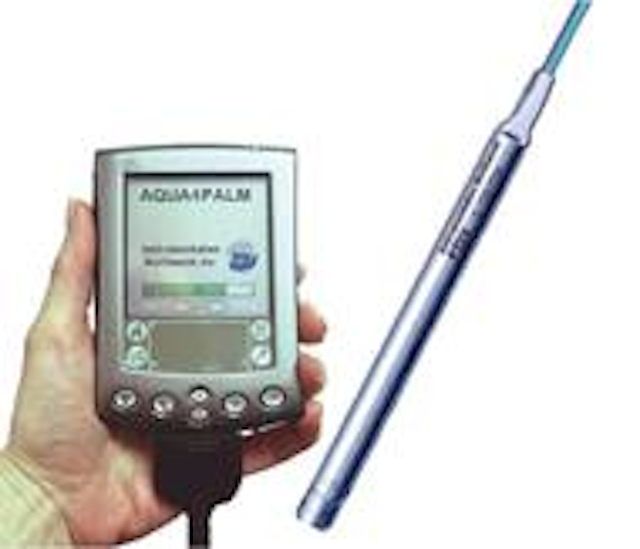 Click here to enlarge image
Aqua4Palm provides handheld data collection and control for Instrumentation Northwest's powerful AquiStar® PT2X Submersible Smart Sensor. It can be used to monitor real-time pressure, temperature, and time data, create sophisticated test sequences, and upload and view collected data. The software runs on most of Palm's handhelds running Palm OS® version 4.x.
Instrumentation Northwest, Inc.
Kirkland, WA
Tel: 425-822-4434
Web: www.inwusa.com
pH meter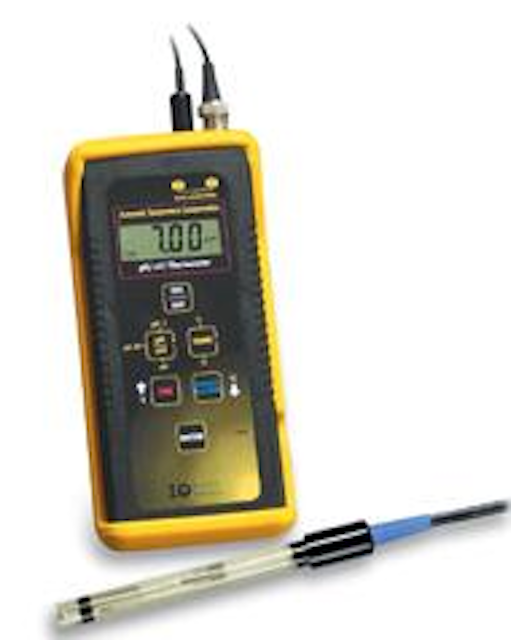 Click here to enlarge image
IQ Scientific Instruments now offers an economical pH meter with a three year warranty on the meter and six months on the glass electrode – including glass breakage. The new Model IQ140 pH meter has automatic temperature compensation and reads pH, mV, temperature and ORP. The meter is protected by a shock resistant yellow holster and is rugged enough to sustain a drop from up to six feet without damage.
IQ Scientific Instruments, Inc.
San Diego, CA
Tel: 858-673-1851
Web: www.phmeters.com
Air compressor
Mi-T-M® manufactures a portable 30 gallon gasoline air compressor. The two-stage compressor features an 11 hp. gasoline engine with a 15.7" fly wheel for extra cooling and a longer life. It also has a two stage compressor head, cast iron cylinders, large canister intake filters, 14 gauge powder coated belt guard, two pneumatic tires with tubes and steel hubs, powder coated 30 gallon ASME certified tank receivers, pneumatic idle control for added safety, stainless steel braided discharge hose, two gauges for tank and outlet pressure, manual drain valve for proper maintenance, splash lubrication and includes a regulator.
Mi-T-M Corp.
Peosta, IA
Tel: 800-553-9053

Turbine meters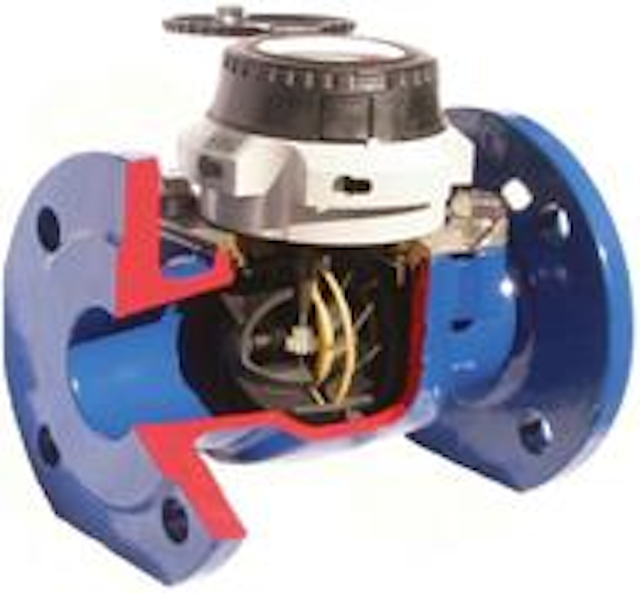 Click here to enlarge image
Meinecke Flanged Turbine Meters provide flow measurement of high, relatively constant flow rates in a variety of applications including blending, flow control, bulk transfer and utility auditing. The flowmeter is available in sizes ranging from 2" to 12". Standard process connections are ANSI 150 lb R.F. flanges with optional 300 lb ANSI R.F. flanges available via special order. Register readings can be read locally or transmitted to a remote location via optional Reed and/or Opto style pulsers. The BMF Series, originally designed for use with Brine Solutions, contains no red metals and is ideally suited for measuring light caustics (pH levels < 9), saline solutions and chlorinated water.
Cross Instrumentation
Conyers, GA
Tel: 800-332-3418
Web: www.crossinstrumentation.com
Data logger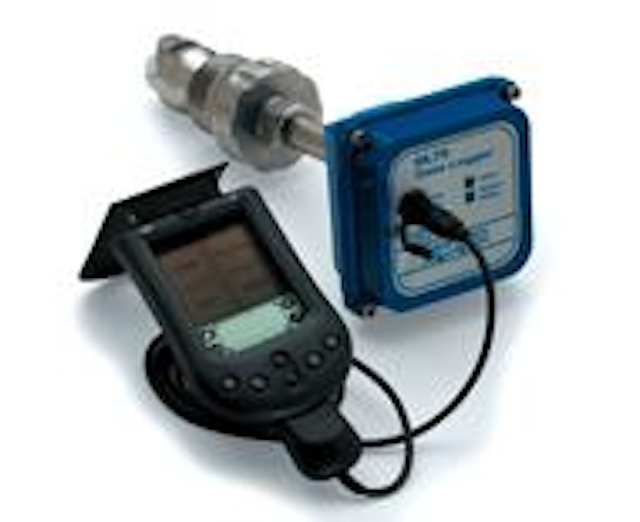 Click here to enlarge image
The battery-powered DL75 Data Logger from SeaMetrics stores flow rate information for months. An ordinary Palm organizer is used to retrieve data from multiple loggers, and to view current rate and total. The Palm transfers data to a personal computer for graphing, high-low history, printing, or transfer to a spreadsheet.
SeaMetrics, Inc.
Kent, WA
Tel: 800 975-8153
Web: www.seametrics.com
Flood flow software
The U.S. Geological Survey (USGS) has released new software that allows users to estimate flood flows for streams throughout the United States. The new software, version 3 of the National Flood Frequency (NFF) Program, provides estimates of flood flows having recurrence intervals of 2 to 500 years for user-selected sites on rural and urban streams. The software compiles more than 2,000 flood-flow equations developed by the USGS for 289 regions of the nation into a single package. The equations relate the flood flows to physical and climatic characteristics, such as the land area that drains to the site of interest and the mean annual precipitation for the area. Users can enter the characteristics into NFF to obtain flood-flow estimates for their sites of interest.
U.S. Geological Survey
Reston, VA
Tel: 303-202-4700
Sewer valves
Available in both cast and fabricated bodies, Crispin's new Stainless Steel Universal Sewer Valve is ideal for even highly corrosive applications. It stays open to fully exhaust air volume, and comes in both short and long body styles. Stainless steel internals add durability to the design, reducing the need for frequent backflushing; and optional backflush materials are also crafted from stainless steel.
Crispin-Multiplex Mfg.
Berwick, PA
Tel: 800-247-8258
Flowmeter book
Spitzer and Boyes has updated its Consumer Guide to Coriolis Mass Flowmeters." Although the book has been available since last fall, it has been updated to include the recent introductions of new products by Endress+Hauser, Foxboro, Krohne, and Oval, as well as other items. The book provides clear and technically competent competitive comparisons between models of Coriolis Mass Flowmeters worldwide.
Spitzer and Boyes, LLC
Chestnut Ridge, NY
Tel: 845-623-1830
Web: www.spitzerandboyes.com
High rate clarifier, thickener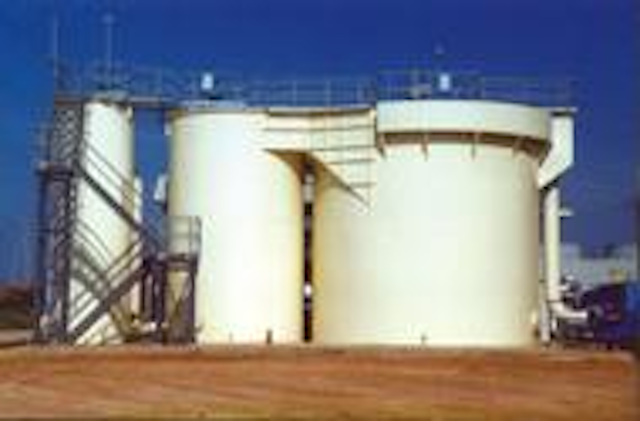 Click here to enlarge image
Using hydraulic loading management, Ondeo Degremont's DensaDeg 4D Clarifier accommodates a wide range of flow rates associated with unusually high peak levels during storms. High rate physical and chemical treatment of stormwater flows can be achieved at rise rates in excess of 60 gpm/ft2. Solids removal efficiency is typically greater than 85% and effluent exhibits low SS, COD and BOD5.
Ondeo Degremont, Inc.
Richmond, VA
Tel: 804-756-7645
Web: www.ondeo-degremont-usa.com
Backwater valves
Jay R. Smith offers the 7000 series backwater valves. The series includes the Flood-Gate (7140) Automatic Backwater Valve, the Manual Shut-off Gate type (7150), and the Sewer Valve (7012/7022).
Jay R. Smith Mfg. Co.
Montgomery, AL
Tel: 334-277-8520
Web: www.jrsmith.com
Trickling filter media
Click here to enlarge image
Lantec HD Q-PAC® media for use in biotrickling filters is made from polypropylene that is highly resistant to both dilute and concentrated mineral acids. It is stable and unchanging over long periods of time and should not require replacement in most applications. The media provides an extremely low pressure drop. Because of its self cleaning feature, the media does not have to be cleaned under normal operating conditions. When loaded with biofilm, the media can develop effective specific surface areas of up to 300 ft2/ft3.
Lantec Products
Agoura Hills, CA
Tel: 818-707-2285
Dry prime pumps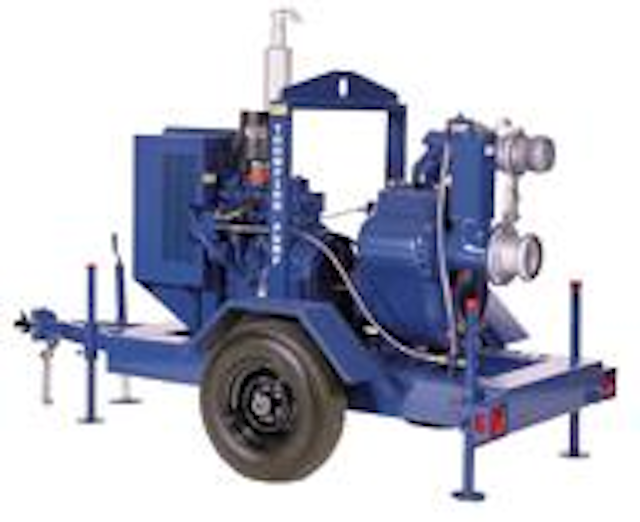 Click here to enlarge image
Thompson Pump offers the Enviroprime® system for its dry prime, compressor-assisted pumps in both the multi-purpose trash pump (HTC) and the wet prime open trash sewage pump (TSC). This system prevents blow-by — sewage, debris and chemicals — from discharging onto the ground, keeping the surrounding environment clean. The Enviroprime uses an air compressor to separate air from the water that is moving through the pump, which prevents the pump's venturi from clogging and causing a shutdown.
Thompson Pump & Mfg.
Port Orange, FL
Tel: 386-767-7310
Web: www.thompsonpump.com
Engineering services
KLM Engineering is a structural engineering and inspection firm staffed by experienced, registered professionals. Inspection services offered include: water towers, antennas, water treatment plants, wastewater treatment plants and pipelines. KLM employs one of the largest certified NACE coatings, AWS welding, and API-653 inspection staffs in the nation.
KLM Engineering Inc.
Lake Elmo, MN
Tel: 651-773-5111
Wastewater treatment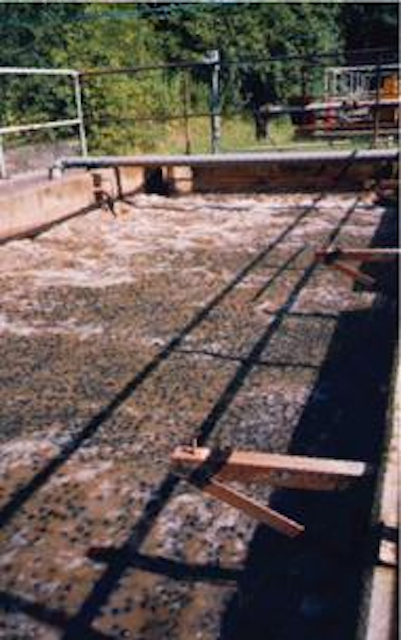 Click here to enlarge image
The Hydroxyl Fluidized Fixed-Film Return Activated Sludge (F3RAS) treatment approach provides a solution to biological wastewater treatment upgrades. Building upon widely accepted activated sludge technology, the process incorporates a proprietary Free Floating Carrier (Hydroxyl-PAC media) in existing activated sludge basins. The media provides a large area for attached growth biofilm to supplement the suspended growth biomass in an activated sludge basin. The substantial biofilm growth provided by the media facilitates increased capacity (including nitrogen removal) of existing activated sludge plants without increasing any solids load on the final clarifiers and with minimal or no modifications to the existing plant.
Hydroxyl Systems
Sidney, BC
Tel: 250-655-3348
Web: www.hydroxyl.com
Drive systems
Direct connectivity for Ethernet networks and increased power ratings up to 500 hp give the new Square D Altivar® 58 TRX AC drive the extended functionality to meet demanding water/wastewater application requirements. The drive incorporates sensorless vector control. The drive is part of Schneider Electric's portfolio of Transparent Ready™ control, automation and electrical products with built-in connectivity that simplifies the exchange of equipment and process information. With an Ethernet option card, embedded Web pages allow real-time access to drive information from anywhere in the world using a standard Web browser.
Schneider Electric
Appleton, WI
Tel: 800-392-8781
Web: www.squared.com