Small Town Finds Cost-Effective CSO Solution
What happens when a small town faces a big budget public works problem? Akron, IN, (population 1,076) faced such a problem last year.
Jul 1st, 2003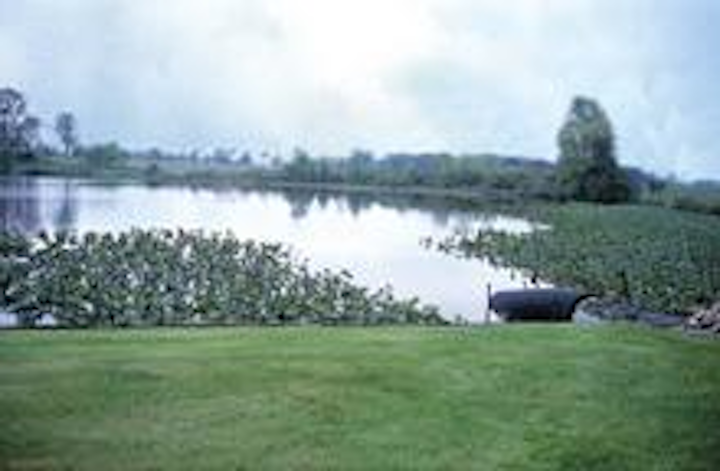 What happens when a small town faces a big budget public works problem? Akron, IN, (population 1,076) faced such a problem last year. A Combined sewer overflow (CSO) was polluting nearby Town Lake, a 16-acre body that is part of the Chippewanne Creek watershed. The situation not only was a serious environmental concern, it also robbed the community of a valuable recreational area.
Fortunately, Akron found an innovative solution to the problem that fit the municipal budget nicely and eliminated CSO pollution. Everyone, from the town's public works director to the state's Department of Environmental Management, is happy with the result.
"We worked with our engineering firm and came up with a plan," said Marty Gearhart, Akron's town public works superintendent. "We installed CDS (Continuous Deflective Separation) units to remove the floatables and larger suspended solids from the combined sewer overflow, then we used some low ground the city already owned to create a wetlands area to address the biological treatment (of the CSO). The system does a very good job of removing what it's supposed to remove."
The project is putting Akron on the road to compliance with the state's CSO regulations. It also won an American Council of Engineering Companies award for Commonwealth Engineers, Inc., of Indianapolis. As a bonus, the citizens of Akron get a clean lake that will be suitable for recreation and a beautiful new wetlands area (complete with 1,200 new trees) on what used to be 20 acres of unused lowland.
The best news is that the entire project cost just $700,000. Estimates to separate the sanitary and storm sewers came in at $4 million. Enlarging the treatment plant would have cost $1.1 million.
"If you look at the cost of this project versus the cost of separating our sewer system, I'd say we made a good investment," said Gerhardt.
CSO abatement has become a hot topic in Indiana, where many cities have limited budgets for major public works projects.
"Here in Indiana there are 106 CSO communities and they range in size from towns like Akron up to the big cities like Indianapolis, Fort Wayne and others," said Mark Sullivan, PE, of Commonwealth Engineers, Inc., of Indianapolis. "Most of the CSO regulations are unfunded, unless you qualify for a Department of Commerce grant, as was the case for the town of Akron. It's safe to say that most communities are having a tough time coming up with the money necessary to complete CSO requirements.
"I think the Akron project is a nice model to follow for other small communities that have a CSO problem," Sullivan said.
Akron's combined storm and sanitary sewer system was typical of many towns across America. Built in 1970, it consisted of 8-12 inch diameter pipes. The town has a small two-cell lagoon treatment system with a dry weather flow that averages 150,000-175,000 gpd with a maximum capacity of about 300,000 gpd.
According to public works superintendent Gearhart, any rainfall event of one-half inch or more was a potential problem for the system. During wet weather the overflow would be discharged into Town Lake. Overflows would occur about 20-25 times annually.
"Biologically the lake was in pitiful condition," said Sullivan, whose company was brought in as a consultant on the project. "It ranked as one of the most polluted lakes in the State of Indiana."
When engineers and consultants began reviewing Akron's situation, they quickly ruled out separating the sewers or enlarging the treatment plant. Those options were far too expensive for a small town budget. On closer examination of the problem they discovered that Akron had some natural characteristics that might provide a cost-effective solution.
"Akron was lucky. Everything flowed down to a low spot that was already owned by the city. It all worked by gravity," said Mark Harrison, now president of Natural Concepts Engineering, Inc. At the time he was a consultant with Commonwealth Engineers. "The CSOs flowed into a county drain tile which ran through the low land and then into the lake. We basically built the wetland over the county tile and intercepted the flow."
Both the influent and effluent ends of the wetland have a rock filtration system to help remove debris and reduce pollutants.
"Wetlands are excellent for removing dissolved BODs and dissolved nutrients," said Harrison.
They're also good at removing volatile solids, but can begin to fail if they become overloaded with solids.
"If the rate of solids loading exceeds the rate of solids digestion, the undigested solids are passed through and clog up the filters," he said. "The CDS units that were installed — and we used two for this project — are critical for removing particulate solids while allowing dissolved pollutants to pass for the necessary biological process."
The CDS system relies on water hydraulics, gravity and a non-blocking screen. CSO water enters a diversion chamber where a weir guides the flow into the unit's separation chamber. A vortex is formed that spins floatables and suspended solids around the screen cylinder. The screen deflects the pollutants to the center of the separation chamber.
The trash and suspended solids settle into a sump where they remain until they are removed. The water, now cleaned of debris, passes through the screen, out of the separation chamber and into the diversion chamber, then re-enters the flow toward the wetlands area.
The units do not require electrical power, and can be cleaned with a vacuum truck.
"Basically, the installation is similar to a standard manhole, only larger," said Jason Young of Thomas Excavating in Culver, IN. "There are no real tricks to install them; just have a dry hole, adequate shoring and a machine that's big enough to set them in there."
Akron's two-step CSO filtration system has worked flawlessly since its installation.
"You can tell by the reduction in floatables in the lake that the CDS units are doing what they are supposed to do," said Sullivan.
According to Harrison, initial monitoring of Town Lake shows pollution to be almost non-detectable. And the wetlands are also a nice addition to the area.
"In addition to creating a very effective way to treat CSO, we also created this beautiful functioning wetland," said Harrison. "The wildlife has come back. It's very exciting. Instead of having a sign that says, 'Danger: Keep Out,' they could put up a sign that reads 'Welcome, Enjoy.' "