Water AMR Market Continues Strong Growth
For many years, water utilities have been overshadowed in the AMR marketplace by electric and gas utilities. Ironically, the AMR industry started with water utilities
Jul 1st, 2003

By Howard Scott
For many years, water utilities have been overshadowed in the AMR marketplace by electric and gas utilities. Ironically, the AMR industry started with water utilities, and the first several presidents of the Automatic Meter Reading Associate (AMRA) were water utility executives. However, gas utilities developed a strong early interest in AMR and dominated the AMR market for a decade until the gas industry downturn in 1998 (when a nationwide U.S. drop in revenues and gas consumption forced them to re-allocate their capital budgets). Thereafter, electric AMR became the industry leader and accounted for 58% of all AMR units shipped in 2002.
In recent years, water utilities have slowly and steadily re-emerged as strong players in the AMR marketplace.

Click here to enlarge image
The recent history of the AMR industry is shown in the charts accompanying this article (all data shown in this article are drawn from the 2003 issue of The Scott Report: AMR Deployments in North America). In 1996, water utilities had deployed fewer AMR units than electric or gas utilities, though they had more projects than gas and slightly fewer than electric. In the subsequent years, growth has been consistently upward. By 2002, more water AMR units were shipped than gas units and now 58% of all AMR projects are for water utilities.
By the end of 2002, 49.3 million AMR units were shipped to all utilities in North America (gas, electric and water), and 9.5 million of those units (19.3%) were shipped in 2002. A dip in shipments in 1998 was due to a downturn in the gas industry, which did not affect the water market. Over the past six years, the cumulative number of water AMR units grew at a compounded annual rate of 38.7% and the number of projects grew at a compounded annual rate of 39.1%. Because AMR projects take many years to deploy, the high growth rate in projects is an indication that AMR shipments to water utilities will continue to grow at a strong rate.
Communication Type
The water AMR market is quite different from the electric or gas markets when it comes to communication equipment used. Ninety-nine percent of all AMR units shipped to water utilities use some form of radio (RF) communication. A negligible amount of powerline communications has been used by the water utilities whereas 31% of 2002's electric shipments were for powerline units. Telephone AMR for water utilities is about the same for electric and gas – about 1%.
The majority of water AMR projects are based on mobile networks rather than fixed. Fixed RF is growing for water utilities, but not as fast as it is growing for electric utilities. Fixed networks are usually based on radio, powerline or telephone (wireline or cellular) technologies whereas mobile systems are either drive-by or walk-by.

Click here to enlarge image
While water utilities use fewer fixed networks than other utilities, in 2002 they bucked the trend by increasing the fixed network percentage at the same time that other utilities had a strong shift in the opposite direction. It is too early to tell if this is a long-term shift or just a short-term aberration in the data.
Future of AMR
The AMR industry enjoyed a strong year in 2002, despite the recession. Clearly, a multi-year recession could affect the AMR industry, but probably not as much as the rest of the U.S. economy because AMR makes the utility workplace more efficient, and utilities would likely try to improve efficiency in a recession if they have the cash to make the investment. Similarly, AMR should flourish during a boom because it could allow privately owned utilities to increase profits (and they would more readily have the money to invest in AMR).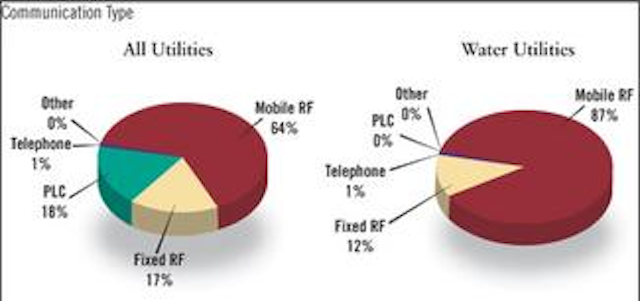 Click here to enlarge image
The penetration of AMR into the water market is quite low (about 10% of all meters have AMR), so market saturation will not occur for many more years. The large growth in water AMR projects portends a strong future for this industry and the self-limiting impact of market penetration will have a much smaller effect in water utilities than in electric or gas.
The growth of RF-based systems should continue. As public network systems become more popular, more AMR systems will use these networks. However, the growth rate of private networks is so high that public network systems will not likely play a dominant role for many more years.
Mobile AMR is still very popular and will likely enjoy strong market acceptance for several more years. Many public utilities do not make use of the large amount of data available from fixed network systems, especially publicly owned water utilities. The high market share enjoyed by mobile systems will probably erode slowly, but this will occur at the same time that overall mobile system sales will likely grow.
The only unknown is the near-term. The current recession in the U.S. has hurt water utility revenues just as it has hurt other industries. The recent war in Iraq led to 6 – 8 weeks of indecision by all types of businesses, including utility companies. AMR companies are reporting a slowdown in sales, but it is too early to tell if this will continue throughout the year or was just related to the war slowdown. Also, AMR projects usually deploy over a period of many years, so a near-term slow-down in sales might not impact AMR shipments for a few years and could be erased by a future pick-up in the economy.
Overall, the AMR industry is strong and getting stronger, especially among water utilities. It seems inevitable that interest in AMR will continue to grow as more utilities enjoy its efficiencies and as more customers demand better service, especially more accurate bills. Thus, AMR provides a unique opportunity for a utility to address customer needs, and to do it in a way that makes the utility more efficient.
Though the AMR industry is still young, its growth is inevitable. Over the next few years, water utilities without AMR will see increased pressure to deploy it, and those utilities with only some AMR will be under pressure to get more of it. The only unknowns are what types of AMR will prosper and how fast it will be deployed. WW/
---
About the Author: Howard A. Scott, Ph.D., is Managing Partner at Cognyst Consulting, L.L.C. Data presented in this article was extracted from the 2003 issue of The Scott Report: AMR Deployments in North America, an annual report authored by Scott. For more information, see www.thescottreport.com.
---
ABOUT AMRA AND ITS ANNUAL SYMPOSIUM
The mission of AMRA, an international nonprofit membership association, is to provide educational resources worldwide by advocating the use of advanced metering technologies. The annual AMRA symposium is North America's largest and most objective metering event.
Set this year for Sept. 7–11 in St. Louis, the AMRA 2003 International Symposium features top utility speakers in more than 35 educational sessions, workshops and panel discussions. The Exhibit Hall will feature up to 100 exhibitors demonstrating the latest metering, communications and data-management technologies. For details and registration information, visit www.amra-intl.org/symposium or call AMRA at 847-480-9628.