PRODUCT SHOWCASE
The new Chemineer® SC-3 Impeller, which features an advanced design that produces flow characteristics of much larger impellers, is now available...
Oct 1st, 2003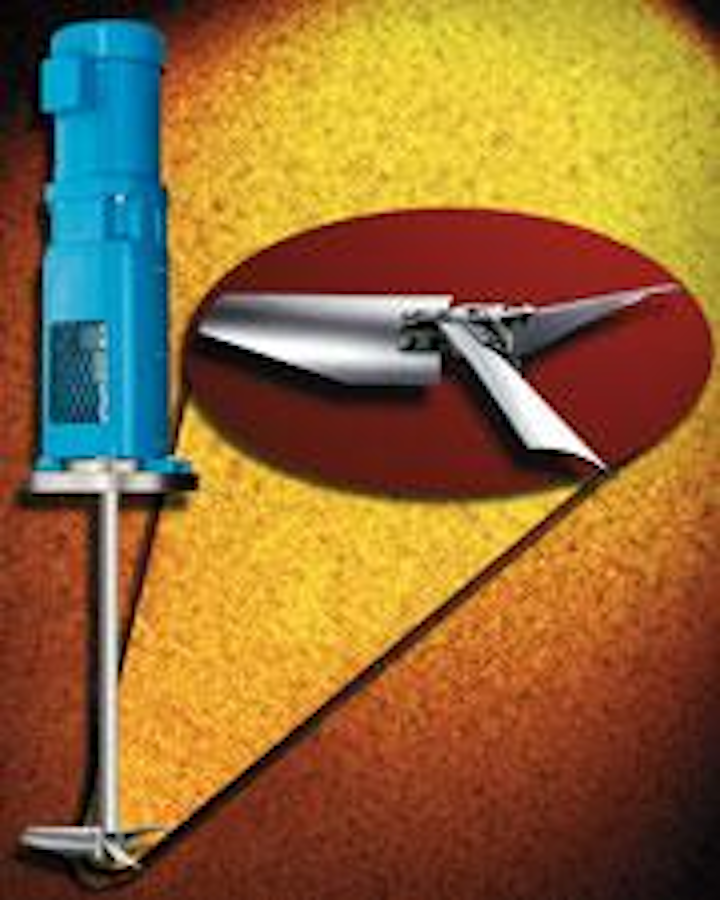 Top entering mixers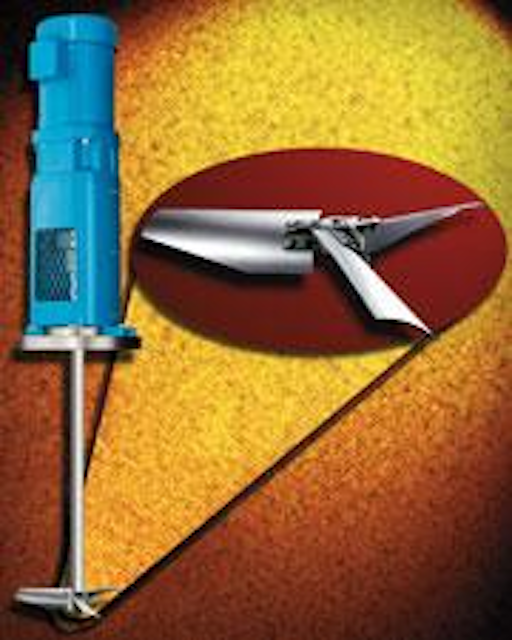 Click here to enlarge image
The new Chemineer® SC-3 Impeller, which features an advanced design that produces flow characteristics of much larger impellers, is now available for use on the company's DT Top-Entering Mixers. The reduced weight of the SC-3 allows for the use of longer shaft extensions for deeper tanks, and resolves associated critical speed limitations. Use of the new impeller can frequently produce an overall agitator cost savings. The impeller features a one-piece or bolted blade design, depending on minimum opening requirements. Standard materials of construction include carbon steel or 316 stainless steel. Rubber covering and coatings are also available for more corrosive applications. The impeller's "Flat" velocity profile yields a lower shear gradient and allows for blending and solids suspension.
Chemineer, Inc.
Dayton, OH
Tel: 937-454-3200
Web: www.chemineer.com
PE fusion machine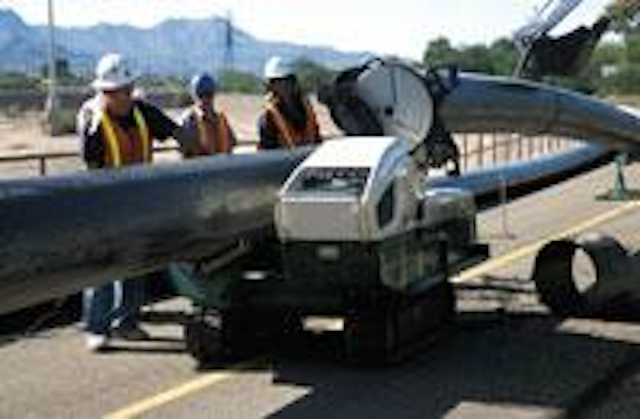 Click here to enlarge image
McElroy Manufacturing recently added a variety of options to its new TracStar 900. In 1997 the company unveiled its new self-contained, self-propelled, all-terrain hydraulic fusion machine --- the TracStar 500. The TracStar 900 soon followed for larger pipe sizes. Options now include MF Cylinders with the Coach Control System, and HF, MF or LF Cylinders with the MegaMC Manifold Block Control. With the Manifold Block Control, the carriage pressures are set. The carriage and facer are operated with manual valves instead of the Coach Control system. With these new options, it will be necessary to purchase a datalogger if a record of the joints is required.
McElroy Manufacturing Inc.
Tulsa, OK
Tel: 918-836-8611
Web: www.mcelroymfg.com
Swing check valve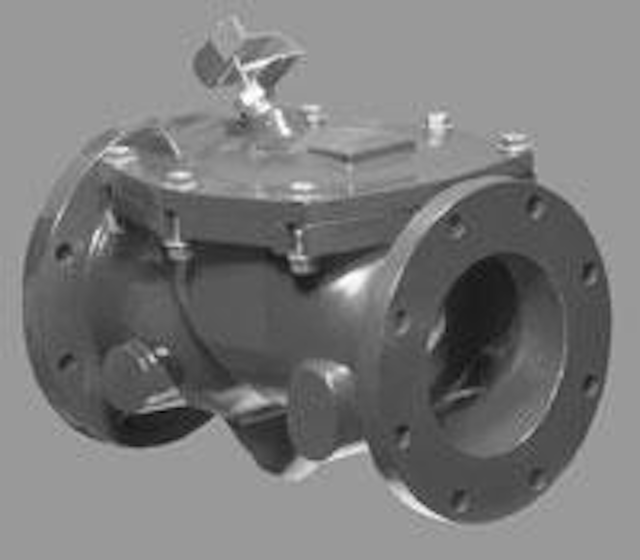 Click here to enlarge image
Val-Matic has announced the introduction of a new product line, the Surgebuster® swing check valve. The valves are designed for high head applications where rapid flow reversal is a concern. The standard valve includes a Disc Accelerator™ to rapidly close the valve disc prior to reverse flow slamming it into the seat and creating a line surge. For applications where open/closed indication is required, a mechanical disc position indicator is available. The swing check valve has a non-clog design with only two moving parts. Sizes include 2" – 36" with flanged end connections. The valve design and performance has been verified through an independent 1,000,000 cycle test and fully complies with ANSI/AWWA C508.
Val-Matic® Valve and Manufacturing Corp.
Elmhurst, IL
Tel: 630-941-4672
Web: www.valmatic.com
Portable flowmeter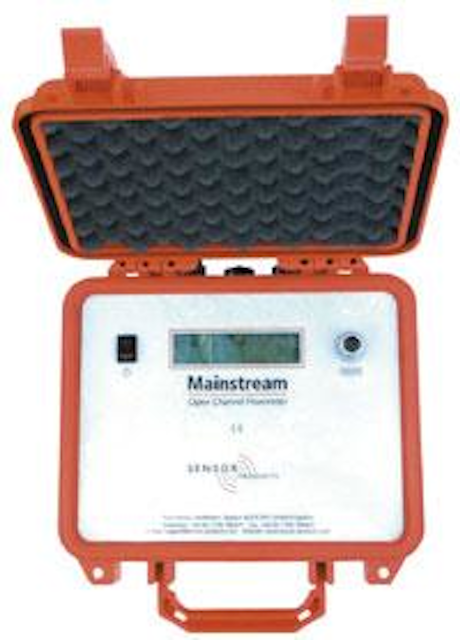 Click here to enlarge image
Sensor Products has announced the launch of the Mainstream Portable flowmeter for open channels and part-filled pipes. Derived from the Mainstream III fixed-installation flowmeter, the new portable unit is ideal for short-term or extended field studies. The flowmeter is designed for use in harsh field conditions – with a high-impact case that is fully submersible and resistant to chemicals. Applications include: effluent monitoring, wastewater treatment, river/stream flow measurement, and water distribution. The unit works in liquids ranging from clean water to raw sewage, and measures flow velocities (bi-directional) from 0.03 to 16 ft/s with no zero offset or drift. Recording intervals are configurable from 30 seconds to 60 minutes, and the integrated data logger stores up to 250,000 measurements.
TTI, Inc.
Williston, VT
Tel: 800-235-8367
Web: www.ttiglobal.com
Encoder register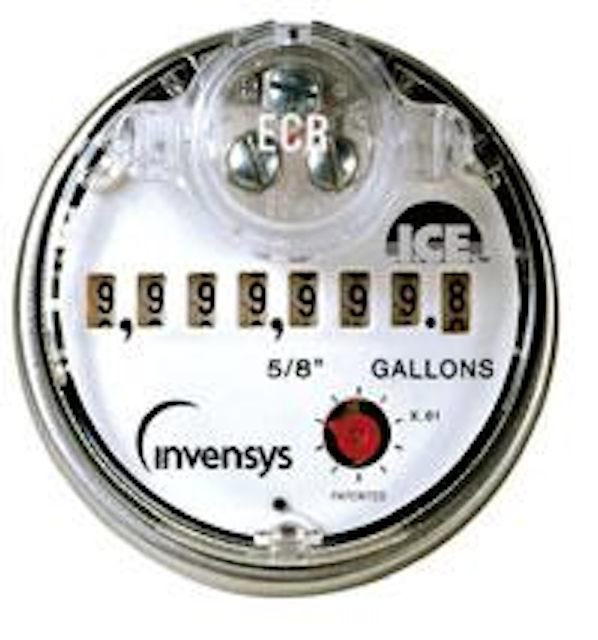 Click here to enlarge image
Invensys has announced the release of its new Intelligent Communications Encoder (ICE) register. The new electronic communications register is a successor to the company's TouchRead™ register. It is designed to improve accuracy, reliability and readability. An absolute positional encoder, the new register is driven by state-of-the-art magnetic resonance technology. This new technology eliminates problematic electrical contact and wipers required in traditional positional encoder registers. Readings are taken directly from the position of the register's odometer wheels. Higher and easier reading resolution is a result of having eight operating odometer wheels, rather than from a pulse counter. This allows for more precise readings in tenths of gallons, rather than whole gallons.
Invensys Metering Systems
Pittsburgh, PA
Tel: 724-439-7820
Web: www.ims.invensys.com
Rain gauge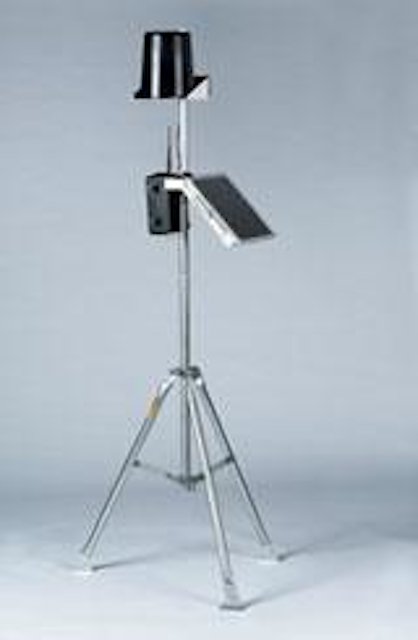 Click here to enlarge image
Durham Geo Slope Indicator has announced the immediate availability of the Cyber Rain Gauge™, a self-contained instrument which captures rainfall data from its own rain gauge and automatically reports rainfall amounts at regular intervals to a web site. Customers may access data at any time with a web browser from any PC connected to the Internet. Having the data on a password-protected web site facilitates record keeping and helps document compliance. Data may be downloaded to a PC for further manipulation.
Durham Geo Slope Indicator
Stone Mountain, GA
Tel: 800-837-0864
Web: www.durhamgeo.com
Screening system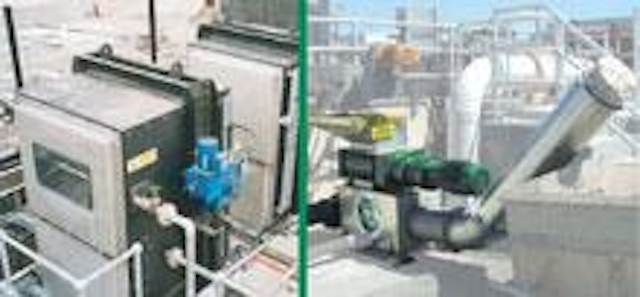 Click here to enlarge image
JWC's new Bandscreen Monster, part of the new Monster Separation System, screens wastewater so it meet the most demanding membrane technology requirements. The system removes solids down to 2 mm and cleans screenings so disposal is done less often and is less expensive. A washbar system ensures the screen remains free flowing, clean and eliminates hairpinning. Screen holes are 2, 3 or 6 mm. The integrated Screenings Washer Monster® puts discharged screenings through a unique grinding, washing, screening and compacting process that washes out fecal material for cleaner and drier screenings.
JWC Environmental
Costa Mesa, CA
Tel: 800-331-2277
Web: www.JWCE.com
pH/ORP transmitters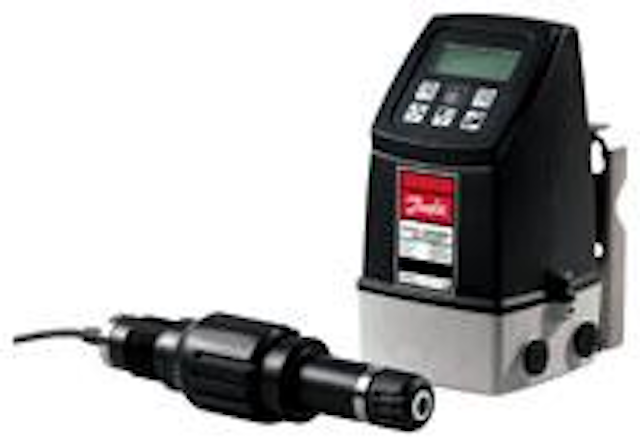 Click here to enlarge image
Danfoss has announced the new Evita® pH/ORP transmitters, designed with a built-in temperature sensor, liquid ground, signal amplifier, and replaceable electrode cartridge, all contained within a fully submersible housing. An innovative design eliminates ground loop and moisture problems and a TiltCal® automatic calibration system is smart enough to recognize the pH buffer being used. The transmitters feature two different zero points, 4.6 pH or 7.0 pH, making it easier to determine when the reference is contaminated. The low impedance glass electrode has a flat, easy to clean surface.
Danfoss, Inc., Water & Wastewater Div.
Milwaukee, WI
Tel: 414-355-8800
Web: www.us.water.danfoss.com