Atlanta Automates Flow Monitoring System
Atlanta's Mayor Shirley Franklin is organizing her administration's stewardship of the city's infrastructure to be a "Best In Class" water and wastewater system.
Oct 1st, 2003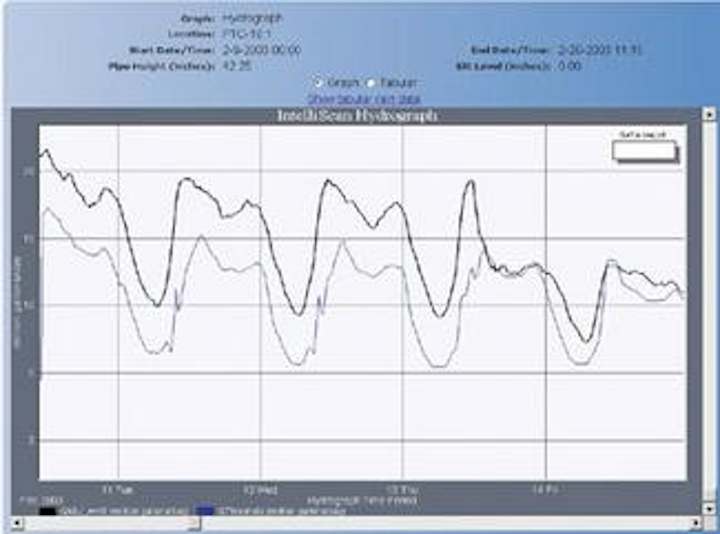 By John Griffin, Richard Blais and Don Barnhart
Atlanta's Mayor Shirley Franklin is organizing her administration's stewardship of the city's infrastructure to be a "Best In Class" water and wastewater system. This is a critical time for the city as it responds to meet two recent EPA Consent Decrees. The resulting improvements to the wastewater infrastructure are estimated to be in the range of $2.5 to $3 billion. Under the leadership of Commissioner Jack Ravan, the Watershed Management Department's investment in new technology is an important step in supporting the Mayor's goals and in meeting Consent Decree mandates.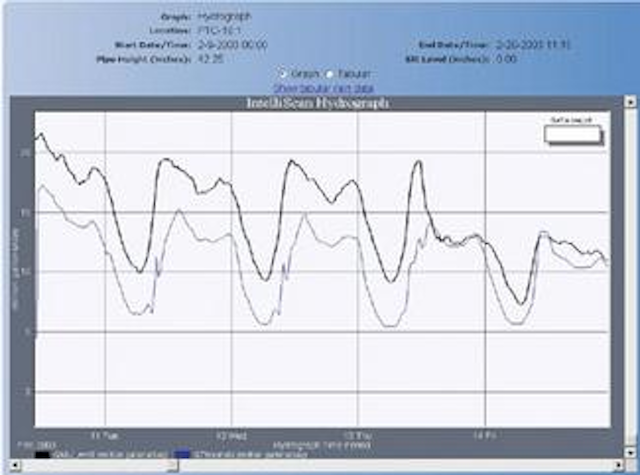 Figure 1: Hydrograph from site PTC 18 reveals flow loss due to bypass pumping on Thursday. System alarmed at 2:35 p.m.
Click here to enlarge image
Like their collection system counterparts throughout the country, wastewater managers face a built-in handicap: buried infrastructure can't be seen. It is true that remote sensing equipment such as CCTV cameras allow managers to see individual pipe defects, guiding repair efforts. However, a more comprehensive view of flow dynamics is required to respond to sanitary sewer overflows (SSOs) and spills.
If knowledge truly is power, then Atlanta's investment in a new technology tool is sure to pay off this year. In November 2002, Atlanta deployed the IntelliScan® software system to increase the city's ability to detect sewer spills and stay ahead of sanitary sewer overflows (SSOs) by facilitating more timely operation and maintenance of the collection system. The software operates as a real time, web-based system, communicating with the city's flow and rain monitoring system to provide knowledge of flow performance issues. Key staff is alerted to abnormal flow problems as they occur and flow information is consolidated into one, easily accessible database.
ADS Environmental Services installed the flow and rain-monitoring network in 1999.
"We are excited about the application of IntelliScan as a management tool. It will help us gain more knowledge about system performance issues and, with that knowledge will come more control over sanitary spills," said John Griffin, Atlanta's Director of Buried Asset Management.
Key to the system's performance is "smart logic." From the first day of operation, flow data from each site is captured in IntelliScan's SQL database. Over time, the database "learns" flow patterns for each site. As it learns, it adds rainfall response from each storm event, correlating rain data recorded by nearby rain gauges to the corresponding increase in flows over normal diurnal flows. The system has a sophisticated learning engine that can distinguish between weekend and weekday flows.
The system's recording of historical flows, translated into a learned pattern for each site, is a powerful tool. Within the software's alarm management module, alarm triggers – the point at which Atlanta's staff is alerted to flow abnormalities – are set as moving thresholds. In other words, alarms for loss of flow are set as a percentage of the diurnal flow. When diurnal flows move up and down with daily customer activity, so too does the flow loss threshold. This patent pending process is called "smart alarming".
To visualize how this alarm system operates, Figure 1 displays a standard hydrograph from an Atlanta flow monitoring site, PTC-18. The dark gray line (top line) is the flow quantity. The blue line is the low flow alarm threshold. For this site it has been set at 25% below the diurnal flow.
Flow quantities from PTC-18 are normal for Tuesday and Wednesday, Feb. 11th and 12th, 2003. However, on Thursday the flow drops uncharacteristically just after 2:30 p.m. At 2:35 p.m., the flow drops below the low flow alarm threshold set at approximately 14 mgd. Normal flows for that time of day are in the range of 17 mgd. This abnormal flow pattern remains through Friday.
Fortunately for Atlanta's Operations Group, this was not an overflow or pipe break. Instead, the drop in flow was created by a rehabilitation project necessitating bypass pumping upstream from PTC-18.
For Atlanta's system, the first alarm for abnormal flows is displayed on the software's main screen in the system's alarm window and is accompanied by an audible "beep". Alarms escalate to ensure that Atlanta's staff is aware that an alarm target has been met. The second level is the initiation of e-mails to a predetermined list of operations personnel. The final level is a pager callout. All alarms are recorded and stored in the Event Log.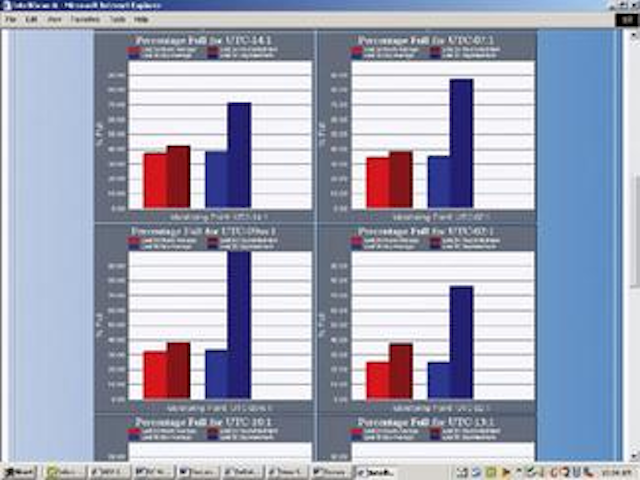 Figure 2: Atlanta managers can access trend reports such as this percent full graph report comparing average and peak flows for the past 24 hours with the past 30 days.
Click here to enlarge image
Atlanta's smart alarm approach offers a distinct advantage over conventional alarming configurations. Conventional alarms are designed using set depth and flow points in flow monitors. For the Atlanta bypass example, a conventional alarm would not have captured the flow loss until Friday morning at approximately 4 a.m., over 13 hours after the event began.
The reason for the delay is illustrated in Figure 1. To avoid false alarms at PTC-18, conventional alarm triggers would have been set well below nighttime minimums. The dashed line in Figure 1 represents a conventional alarm's fixed low flow threshold. A set point of 8 mgd is just below the typical nighttime low flow of 9 mgd. During the bypass event that began on Feb. 13th, the lowest flows didn't occur until Friday morning. Only then would a conventional system respond to the event.
Smart alarms are important to Atlanta's initiatives to reduce and eliminate SSOs and spills. In this flow bypass example, millions of gallons of sewage were involved. If this had been an SSO or pipe break detected by a conventional alarm, more than 6 mgd of raw sewage would have escaped unnoticed to Atlanta's management team.
Richard Blais, Project Manager for ADS' Atlanta IntelliScan implementation, has been working with Atlanta's Sewer Operations staff and supervisors to interpret the flow monitoring data that accompanies each alarm to help determine maintenance dispatch decisions. One of the goals of the program is to develop alarm thresholds that might anticipate an SSO before it occurs in hopes that maintenance personnel can take action to avoid SSOs or limit their duration.
IntelliScan's SQL database affords a menu of automated reports drawing upon the same database used by the alarm module. For example, Atlanta staff can access flow performance trends, comparing today's flow values with the last 30 days, 60 days, or 90 days. The software automates in a matter of seconds what would take days for staff to manually reproduce.
One example of the power of automating reports is displayed in Figure 2. This report compares the average and peak percent full for four flow monitoring sites for the past 24 hours to the past 30 days. Other available reports presenting past 24-hour values to the past 30 and 90 days are percent theoretical capacity, percent backwater, and percent time surcharged. In addition to these reports, IntelliScan supports custom reports through a number of other queries, all of which can be saved as a template.
Automated graphing of flow performance helps Atlanta personnel spot developing trends. A change indicating backwater conditions, for example, might indicate the need for visual inspections and subsequent line cleaning. All reports can be set up for automatic emailing to colleagues and project partners.
About the Authors: John Griffin is the City of Atlanta's Director of Buried Asset Management, Department of Watershed Management; Richard Blais is ADS Corp's Project Manager for IntelliScan implementation; Don Barnhart is Manager of Communications for ADS Corp.